A good project management tool makes planning, executing, and monitoring project progress a total breeze. They create a transparent record so everyone knows who is doing what and when. With a range of features including flexible project views like Gantt, table, and portfolio view, as well as analytics, project tracking and resourcing, project management tools are critical for many businesses workflows. When you start to think about planning, it's critical that you consider choosing the best project management tool for your team.
In case you need more convincing to try a project planning tool, consider this stat — an estimated 77% of high-performing teams using project management tools. Additionally, organizations that invest in project management tools waste 28 times less money than organizations that do not. These stats are hard to ignore.
What are project management tools?
At it's core, a project management tool is software that help teams plan, manage, and optimize resources across an organization. Project management tools range in capabilities, but most have a few things in common.
Task tracking and assigning – Most, if not all, project management tools have the ability to assign and track tasks across their lifecycle.
Parent and child projects – These tasks need to be assigned to specific projects, so most project management tools have both parent projects (a big projects that smaller projects fall under), and child projects (the smaller project that falls under the parent).
Collaboration – All project management tools have collaboration functionalities in some way, whether that is collaborating on individual tasks, chatting, or sharing documents back and forth.
Document sharing – To complete tasks and project successfully, you need to be able to share and work together on materials and resources. That's why most project management tools have document sharing capabilities.

Why are project management tools important?
Project management tools are critical for organizations for a variety of reasons. First, they help keep the team organized and ensure that processes are followed. Second, they provide a clear overview of all activity happening in relation to a campaign, project, or task at any given time. Project management tools also allow teams to communicate clearly and quickly with comments, chat, and more.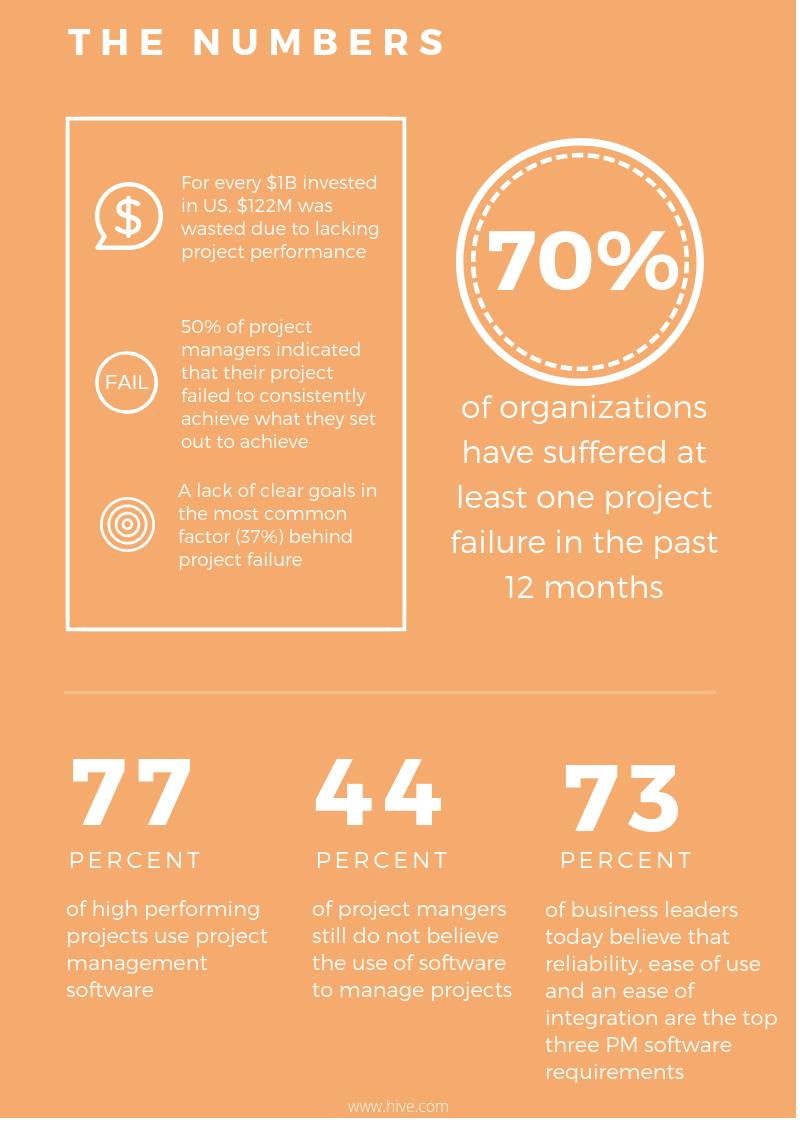 On top of that, there are statistics to support the importance of a project management tool. Did you know that 77 percent of high performing projects use a project management tool? Or that $122M was wasted due to poor project planning? These things can all be avoided with the right project management tool.
How to choose a project management tool
With thousands of tools on the market, it can be daunting finding the best project management tool for your team. Too often, team leaders buy a project management solution only to find in a few months they're the only one using it. When comparing tools, remember that an effective project management tool should satisfy two main requirements: First, it should have all the features that a project manager needs. Second, the tool should be something your entire team is willing to use.
Satisfying both of those requirements is easier said than done, so we've outlined 9 key steps to make sure your team finds the best project management tool for your needs. Are you ready to get organized? We will walk you through the following 9 steps:
Define your project management tool needs.
Research the best project management tools.
Test out the tool.
Get feedback from your team.
Evaluate the cost.
Get executive buy-in.
Purchase the project management tool.
Implement the project management tool.
Analyze with a retrospective.
1. Define your project management needs
The first step to finding a project management tool is identifying the current problems in the way your team works. It's important to write these pain points in a list you can refer to later. Possible problems could include:
Lack of communication between departments
Disorganized projects and missed deadlines
Inability to make sense of customer feedback
Uneven workload between team members
Overflowing email inbox
Too many time-wasting meetings
When you are looking at all options for a project management tool, you need to ask: does it solve these problems? If the answer is no, remove the tool from your list to prevent you from getting distracted by flashy demos, pretty UI, or powerful features you'll never use.
You can also use this list as a starting point to define what features you do want in a project management tool. Mark each feature as high, medium, or low priority to know quickly if a potential tool is going to work.
2. Research the best project management tools
With your needs defined, now it's time to see what options are available. Here are some ways to get started:
Ask colleagues what they liked using in the past
Talk to other project managers in your industry
Check out recommendations on industry websites
Start by prioritizing feedback from your team — knowing what they liked in previous tools will make company adoption easier. Compare the feature list and pricing for each option against your list of needs. It's worth spending a little extra time looking for that perfect fit. Does your team need Gantt charts? What about Kanban boards? Once you've evaluated the options, narrow it down to about five finalists, and ask team members to vote on their favorites as well.
To help you get started in your search, here are some of the best project management tools on the market right now:
1. Hive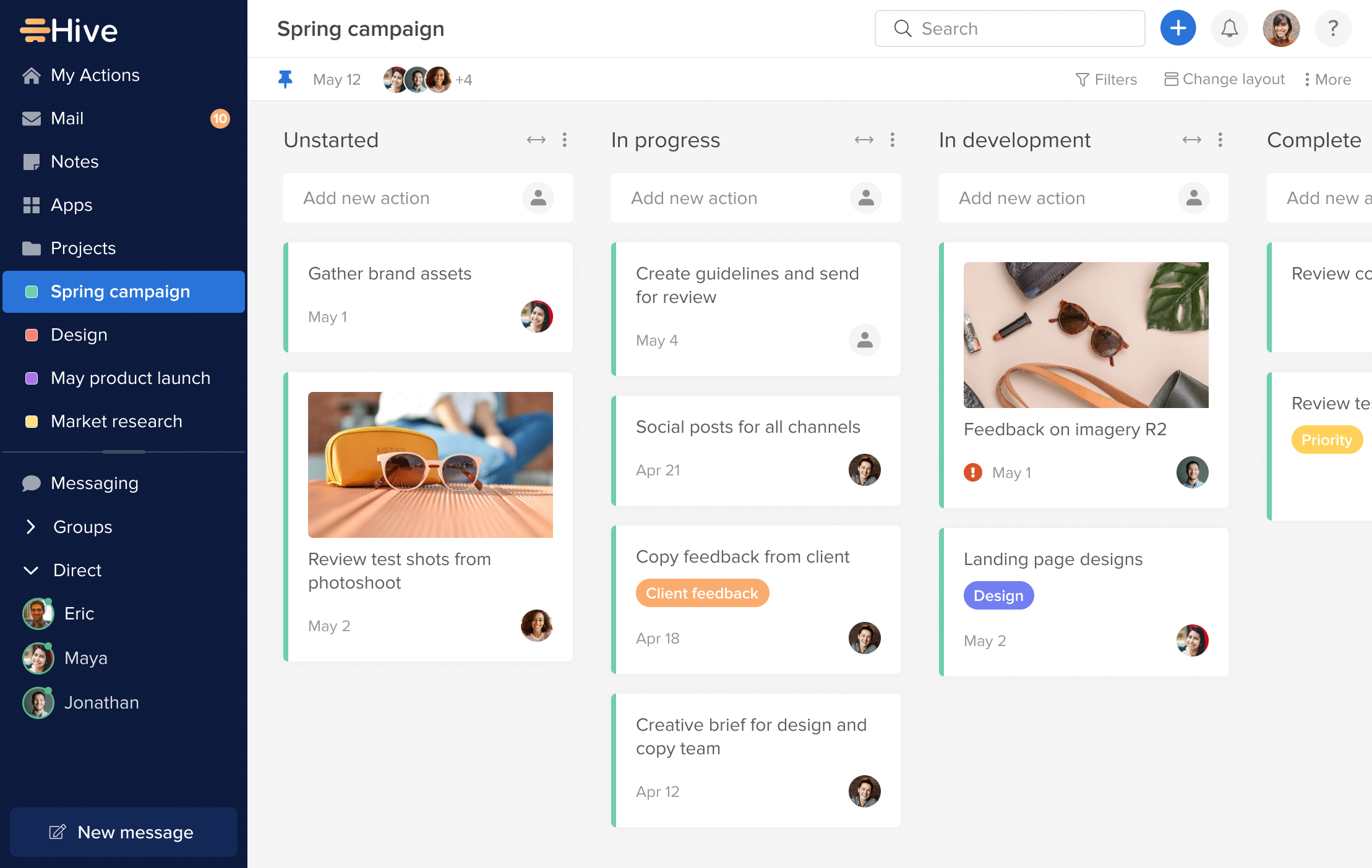 Hive is a powerful project management tool used by teams at Google, Starbucks, Comcast, Toyota and more. Hive is a great all-in-one productivity platform used by organizations of all sizes, from startups and nonprofits to companies of 100,000 employees. It's one of the best project management tools on the market because it lets you work your way — from including 6 different project views to over 1,000 integrations with other popular workplace apps. There's a reason why top performing teams choose Hive for their project management needs.
Hive offers a free 14-day trial, with Hive Teams plans starting at $12/month per user. Hive Free is the platform's free forever plan for teams up to 10. Learn more about Hive's pricing plans here.

Features of Hive include:
Flexible project views, including Gantt, Kanban, calendar, table, and portfolio view
Ability to add comments, sub-actions, dependencies, and attachments to action cards
Time-tracking and timesheets capabilities
Resourcing functionalities
Integrations with over 1,000 tools like Jira, Gmail, Zoom and Salesforce
Hive Goals application to set & track goals
Native chat and email integrations that allow increased connectivity
Collaborative note-taking tool
Detailed, real-time analytics
Web and desktop apps
Check out the full list of Hive's features here.
2. Trello
Trello is a Kanban-based project management tool that was founded in 2011 and is currently owned by Atlassian, who also owns Jira. Many people use Trello for project management because it's simple and easy to use, as the Kanban view is straightforward and easy to master for users of all skill levels.
Features of Trello include:
Kanban and calendar style project management boards
Ability to add comments, due dates, and attachments to action cards
Built-in workflow automation capabilities
Custom fields
Custom backgrounds and stickers
Comparison: Learn about other top Trello alternatives on the market.
3. Asana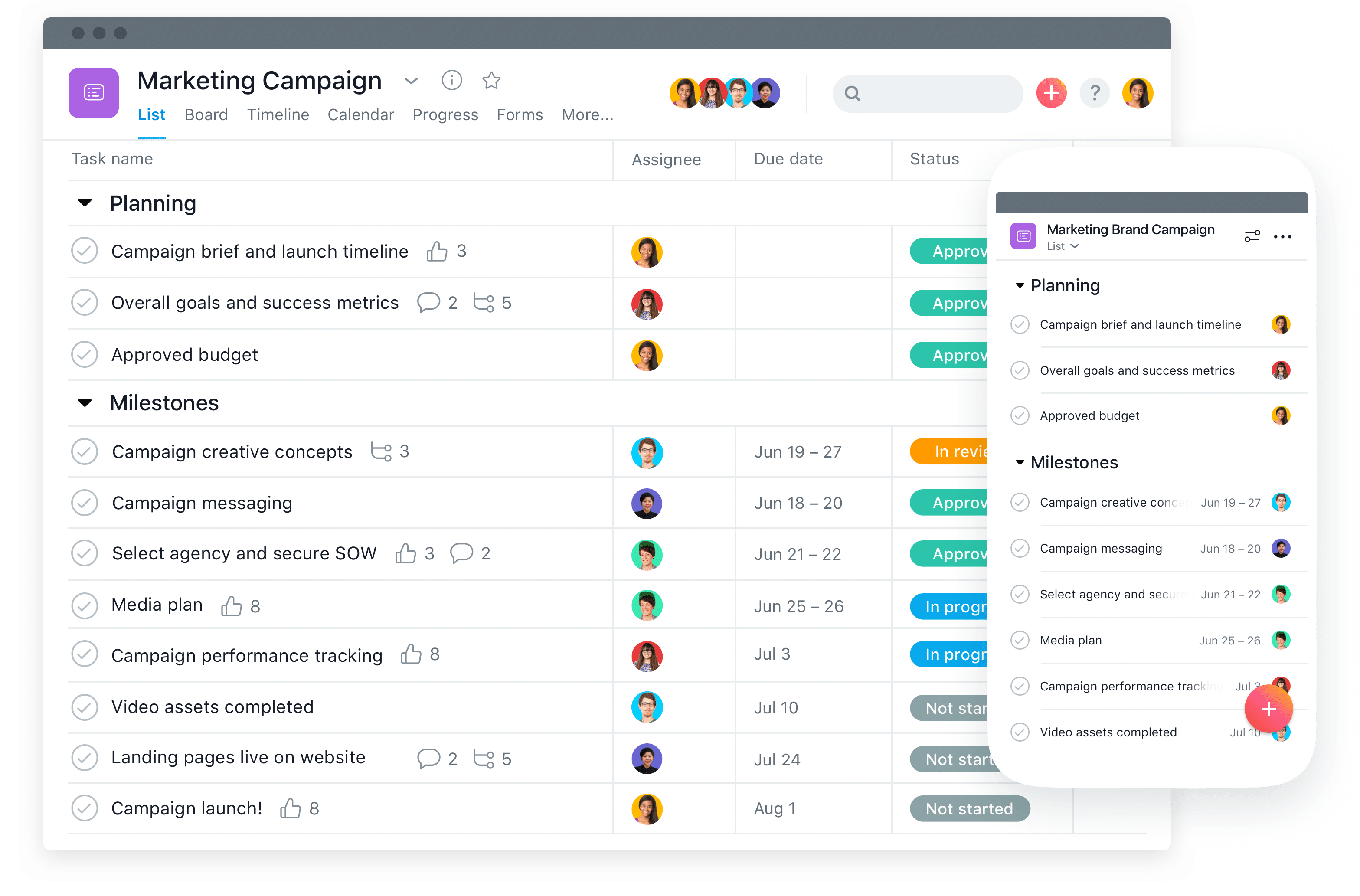 Asana is a visually appealing project management tool created by one of Facebook's founders, and easily ranks among the best project management tools. Used by creatives and teams all over the world, Asana's dynamic format and design keeps users engaged and active in the platform. Asana helps people and teams increase overall accountability and improve communication.
Features of Asana include:
Flexible project views including list, timeline, and boards
Ability to add comments, due dates, and attachments to action cards
Real-time analytics and charts to map progress
Workload tracking to help team members manage individual workloads
Ability to set strategic goals in-platform
Comparison: Learn about the top Asana alternatives on the market.
4. Microsoft Teams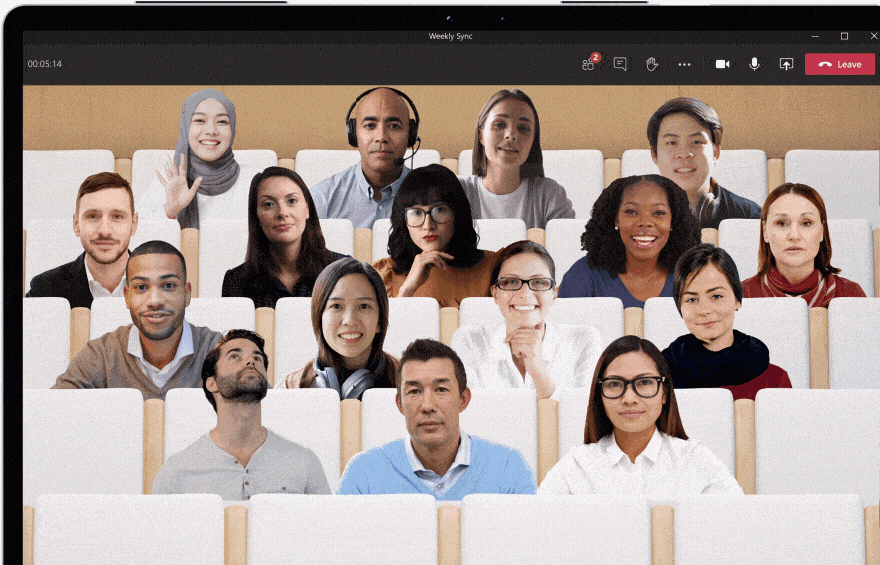 If you're already active in the Microsoft Suite of products, Microsoft Teams could be a great choice for you. This tool allows you to chat, collaborate, communicate and meet seamlessly, which is even more important now that we're all working remotely. Bonus: Did you know you can integrate Teams with more in-depth project management apps like Hive?
Features of Teams include:
Chat with gifs, stickers, and more for easy virtual communication
Meet virtually with teams of 2 to 10,000
Collaborate on files in real-time using apps like Excel, Word and Powerpoint
Integrations with hundreds of other apps like Hive
5. Airtable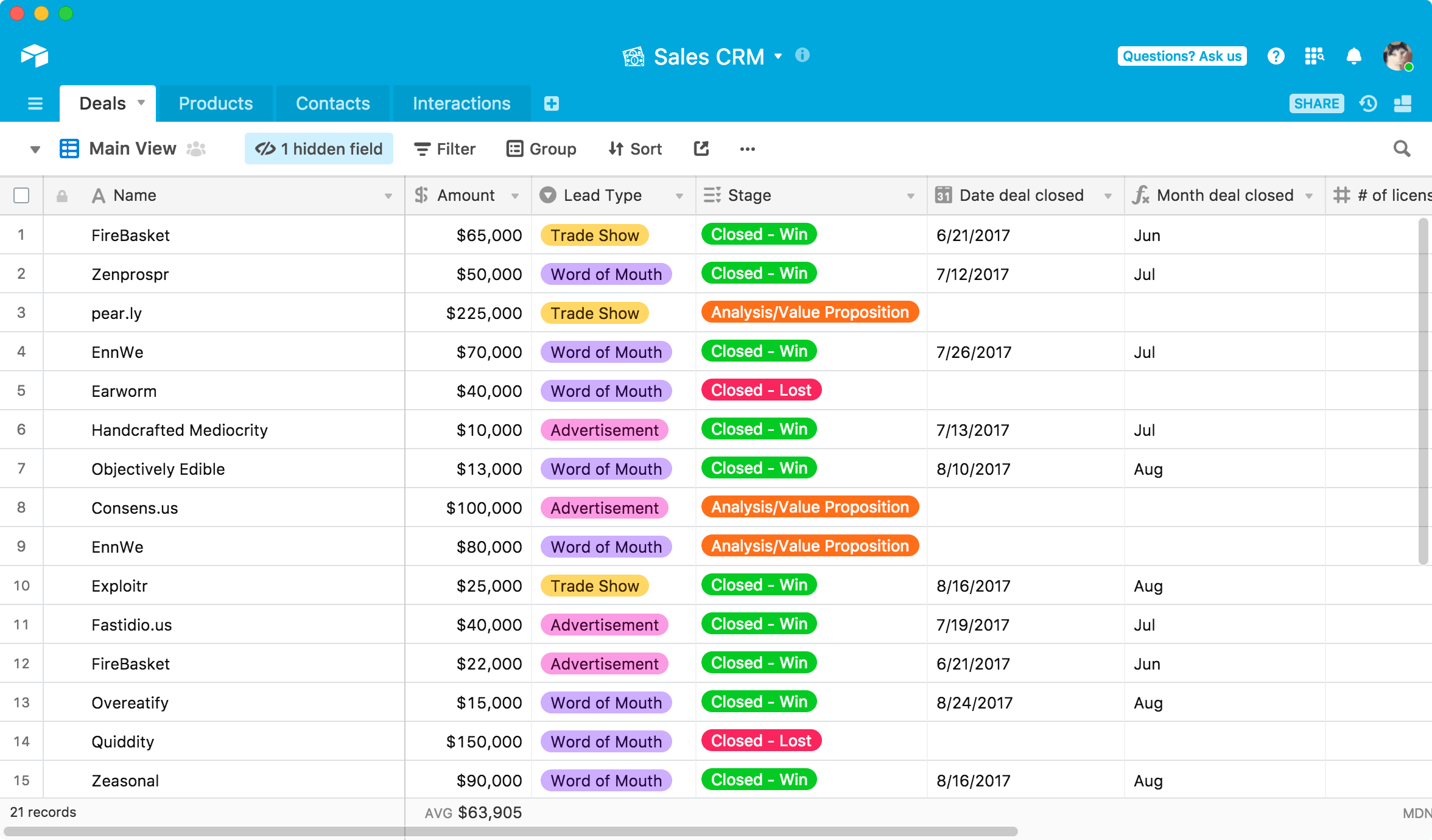 Airtable is a high-powered spreadsheet in which you can list tasks, projects, and store files. Within the spreadsheet, you can attach a variety of items, including images, links to other tasks, and assignees. Airtable also has other views aside from the spreadsheet/table view, which include calendar view, Kanban view, and gallery view. This app is one of the best project management tools if you're primarily used to working in Excel, Google Sheets, or another spreadsheet-based software.
Features of Airtable include:
Ability to create a customizable database to fit your flow
Views that include calendar, gallery, and kanban
Automations that allow you to send notifications and create tasks
Over 50 pre-built apps
Comparison: Learn about the top Airtable alternatives on the market.
6. Smartsheet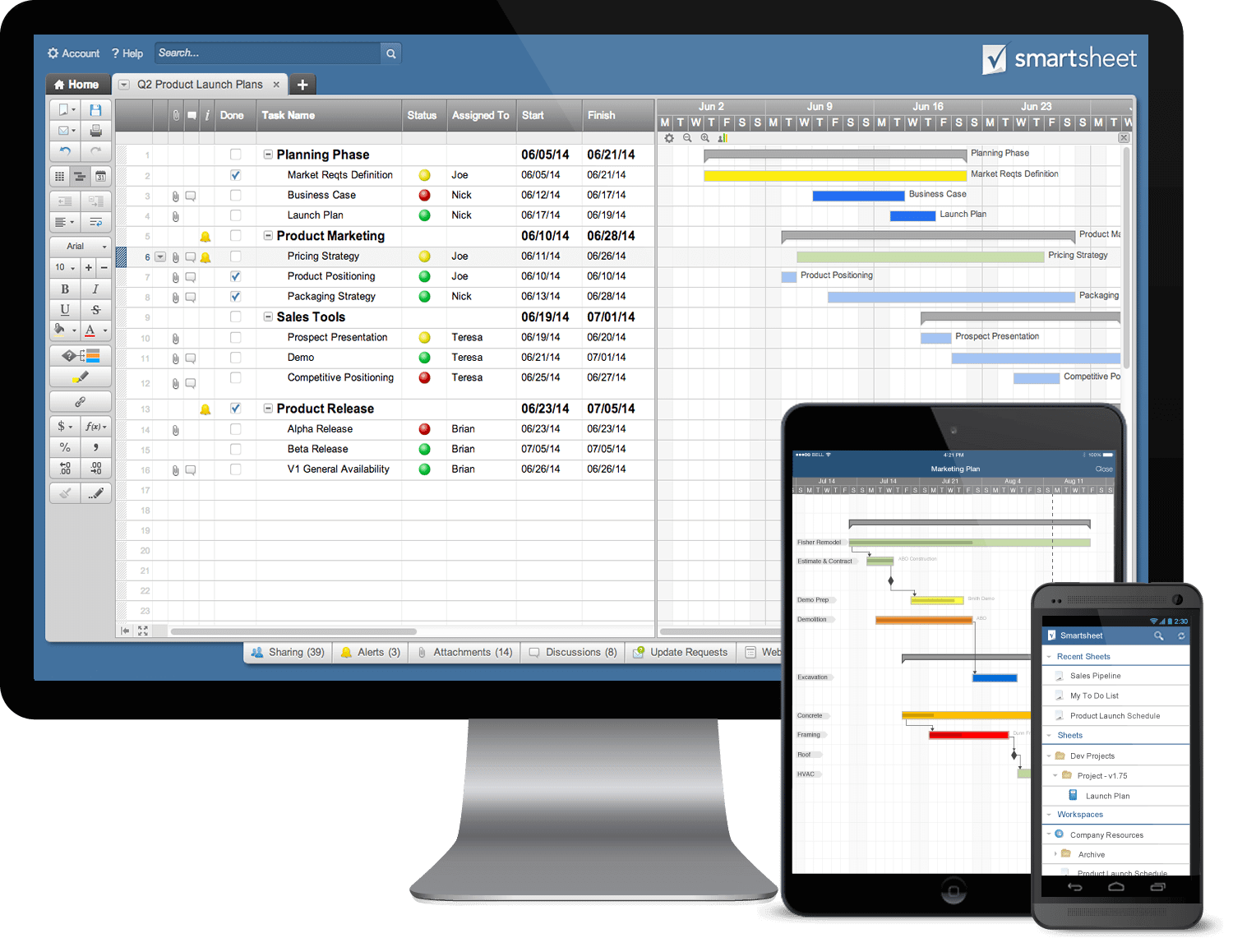 Smartsheet is a project management tool largely based in table view, which mimics the look of an Excel spreadsheet. Smartsheet is a dynamic tool used by teams all over the world looking to streamline their processes/workflows and collaborate more efficiently. If you are used to creating timeline graphs in excel you will love this tool for how easy and simple it is compared to excel. In the last few years, Smartsheet also acquired 10,000 Feet, which is a great resource management tool and adds additional benefits to the platform.
Features of Smartsheet include:
Dashboards that provide admins or team leaders insight into overall project progress
An activity log that acts like an audit trail for all work completed
Content management with the ability to plan and review content in-platform
Comparison: Learn about the top Smartsheet alternatives on the market.
7. Wrike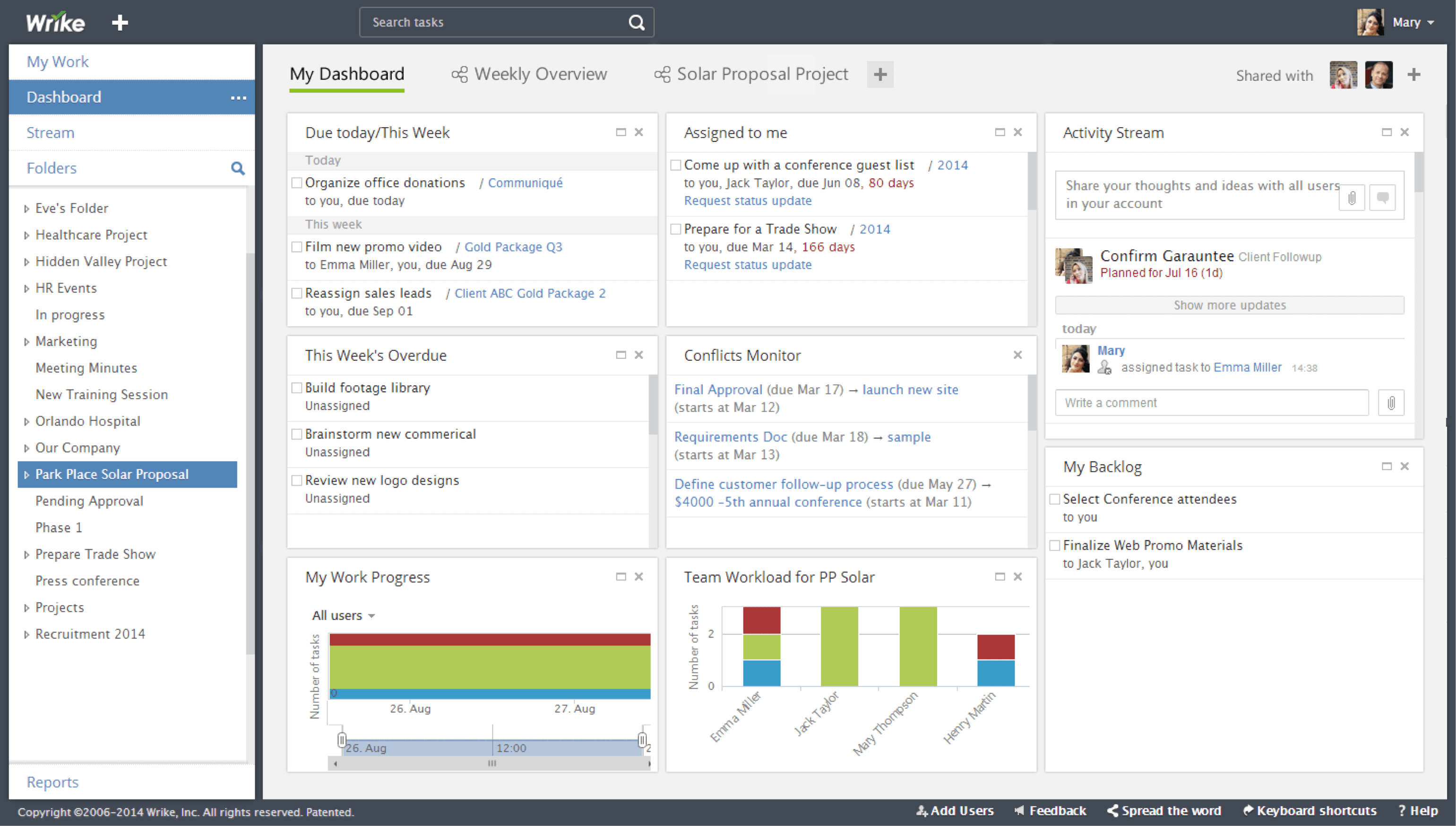 Wrike is a powerful project management tool best for creating custom team workflows. From there, you can easily set a timeline, create interactive charts like Gantt view, and easily visualize tasks and next steps. Wrike also allows you to analyze performance with their real-time report building feature.
Features of Wrike include:
In-depth work intake forms
Multiple project and task views including table, Gantt, list and more
Flexible project management templates to encourage repeatable work
Custom workflow statuses
Comparison: Learn about the top Wrike alternatives on the market.
8. Workzone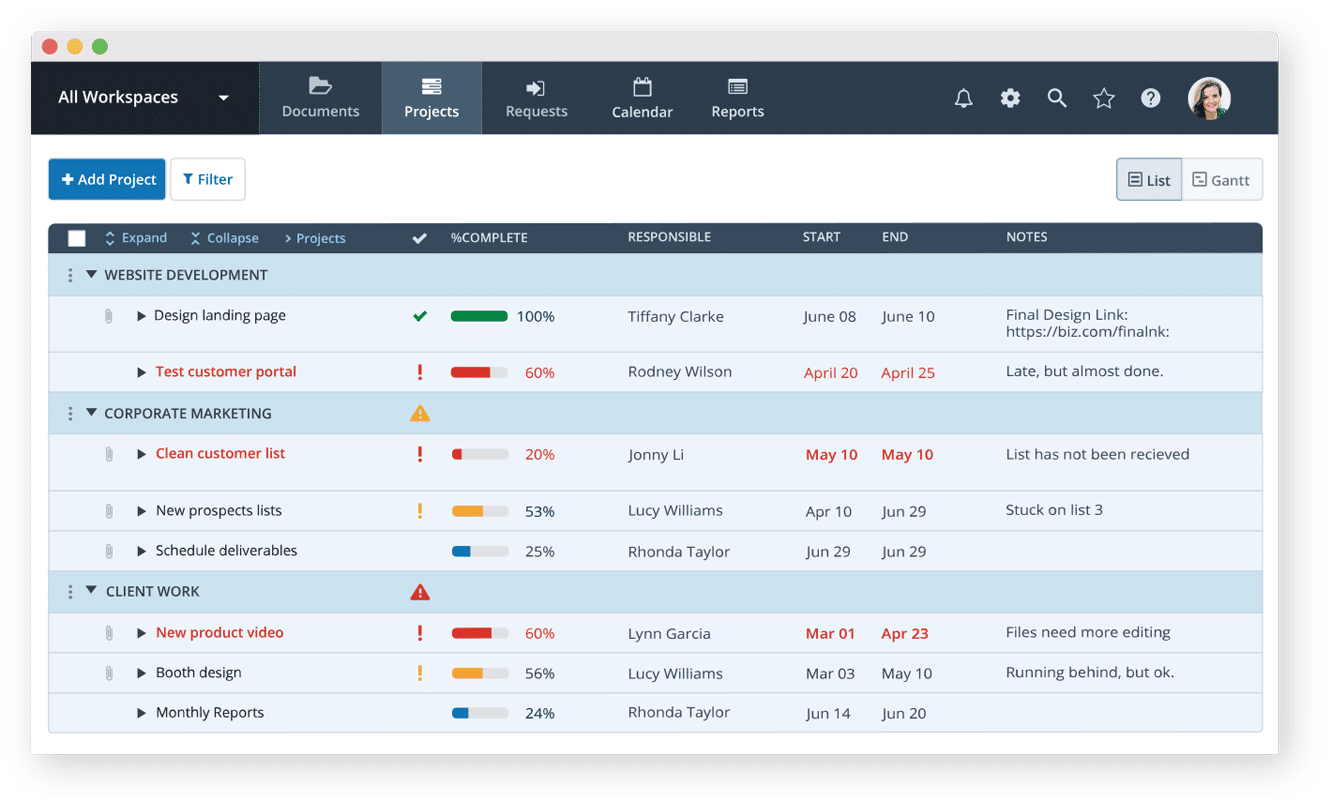 Workzone is a customizable project management tool that helps bring all relevant information together for teams to collaborate at macro and micro levels. Within Workzone, you can access things like "Project Dashboard," pictured above, which is a big picture view of where all projects stand across an organization. You can also drill down into "To-Do Lists" which are created for each individual user and emailed to them.
Features of Workzone include:
Project dashboard for the big-picture
Gantt charts and task dependencies for long term planning
Time tracking
Status alerts that identify areas of risk proactively
9. GanttPro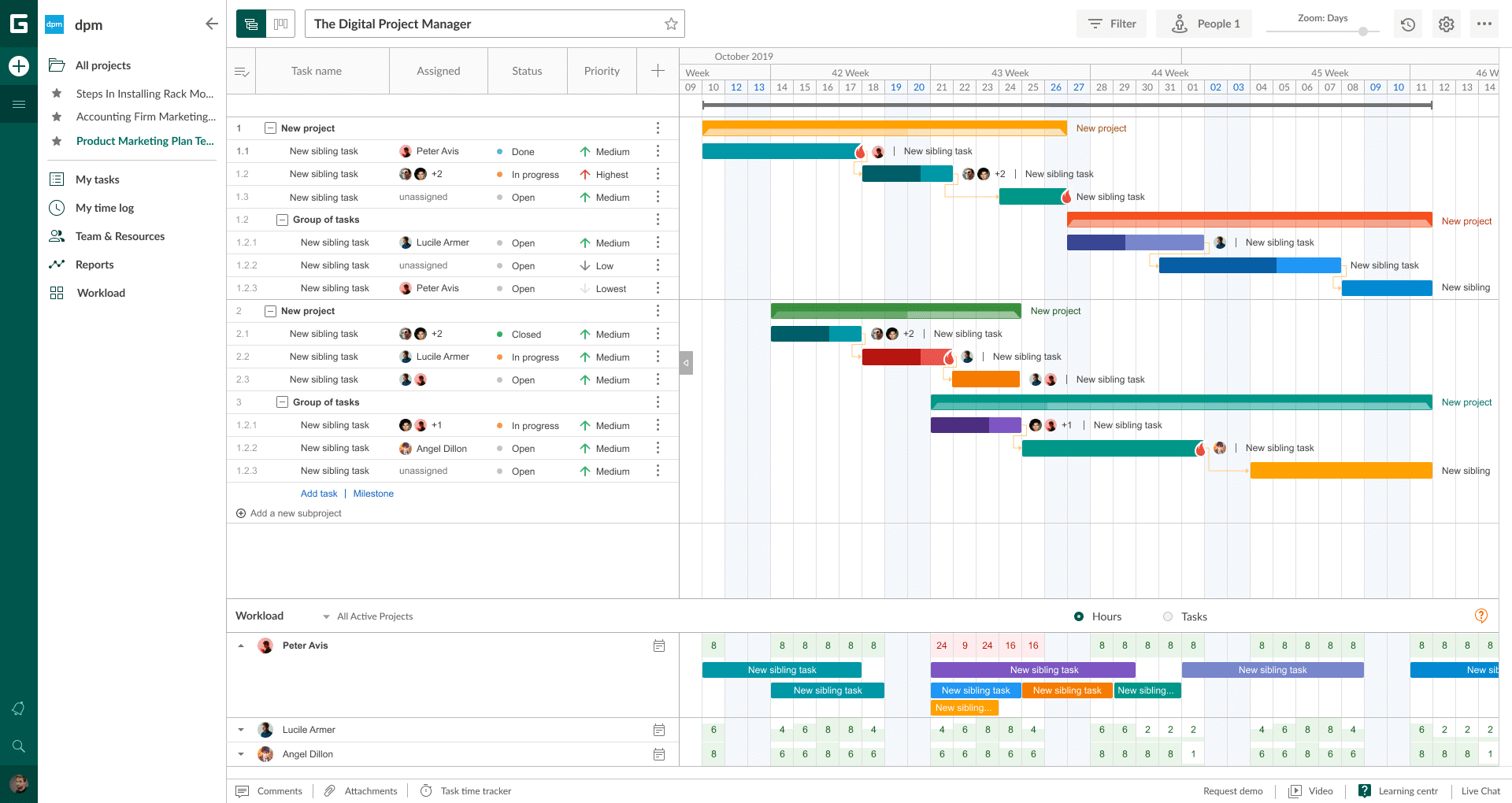 GanttPRO is a world-renowned Gantt chart-based project management tool used by teams at NASA, Salesforce, Vodafone, Intel, Booking.com, and more. The software is loved, among all other things, by its short learning curve and attractive interface.
Features of GanttPRO include:
Flexible project views, including Gantt chart, board, list, calendar, and portfolio.

Team collaboration functionalities with comments, attachments, mentions, and notifications.

Highly visualized timeline with the Critical path, Auto scheduling, and dependencies.

Resource workload that shows who is overallocated/underallocated or has just the right amount of tasks.

Time tracking and reports.
10. nTask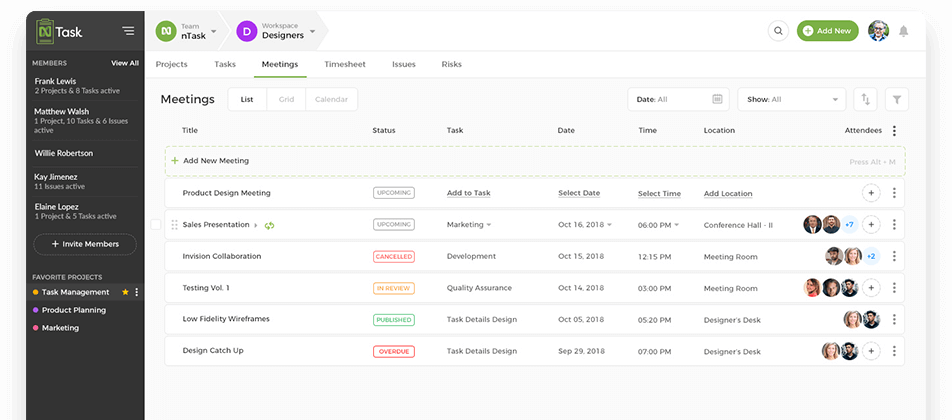 nTask is a free, online project management tool that over 100,000 teams around the world use to hold themselves accountable. nTask is great because it has enhanced time-tracking and meeting functionalities, which are great for organizations that bill hourly.
Features of nTask include:
Automated time-tracking or manual timesheets.
Task prioritization and tracking.
Project planning and timeline management.
Reporting and visualization tools.
11. ProjectManager.com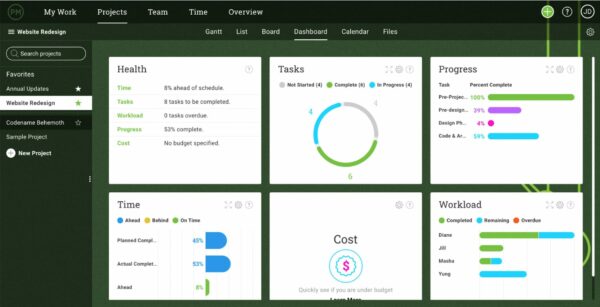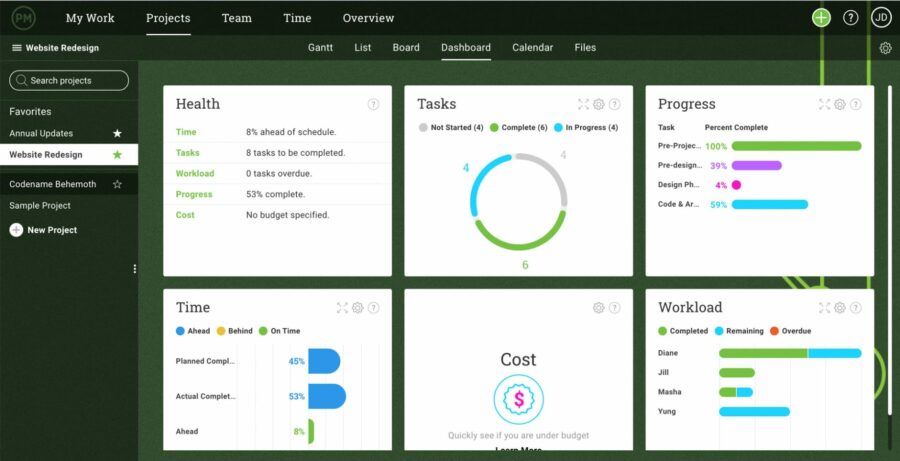 ProjectManager.com is a leading authority in all things project management. One of their most robust tools is the project planning software, which helps teams plan project timelines, collaborate on tasks, and track progress and resources along the way. ProjectManager.com offers tiered pricing plans based on your required features and team size, even offering enterprise solutions for large teams. This makes it a great project planning option for all different types of teams.
Features of ProjectManager.com include:
Support for Agile and Waterfall planning
View tasks in Gantt charts and Kanban boards
Email and in-app notifications about task updates and changes
Time and expense tracking
12. Notion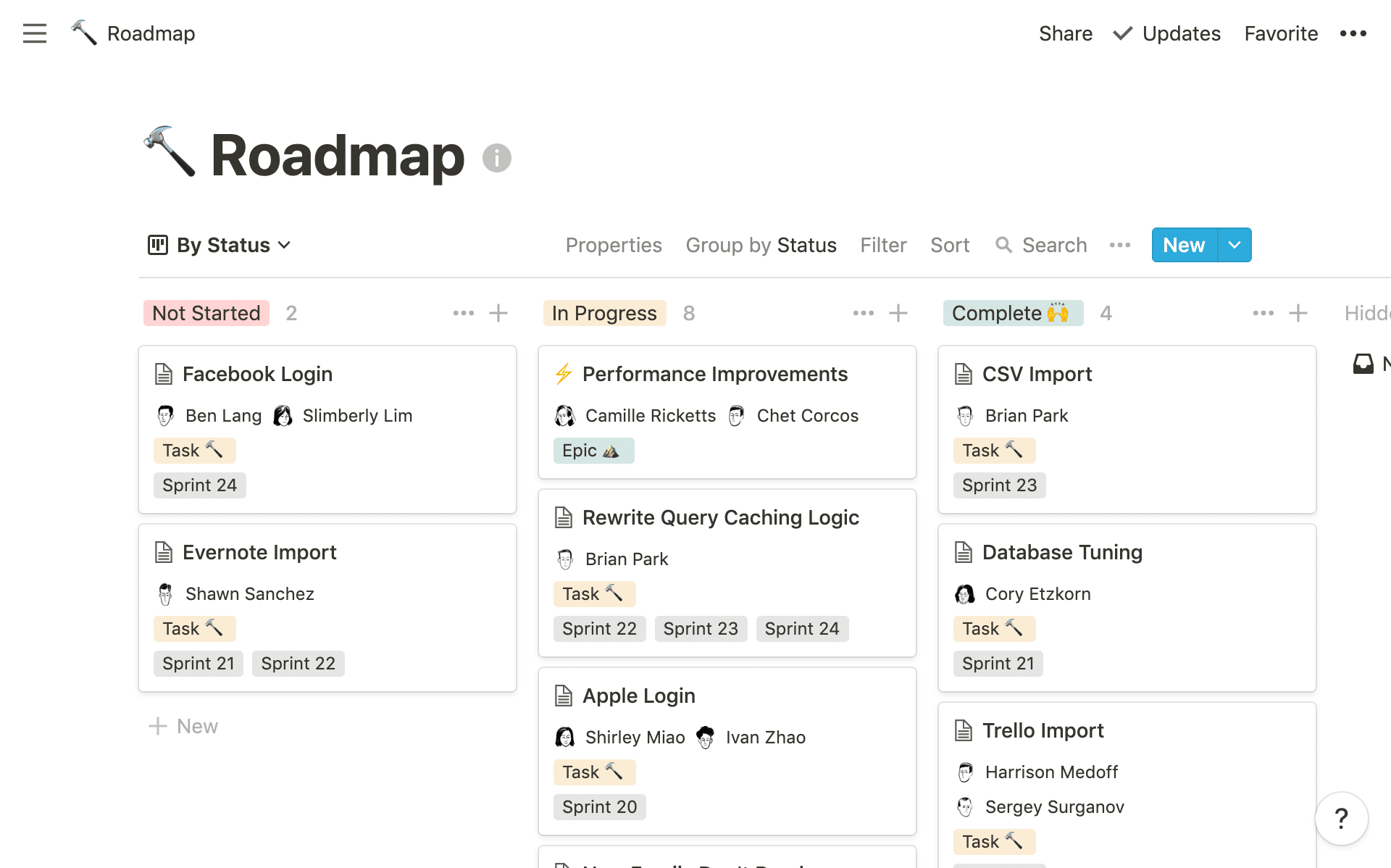 Notion is one of the best project management tools on the market because it's one centralized place for teams to write, plan, assign, and get organized. Notion is broken up into a few parts: the team Wiki, projects and tasks, and notes and docs. The team Wiki is a central knowledge source for the team, while projects and tasks are the meat of the project management tool. Notes and docs provide a centralized place for document storage.
Features of Notion include:
A centralized OS that keeps the whole team on the same page
Flexible Kanban boards and list views for projects and tasks
Ability to assign an individual and designate priority level
Comparison: Learn about the top Notion alternatives on the market.
13. ClickUp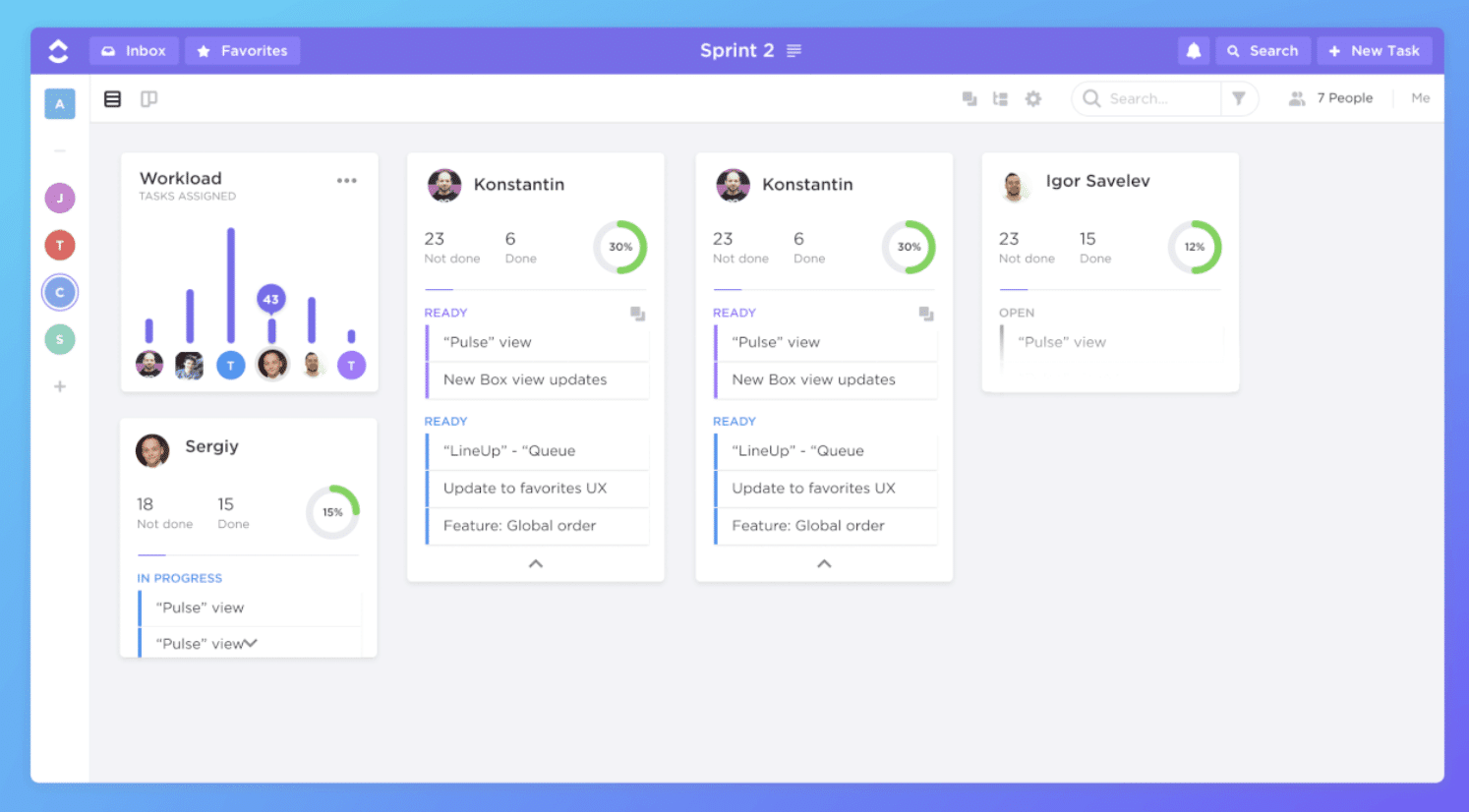 ClickUp is a project management tool with customizable views, including list view, board view (similar to Kanban view), box view (which breaks out individual workload), and calendar view (sorts actions by due date). With ClickUp, users can work towards Goals, which are the users "mission control center."
Features of ClickUp include:
Flexible no-code project management
Ability to add docs and wikis
Time-tracking
Comparison: Learn about the top ClickUp alternatives on the market.
14. Monday.com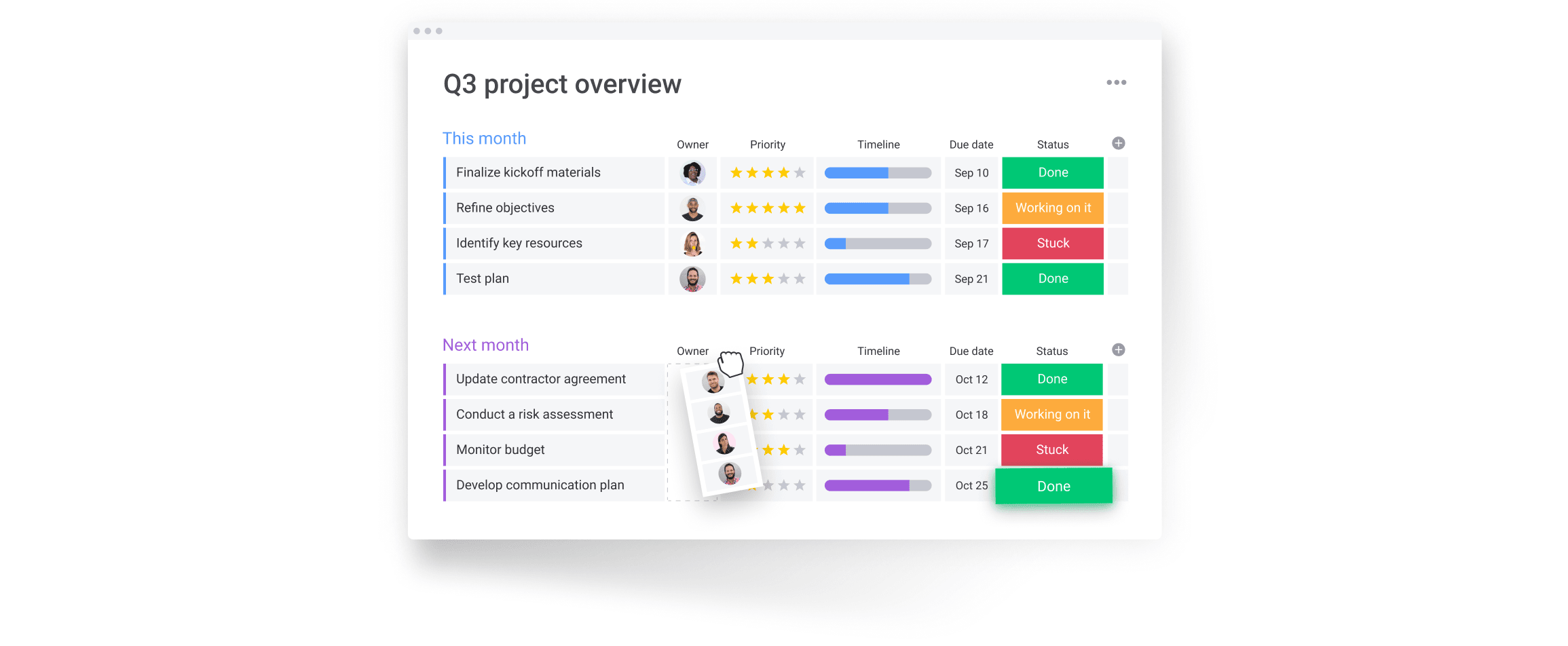 Monday.com is a basic, intuitive project management tool that is easily accessible for both small and large teams. It's a work operating system that can help teams in many different functions, including sales, project management, marketing, HR, and recruitment.
Features of Monday.com include:
Automation
Flexible project views
40+ integrations
Comparison: Learn about the top Monday alternatives on the market.
15. Clarizen
Clarizen is a great project management tool that works well for enterprises and large teams looking for a robust solution. This tool is customizable, and you can use dashboards to keep track of all moving parts across the organization. Clarizen also helps cut down on excess communication and streamline overall processes.
Features of Clarizen include:
Dashboards catered to each team and work style
Automation for repeatable processes
Dynamic reporting
16. Paymo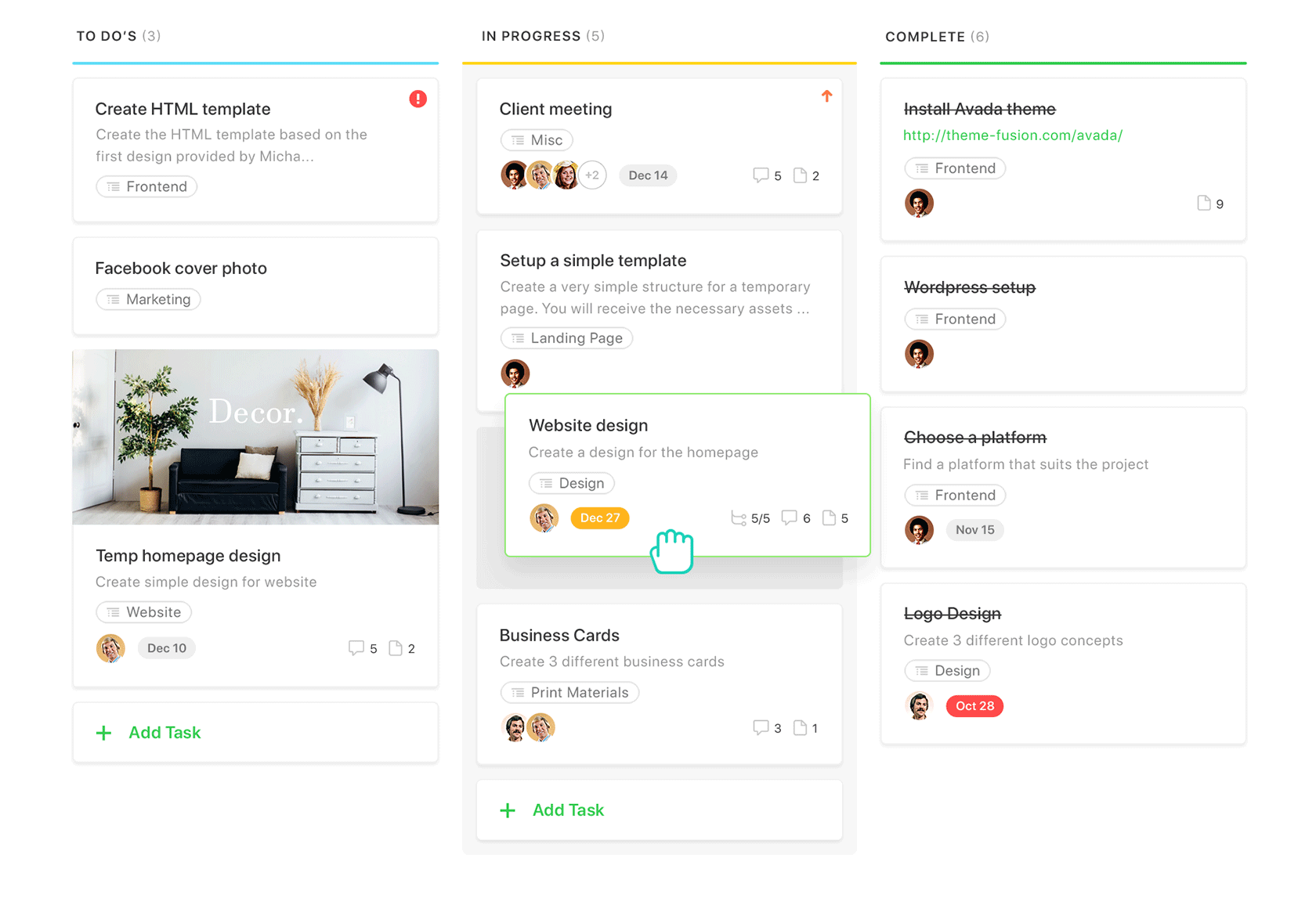 Paymo is a project management tool built to help teams work together and stay on task. One of the main selling points of Paymo, and what makes it one of the best project management tools, is that it lets you manage tasks, create team schedules, and track work time in one cohesive platform. This tool will primarily be useful if you're doing project-based work, say at an agency or creative organization, and want to track time spent across specific tasks and projects.
Features of Paymo include:
Kanban, task lists, and task view
Create invoices from the app
Time tracking
17. Planview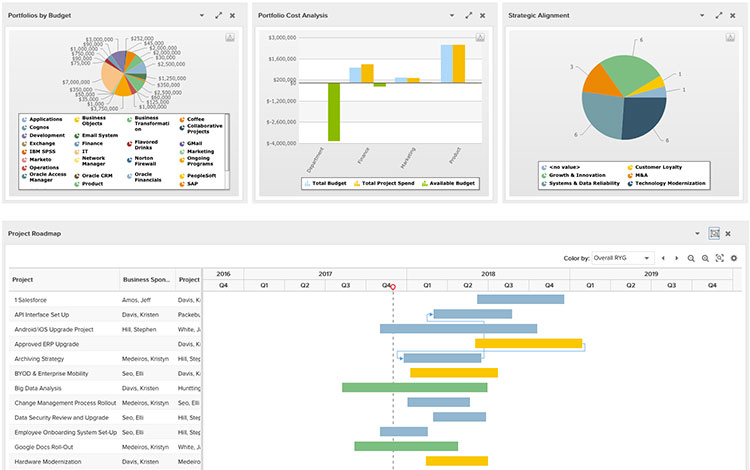 Planview is a portfolio and project management tool with five different offshoots including Planview Enterprise One, Planview LeanKit, and Planview Projectplace. With their wide array of solutions, your team can find the perfect fit for strategic planning, enterprise agile planning, work management, or agile program management.
Features of Planview Leankit includes:
Kanban boards for planning and team collaboration
Process and workflow visualization
Risk identification
18. Infinity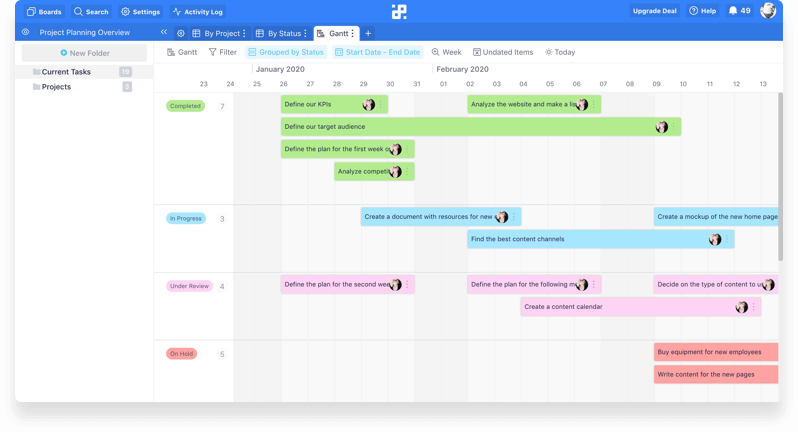 Infinity is a powerful project management tool that allows teams to sort and store information about projects and tasks in a streamlined way. With tons of unique project views, ranging from table to Gantt, Infinity has a unique view and solution for every team member. Additionally, with this project management tool you can structure data into hierarchies including workflows, items, and tabs.
Features of Infinity include:
Tables, columns and Gantt chart views
Folders, forms and subfolders
Customizable templates
19. ProProfs Project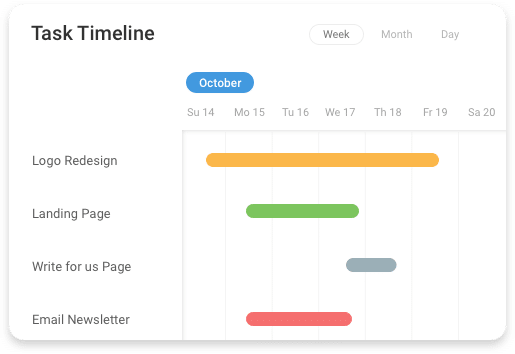 Proprofs Project is a simple online project management platform that helps teams maintain 360 degree visibility of their projects. With this tool, teams can easily bridge the communication gap and collaborate in real-time with different departments to share ideas, files, and discuss projects to avoid unnecessary delays.
Features of ProProfs Project:
Shared calendar to track tasks as a team
Gantt charts to visualize milestones
Integrations with Google Drive, Dropbox & Box
20. Teamwork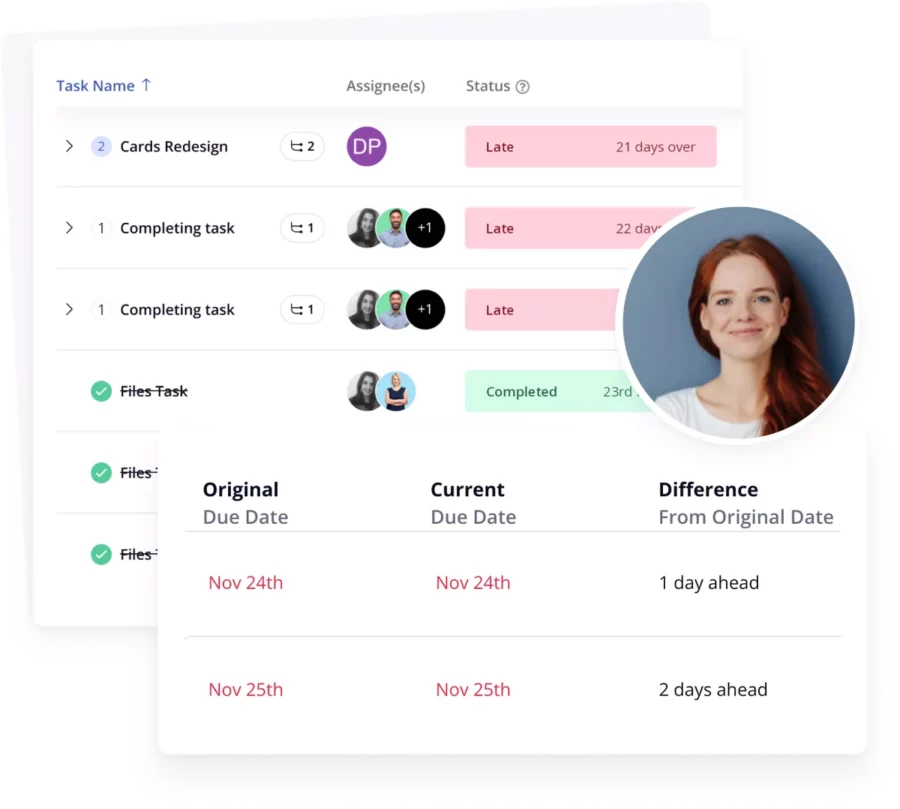 Teamwork is a task and project management that offers flexibility and powerful features for teams who work in complex projects. The software offers billing and invoicing, project time budget, scheduling, integrated team chat and burndown reporting. Teamwork also has pre-built templates that facilitate onboarding and different visual representations of projects, such as Gantt charts view. 
Features of Teamwork includes: 
Time tracking

Sub-tasks and task dependency

Billing and invoicing

Project time budget

Management resources (burndown reporting)

Gantt chart view
21. Toggl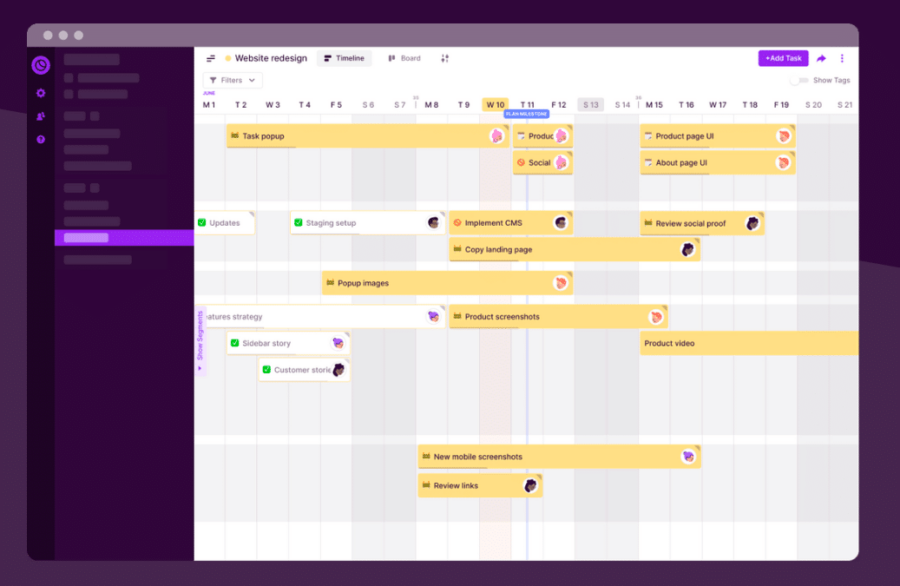 Toggl is a simple project planning and collaboration tool for small teams. Toggl drag-and-drop interface allows flexibility when creating a project and customizing it to each team. The software allows you to see task statuses, set deadlines, add subtasks, and define task estimates. Plus, the tag feature for tasks makes searching, filtering and classifying projects and segments easier. 
Features of Toggl includes:
Task management

Background tracking

Calendar integrations

Autotracker

Summary, Detailed & weekly reports
3. Test out the project management tool
Now it's time to test out the tool for yourself. Almost all project management tools come with a free trial, and even if they don't, many companies are happy to offer one if you ask. First you should gather together a small group to pilot the tool together. Make sure to choose people who have different functions and working styles, as diverse opinions are critical to preventing future issues.
It's also a good idea (if possible) to have the pilot team work on a real project. It's easy to play around with the features for five minutes, but you need to see how it performs when you use it to get something done. Otherwise, you won't truly understand its benefits and drawbacks in relation to your project management needs.
It's also important to test out the customer service. Implementing a new tool, even if it's a great fit, takes work. A provider that supports you can make all the difference. Better yet, request a demo and spend 30 minutes to an hour with their sales team to learn a bit more about how the sales team themselves are using the tool, and what functionalities you can expect. You can also ask the support team a question and see how long it takes them to respond. Check out their help center and resources to see if they have assets that will help you get started. Ask your sales representative how they plan to support you if you make the switch.
Here are some of our favorite project management tools that offer free trials:
4. Get feedback from your team
After you've completed the trial, it's time to gather feedback by reaching out to everyone on the pilot of your potential project management tool. Things you should ask about:
Would the project management tool make their workflow more efficient?
How much time would be spent updating it?
What did they like the most/least about the tool?
How much time did it take them to get started?
How likely would they be to recommend the tool?
Next, go back to your list of pain points from the first step. Check to see how well each option solves your main problems. It's also important to think about how the project management tool works with external parties to prevent your team from doing duplicate work.
For example, if you're a marketing agency, you may want your tool to easily share project progress with your clients. Otherwise, your team will have to duplicate work in order to keep clients up to date.
You also need to consider how easy it is to work with other departments. Let's say your customer service team needs notifications from the CRM to start an implementation. If the project management tool doesn't integrate with it, it's going to slow down everything down.
5. Evaluate the cost of the project management tool
Consider not only the price per user, but also the time it would take to implement the tool. Weigh that against the cost of continuing to work the same way. Think about the time wasted, opportunities lost, and problems caused by your current workflow. How could this new tool change that? If you can see long-term savings, then you've found a good option.
You should also consider what payment method works best. Do you prefer monthly subscription or annual payment? Do you want to commit to 3 months and then reevaluate? This is an investment. Figure out what is the best use of your company's resources.
Many of the top platforms also offer free project management plans, which could be a good fit if you are working with very limited budget. Keep in mind that these free versions usually have limited functionality in comparison to the full paid plans, so they are usually best for teams with fewer members and more simple project management needs. For example, Hive Free is Hive's free-forever plan for teams up to 10 users, making it a great solution for entrepreneurs, freelancers, or small teams.

6. Get executive buy-in
When you're preparing to implement a project management tool, it's critical that you get buy-in from the executive team, or at least part of it. Because you're going to ask dozens of people to likely change their day-to-day routine, it's best to have support from leadership. A few ways you can do this include:
Having a group of leadership team members on the tool selection committee
Openly communicating with leadership about current tool shortcomings
Providing statistics of past successful implementations to leadership
7. Purchase the project management tool
Once you've gotten executive buy-in from the right people at your organization, it's time to make the purchase of the tool. Since most project management tools are purchased based on a seat count, we'd recommend making a purchase that outfits 2-3 teams, and using them as a test to see how you'd roll out to the rest of the organization.
8. Implement the project management tool
Congrats! You've found your project management tool! The research is done and you have the perfect option. But don't forget an implementation plan. Most teams are resistant to change, so you need a plan that makes the rollout as smooth as possible. Key items to consider:
Timeline: When do you want to bring everyone on? Do you want to spread it out or do it all at once? Do you need an additional timeline maker?
Training: What training do various people need? Who will provide it? How will it be provided?
Champions: Who are going to be the key advocates for this tool? How do you get them to buy-in? What will they do to encourage others?
Integrations: When are you going to set up key integrations? Who will be responsible for setting them up?
Once you've got everyone onboard, it is critical that you set a good example. Make sure you continuously use the tool and are available to answer any questions.
9. Complete a retrospective
Once the tool has been implemented, it's helpful to take a look back at the process. Were there areas that you'd have worked differently? Things about the implementation that didn't go smoothly? As you think through this, give direct feedback to the sales and customer success teams about your experience — who knows, maybe there are parts of the tool that they can tell you about to help solve for any issues.
It's also critical to have regular check-ins with your team to learn about how they're using the project management tool, where you can make changes, and how to better implement it over the long run.
Overall, getting your team on board with a project management tool can be tricky, but once it has been implemented and it is in-use, it'll make everyone's life so much easier.