The way projects are planned and executed in 2021 is very different from what we've seen in previous years. Collaboration is, for the most part, totally remote and digital, and we need to rely on a variety of tools to help us get our work done in a timely fashion. Before we dive into the best project planning software for your team, let's take a look at the definition of project planning.
What Is Project Planning?
Project planning is inherent in every project to some degree. Everything you take on, from painting a room in your house to tackling a longer-lead work assignment, has planning involved to some degree. But when we think about project planning on an official level, we can start to break out the project planning cycle into a few different parts, which we'll outline here.
Project objectives
Before kicking off any project, it's best to conduct a thorough investigation into your project objectives. What is it that you're hoping to achieve? If you don't have an understanding of the project objective, you're setting yourself up for failure.
Project scope
Once you've got your objectives laid out, it's best to think critically about the scope of the project. How big is this undertaking going to be? Will you need external collaborators, or is this an internal effort? Will you be managing a large scale, multi-workstream project, or will the workflow be simple and contained within a single group of tasks? Identifying the true project scope before embarking on the project is essential.
Project due dates, milestones, and schedule
After pulling together objectives and scope, it is absolutely imperative to outline a project timeline. In addition to understanding the final "due date," it's best to highlight specific milestones that parts of the project will need to be done by. Pulling all of these elements into a clear schedule is the easiest way to hold everyone accountable and manage expectations.
Project roles and responsibilities
Next, we need to address who is doing what. Once you've outlined objectives, scope, and schedule, you'll need to assign tasks and responsibilities to specific individuals. You can either break the project down into smaller sub-projects and assign those to team leads, or you can go on a task-by-task basis.
Project budget
Once you've got a firm understanding of everything from objective to roles and responsibilities, it's time to address the project budget. You'll need to review this after roles and responsibilities because you might have to bring in contractors or freelancers, which could add to the cost of the project.
Project risks
No matter how well you've planned all previous elements throughout the project planning process, you'll always have to address project risks. This means thinking through the effects of the project that could be undesirable, and having a plan in place.
Project communication
This is one of the last pieces of the project planning puzzle. Once you've got everything else under control, you'll have to determine project communication processes. Most people opt for weekly status meetings, or meetings that occur every other day with certain project participants. Project planning and project management tools will make this part of the planning process much easier. Let's take a look at some of the best project planning software on the market.
The Best Project Planning Software
1. Hive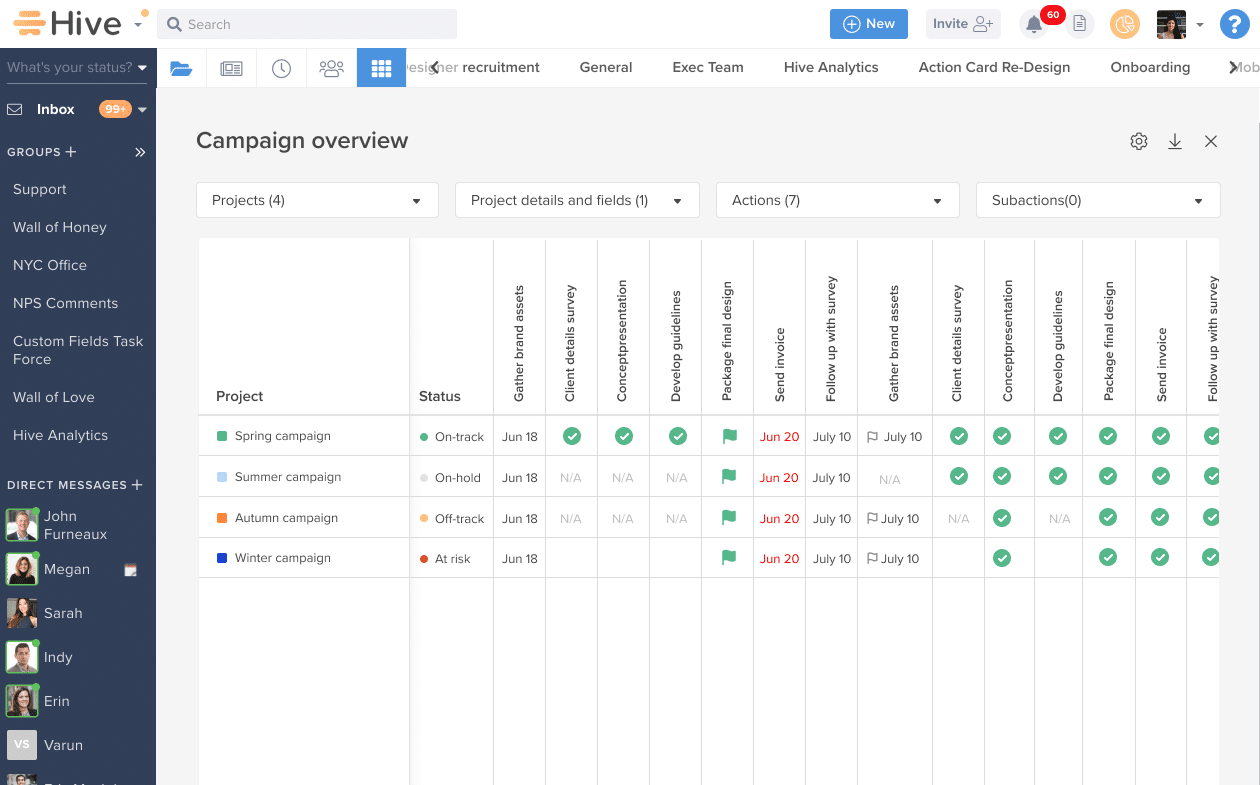 Hive is a great project planning software for your team because you can truly address all aspects of the project planning process in the tool. As both a collaboration and task tracking app, you'll be able to not only manage all project communication in Hive, but also schedule out a well-managed timeline in Gantt view, manage risks with Hive's risk tracker, and assign individual tasks to participants. 
Some additional features that make Hive a great project planning software include the resourcing feature, time-tracking, summary view, and internal chat. You can also integrate Hive with over 1,000 other tools like Slack, Box, and Salesforce. It doesn't get much easier than that.
2. Smartsheet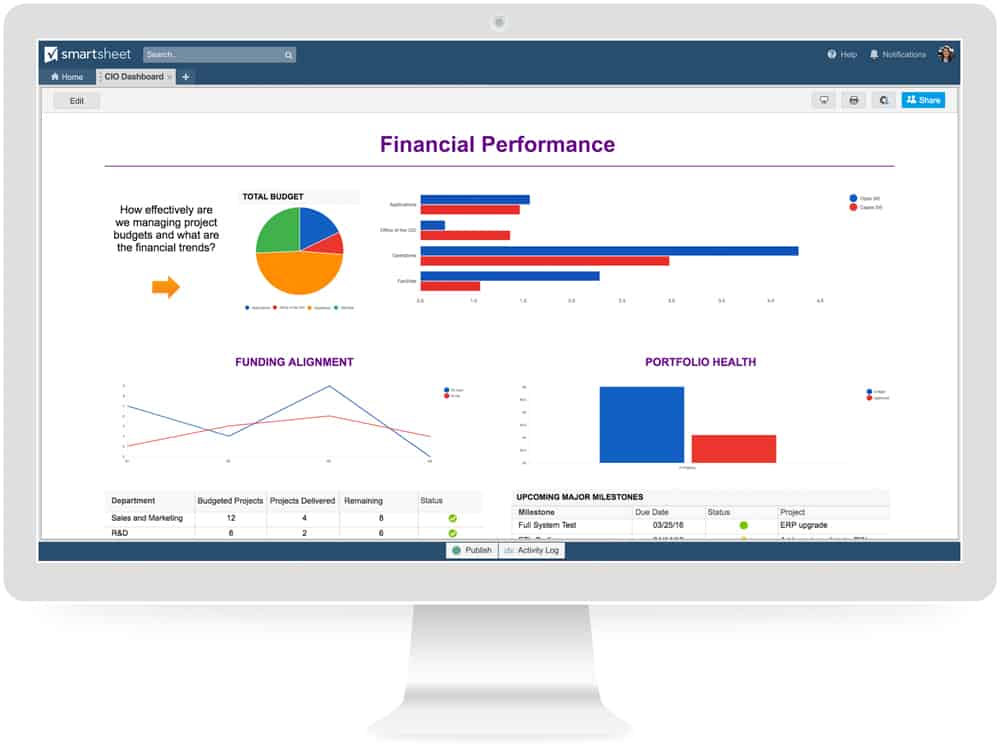 If you're used to working through projects in an Excel document, Smartsheet could be the project planning software for you and your team. Smartsheet unifies collaboration into one central hub, enabling efficient workflows and processes. For example, let's say you want to get started with investing in real estate by taking out a bridging loan. Smartsheet is a great tool to help you track time constraints on your finances and visualize your next steps. 
Some of the features of Smartsheet that make it an ideal project planning tool include the ability to view projects and tasks in different views — one team member can view the project in table view while the other can view it in Gantt view. Smartsheet also acquired a resourcing platform called 10,000 Feet, which makes it easy to track which teammates' time is being allocated to which projects. Finally, you can integrate thousands of other tools into Smartsheet like Teams, Jira, and Salesforce.
3. Asana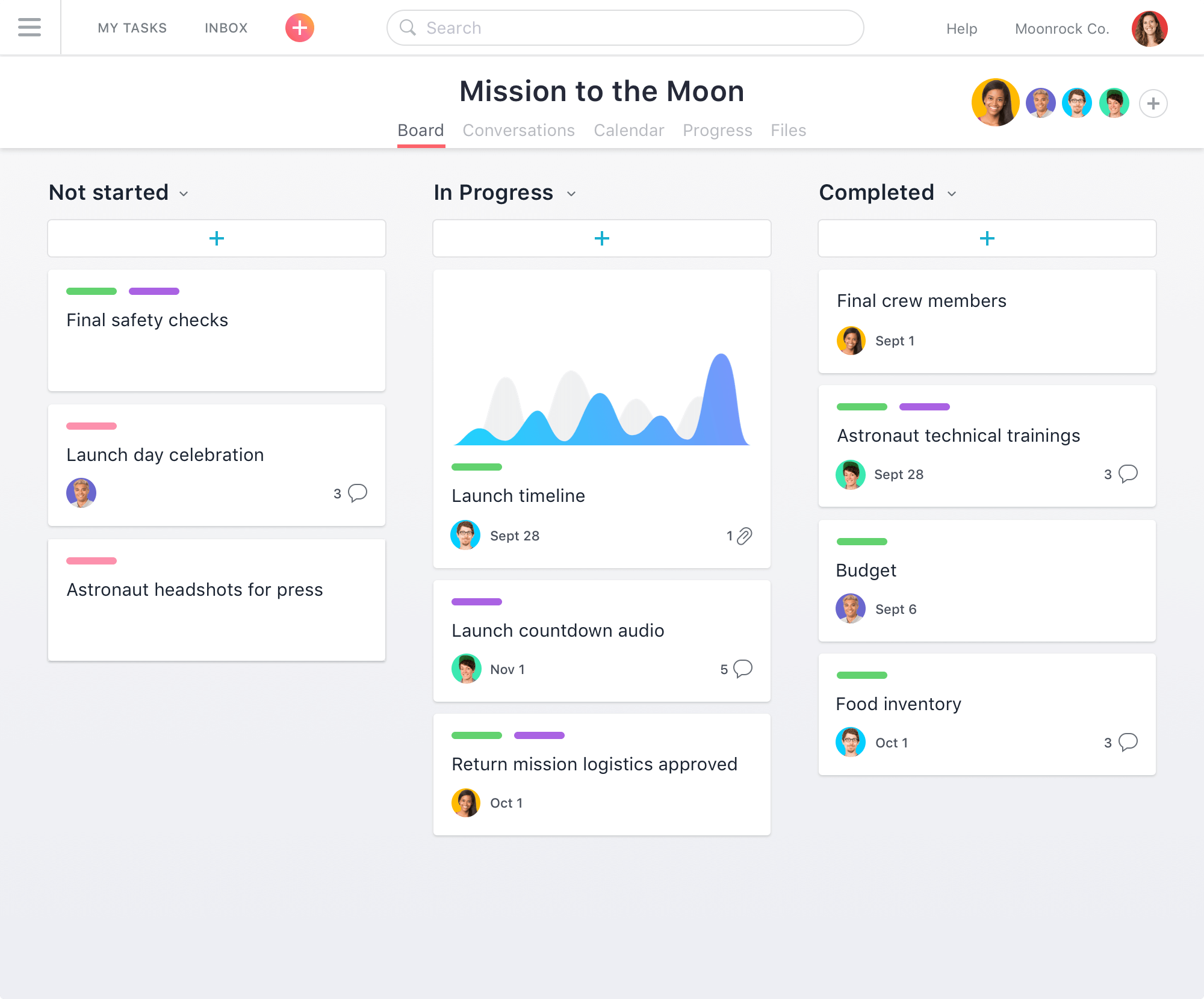 Asana is a really popular project planning software, and for good reason. This application makes both short and long term project planning much easier with features like flexible project views (Gantt, calendar, boards, lists), templates (which help teams save and replicate successful frameworks), and project plans. With project plans in Asana, you can outline milestones, next steps, and overall plan frameworks.
Asana also has a great automation feature, which will help teams execute quickly on smaller tasks. With their automations feature, you can even write custom "Rules" to dictate specialized automations per project.
4. Workfront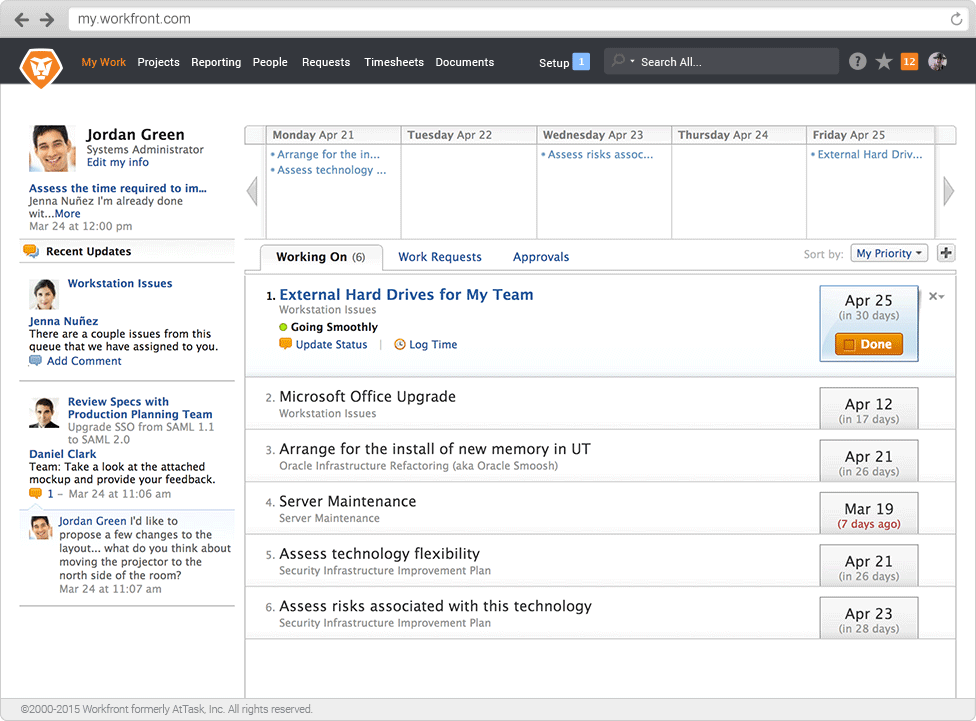 Workfront is a great project planning software for your organization to plan and execute on long-term strategic goals. Workfront offers some great features that let your team plan iteratively  — you can adjust in real-time based on the ever-changing needs of your projects. They've even got a feature called "Scenario Planner," which lets you plan for a variety of situations.
Additionally, Workfront has a feature called "Goals," which lets you tie in overall goals to specific action items and tasks. The tool also uses data to accurately predict project roadblocks, risks, and potential issues that may arise.
5. Scoro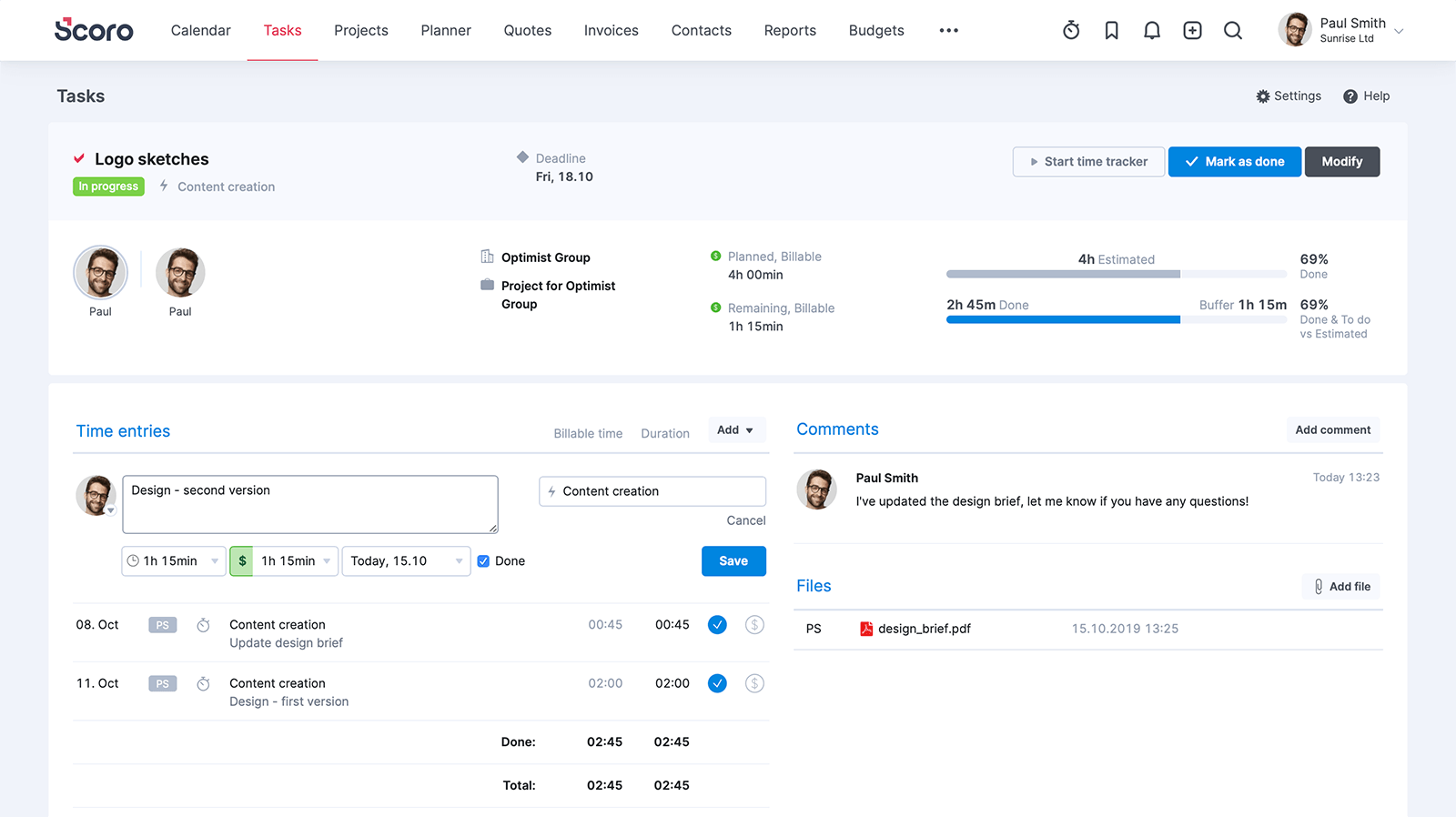 Scoro is a complex project planning software built to help teams manage tasks and reporting. Tasks can be tracked and divided into subtasks, assigned to individuals, and have deadlines and milestones attributed to them. Their dashboard functionality allows team leaders and teammates to get a better understanding of where projects stand.
Some additional features that make Scoro a great project planning software is its ability to manage timesheets and billable hours — this tool makes sending invoices and gathering overall data a breeze.
6. Runn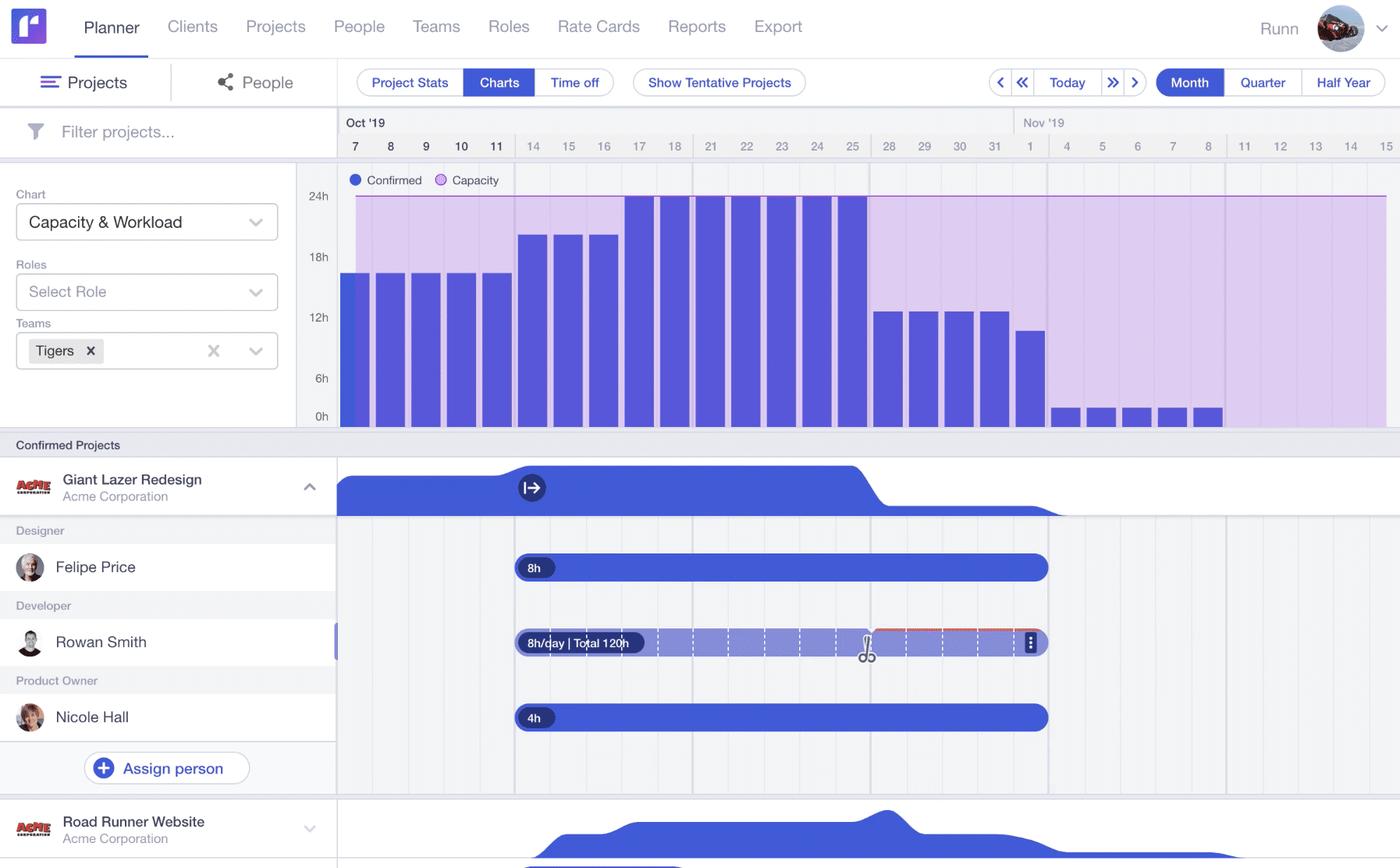 Runn is a smaller project planning software on the market that is a great option for tracking, planning, and forecasting. Real-time scheduling and planning make it easy to deliver projects on time, and Runn also has real-time financial forecasting to help the business move forward.
Additionally, Runn has other great project planning aspects including workload management to help plan your team's capacity and resourcing across the board.
7. ClickUp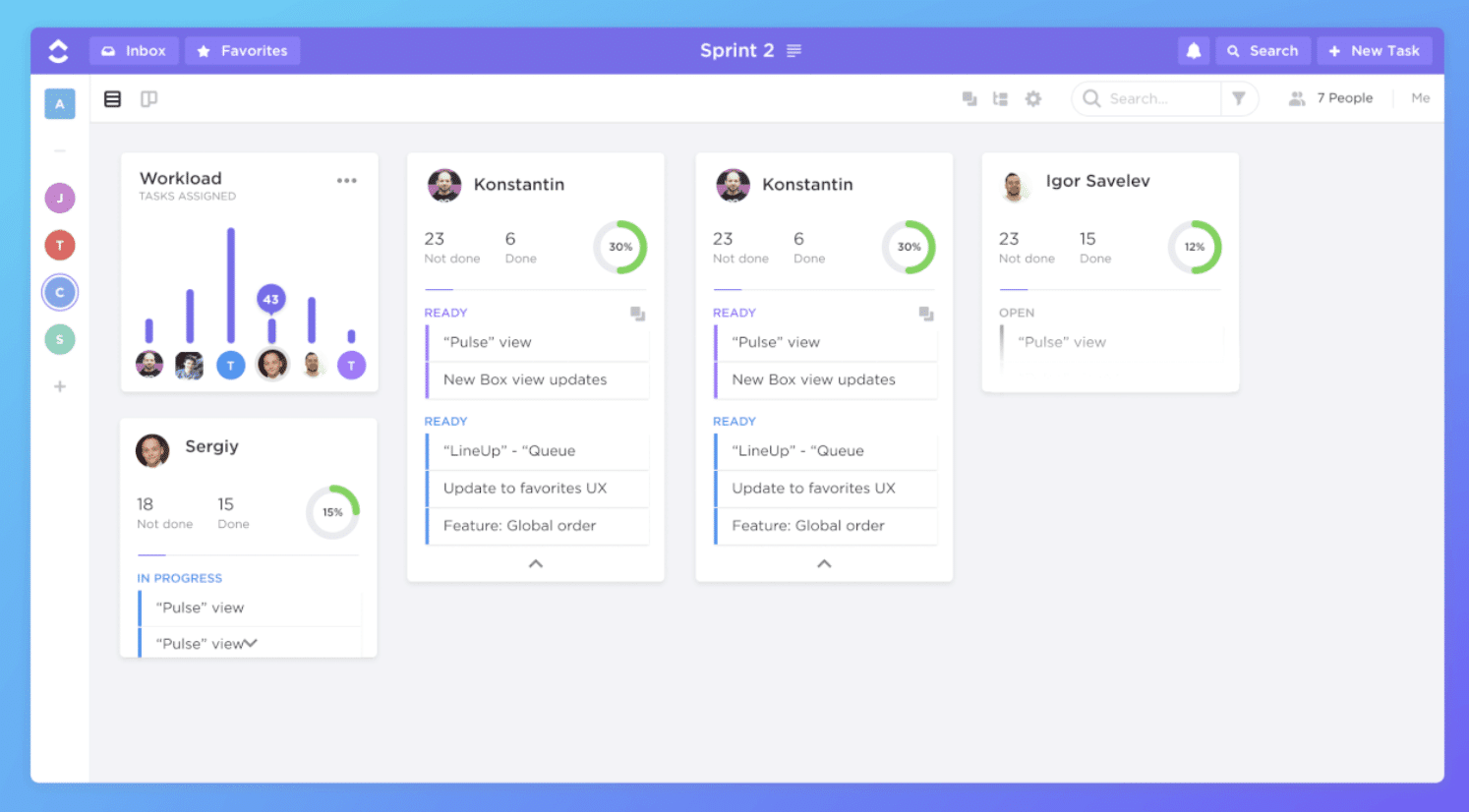 ClickUp is a great, free-forever project management software that is ideal for teams just getting started in the project management space. With this tool, you can do basic things like manage to-do lists, while also building out in-depth projects that enable easy tracking and follow-through.
With features like goal tracking and time tracking, this project planning software is ideal for teams of all sizes. Additionally, you can also utilize ClickUp's resource management feature to oversee timelines and workloads for you and your team, which is an ideal part of a project planning software.