The year is 2023. You're organized, crossing items off your to-do list regularly with the help of a project management software, and leaving the office (or closing your laptop in your living room) before 5:00 PM. Not your reality yet? No problem.
Project management tools and software are essential for businesses, offering features like task tracking, resource allocation, and collaboration. It streamlines project processes, enhances productivity, and fosters effective communication. By utilizing project management tools, businesses can stay organized, meet deadlines, and deliver projects successfully. Explore our top recommendations to find the perfect solution for your needs.
What does it help teams accomplish?
It may seem hard to maximize productivity with so many people working remotely or shifting to a hybrid work model, but it's actually more attainable than ever before. With the help of a great tool, you can revolutionize the way your team works together and manages their workload.
A good project management software is important for several reasons. Firstly, it helps in organizing and managing projects efficiently. With features like task management, scheduling, and resource allocation, it allows teams to collaborate and streamline their work processes.
This software also helps in setting and tracking project goals, deadlines, and milestones, ensuring everyone stays on track. Additionally, project management tools provide valuable insights and analytics, enabling project managers to make informed decisions and gain a comprehensive overview of the project's progress.
It facilitates effective communication and document sharing, reducing the chances of miscommunication and enhancing teamwork. Overall, project management tools increase productivity, improves project outcomes, and ensures project success.
It's also helpful to compare project management softwares as you explore your options. Specific tools might have one functionality you like, but there could be an even better option out there.
The Benefits of Project Management Software
Overall, project management software and tools are beneficial for businesses who want assistance tracking the progress of projects, campaigns, resource allocation, and tasks across an organization. With a project management solution, project managers and team leads can better understand how organizations and teams are pacing, and help keep teams on the same page.
Alongside the recent shift to remote and hybrid work, teams without a collaboration tool have struggled to keep tabs on all remote work and project updates, as we can no longer rely on in-person meetings to relay information.
That's why project management is more important in 2023 (and beyond) than ever before, whether you're just starting a business or looking for ways to adapt your well-established organization.

Try Hive by clicking the image above.
Here are some key benefits of using project management software:
Enhances communication and builds teamwork across an organization
Allows leadership to have a macro-level view of project progress
Helps teams keep tasks in perspective and understand priorities
Assists in controlling costs and managing budget
Helps with resource allocation and prevents team-wide burnout
Facilitates remote collaboration for teams that are distributed or follow a hybrid work model
What software should project managers use?
There are countless project management tools and productivity apps to help you hone in on tasks and projects like a pro. Deciding which project management tool to use can be a daunting task, but considering a few key factors can help make the decision easier. Firstly, it is crucial to identify the specific needs and requirements of the project and team.
Understanding the scope, complexity, and nature of the project will help to narrow down the choices. Secondly, considering the team's preferences and technological comfort is important. Some team members may be accustomed to certain tools or interfaces, making the transition smoother.
What are the three types of project management software?
When thinking about project management tools, it's important to understand that there are a few different categories.
Individual – Tools built for a single user
Collaborative – Tools built for teams or entire companies
Integrated – Tools that are built into existing or new systems and integrate with other programs
Each business will have distinct needs for a tool that could fall into one of the above categories, which is important to assess before purchasing a tool.
Budgeting for Project Management tools
Additionally, having an assessment of the budget and available resources is necessary, as some tools may come with additional costs or require specific hardware or software. Finally, seeking recommendations and reading reviews from professionals or peers can provide valuable insights into the effectiveness of different project management tools.
To help you make sense of it all, we've rounded up the best tools to get you and your team just a little bit closer to total productivity paradise.
Read on to learn about these top project management platforms — and many more:
1. Hive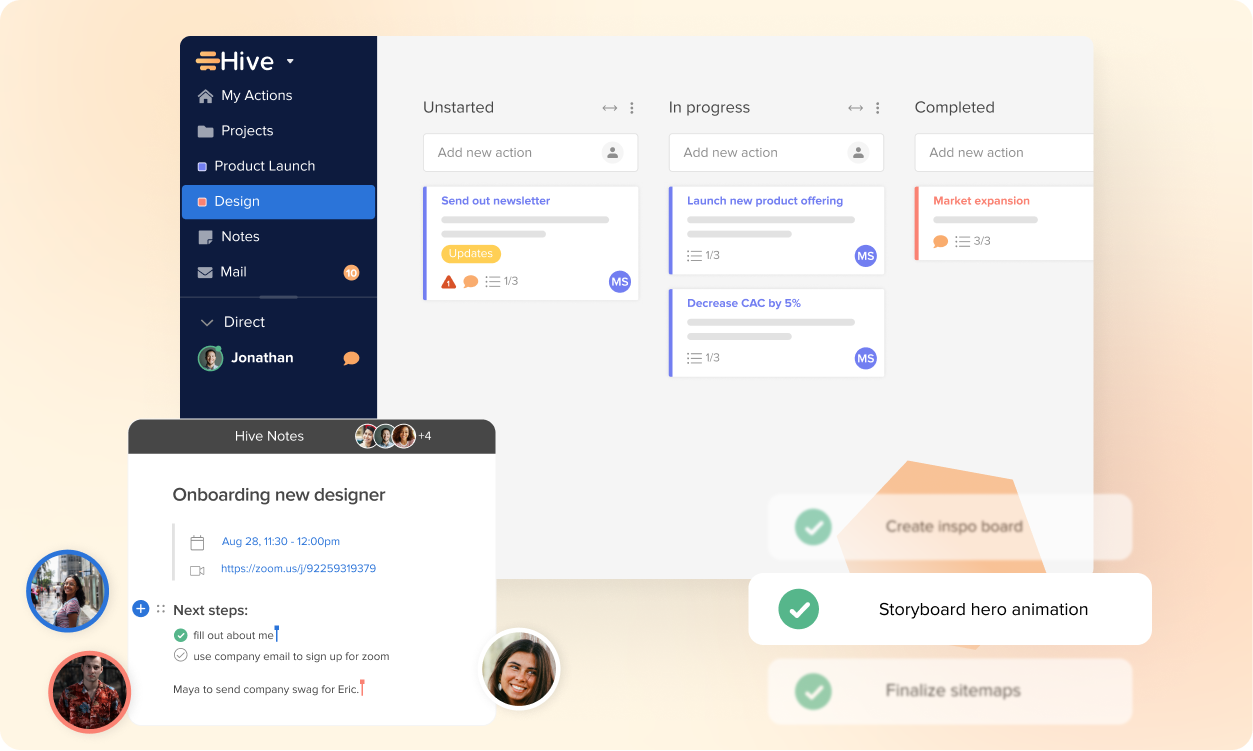 Hive is a comprehensive, intuitive, all-in-one project management software – the only tool you need to open in the morning to get your work done. Hive is unlike other tools on the market because it's the world's first democratic productivity platform. But what exactly does that mean?
Here's everything to know about Hive basics.
At Hive, new features are constantly being developed based on user feedback on the Hive Forum. You know what you need in a tool to work better and faster, and Hive is committed to creating a project management tool that does just that.
How to use Hive
The building blocks of Hive are Action cards, which exist inside of projects. Within an Action card, teams can upload files, provide feedback with proofing and approvals, tag each other, and leave provide comments with @mentions. Teams at all-star companies like Comcast, Toyota, and Starbucks work in Hive – just another reason why it tops every list of best project management tools. Learn more about all of Hive's features here.

Request a demo for your team above.
In addition to task management, time-tracking and resourcing, Hive takes workplace productivity and project management to the next level with:
Native chat and email

Collaborative note-taking tool
1,000 integrations with top work tools including Zoom, Gmail, Slack, Dropbox, and more
6 different flexible project layouts (Gantt, Kanban, Calendar, Portfolio, Table & Label views)
Workflow automation functionality with Hive Automate
AI-powered writing tool, HiveMind for creating content like blog posts, press releases & more
Goal-tracking application, Hive Goals to monitor KPIs, OKRs, and other key business metrics
Time tracking and timesheets
Overall, Hive is a versatile and intuitive project management tool that simplifies collaboration and enhances productivity. With a user-friendly interface and comprehensive features, it provides a seamless experience for teams of all sizes. Hive offers various project views, including Gantt charts and Kanban boards, allowing users to visualize their workflow and track progress easily.
With its extensive integration options and mobile app accessibility, Hive empowers teams to stay connected and manage their projects effectively.
Cost: Hive offers a free 14-day trial with Hive Teams plans starting at $12 per user, per month. Hive Solo is free forever for individuals and teams of two. Request a demo of Hive here.
2. Trello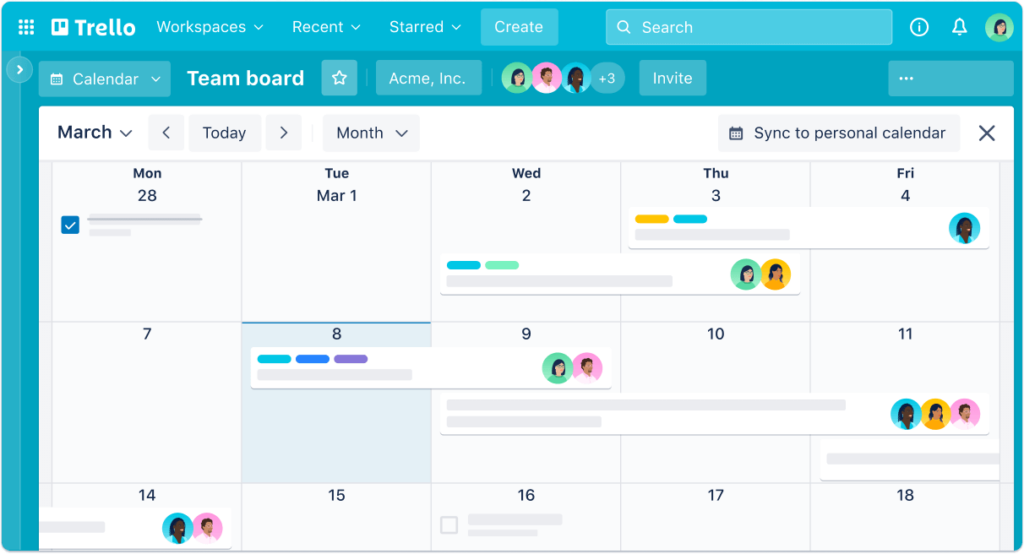 If you're wondering "What is the best project management tool for a small business?" Trello is a great option. Trello is primarily a Kanban board tool, which is a project management methodology started by an industrial engineer in the 1940s.
Trello is a popular project management tool that helps individuals and teams organize and prioritize tasks. It utilizes a simple and intuitive interface in the form of boards, lists, and cards. The boards represent projects or categories, whereas lists within boards can represent stages or phases of the project. Users can create and customize cards within lists to represent individual tasks.
Cost: Free for basic, making it one of our best free project management software, or $9.99 per user for Business Class monthly
3. Asana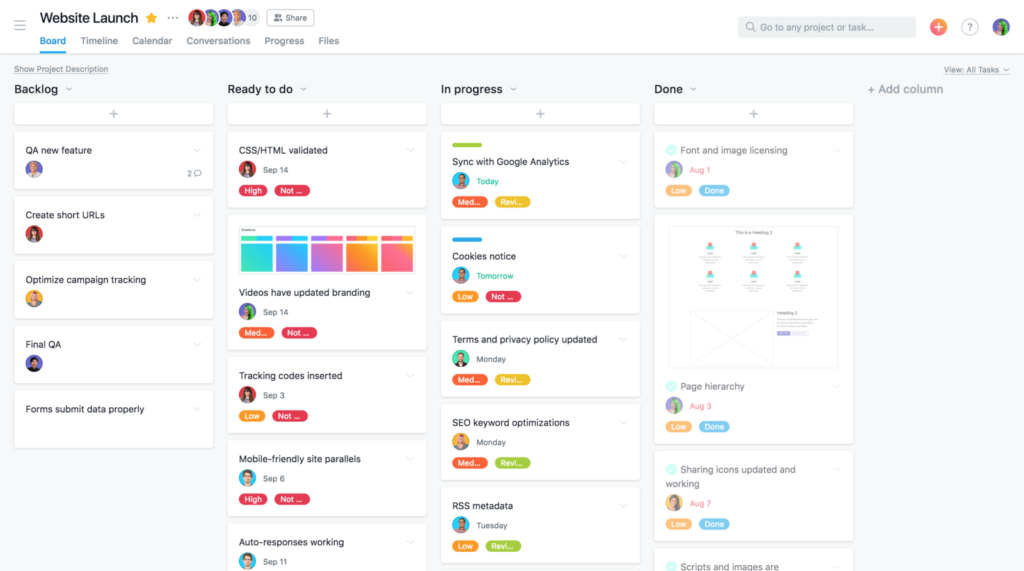 Asana is a user-friendly tool that can easily manage small and larger projects, which is why it's part of our list of best project management solutions. The software is designed around tasks and subtasks arranged into different sections that can be assigned to either an individual or teams.
This is a popular project management tool that helps teams stay organized, collaborate effectively, and achieve their goals. With its intuitive interface and powerful features, Asana allows teams to create and manage tasks, assign responsibilities, set deadlines, and track progress all in one place.
For each task, the project manager and the rest of the team can communicate and provide feedback in the same place, keeping collaboration for each project at a central, easy to access location.
Cost: Free for basic, premium for $13.49 per user per month, $30.49 per user for the business plan. Learn more about other solutions like Asana here.
4. Basecamp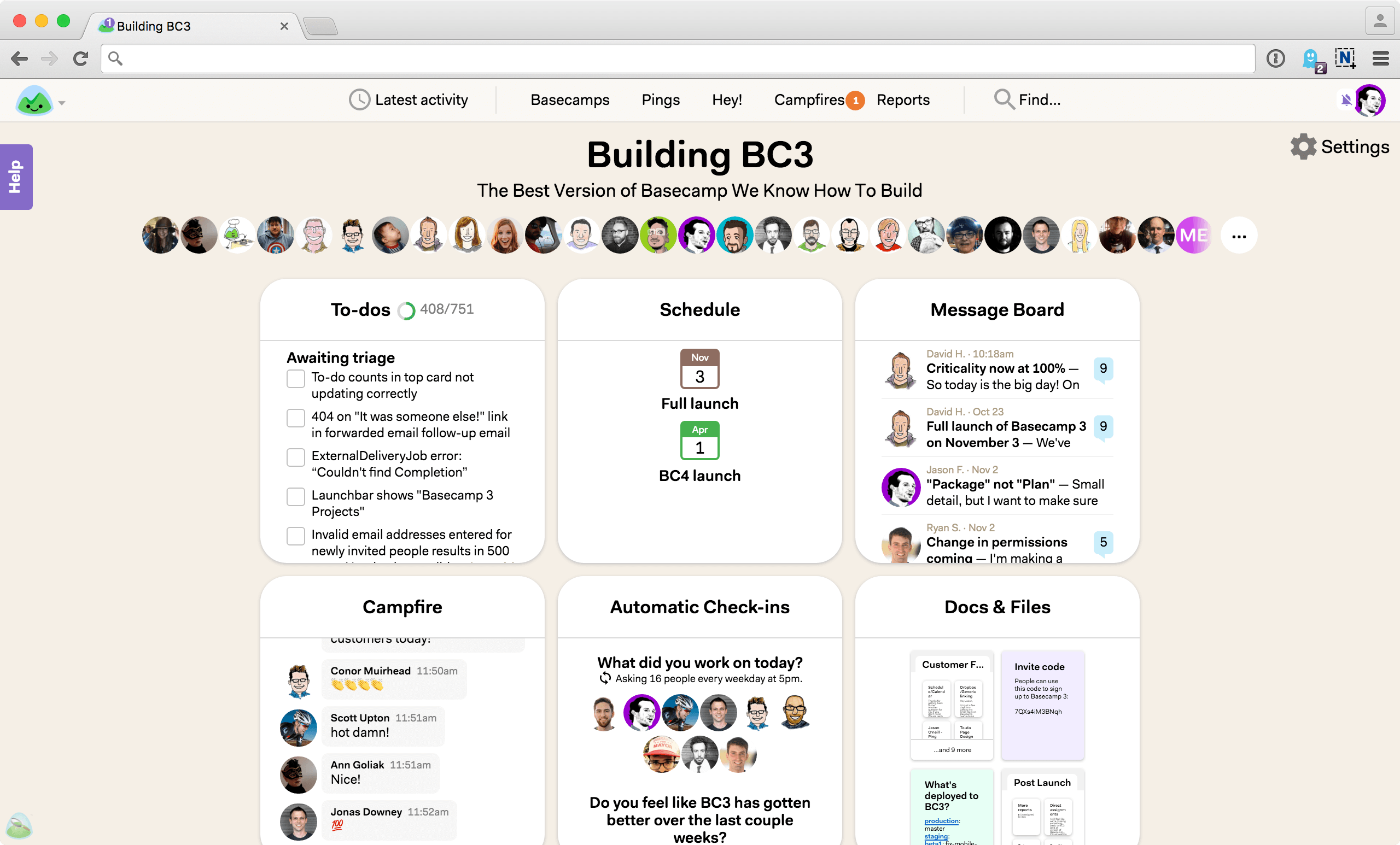 Basecamp is a cloud-based tool with lots of features for individuals, project managers or even marketing teams that enables collaboration on tasks. Some of the features include to-do lists for tasks, which can be assigned to different users, and tasks that the system will automatically follow up on when the due date lapses.
With Basecamp, teams can easily collaborate, communicate, and coordinate their tasks and projects in one central location. The platform allows users to create projects, assign tasks, set deadlines, and track progress in real-time. It also provides a space for team discussions, document sharing, and file storage.
It also has a real-time group chat feature and a tool that enables the client to view the progress of the project. As with the majority of services on this list, Basecamp can also be integrated with other products for reporting, analysis, and time tracking, among other features. Aside from its cloud-based solution, Basecamp can be integrated with iOS, Android, Mac, and PC.
Cost: Basecamp's personal package is free for personal use. Business plans start at $99 monthly for unlimited users and projects.
5. Nifty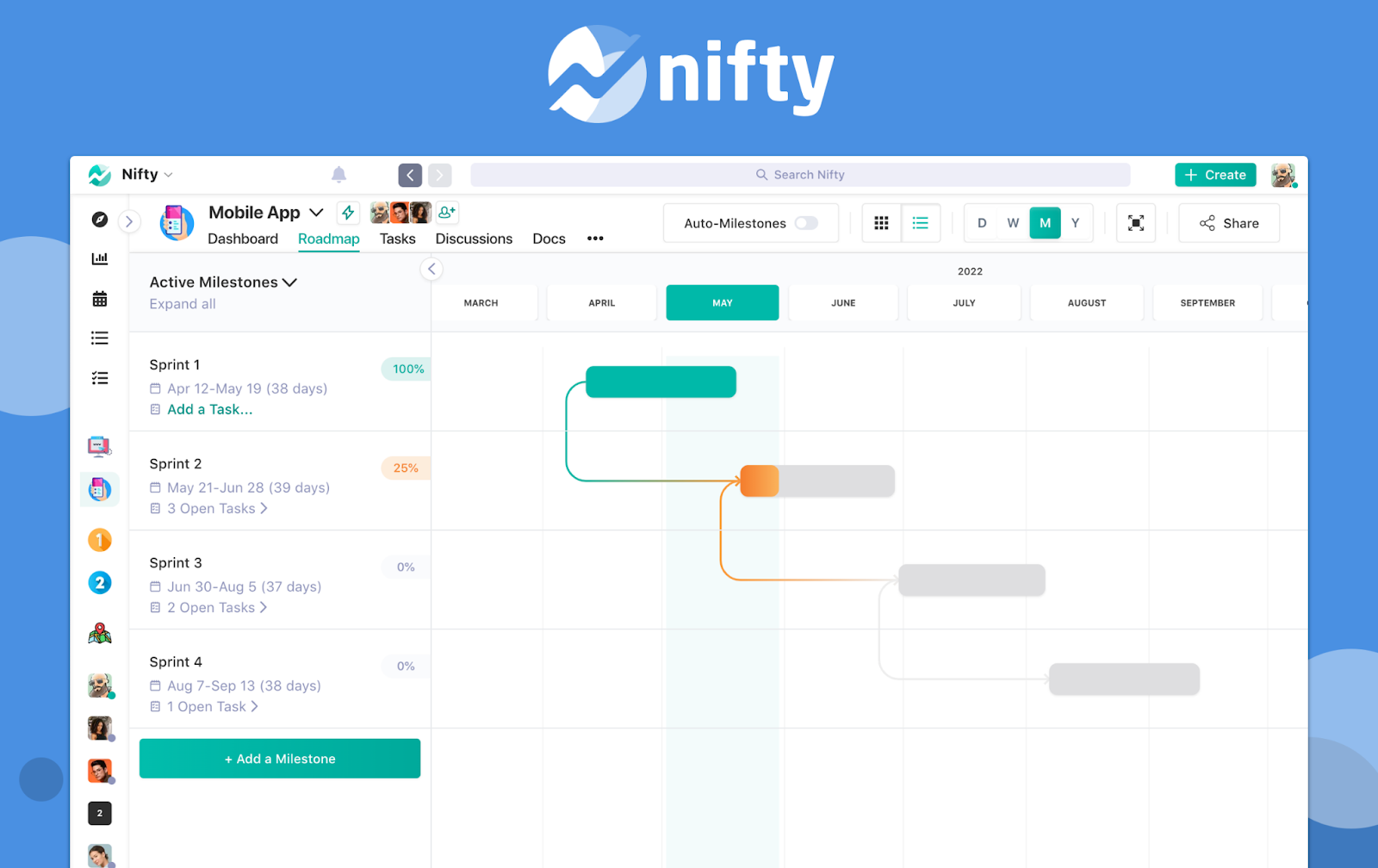 Nifty is a good project management tool if you're in the market for an intuitive, easy-to-use tool for individual or team work. Within the app, you can modernize and centralize work operations to help minimize the internal tools that your team has to juggle. Nifty lets you manage full projects, campaigns and individual tasks in views like Kanban or Gantt, which can be organized by milestone.
Cost: Pricing starts at $39 per month for a team of 10.
6. Proofhub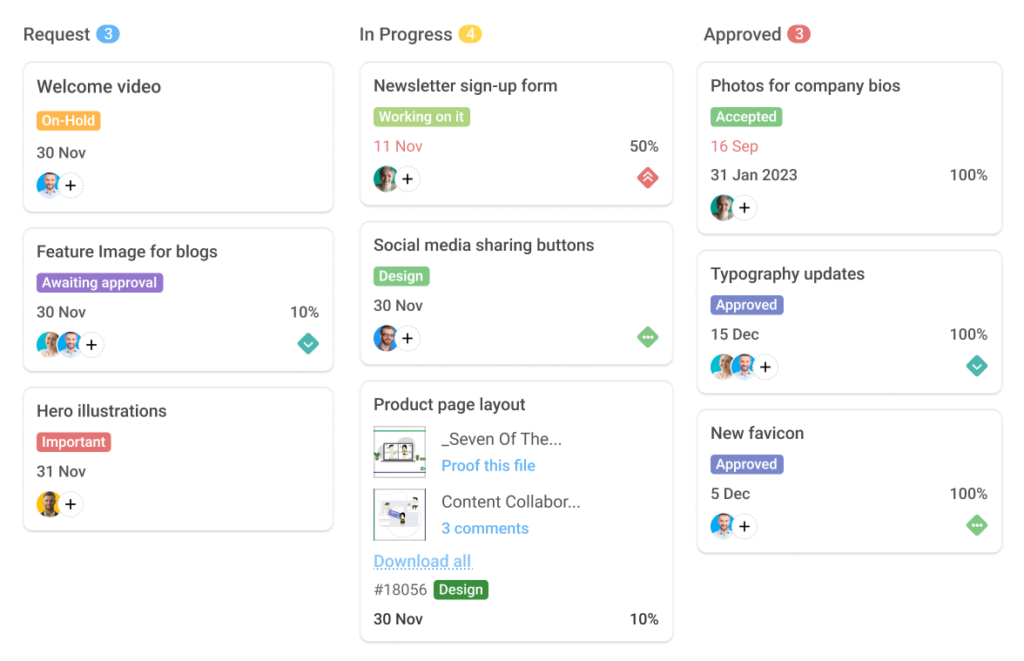 ProofHub lets teams collaborate, organize and deliver on projects across an organization. Users can assign specific tasks to individuals, which can have a breakdown of deadlines and recur at a determined frequency. ProofHub has several views including Gantt, Kanban and calendar view, and is also a central place to store files related to all of your projects.
They also have a proofing capability, timesheets and reporting to better equip teams with all of the tools they need to collaborate.
Cost: ProofHub starts at $89 per month billed annually or 100MB of storage.
7. Smartsheet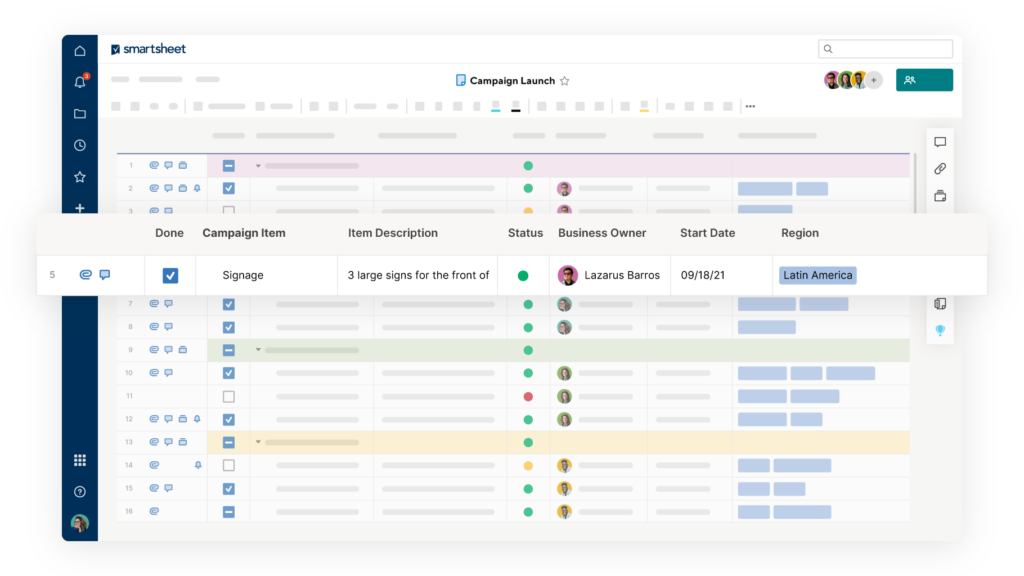 Smartsheet is a project management tool that is based on a table view, which looks similar to an Excel spreadsheet. This tool is cloud-based, and also allows users to switch between a few other data visualization views. With its user-friendly interface and customizable features, it streamlines project planning, tracking, and reporting. Users can create sheets and templates to organize tasks, set deadlines, and assign responsibilities.
Smartsheet offers robust integrations with popular software like Microsoft Office and G Suite, enabling seamless data transfer and enhancing productivity. In addition, it provides real-time updates, allowing teams to stay on top of progress and make informed decisions.
Smartsheet also has work automation flows that help you reduce manual tasks and automate recurring actions, which helps take over some of the more mundane day-to-day work. Overall, Smartsheet simplifies project management and improves communication, leading to increased efficiency and successful project outcomes.
Cost: Contact saless for pricing information on Enterprise plans.
8. Wrike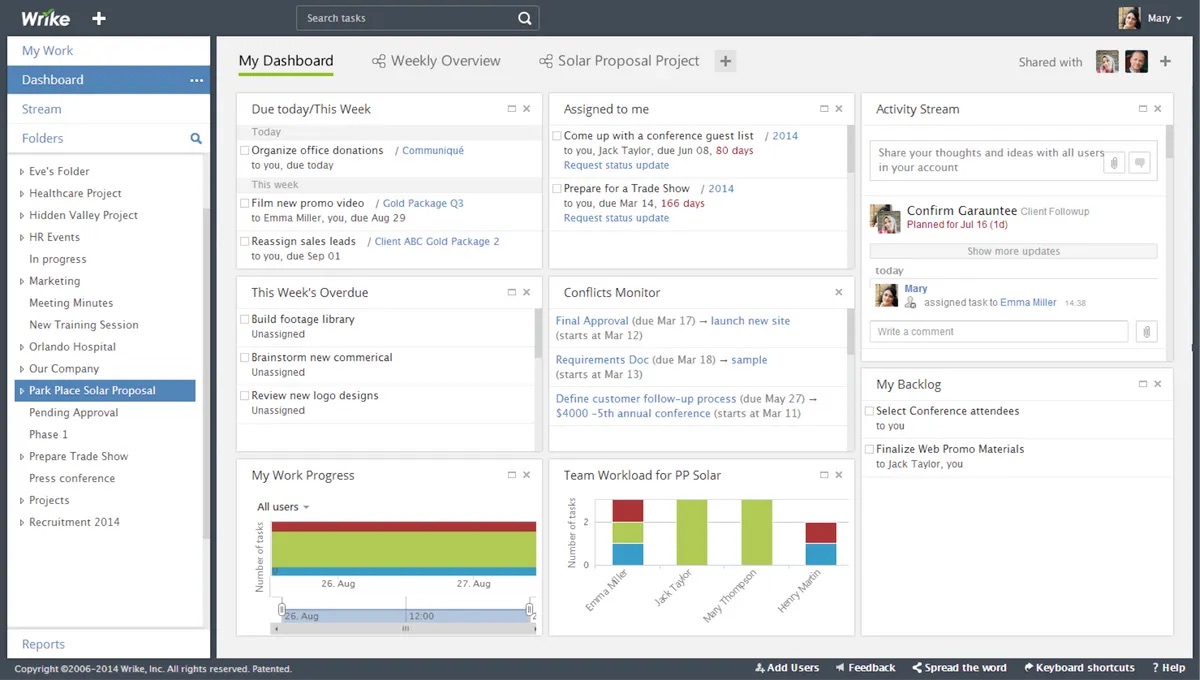 Wrike is a powerful project management app that is best for creating custom team workflows. From there, you can easily set a timeline, create interactive charts like Gantt view, and easily visualize tasks and next steps. Wrike also allows you to analyze performance with their real-time report building feature.
With its user-friendly interface and customizable workflow templates, teams can streamline their project management processes. Features like task tracking, real-time communication, and file sharing make it an ideal tool for businesses of all sizes.
Cost: Wrike offers a free plan for unlimited users with restrictions. For all features, paid plans start at $9.80 per user per month.
9. Xebrio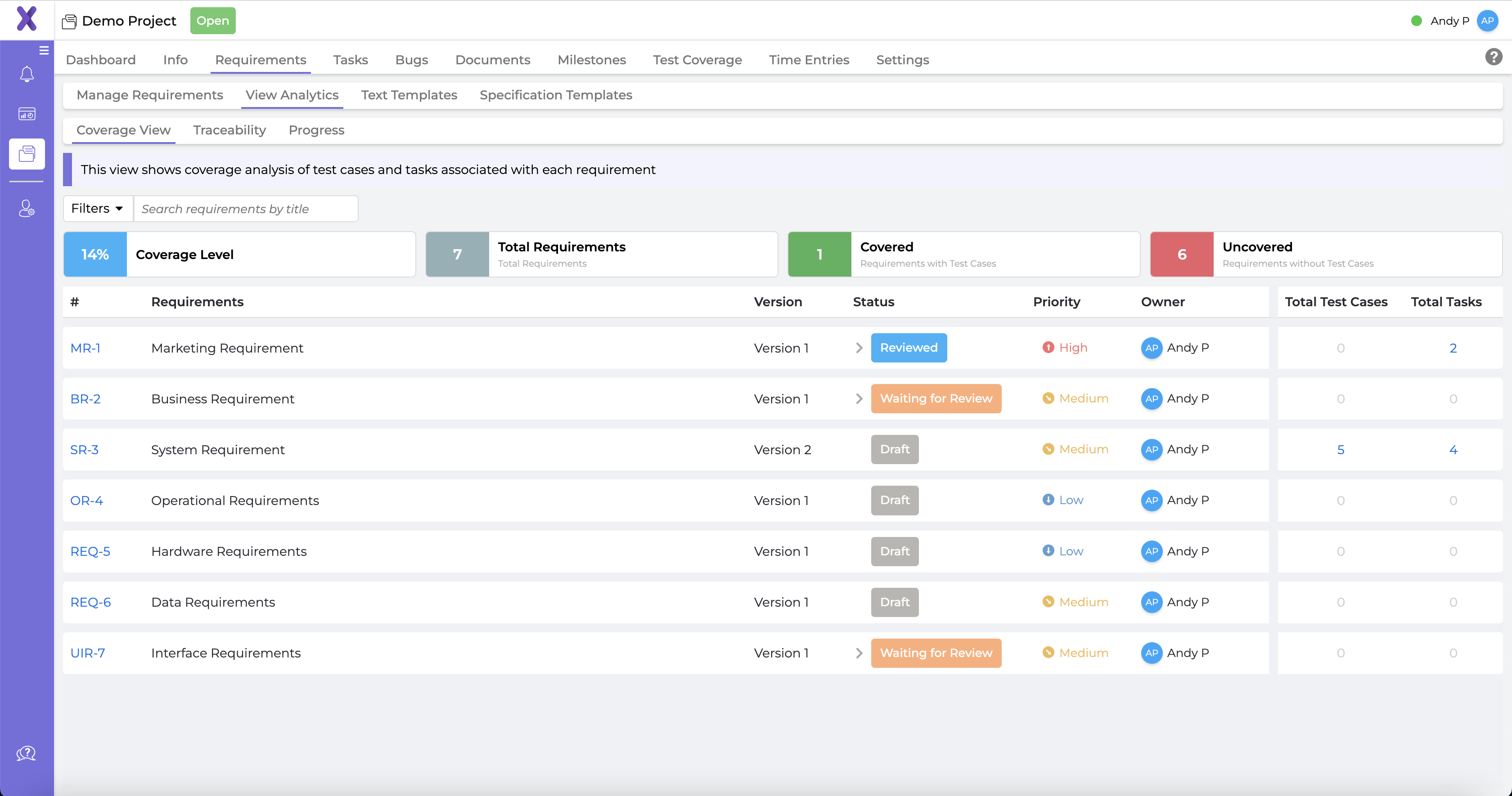 Xebrio is a complete project management ecosystem in itself and is designed for small teams to large enterprises. Managing different phases of the project becomes easy with Xebrio as it has in-built features like task management, milestone tracking, requirements traceability, test management, bug tracking and release management.
These integrated features reduce the dependency on third-party integrations or plugins and the entire project lifecycle data stays under one roof. With Xebrio, teams can collaborate easily, regardless of location. Users can add contributors, reviewers, and other stakeholders to their projects to ensure nothing falls through the cracks when working together as a team.
Cost: Xebrio's basic plan starts from $1 per user per month.
10. Jira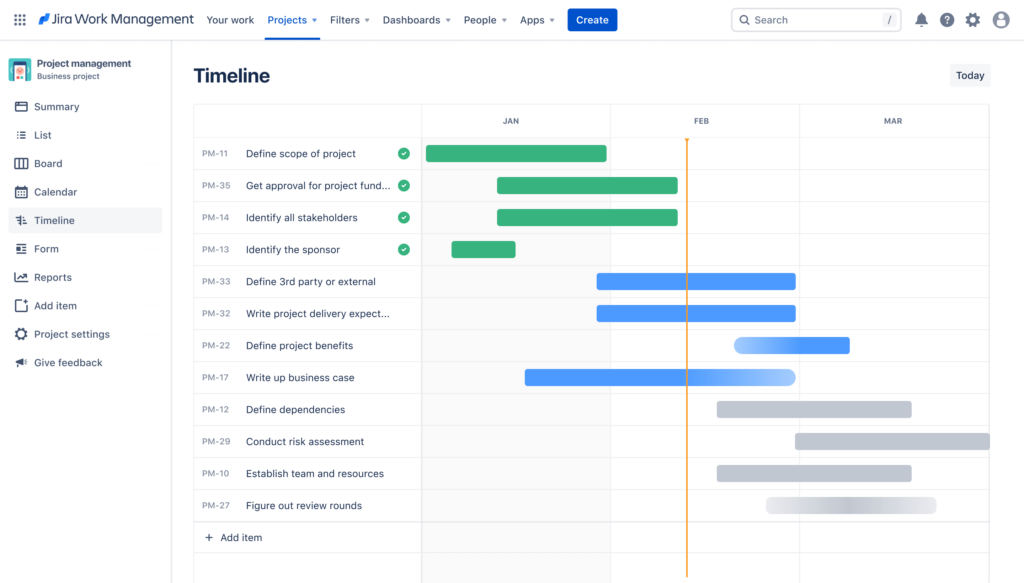 Jira is a bug-tracking and agile project management app that started as a platform primarily used by engineering and remote dedicated development teams. It's currently used by a variety of teams all over the world, but it's an especially useful tool for a software development company, as it has roots remain in issue/bug tracking, agile and test case management spaces.
Some of the features of Jira include customizable scrum boards, roadmaps to sketch out plans and individual team actions, as well as flexible Kanban boards that help visually manage issues.
Cost: Pricing for Jira starts at $10 per user per month.
Other great project management alternatives
11. Monday.com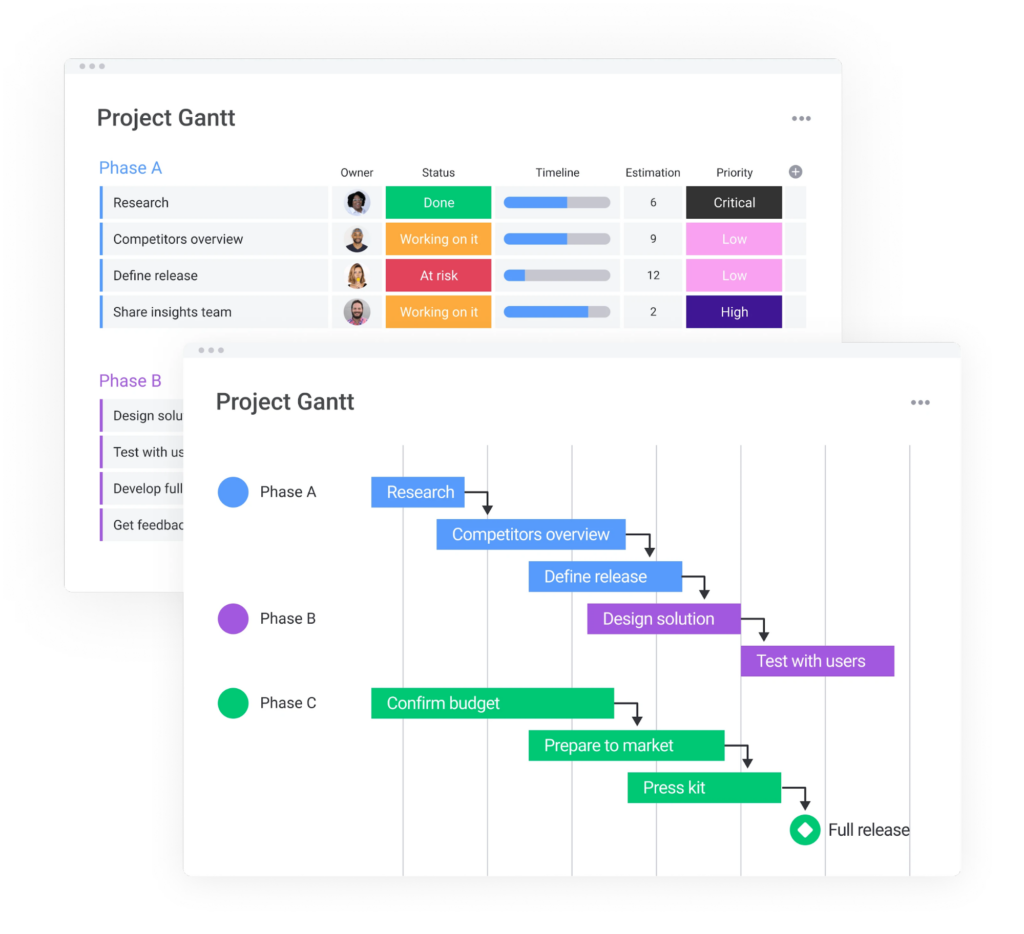 Monday is a simple online project management software that helps teams visually organize tasks and projects. Projects are managed via one central board, which serves as the hub for each project and reflects changes made on a task-by-task basis. Boards are also customizable — you can add new columns to see data on hours spent, status, and location.
This project management tool also has views including workload view, where you can see pending tasks by individual, timeline, where you can plan work out by due date, and charts, where you can review team efforts and outcomes.
Cost: Pricing starts at $39/month for the first five users billed annually.
12. Plaky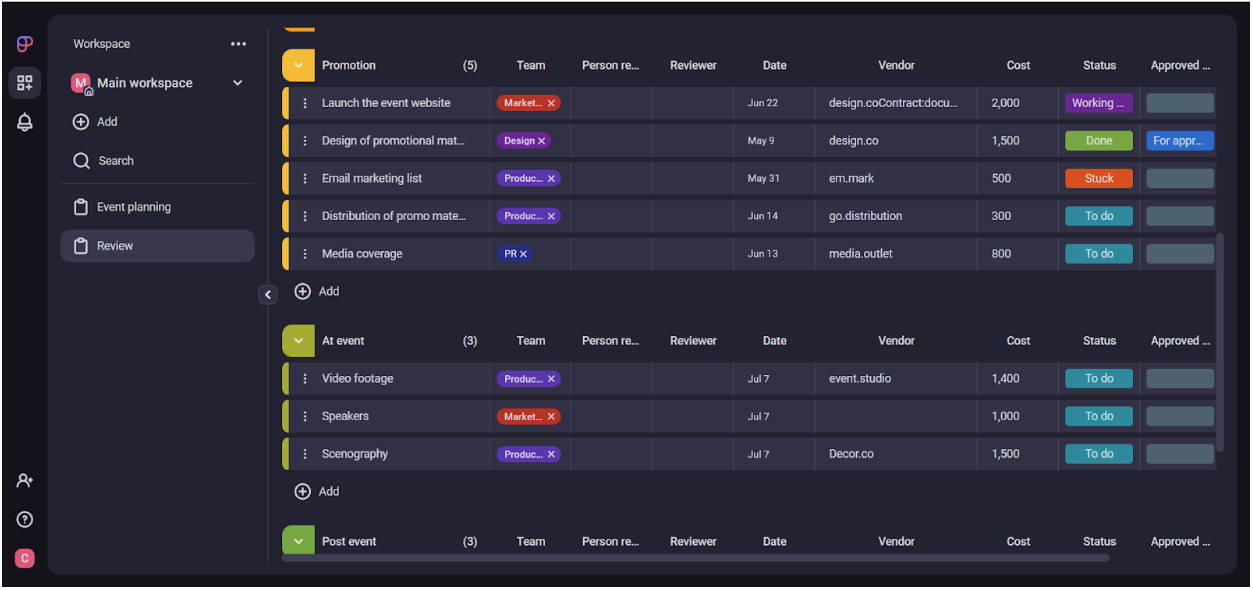 Plaky is an online project management tool ideal for task, product, and workflow management. Its customizable features allows the flexibility needed in a B2B oriented platform, making Plaky a great option of project management for any industries. Some of its major features include Kanban and Table view, ready-made templates, a time-tracking integration with Clockify, @mentions, activity log, and guest access.
Users can easily filter and sort their tasks, assign due dates, and attach relevant documents. Plaky also allows unlimited users, workspaces, and projects. It offers first-rate 24/7 customer support, and it is ISO certified and GDPR compliant.
Cost: The basic version is free forever, and paid plans are coming soon.
13. Zoho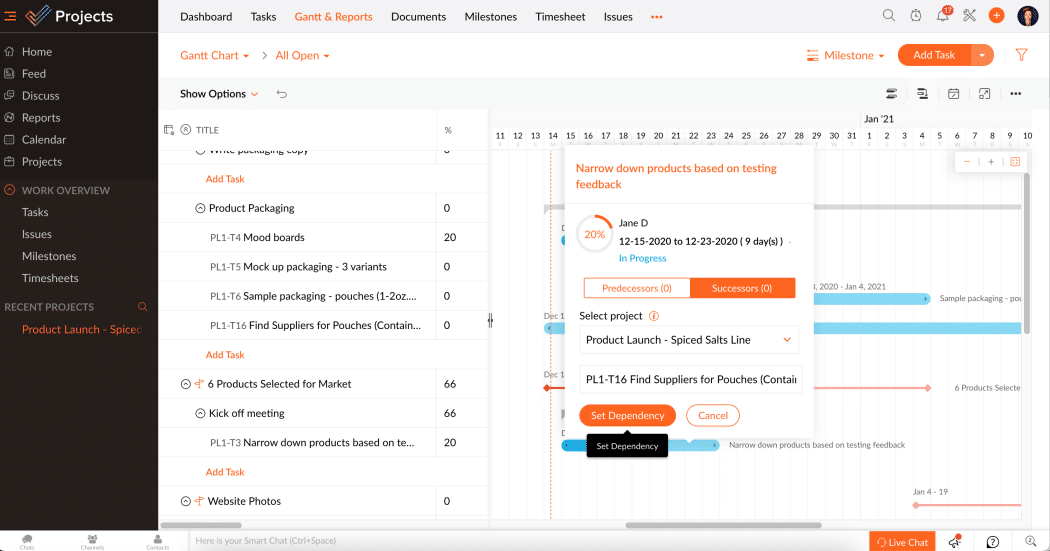 While it's not a traditional PMS, Zoho is a web-based CRM suite that is best used to manage leads, purchases and pipelines. Among the tools in this CRM platform are automated tasks like account management, lead tracking, prospect tracking and other sales tasks. Zoho also has a native chatroom that can either be private or public, and the ability to track the time spent on projects.
The tool also has features outside of the project management and marketing scope, including HR and finance management. In addition, you can utilize a Zoho CRM Integration to connect the platform with other common work tools that you already use.
Cost: Zoho has basic plans that start at $10 per user per month.
14. LiquidPlanner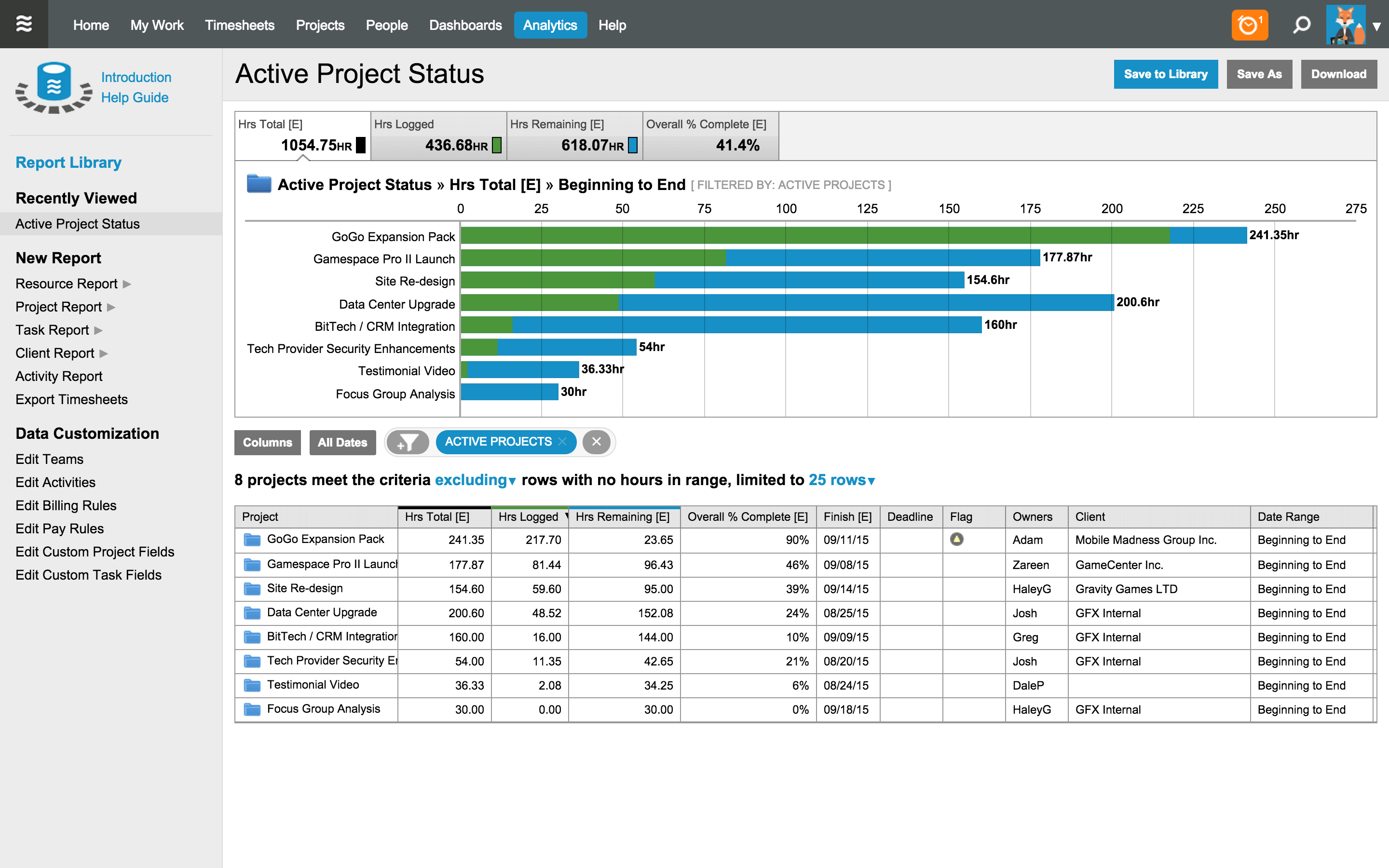 LiquidPlanner project management tool is a fusion of traditional PM and time-tracking. One of its most unique features is that it updates and shifts due dates and projects when resources per project change. This helps you manage expectations around when a project can be completed or when milestones can be hit based on workload.
LiquidPlanner also has a great resourcing feature that clearly shows how many available hours an employee has per week, as well as a helpful budgeting feature for controlling costs and keeping expenses on track.
Cost: Starts at $39 per user per month, billed annually.
15. ClickUp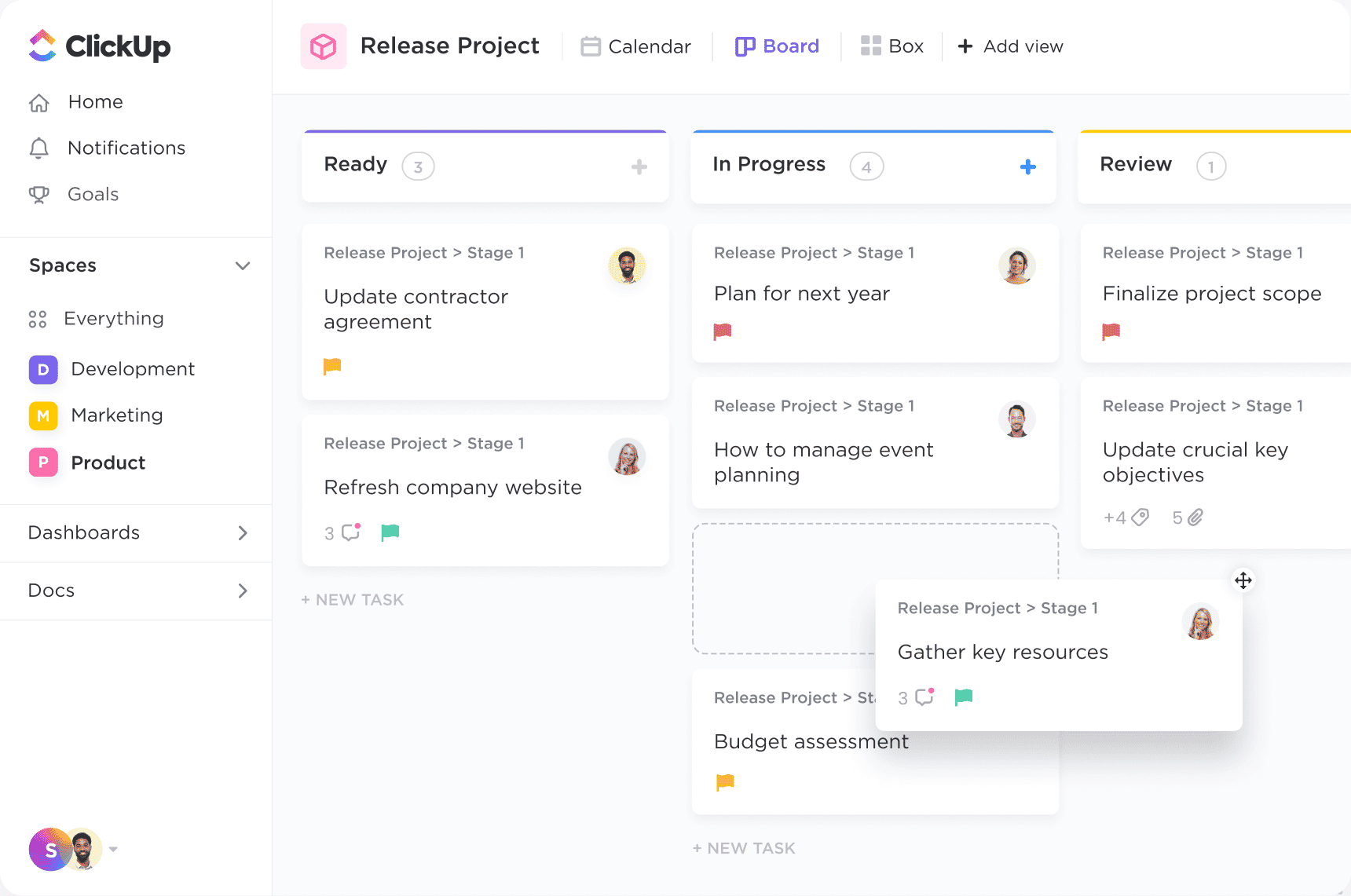 ClickUp is a tool with customizable views, including list view, board view (similar to Kanban view), box view (which breaks out individual workload), and calendar view (sorts actions by due date). With ClickUp, users can work towards goals, which are the users "mission control center." Other features include a 2-way calendar sync and time-tracking integrations with Toggl, which is why we picked it for this list.
Cost: ClickUp is free up to 100MB of data. After that, pricing starts at $5 per user per month billed annually.
Comparison: Learn about the top ClickUp alternatives on the market.
16. Airtable
Learn more about Airtable above.
Airtable is a high-powered spreadsheet in which you can list tasks, projects, and store files. Within the spreadsheet, you can attach a variety of items, including images, links to other tasks, and assignees. Airtable also has other views aside from the spreadsheet/table view, which include calendar view, Kanban view, and gallery view. This tool is one of the best tools if you're primarily used to working in Excel or Google Sheets.
For project management on-the-go, Airtable also has a great mobile app available on iOS and Android app stores.
Cost: There is a free version of Airtable, and paid plans start at $10 per user per month billed annually.
Comparison: Learn about the top Airtable alternatives on the market.
17. Mavenlink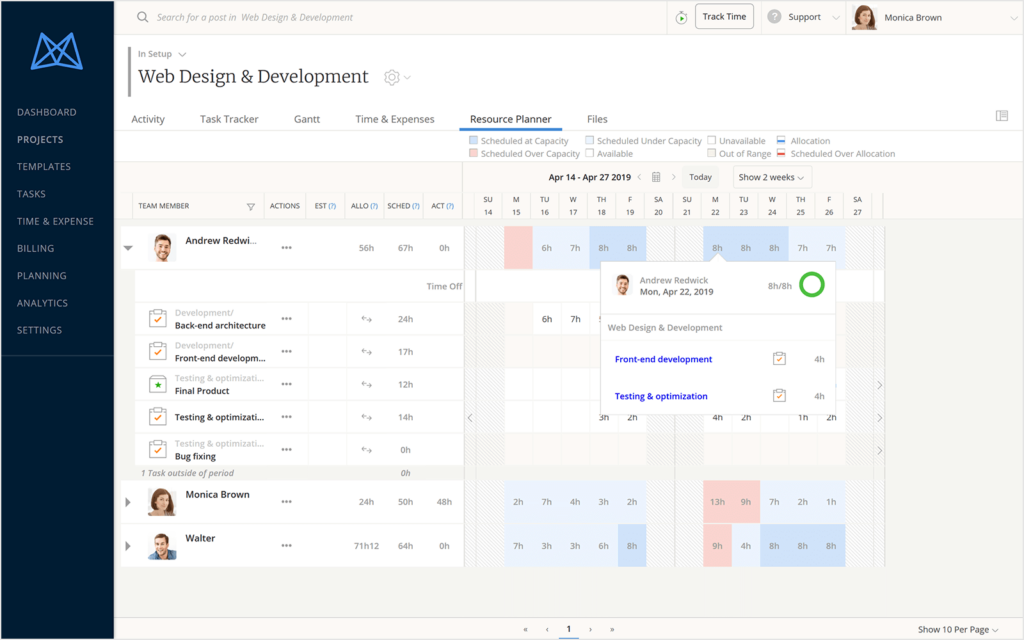 Mavenlink was built specifically for the operational and financial sides of service businesses. This management software serves as the "Operational Service of Record" for service businesses and connects whole organizations with ease. Whether you're creating a business plan or streamlining operations of a long-established organization, Mavenlink benefits businesses by helping them manage finances and stay on track.
Within the tool, there are several different functions including traditional project management, resource management, and business accounting, which help unite multiple people working on a specific project. Mavenlink's resourcing and budgeting tools are particularly useful, as they help increase overall financial visibility within an organization.
Cost: Pricing starts at $19 per month for a group of five users.
18. MeisterTask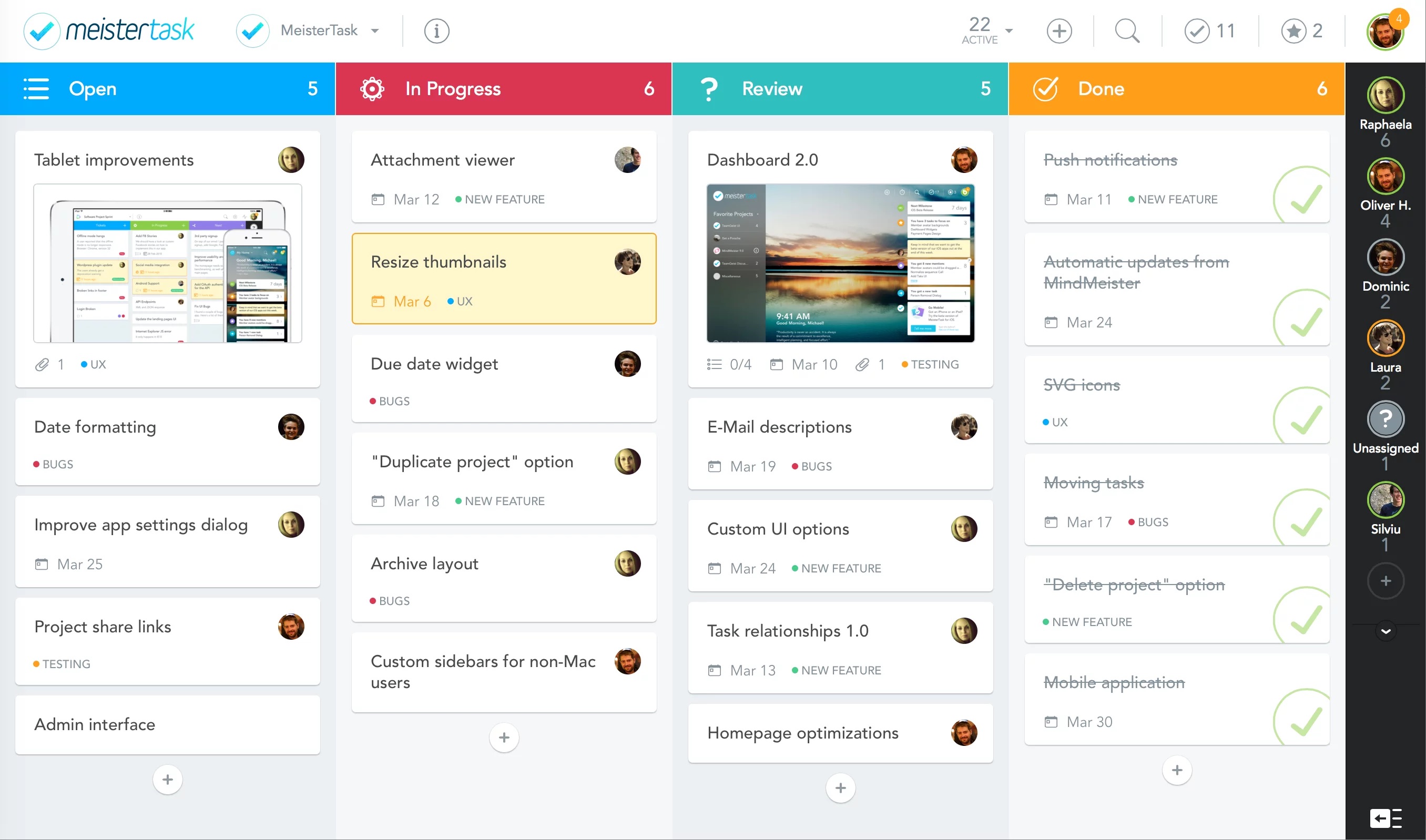 MeisterTask is another Kanban-based tool (like Trello) that helps you sort projects and tasks within a larger team. Compared to other project management tools on the market, MeisterTask's offerings are much more streamlined and tailored.
This tool also has pre-made workflows that can help you make the most of the tool. Alternatively, you can design your own custom workflow for your team.
Cost: MeisterTask has a free version, but the paid version starts at $8.25 per user per month.
19. ProjectManager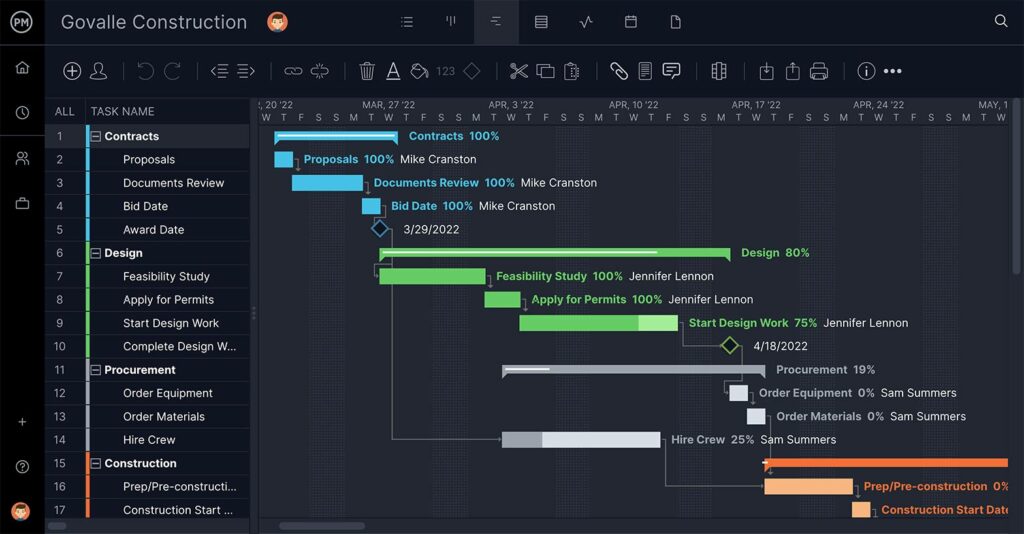 ProjectManager helps people plan projects, build workflows and manage resources with powerful features your whole team can use. This project management tool has five project views — Gantt charts, kanban boards, task lists, calendars and sheet views — so teams can work how they want to. The powerful Gantt links all four types of task dependencies, filters for the critical path and sets a baseline to capture project variance and help keep you on track.
Real-time dashboards give you a high-level overview of your project or projects, without the time-consuming setup required with lightweight alternatives. Customizable reports go deeper into the data and can be shared across multiple formats to keep stakeholders updated. This is a highly collaborative tool that lets users share files and comment at the task level, also has automated workflow, task approvals and risk, resource and task management features.
Cost: $13 for the Team Edition, $24 for the Business Edition and contact sales for Enterprise
20. Adobe Workfront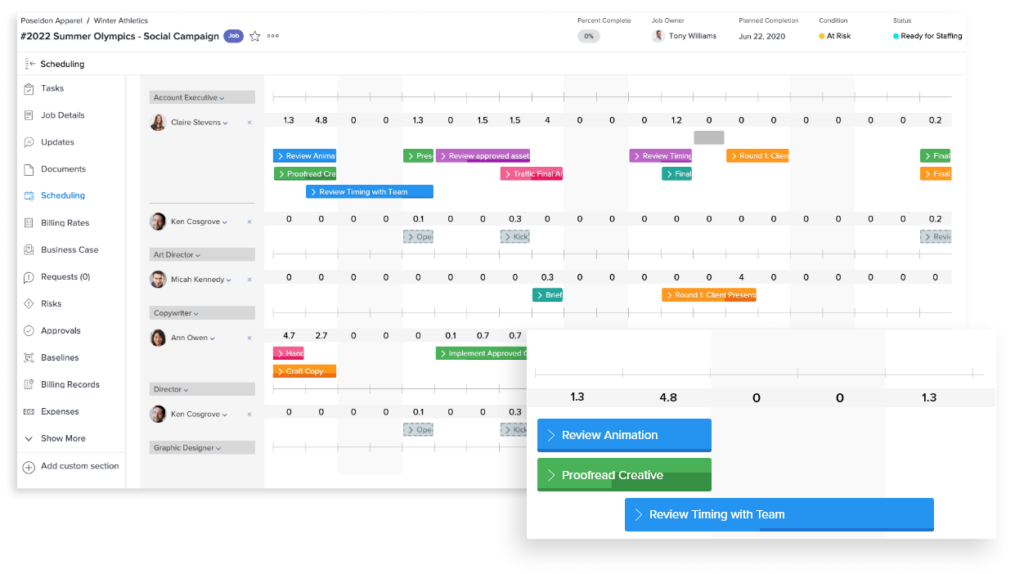 Adobe Workfront is a highly customizable tool that helps users to manage their projects, which is why it's one of our picks for best project management tool. Features include setting up priorities for tasks, assigning them to specific team members, managing an entire project, and reviewing its progress. Besides automating the whole workflow, this top project management software also provides a centralized platform for digital collaboration and integration with various other services.
Adobe Workfront also delivers powerful tool integrations to help your team take their tech stack to the next level.
Cost: Adobe Workfront has four pricing plans — you must request a quote for each plan.
The best of the rest: More PM software to consider
21. GanttPro
As the name suggests, GanttPro is one of the leading tools that functions based on Gantt charts. With GanttPro, users can plan projects with interactive Gantt charts, split projects out into tasks, milestones and subtasks, and set a specific timeline with resources allocated. GanttPro also allows users to measure out team resources, availability, and estimate project costs.
Cost: Pricing starts at $15 per user per month for one user.
22. Scoro
Scoro is a complex project management tool built to help teams manage tasks and reporting. Tasks can be tracked and divided into subtasks, assigned to individuals, and have deadlines and milestones attributed to them. Scoro is also great if you send invoices — the tool lets you send sales quotes and bills with ease via the app itself.
This tool also contains thorough reporting functionalities that let you view project status reports, unscheduled time, and projects by accounts.
Cost: Pricing starts at $26 per user per month.
23. Timely
Timely is an automated time-tracking tool that also lets you track projects, monitor budgets, and view team performance all in one software. With Timely, you can examine past costs, tasks and turnarounds to set competitive rates and improve future project profitability and efficiency. Timely prioritizes privacy in its functionality, giving each team member their own private work timeline so they can control what information is displayed publicly. And with automatic time-tracking and timesheet drafts, your team can focus less on daily admin tasks — and more on the work itself.
Cost: Starter plan is $8 per user per month, scaling up to the unlimited plan at $20 per user per month.
24. Proggio
Proggio is a collaborative portfolio and project management app that has a range of features including high-level portfolio monitoring, Kanban and list views, a mobile app, and a robust Jira integration. The Jira integration helps teams connect with their coworkers in the development and software space, which is great for teams across many organizations. In Proggio, you can also sort tasks by "My Tasks," "Assigned by Me," "By Projects," and "My Team," which helps sort and filter to-dos.
Cost: Proggio costs $19 per user per month for 5-20 users.
25. FunctionFox
FunctionFox project management is rooted in tasks, timesheets and budgeting functionalities that make it easy to view the full scope of a project via the app. FunctionFox caters specifically to creative professionals, and those who work in a project-based space. The tool also allows for detailed reporting and has a view called CEO Desktop, which provides a graphical representation of projects alongside estimated hours they will take.
Cost: FunctionFox Classic starts at $5 per month per user.
26. Timecamp
If you're in the market for a time tracking tool that also connects with your project planning tool, Timecamp is a great tool as it offers automatic time tracking that works in the background and logs time for projects seamlessly. The tool's unique project structure allows you to create or import as many projects as you need, track time for them, and then analyze the reports to figure out how the team is performing.
Cost: Timecamp offers a free plan for single users and paid plans that start at $5.25
27. Workzone
Workzone is a customizable project management tool that helps bring all relevant information together for teams to collaborate at macro and micro levels. Within Workzone, you can access things like "Project Dashboard," pictured above, which is a big picture view of where all projects stand across an organization. You can also drill down into "To-Do Lists" which are created for each individual user and emailed to them.
This tool also offers features like templates, Gantt charts, dependencies, and request forms.
Cost: Enterprise costs $43/user per month.
28. Paymo
Paymo is a tool built to help teams work together and stay on task. One of the main selling points of Paymo, and what makes it a leading project management app, is that it lets you manage tasks, create team schedules, and track work time in one cohesive platform. This tool will primarily be useful if you're doing project-based work, say at an agency or creative organization, and want to track time spent across specific tasks and projects.
Paymo also allows you to create invoices from the app, and has tons of integrations with software like Google, Slack and Quickbooks.
Cost: Paymo's business plan starts at $14.25 per user per month.
29. Chanty
Chanty is a great team collaboration and project management tool that is easy-to-use and straightforward. Within Chanty, you can chat with teammates, organize team activity in Teambook, share screens and files, and bring all of your most-loved apps into Chanty itself. Additionally, Chanty has a dark mode.
Cost: Chanty is free for their basic version.
30. Forecast
More than just a project management tool, Forecast is an intelligent automation platform that helps teams run project from start to finish. They use AI to help plan out project duration and scope, allocating resources and teammates to each project with a few clicks. Forecast also has a great resource utilization functionality, which can help teams understand where individuals are over or underutilized across the team.
Cost: Forecast's pro plan starts at $49 per user per month.
31. Teamwork Projects
Teamwork is on our list of best PMS because it is a tool built specifically for project management offices (PMOs). Teamwork helps with task management, time tracking, resource management and reporting, all of which are crucial for PMOs. Other features in this app include templates, which you can apply at the project level, messaging and chat, which helps teams stay connected, and Gantt view, which helps teams track progress over time.
Cost: Teamwork's premium plan starts at $18 per user per month.
32. Celoxis
Celoxis is a project management platform built to help teams run smooth workflows and track resources. It's included in our list of best project management apps because it helps teams with project request tracking, project planning, resource management, accounting, and portfolio management. This tool also has a client portal for anyone working with a client that you want to give partial access to.
Cost: Celoxis starts at $25 per user per month billed monthly.
33. Kintone
If you're working on multiple projects across a large team, Kintone could be the project management tool for you. In this app, users can automate workflows, view status of in-progress projects, be notified with reminders when things are due, and prioritize or filter tasks. Kintone also has a range of apps and add ons that you can pair with tools like Box, Domo, Dropbox and Eventbrite.
Cost: Kintone's professional subscription starts at $24 per user per month.
34. TeamGantt
One of TeamGantt's biggest advantages is that it's an easy-to-use product that is great for beginners, or those who might not have had extensive experience with PMS in the past. As the name suggests, this tool is Gantt-heavy, which gives teams an easy and straightforward was to manage projects. With TeamGantt's Gantt charts, you can plan, schedule and manage Gantt charts.
Cost: TeamGantt's basic plan is free.
35. Hubspot
While HubSpot Task Management Software isn't a project management tool per-se, this CRM platform has project and task management capabilities, which are also available in the free plan. If you're a marketer or a salesperson and you're looking for an integrated tool, then you might consider HubSpot CRM because of the free marketing, sales, lead tracking, and of course, task management tools that are natively integrated.
Once you want to set a task for a contact, simply choose the company, contact or deal in the HubSpot CRM. Click "Create task" and add your details and notes; set a due date; set an email reminder, task type, and task owner (all optional); and then click "Save Task."
Cost: This is a free functionality within the Hubspot subscription. Hubspot Marketing Hub pricing plans begin at $45/month.
36. Ravetree
Ravetree is your hub for storing all project information, budgeting, files, client information, and more. With this tool, you can manage projects via agile and waterfall methods, as well as create multi-level approval flows for creative assets, track times and expenses, and use Ravetree's integrated CRM. With Ravetree, you can also give clients access to your project progress and campaigns with the client portal.
Cost: Ravetree's pricing starts at $39 per user per month when billed monthly.
37. Quickbase
Quickbase is a no-code tool that allows teams to collaborate and tackle projects of all complexity levels. Quickbase helps connect your existing systems to mitigate risk, reduce waste and cut down on unexpected costs. With automated workflows and granular permissions, the right people will have access to the right information every time.
Cost: Quickbase's standard Teams plans start at $35 per user, per month. The Enterprise plan offers fully customizable packages.
38. Backlog
Backlog is a tool built for all types of teams to help them organize and streamline work. In addition to standard task and project management functionality, Backlog offers code management features, as well as bug and issue tracking. In Backlog, you can organize projects by Gantt and Kanban view, create and assign tasks to teammates from anywhere in the world, and track issues in a way that's easy for non-technical teams.
Cost: Backlog starts at $35 per month for 30 users and 5 projects.
39. Robohead
Robohead is a project management platform built specifically for creative and marketing teams. This tool allows you to manage creative projects from inception to completion with a variety of features including request forms, conditional logic, approvals, templates, flexible projects views and more. With notes and email alerts, Robohead also helps creative teams stay connected and up-to-date with their coworkers and clients in real-time.
Cost: Robohead pricing is available by request only.
40. Planview
Planview is an enterprise-level portfolio and project management tool that helps teams all over the world simplify work and accomplish their goals. A few things that Planview can help with include: sharing goals across an organization so people understand macro-level decision-making, merging different work styles into one comprehensive framework, and increasing speed with which teammates can communicate. Planview acquired another popular PPM tool, Clarizen, in 2021.
Cost: Planview pricing is available if you reach out to their team.
41. nTask
nTask is a project management tool that teams rely on to get their work done faster. nTask is a leading Gantt chart software for teams of all sizes, whether its an individual or a group of 50. With dependencies and milestones for task tracking, nTask makes it easy to plan and oversee all projects. They've also got some great meeting features, which include the ability to create an agenda, write out discussion points, sync recurring meetings, and slot out follow-up actions.
Cost: nTask premium starts at $2.99 per user per month.
42. Notion
Notion is a great all-in-one software that helps your team collaborate, plan for the future, and stay organized in the present. Notion is broken up into three parts the team Wiki, where information can be stored and recorded; projects and tasks, where teammates can record individual tasks or assign to teammates; notes and docs, where teams can share meeting notes or relevant documents.
Cost: Notion's team package costs $8 per user per month.
43. Yodiz
Yodiz is a popular project management tool among teams who really want to lean into Agile and Scrum methodologies. With Yodiz, teams can track, plan, and garner smart insights throughout their project and campaign lifecycle. A few of this tool's features include team planning, which helps you get an idea of team capacity and capability, delivery tracking, which lets teams set goals and track them with powerful dashboards, and analytics, which allow teams to track performance metrics.
Cost: Yodiz' agile tool starts at $5 per user per month.
44. Todoist
Todoist is a leading to-do list app and basic PMS that helps individuals create interactive to-do lists to manage projects and tasks. Part of their mission is to help people free up mental space by getting all of their tasks down in one place — with the added mental capacity, individuals can think bigger and better.
Cost: Todoist has a free version of their software. Their Pro plans begin at $4 per month, per user.
45. Infinity
Infinity is a powerful program that allows teams to sort and store information about projects and tasks in a streamlined way. With tons of unique project views, ranging from table to Gantt, Infinity has a unique view and solution for every team member. Additionally, you can structure data into hierarchies including workflows, items, and tabs.
Cost: Infinity starts at $9 per user per month.
46. MindGenius
MindGenius is a comprehensive project management tool that helps remote teams around the world stay connected and work together. This app has a few different variations, including MindGenius and MindGenius 20. The latter is their desktop app, which helps teams pull together mind-maps and can show tasks in a variety of views including Gantt, solutions, and slide view. MindGenius Online allows teams to collaborate together and assign each other tasks while working remotely.
Cost: MindGenius starts at $160 for your first year subscription.
47. CitrixPodio
Podio is a great project management tool that helps teams improve and better structure their workflows. In Podio, you can set up content, conversations, and processes to help your organization and keep teams on the same page. A few other helpful features of this toolincludes ability to bring freelancers and external parties into the app, high-level admin capabilities, and ability to create custom structure and processes.
Cost: Citrix Podio is free for up to 5 employees and then starts at $7.80 per user for their "basic" subscription.
48. Rindle
Rindle is a great process and PMS that teams can use to encourage teams to adopt the correct processes and workflows. With Rindle, you can build processes in a no-code environment by creating "rules" for each step of the process. From there, you can set triggers and actions, which can be organized into boards and assigned to teammates.
Cost: Rindle starts at $9 per month for each user.
49. Accelo
With Accelo users can not only plan projects and deliver client work, but also track results and automate processes. If you're looking for more traditional project management, Accelo has drag-and-drop Gantt charts, or if you're looking for more team-focused features, they've got team scheduling capabilities.
Cost: Accelo starts at $39 per user per month.
50. Process Street
Process Street is a workflow software that helps teams manage recurring checklists and procedures. With this tool, teams can create a process template with tasks and actions, run multiple instances of the checklist, and track progress while collaborating with your teammates. Users can even set up conditional logic inside this tool.
Cost: Basic package starts at $12.50 per user per month.
51. Project.co
Project.co is an ideal tool for teams that are client-facing. Each project has a dashboard, which houses all of the project status, comments, team members, payments, and time tracked. In the discussion section, you can have real-time conversations with internal or external teammates about project progress.
Cost: $10 per user per month.
52. Procore
Procore is a project management software built specifically for construction. With Procore's software, teams can communicate more seamlessly and have one central source for all project information. The mobile app also makes it easy for teams and individuals to communicate from the field. This is incredibly useful for managing construction projects on-the-go.
Cost: Procore starts at $375 per month
53. Freshservice
Freshservice is built specifically for IT teams to improve efficiency and deliver projects on time. With Freshservice, teams have a single unified platform where they can collaborate and execute flawlessly on all projects and tasks. This tool has a great overall dashboard that helps you understand how projects are tracking, as well as project templates and time tracking capabilities
Cost: Starts with a 21-day free trial or $19 per user per month.
54. Quire
Quire is a great project management tool that helps teams visualize and collaborate on their projects from all angles. Within Quire, teams have Workspaces where they can collaborate, as well as individual task lists which can help contributors stay up-to-date. Additionally, actions can be sorted into a Kanban board, which helps others in the organization understand progress.
Cost: Quire offers a free basic plan, with professional plans beginning at $7.65 per user per month.
55. Google Task
We all know and love Google as our favorite search engine or email provider, but did you know that Google Tasks exists? This app lets you create and organize tasks, add subtasks, view, edit and manage tasks, create tasks from emails, and so much more. This tool would be best suited for someone who needs a simple project management solution and already uses the Google suite.
Cost: Google Tasks is currently free.
56. Indy
Indy is a user-friendly platform for managing your freelance projects. Bring all your workflows into one place with Indy's tools. Create proposals, contracts, and invoices in minutes with automatic tools. Indy makes managing freelance projects easier because you can use the Forms tool to automate client info requests, the Time Tracking tool to manage hourly billing, and the Tasks tool to connect tasks to Projects and get work done.
Cost: Indy's Pro Bundle starts at $9 per month. Indy's Free plan gives you free unlimited access to all the basic tools you need to manage your business.
57. SmartTask
SmartTask is an all-in-one cloud-based work management software. SmartTask is simple, yet powerful enough to manage all of your team's business operations with features including project management, task management, team collaboration, time-tracking, CRM, custom analytics, and reporting features. Like Hive, SmartTask offers multiple project layouts, including list, Kanban boards, Calendar and Timeline views.
Cost: SmartTask stands out among competitors for its affordable pricing plan, which costs only $5/month per user.
58. Flow
Flow is a project management tool that can help you to work faster when planning, setting priorities and tracking projects cross-team. The tool works as a task and project management platform. Flow offers different layout views, from simple checklists, calendar view to Kanban boards.
The software supports a powerful filter feature that uses tags, making it easier to find and see the status of projects. Flow's privacy control feature allows set up of public and private projects. With Gantt chart timelines, real-time notifications, notes and ability to comment on tasks, Flow is a solution that helps teams of all sizes to communicate effectively.
Cost: Flow Studio Plan starts at $59 a month and supports up to 10 users.
59. Plutio
Plutio is an all-in-one business management app with great project management capabilities. It comes with tools that streamline both solo or collaborative project management, like time-tracking, team chat, task comments, and document collaboration. Plutio is a great solution for service-related industries due to its easy-to-use features, such as invoicing and payment collection, client portals, a chat widget, proposals and contracts are all included with Plutio projects.
Cost: 7-Day Free Trial, Starts at $19/month.
60. DashClicks
A PM software by DashClicks, "Projects" is developed for agencies to work smarter and faster. The tool allows marketing agencies to effortlessly manage multiple projects for each of their clients, all within a single application. Noteworthy features of the software also includes the ability to automate the creation of new projects and the sending of onboarding documents to your clients.
Cost:
DashClicks offers a forever free plan and three paid plans. Paid plans start at $97 USD per month.
---
We often hear the uestion "Is project management software easy to use?" Our response is absolutey YES, but only if you find the right tool for your team.
Is there another tool you love that we didn't mention here? We want to hear from you! Let us know in the comments below.
And while you're here, don't forget to start your free trial of Hive and see why it's one of the top ranking project management platforms on the market.