Founded in 2020, LVL-Up Strategies is a minority and woman-owned small business based out of Arlington, Virginia, with a remote workforce across the globe. The LVL-Up team, which is composed of partners of foreign service and military personnel, specializes in helping small businesses grow to their potential.
LVL-Up supports business leaders in a variety of industries through their three signature services: 1) strategic advisory, 2) operational planning, and 3) targeted implementation. They provide support in the key areas of finance, customer relationship management, social media, business development, evaluation, and communications.
LVL-Up's internal structure intentionally provides space for the talented community of EFMs (an Eligible Family Member is any partner, child, or dependent of US Military or Foreign Service personnel), also known in the team as "implementers," to thrive professionally, use their extensive experience to support small businesses, and continue to develop their skills as executives, entrepreneurs, and project managers.
This symbiotic connection of a driven workforce and driven clients is critical to the company's strategic approach. It is why LVL-Up Strategies can #GetItHandled.
The Challenge: Managing projects on a fully remote team
Because the LVL-Up team is entirely remote, they knew from the beginning of their journey that they'd need a project management tool to power their business. Their implementers worked in different time zones all over the world, and implementers frequently have to hand-off different parts of a project from one person to another. Because of the fluid and ever-changing nature of their business, having one home base for all of their projects, communications and action items where everyone could collaborate was imperative.
A few must-haves that the LVL-Up team identified at the beginning of their project management search included the ability to quick-time chat, a "home" area for each project where they could view all files uploaded, and an intuitive, user-friendly interface. Many of LVL-Up's implementers hadn't used a project management tool before, so they needed something that was easy to understand and teach to their implementers. Being able to scale up quickly and collaborate immediately was also important to the LVL-Up executive team.
One place for project collaboration and time-tracking
Once LVL-Up found Hive, they knew that they'd found their ideal project and collaboration home. They immediately started using Hive to streamline business processes across their organization — the co-founders kicked off the process, spending time building out their project workspace in great detail, ensuring that they were set up for success. 
LVL-Up's projects are organized at a high level into sections like "Operations" or "Marketing" projects, which then include child projects. LVL-Up also has client-specific projects, which are incredibly helpful for any hand-off that has to take place between implementers — all of the information for the project is consolidated in one coherent place. Within each client project, they aggregate child projects such as "Systems and Documentation", "Social Media" or "CRM Management."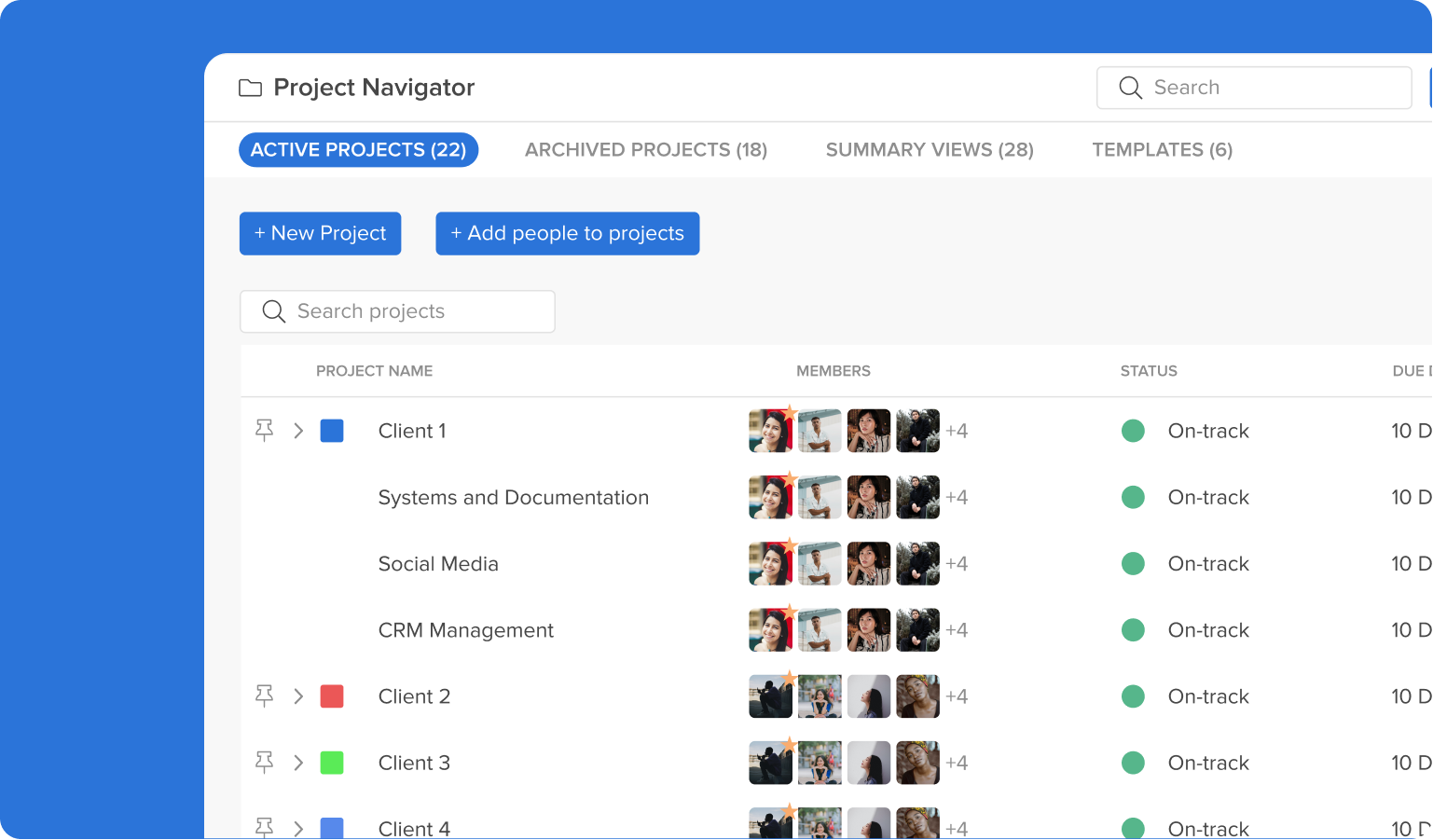 Additionally, as soon as a project is finished, LVL-Up uses the archive function to archive the project and its contents. They use the archived projects as a system of record for past progress and completed projects. 
Because LVL-Up is a consultancy, one of the main features they use and love in Hive is the time tracking functionality. When working on a specific project, it's easy to track time spent working on individual tasks, also known as "action items" for each client. This helps to improve the ease of overall reporting and invoicing across the organization. 
In terms of views and project visualization in Hive, one of the co-founders of LVL-Up, Laura Jennings, loves My Actions view because it helps her take an overarching look at all tasks assigned to her in different projects, which is crucial for someone on the leadership team. Another view that is critical for leadership is Gantt charts, which allows Laura to track individual project progress, phases, and milestones.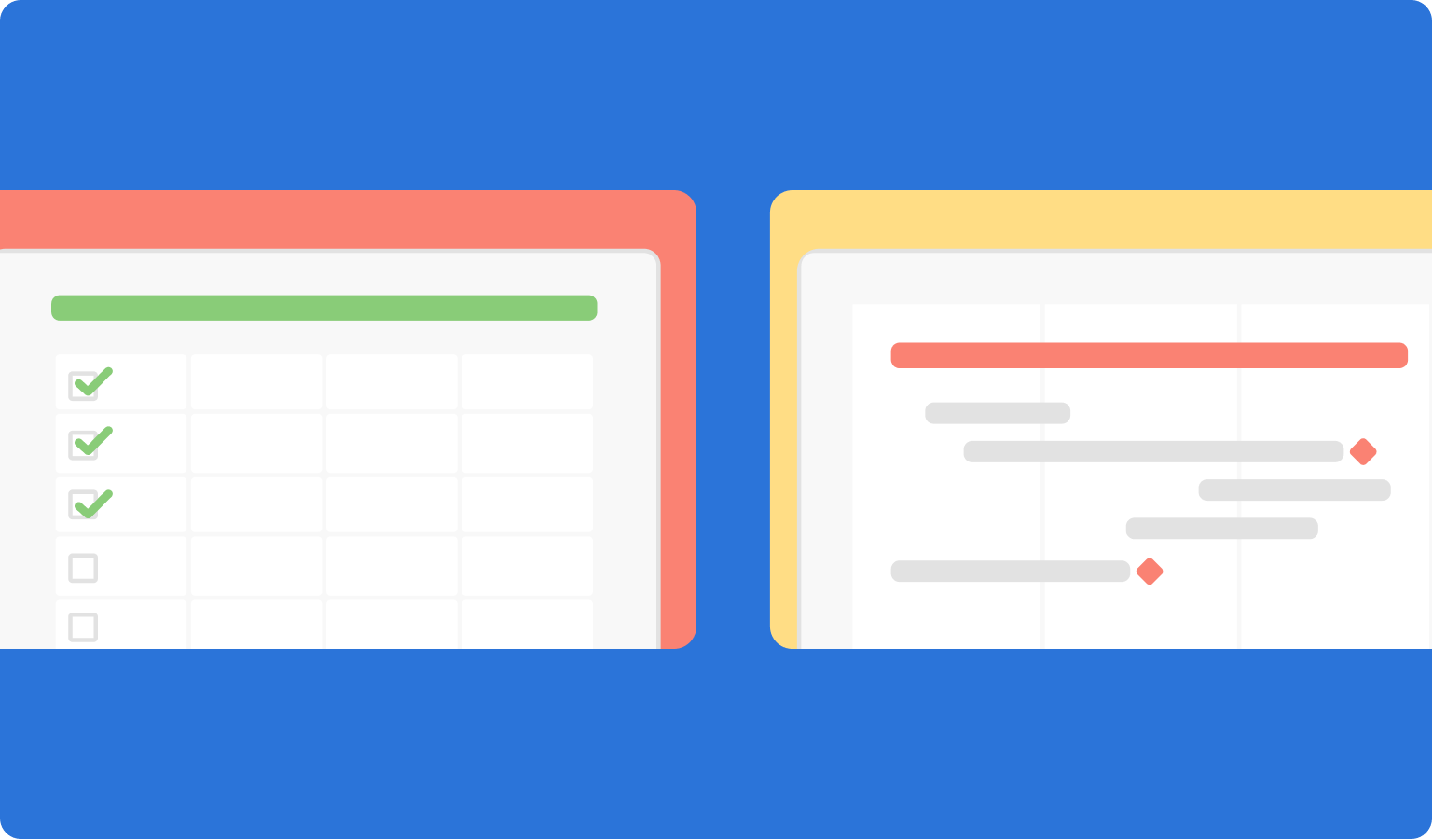 Using Hive for asynchronous communication
Additionally, in Hive, it's not only easy for teams to track time spent on tasks, but also to communicate about blockers or next steps. To do this, LVL-Up uses the commenting functionality on Action Cards, which they use to track progress on tasks, ask teammates questions, and hand off responsibility. Since LVL-Up's implementers are in different time zones all around the world, the ability to comment on Action Cards enables asynchronous communication, which allows all teams to get work done faster and more efficiently.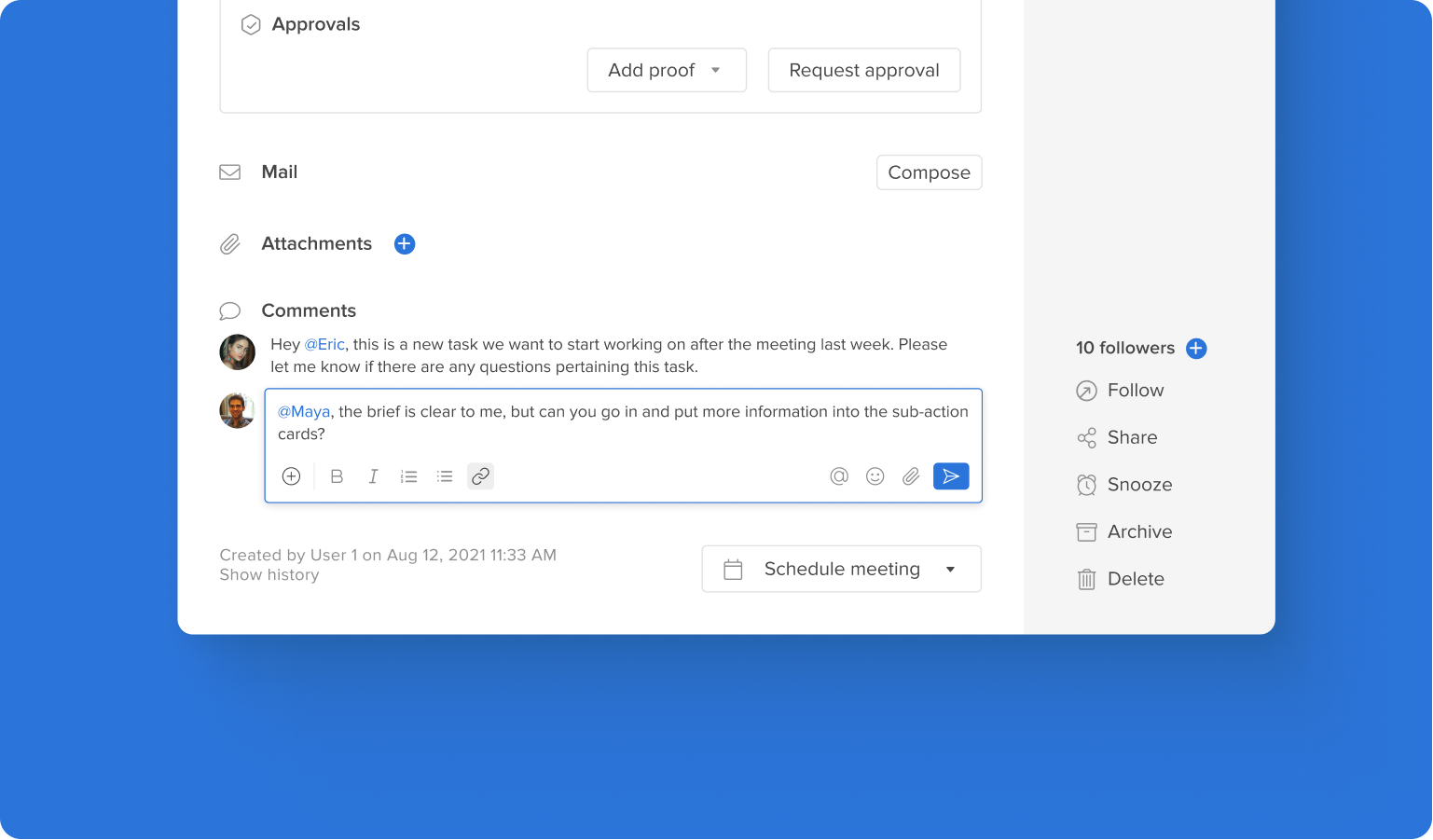 Other ways that Hive enables seamless asynchronous communication is through functions like Proofing & Approvals, Dependencies, Custom Project and Action Card Templates. As Implementers start working on several projects, the amount of comments and emails back and forth can be overwhelming. Using features like Proofing & Approvals and Dependencies helps to dramatically reduce the unnecessary inbox clutter and notifications.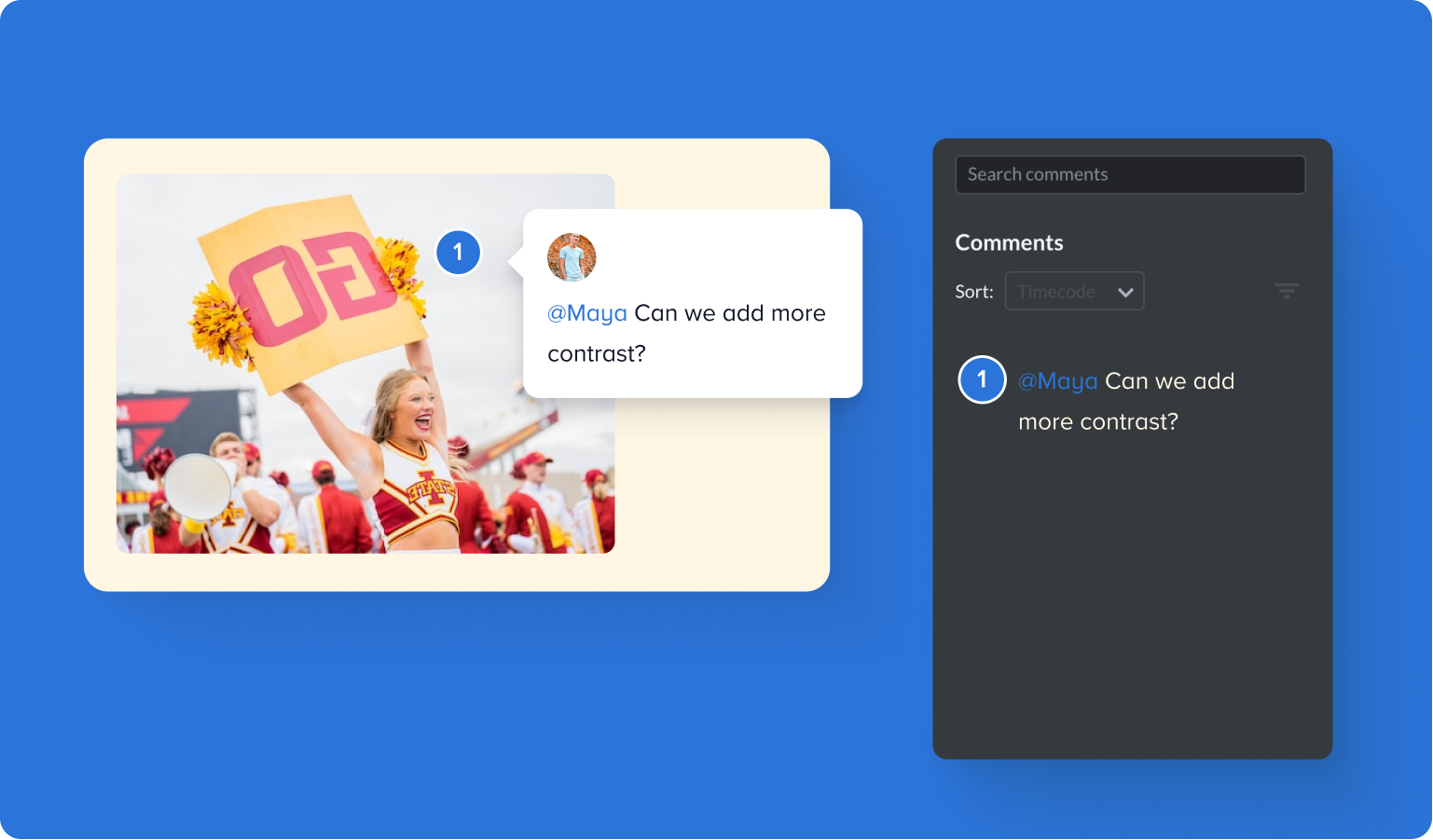 A key for LVL-Up is creating their own custom projects and action card templates.  By creating these templates, recurring project set-up can be streamlined and allows LVL-Up to spend their time getting to know their new client and not on back-end administration. In other words, LVL-Up reduces the time needed for setting up new clients and can focus on the work, not the tools. Being able to customize the notifications not only has been a huge time saver but makes the tagging in cards more relevant.
LVL-Up has earned resounding praise from clients about their efficiency, which Hive has helped to generate. – Laura Jennings, CSO & co-founder
Overall, Action Cards, Chat, and Proofing & Approvals have really enabled seamless communication, which contributed to success with projects across the board — LVL-Up has earned resounding praise from clients about their efficiency, which Hive has helped to generate.
Accessing all tools in one place with Hive integrations 
Finally, LVL-Up loves Hive's integrations — they use Hive's Gmail integration (Hive Mail) and Google Drive integration, which lets them pass along materials to implementers around the world with a few clicks. Because they are a consultancy, the volume of client documents and attachments is often high.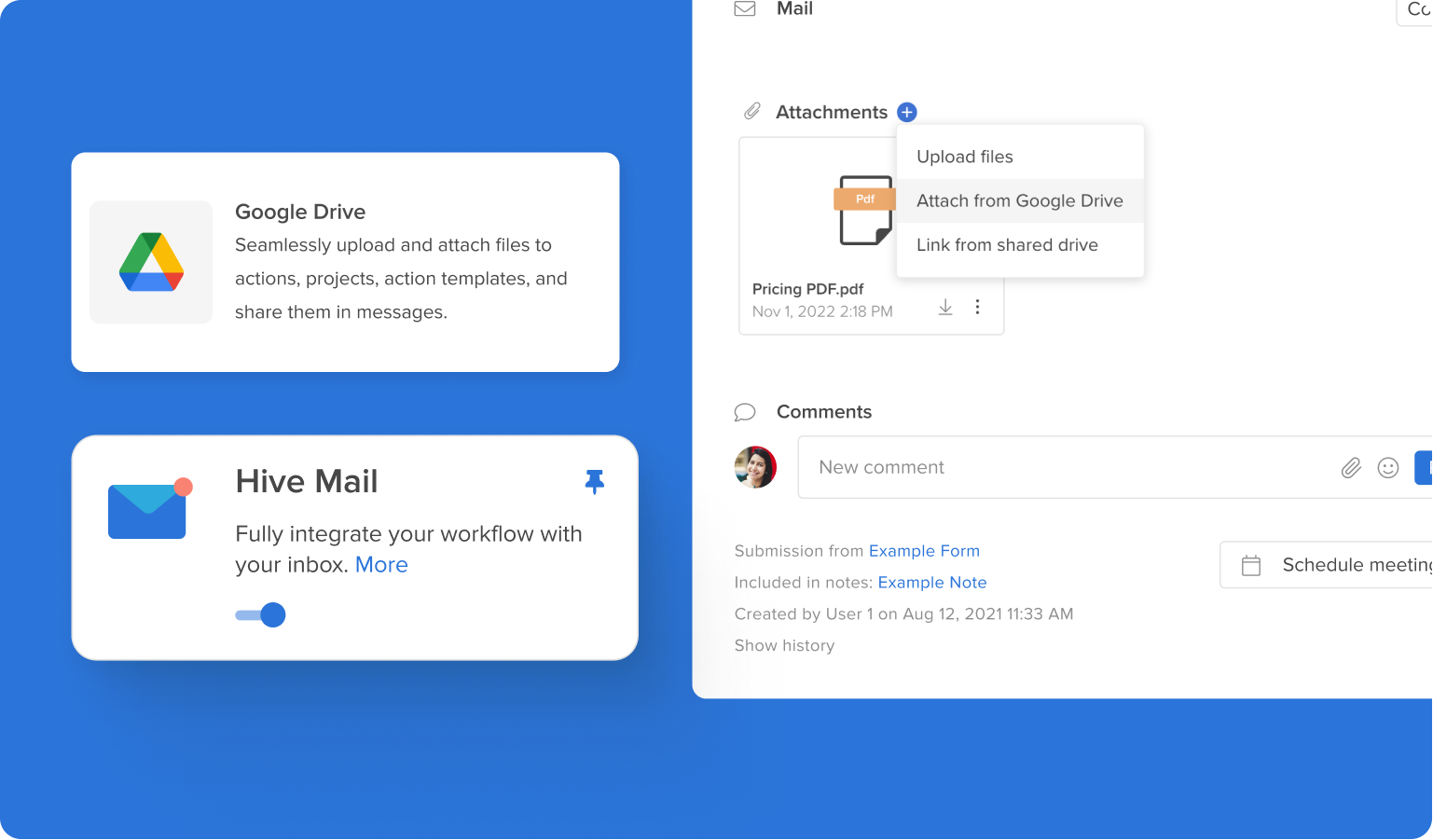 With the Hive and Google Drive integration, they can access the documents they need right from Hive and easily attach them to a project or Action Card. Additionally, Hive Mail lets them communicate with external parties without leaving Hive, which helps cut down on time spent switching between tools. They also love that teammates can attach emails to Action Cards, which helps provide additional context to each task.
Overall, Hive has helped LVL-Up to deliver work in a more timely and efficient way for their clients, which has helped their business grow and evolve at a fast pace.