When we asked Hive teams what their biggest pain point was in the remote-work world, the answer was clear: meetings. Back-to-back Zoom meetings without straightforward next steps and deliverables were exhausting. But this dysfunction was also an opportunity — what if we could rethink the way we meet and actually get work done in a meeting? 
When we initially launched Notes in Hive, we created this feature as a way to help teams work better together. As teams utilized Notes and provided feedback, we realized that we needed to further fuse Notes and the meeting experience, which is why we're launching Hive Notes for Meetings.
Notes in Hive have always been a place where you can store and save content relevant to projects, assign tasks, and link the content to a project. Hive Notes for Meetings is the next step in integrating your meetings with your work, and with Hive Notes for Meetings, users can do a few more things, including:
Link each note to a calendar meeting, which will populate the note with relevant meeting information
Receive a meeting alert five minutes before the meeting that links straight to the meeting note
Share each note with all meeting attendees
Collaborate in real-time with multiple attendees to add notes, next steps, or images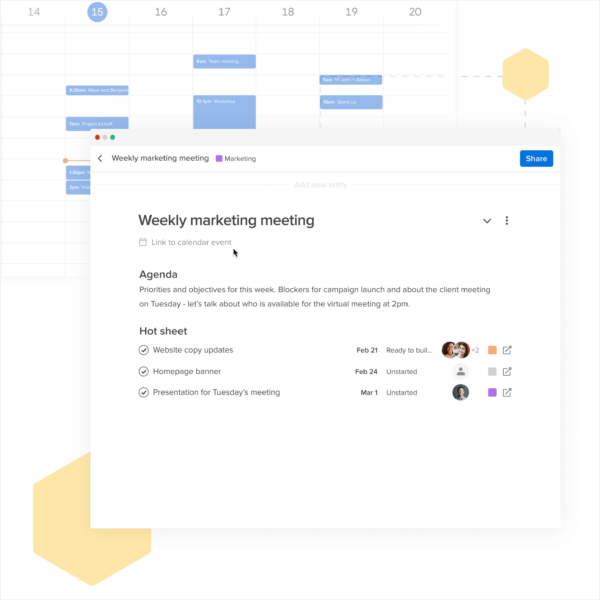 Here's how it works. You'll connect your email to Hive via Hive Mail in your Apps section. Once that's set up, you can link a Hive Note to any meeting you've got on your calendar. Once you've linked the Hive Note and the calendar, Hive will pull in relevant meeting information, like attendees and description, into the Note itself.
From there, you can use the Note before, during, and after the meeting to jot down thoughts, an agenda, or assign next steps — the Note can actually transition into a list of actionable next steps assigned to meeting participants.
Additionally, to make sure you never miss a meeting again, you'll get a notification in Hive prompting you to either take notes or join the meeting 5 minutes before the meeting starts.
How To Use Hive Notes For Meetings
Integrating Hive Notes for Meetings into your day-to-day will create a new meeting experience, making the meeting more collaborative, efficient, and effective. Here are a few ways we love using Hive Notes for Meetings.
1. Link Notes to any meeting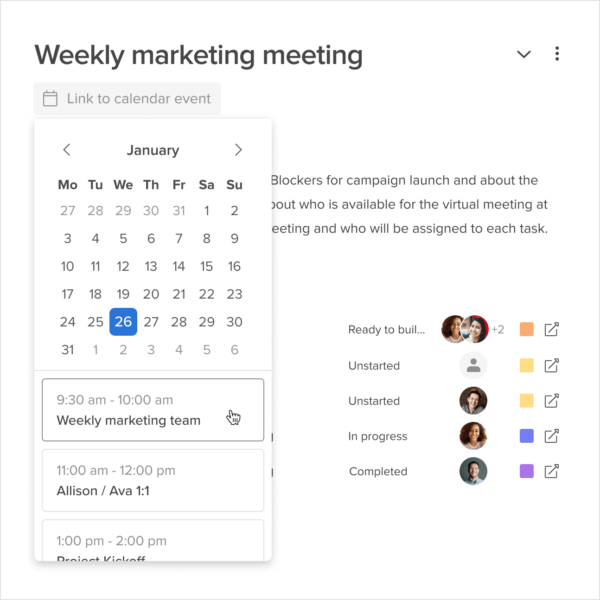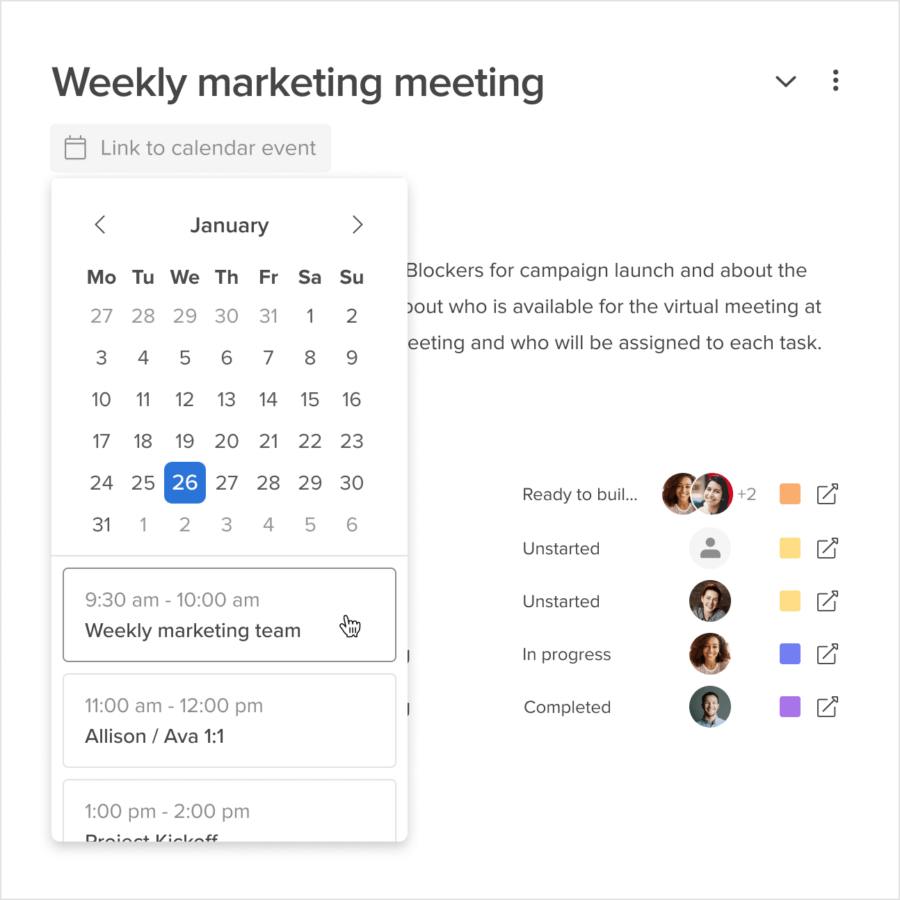 With Hive Notes for Meetings, you can easily attach a note to any meeting on your calendar. When users link their meeting to a Hive Note, they'll get a shortcut to share their Note with the rest of the group when they are ready, including vendors or clients who don't use Hive. The Note will also store relevant meeting information at the top portion, including the time and link to the meeting itself.
You can also opt for meeting notifications in the upper right hand corner of your Hive screen. These reminders are great for making sure you show up on time between snack breaks.
2. Create agendas you will actually use
With Hive Notes, you'll never need to use a Powerpoint agenda again. Instead, draft your agenda in a Hive Note and share it with meeting participants ahead of time. Right before it's time to meet, everyone using Hive will get a reminder prompting them to join the meeting and open the Note, where your agenda will be right there waiting for them.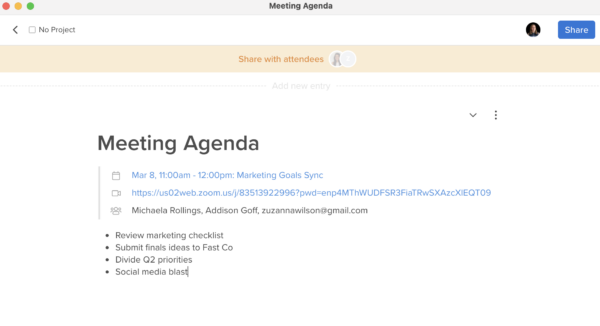 But agendas in Hive Notes are more than just a list of talking points. Use your agenda as a framework for your meeting and encourage participants to get involved. Add ideas, share notes, and turn any bullet point into an action item.
3. Move the project forward in the meeting
With Hive Notes, you can stop wasting time and start working on projects during meetings. Once a Note is created, turn any piece of text into an action item, set a due date, and assign it to a team member with just a few clicks. You can also attach the Note to an existing project in Hive.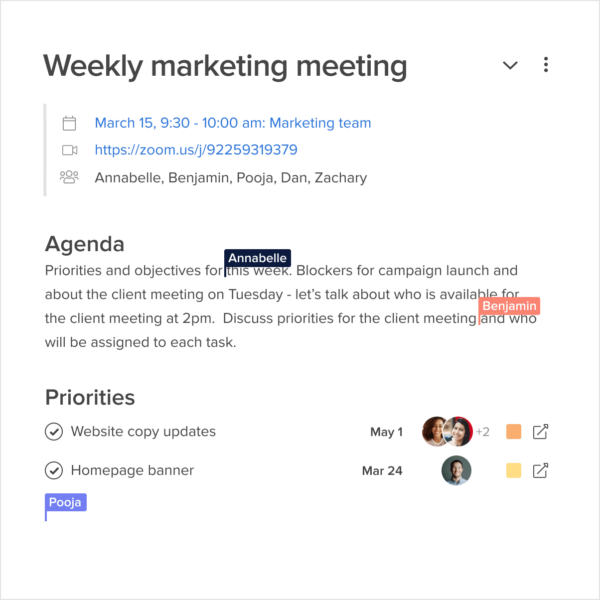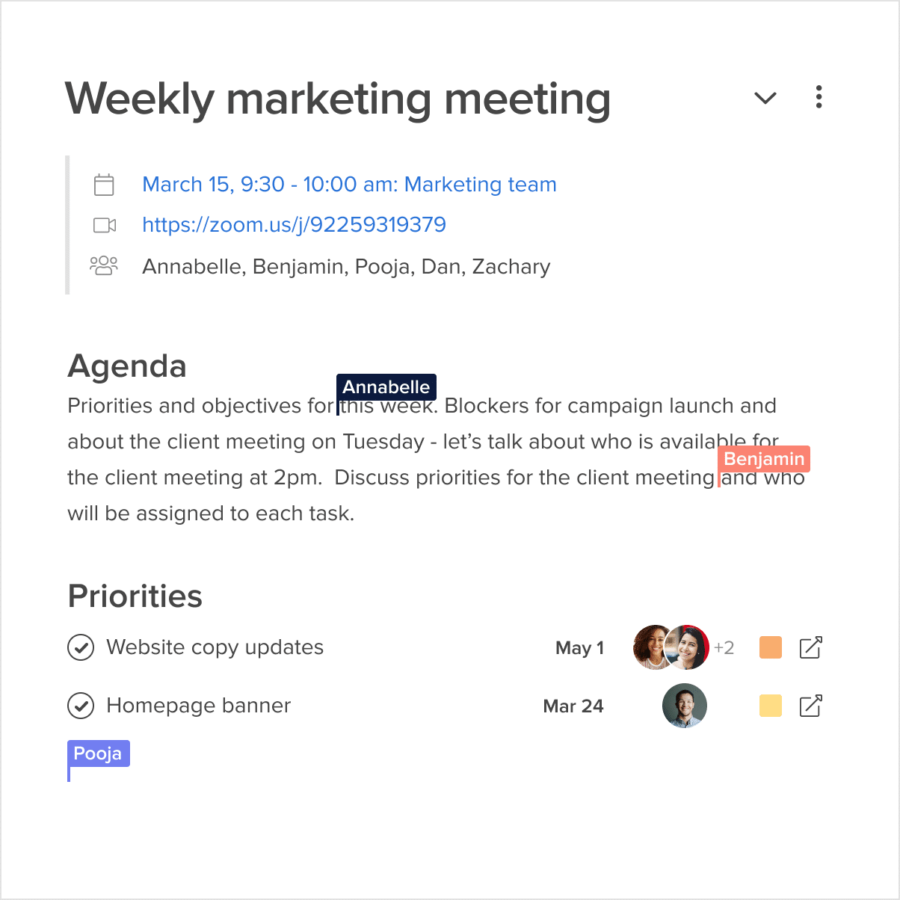 4. Keep recurring meeting notes in one place.
Have this meeting at the same time next week? Click "Add new entry" and the next note entry will populate with the same meeting details. With all of your past meeting notes stored in the same thread, you can easily revisit old meeting notes or next-steps.
You can also track your progress since the last meeting by looking at which tasks have been completed, are in-progress, or haven't been started yet. 
How To Enable Hive Notes for Meetings
Interested in turning Hive Notes for Meetings on? Here's how you can do it:
First, make sure that your Hive Mail square is toggled on in Hive Apps.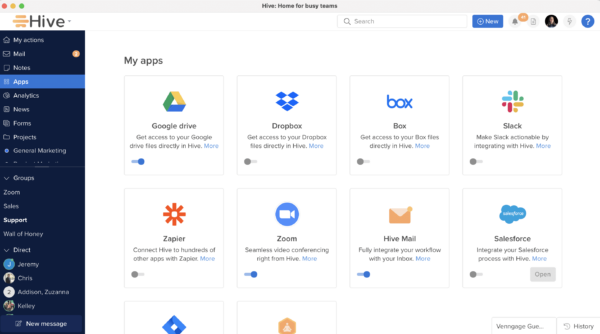 Once that is complete, you'll be able to turn on or off notifications for your meetings in Hive. With notifications turned on, you will receive a pop-up reminder 5 minutes before your meeting in the upper right corner of Hive. This reminder will prompt you to Open Zoom (if connected to your meeting) or Take Notes. Here's what the notifications will look like: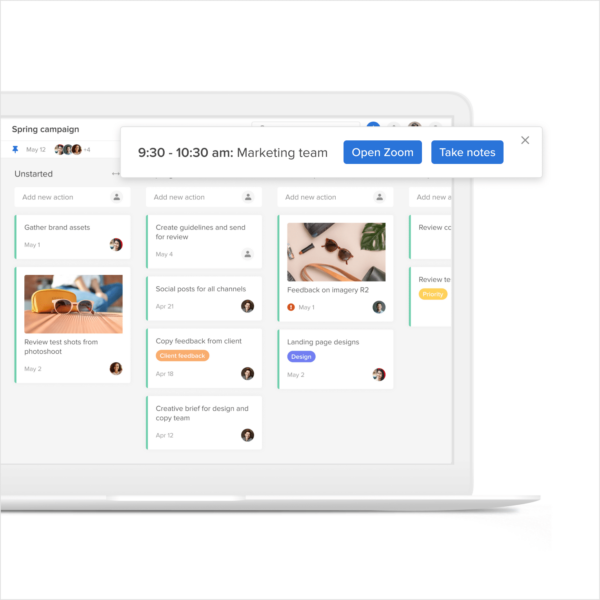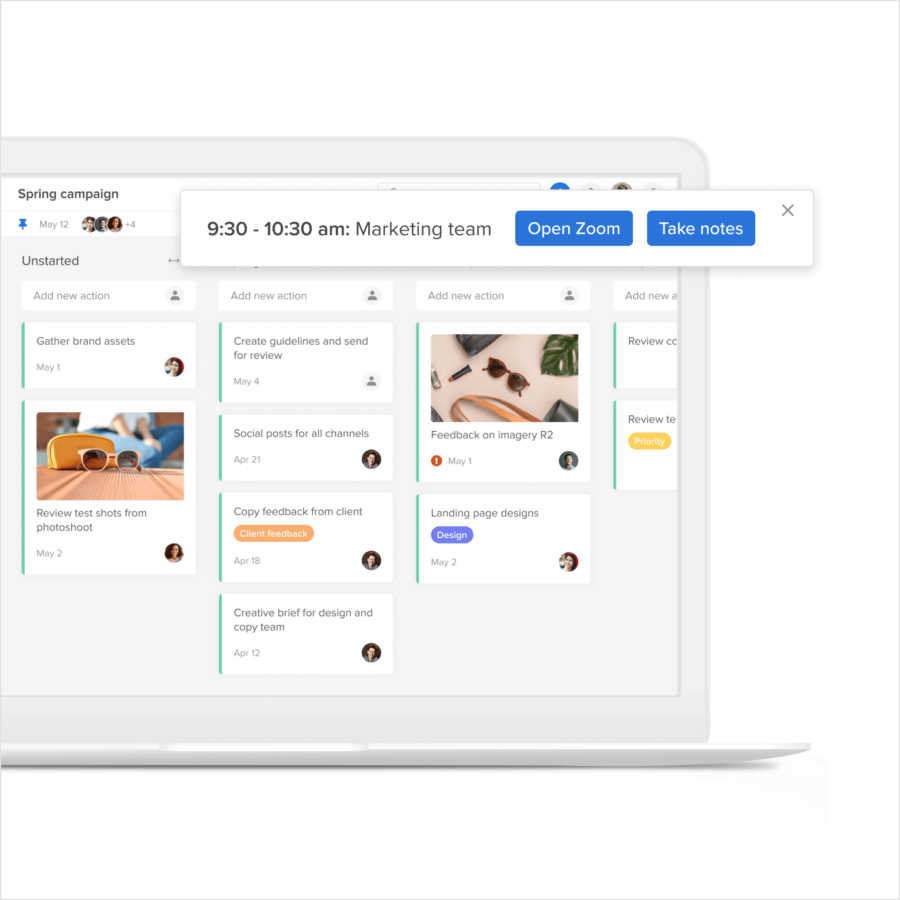 To turn this notification "On" or "Off," simply visit your Notification settings in your profile picture dropdown. From there, select "Show notifications for upcoming meetings." You can change these settings anytime.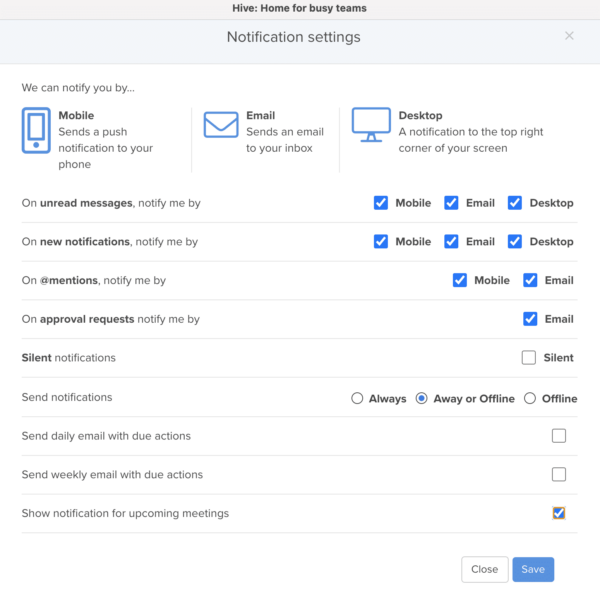 Once you've saved your notification settings, you can utilize Hive Notes for Meetings throughout any and all meetings, both internal and external, throughout your day.
We're so excited to announce this new feature — and we know this is just the beginning of our meeting journey together. We hope this helps you and your team move faster. Cheers to a new meeting experience!