Hive is a project and process management tool used by brands like Starbucks, WeWork, Uber and IBM. Try Hive here.
Dog-friendly work places have skyrocketed in popularity over the last ten years. As more research has emerged about the positive effects of dogs on workplace morale and happiness, more and more organizations have welcomed canine companions. Places like Amazon and Google spearheaded the dogs-in-the-workplace movement, even boasting dog-sized water fountains and alleged canine caregivers on-staff, respectively. And as other companies have welcomed pups into their offices, too, other unanticipated benefits have arisen, including increased socialization of employees (i.e. meeting by striking up a conversation about a dog) and "improvement of company image." Who can argue with that!?
Related: What Is A Mind Sweep? Do You Need One?
But that got us thinking. If dogs are such positive forces of good in office environments, what about other pets? When we started digging, the most staggering stats we found were about the potential benefits of cats in the office — in a study about pets relieving stress in the Scientific American, people actually responded at a 8% higher rate for cats (29% of respondents said cats relieved stress, while only 21% said dogs relieved stress). People also rated cats a 10% more positive "diversion" than dogs (19% for cats, 9% for dogs). It's even been scientifically proven that owning cats decreased the risk of death from cardiovascular diseases, and that "acquisition of cats as domestic pets may represent a novel strategy for reducing the risk of cardiovascular diseases in high-risk individuals."
This scientific proof has been echoed across real-life scenarios, too. One of the most well-known cat-friendly work places is the Ferray Corporation in Tokyo, Japan, where the office adopted nine "office cats." The response to the cats has been overwhelmingly positive. The company saw increased communication between employees and decreased stress "thanks to the calming presence of the cats, who are always up for a cuddle," People Magazine reports. The company even gives employees who adopt a cat a $42 a month bonus, just for bringing a cat into their home.
Related: You Might Be Surprised At The Most-Used Emojis At Work
There's plenty of other incredibly positive reviews of cats in the workplace, some of which were gathered in a report by PetPlace, and included an anecdote from an auto-body shop in Chicago, where people stop by solely to visit with the shop's cats "Bear" and "Big Cat." The report also detailed the life of an adopted cat, Sophie, who serves as the "office cat" for a pet hospital in Illinois. Sophie's specialty is wandering through the hospital, bringing people happiness, and even serving as a blood donor to other pets in emergency situations.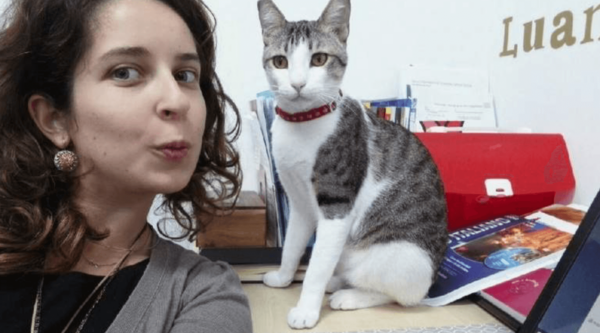 Yet another example? In Dubai, the Pomegranate Institute adopted a rescue cat named Seedy, and employees have reported increased responsibility and happiness at work, even saying that "people have become more responsible at work now. They take care of him like a family member. If they are not in a good mood, they just drop by in this area and see Seedy play around and return to their desks happier." After just one month, Seedy's impact was profound and changed the tone of the office.
Since cats require quite a bit less work than dogs — no walking, no taking them outside to the bathroom — it makes sense that they bring forth a sense of calm that can benefit people in the workplace, perhaps in an even greater way than our canine friends, as there's a lot less work required.
On the other hand, cat allergies are twice as common as dog allergies, according to the American College of Allergy, Asthma, and Immunology. So the likelihood of having a coworker with an allergy to cats is much higher than the likelihood of them being allergic to dogs, which is something to consider before broaching the subject with your team.
But overall, office spaces are definitely trending towards increased amounts of pets in the workplace. And while having cats in-office hasn't become popular yet in the United States, the benefits are hard to ignore.
Interested in working in a pet-friendly office? Here's a list of some notable companies who allow pets: