Our users know better than anyone what they need to get their work done effectively. We realize it's important to them to be able to influence the shape of software in their work-life — and that's why we're handing over the steering wheel to our community. Yes, that's you. We're giving everyone an equal opportunity to drive the direction of our products and contribute to the productivity tools they use every day.
This is a pivotal point in Hive history, as we are proud to announce today that we've raised $10 million to deliver the world's first productivity software platform built by users. This round was led by Rembrandt Venture Partners, with participation from Zoom, and existing investors Tribeca Venture Partners and AngelPad. 
Employees today want to be in control of their own work processes. They are increasingly looking for tools that will support the way they work instead of requiring them to change the way things are done. We're very excited to be a part of Hive's journey to becoming the first democratic software platform in history. – Scott Irwin, Rembrandt Venture Partners
Hive is the first startup to receive investment from the recently launched Zoom Apps Fund, a $100 million global venture fund to stimulate the growth of the Zoom App Marketplace. We launched our Hive Notes app for Zoom earlier this month, and this continued partnership will allow us to keep innovating and reinventing the future of work communication.
So what does this funding mean for you, our Hive community? We are on a mission to build the world's first democratic software platform, where all product decisions are made democratically by users. But this isn't just an idea — it's already something we've put into action. In 2021, we have already doubled the number of feature requests received and tripled the number of features delivered to customers. In the last two months alone, our product and engineering team built 40 new features. And now, with these additional resources and support, we can push these numbers even higher and bring you a productivity platform that is truly #CommunityBuilt. 
At Hive, we maintain a public product roadmap via Canny where any user can request features they would like to see in the product. Users can also vote and comment on other feature requests to show support. The order in which the features are delivered by Hive's engineering team is decided by the number of votes each request receives. We're proud to say that two in three users will get a feature they've requested built in the first year. And this could be you — all you have to do is visit Canny to get started.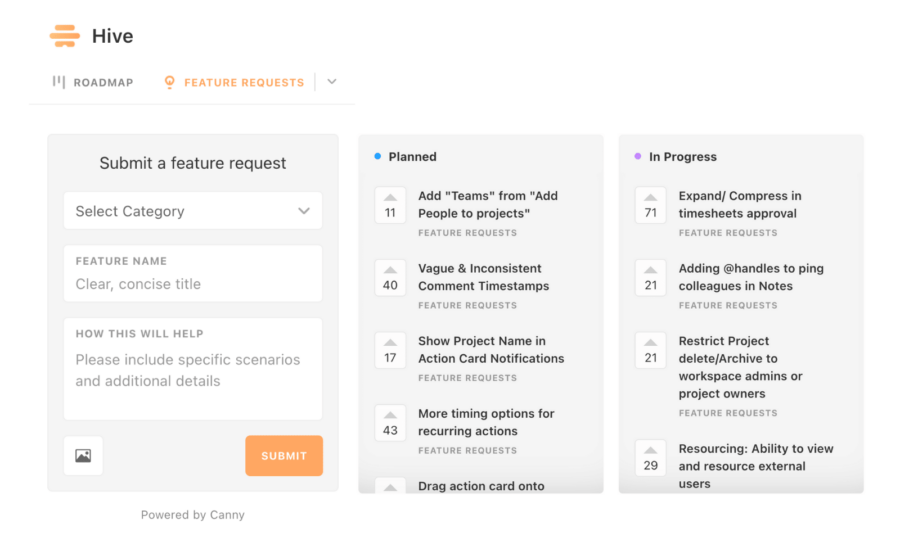 Here are some of the ways you can get involved on Canny and help us shape the future of Hive:
Product roadmap:

view upcoming features that are planned or in progress

Feature requests:

Submit a request for any feature you'd like to see in Hive. Vote on features submitted by other Hive users to show support

Bugs:

Submit and track bugs to ensure Hive stays in tip top shape 

Changelog:

View recent product updates as soon as they go live
Do you have features you'd like to see in Hive? What about feedback you'd like to share? We want to hear from you. Let's do something together that's never been done before — let's create a productivity platform that is actually built by the people, for the people. We can't wait to build Hive together with you.