Office communication has changed drastically. Even over the past few years, we have gone from strictly in-person communication in offices to remote-only communication, chatting via chat boxes or email on the internet.
If you are in the business world, you should know about or be intimately familiar with Slack, a communication platform used to send messages, store documents, and create new projects. While Slack was not the first platform to offer these services, it has become one of the most popular chat apps due to its wide range of features.
However, while Slack is synonymous with many as the ultimate communication tool, it's not the only tool out there. Several other team chat tools offer similar features and even some platforms that are unique.
If you're in the market for another chat option for your business, or you are just curious about what else is out there trying to push Slack out of its number one spot on the "best chat platform," below are some Slack alternatives that might be of interest.
Is Slack the right communication tool for your business?
I have fond memories of using Slack. At one of my previous jobs, my boss awarded me a certificate for being the #1 person in the company who sent the most images/gifs/slacks to co-workers during the year. Productive? Not really.
But, while part of me was trying hard not to be embarrassed for getting called out for –basically sending Gifs all day– the other part of me was impressed by Slacks reporting power of Slack. It even pulled up my (essential lack of work) and put it in a tidy pie chart for all to see.
The point of this trip down memory lane is to remind you that the chat software you pick can do more than help your teams communicate. It can pull reports, aggregate data, and even track productivity (or, in this case – a lack of productivity).
So, before deciding what platform to move forward with, take time to evaluate each product based on its features. Aside from the obvious messaging features, try to get a program that includes the following:
File sharing and collaboration

Video and voice chat

Integration with other tools

Reporting and analytics

Security and privacy
While Slack has all of the above features, there are a few competitors that compare and even others that go above and beyond the standard chat messaging features. Read on to learn about some of the top Slack alternatives on the market.
The Top 5 Slack Alternatives
1. Hive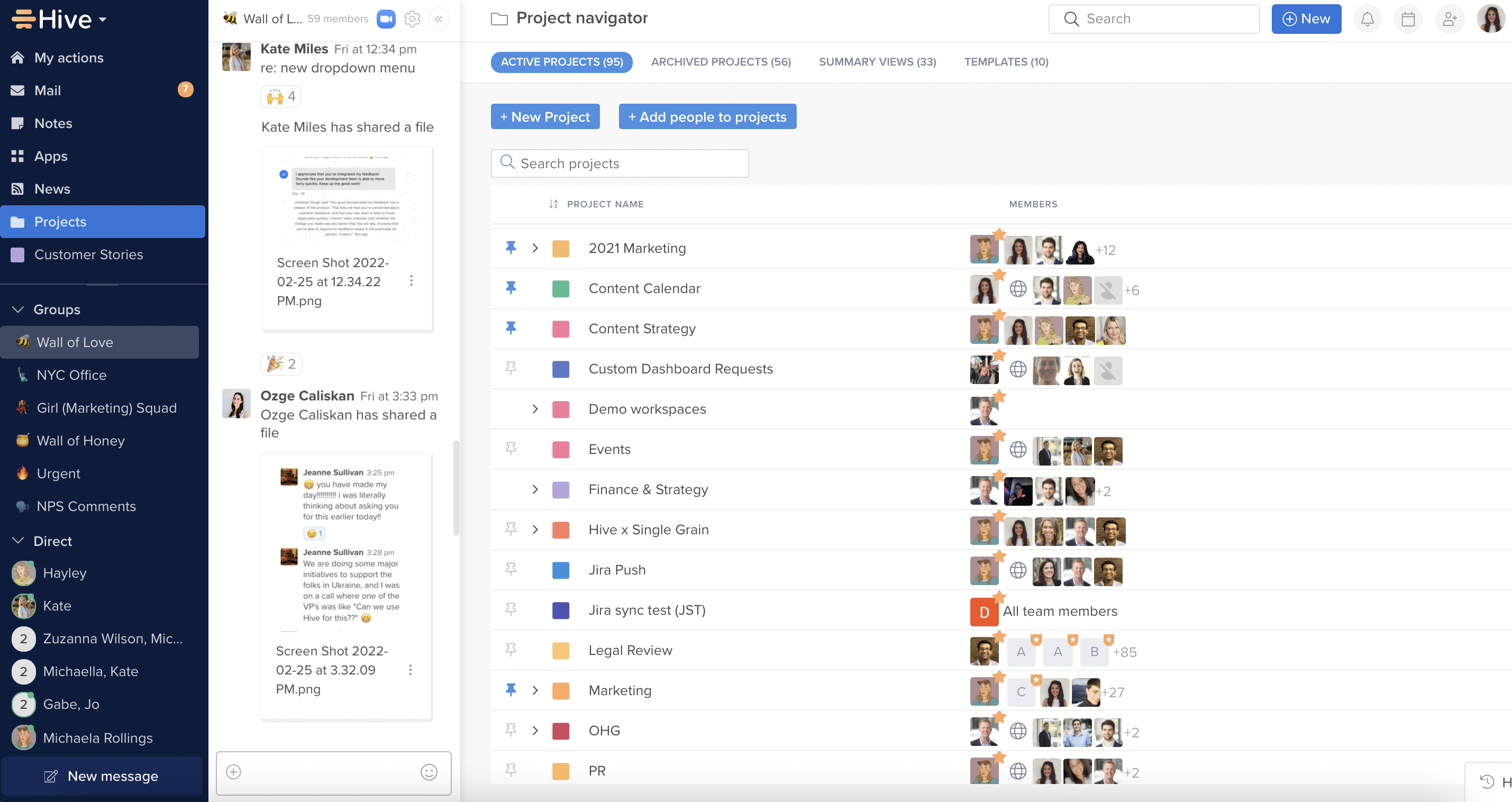 Hive is a popular Slack alternative for project management, as it offers chat as well as robust project management capabilities. In addition to both direct and group chats, Hive offers many collaboration features — such as in-app calendar syncing, note-taking, and task management — that allows users to streamline their workflow and manage team tasks from one interface. Plus, its integration with other third-party tools makes it an ideal choice for businesses that need to collaborate across multiple apps.
Key Features:
Chat and messaging capabilities for direct and group communication

Task management tools and HiveMindAI.

File sharing and collaboration tools

Integration with other third-party tools

Security features, including data encryption
Pricing:
Hive Free Plan – Available for up to 10 users

Hive Professional – $12/user/month
Hive Enterprise – Custom pricing is available for larger organizations.

2. Microsoft Teams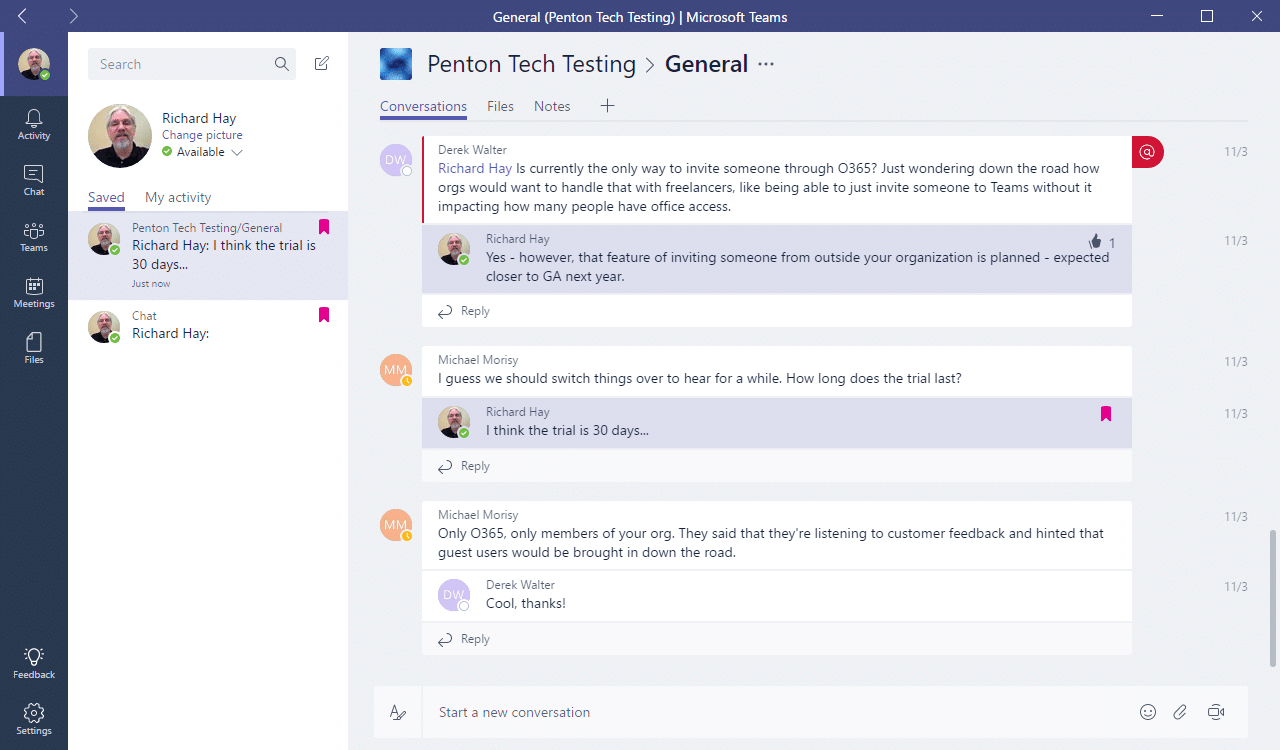 As part of the Microsoft Office suite, Teams is an all-in-one collaboration platform that allows users to share files, chat, and collaborate on projects all in one place. Teams is on-par with Slack, as it offers all of the same features but with the added bonus of Office 365 integration.
Key Features:
Chat and messaging capabilities for direct and group communication

File sharing and collaboration tools

Audio and video calling and conferencing

Integration with other Microsoft Office 365 tools and apps

Customizable channels and workspaces

Project management and task-tracking tools

Data encryption and multi-factor authentication
Pricing:
Free version available with limited features

Microsoft 365 Business Basic: $5/user/month

Enterprise pricing available for larger organizations
3. Zoom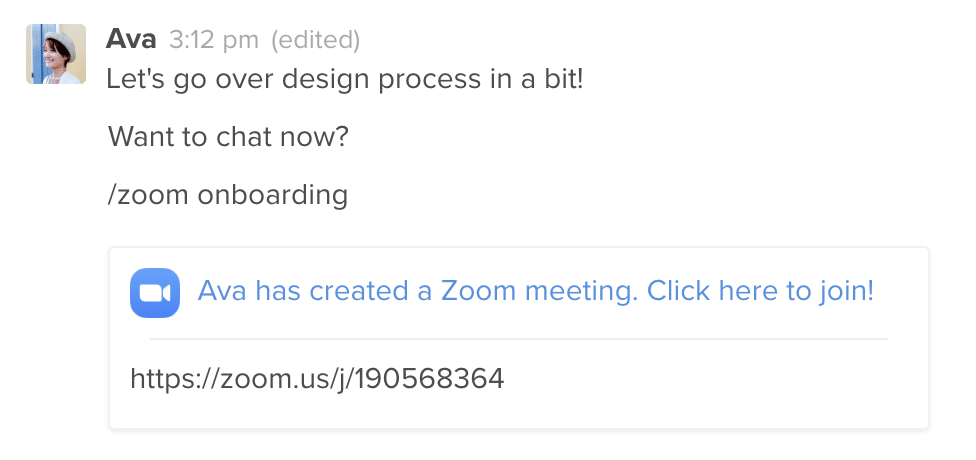 Although Zoom is primarily known as a video conferencing tool, it also has a chat feature that allows users to message each other and share files. Zoom's popularity exploded during the pandemic, making it a top choice for businesses needing video conferencing and chat capabilities. While it is less robust than Slack with its features, it's a great option for a team that wants to run their business with videos and chat.
Key Features:
Video and audio conferencing for remote meetings

Chat and messaging capabilities for direct and group communication

File sharing and collaboration tools

Screen sharing and virtual background options

Webinar and live streaming capabilities

Integration with other tools and apps, including Microsoft Teams and Slack

Security features, including end-to-end encryption and password protection
Pricing:
Basic (Free): for personal or small team meetings, limited to 40 minutes

Pro: $14.99/host/month

Enterprise: Custom pricing for large organizations and enterprise-level needs
4. Google Chat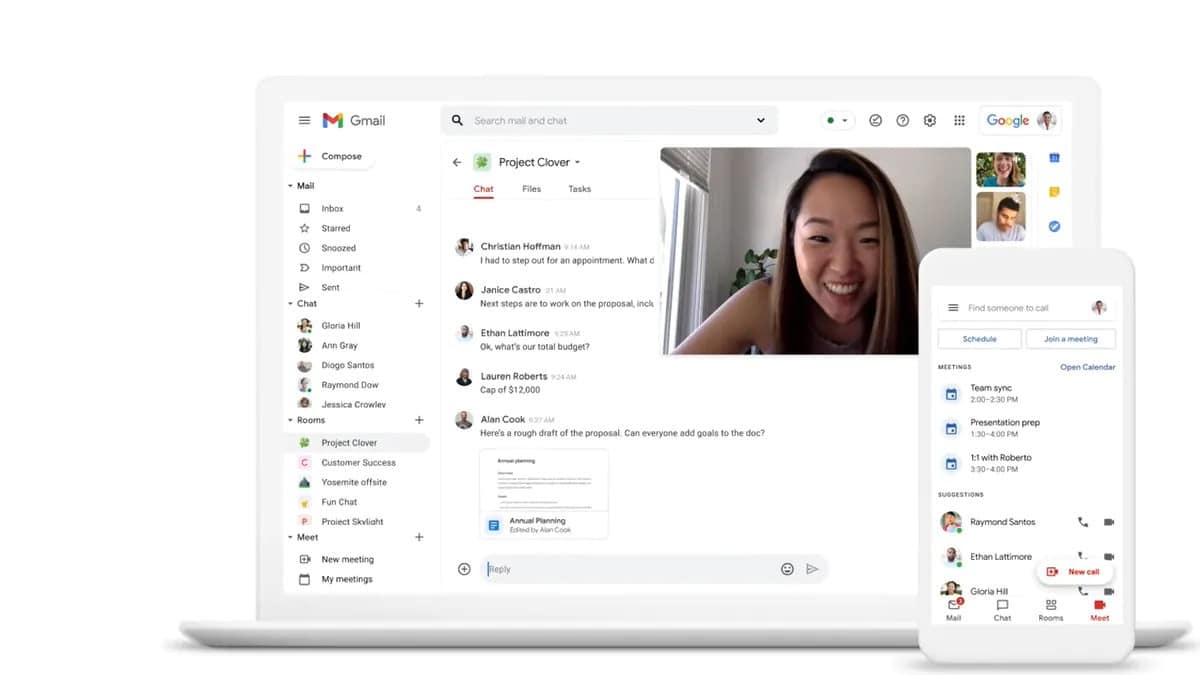 Formerly known as Hangouts Chat, Google Chat is a team communication platform that integrates with other Google products like Google Drive and Google Meet. Google Chat is free as part of a Google Workspace account and is an excellent option for businesses using other Google products. What's great about Google Chat is that you can access it from any device with a web browser, making it one of the most versatile options.
Key Features:
Chat and messaging capabilities for direct and group communication

File sharing and collaboration tools

Integration with other Google products like Google Drive, Gmail, and Google Meet

Voice-calling capabilities with up to 25 participants in a voice chat

Robust security and privacy features, including 2-step authentication
Pricing:
Free with a Google Workspace account

G Suite Basic – $6/user/month

G Suite Enterprise – Custom pricing is available for larger organizations.
5. Chanty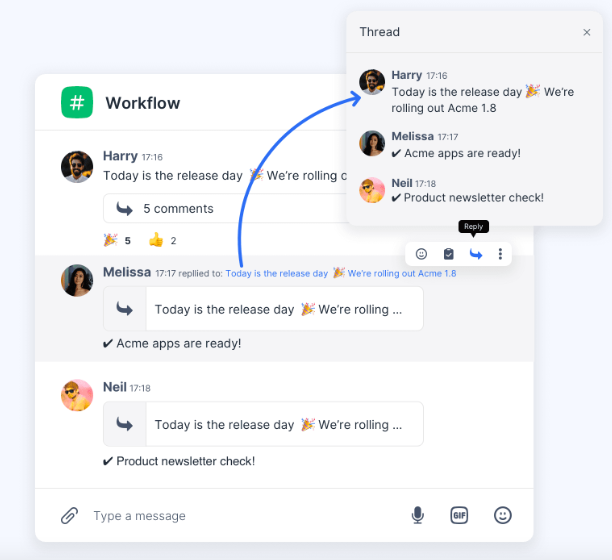 Chanty is a team chat app used for collaboration for teams of all sizes. The solution is a great alternative to Slack, as it lets you create, manage and assign tasks from a text message.
The Kanban board lets you optimize your workflow with a flexible and visual way to execute agile methodology. With 20+ integrations, Chanty also offers audio and video calls with screen sharing available to the entire team or by individual team members.
Key Features: 
Team Hub

Audio Calls

Public & Private Conversations

Voice Messages

Built-In Task Management

File Storage

Group Video Calls

Screen Sharing
Pricing:
Free for the basic version (up to 10 members)

Business version is $3/month/user and $4/annual/user.

Download For:

iOS

,

Android

,

Mac

and

Windows Desktop
To make the switch or not
Communication platforms like Slack have become essential for remote workforces to collaborate, share files, and stay connected. While Slack is a popular choice, several other chat tools offer similar or even unique features. Microsoft Teams, Zoom, Google Chat, and Hive are four popular Slack alternatives that offer various communication and collaboration capabilities, making it essential to assess each product's features before choosing the right one for your business.