Between email, phone calls, text messaging, and conversations at the watercooler, there is a lot of communication "noise" within the workplace. And with more and more teams working remotely or following a hybrid work model, implementing a team chat is a great way to streamline your business communication and promote collaboration and transparency between your staff.
Some businesses prefer to use team chat apps with video conferencing, while others need a platform that integrates within their pre-existing project management systems. Regardless of which type of communication app you need, the goal is still the same: to provide your team with the ability to feel comfortable reaching out to one another, make connections, and increase communication efficiencies within your company. That's where team chat apps can help.
Why Your Business Needs A Team Chat App
Aside from the instant communication and responses a team chat provides, as a bonus, we love how team chats naturally promote information sharing (and sometimes gossiping) between teams of various departments.
For example, developers can stay in touch with clients through a team chat, and your customer service department can use this same chat for internal conversations, such as who might help answer support inquiries from their accounts.
As these conversations happen, not only do they provide transparency between teammates, but they can also provide clients with immediate responses without having anyone wait around for an email or a missed text message on a cellphone.
No matter what type of team chat you decide to go with, just having a chat is the first step. Here at Hive, we have narrowed down some of our favorite team chat applications to help your team stay on the same page – or rather, on the same chat. These messaging apps are the future of your team's communication, especially when many of these chats can integrate the efficiency of business communication with the casual nature of peer-to-peer conversations. Below are the top 11 team chat apps that we love:
1. Hive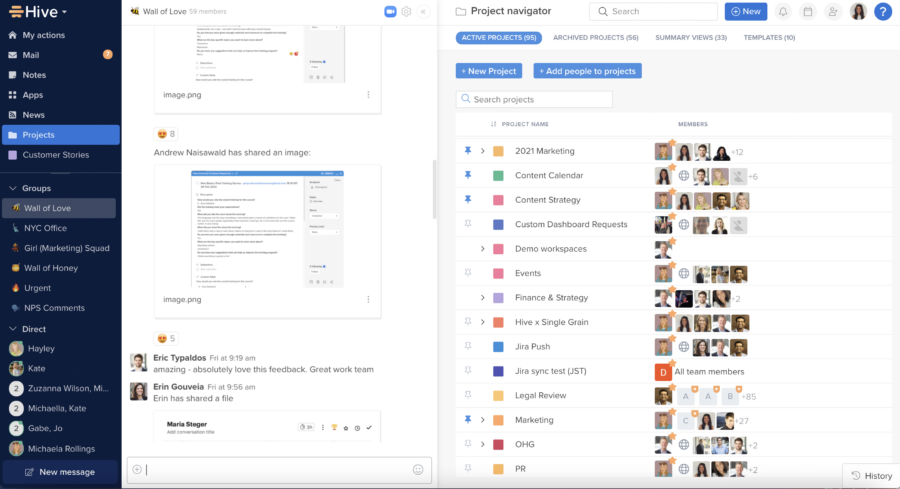 Not only is Hive an excellent project management platform, but its built in-app messaging system has a ton of user flexibility. This team messenger seamlessly integrates into the Hive workflow to attach files, integrate emails into conversations, and even syncs calendars into each chatroom. This native Hive chat also gives its users the ability to drag and drop tasks into discussions and even upload animated gifs and emojis.
Connecting with your team has never been easier or more fun with Hive. These features are available on multiple platforms from living on your desktop or a downloadable app for your iPhone or Android device. Plus, we can always get behind any team chat that allows us to send working cat gifs through giphy to our coworkers. Pro tip: Hive Notes allows you to take meeting notes, assign follow up items, and track the progress of next steps directly in Hive.
Key Features:
Project Management capabilities combined with a native chat feature
Downloadable as a phone app or on your computer desktop
Giphy integration/emojis/unique channel categories
Try it for free for 14 days, or you can upgrade to $12/month up to custom-priced plans at the Enterprise level.
Download App Here:
2. Slack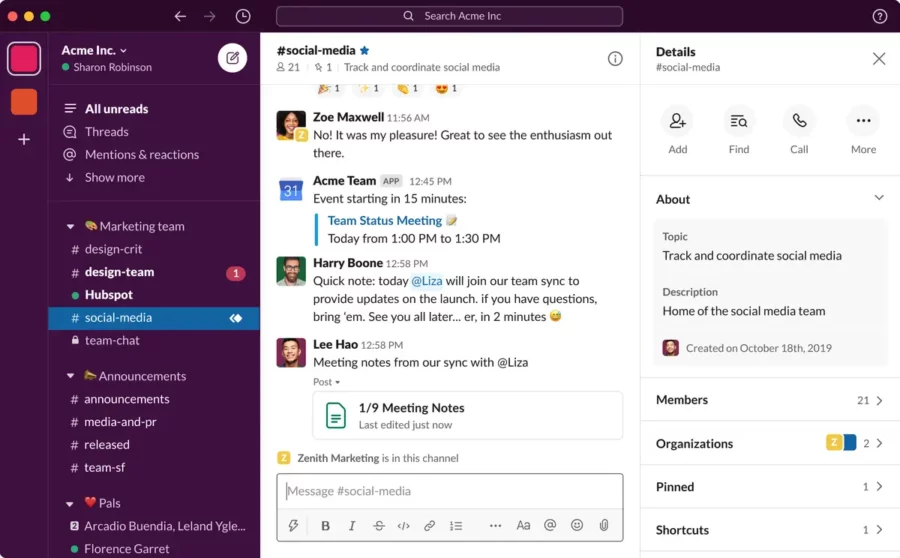 Slack is a team chat app with various applications, from team chats to email replacements. Useful for professional and casual team communication, Slack allows team members to post updates across channels or create private conversations. While not a project management platform, Slack is a standalone team messaging program that you can integrate into almost any working environment.
Built with a ton of customizations and automation, Slack can provide additional support to the business, such as automation for frequently asked questions, shortcuts to the helpdesk, and even analytics reporting. Slack can live on your desktop or you can download the app for your iPhone or Android device. It works well for real-time communications, or you can also leave messages and comments in channels for people to read and respond to later.
Key Features:
Can integrate into with almost any project management system (including Hive!)
Downloadable as a phone app or on your computer desktop
Customizable themes and automation ability
Available as a free download, or you can upgrade to $8/month up to custom-priced plans at the Enterprise level.
Download App Here:
3. Microsoft Teams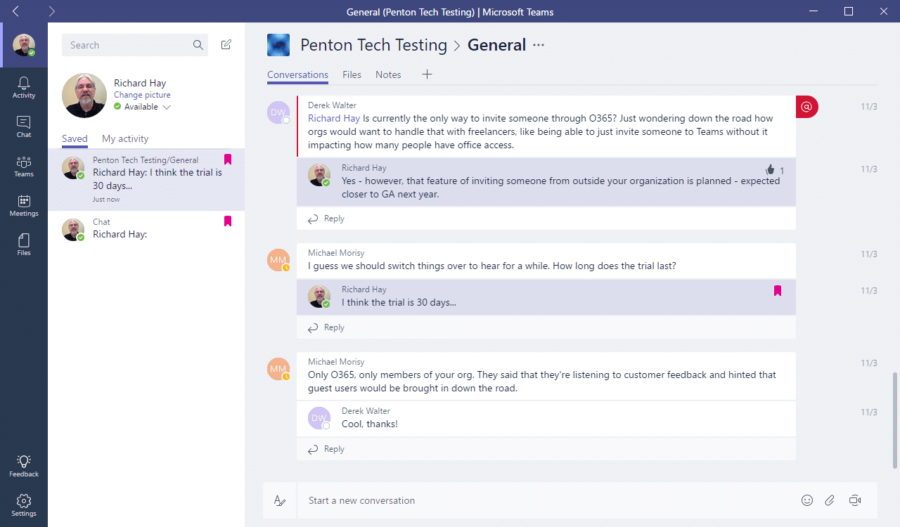 The Microsoft Teams app feels like "Slack on steroids." Built with the same functionality of Slack and more, this app has upped the anty with its solid video chat capabilities and conferencing integrations. While it can function as a reliable standalone app for team messaging, it is a compelling all-in-one solution for businesses when coupled with the Microsoft fleet of project management products.
Built to handle enterprise levels of usage, Microsoft Teams might be a bit too robust for small businesses and casual communications. However, with its powerful chat, video, sharing, and security features, it is a good option for a company that doesn't want to toggle back and forth between chat, video, and email solutions.
Key Features:
Download App Here:
4. Troop Messenger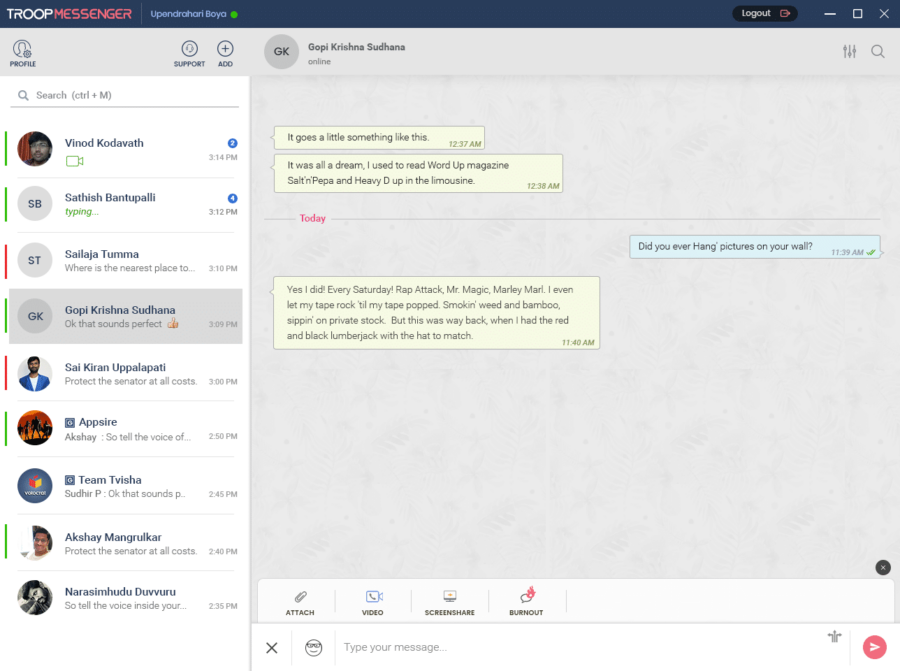 Built with a simple user face and an incredible UI/UX experience, Troop is perfect for small companies who need an easy-to-use platform to streamline communications. Packed with unique features like "burnout," and "respond later," Troop is an innovative messenger platform with great features and top-notch security protocol.
With a two-factor authentication for users to join the team and end-to-end encryption, all conversations are safe and secure with Troop. Also, Troop allows its users to use "privacy" bots that clean up team chat rooms by limiting what team members see based on their role or other pre-set rules. Not only is this platform secure, but it provides serious time-saving features like the global search filter, where users can find chats, people, groups, or active projects immediately.
Key Features:
Top-of-the-line security
Time-saving filters and protocols
Fantastic UI/UX for first-time chat users
Try it for free for a one-month trial, or you can upgrade to $5/month for standard services up to $25/month at the premium level.
Download App Here:
5. RingCentral MVP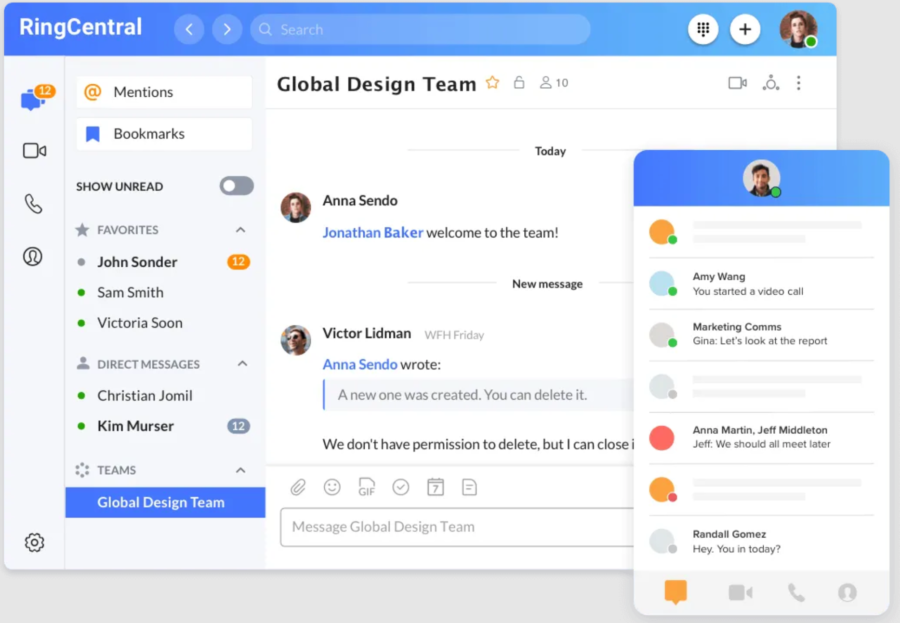 RingCentral MVP is an integrated communications solution that combines messaging, video conferencing, and phone calls into one unified platform. For seamless team messaging and collaboration, it enables users to either have one-on-one conversations or create a group chat. 
With the RingCentral App, users can upload files and pin important attachments for easy access. They can also create tasks and assign them to the entire group or individual members for better task management. Keeping track of schedules and important events is also easier because users can post team events.  
If a project requires further discussion and face-to-face interaction, users can start a video call with the click of just a single button. With an all-in-one app, teams can communicate with each other anytime, anywhere in their preferred channel and device. 
Key Features:
Unlimited audio and video meetings for up to 24 hours: maximum of 100 participants for Standard Plan;  maximum of 200 participants for Premium and Ultimate Plan. 

RingCentral Video Pro is also available as a

free video conferencing solution

that includes team messaging and collaboration features.

Popular integrations include Microsoft 365, Google Workspace, Slack, and more. 

Enterprise-grade security, reliability, and privacy
Download App Here
:
6. Chanty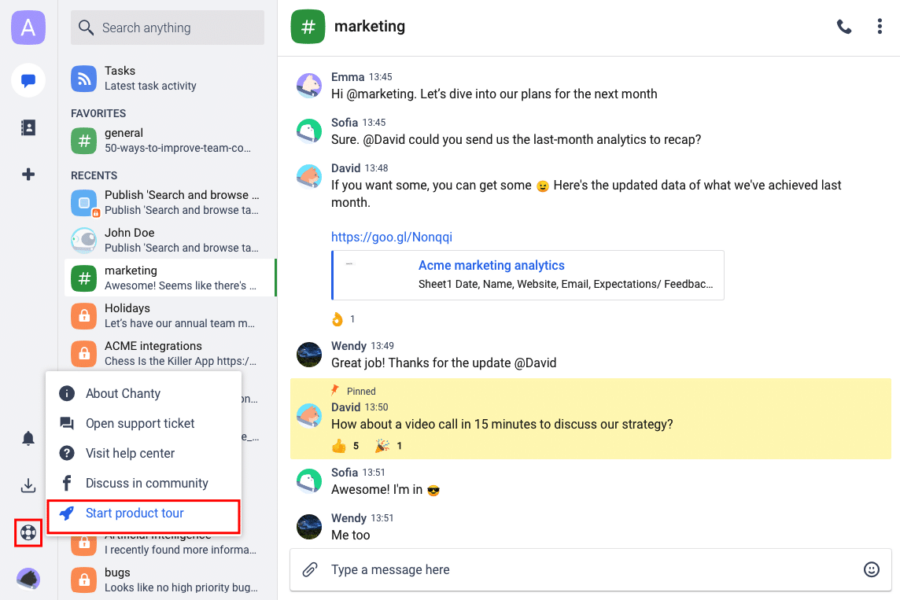 Chanty is a team chat application that allows teams to communicate through messaging, audio and video call features. With its easy-to-use interface the app enables teams to collaborate efficiently and effectively. Chanty's focus is mainly on task management which makes assigning, setting due dates, keeping a track of and completing tasks more easily. 
It is designed for everyone and has a global reach already. Whether you are a marketing agency, an educational organization, an IT specialist, a logistic company, property managers, realtors or have a restaurant – you name the industry and Chanty is catering to its employee collaboration needs.
Key Features:
Unlimited message history 

Integrates with other project management tools

Task management with Kanban board

Internet phone calls and video chats

Voice messages

Personalized notifications

Sharing and privacy features

Searchable history
Download App Here:
7. Discord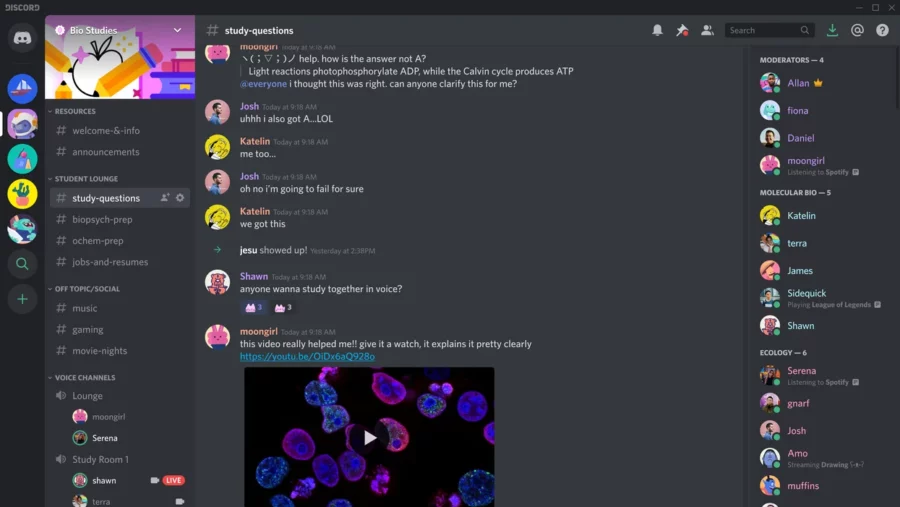 Discord is a platform that became popular among games, but grew to all types of industry for its powerful community building experience. Discords allows you to chat in real-time via text messaging, voice and video. While Discord might not be the most viable solution if you are exchanging sensitive information, the tool can be used for teams organizing study groups, class or training.
Discord is easy to get started with, however, it might be hard to stay on task because the platform doesn't offer thread options. Another downside of using Discord for work is the fact that DMs don't disappear, they are owned by whoever sends or receives them. So if you are sharing important or sensitive work data via messages, you might want to consider another top Discord alternative.
Key Features:
Great audio sync features

Ability to use it with bots

Large servers (you can even host a live video chat with 25 people on a single server)

Secure IP and protection from DDos attacks with two-factor authentication.

Price:

Free



Download App Here:
8. Google Chat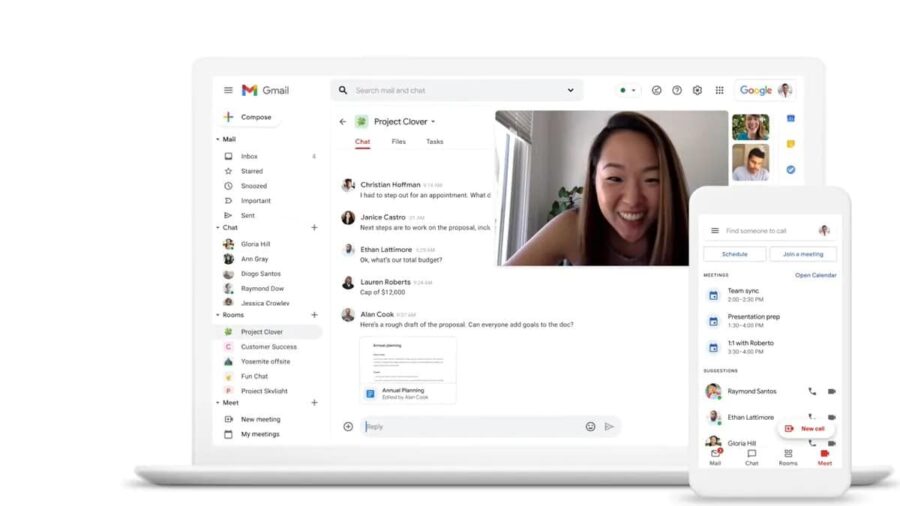 Google Chat is a simple 1:1 and group messaging app. One of the main advantages of the platform is the ability to see all your files, documents and tasks in one place – if your organization uses other Google Workspace solutions, such as Google Docs and Google Sheets. Google Workspace has free and paid options, you don't need the paid version to use Google Chat. Google Workspace paid plan starts at $6 per user/per month. 
Key Features:
1:1 chats and group chats

Spaces, topic-based discussions for teams

Video and audio meetings with Google Meets

Powerful search

Protected data with secure-by-design infrastructure

Smart integrations with third-party apps, such as Salesforce and Jira
Download the app here: 
9. Flock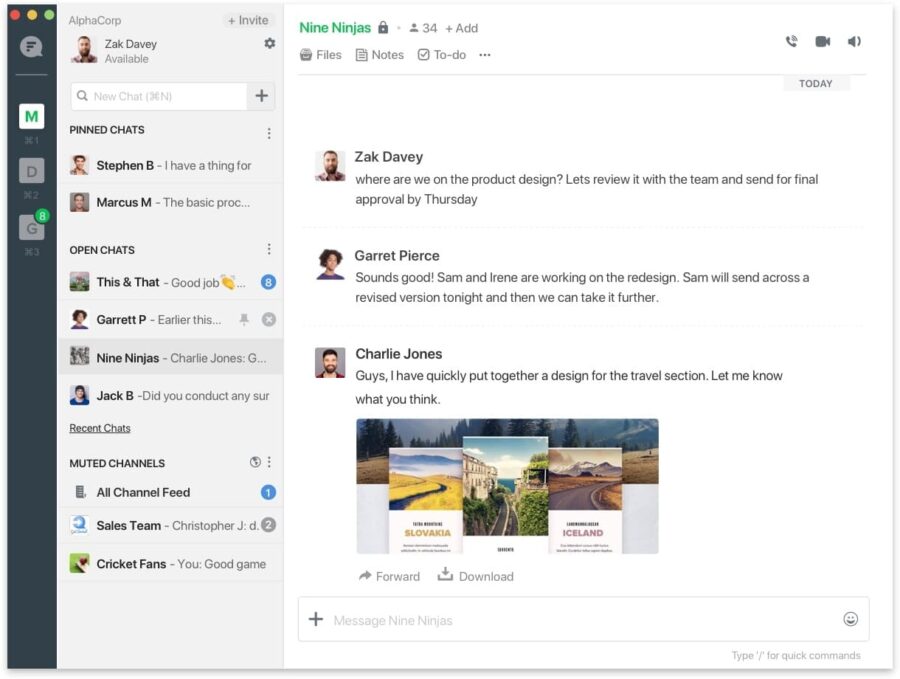 Flock is a communication app that combines messaging, video and voice calls in one platform. The software allows users to convert discussions into tasks, streamlining and automating the workflow. Save time organizing your data with Flock bookmark message features, and find information easier with its advanced searching feature. Flock has a free starter plan that accommodates up to 20 members, and organizations with more than 100+ members can request a quote here.
Key features:
Public company's directory, closed channels and private messages 

Native voice and video calls

Document sharing 

Integrations and add-ons

Manage mailing lists 

Create and share code snippets on the go
Download App Here: 
10. Rocket.Chat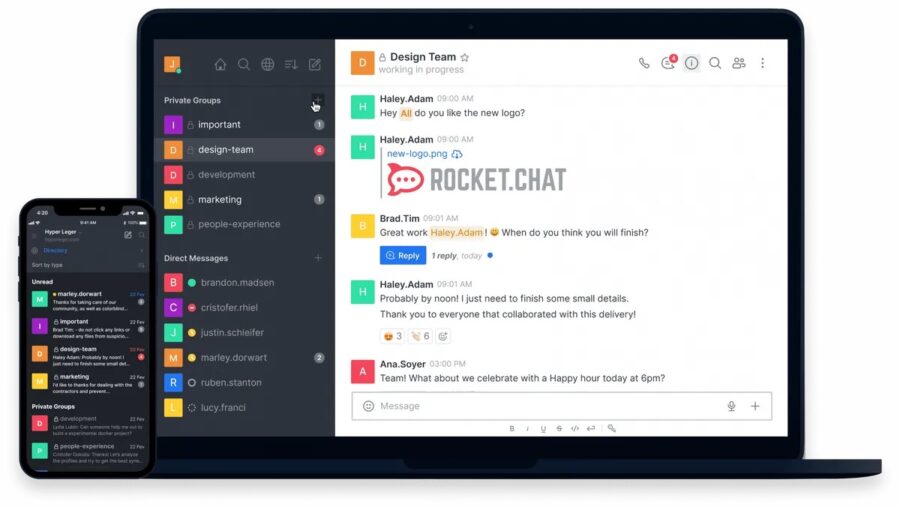 Rocket.Chat is an open-source instant messaging solution. It allows teams of all sizes to collaborate via direct messages, channels, video conferencing, and voice messages. Utilizing open source technology, Rocket.Chat is a great collaboration tool for organizations in highly-regulated industries such as government, healthcare, and finance.
Key Features:
Can be deployed on-premise

Uses Matrix Federation for interoperability with other communication solutions

End-to-end encrypted

Highly customizable

Can be used for omnichannel customer support
Download App Here:
11.Ryver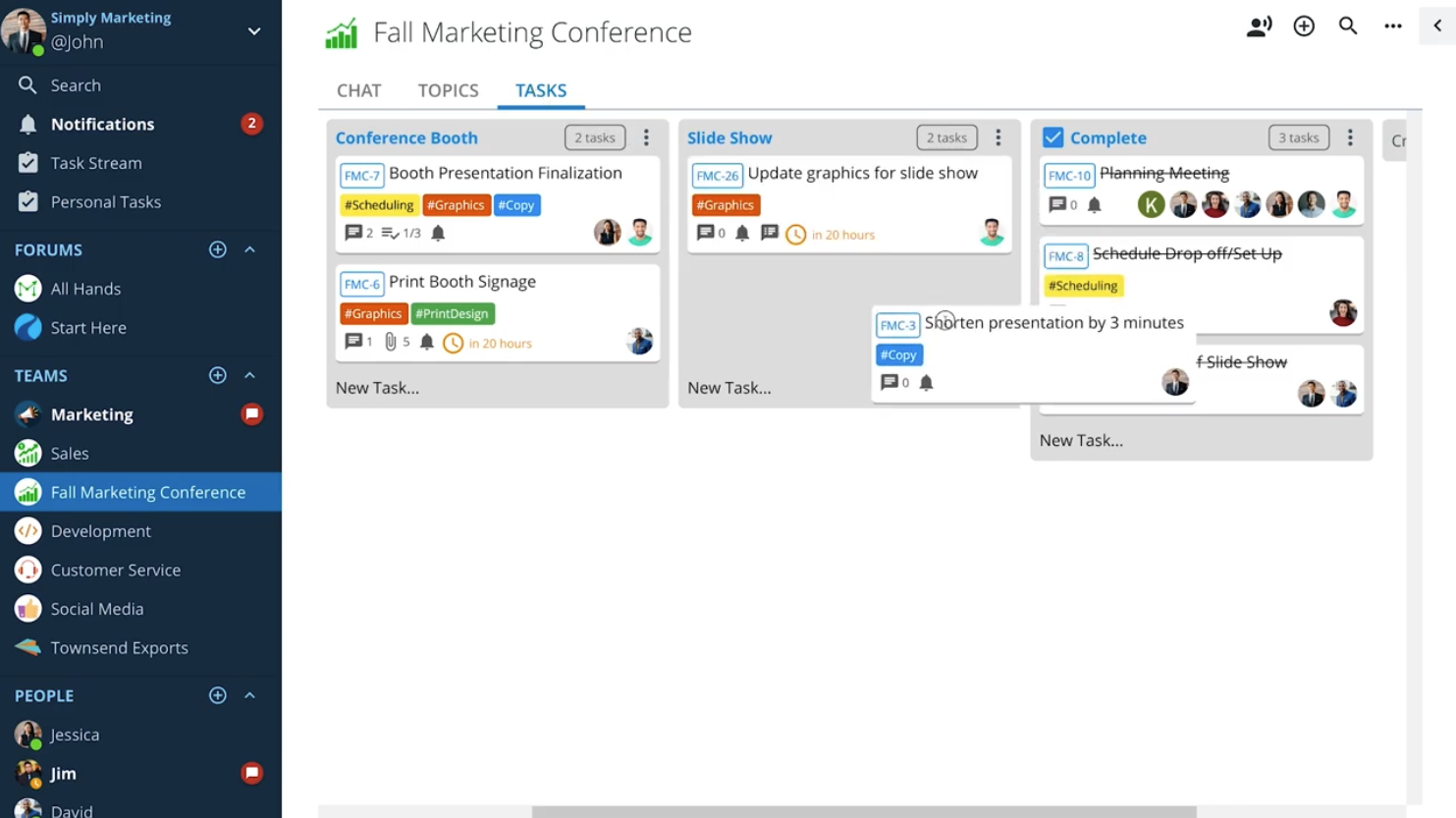 Ryver is a messaging platform for communication across teams, tasks management and automated processes. Easily set up multiple chat rooms with your team and send direct messages for individual conversations. You can invite clients into private chats to maintain focus on relevant work and avoid data breaches. 
Carry on discussions about a specific project or topics in thread, keeping the conversation organized in one place. Ryver integrates other tools allowing you to share files directly with cloud storage solutions and 2,000+apps through Zapier.
Key Features:
Group messaging with unlimited chats, file sharing and conversation searching

Turn conversations into tasks

Voice and video calls

Accessible from the web or dedicated desktop and mobile apps
Download App Here:
12. Pumble
Pumble is an impressive chat solution for any workspace: it's free forever with unlimited users and chat history. The solution's free plan also includes 1:1 voice and video meetings, the ability to share files and links, voice messages and the ability to import from Slack. If you're looking for guest access, video conferencing, screen sharing and 10GB storage per user, you'll need their paid version. Pumble Pro Plan costs $1.99 per user/month.
Key features: 
Private and public channels

Direct messages, threads, mentions, reactions, pins and message history

Share files and links, voice messages, message formatting, customizable sections

One-on-one voice and video meetings

Import from Slack

Data encryption
Download: