If there's one show that teaches us what we don't want in an office environment, it's likely The Office. Between Michael's odd (but incredibly entertaining) behavior, Dwight's antics, and the general lack of productivity across the board, this show makes for great television, but not exactly an office environment you want to emulate. Throughout The Office, the show satirizes various aspects of working in an office environment, whether that be disagreeing with a coworker, someone stealing your food from the fridge, or company happy hours. But perhaps the most entertaining episode that happens almost every season on The Office? The annual Halloween episode. And believe me, we can learn many work lessons from The Office Halloween episodes.
It's interesting, because Halloween is a tricky time. Some companies might dress up, have costume contests, or host company happy hours, but it can become difficult to tell where the "personal" and "professional" line is blurred during Halloween celebrations. In 2020, the way we celebrate Halloween with our coworkers will probably be a bit different, as we're mostly still WFH, but figuring out the most entertaining, appropriate, and productive ways to celebrate with coworkers is important. When you interact with coworkers outside of the typical office back-and-forth, it increases overall productivity, improves in-office relationships, helps people understand each other on a more personal level, and increases camaraderie across the board.
But how can we best celebrate Halloween with our teammates in a professional and positive way? As per usual, there are many things we can learn from The Office Halloween episodes and how people on the show interact, what they do well, and the mistakes they make. Ahead, we'll round up some of the most invaluable lessons that we learned about celebrating Halloween in the office from The Office.
1. Confirm That Other People Are Dressing Up
In season 5's The Office Halloween episode, when Pam is working out of corporate, she is the only one who dresses up on Halloween. To dress up, Pam wears a full-on Charlie Chaplin costume complete with a mustache made out of grease. This is a great costume, and would've been a hit at the Scranton branch, but it doesn't make sense in the corporate context. Before you show up in costume (IRL or virtually), make sure that other people are dressing up too.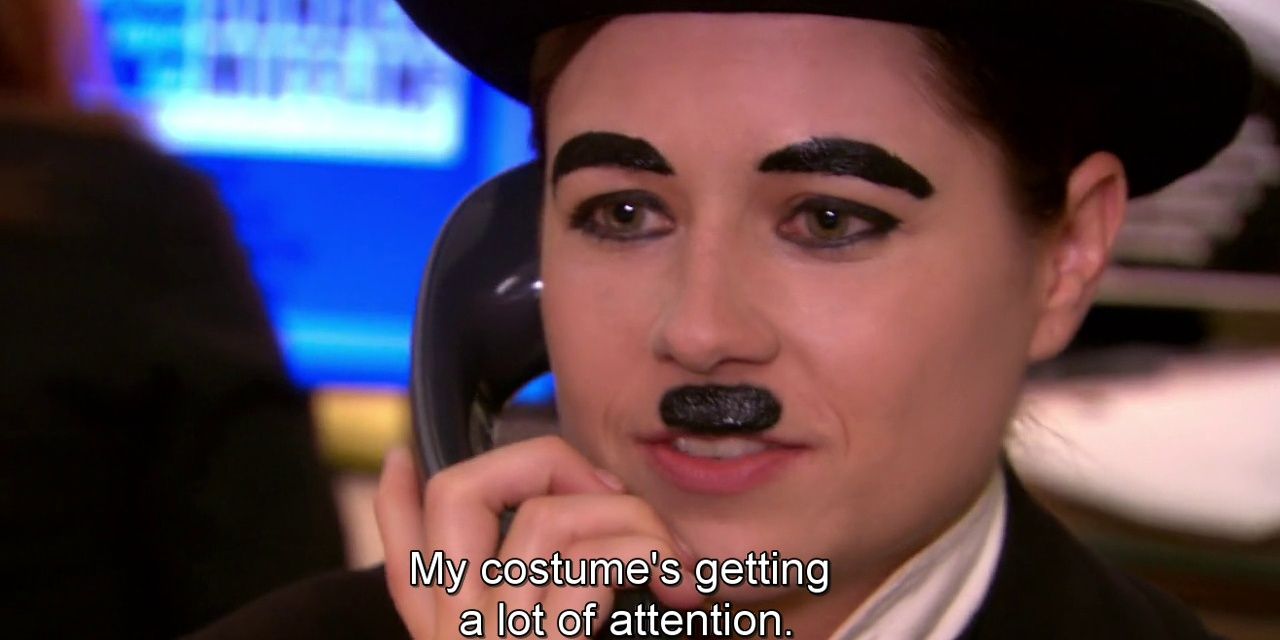 2. Don't Go The Obvious Route
In season 5's The Office Halloween episode, three of the Dunder Mifflin staff members (Dwight, Creed, and Kevin) all dressed up as the Joker. While it might be fun to go with the most obvious, or mainstream, costumes, it always pays to be more original. If you're going to go to the effort of coming into the office in costume, you probably want to be sure that your costume will be unique. That is, unless you're doing a group costume — which is a great way to get team-wide participation in the office.
3. Motivate With Contests
In season 7's The Office Halloween episode, things level up a notch when Pam offers a Scranton coupon book as the reward for the costume contest winner. Everyone gets confused and thinks that this book is valued at several thousands of dollars, so they frantically go home and change in an effort to win the contest. Not saying that you have to offer your employees that much of an incentive, but motivating them to deliver on the costume front with a prize could get the creative juices flowing. While remote, doing a virtual costume contest over Zoom, with prizes that have been announced before the big day, could be great.
4. Don't Make It Weird
This should be an obvious one, but we'll mention it here just in case. Don't wear a costume that is inappropriate. There were many The Office Halloween costumes that were inappropriate, including Angela's "Sexy nurse" and Dwight's "Scranton Strangler." Let's avoid anything that would be difficult to explain to an 8 year old.
5. Don't Outsource
In season 9, during The Office halloween episode, Andy gets the Cornell acapella group to perform at the Dunder Mifflin Halloween party. Things get complicated when Andy tries to reminisce on the "good old days" and wants the group to let him step in to perform. This makes things awkward for everyone else at the party, as they're not familiar with the group, and aren't invested in whether or not Andy sings. This teaches us a very important lesson: keep Halloween parties internal. Things get complicated when you try to bring in outside individuals who most people don't know, especially when people are dressed up. Save the +1s for the holiday party.
At the end of the day, The Office is meant to be satirical and entertaining. When it comes down to it, the cast of iconic characters make great Halloween costumes themselves. But why not glean some important insight on how to host Halloween in your office the right way?