Despite popular opinion, Halloween is not just for kids. Spooky season is here, and no matter how old you are, you've probably been thinking about how costumes and fall activities are actually going to work this year as we continue to navigate life during a pandemic. 
This is especially true for companies and teams that traditionally celebrate Halloween in the office. For adults who work together, Halloween can be a fun opportunity to connect with coworkers, build team camaraderie, and push yourself out of your comfort zone. 
But just because your team is working remotely or staying more socially distant, it doesn't mean you need to skip out on Halloween completely. There is still time for you to organize some fun virtual Halloween activities for your team to have fun and stay connected this year. With this in mind, we have come up with some easy virtual Halloween ideas that your team will love. The best part is that aside from the remote work tools (like Hive!) you probably already use on a daily basis, these virtual activities require little to no extra supplies. With just a little planning and organization, your team will be on its way to the best Halloween yet. Here are some fun ideas to get you started.

1. Virtual Costume Contest 
Just because you aren't leaving the house, it doesn't mean you can't show off your costumes over Zoom. Encourage your team to get creative, put on their best costume (maybe this is the year you finally put those leather pants to good use and try a DIY costume), and then schedule a video meeting to show them all off. To add a fun incentive, consider creating categories and letting people vote on a winner for each. Your company can offer fun, simple prizes like a lunch gift card, or custom merch. Want to make it even more of a party? Coordinate a dinner or drink delivery in advance, or offer to reimburse employees for a portion of their own celebrations.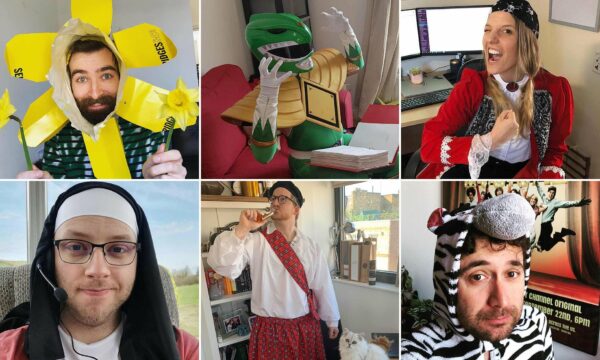 Bonus tip: Looking for an easy way to tally votes? Create a Hive Form and send it out to everyone during the virtual contest or after the meeting ends. Depending on how many costumes are in the running, your contest organizer can choose to list each costume as a dropdown option in the Form, or they can create an open text field for people to type in their favorite costume. All submissions will be sent to the organizer's email address (or logged in a Hive Project if you'd prefer), making it easier than ever to keep track of all votes in one single place.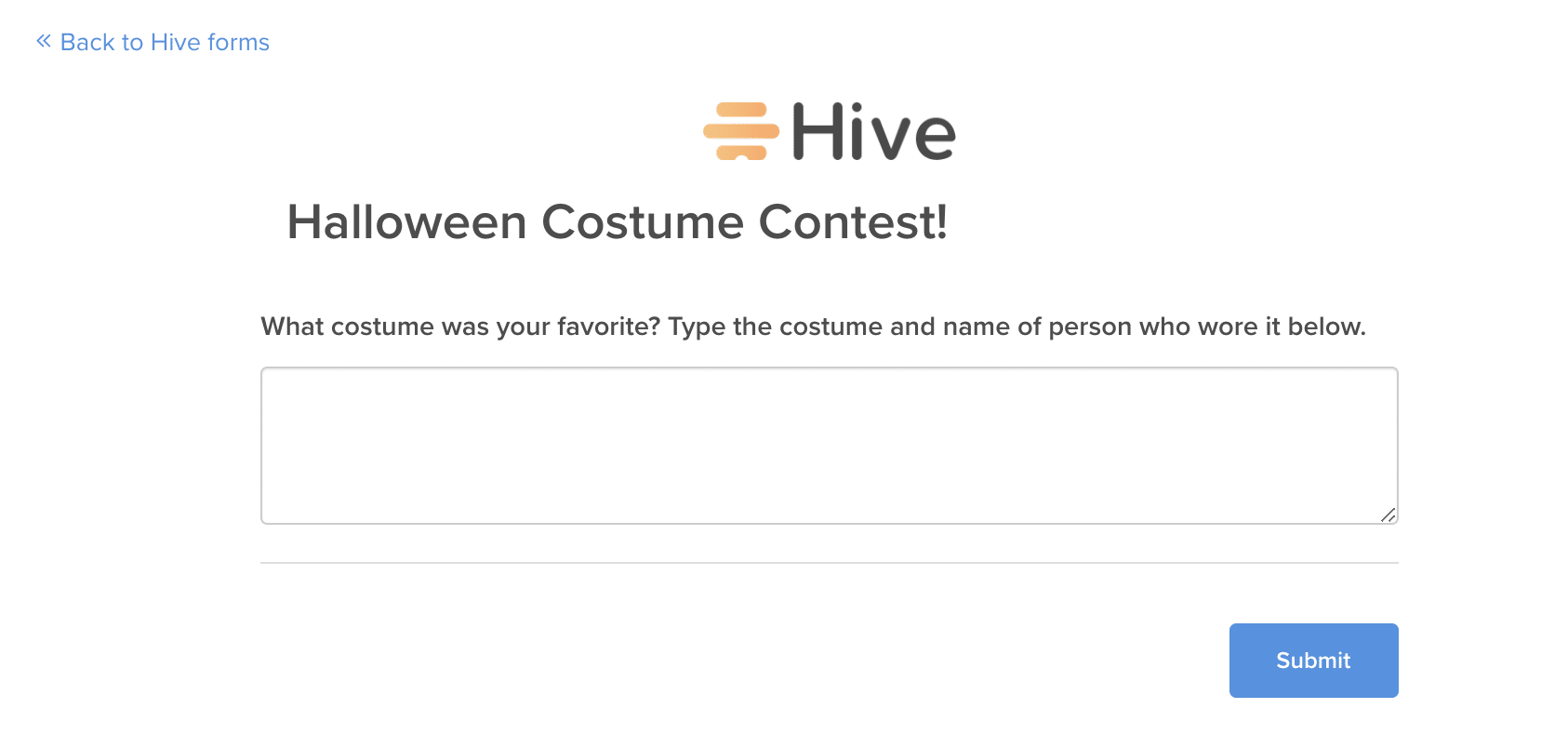 2. Virtual Magic Show
Thriver offers an array of unique team activities led by seasoned professionals. They offer three different types of magic shows, and have even created one specifically with Halloween in mind. The Virtual Magic Spook Show is a highly interactive (and kind of scary) virtual magic show for your team. It's ridiculously engaging, a ton of fun, and your team's decisions impact the results of the show. If you want to explore more Thriver experiences, you can also check out their Halloween-themed escape room and trivia game. 
3. Halloween-Themed Cocktail Class 
Need something to wash down all of that candy? Virtual halloween-themed cocktail classes are a fun way for your team to celebrate the holiday (like real adults) without ever stepping foot into a bar or restaurant. Check out the various live classes on Eventbrite leading up to Halloween, or celebrate on the 31st itself with this class hosted by Bitters Lab. If you aren't able to find a live class that works for your team's schedule, you can also pick out your own Halloween cocktail recipe and set up a Zoom call while you make the drinks together. 
4. Horror Movie Trivia Game
Watching a movie together is probably out of the cards this year. Instead, test your team's horror movie expertise with a special trivia game night. This takes minimal preparation and is also a great team building opportunity. Encourage people to grab a drink, and hop on a virtual video call. Then divide the group into teams and split into individual breakout rooms, where they will work through a list of trivia questions (check out some examples here). Whoever gets the most correct answers at the end of the time frame wins!
Bonus tip: Use the Hive Notes app for Zoom to give each team a way to collaborate and record answers throughout the trivia session, right inside the Zoom window. To access Hive Notes in Zoom (it's free!), simply click on the "Apps" button at the bottom of any Zoom meeting and search for Hive Notes. From there, one person on each team can create a note and share it with the other participants in their group. This will allow everyone to type in the same note in real-time and record answers for each question to be checked after the trivia game ends.
5. Virtual Escape Room 
Escape rooms are a classic team building activity, and they are even better when planned around the spooky Halloween season. The Escape Game is one of the most popular virtual options for escape rooms. This company is great because you can participate from anywhere, as long as you have access to Zoom. At the beginning of each game, you also have access to a host that will help your team get started. Each "escape room" can hold up to 8 people, but they can also accommodate groups of up to 500 people with individual breakout rooms.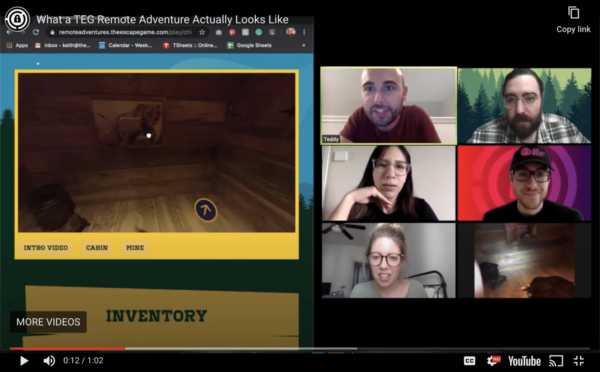 6. Halloween Bingo 
Bingo is an easy game to play virtually because it has minimal pieces and only requires one host to do the talking. If you do a quick search around the web, you will find many pre-made Halloween bingo boards that make this even easier, like the one below from Teambuilding.com. After you set up a virtual video meeting, delegate one person to be the host, and make sure everyone on the team has printed out the bingo card you choose. You can also make this more exciting by offering a fun reward to the person who gets bingo first.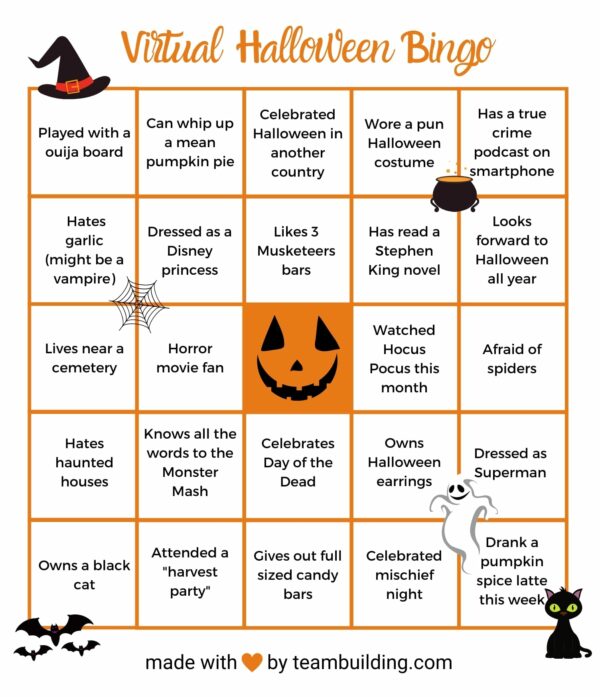 7. Pumpkin Beer Tasting
If you can't get together for an in-person happy hour, this is a festive and easy way to get together for drinks without ever leaving the house. Schedule a team video meeting, and tell everyone to show up with 1-2 pumpkin beers. You can leave it up to them, or you can also come up with a list of options and assign beers to each person. Once everyone is on the call, take turns going around and trying each one. You can also encourage people to bring food pairings for each, and have them explain why they chose what they did. If you are wondering just how many different pumpkin beers are out there, don't worry. Here is a roundup of over 20 pumpkin beers to get you started.
8. Tell Spooky Stories
What better way to have some Halloween fun than to tell some scary stories? There are tons of classics that have chilled spines since the early days of Halloween. You can even introduce your ghoulish coworkers to some newer tales that will leave them wanting to sleep with the lights on! Schedule the storytelling for a time just after the sun goes down and your teammates can gather in the dark. You can make it even scarier by suggesting that the person telling the story uses a lantern shining from below their face. Make a list of all the stories, use Hive forms to facilitate the voting process, and share the top 3 spooky stories at the end. 
9. Have a Halloween Watch Party
With Halloween season in full swing, many streaming services have been dishing out their selections of scary movies to fill us up with a good serving of screams. Many major streamers offer the ability to" watch together" with others remotely, with either built-in Watch Party features or by making it possible by utilizing an extension for select browsers. Some services have live chats with emoji reactions in real time since everyone won't be joining in on their computer. Organize a Halloween watch party with your team, send them popcorn and refreshments, and encourage them to get into the movie's vibe by wearing costumes or changing the photo on their work messaging system to something spooky. Bwahahaha!
---
See? Just because you aren't together in one place, it doesn't mean your team can't have a fun Halloween celebration this year. Do you have other creative ideas, or are you planning your own celebration? Let us know in the comments below, and have a safe and happy Halloween!