Advertising is one of the core pillars of the media and commerce industries. If Amazon's advertising earnings are any indication (they made $10 billion in ad revenue in 2018), the ad industry isn't slowing down any time soon. The industry is slated to spend nearly $260 billion in 2021, up from $183 billion in 2015. The brains behind the operation? Advertising agencies.
Powerhouse agencies like Dentsu, Ogilvy, and Omnicom Group (a Hive team!) have clients ranging from Budweiser to Microsoft and Chevrolet — some of the biggest corporations in their respective fields. Advertising agencies specialize in the marketing of a product, everything from digital banners and ads, "Out of Home" placements, television spots, and events. There are typically different groups throughout agencies that specialize in each of the aforementioned fields, and agency personnel can either be locked onto one specific client or tasked with working on several different accounts.
Related: How Working Out At Lunch Made Me 90% More Productive
Oftentimes, these groups are international, and operating on tight deadlines. That's where project management becomes their best friend — the Gronkowski to their Tom Brady. Can you imagine vetting several rounds of creative for dozens of ads without a tool or methodology to help you track everything? Since agency work is project based at its core, applying project management products and methods are key.
Project Management Methodologies For Agencies
There are tons of different project management methodologies that can help agencies organize their life — and clients — better. One of our favorites is time-blocking, a scheduling mechanism where you block off chunks of your calendar for specific actions and tasks only. For example, some people time-block windows to address their emails, allotting only two hours per day to tend to their inboxes, utilizing the rest of the day for other pending items on their to-do list. 
This is an ideal methodology for someone who isn't in the midst of an intense round of client approvals, as that would likely require attending to one's inbox every 15-30 minutes. But if you're in an analytics or mainly execution-style role at an agency, this could be a great strategy to test out.
Another project management methodology that would work well for agencies is designing and implementing an in-depth strategic planning process, or roadmap, to guide a project. By outlining and defining the 4-5 key stages of a project, agency members are able to map out length of time per stage, which checkpoints involve client approvals, and set out specific goals, responsibilities and expectations. Check out a full strategic planning timeline here.
Project Management Software & Tools
If you're in the market for a tool or product over a general strategy, we've also got you covered. We're partial to a project management software or productivity tool for agency work. Here's a list of our favorites: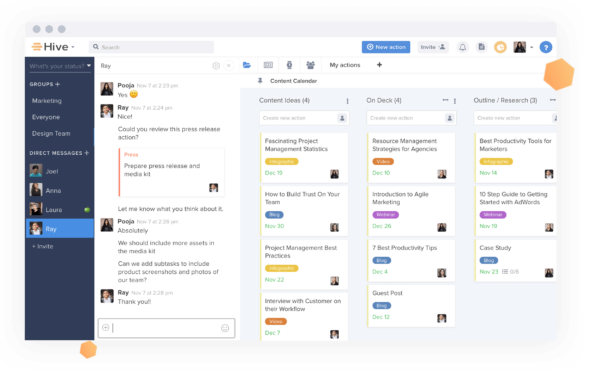 Hive is a robust project management tool outfitted with chat, email integration (you can send emails from inside the Hive app), personal/group to-do lists, project tags, and group projects. The project tags are particularly useful for agencies and project managers, as they allow delineation between accounts. Hive's Analytics section is also great for resourcing and tracking who is working on what. Because there are often dozens of projects flying around at any given moment, Hive Analytics allows team members to track who is working on what, and who the main point of contact is for each action item. 
Related: Why Meditation Is The Next Big Productivity Tool
Hive also recently added a proofing feature, which lets users attach a PDF, JPG and many other files for proofing in-app. This is perfect for agencies who work on several iterations of creative and need to keep track of each different version.
Papier is a Google Chrome extension that turns your homepage into a notepad. If you're looking for a place to collect all of your thoughts, Papier is it. It automatically saves, no CTRL+S needed, and you can even create custom checklists. Papier is best for taking quick notes in a client meeting, or creating a quick client checklist, but if you want a note-taking and project management app combined, take a look at Hive's note-taking functionality.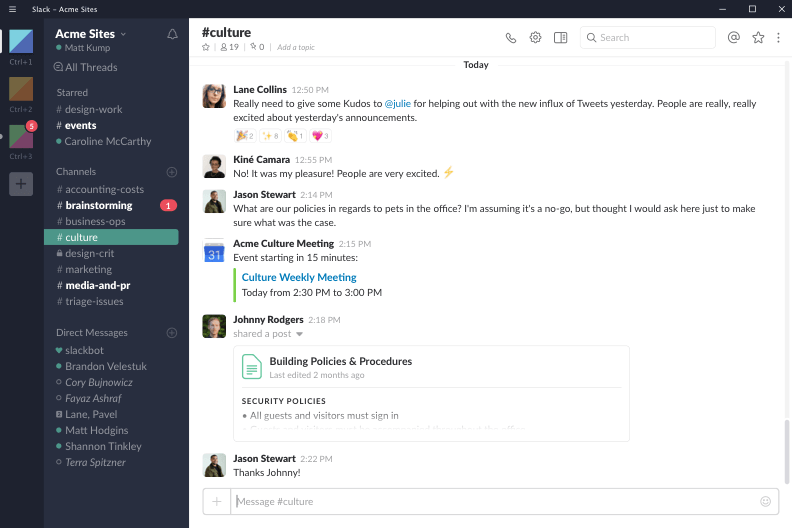 Slack, a workplace chat app, has changed the way people communicate at work. The app has 10 million active users, and integrates with over 1,500 other tools across the web. Different Slack groups could be used for different projects or teams at agencies, and Slack also integrates with Hive for added project management power. You can utilize Slack to communicate about upcoming projects, due-dates, and share documents and notes within Hive — it's the best of both worlds!
If you're in the market for a simple, Kanban style productivity tool, Trello could be your answer. The no-frills boards make it easy to view and plot out tasks by client. Each board is made up of cards, which contain to-dos, checklists, pictures, hyperlinks and files. You can add team members to different Trello cards, and drag and drop cards between sections to mark completion.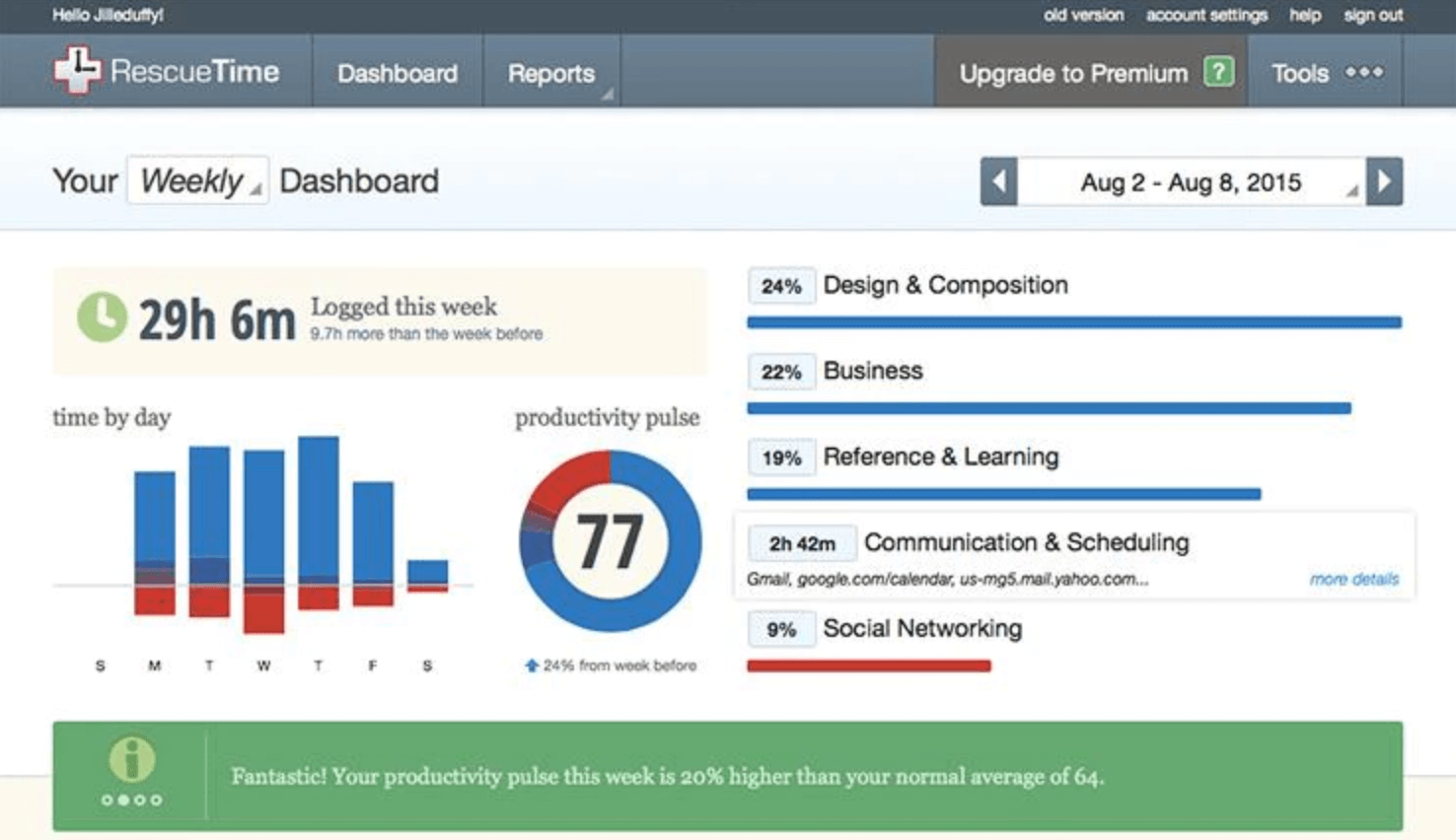 This tool is ideal for agencies who want an app that can help track time spent per task, as it tracks time spent on applications and websites. You can also block certain websites if you find yourself spending a few too many minutes watching cute cat videos on YouTube.
Clearly, simplifying agency work isn't an easy task, but utilizing some of these project management methodologies, and implementing a few of these tools, can help get agency teams on the right track. Do you know of any major agency-friendly tools that we missed? Let us know in the comments.