When I started my freelance writing career, I had a single client who emailed me weekly assignments. It was simple, easy, and I wrote my due dates on post-its which I then stuck to the wall behind my desk. Super professional, I know.
Flash forward to today, where that single client and post-it system has morphed into fifteen different clients that all use their own project management systems and unique styles of communication. While my post-it system may have worked for a single client – it was not sustainable for 15, so my quest to find the best project management system commenced.
While I was pretty flexible, one colossal hurdle needed to be jumped: the program must be free. As a solopreneur, my overhead budget is minimal. By minimal, I mean nonexistent. So, I needed to find a project management system with the functionality I needed and cost my favorite amount: free.
I know I'm not the only person on the hunt for affordable solutions, but choosing the right project management tool can be hard. So come along with me as I take you through the top project management programs for freelancers, based on my own personal experiences.
In this article we will look at the best project management software for freelancers, including:
1. Hive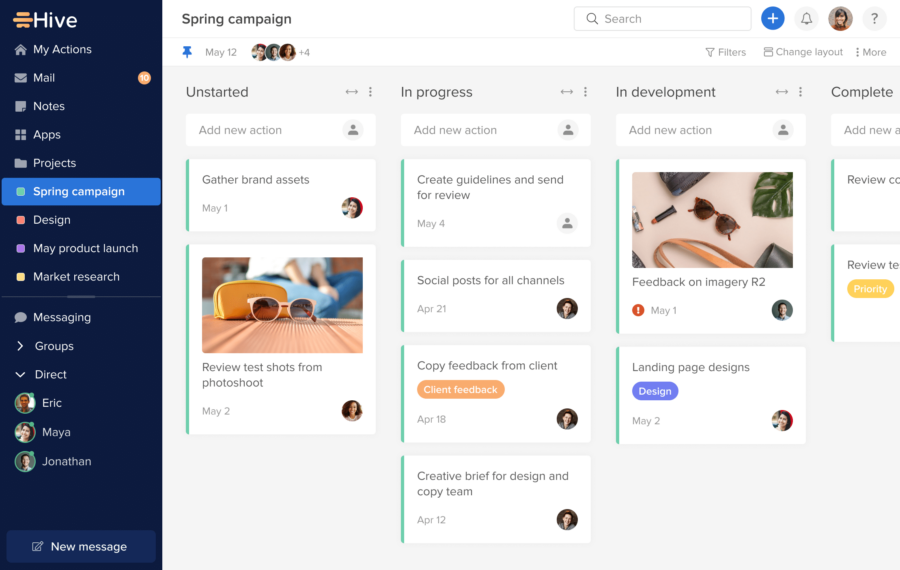 I'm not really one to gush about project management software programs – but I really think that Hive has cracked the code. Remember when I mentioned earlier that my clients all used their own project management systems? At one point, I had 5 clients assigning tasks to me from different PMs, and the only way I could wrangle all my assignments and not lose my head was through Hive.
Hive has built an extremely user-friendly project management system that works amazingly well – even in the free version. Considering that this platform was built for users by users, it makes sense that the usability and features I would like to see are available for my use. From a native chat to multiple project views and a helpful note-taking section, the free version of Hive gets the job done.

However, like some of the other versions on this list, you can unlock some pretty nifty features when you pay for your Hive subscription. From timesheets to analytics and more – the paid version is an excellent option for teams that need more features to streamline work. But for those of us with a limited (I mean zero) budget? The free version is simply the bee's knees. If you want to check out their free version it includes the following:
Actions to-do list
Robust task and project management
Tasks and projects summary views
Project portfolio views
Project baselines
Project linking
Build and distribute forms
Collaborative Hive Notes for meetings
Hive Chat native messaging
Hive Mail integrated with task management
Two-factor authentication
2. Asana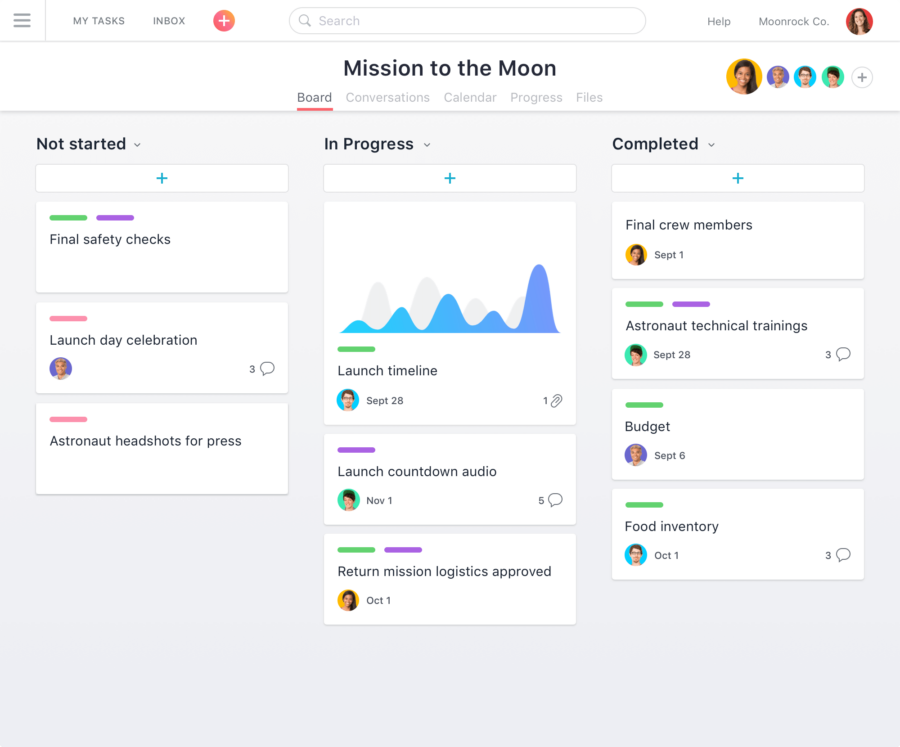 Asana was the first project management software I ever used, and as a novice, I had a tough time. It has an insane amount of features and templates, and if you don't know how to navigate the system, you could get overwhelmed with just the simplest of tasks.
However, once I got the hang of navigating the system, the free version had a ton of perks. From integrations with other apps to various board views, the free version of Asana was a good starting place for a small business owner like myself to get the hang of project management.
While Asana isn't my top choice for a free project management software, they are beloved by many small businesses and freelancers alike. If you have less than 15 people on your team, need app integration, and have a budget is like mine – check out Asana. Other features that come with the free version include:
Unlimited essentials: Projects, tasks, activity log, storage, comments
Three project views: List, Board, and Calendar views
Basic workflows: Free integrations with 100+ apps, including Slack, Outlook, GSuite, and time tracking apps
Basic reporting: Status updates in Asana and export projects PDF or CSV
Security essentials: 15 user limit, 2FA, Google SSO, and SOC 2 Type II compliance
Community support: Community support through our forum, webinars, and guide
Want to learn more? Check out our full guide to the best Asana alternatives.
3. Teamwork
I've worked with three clients who have used Teamwork – and for a time there, I signed up for the free version to see if it could help with my workflow. Since I was happy with the paid version as a contractor, I thought the free version would check all the needed boxes for time and project tracking.
Unfortunately, Teamwork does not offer a very robust free project management software option. While it still has the same look and feel as paid version and provides the organization features such as internal messaging and milestone tracking, the free version is very basic compared to other more advanced tools.
If you want your project management program to have built-in collaboration, app integration, billing, invoicing, and time tracking – you should skip Teamwork's free project management option. But, if you are looking for a simple, clean, easy-to-use project management tracker that will work for basic tracking – join up. The free version still offers the following features for up to 5 users:
Basic Project & Task Management
Milestones
Messages
4. ClickUp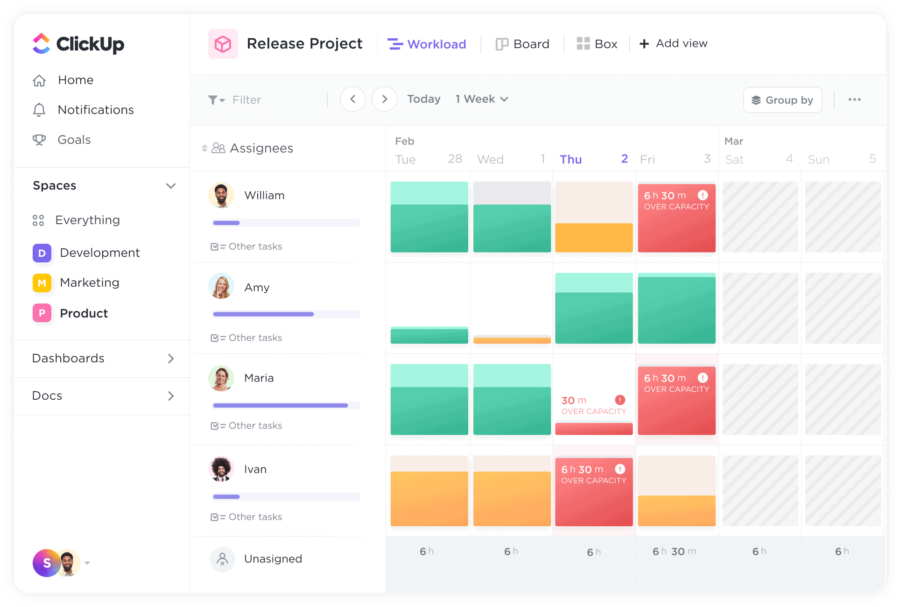 If you have ever used any of the paid versions of ClickUp, you might agree with me when I say that it is an absolute project management behemoth. ClickUp can do almost everything you need in project management tasks, permissions, and goals. However, the free project management option feels like a watered-down version of a fantastic drink, and I want that fantastic drink instead.
Using the free version, there have been so many times when I would click on a feature I would want to use, but alas, it's only available for the paid version. However, I would still recommend the free version of ClickUp over some other PMs on this list. While ClickUp feels watered down – it still offers many perks for small teams and can be a game-changer for your small business workflows. Clickup's free project management software version includes:
100MB Storage
Unlimited Tasks
Unlimited Members
Collaborative Docs
Real-Time Chat
Email in ClickUp
Kanban Boards
Sprint Management
Native Time Tracking
In-App Video Recording
24/7 Support
Curious about other tools like ClickUp? Check out our guide to the top ClickUp alternatives on the market.
5. Trello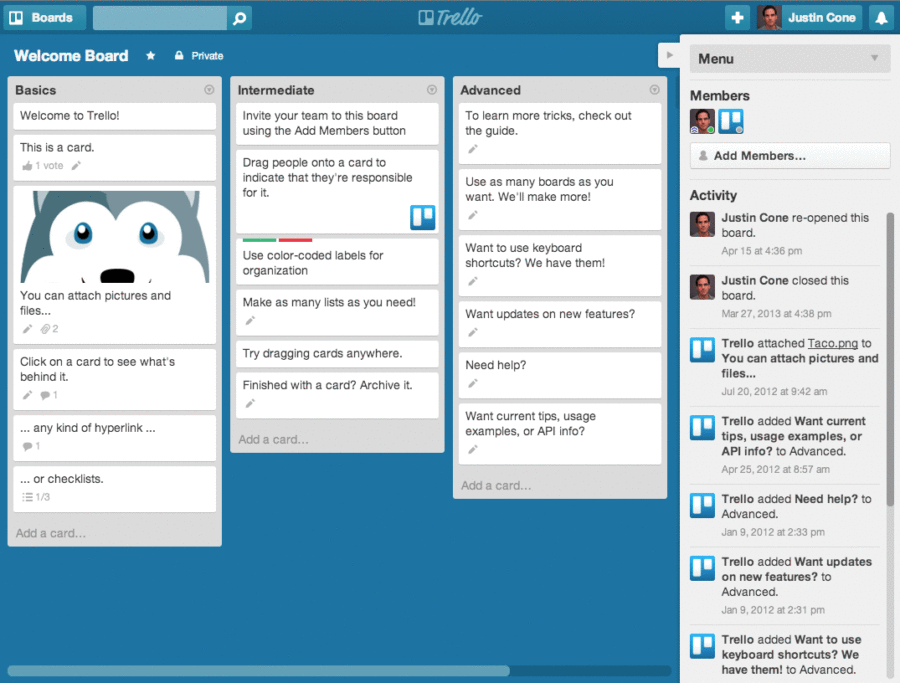 Trello is a comfortable, easy-to-use, and straightforward project management platform for small businesses and teams. Its interface consists of a board that allows you to shuffle cards around for tasks. In addition, it has a built-in integration option for you to add "power-ups" and "automation" to every one of your processes.
While I have never used the paid version of Trello, the free version was my go-to for project management tasks for years. After so many clients kept telling me that they were going to "add me to their Trello board," I just picked up the project management software, and its ease of use made it my go-to for over five years. That is until it was usurped by the free version of Hive. (Not a shameless plug, I seriously love Hive).
While I no longer use Trello as my personal project management software, I will always feel comfortable with the platform. It is easy to use, learn, and share with team members, and the free version offers a has a lot of bells and whistles that work well for small teams and freelancers like:
Unlimited cards
Up to 10 boards per Workspace
Unlimited Power-Ups per board
Unlimited storage (10MB/file)
250 Workspace command runs per month
Custom backgrounds & stickers
Unlimited activity log
Assignee and due dates
iOS and Android mobile apps
2-factor authentication
6. 

Basecamp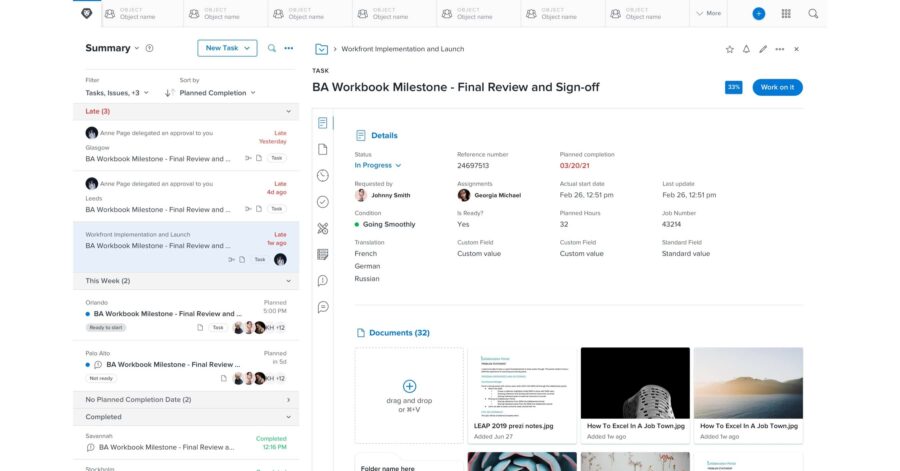 Basecamp is another option for you. They call themselves the "All-in-One Toolkit For Working Remotely.' While I've never personally used this tool, I have other friends who have used it at their companies for managing projects, tasking outside vendors and freelancers with work, communicating with their colleagues and more. While it it not entirely free, they do offer a free 30-day trial to anyone who wants to try it out. Overall, the software includes:
Unlimited projects

Unlimited users

500 GB personal storage

Company HQ

Team Projects

Unlimited clients

Advanced client access

Project templates

Priority support
7. nTask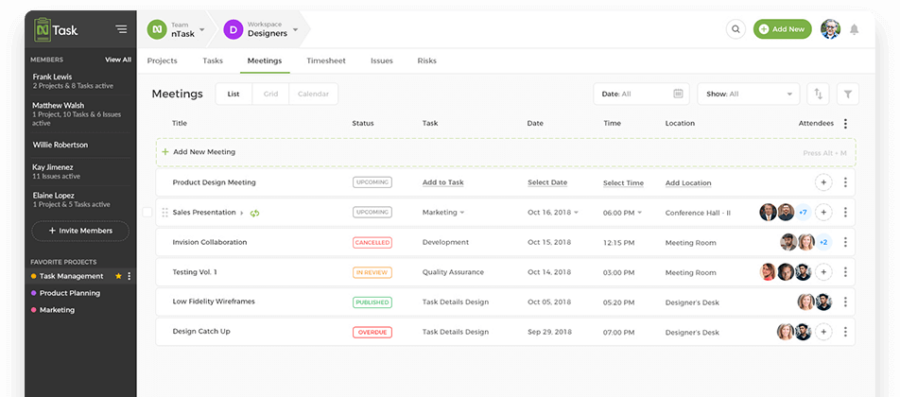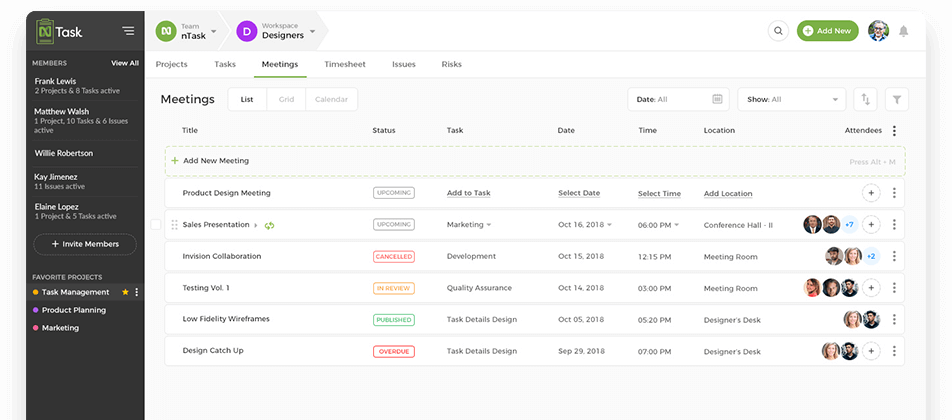 Freelancers on a budget prefer to try task management platforms before making a decision. nTask offers a free basic plan and also a free trial of other plans, featuring premium features. The platform's flexibility facilitates independent contractors and freelancers to explore the many features the tool offers, from project and risk management to collaboration across teams and versatile project views. 
The application is quite intuitive and easy to use without any steep learning curve for any user. 
Task management and Project management

Team collaboration and Team management

Gannt charts and Kanban boards

Risk management and Issue tracking

Time tracking and Timesheet management

Third-party integrations
So now that you have a collection of free project management software options to choose from, the ball is in your court! It's just up to you to decide which one to pick. If you have suggestions for another platform that didn't make the list, let us know in the comments below. We would love to hear from you!