From large corporate enterprise to small startup, if you have a product or service to sell it's vital that you have a strong marketing plan to follow. No matter what it is you offer the world, you'll never have long term success if you don't have a robust strategy that helps you outline your short and long term goals. From there, you can establish a timeline to ensure you're delivering on schedule and not getting lost in the weeds. This is key, as knowing the where and the when of your product or service will help you eliminate inefficiencies, streamline your workflow, and turbo-charge your productivity. This is why Hive was born, and we're here to help you get started with this template so you can hit the ground running and get your projects up to speed. That way you can focus more on what is really important – delivering a successful marketing strategy in record time.
This template is a flexible marketing plan that can scale to your project needs no matter the size. It's a framework for you to build on — all you'll need to do is tailor and customize it to meet the specific requirements of your project. Additionally it's a multi-faceted approach, as it will help you whether you're looking to begin a social media campaign, or launch a new product, or simply get some solid market research sorted. You can simply choose the sample category that is right for you and populate it to suit your needs. The Hive templates work in partnership with Hive's chat functionality, allowing you to keep in direct day to day, hour to hour contact with every member of your team. We've found — and our clients agree — that this is a huge boost to your teams creativity, and really helps people work dynamically and react to project hurdles quickly and efficiently.
Once you've got the gist of the template down, the next step is to break your project down into the component parts. You'll want to populate it with specific tasks, sub-tasks and assignments. You can establish your due dates and deadlines, as well as tag specific members and stakeholders so everyone knows what is required of them and when it needs to get done. Not only does this help keep people on task, but it helps encourage accountability and gives each individual a specific role to take ownership of. 
Once you've laid the groundwork and set the stage, you'll be able to watch as the project starts to take shape. You can view the project through a number of different lenses, views and layouts to give you ultimate control over the way your project is tracked and managed. The more clarity you can get early on, the quicker you can respond to potential issues and road blocks. Another tip to help you when you're looking at the big picture is to check out the team viewer – this handy little tool will show you exactly what each member of the team has been assigned, great for double checking everyone is in the right place and correcting any mistakes in team assignment.
Here are a few useful ways to examine your short and long term goals to help you market efficiently:
The Gantt Chart

is an amazing tool to lay out and examine your long term goals. Looking at your project this way is the best method of visualizing the way in which you're setting long term due dates. Keeping you honest with your deliverables and allowing you to break them down into milestones and individual due dates is key to success on large scale projects. Make sure you're utilizing this view when you're planning projects in Hive. 

The Kanban Board

is the next step on that road, and really enables your day-to-day accountability. This view is helpful in conjunction with the marketing template to ensure you're accomplishing your weekly tasks and that you know what to expect from each member of your team.

The Table View

is perfect if you want to take a more matter-of-fact look at your day to day activity and assignments. Think of it as a snapshot of your daily activity. It's a powerful tool when used properly and it really performs in the marketing template, helping you see every detail.
Finally, managing risks is a key factor in a plan like this, so be sure to keep an eye on any potential problems using the Hive Analytic tool. This will give you an overall sense of your teams performance and productivity, allowing you to diagnose any issues before they become problems further down the line. You can also keep in touch with the progress of your projects on the go using the Hive App for your phone, and you can work browser free using the standalone Desktop app helping you ease into your Hive projects comfortably and without distractions. You can customize your experience further using add-ons and we're proud to say that our tool integration, with the help of Zapier, is the best in the business — whatever tools you use to smooth your workflow you'll be able to interlace with your Hive projects.
Hopefully looking at this template has fired up some inspiration for you and your business — if this one isn't the right fit for you, be sure to check out some of our other free templates to find the one that is. There really is something for every project, but remember that this is just a starting point to help you get involved with Hive – the more you tailor your project setup to suit your needs, the smoother your experience will be.
Check out some other project templates here:
Paid Marketing Campaign Template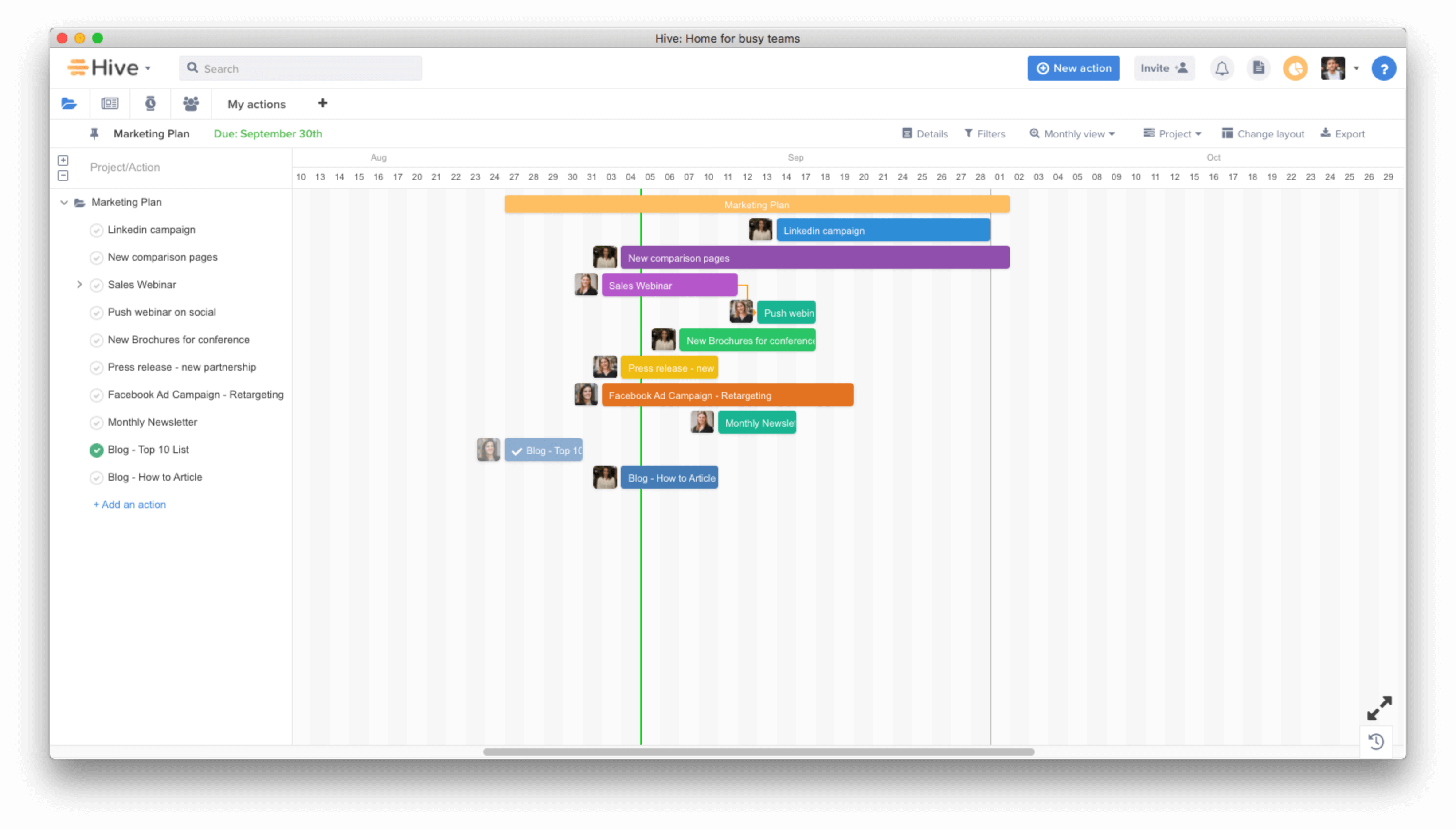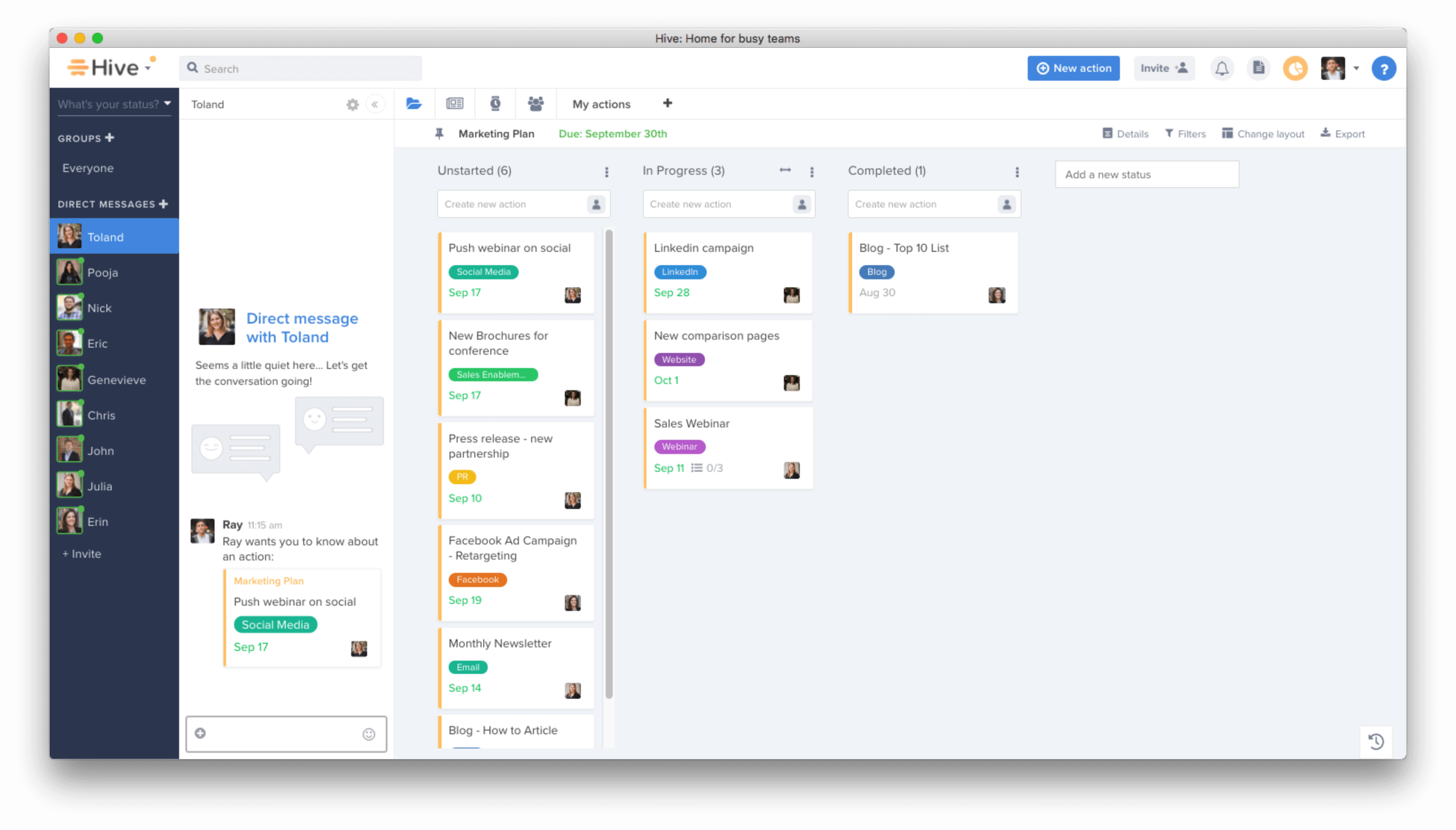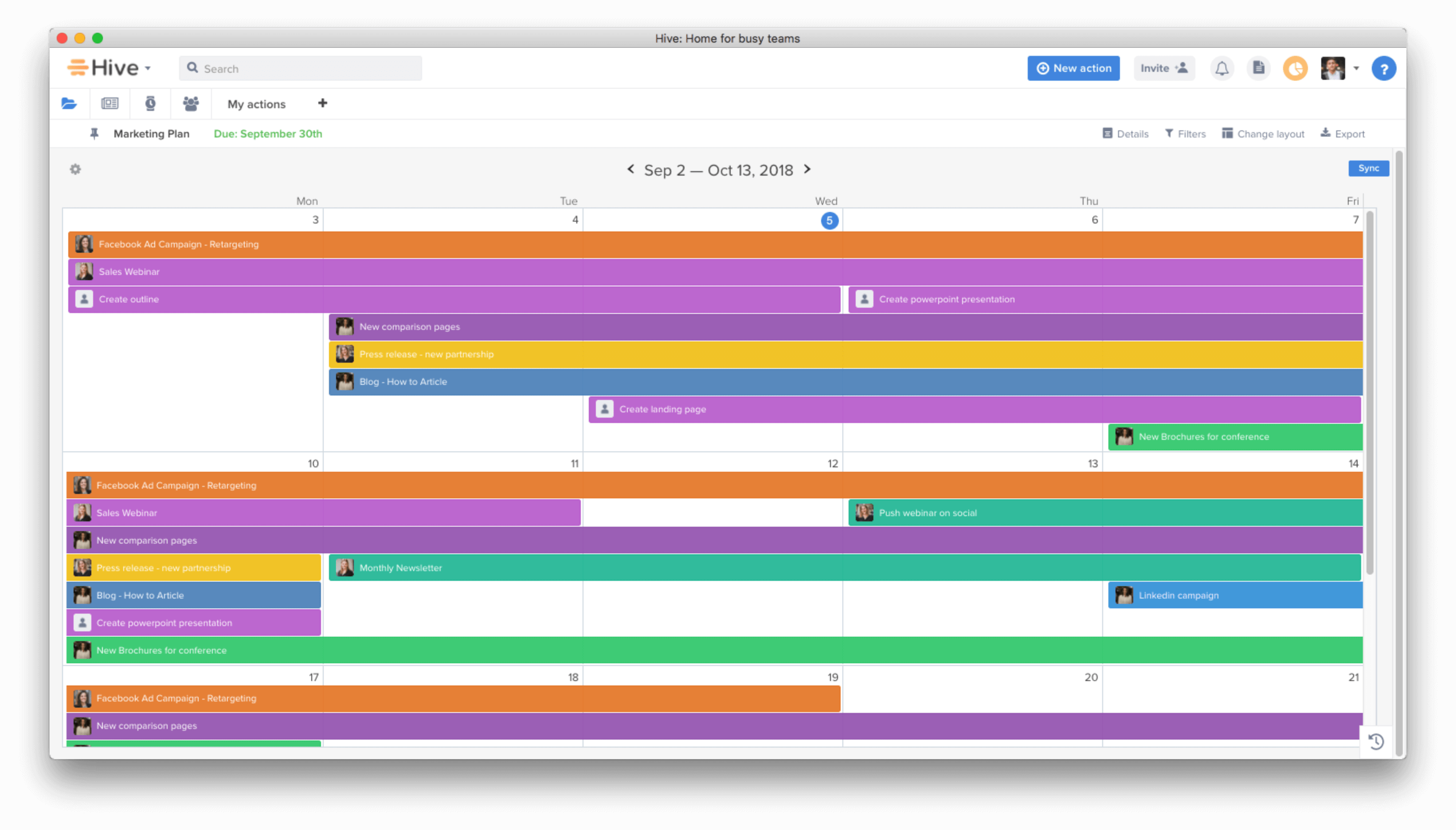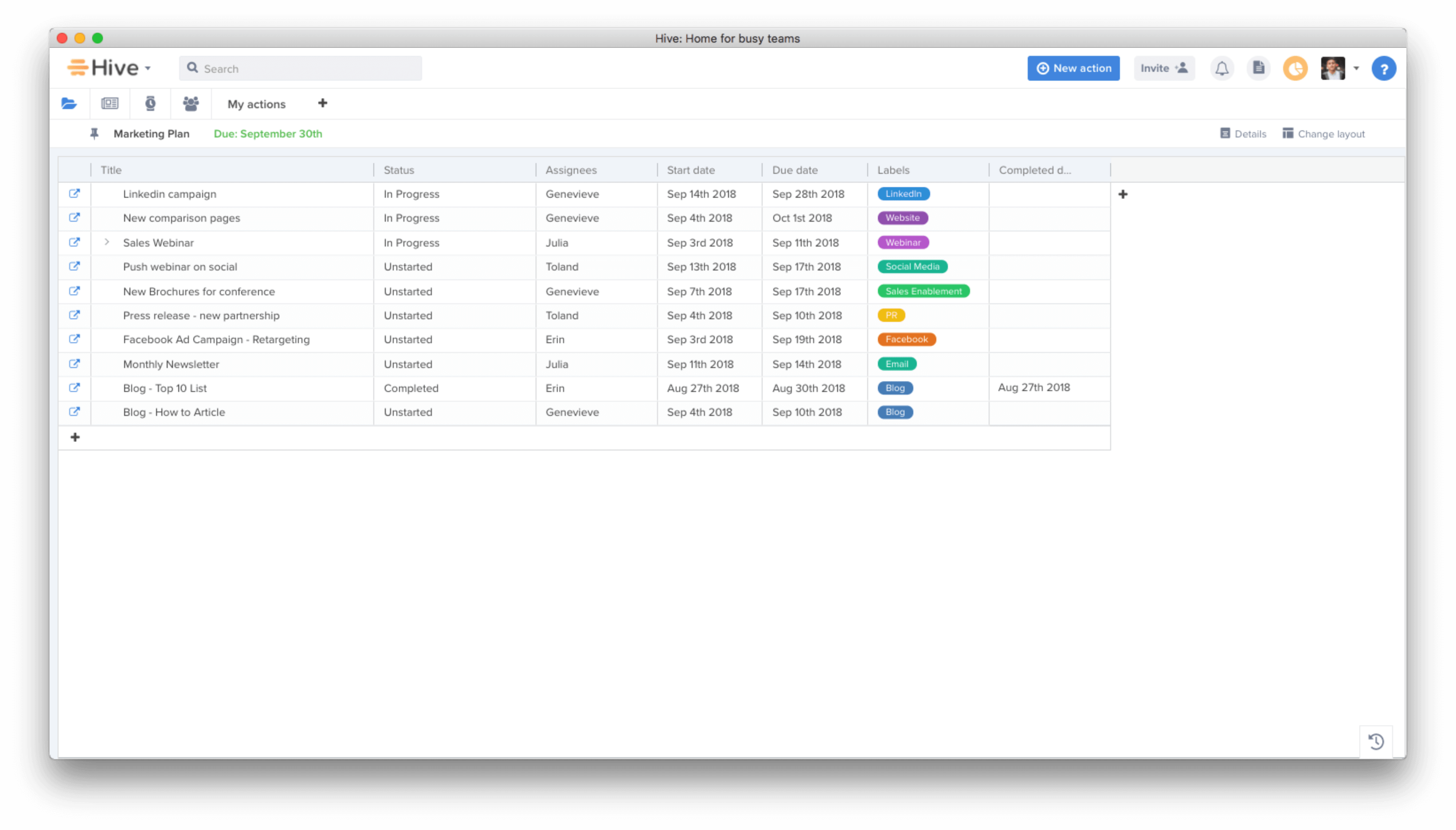 Gantt
Kanban
Calendar
Table