From in-person boardroom meetings to long Zoom sessions attended within the comfort of my own home, I have sat in more strategic planning meetings than I care to recall. All of these strategy meetings would invariably begin with great intentions. From talking through issues, discussing the direction of the business, and concluding with actionable steps that stakeholders and peers felt good about and were ready to plan.
The key word here is "actionable steps." Unfortunately, more often than not, these actionable steps, if not correctly inputted into a system, tracked, and monitored, are more like empty promises than anything else. It all boils down to this: discussing your business strategy is not nearly as powerful as setting it up and implementing it within your business.
Fortunately, the implementation and tracking step is made more accessible by the many strategic planning software programs on the market today. These programs can transform the lip service and promised to-dos in strategy meetings into actionable and trackable metrics.
To help your business follow through on its strategy promises, we'll discuss essential features to look out for in these programs and some of the top strategic planning software options on the market today. This information can help you choose the planning software that enables you to track, monitor and achieve your goals instead of just talking about them in the yearly strategy planning meeting.
What is strategic planning?
With acronyms like KPI to ROI to CI, it can be challenging to keep up with all the terminology and jargon that comes with strategic planning. However, if we remove the acronyms and focus on the nuts and bolts – strategic planning is simply a process that helps organizations maximize their resources and achieve long-term goals.
Strategic planning involves:
Analyzing an organization's current state.

Setting overall objectives.

Developing action plans to reach those objectives.

Measuring progress.
This process can be simplified using strategic planning software that helps streamline the process by automating and tracking many of the manual steps associated with it. It's a magic wand for planning, tracking, and achieving your long-term business goals.
Not all strategic planning software is created equal
Since nothing is ever easy, you can almost guarantee that each kind of strategic planning software you come across will be slightly different than the last. Of course, these differences are more nuanced and not as glaring as the differences between a Mac and a PC, but they are there, and you need to be aware of them.
The differences between each platform are the main reason you must take the time to choose the right strategic planning software for your business. Try to look beyond all the bells and whistles and the price tag and consider some of the features of the program including:
User-friendly interface: Look for software that is easy to navigate and understand, even for non-technical users.
Customization options: Don't just get a cookie-cutter option. Choose a software that allows you to tailor its features to meet the unique needs of your business.
Collaboration tools: If your software does not allow multiple users to work on the same plan or goal? Move along. You need full transparency and full collaboration to make changes in real-time.
Data visualization and reporting: Look for software that can help you quickly and easily understand complex data and present it clearly and concisely.
Integration options: Your business should not be built in a silo and only use a single type of software (at least, I hope not). Make sure that the software you choose integrates with any other tools and systems you already use in your business, such as project management platforms, financial tools, and customer relationship management software.
Mobile compatibility: While this isn't a game changer, ensure the software can be accessed from any device, including smartphones and tablets. It's nice to be able to work on your plan on the go – but keep your work-life balance manageable!
Scalability: Always, always, always look for software that can grow and evolve with your business. Changing software to meet your needs can be extremely pricy and resource-draining. So pick one and stick with it for the long haul.
Support and training: A good customer service portal (not just an AI asking/responding to arbitrary prompts) and good training are always necessary. Pick one that provides comprehensive support and training to get the most out of it and maximize its benefits.
Strategic planning software choices 
So now that you have an idea of what features are available within these software platforms, the below a roundup of strategic planning software options will help you zero in on the best choice for your business. While this isn't an exhaustive list, it will help you determine some of the key features offered by these platforms and if they would work well within the parameters of your business.
Hive Goals

ClickUp

Airtable

Adobe Workfront

Any.do
Trello
1. Hive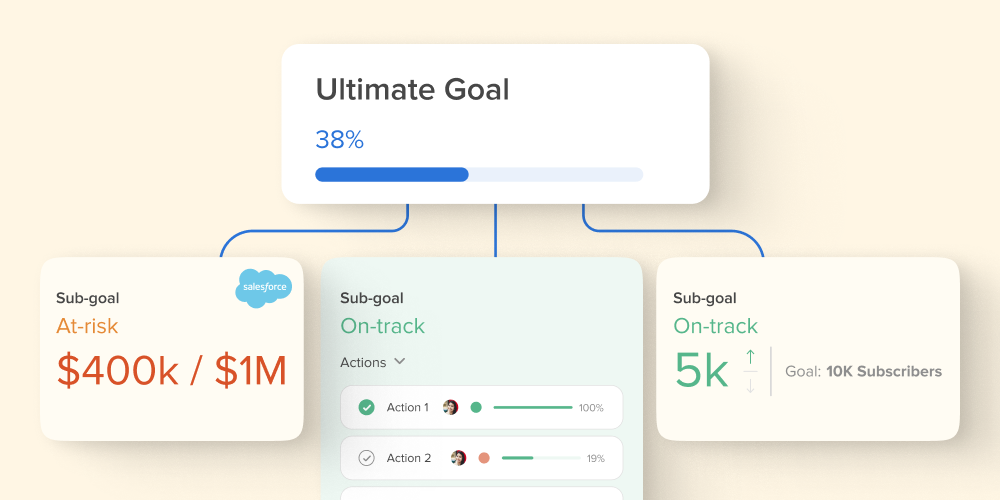 Hive is a project management platform built for teams that need to plan, coordinate and track their work. Made by teams, for teams, Hive has thought of everything within the project management pipeline. Its unique strategic planning component helps you define objectives, set milestones, and assign tasks to whole teams. It also offers Hive Goals, which is used for teams to create, set and visualize progress, essentially keeping everyone aligned in one centralized dashboard.
Key features:
Hive Goals allows you to assign, review and track progress on multiple tasks

Can centralize and automate your goal-tracking and reporting

Automated notifications that keep teams informed of changes in a project
2. ClickUp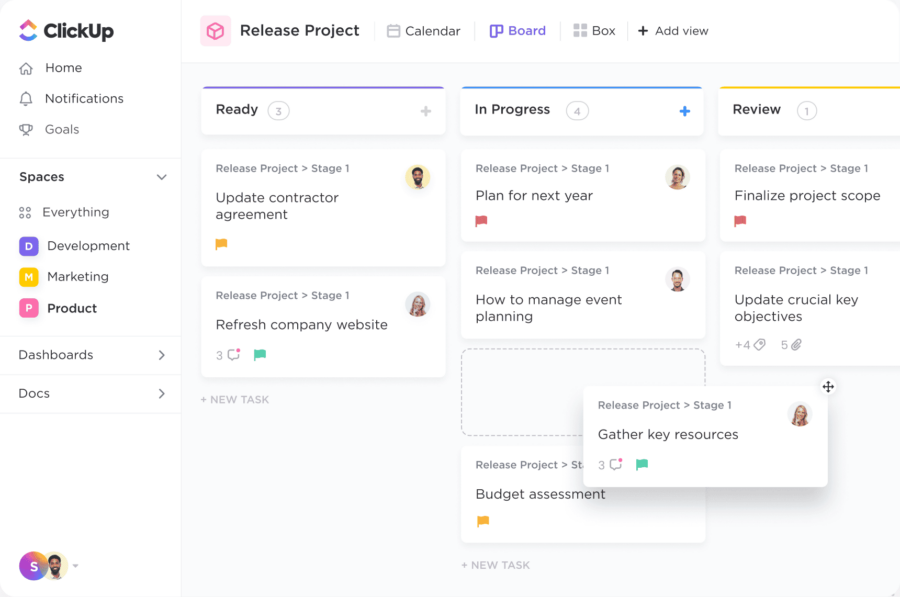 ClickUp is a much-loved project management platform with versatility for strategic planning. It offers a range of third-party integrations and is easily accessible on mobile devices. While it may be more involved than some of our other choices, it has an excellent customer service department and in-depth how-to articles if you ever get lost along the way. 
Key features:
Strategic planning whiteboard templates

to get your team started 

Users can set and track goals, monitor progress, and adjust plans as needed.

Facilitates team collaboration and communication through features like comments, mentions, and real-time updates.
3. Airtable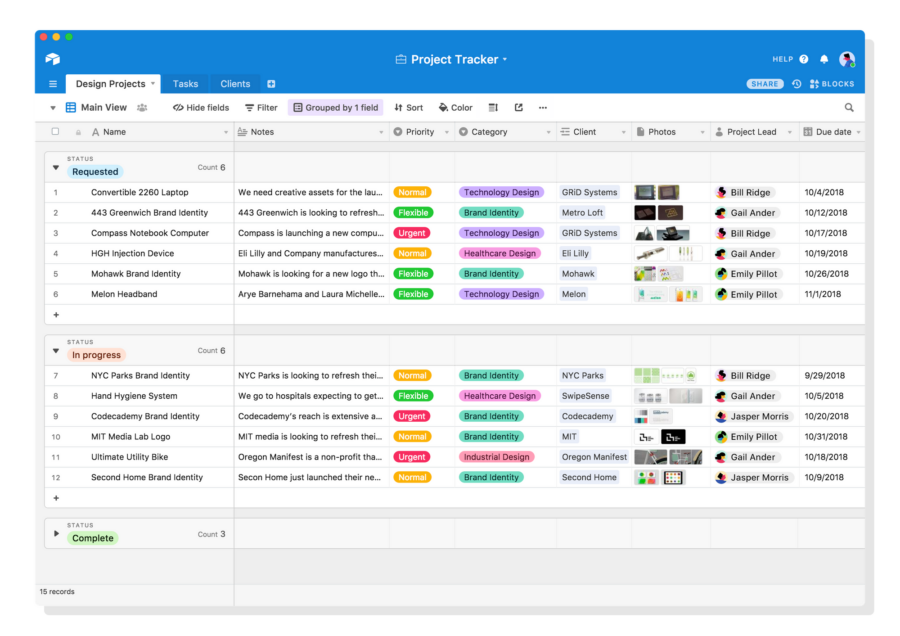 Airtable is a cloud-based platform allowing users to create, organize and store data for their projects. It isn't just a simple project management platform but has been used for reporting and customer relationship management and can easily align with strategic planning. With Airtable, you can create custom boards in minutes to track goals, monitor progress and assign tasks efficiently. While we love a good customized option, if you're unsure where to start, the strategy planning templates are excellent and simple to follow and understand.
Key features: 
Create custom fields as needed to track specific data points

Designed for remote teams – access from any device.

Real-time collaboration allows for seamless communication between team members.
4. Adobe Workfront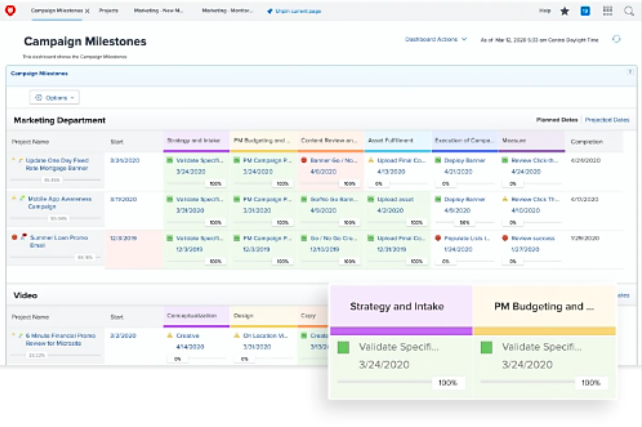 For those enterprise clients, Adobe Workfront is a massive centralized hub for all your work activities and processes. It integrates with many of Adobe's products, including Creative Cloud and Acrobat, to make it easier for teams in larger organizations to collaborate on complex projects. As far as your strategic planning goes, Adobe Workfront offers various strategic planning features that allow teams to set goals, track progress, and analyze results. This might be the best program for you if you are a creative business and use Adobe projects religiously.
Key features: 
Customized reports that tie in from all adobe platforms

Real-time reporting capabilities so you always know where you stand

Advanced analytics tools that let you measure success over time
5. Any.do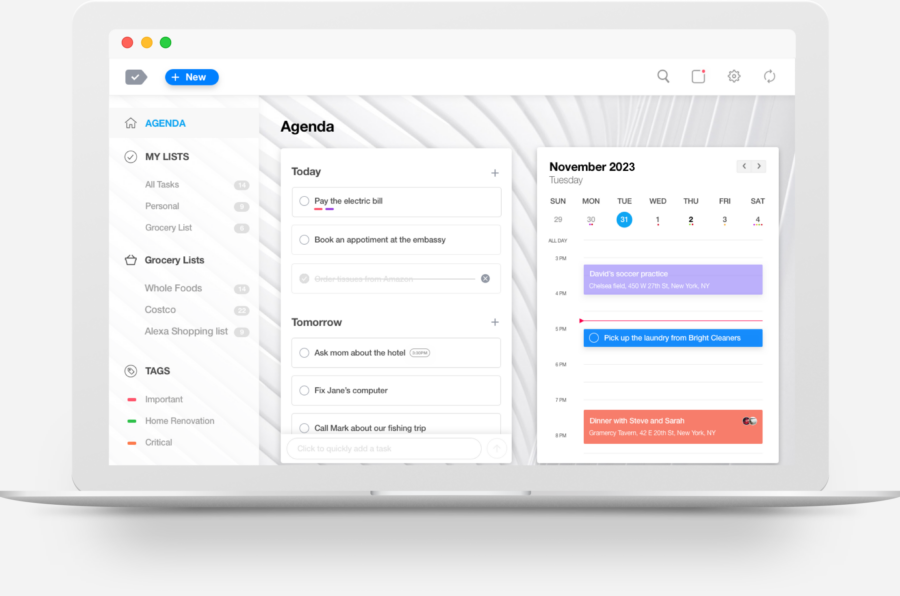 Any.do is a task management tool that offers a free planner and customized managed workflows — ideal for any business looking to keep track of its strategic planning. You can easily access and share your plans across teams and with clients. Any.do also lets you assign tasks, chat in real-time, and onboard an entire team. Plus, Any.do can be accessed online from multiple devices, making it a great solution for remote and hybrid teams. 
Key features: 
Multiple views dashboard — try personal space, workspace and my day views 

Quick start templates

– use a custom-made workflow from personal to industry-related templates.

Protect your privacy

– limit boards to a private viewing for you alone or a selected group of users.
Ultimately, there is no one-size-fits-all solution when choosing a strategic planning software platform. From small business to enterprise-level, you need to determine what specifics you want for your business and then try out a few tools to see if it fits the mold. Hopefully, this roundup will offer you an excellent starting point as you explore your options.
6. Trello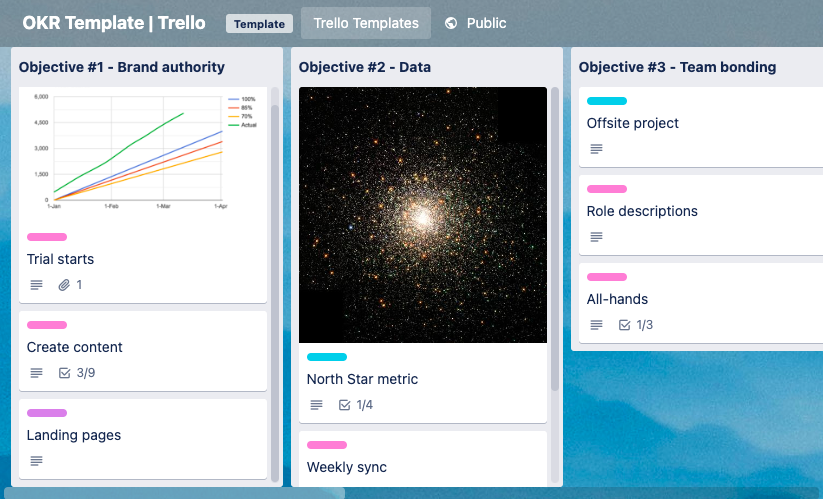 From easy access (mobile app and web-based) to flexible dashboard views (kanban-style, calendar, list views), Trello is a project management software with several capabilities to track strategic planning.  It allows you to invite new members to collaborate in your workspace, track tasks, and use color-coded labels to organize your data. Its no-code automation features help you optimize the time spent on repetitive tasks, keeping your team on target. Trello has a free version; its paid plans start at $5 per user/month. 
Key features: 
See your work from multiple angles: Kanban board, timeline, table, calendar, and more

Automate repetitive tasks and enhance workflow

Integrate with over a hundred of your favorite tools

Dozens of premade templates

Have a strategic planning software platform you love? Tell us in the comments below.