Monday.com is a popular project management platform that's been around for over ten years. Built with many great features for project management and project delivery, Monday.com is still ranked highly by its users as a solid, reliable project management platform.
However, some companies that use Monday may have outgrown its capabilities or want to see similar collaboration options to compare. In this list, we have pulled together the top Monday.com alternatives that offer similar functionality, but at a better price, with an improved user interface, or with additional features that you might find helpful. So let's dig into our picks for the top Monday.com alternatives to level up your project management in 2023.
Pros and Cons of Monday.com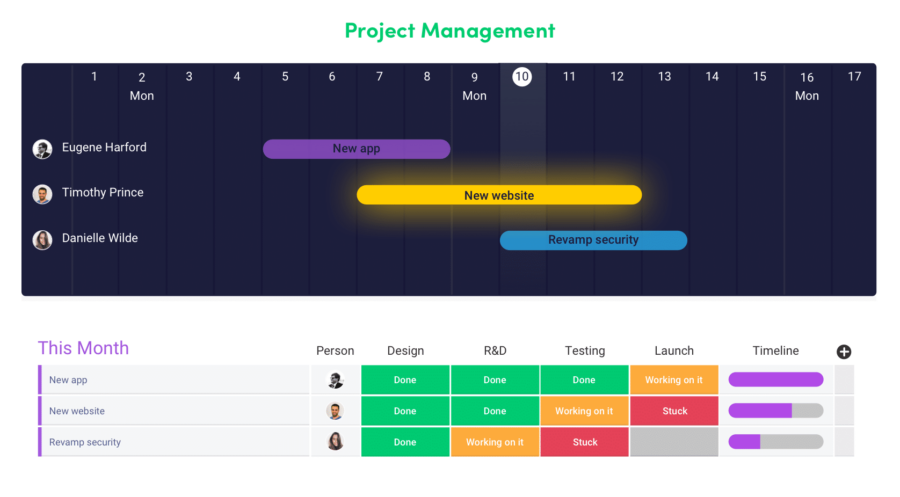 Before we can discuss Monday.com alternatives, let's dive into some of the key features available with this platform. Some of the pros of using Monday.com as your primary task and project management software include:
User-friendly interface
Intuitive
Customizable and pre-build templates
Excellent customer support
Free-forever option, monthly payment options start at $8/per month
While Monday.com has many bells and whistles, there are capabilities that Monday.com does not do as well as competitors. Some of the cons of using Monday.com can include:
More suitable for basic task management
The interface is built like a "spreadsheet," so it can be challenging to get the hang of the layout if users are not familiar with that type of platform
Limited reporting capabilities
The user comment section can get messy
Users can not see all project views
Pricing can get expensive quickly. Your business needs to "buy seats," and it can be pricy for large companies who need many users
Monday.com Alternatives
While Monday.com has its pros and cons, it's up to you and your business model to decide if it will work well for your team. If you are still on the fence between using Monday.com or another tool on the market, these Monday alternatives could be the perfect program for your business:
1. Hive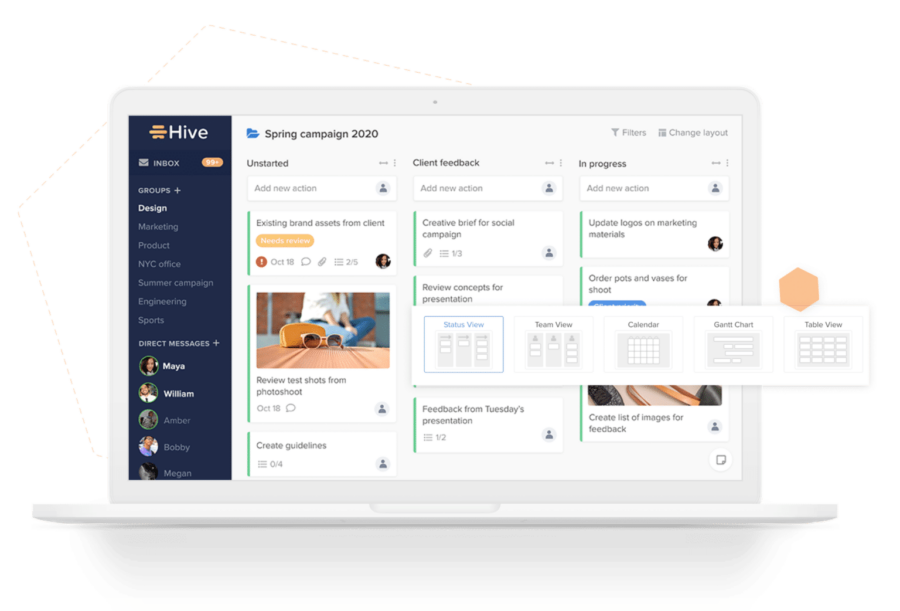 Hive is a project management software that is simple and straightforward, focusing on getting things done quickly. Both flexible and customizable, Hive can be tailored to fit your team's needs. Compared to Monday.com, Hive is project-management specific and can break down actions and tasks with customizable summary views, subactions, and automation. Built with a visual display, Hive has moveable cards and 6 different project layout options that make learning and using the platform a snap.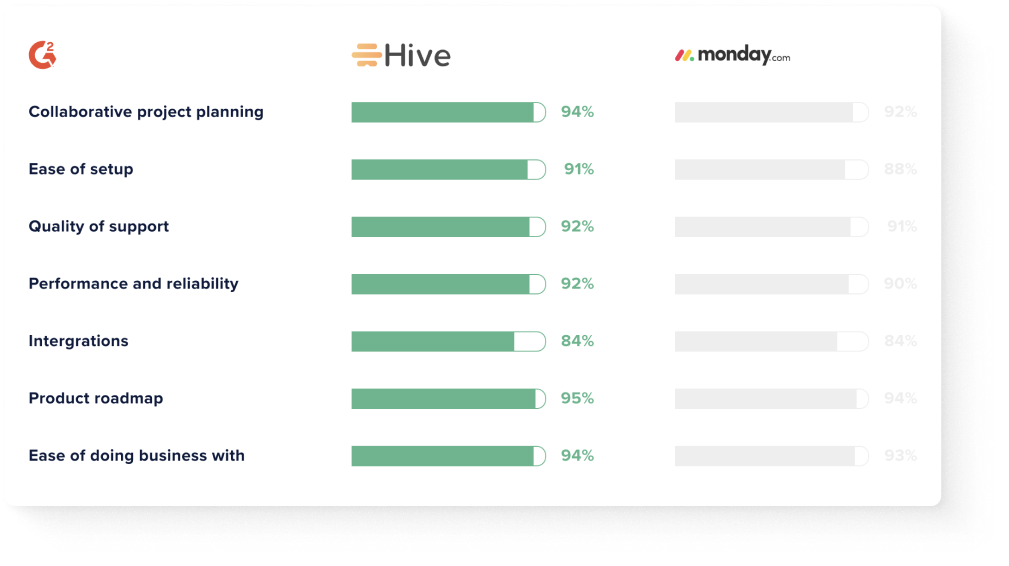 So what does Hive offer that Monday.com doesn't? Hive has more robust project management and collaboration features, including:
Resourcing and timesheets
Proofing and approvals
Native chat with both direct and group messaging
Note-taking within Zoom meetings
Native email
Features are built by users via the Hive Forum

2. ClickUp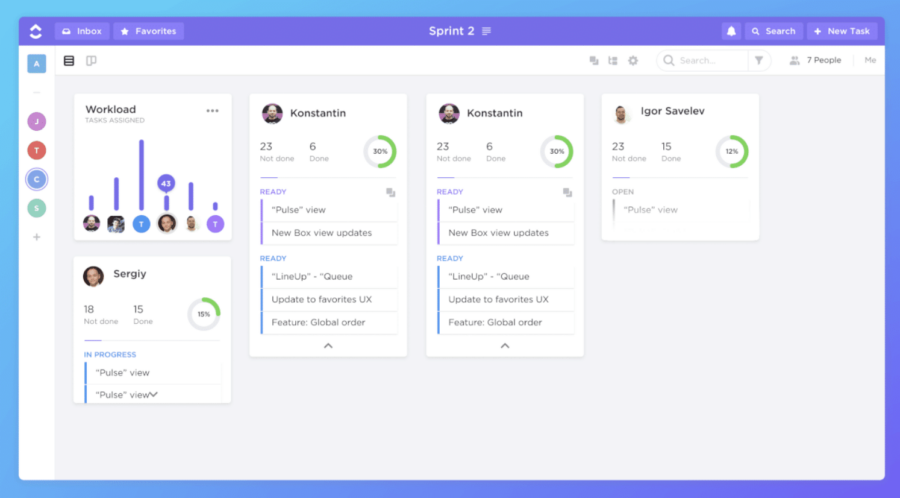 ClickUp is a project management tool designed for teams, with many features and integrations that make it suitable for any project. However, ClickUp is more than just a project management platform as it gives users a place to organize documents, set reminders, track goals, and even send emails.
ClickUp is highly customizable, and the onboarding process is a snap with a step-by-step explanation on how to use each tool, template, and benefit. The best part of all? ClickUp's "free forever" pricing option comes with more features and users than Monday.com's limited free project management option. This makes ClickUp one of the top Monday.com alternatives if you're working with a limited budget but still want a powerful tool.
Want to keep the research going? Check out our list of other top ClickUp alternatives on the market.
3. Smartsheet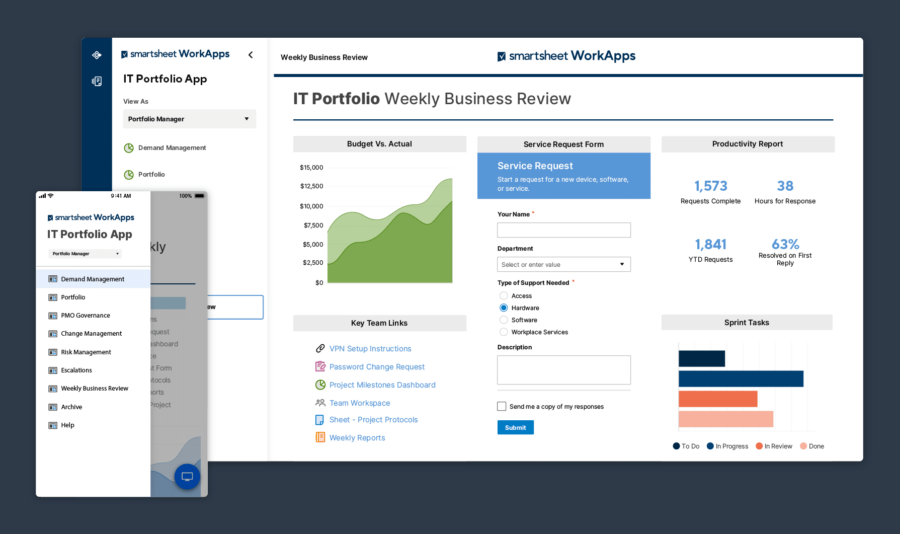 If you still like the look and feel of a spreadsheet software program like Monday.com, try out Smartsheet. Smartsheet is a project management and workflow tool that is flexible and easy to use. A spreadsheet with benefits, Smartsheet provides a beautifully organized and flexible solution for any project or task management your team may need.
Available with many third-party integrations to keep everything linked together, Smartsheet offers a performance-tracking dashboard to keep everyone on track and in the know. Smartsheet is highly customizable, with downloadable reports, deadline reminders, and multiple views for any tasks.
While it is very similar to Monday.com regarding look and feel, it does not offer a free option that Monday.com does. However, Smartsheet has the better feature and pricing option for your larger or enterprise businesses since it allows unlimited read-only access for additional users and has excellent onboarding and training for new users.
If you're interested in more spreadsheet-focused tools, read our roundup of the best Smartsheet alternatives to discover what else is on the market.
4. Wrike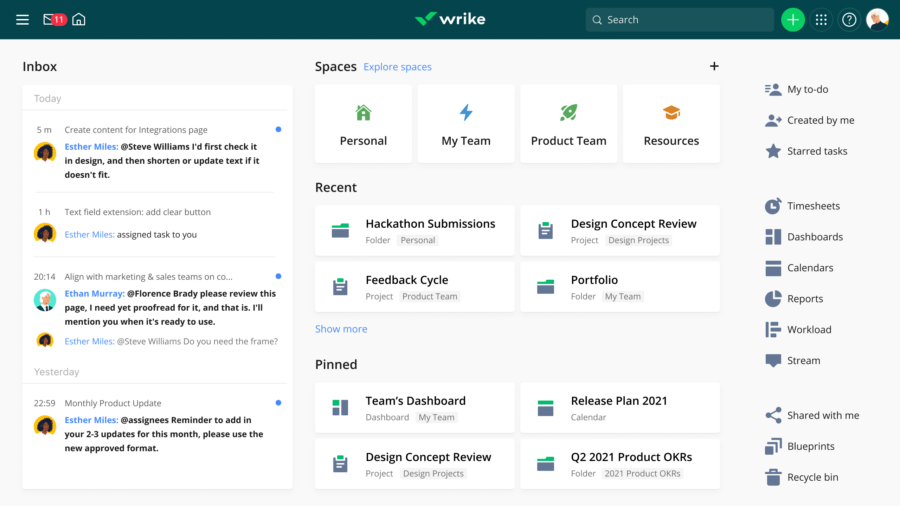 If you don't want to work within a spreadsheet view, check out Wrike with its folder views! This project management software is feature-rich and designed to use folders to organize work and communications. Aside from integrations, Wrike has built-in timeline capabilities, Kanban boards, and Gantt Charts so your team members can work and view their tasks however they want.
This platform also offers very robust API/Integrations to keep track of everyone inside and outside your company. Plus, Wrike has a fantastic built-in time tracking tool, so it can help your business stay on time and on track for every project and task! Available with multiple payment plans, from free to enterprise, there is a plan out there that is perfect for your fast-growing team.
While you're at it, see how Wrike stacks up against other project management tools with our roundup of top Wrike alternatives.
5. Jira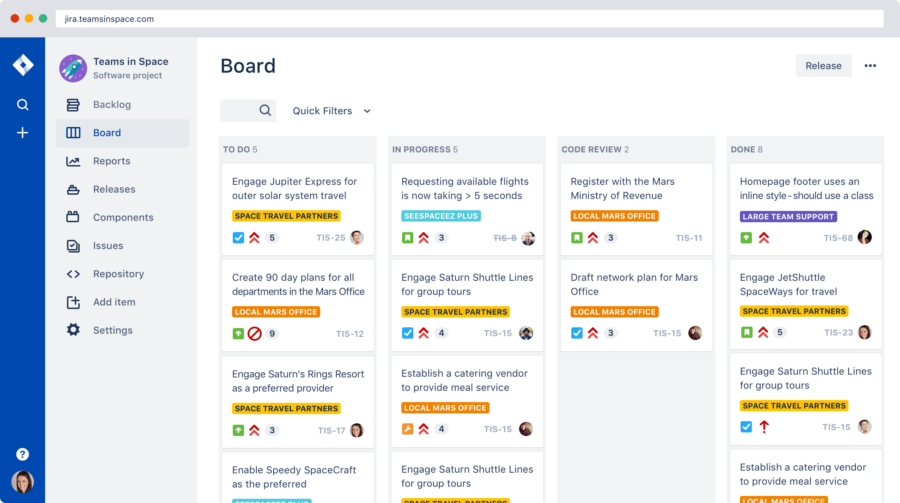 A beloved software solution for agile teams, the Jira product is innovative and powerful. A fantastic Monday.com alternative, Jira is an agile platform that is a complete 180 from the spreadsheet view of Monday.com. Built with the ability to track projects in real-time, Jira is an agile project management software king, with many advanced features and options that can sometimes be overwhelming. Jira comes with scrum boards, Kaban boards, and customizable project dashboards that are perfect for any of your teams. 
A powerful bug and problem tracking area, Jira can help your business get a handle on every sprint and project that comes at it. While Jira does not offer a free option, it offers its users a discount on the paid plan. The more users that are added, the more the price decreases – so it can be a cost-benefit to use Jira over Monday.com if you have a larger business. 
6. Airtable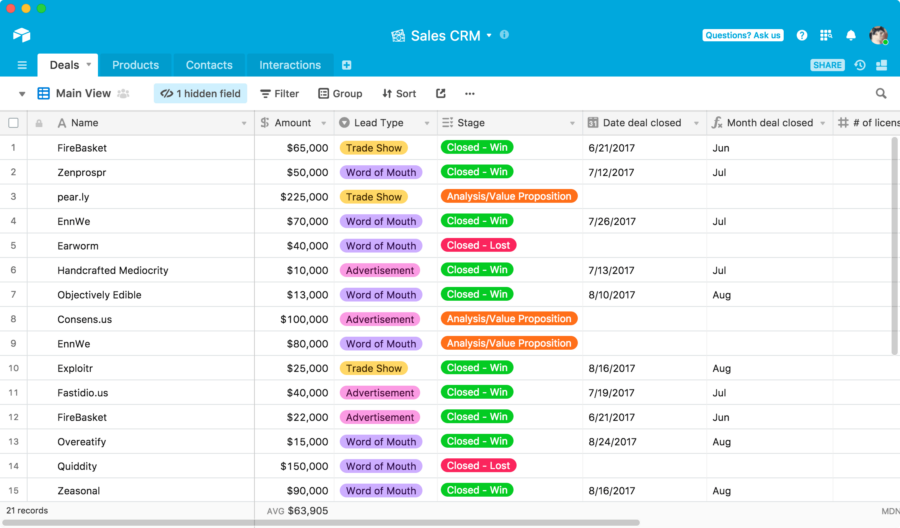 Another spreadsheet-looking alternative to Monday.com, Airtable is an innovative tool that combines the same look and feel of a spreadsheet with a powerful integrated management platform. With a user-friendly interface and an extensive library of templates, there isn't a steep learning curve when you switch over to Airtable. 
Its templates and simple functionality can get users onboarded quickly and track tasks and projects in no time at all. Also, Airtable has built-in time tracking and video chat functionality that keeps everything contained within the software. Airtable can also integrate with any of the top third-party applications on the market today, so there is no missing out if other companies use Gmail or Dropbox. 
Priced on par with Monday.com, Airtable has a free option for up to 5 users and integration capability. However, the price goes up as more seats are needed per month, but it can also add up and be quite costly for the enterprise level. 
7. Flow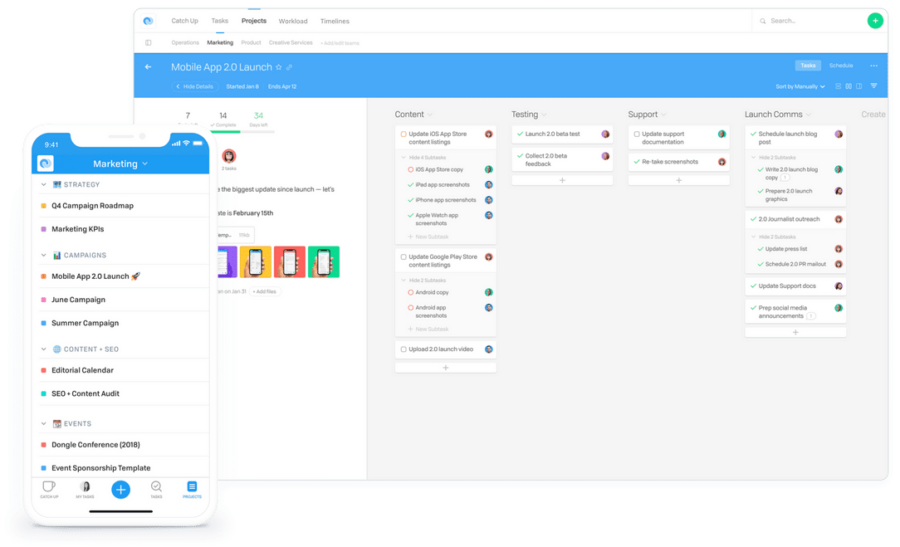 Flow is an alternative to Monday.com when planning, setting priorities and tracking projects cross-team. The software offers task and project management with different layout views, from simple checklists, calendar view to kanban boards. The tool supports a filter feature that uses tags, making it easier to find and see the status of projects. Their privacy control feature allows set up of public and private projects. With Gantt chart timelines, real-time notifications, notes and ability to comment on tasks, Flow is a solution that helps teams of all sizes to communicate effectively. Flow Studio Plan starts at $59 a month and supports up to 10 people.
8. Teamwork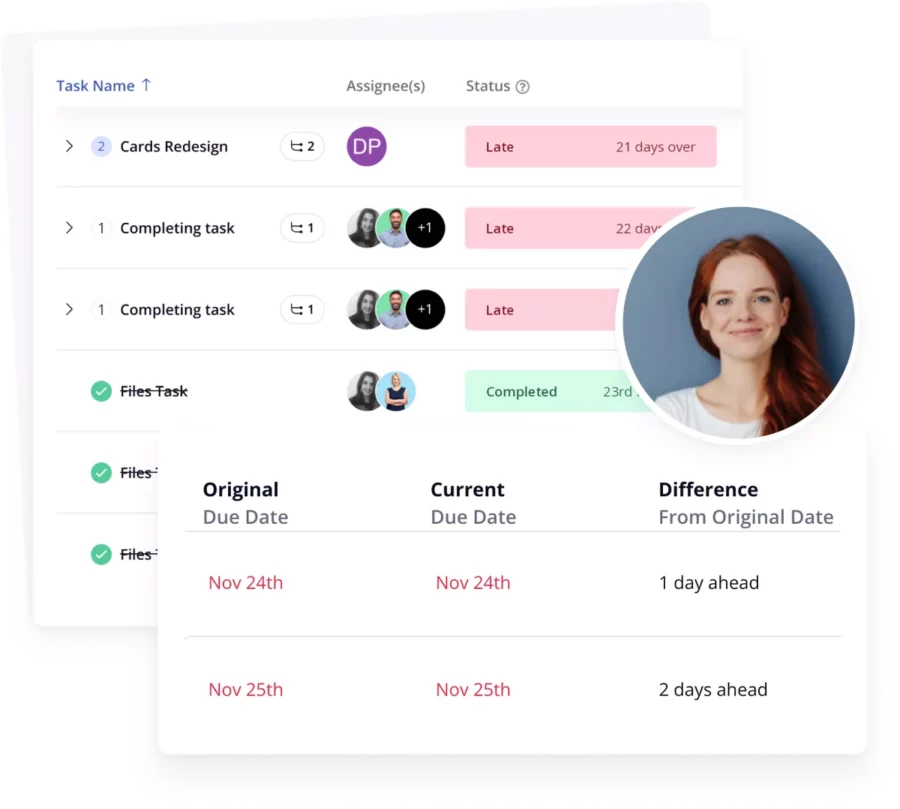 Teamwork is a Monday.com alternative for task and project management. The software has flexible and powerful features for teams who work in complex projects. For example, Monday.com doesn't offer the ability to create subtasks or task dependencies, making it harder to break down project plans to a granular level. Teamwork offers these capabilities, plus other powerful features such as billing and invoice, project time budget, scheduling, integrated team chat and burndown reporting. Teamwork also supports pre-built templates and different visual layouts, including Gantt charts view. Paid plan starts at $10 monthly for a minimum of 3 users.
9. Asana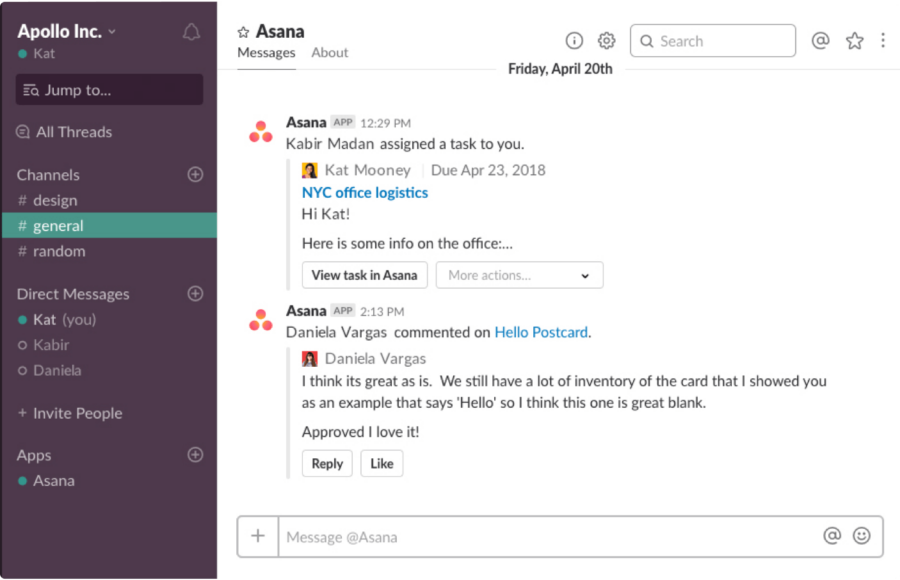 Asana is a great alternative to Monday.com, if you are looking for a project management tool with a free plan for more than 10 people. Asana's free plan allows 15 people to collaborate, but via iOS app only. The platform offers progress reporting and tracking and is trusted by over 50,000 organizations around the world including National Geographic, Airbnb, Lyft and Spotify. Asana is built on tasks, which can be grouped into larger projects and assigned to individual team members. Team objectives allow you to view progress on key initiatives over time, and "Workload," a newer feature, allows you to map out each member's workload over time. 
To see how Asana stacks up against another tools on the market, check out our full guide to Asana alternatives.
10. Scoro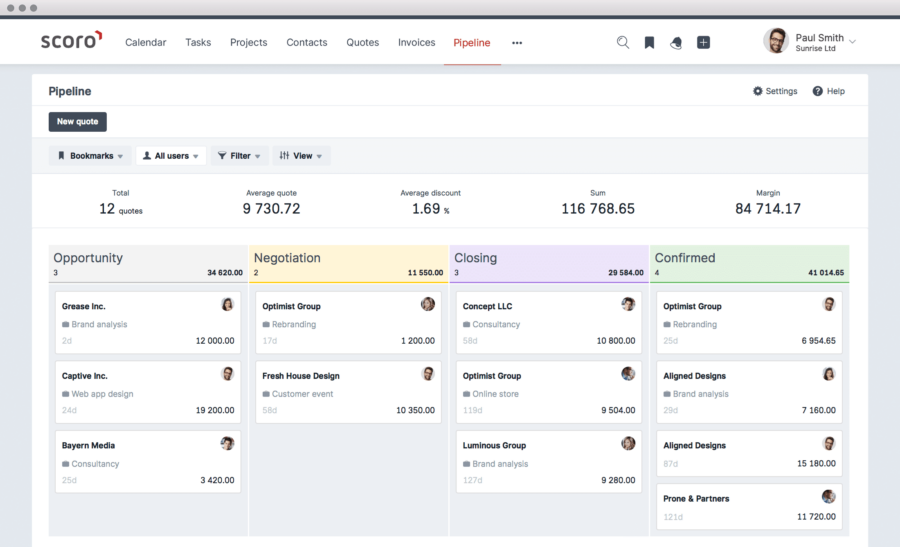 Scoro is an alternative Monday.com that offers features to speed performance, such as agile methodologies, Gantt view, Kanban board view, issue management and time & expense tracking. Scoro's KPI dashboard also offers a holistic view of each aspect of the business, allowing users to track projects, workflow, and financial KPIs in real-time. Scoro's pricing begins at $26 per user/month for a minimum of 5 users. The Essential plan includes projects, calendars, task list & task board, contacts & customers, quotes, invoices & receipts, bills, dashboards and summary of financial reports. On the downside, Scoro doesn't have a free version, only a free trial, while Monday.com has a free version with limited features.
11. Basecamp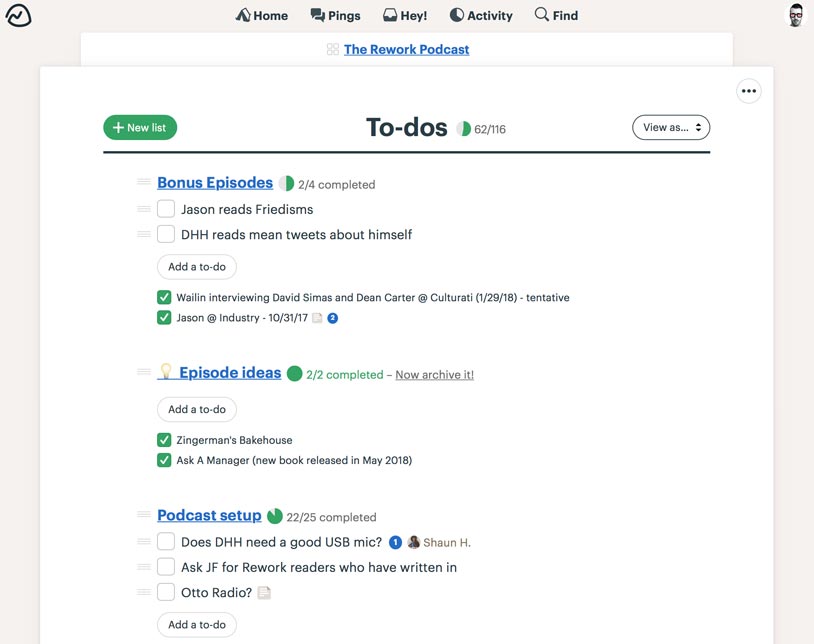 Basecamp is a project and task management alternative to Monday.com. The platform offers multiple project views, group chat, inbox notification, built-in time tracking, ability to assign priority levels to tasks, and generates data reports. Basecamp's templates make it easier to spin up similar projects and onboarding. You can also work with clients and contractors on Basecamp by selecting specific view projects. The software also counts with real-time chat, schedule, file storage, check-ins, and to-do lists. Basecamp offers a free plan with limited features, its Business plan costs $99 per month. If you are unsure if this is the best free project management software for your team, check out our guide for Basecamp alternatives.
12. nTask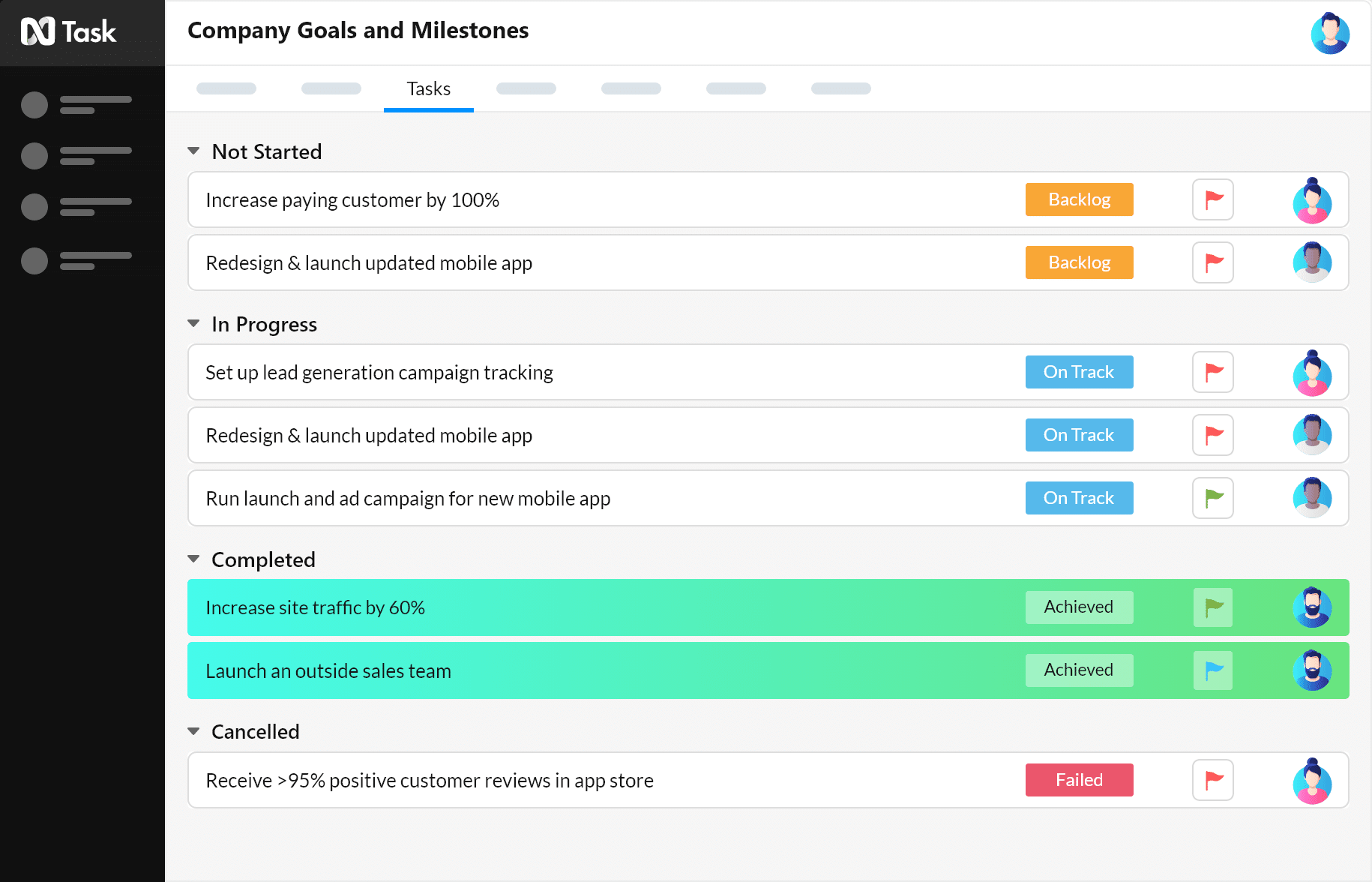 One of the best Monday.com alternatives is nTask. The application is a project management and task management tool that allows you to track and manage tasks and processes.
nTask integrates with a lot of third-party tools which helps you to perform all of your tasks without ever leaving the app or its ecosystem. 
Some of the key features of the application are task management, project management, team management, risk management, timesheet management, time tracking, meeting management, Kanban boarding, Gantt charting, and documentation management. 
nTask has a free version and a free trial that can help you get a clear idea of what the application is all about. The premium features are part of its paid plan that starts at $3/user/month.
13. Trello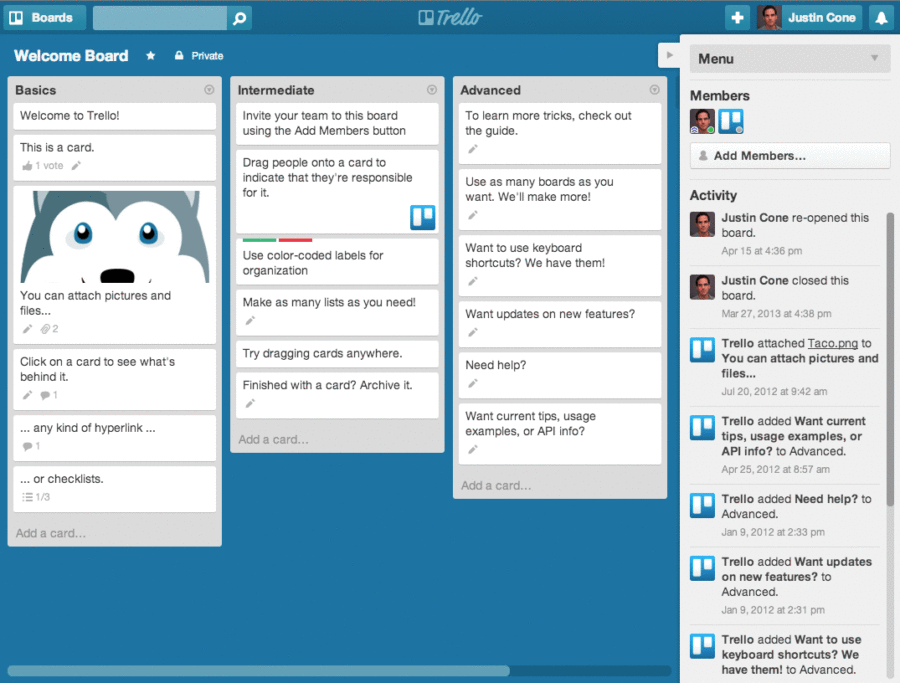 Trello is a project management software based on Kanban boards, lists and cards, allowing a flexible overview of projects and tasks. While Monday.com offers Kanban view, Trello is more intuitive and easy to adapt to your team's workflow. Plus, the tool also offers no-code automation, optimizing your time on tedious tasks. Trello allows integrations to softwares like Slack, Google Drive, Microsoft Teams, and others. Also, Trello allows you to invite new members to collaborate in your workspace, track tasks, and use color-coded organizational labels. One of the downsides of Trello in comparison to Monday.com is the lack of project management-specific budgeting features. Trello has a free version; its paid plan starts at $5 per user/month. 
Not sure yet if Trello is the best Monday.com alternative for your team? Learn more about Trello's alternatives here.
14. Zoho Projects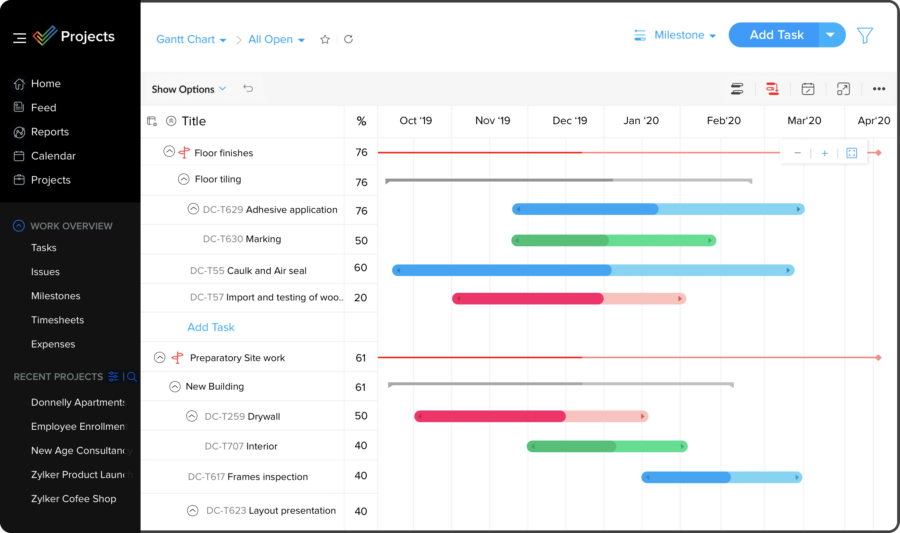 Zoho Projects is a project management app that offers a ton of features in a very affordable package with premium plans starting for as little as $5 per month per user. Utilizing a cloud-based format, Zoho Projects keeps the planning, tracking, and collaboration running seamlessly amongst your team no matter where they are working from. A wide array of comprehensive ways to facilitate projects, like Gantt charts, task managers, and timesheets, plus the ability to customize everything to suit the needs of your team. Zoho makes several business apps that can be integrated into Zoho Projects. You won't be limited to Zoho's offerings though, as the software integrates with other applications such as Google Apps, Bitbucket, Slack, and Zendesk just to name a few.
While the immense flexibility of Zoho Projects is a great asset, some users may find the lack of premade templates to slow down the start of a project, once everything is set up, user-created templates can be recalled for future projects.
15. Nifty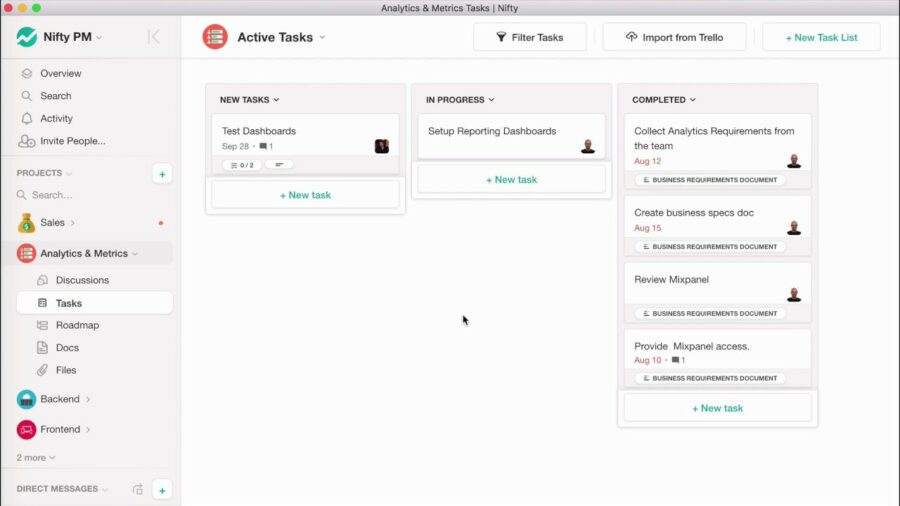 Nifty is a good alternative to monday.com because of its ability to track projects with built-in discussions, milestones, automation, time tracking and more. With different view your project, such as Gantt charts and Kanban boards, it's easy to jump right in and get a clear picture of your projects progress. Nifty is great for collaborating by bringing goals, actions and communication to one place with every project having its own discussion board. It also supports Zoom integration and the ability to import your existing Trello boards.
Nifty has 5 different subscriptions, starting with a free plan with limited functionality and up to an enterprise plan that claims to be a fully scaled solution for your company's needs. You can also save up to 45% by paying for plans on an annual basis.
16. Proofhub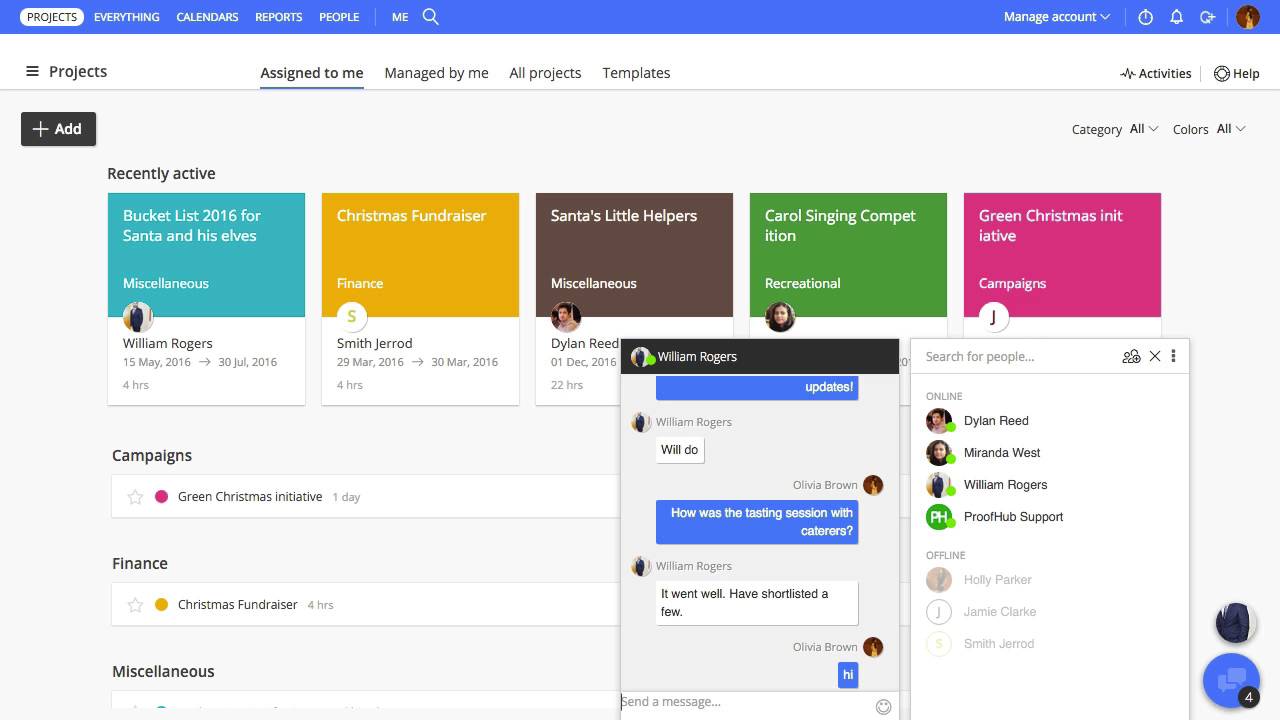 Another alternative to Monday.com, ProofHub is a project management and collaboration software used by teams of all sizes and industries. With ProofHub you have complete control over team members which helps in delegating tasks and receiving real-time progress updates when managing project activities. Within the task lists, you can divide a task into smaller, more manageable subtasks and even create custom task fields to store relevant information. The built-in chat tool makes communicating easy with your team in real time.
Proofhub offers several features to help streamline workflow and have better control over your resources. Use forms to manage requests, custom reports for project progress, file proofing to deliver error-free results, and more. Additionally, you have the power of Gantt charts and Kanban boards to visualize and plan tasks, allowing you to see work moving in multiple stages throughout projects. Try their 14-day free trial and if you like the software, Proofhub has a flat pricing model (no per-user fees) with plans starting at $45/month.
17. MeisterTask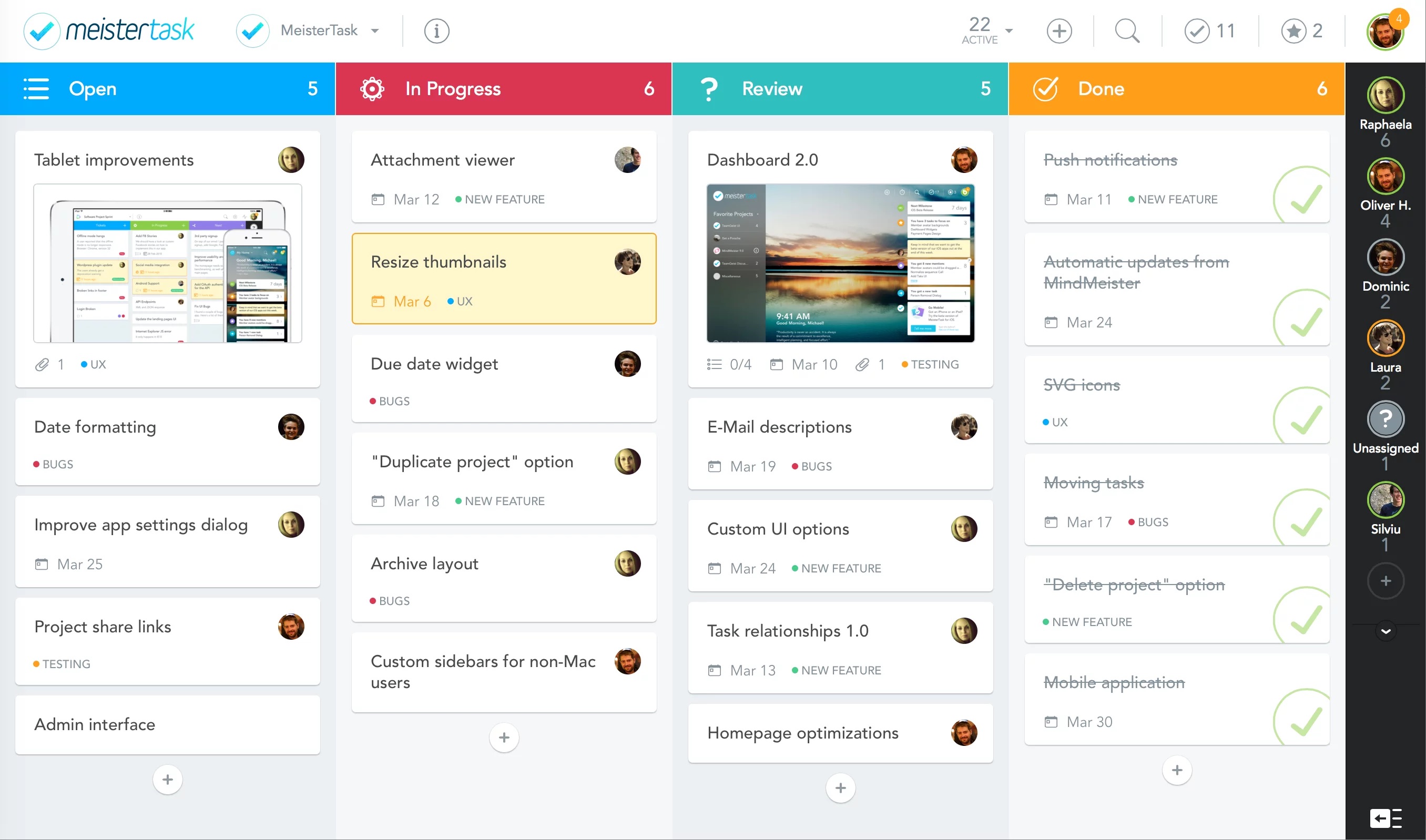 You might consider MeisterTask as a Monday alternative for managing your project. The software has customizable Kanban boards and collaborating features. It lets you assign tasks, upload attachments and leave comments across multiple devices with native desktop and mobile apps. 
Other features include time tracking, unlimited automations, WIP limits, recurring tasks, and more. A free Basic plan allows a single user to work on up to three MeisterTask projects with plenty of tools to get you started with your project management. If you want additional features and the ability to work on unlimited projects, MeisterTask has plans starting at $14.49 per month.
Are there any other great tools that you'd recommend people try out as one of the best Monday.com alternatives? Let us know in the comments below.