Love dogs? Want to be more productive at work? Hive is collaborating with Chewy and Rescue City for our first-ever Yappy Hour, a networking happy hour with adoptable pups in NYC on April 4th. Click here for tickets and to learn more.
Earlier this year, we wrote a very well-received piece about the benefits of having cats in the office. Turns out, there's a study that proves cats are more relaxing than dogs to have in the office. I have a theory that this is because they require less effort (no walking or bathroom breaks), and while cats in the office have been proven relaxing, dogs at work are definitely more mainstream.
Related: Why Meditation Is The Next Big Productivity Tool
There's also much higher likelihood of someone having a cat allergy, and cats are difficult to transport. You'd also have to decide whether you would be leaving the cat in the office overnight, which doesn't sound like the most stimulating overnight experience for the cat. Speaking from personal experience, I've never seen a cat in the office, whereas I've worked in several dog-friendly office environments, and have found them supremely anxiety-reducing and beneficial.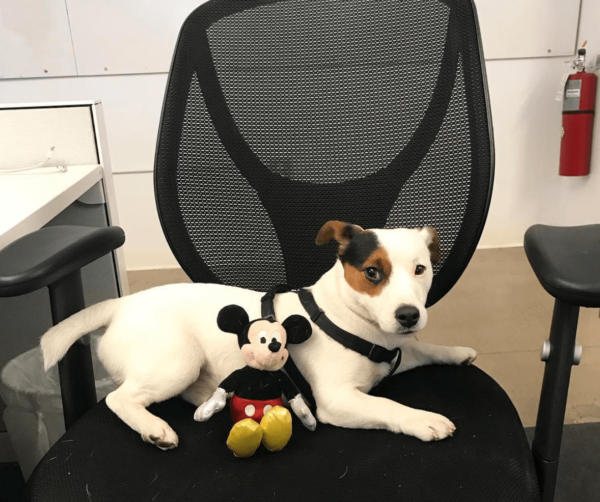 But it's not just me and my canine-loving brain that feels this way. Dogs are becoming more and more prevalent in the workplace for a range of reasons; their ability to provide service and emotional support to their owner, their ability to provide general social support, as well as an ability to improve overall work performance and decrease overall stress.
Related: How Working Out At Lunch Made Me 90% More Productive
For people with service or emotional support animals, having your pet at work is incredibly important. Service animals are trained to execute certain tasks, which can include aiding in mobility, retrieving items, and alerting their owner to potential medical crisis. Service animals differ from emotional support animals, as they aren't trained to execute certain tasks, but "are companion animals that provide therapeutic benefits to people with medically diagnosed mental, intellectual, or physical disabilities." In the United States, service and emotional support animals are allowed to accompany owners in a variety of situations including on airplanes and in housing that might not traditionally allow pets. A service or emotional support animal travels with the owner almost everywhere, so having them at work is critical for the owner.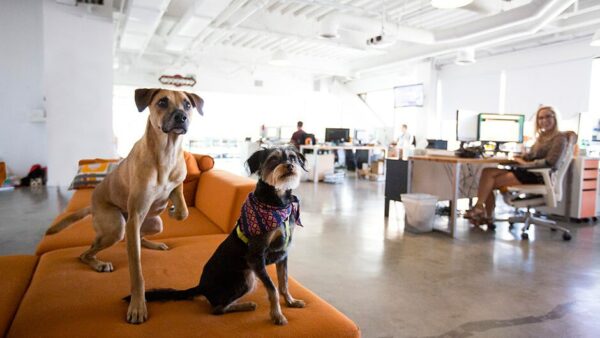 As for dogs who aren't working service or emotional support animals, they also have a incredible list of benefits. One of the most prominent, and impressive, is the social support dogs provide, both to the owner and to coworkers around the office. Social support is "the perception that one is cared for," and having a dog that provides unconditional love creates an almost instant sense of social support. It's been proven that an increase in perceived social support boosts mood, increases happiness, and decreases depression.
Additionally, dogs in the office bring comfort, and it has even been found that dogs in the workplace played a huge role in helping people with mental health struggles remain employed. That statistic makes sense, since playing with a dog triggers a release of dopamine and serotonin, feel-good chemicals that increase overall mood and aid in relaxation. Since 1 in 5 adults in the US suffer from a mental health condition, dogs in the office could be incredibly helpful to those 48.3 million adults. 
Related: What Your Horoscope Says About Your Work Style
Dogs in the office also increase communication amongst employees, as they're the perfect, adorable conversation starter. I can account for this first hand — I've formed a working relationship over a tiny, adorable Shih Tzu. Increase communication across the office helps foster a sense of community and friendship throughout the office, and it also fosters collaboration, something all companies want more of. Communication and relationship building also foster an increased sense of social support.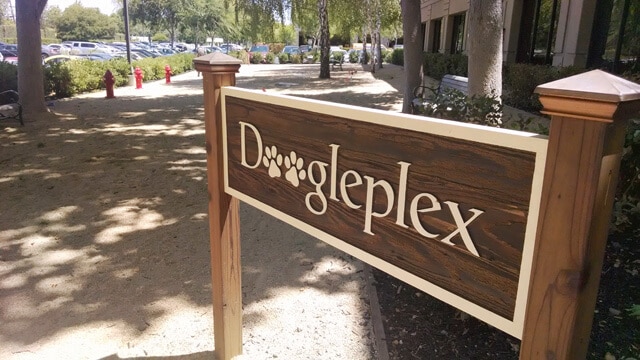 There are tons of companies, specifically in the tech space, that have adopted a dog-friendly work environment with great success — just look at places like Amazon, Google, and Salesforce. Google offices boast dog parks and Amazon has a doggie deck, outfitted with dog relief stations and water stations.
But we've definitely still got a ways to go. More traditional office environments (think stacks of white cubicles and shiny corner offices) haven't yet adopted the bring-your-dog-to-work policy. But if you work in the 80% of offices that don't allow dogs, Hive has a solution. We're hosting our first Yappy Hour, a networking happy hours with adoptable dogs, on April 4th at The Chester. The event will be held in partnership with Rescue City, who will be bringing some of their adorable, adoptable pups, and Chewy, who will be providing adoption kits to each pup adopted at the event. If you want to reap the benefits of socializing with our four-legged friends, you can check tickets out here.
Do you work in a pet-friendly office? Has it changed your life? Are there any negative side-effects you've noticed? Let us know in the comments below.