Marketing campaigns can be demanding to organize and run, as they have many components and intricacies ranging from managing creative assets to addressing client feedback. Streamlining the whole process can also be a bit tedious. Ensuring that every member of the team produces the desired results within the set timeline is a task in and of itself. Effective project management is, therefore, a key component to every successful marketing campaign.
All these tasks can be troublesome to handle – but are there tools that simplify the whole process? Absolutely. There are plenty of options on the market that can contribute to different parts of the marketing process. From email management software, to analytics and project management tools, there are countless platforms that help with marketing campaigns specifically.
In the list below, we've outlined the most effective tools for tackling marketing project management. We've scoured the web – from software reviews to email marketing blogs – to find the top free and paid software, as well as solutions for startup companies, small enterprises and big corporations. And while not all of these tools can do everything natively, they can ease the entire process and improve marketing campaigns in their area of specialization.
1. Hive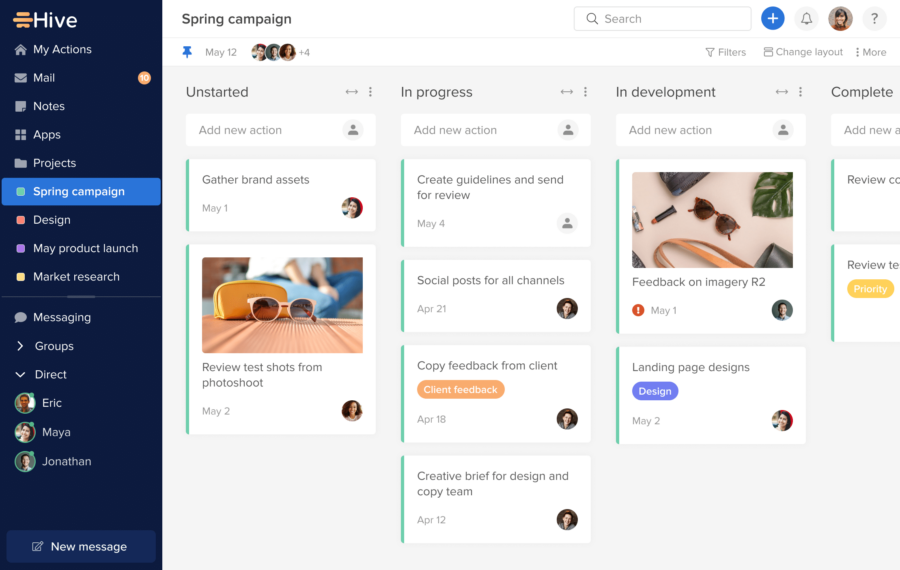 Hive is designed to be both a project and a campaign management software, making it an all-in-one solution for all marketing teams. Hive is jam-packed with project management features such as Gantt charts, a calendar, portfolio view and even a native chat capability that make managing marketing campaigns a breeze. These are just on the surface though, as the powerful tool can support over 1,000 integrations with other tools available online.
The interface is also simple and intuitive, with action cards inside larger projects, which can be assigned to users on the tool. Planning and assigning tasks to other users also helps schedule out resourcing and plan for a project's long-term success and strategy. Communication in the app is also easy – users can comment on the progress, upload files, proof creative documents, and even work over email within Hive. That's why Hive is one of our top choices for marketing project management tools.
Cost: Free 14-day trial. Hive Teams plans start at $12 per user every month. Hive Free is free forever for up to 10 users. Enterprise pricing is available upon request. Check out Hive's pricing page for more information.

2. Trello
Trello is a more simple Kanban option for smaller teams or individuals looking for a marketing project management tool. Whether you're creating a B2B partner marketing strategy or managing your social media content plan, every project in Trello is formatted as a Kanban board with corresponding cards. These cards can be organized into phases representing different sections of a project. Trello also allows color-coding of the cards as well as attaching files or images to them. Each board corresponds to a project in most cases, with more significant projects hosted under different boards. Team members can also join and collaborate on the boards.
Considering Trello, but want to research other project management tools on the market? Check out our roundup of the top Trello alternatives.
Cost: Free basic plan. Business Class plan is a $9.99 monthly subscription for each user
3. Hubspot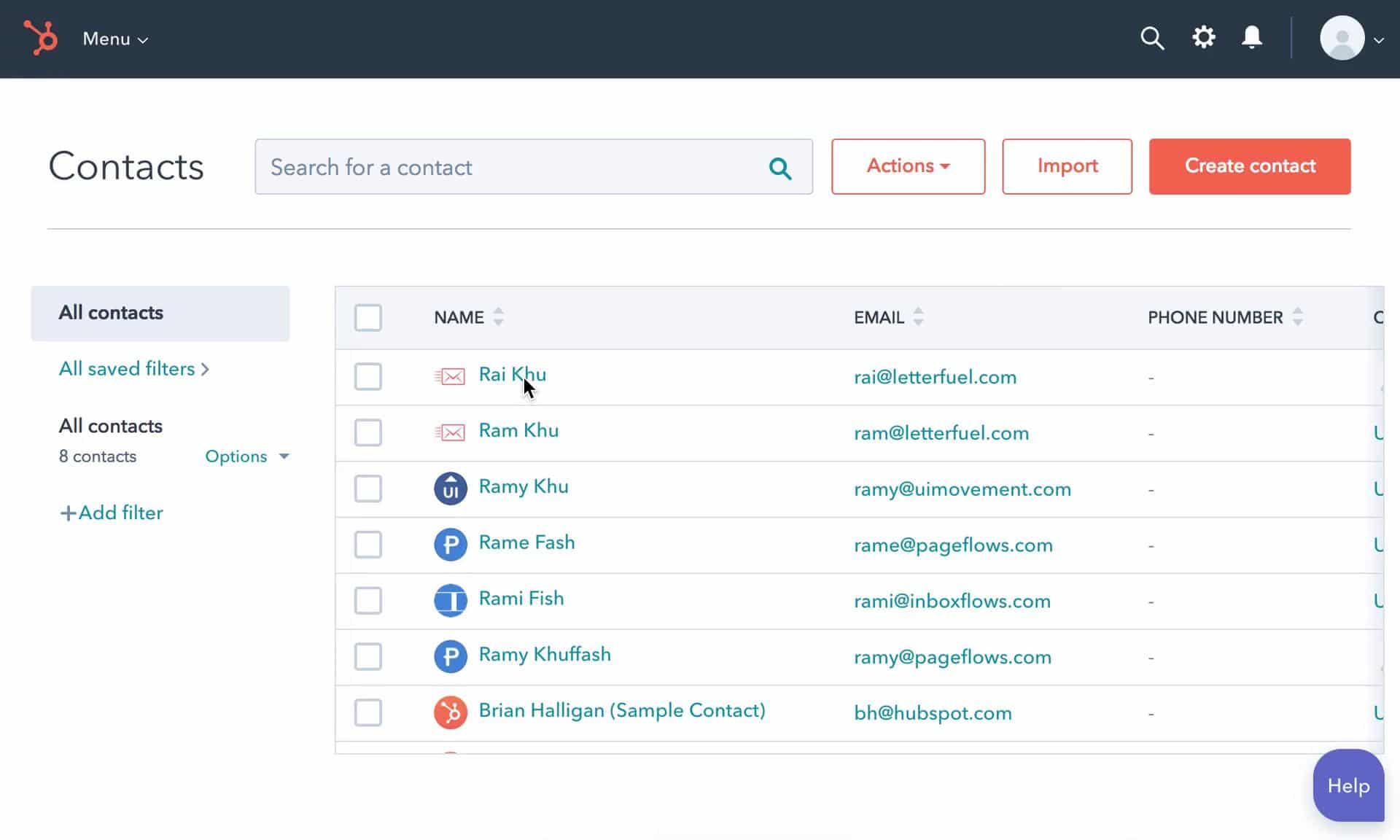 Hubspot's most preferred and used feature is its email marketing functionality, which often outshines the other marketing project management tools available within it. Its email feature enables the user to create customized emails and send them to a list of contacts, a process that is greatly simplified using its drag and drop functionality, as well as other integrated services.
True to its marketing core, the software offers A/B testing, revenue analysis tools for each email, and a host of other analytics available to the user. To make the most of the platform, use a Hubspot integration to connect with your other work tools and share information automatically.
Cost: Free for small teams with a limited set of marketing tools. Beyond that, one might need to cough up at least $800 to cater to larger groups and for access to premium features like SEO and blog management. To get the best deal, be sure to check out Hubspot discount codes before purchasing.
4. Canto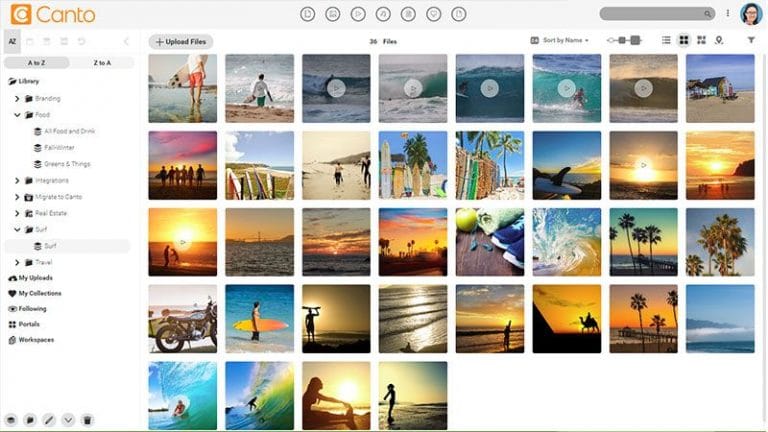 Canto is a tool that helps organize and share brand assets, which is a key part of marketing project management. Assets and marketing materials are obviously a key component of any marketing campaign, so this tool is specifically useful for advertising campaigns and marketing collateral. Some of the features that Canto has includes Smart Albums, which helps you organize photos by file type, Keywords, which helps you locate images and assets by keyword, and Personal Collections, which lets you store specific images in a personal file.
Cost: To get more information on pricing, you have to visit Canto's site and submit a query, but there is a free 15-day trial that you can access immediately.
5. SocialBee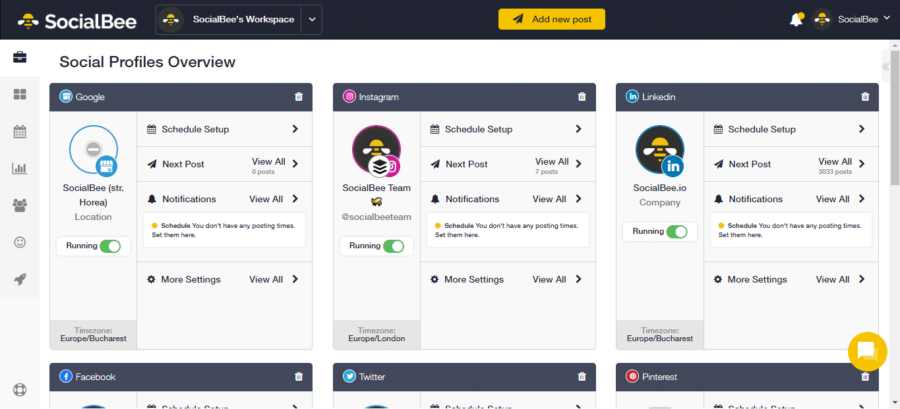 SocialBee is a social media management platform through which you can add, schedule, and share content across several social channels, including Facebook, Twitter, LinkedIn, Pinterest, Instagram, Google My Business, and TikTok. This is a great tool for managing your marketing campaigns and social media projects specifically.
SocialBee's best features are the Canva integration inside the app's post editor, the ability to set a posting schedule in a content calendar and the option to customize the posts for each social media platform. Moreover, the tool offers analytics to evaluate the performance of your accounts and real-time preview of your upcoming posts. 
Cost: Paid plans start at $19/month, after a free 14-day trial, with no credit card required. This gives you unlimited scheduling & editing options, with the main benefit of saving at least 8 hours per week. 
6. Dropbox/Dropbox Paper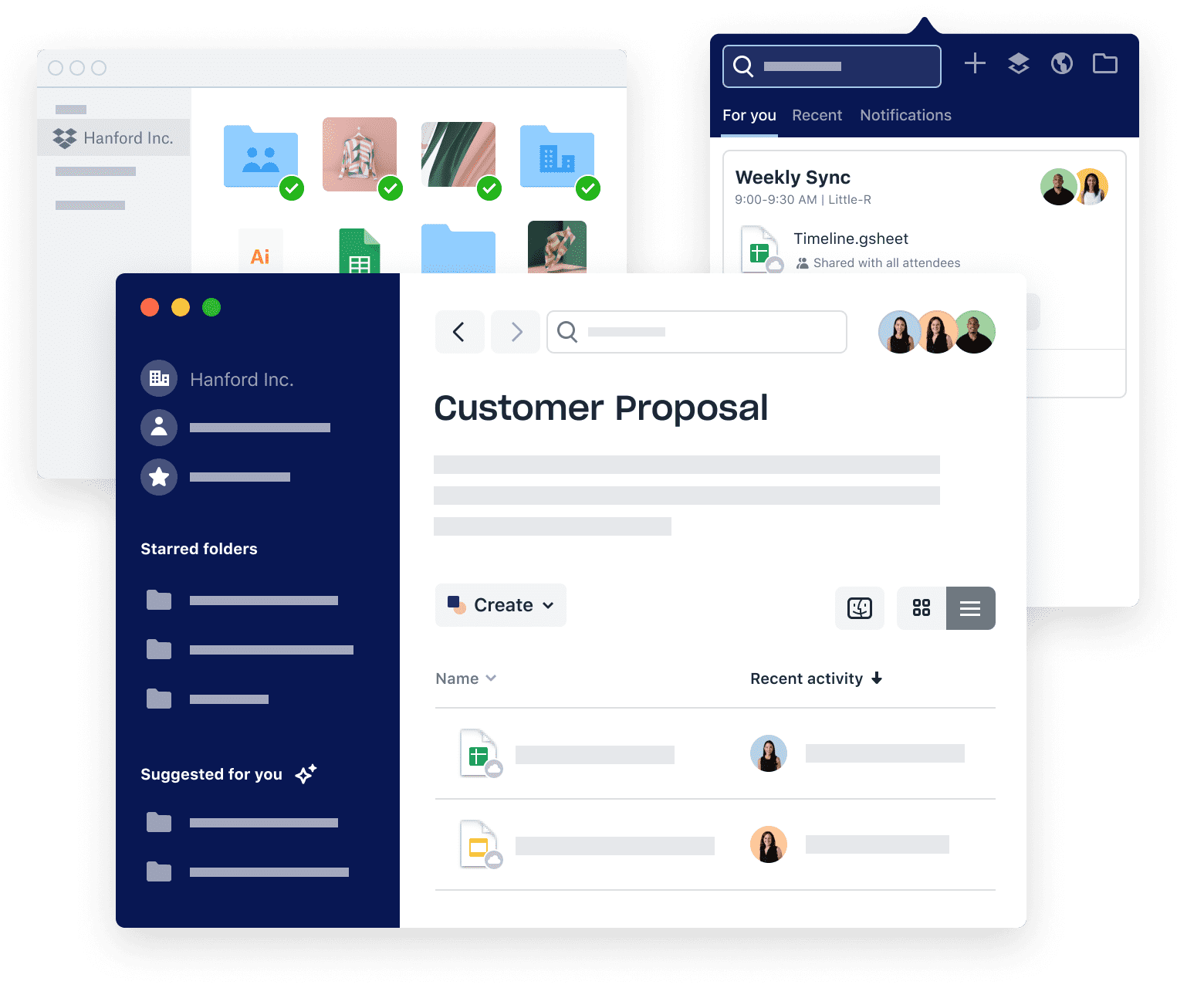 Dropbox is, at its most basic, a file-sharing service that stores documents in the cloud. If you plan to use Dropbox for your business, you can utilize features such as team folder management, file and version recovery, an admin dashboard to monitor team use, and third-party integration with over 300,000 tools.
Dropbox Paper is another great component of Dropbox — its a collaborative document made for creative work where you can take notes, assign tasks, provide comments, and upload files into one document. If you're looking for a simple note-taking and to-do list app, Dropbox Paper could be the perfect choice.
Cost: Dropbox starts with a free tier, and the "plus" version begins at $9.99 per month.
7. MailChimp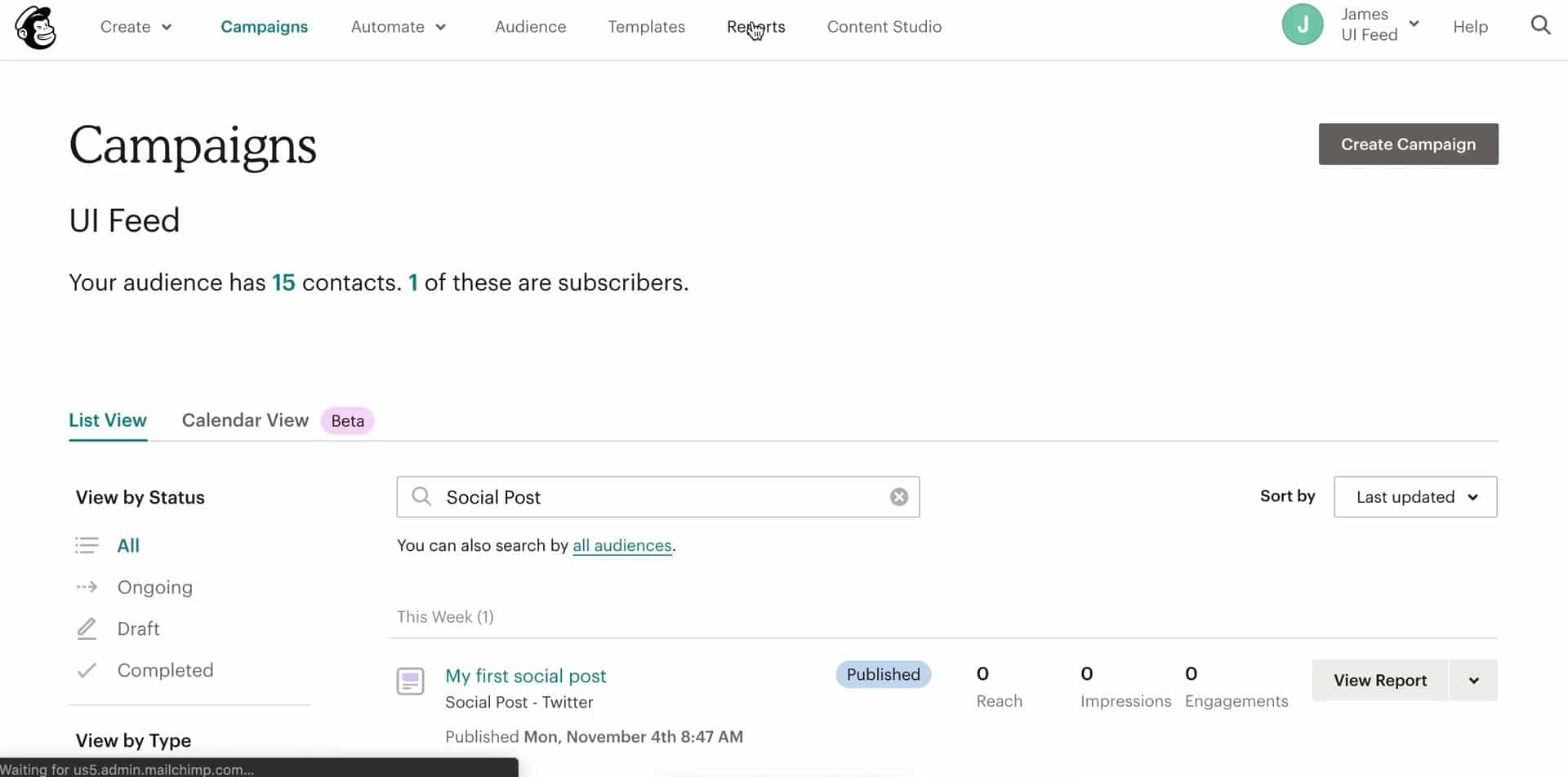 MailChimp is yet another email manager for commercial use that makes a great marketing project management tool. Just like Hubspot, it offers a drag and drop editor for ease of use. It also has tons of templates to choose from and modify to suit one's needs. Additionally, MailChimp offers email personalization, A/B testing, ad management, CRM tools and a plethora of other email marketing functionalities. The biggest difference between Hubspot and MailChimp is its pricing, as Mailchimp is much cheaper.
Cost: Starts at just $30 monthly per user under the paid plan. There's also a free plan available, which you can use if you're sending emails to less than 2,000 contacts.
8. Google Analytics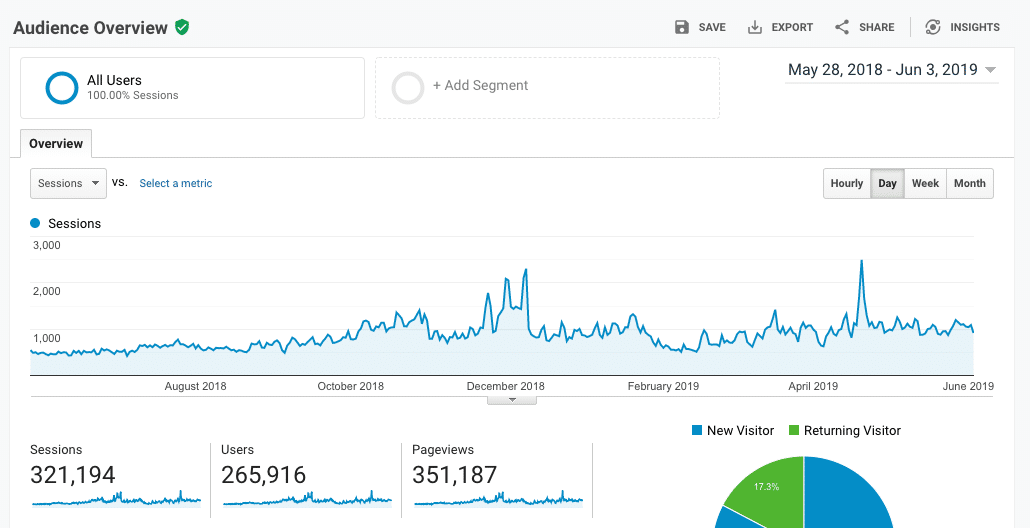 No marketing campaign is complete without analytics. Few do it better than Google Analytics, an essential marketing and analysis software that's a must for every online business. One can easily view reports of website traffic on custom dashboards that can be made for different marketing campaigns.
Google Analytics makes it easy to measure advertising ROI, track website traffic, and drive strategy for the marketing campaign at large. There are many metrics on Google Analytics you can track, so it is necessary to know which ones are the most important for your business goals.
Cost: There's a free option available, which is the most commonly used. A premium enterprise version is also available, starting at $150,000.
9. Hootsuite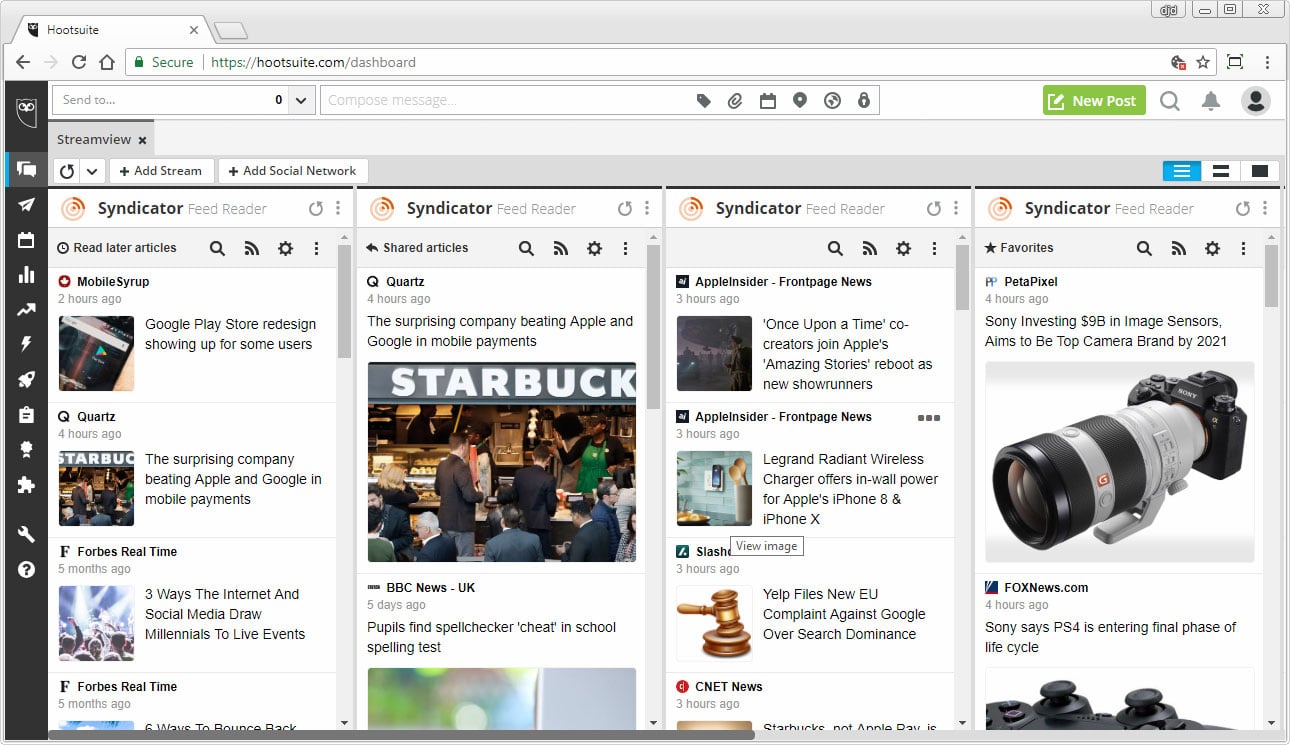 Almost every marketing campaign in the recent memory has had at least some social media presence. Hootsuite is just the right software to manage social media marketing. The software provides a platform to plan and schedule social media posts over a variety of popular social media platforms, saving a lot of time on the social media manager's side. It also provides performance reports after deployment, allowing the team to learn from the previous posts and plan for better campaigns in the future.
Cost: For 10 social media profiles under 1 user, Hootsuite is available for $29 per month. The functionality can be stretched for up to 10 users starting at $599.
10. Asana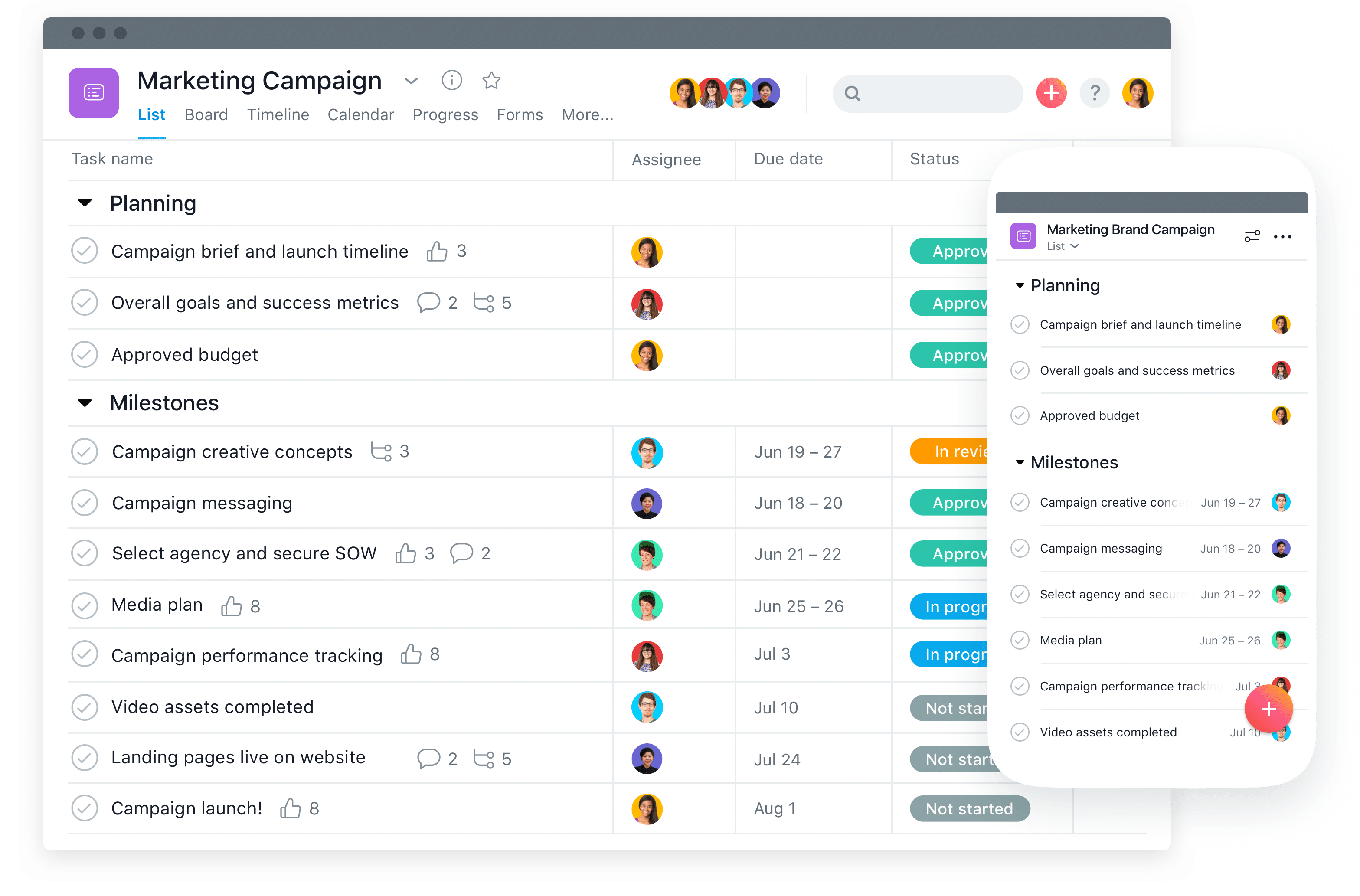 Asana is a user-friendly tool that can easily manage small and larger projects in the marketing project management space. The software is designed around tasks and subtasks arranged into different sections that can be assigned to either an individual or teams. For each task, the project manager and the rest of the team can communicate in the same place, keeping communication for each project at a central, easy to access location.
To learn about other tools with similar functionality, check out the top Asana alternatives on the market.
Cost: Free basic plan for individuals just starting out. Premium plan is $13.49 per user per month and thhe Business plan is $30.49 monthly per user. The Enterprise package requires a custom quote. Discounts are also available for users who pay yearly.
11. Clarizen
Clarizen is a unique project management solution with a wide range of services for companies of every size. The tool packs powerful project management features in a well-designed, easy to use and customizable interface for ease of use. Among the key features in its project management docket include due dates for projects, deliverables for each task, milestones, task dependencies, among others.
The software's project dashboard brings all the tasks and communication to one central place, allowing for quick access to reports, finished and unfinished tasks, documents and generated reports. Clarizen also allows for collaboration between teams with easy visibility of tasks between the different layers of the organization. The tool can also be easily integrated with a host of other services, including Slack and Google apps.
Cost: Clarizen offers a free trial plan alongside two payment options: enterprise and unlimited editions. Pricing is available upon request.
12. Basecamp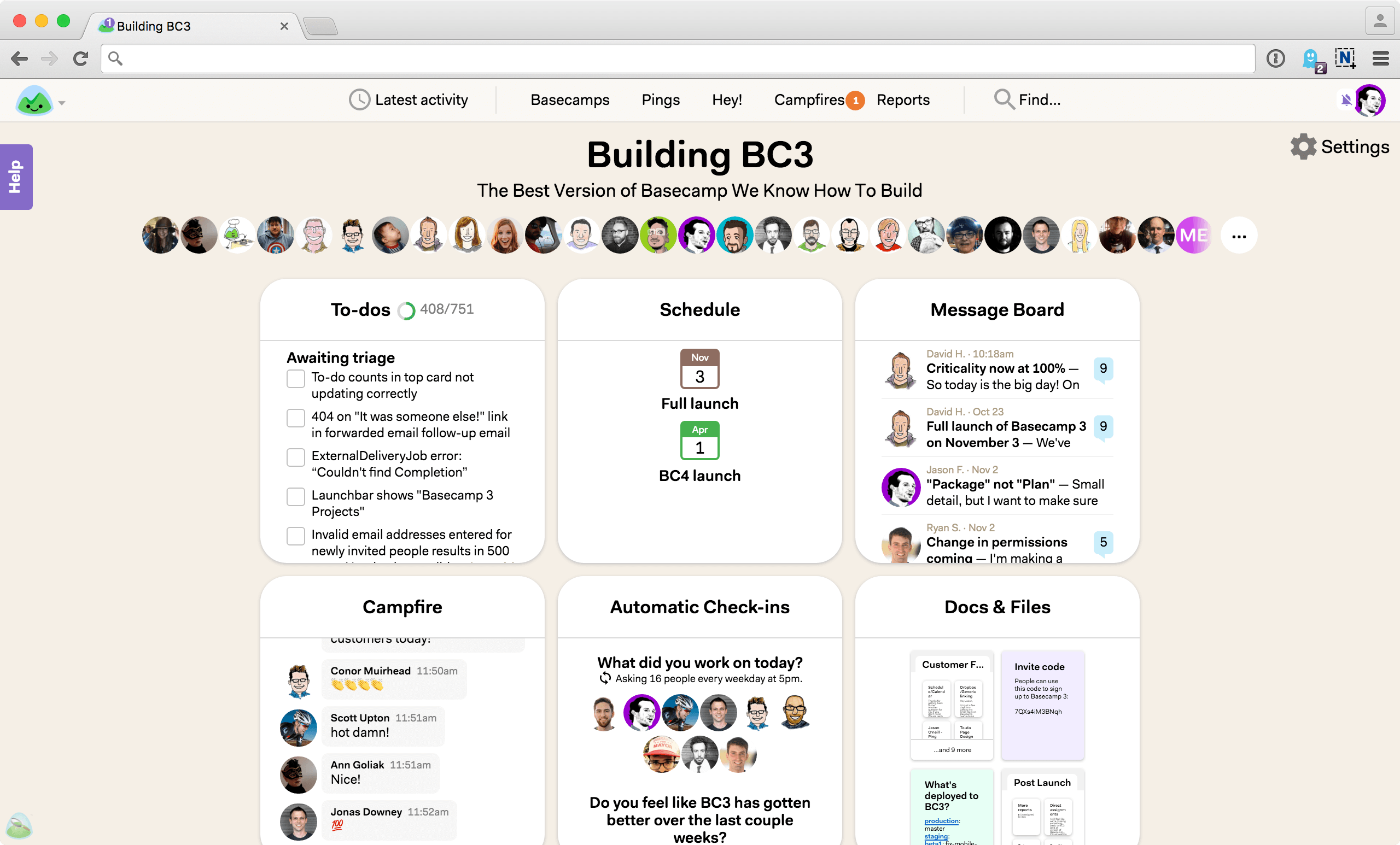 Basecamp is a cloud-based tool with lots of features for individuals, project managers or even marketing teams for collaboration on tasks. Some of the features ideal for marketing project management include to-do lists for tasks, which can be assigned to different users, and tasks that the system will automatically follow up on when the due date lapses. It also has a Message Board, where conversations for each project can be made separately, with file and image sharing enabled. Communication can also be personalized too, allowing the distinction between messages sent for the whole team or with selected members.
It also has a real-time group chat feature and a tool that enables the client to view the progress of the project. As with the majority of services on this list, Basecamp can also be integrated with other products for reporting, analysis, and time tracking, among other features. Aside from its cloud-based solution, Basecamp is accessible via iOS, Android, Mac, and PC.
Want to learn more about project management tools? Check out the top Basecamp alternatives on the market.
Cost: The personal package is free for personal use. The business package comes with a 30-day trial and costs $99 every month for unlimited users and projects.
13. Usersnap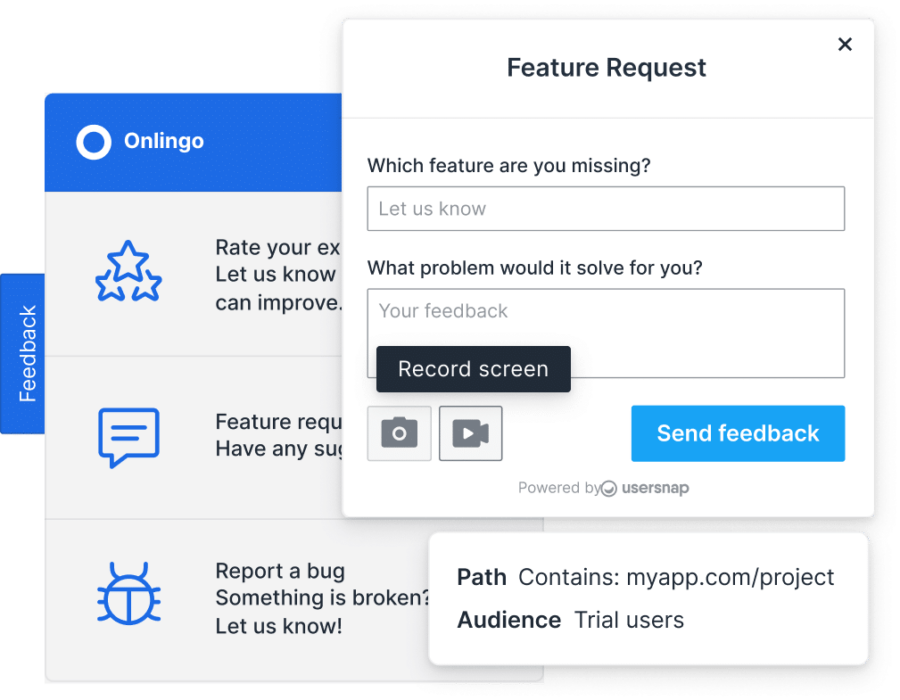 Usersnap is a versatile customer feedback collection software for marketing digital products. The tool makes it easy to set up and collect suggestions, bugs and general feedback. The platform allows customers and users to describe their experience with your brand through rates and short answers.   
Easily track any marketing campaign with Usersnap features such as screen and voice recordings and annotated screenshots. The tool allows collection of right-place and right-time feedback with targeted pop-ups, and direct interaction with users. 
One of the best things of using Usersnap for a marketing project is the ability to measure satisfaction after applying feedback received, offering marketers insights on how campaigns should adapt over time.
Cost: After the 15-day free trial, prices for plans with multiple projects start at $69/month (5 projects, 10 users). Some packages allow adding projects and users ad-hoc on a monthly basis.
14. Zoho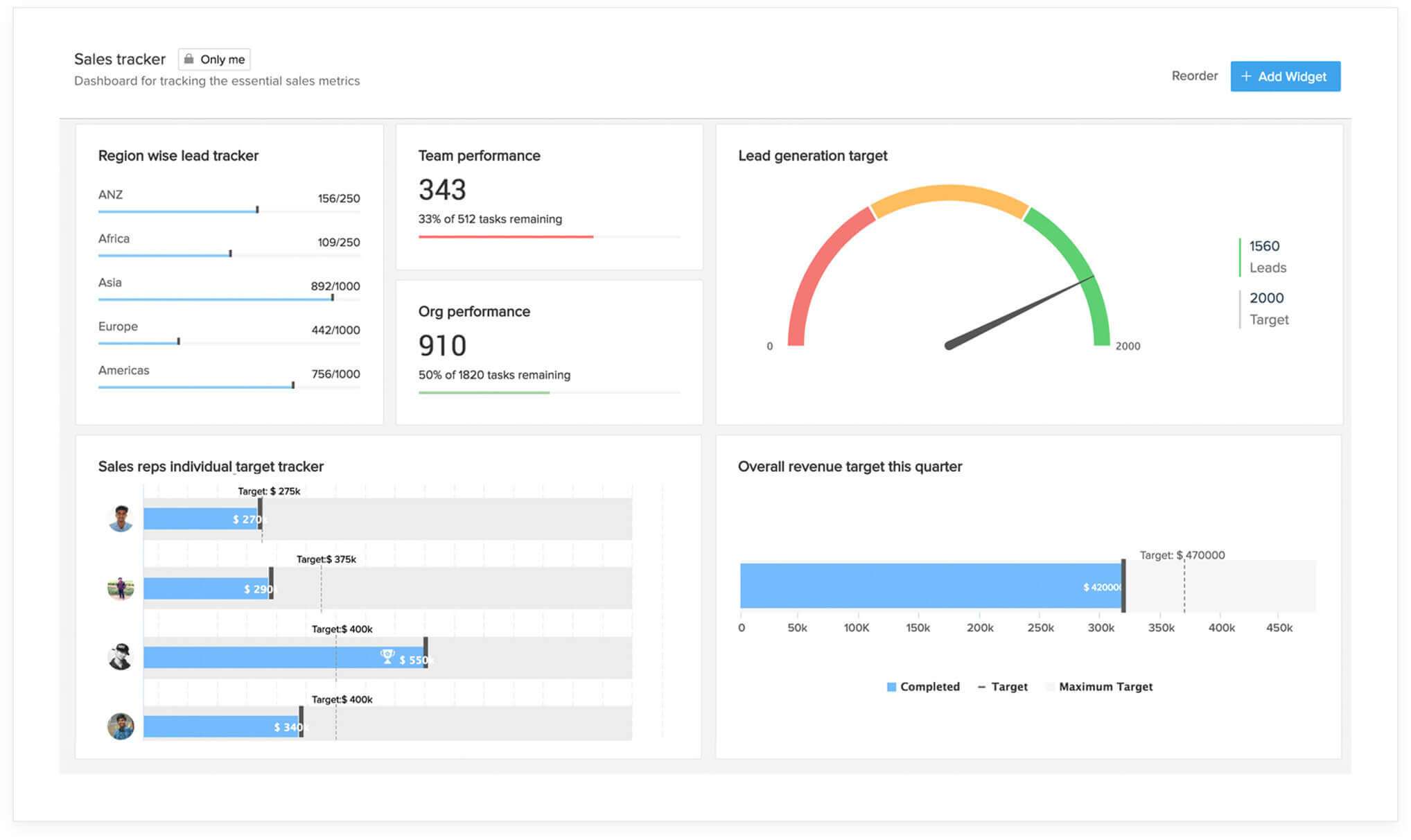 Zoho is a web-based CRM suite that is best used to manage leads, purchases and pipelines. Among the marketing tools in its arsenal are automated tasks like accounts management, lead tracking, prospects tracking and other sales tasks. Zoho also has a native chatroom that can either be private or public, and the ability to track the time spent on projects. The tool also has features outside of the project management and marketing scope, including HR and finance management.
Cost: Basic plan is $10 monthly per user, premium version is $20, and ultimate package is $35. The enterprise CRM system requires an inquiry and custom pricing.
15. Domo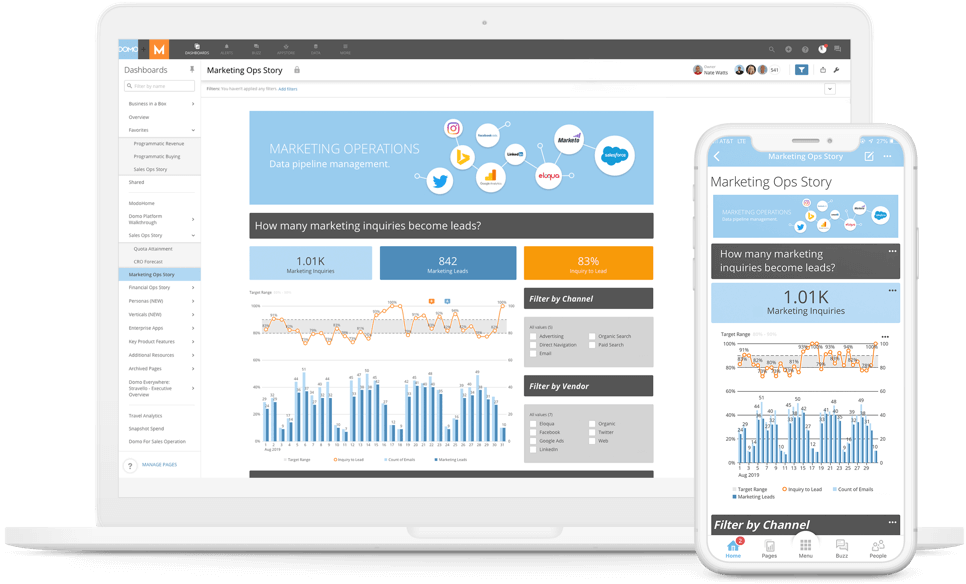 Domo is an analytics tool that can collect and synthesize data from thousands of sources and provide actionable business insights. With the tool, one can custom-design a variety of applications, connect various sources of data, analyze and store them. Its features are grouped into five categories: collection, preparation, storage, visualization, collaboration and prediction.
Aside from data analysis, the software can manage tasks and provide a collaborative platform for team members on the project. An android app is also available for use alongside the software.
Cost: Pricing starts at $95 per month for every user up to 5 users.
16. Workfront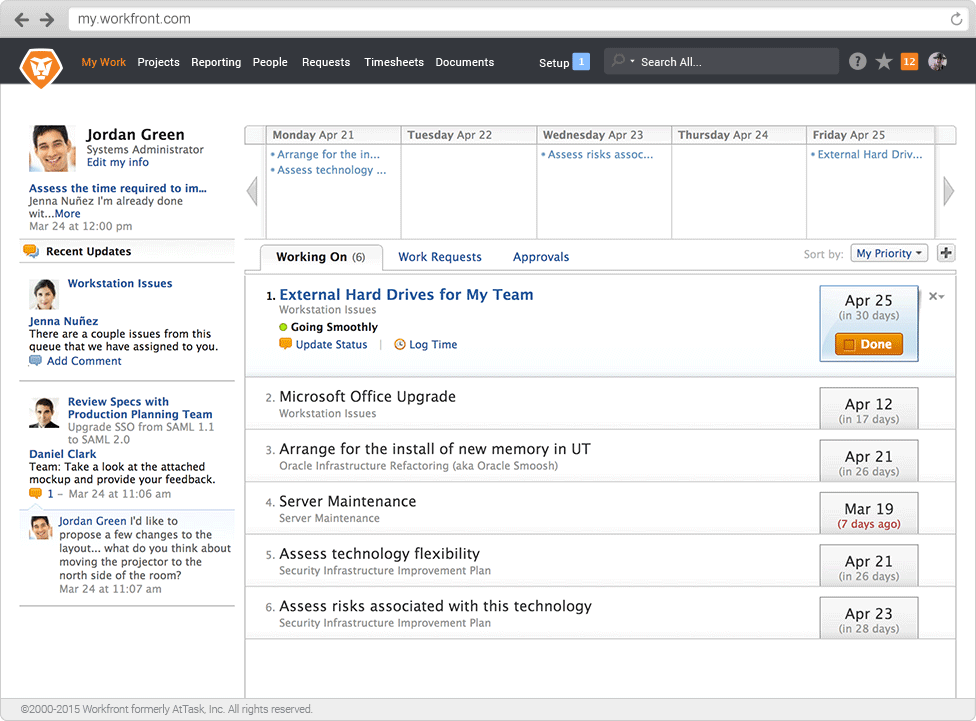 Workfront, which is now owned by Adobe, is a highly customizable work management tool that is especially useful for enterprise organizations. Features include setting up priorities for tasks, assigning them to specific team members, managing an entire project, and reviewing its progress. Besides automating the whole workflow, the software also provides a centralized platform for digital collaboration and integration with various other services.
Cost: Workfront has four pricing plans, and you must request a quote for each plan. Some of the plans include a team package for a single collaborative group, pro package for a single department in a company, business plan for up to ten departments, and enterprise for an unlimited solution.
17. Teamwork
Teamwork is a cloud-based software for managing collaborative projects done by small teams. Key highlights for the software include Gantt charts to visualize project progress, and task dependencies to notify team members or stakeholders if a process they are related to delays throughout the project. The software also includes time tracking and a native messaging platform that allows for comments, tagging and notes to communicate with other team members.
Cost: Available for free if you're under five team members and have a maximum of two projects. There are also 3 paid options: a pro subscription at $9 per person per month, premium subscription starting at $15 per person per month, an enterprise package that is billed annually.
18. Slack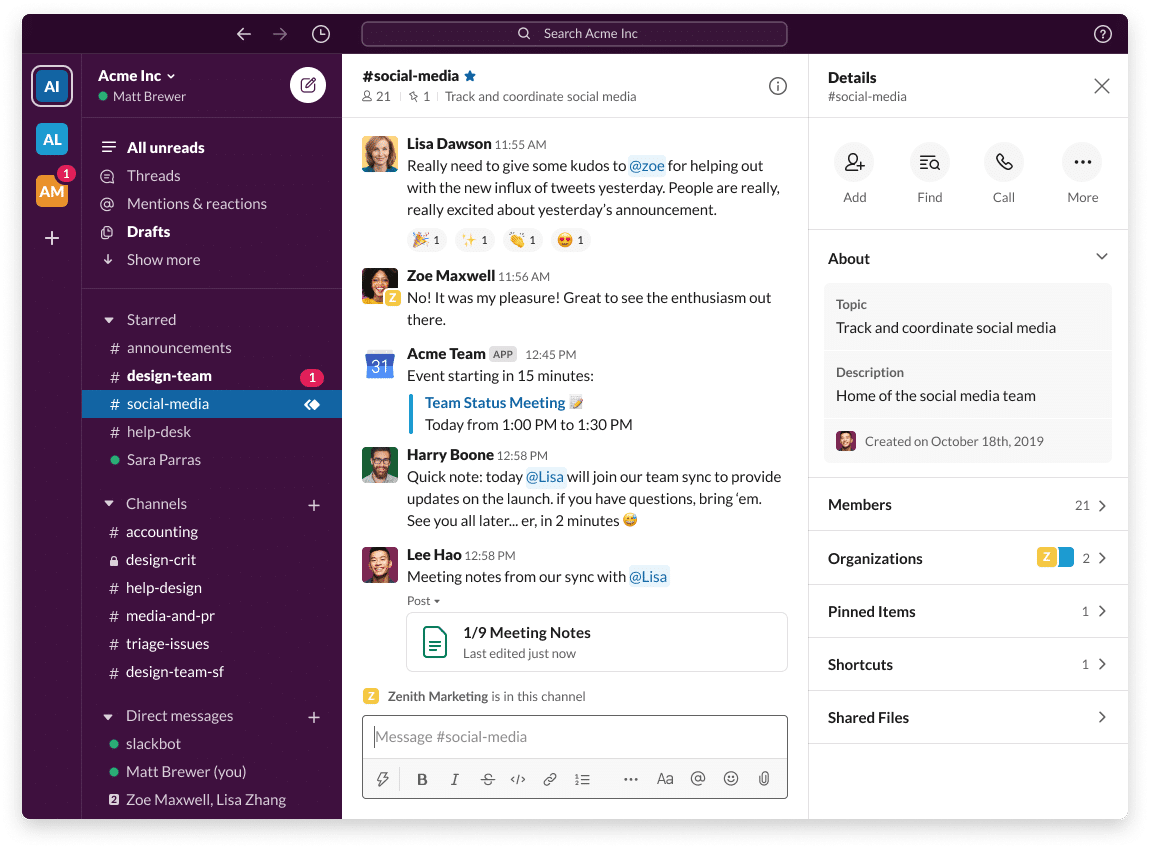 Slack is a handy tool that can make the entire workflow smoother, even though it's not typically classified as a marketing project management software. Slack takes corporate communications to a higher level, keeping communications organized and centralized in one place. Slack allows for the creation of channels for different sections of a team or different teams altogether. The service also organizes messages based on priority, an added plus for productivity.
Cost: The standard plan is $6.67 a month per user. The plus plan accommodates larger companies  for $12.50 a month per user. Quotes must be requested for enterprise package pricing. You can also request information for an annual payment plan.
19. Brandfolder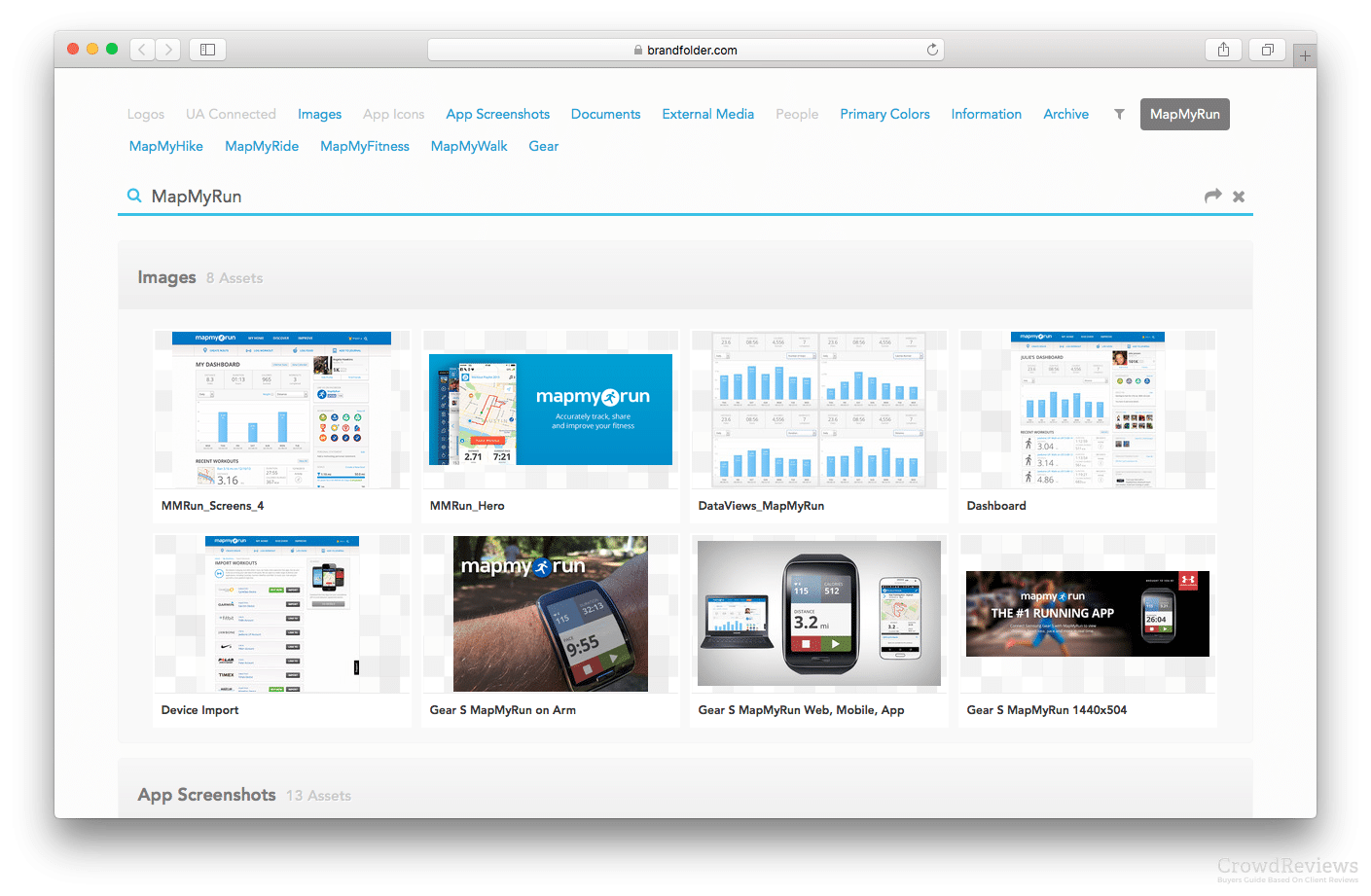 Brandfolder is a highly rated digital asset management platform used by enterprise creative and marketing teams — a great addition to your tech stack. Brands such as Slack, P.F. Chang's and Mastercard use the software to upload, store, organize, access and track their digital assets across multiple channels and campaigns.
The platform provides a range of helpful features. Users can store any type of file, organize them by tags and collections, and then quickly access them using in-document search, filtering and image recognition. You can set robust privacy controls and use rights management to keep assets secure. Users can also use analytics reports to see which files get used the most, and streamline creative, marketing and sales workflows by integrating Brandfolder with hundreds of third-party applications like Google Analytics, Salesforce, HubSpot, WordPress, Adobe Creative Suite and more with a single click.
Cost: Brandfolder offers a range of plans. Contact them for a custom quote.
20. FunctionFox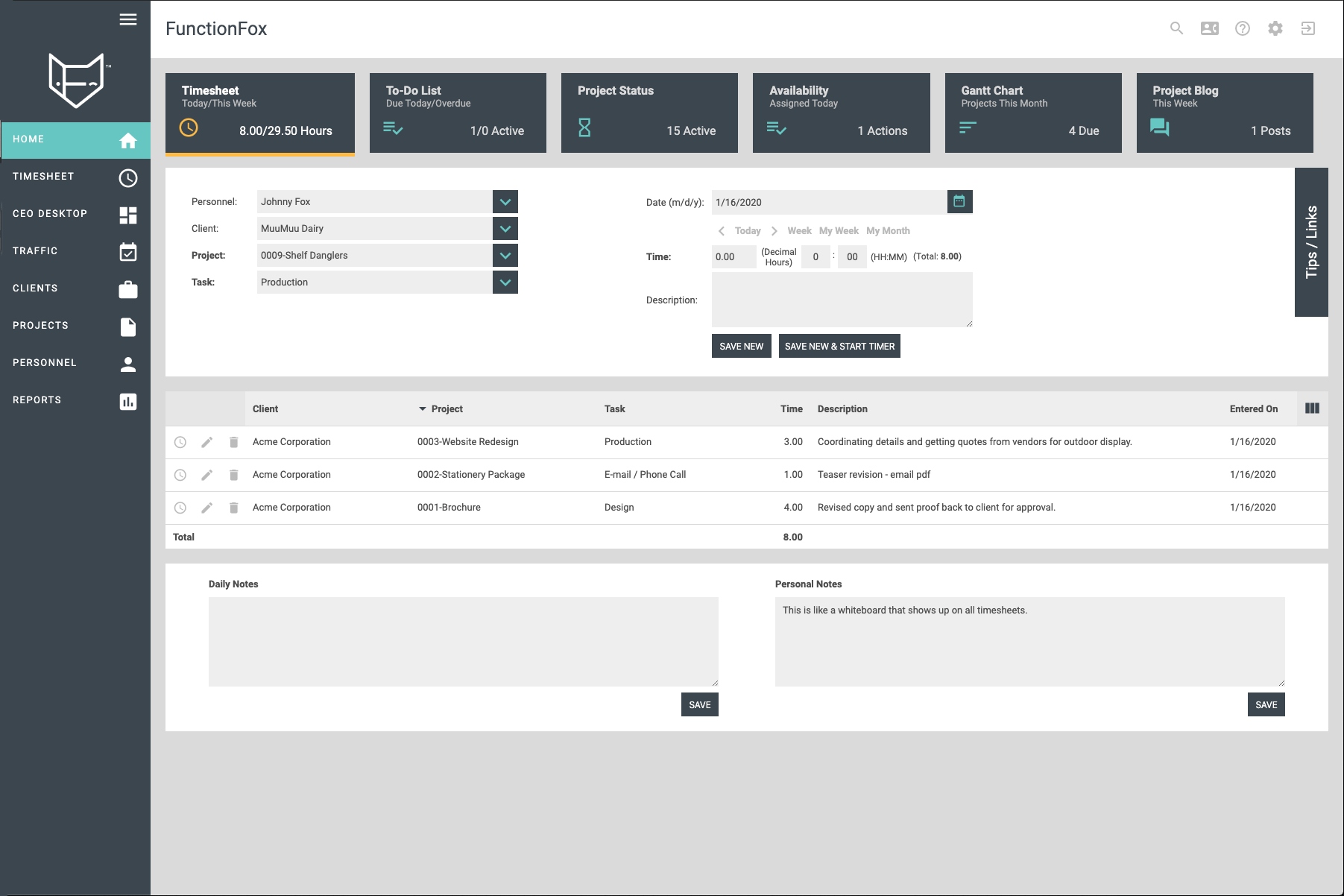 Oftentimes, marketing teams need to manage resources across the whole organization. With FunctionFox, teams can help streamline, optimize and allocate resources appropriately while also assisting with task and marketing project management.
This platform is great for timeline planning, which will help marketing teams plot out campaign status over time, with functionality like powerful project planning, centralized team communications (via project blog and file sharing), enhanced reporting capabilities, and integrated time tracking tools.
Cost: FunctionFox starts at $20 per user per month for in-house creative teams.
21. WorkOtter
WorkOtter is a cloud-based project portfolio and marketing project management tool. The tool seamlessly integrates resource management, project planning, and project dashboards to make for a great overall project management experience.
This platform is used by teams all over the world to manage their team and properly allocate resources, which is a major functionality and use case for WorkOtter. Resource management is great for marketing teams as it will help them manage their creative and analytical resources across different teams.
Cost: WorkOtter starts at $20 per user per month for the Team package.
22. Bynder
Bynder is a digital asset management and creative workflow management tool perfect for those who want a straight forward marketing project management solution. Bynder allows you to centralize storage of your digital creative assets, share, distribute, manage and organize all files across your team.
This tool is also great for marketing project management because it allows you to streamline communication between team members and stakeholders through comments and annotations. By allowing comments and approvals on documents, Bynder provides a one-stop-shop for creative work.
Cost: Bynder starts at $450/month for small teams.
23. Acoustic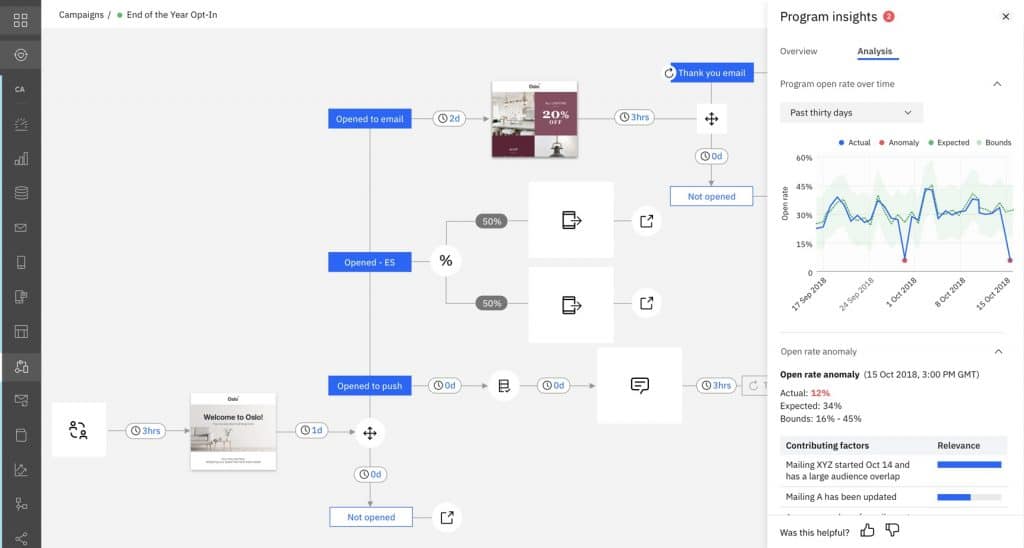 Acoustic is a great marketing project management tool that lets teams build smarter and more effective campaigns. With their Acoustic Campaign offering in particular, they use data and analytics to infuse their product with targeted features that help reach marketers ideal target audience. One feature that is great with Acoustic Campaign is the automated programs feature, which automatically triggers marketing messaging and actions based on behavior and AI. Additionally, there's a drag-and-drop message composer that can be used for email marketing, on mobile, across digital platforms, and more.
Cost: Acoustic does not list their prices publicly.
24. Paperform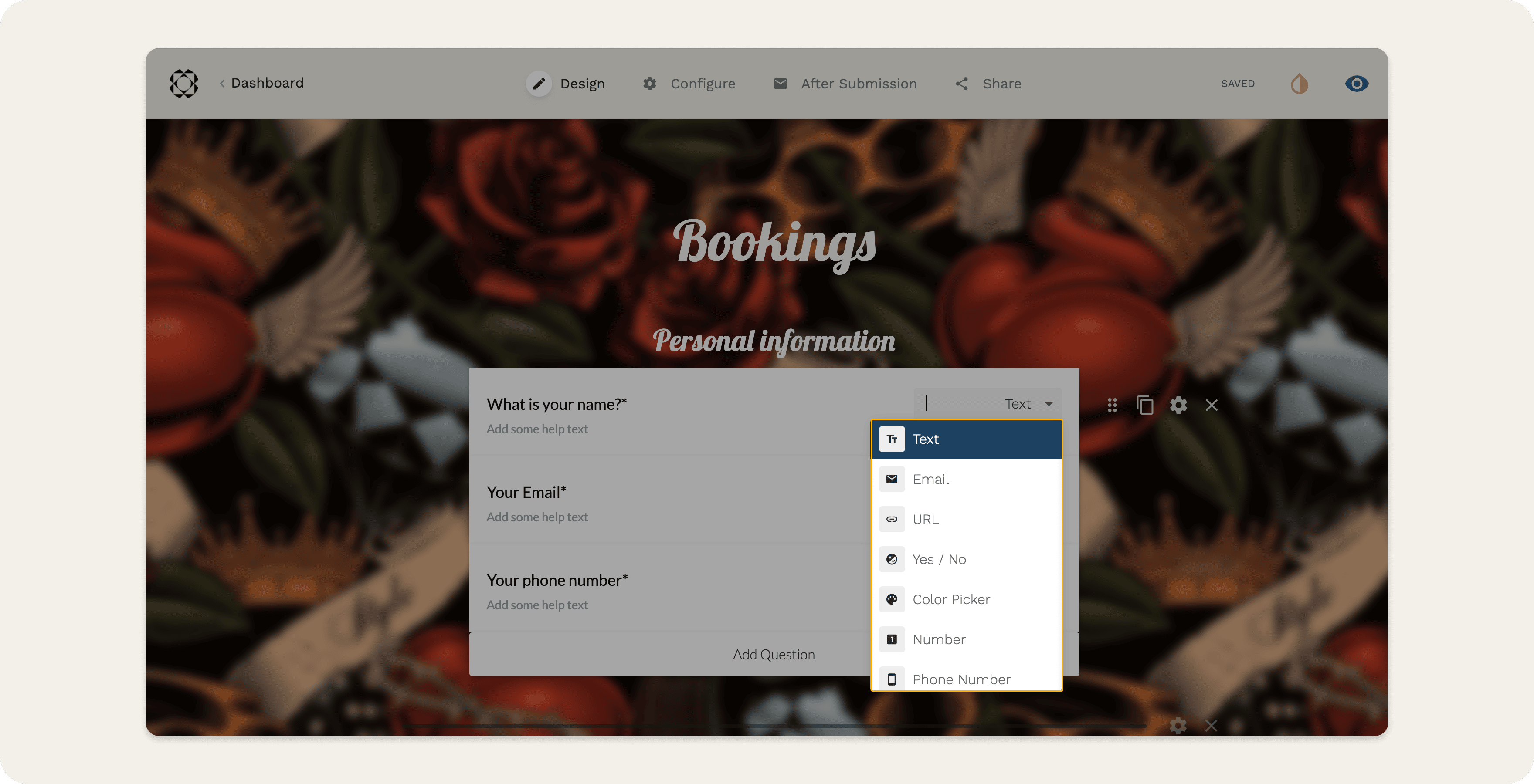 Paperform is a versatile SaaS platform that allows anyone to create beautiful forms with an interface designed to cut down on busywork. Collect information, run surveys, build onboarding documents, design beautiful landing pages and automate processes – all without any code. 
Using a free-text interface, users can choose from 27+ question fields (and counting!) to collect any information from customers and users: text, images, links, email addresses, yes/no answers, video recordings, files, even e-signatures.  Once you've got all the data you need you can sync it with Google Sheets, send it over to the CRM system of your choice, or integrate with other project management tools like Trello to help you get things done easier.
As simply as writing a document you can make your online forms from scratch or use one of Paperform's 650+ templates. You can customize colors, layouts, fonts and edit images with an Adobe integration. 
Cost: The annual pricing starts at $20/month for the basic package, with premium and agency options increasing to $40 and $135 respectively.
25. Mopinion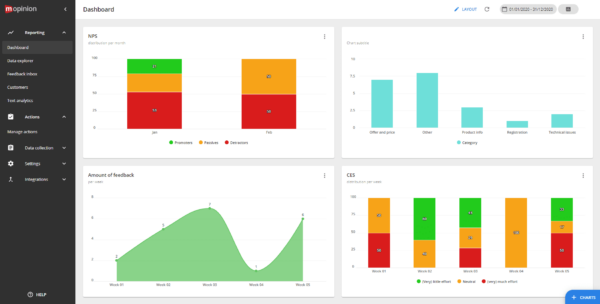 Mopinion is a software that helps you organize and follow up on feedback. As a marketer, your campaign efforts focus on on creating the best customer experience and the highest conversion rate. But data doesn't telling you everything. To really optimize your campaigns, you need direct feedback.
An all-in-one user feedback software for websites, emails and apps, Mopinion helps you to act and understand bugs, negative feedback on your content, broken images, exit-intent and more. Mopinion analytics give you full control of your feedback data with all the best data visualization and action management tools at your fingertips. Let feedback flow through your company, and make sure it's delivered from point A to point B. In addition, you can track actions, write notes, set reminders, and visualize progress. Mopinion also notifies you as soon as anything important happens through live, proactive email alerts, webhooks and notifications. Love your project management tools? Import tasks for your team members directly into apps like Jira, Trello or Asana.
Cost: Pricing starts at $229/month. To get more detailed information on pricing, you have to visit the Mopinion site. There is also a free 14-day trial that you can access right away.
26. Funnel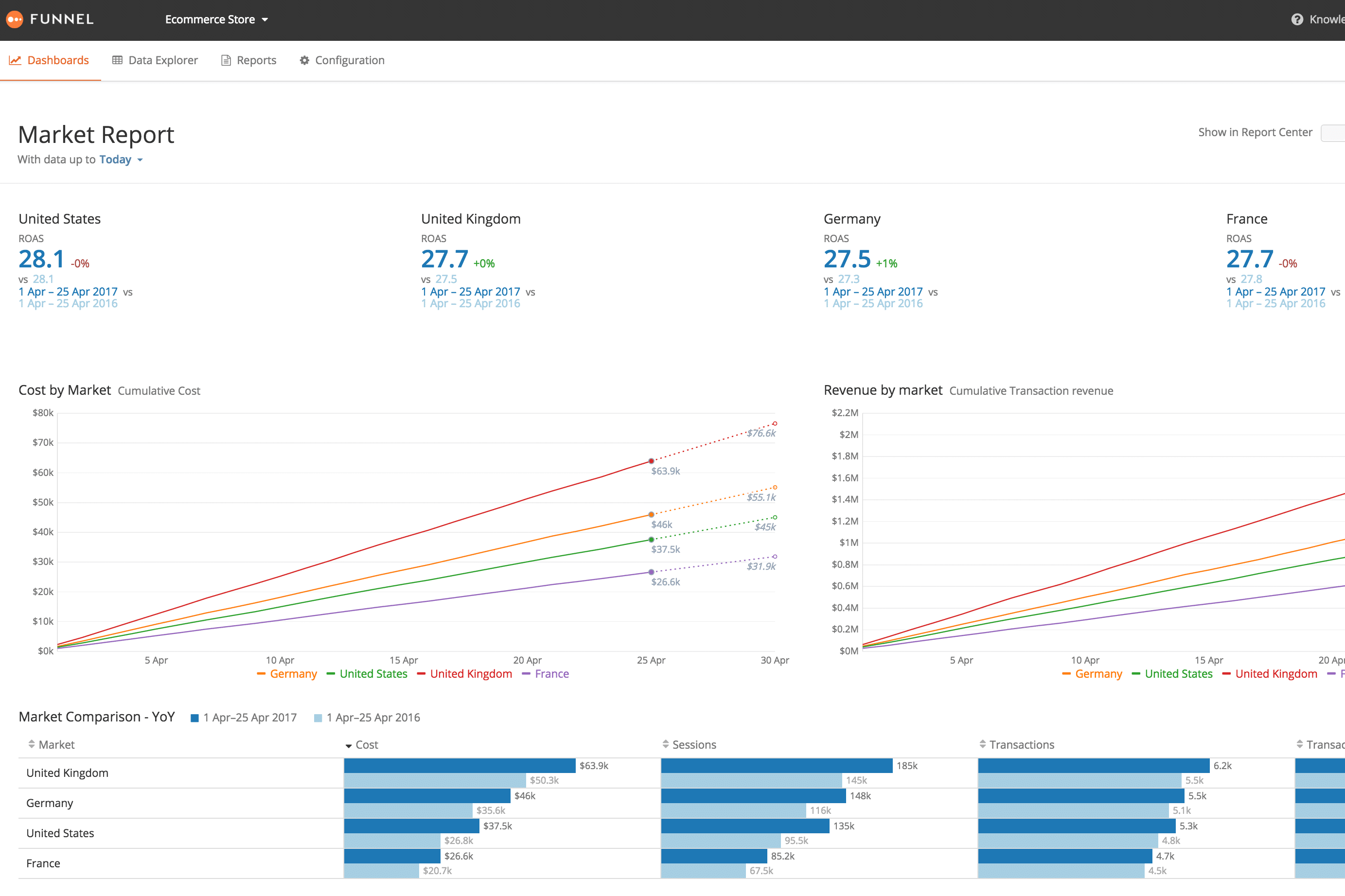 Funnel is a great marketing tool that automates the generation of "business-ready" data — it basically streamlines data sources and pulls them into one place, ideal for marketers managing multiple projects! In Funnel, you can connect over 500 data sources and generate ready-to-use data sets that can help inform marketing decisions, feedback, and overall strategy. Once you've pulled the data, you can automate reports and bring them into your favorite data visualization system.
Cost: Pricing starts at $499 per month.
27. SEMRush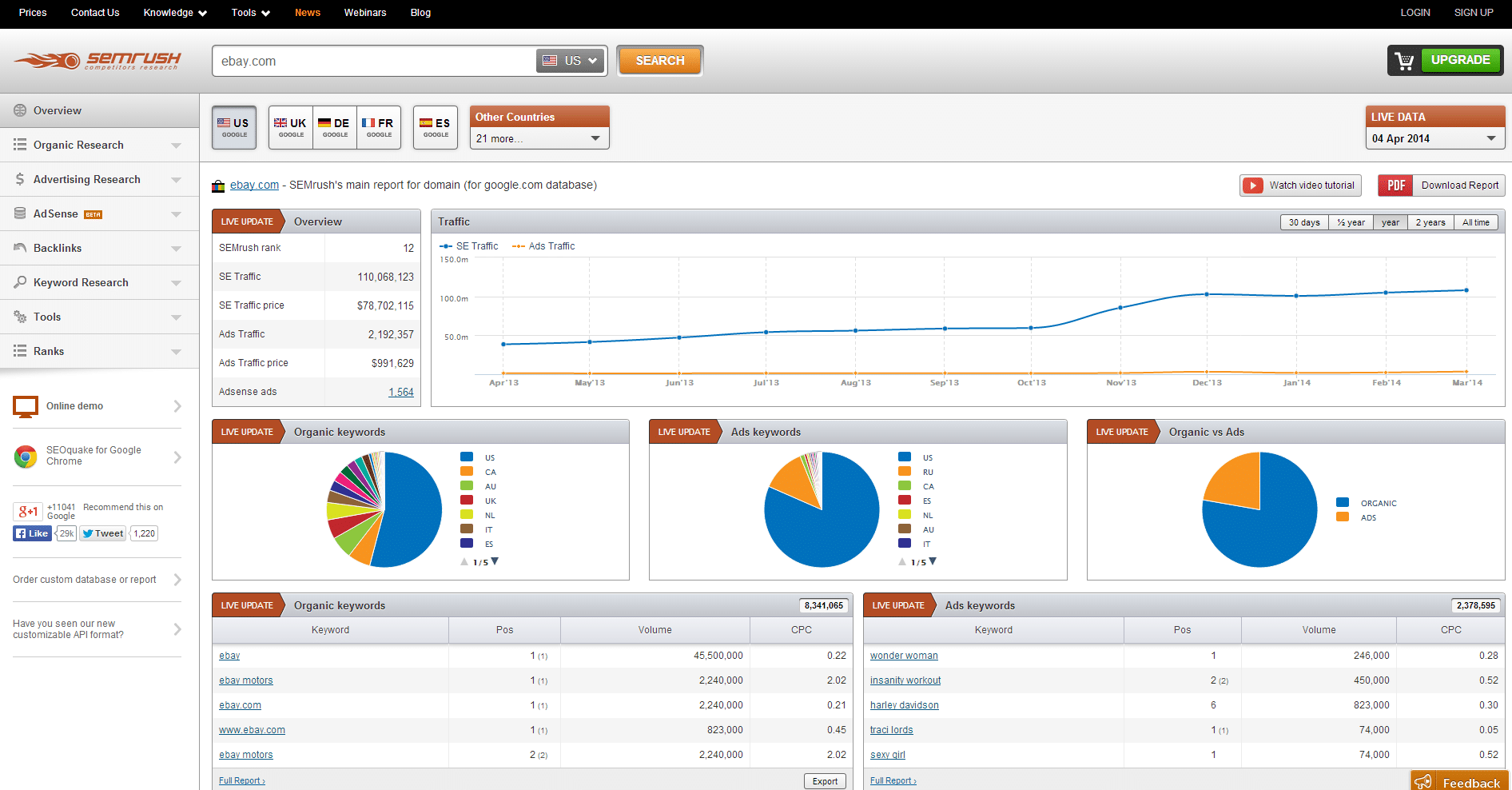 SEMRush is a must-have if you're running a website for your company, client, or business. In order to successfully market this company, you need to understand your competitive set, how you can improve overall SEO rankings (representative of how Google ranks content on its homepage) and much more. With SEMRush, you can get all of this information quickly, as well as tools like the Keyword magic tool, rankings tracker, and domain overview.
Cost: SEMRush starts at $119 per month.
28. Hopper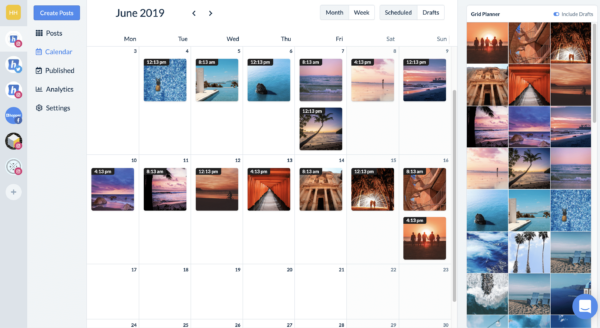 Hopper is the perfect marketing management tool when it comes to effective social media planning and analytics. It helps schedule social media posts in bulk, create drafts for upcoming posts, and use Instagram analytics to make future decisions. Knowing when to post is a key piece of your overall social media marketing strategy, and this tool can significantly improve your overall marketing management.
Some of the features that Hopper includes are the Calendar Planner, Draft Posts, Queue Postings, and more. These all help you stick to a regular social media publication schedule. The platform also allows users to upload and edit photos in bulk, include team members, and manage their overall performance from just one spot. 
Cost: You can start a 14-day free trial in the beginning and cancel whenever you want to. Alos, visit Hopper's website for more detailed information about the platform's pricing, packages, and marketing management opportunities. 
29. ProProfs Project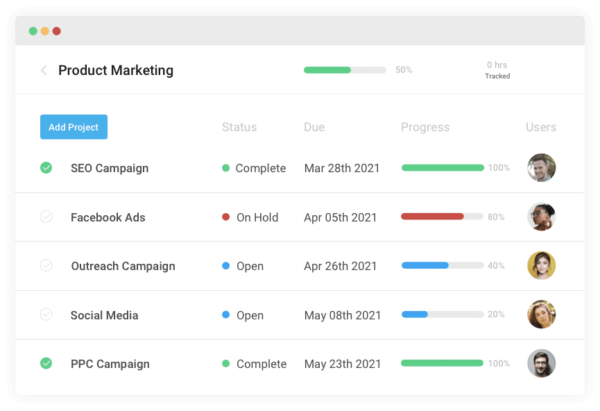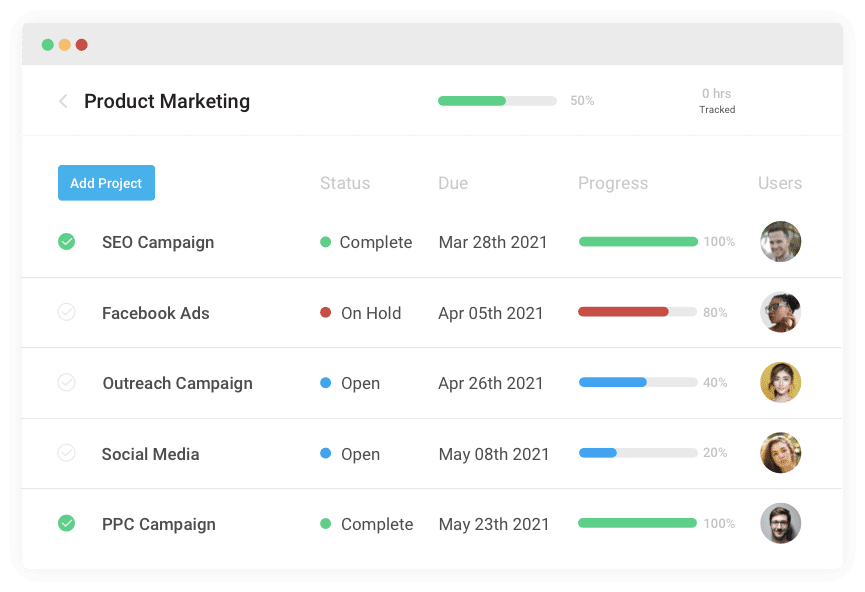 ProProfs Project offers the best features that help streamline workflows and collaborate with different departments. This software lets you monitor and improve team performance, as well as track campaign progress on multiple marketing projects. You can even share files and communicate with clients easily. Moreover, the tool helps easily generate online invoices for your clients without added hassle. Deliver high-performing campaigns using the tool's all-inclusive dashboard anytime anywhere.
Cost: ProProfs Project's Essential Plan starts at $2 per user per month and its Premium Plan starts at $4 per user per month. Both plans are billed annually. The tool also offers a free 15-day trial.
30. Aprimo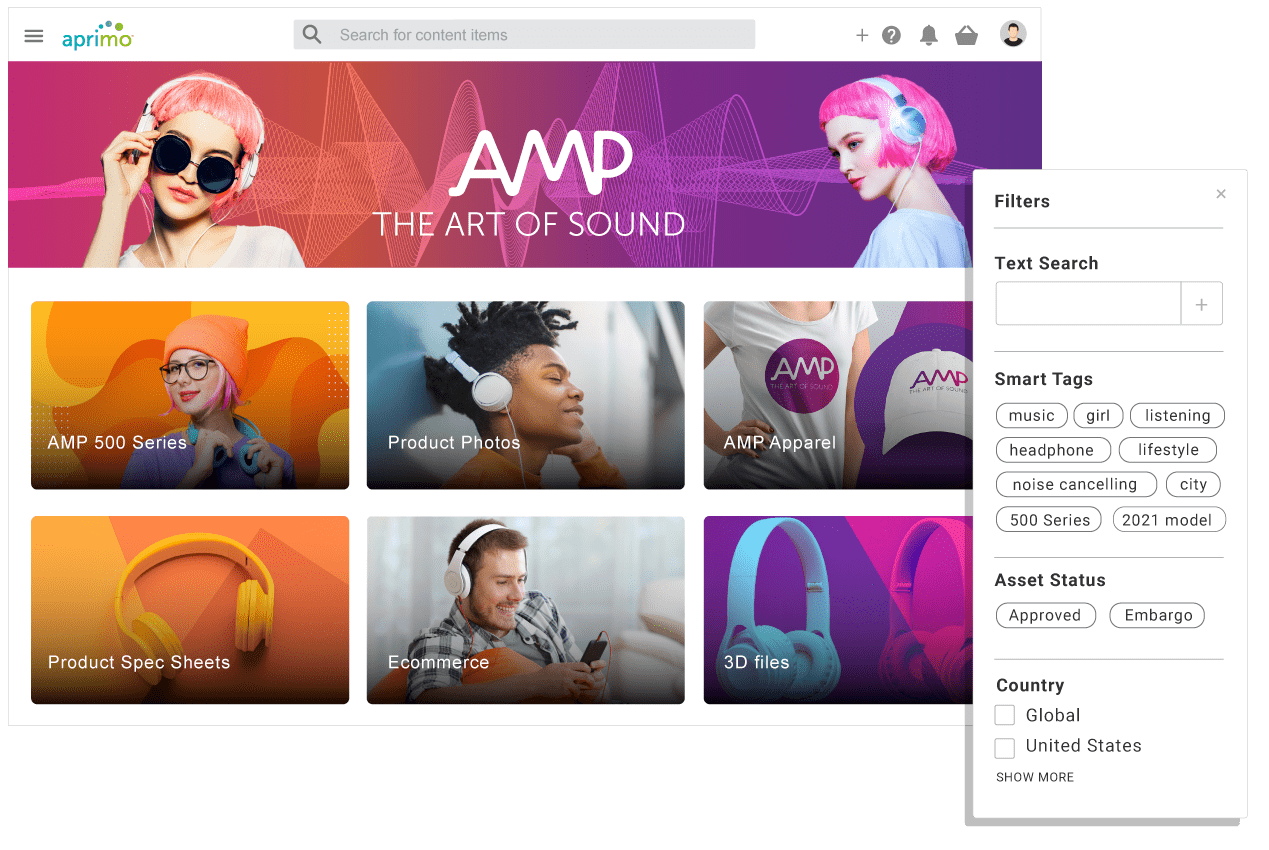 Aprimo's Digital Asset Management software helps modern marketing teams manage content planning, creation, and distribution all in one place. Specifically focused on improving content operations, Aprimo makes content and brand management simpler for teams with easy-to-use tools to organize, share, track, and maintain all of their company's media assets and digital files. It also offers integrations with many common MarTech platforms including Salesforce, Adobe, Slack and more.
Cost: Varies by integration. To get more information on pricing, visit Aprimo's website and request a demo to speak with a solutions consultant.
31. Workamajig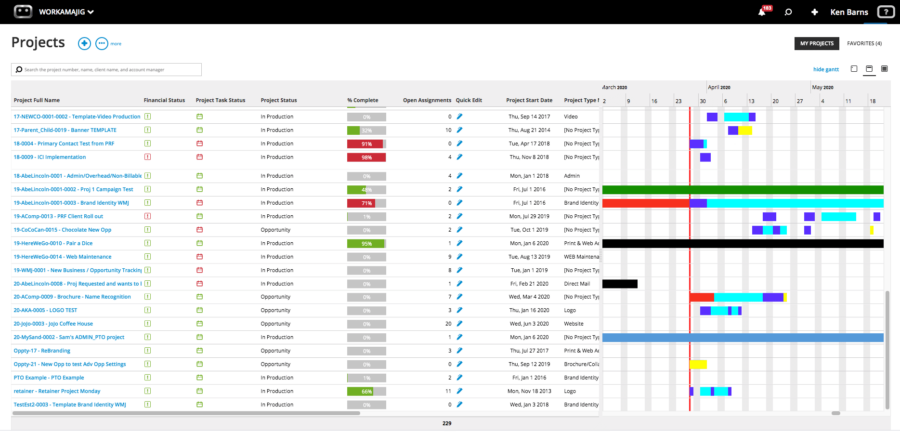 Workamajig is a marketing project management tool for campaigns that integrates in one platform your creative project work and your agency financials. Some of the software features include opportunity widget that identifies prospects in an agency's pipeline; tracks projects per retainers, time tracking, templates, integration with STRATA and SmartPlus for media billing, overall view of team availability, and more.
Cost: Workamajig plans start at $50/month/user for up to 5 users.
32. ClicData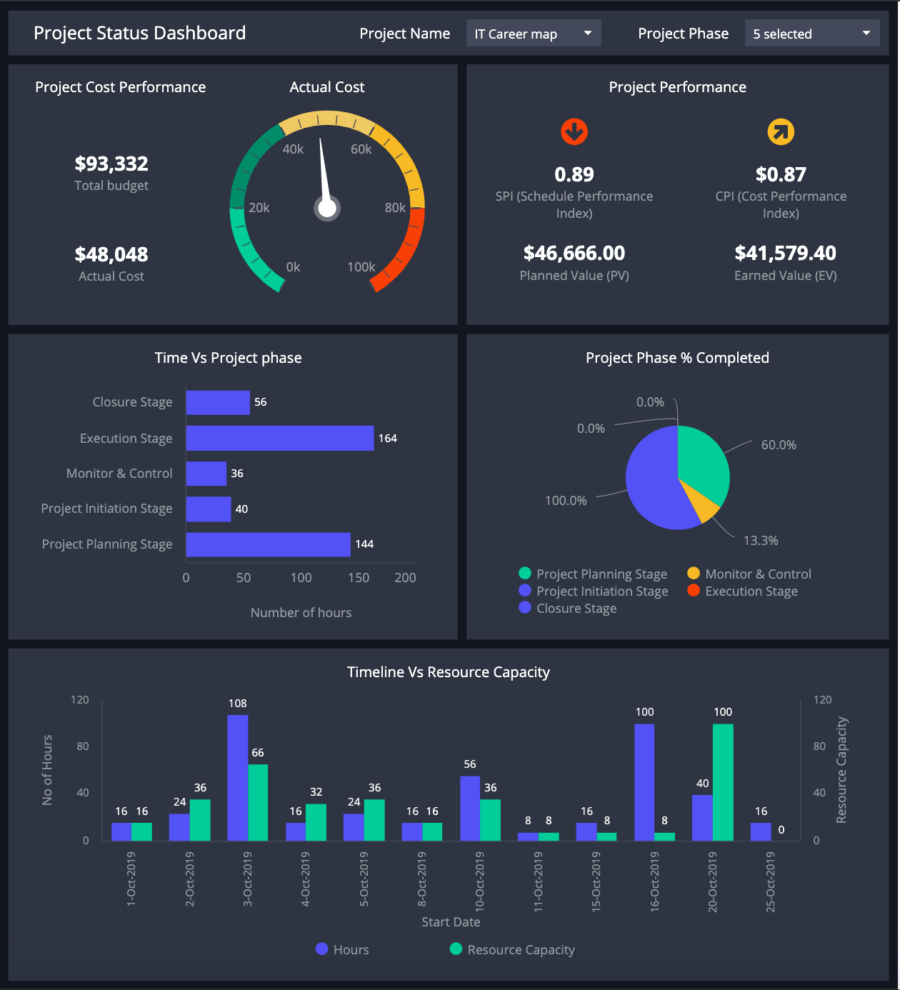 ClicData is an end-to-end Cloud Data Analytics & Business Intelligence platform that measures project performance against targets in custom and fully interactive dashboards. You can easily connect to 250+ data sources including marketing, content planning, project management, ERP, and invoicing to get the full picture of a project. ClicData also allows you to embed and white-label dashboards directly into your portal, web application or mobile app. Easily share dashboards and reports with your teams or clients using live links, PDFs, or emails for easy collaboration.
Cost: ClicData offers a 14-day free trial, and they offer personal, team and business plans depending on the size of your team. Upgrade features include native connectors to cloud applications, API integrations, and extended storage capacity.
33. nTask
nTask is a project, task and team management application that helps track and organize your company's workflow. The software has features like risk management and issue tracking to monitor risks and scope creeps that can derail a project. You have meeting management tools to coordinate agendas with your team members and clients. There are Gantt charts and Kanban boards for different views of tasks within a single interface and track the performance of the project as it develops. 
Cost: There is a free version for anyone who would like to use the software with limited features, then you have the option to access more tools starting at $3/user/month.
---
These tools barely scratch the surface of marketing project management tools that exist in the market — this list features some of the top tools in their category that have the most useful features. Rather than trying to pick a single application in the list, it's advisable to apply a combination of tools that best suit the campaign's needs at its different stages, since each tool is designed for certain types of tasks.
34. Aha! suite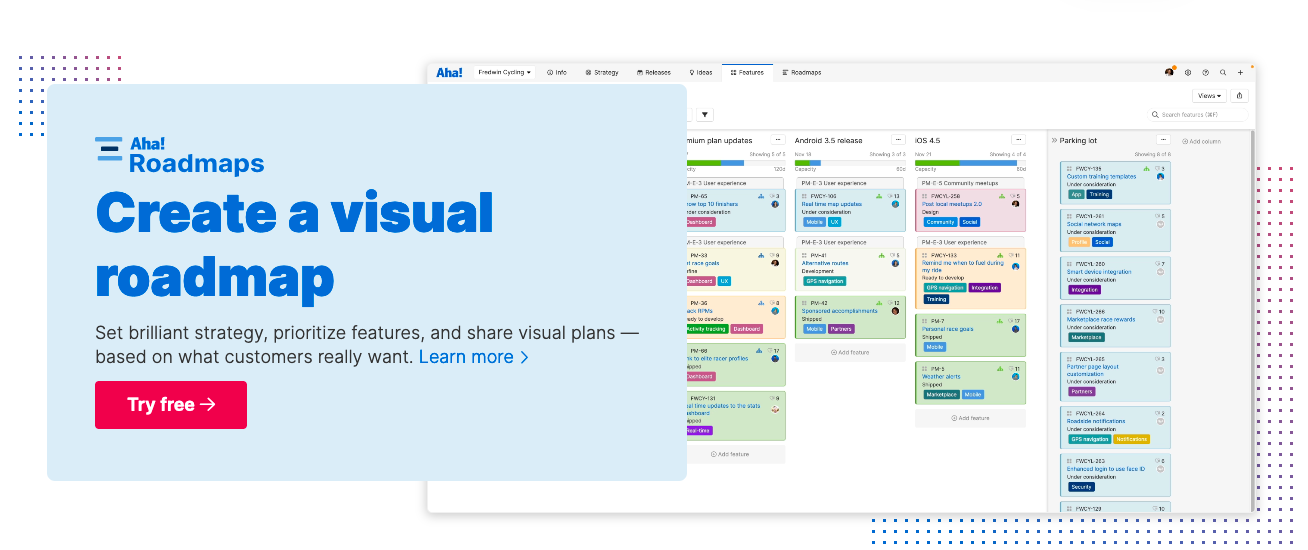 What a marketing manager wants the most is to get everyone on board when defining a strategy and executing it. Aha! suite offers a set of tools to help them to achieve just that. Aha! let's teams set a strategy, make notes, share roadmaps and track product releases while operating all stages of a marketing campaign under a unified system. 
The tool is customizable and offers great customer service while guaranteeing security first for the data shared in the platform. In Aha! Roadmaps is where you set your strategy, in Aha! Ideas you have the chance to collect customer feedback and crowdsource ideas. Don't miss any insights using Aha! Notebooks capture ideas using Aha's virtual whiteboard (they also have templates to make this process super simple). 
With Aha! Develop, your product team can choose the best methodology to work in from scrum, kanban or SAFe®. 
Cost: You can try all Aha! products for free, but there are different price ranges for each service. Aha! Roadmaps starts at $59 per user/month. Aha! Ideas starts at $39 per user/month. Aha! Notebooks and Aha! Develop starts at $9 per user/month.
If you have any other favorite tools for marketing project management, please let us know in the comments below.