Campaign management tools are essential parts of campaign execution for teams and organizations around the world. Regardless of if you're a small or large team, campaign management tools will help you work faster and ultimately make your day-to-day work much easier.
If your work intersects with the agency, marketing, or creative worlds (or you work in those fields), you know how complex and intricate the planning of campaigns can be. Campaigns are a group of actions taken to work towards a goal.
For example, your brand could launch an advertising campaign papering New York City subways, with the goal of increased brand awareness. There would be many components to that campaign, including hiring and working with a creative agency to develop the actual ad, deciding on ad copy, defining your target audience, picking where you want it to run or coordinating social media ads.
So how can you utilize campaign management tools to track all of those moving pieces?
What Is Campaign Management?
Campaign management is the process of organizing and running each step of the campaign, from planning to execution. Implementing good campaign management practices is crucial for teams to navigate the dizzying amount of work that goes into every campaign.
While every campaign is unique, most campaigns require some combination of the following steps:
Establish Campaign Objectives: Determine the goals of the campaign and how you will measure success.
Design the Campaign: Map out the flow of the campaign from development to implementation.
Plan Your Content Calendar: Decide on messages, format, and when they will be released.
Create or Source Content: Produce any content needed for the campaign.
Develop Assets: Create any additional visuals or resources needed for the campaign.
Set Up Distribution Channels: Make sure your campaign will be seen by the right people.
Monitor and Measure: Analyze performance metrics and adjust plan as needed.
Report and Refine: Report on the success of the campaign and adjust future campaigns accordingly.

The Best Campaign Management Tools
Balancing and keeping track of all of these steps necessary planning materials is hard enough, but then, when you start working on the campaign itself, you're inundated with creative assets, feedback, and deadlines. By the time the campaign actually goes live, you've spent countless hours trying to organize and streamline everything. It can be truly daunting.
Thankfully, there are a bounty of campaign management tools that can help you keep all of your materials in check, up your chance of project success, and assist you in executing a flawless campaign. To help you understand all of the options on the market, we've broken down some of our favorite campaign management tools that fall into both the free and paid categories.
We've also split the tools out into specific categories to make things a bit easier easier.
Email Tools
Email is an essential part of campaign marketing – if someone is subscribed to your email list, they're either a loyal customer or are genuinely interested in learning more about your product. Whether you keep things in house or opt to work with trustworthy email marketing agencies, how you execute email marketing strategies or advertising campaigns are critical parts of your overall brand efforts.
Below, we've rounded up some of our favorite email tools that also serve as great campaign marketing tools to help you nail your next campaign.
1. Hubspot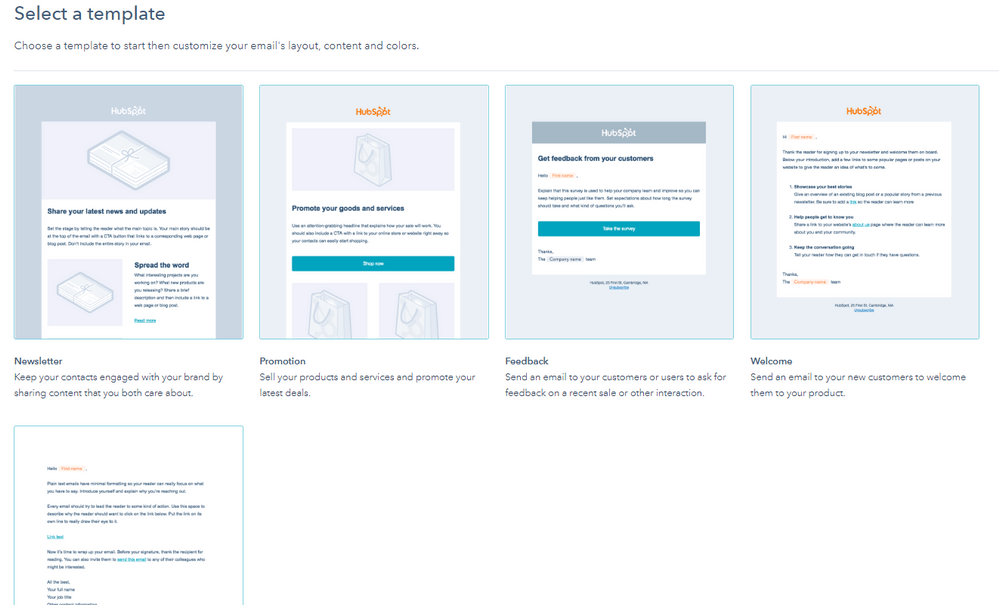 Hubspot is a at the top of our campaign management tools list because it is used by thousands of companies. Their offerings are broad, but we really love Hubspot for their straightforward email marketing capabilities. With Hubspot's email feature, you're able to design custom emails with a drag-and-drop feature (which you can also get help on from a company like Mail Bakery) and send to a designated list of contacts.
With Hubspot's email marketing, you can A/B test, include personalization in your emails, see how much revenue from your business is directly attributed to each specific email, and monitor tons of other analytics. Hubspot integrates with many other leading workplace tools you may already use, making it super easy to incorporate this tool into your existing workflow. Hubspot also features workflows, which can be used to call an email validation API or automate almost any process.
👉 Learn how you can connect your Hubspot and Hive accounts to share information seamlessly!
Cost: Hubspot has a set of free marketing tools for small teams, and prices start at $800 for larger teams who need a premium version of the software, which includes SEO and blog creation tools.
2. MailChimp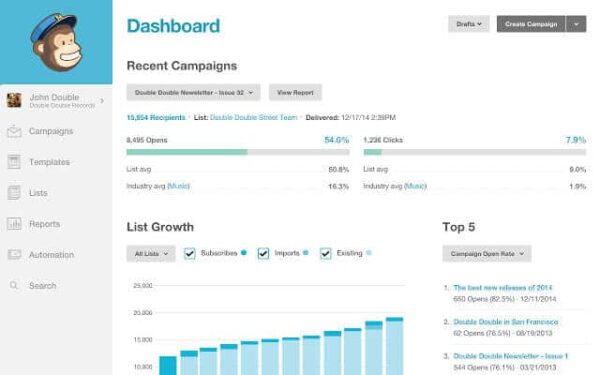 Similar to Hubspot, MailChimp is a drag-and-drop email editor that has email personalization, A/B testing, and device optimization. MailChimp also has a wide variety of templates you can use to build and design the email marketing campaigns of your dreams. The pricing of MailChimp is what really differentiates it from HubSpot — the tool starts at $30 per month for 2,500 contacts, and scales up from there.
Cost: Free plan available for sends to under 2,000 contacts. Paid starts at $30 per user per month, no set-up fee.
3. Drip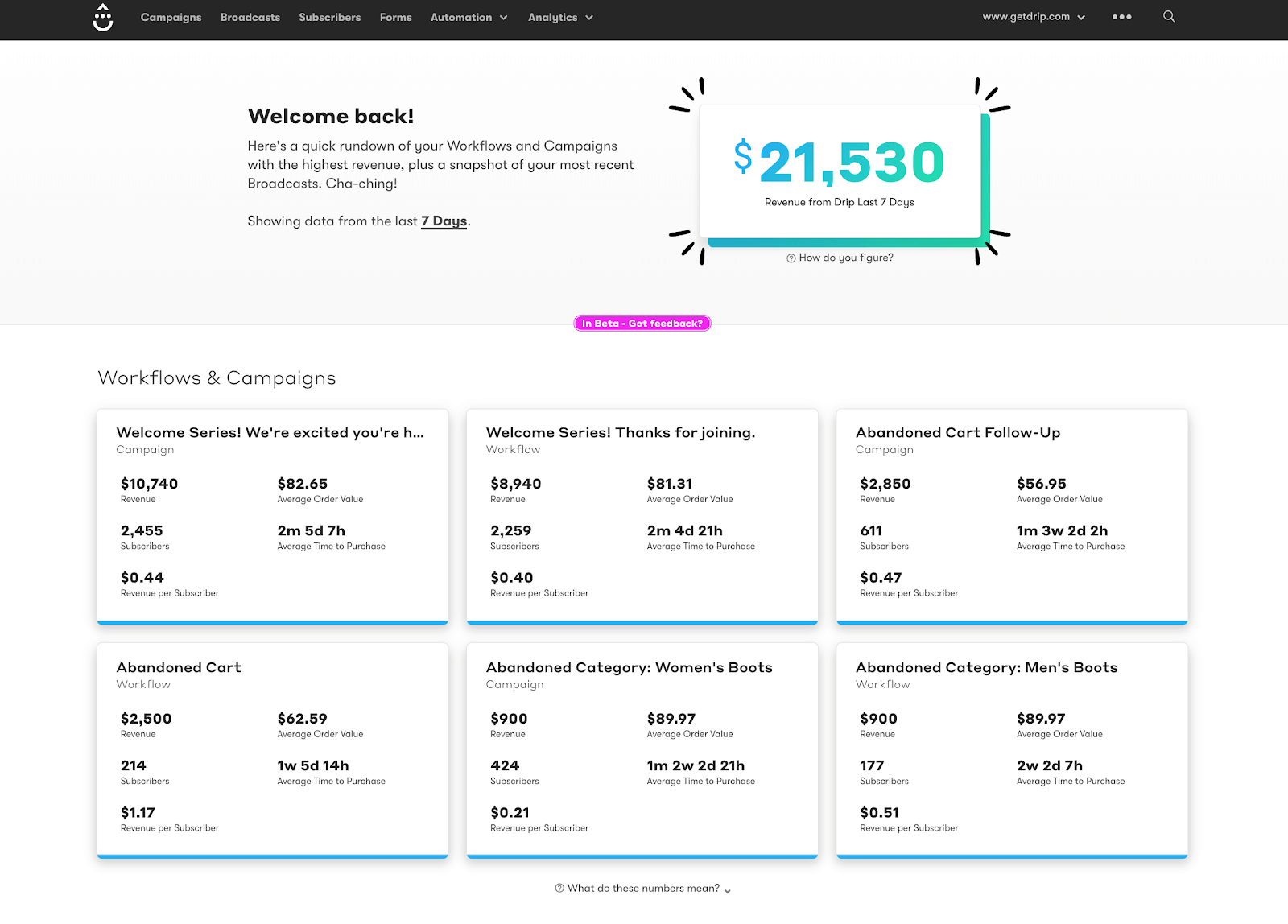 If you're in the eCommerce or DTC business, Drip is a great tool to on top of the campaign marketing tools list. The tool allows you to track exactly how someone has interacted with your brand through direct integrations to popular stores like Shopify, and use that data to inform what type of emails you send them. Their enhanced marketing automation and workflow split testing are valuable tools for brands of all sizes.
Cost: Free trial, accounts start at $49 per month
4. Constant Contact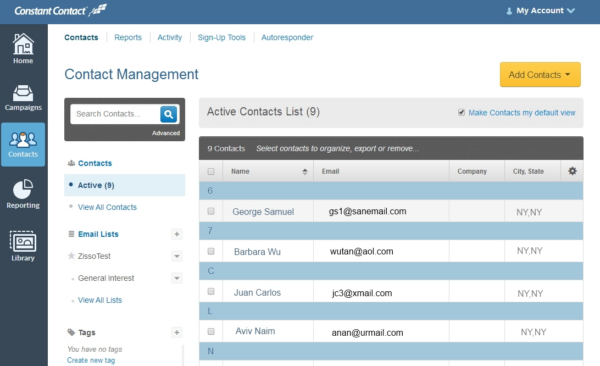 Constant Contact is a great campaign management tool to use if you're new to sending emails. The drag and drop features are insanely easy to use, which is why this is on our list for best campaign management tools. With Constant Contact, you can segment emails, utilize powerful list building tools to organize a mass email, set up welcome emails, and send triggered email series. You can also use this tool to schedule social media posts.
Cost: Constant Contact starts at $20 per month.
5. Snovio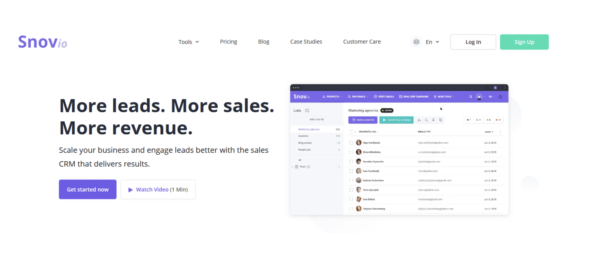 Snov.io is an all-in-one cold outreach automation platform that lets you take full control over your lead generation and sales organization processes, helping you to contact prospect you are interested in with a highly personalized message at a right time. With a wide range of email outreach tools and features, from email finding and verification to building complex email sequences, you can streamline your cold email outreach efforts and scale your business.
With Snov.io you can easily:
Find single and bulk email addresses

Check an email list for validity

Send highly personalized triggered email messages

Optimize cold email subject lines

Automate follow-ups

Track engagement

Research competitors, and many more
Use this marketing and sales automation tool to fill the sales funnel way faster and reduce the campaign's cost-per-lead.
Cost: Forever free plan. Paid plans start at $33/month.
6 . EmailOctopus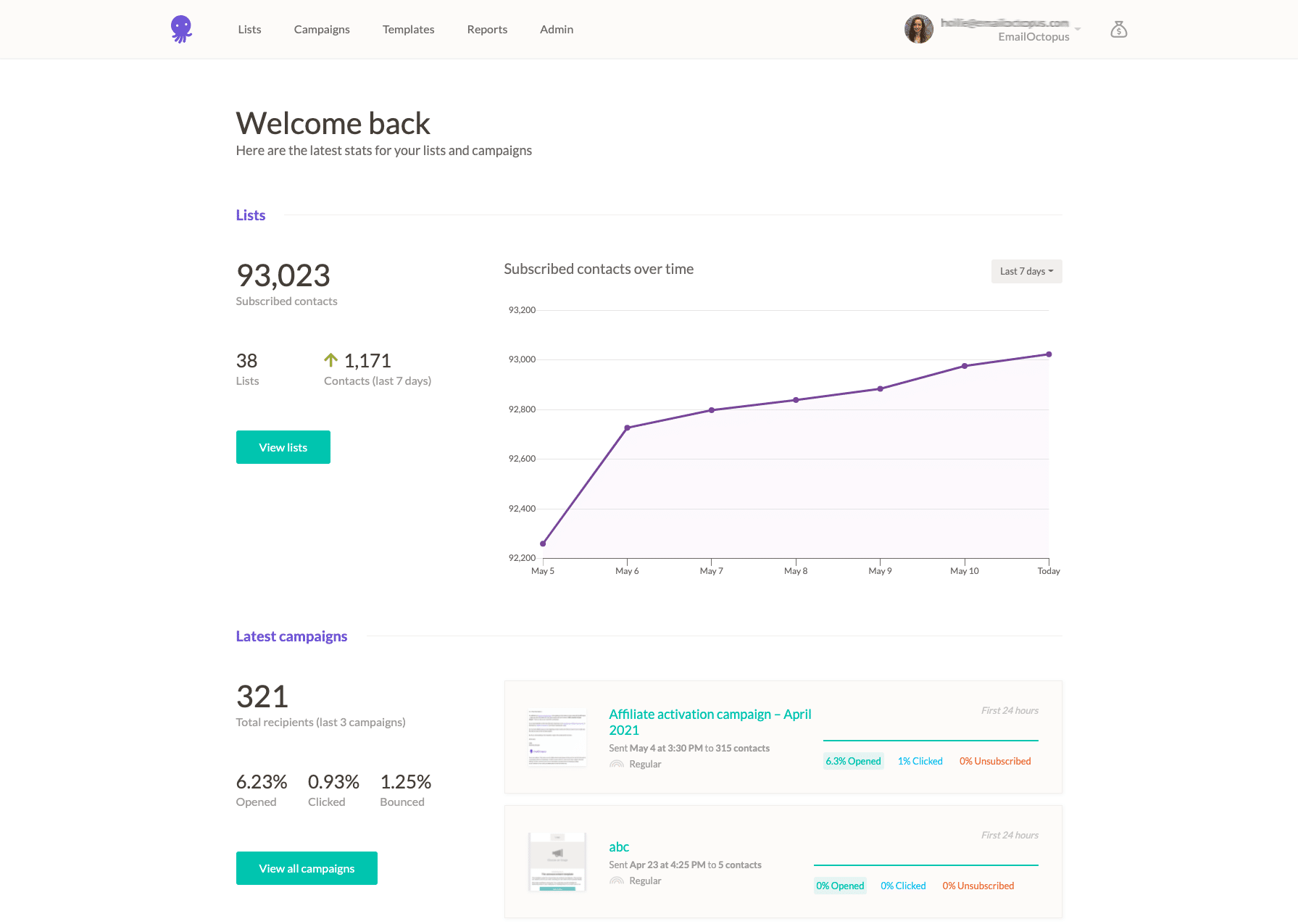 EmailOctopus is a really great choice if you want to focus purely on email campaign management. It comes with all the tools you need to create beautiful campaigns, including an easy-to-use email editor and a library of templates. Plus, there's an automation feature for setting up time-based autoresponders like welcome emails and onboarding sequences.
You can also segment your mailing list into groups using custom fields and recent campaign activity to send more targeted campaigns to the right people. Using a bulk email sender like this is a great way to save time while still connecting with all of your future customers and potential leads.
Cost: EmailOctopus offers a generous free plan for up to 2,500 subscribers with prices starting from just $24/month for larger lists.
7. Encharge
Designed specifically for startups and digital businesses, Encharge is a powerful email marketing automation tool that is a must-have for campaign marketing. Encharge gives you the flexibility of creating segments of your target users and designing their customer journey and experience through its robust visual flow builder. It easily integrates with the best-in-class apps so you can bring in external user live data and easily automate tasks.
Because of its unique flow builder, you can also go beyond email when you convert, onboard, or retain customers through the integrated apps. The tool also allows you to monitor your users' activity, gives analytics on every email you send, lets you A/B test, conducts lead scoring, and personalizes your messaging with dynamic content.
Cost: Free trial then $49 per month for up to 2000 users.
8. NotifyVisitors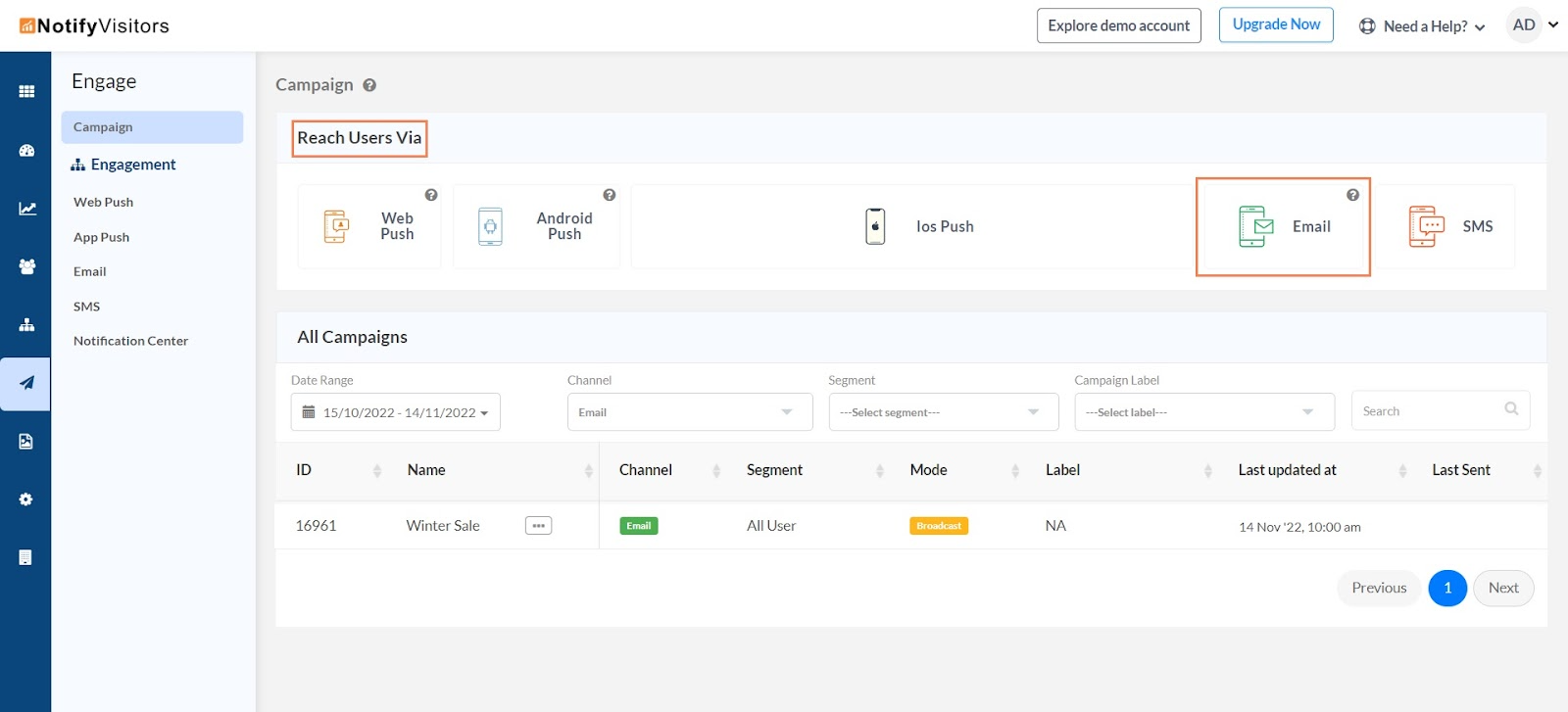 NotifyVisitors is a powerful email marketing tool for a successful email campaign. It features multiple email list segmentation capabilities, allowing you to send personalized emails based on customer preferences and interests.
Find opportunities to optimize your messages with its advanced real-time analytics system. As soon as you hit the send button you can check who opened, clicked and which emails got ignored or bounced, allowing you to quickly come up with follow-ups, review senders, format and language — making your messaging as effective as possible.
With its comprehensive suite of email marketing tools, NotifyVisitors helps you communicate with your customers on a more meaningful level
Cost: Free plan is available. Paid plan starts at 60$ per month.
9. ActiveCampaign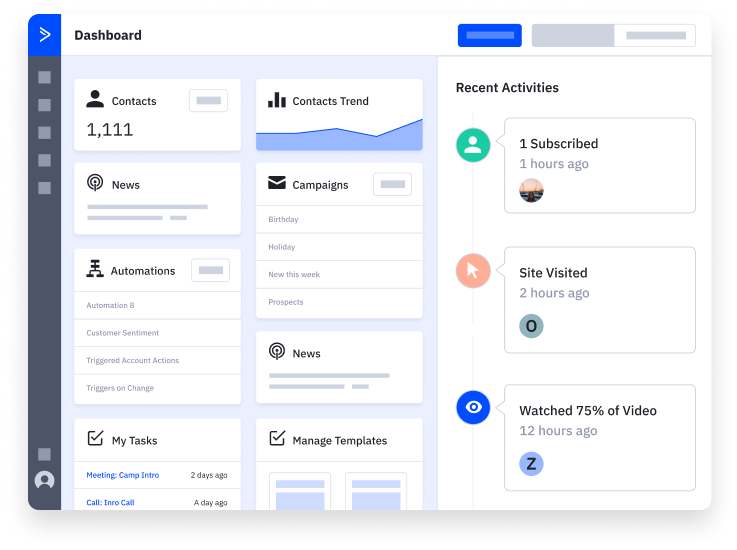 ActiveCampaign stands out for its powerful blend of email marketing, CRM, and sales automation. Their comprehensive platform helps businesses design, automate, and optimize email marketing campaigns while tracking customer behaviors and adapting strategies accordingly.
ActiveCampaign's AI-driven features further elevate its offerings, enabling businesses to predict content preferences and tailor messages accordingly. Plus, with its easy-to-use email designer and multi-channel marketing support, your campaigns can reach customers wherever they prefer.
Cost: Free trial available. Plans start from $29/month.
Project Management Tools
Project management tools are absolutely crucial throughout the campaign planning process, and an addition to our campaign planning tools list. They provide a central hub for all assets, communication, approvals and documents to live in, and act like an archive for all completed tasks related to the project. If you're feeling overwhelmed by your to-do list and want improved organization, we'd highly recommend looking into a project management tool for your team.
10. Hive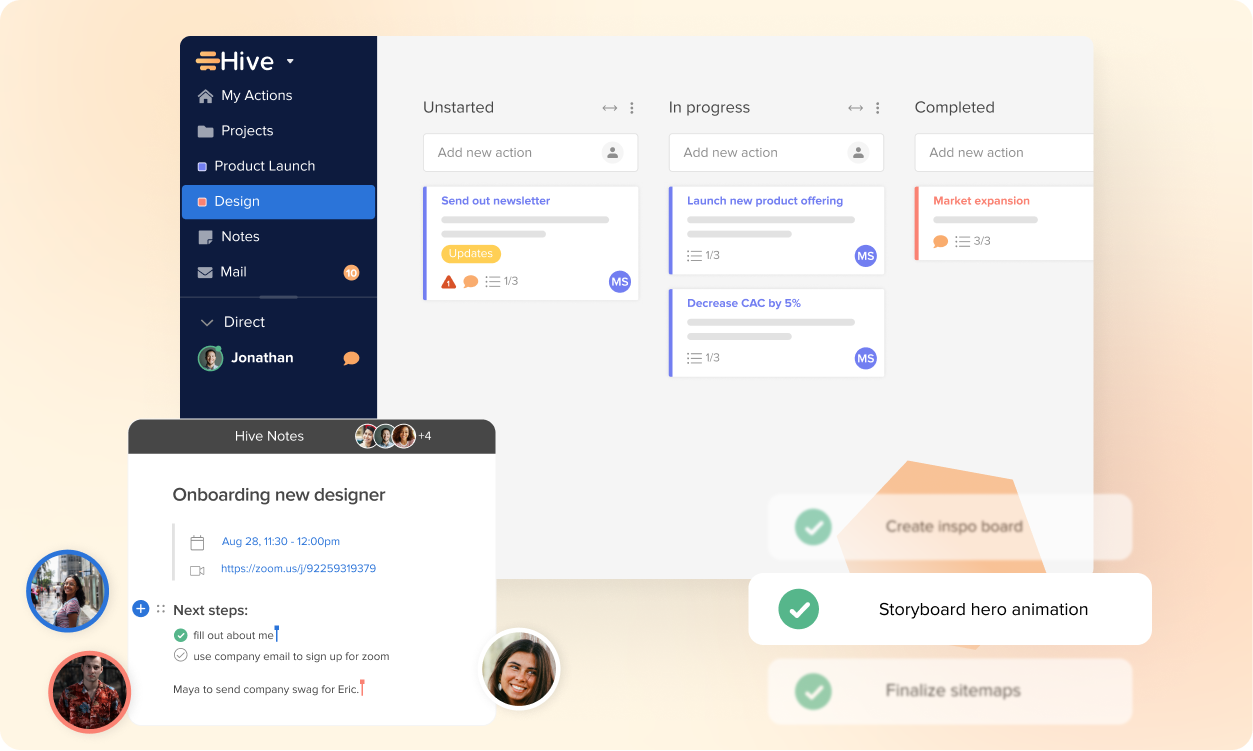 Hive is a comprehensive all-in-one project and campaign management tool – the only tool you need to open in the morning to get your work done. Hive takes project management to the next level with native chat, native email, over 1,000 integrations and flexible project views, which include Gantt, Kanban, calendar, portfolio and table view.
The building blocks of Hive are action cards, which exist inside of larger projects. Inside these action cards, teams can upload files, provide feedback with proofing and approvals, tag each other, or provide general commentary. Teams at all-star companies like Starbucks, Uber, and Google work in Hive. Here you can learn more about the app's full list of features.
👉 Did you know that Hive just made Capterra's list of top 9 project management platforms in the world? Get started for free today to see why Hive scored 100 out of 100 in popularity among its customers – the highest score of all tools on the market. It's the only project management platform built for users, by users.
Cost: Free 14-day trial. Hive Teams pricing starts at $12 per user per month.

11. Trello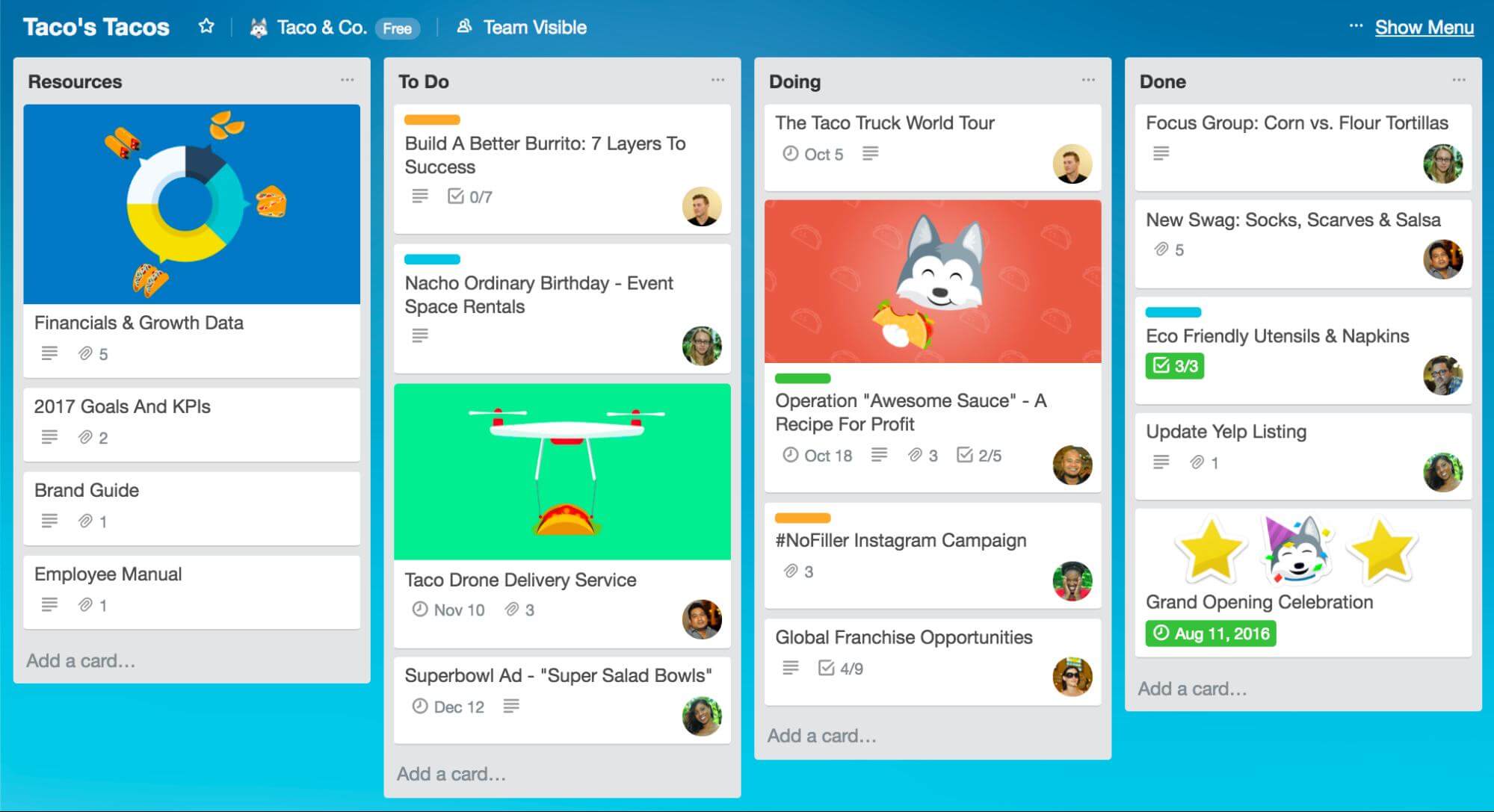 Trello is a great option for small teams or individuals looking to utilize a simple project management tool. The tool is Kanban board-based, which is a project management methodology started by an industrial engineer in the 40s. Cards are the basics of Trello, which you can organize into different phases on the board.
You can also color-code and attach images or files to the cards, and invite team members to collaborate on a board with you for a more interactive experience. One major negative with Trello is that each board only corresponds to one project, so if you want to create two bigger projects, you need to make two boards.
Cost: Free for basic, or $9.99 per user for Business Class monthly
12. Todoist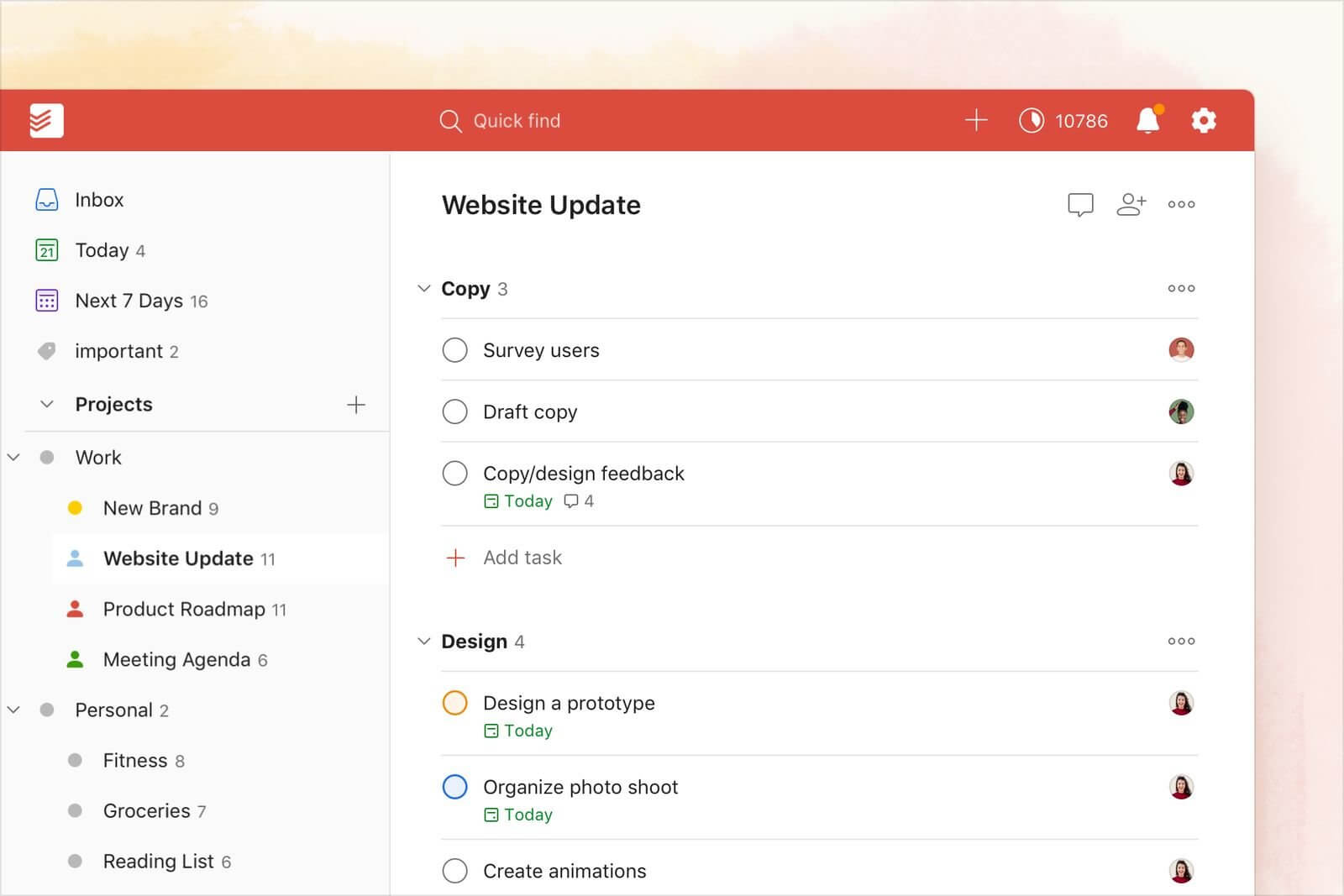 Todoist is one of the simplest productivity apps that allows you to group tasks together based on projects, and you can filter by tags, which you can color code.
A favorite Todoist feature is its "Karma." Karma is basically its way of game-ifying productivity so you keep using the app. It assigns points to tasks you complete and other things you do in the app. View your Karma in the top, right-hand corner of your app.
Cost: Todoist is free for basic, personal accounts and supports up to 80 active projects and five people per project. The premium version, which offers extra features and more projects/people, is $28.99 per year.
13. Asana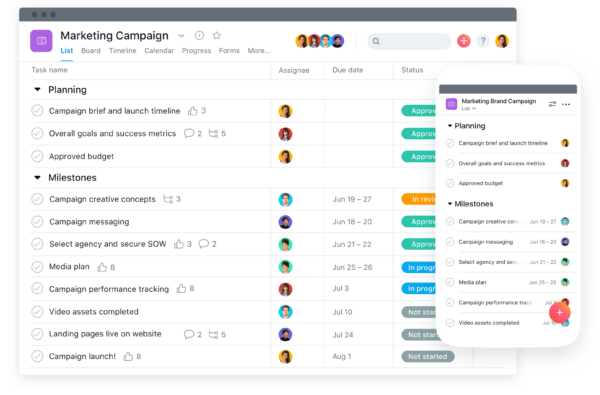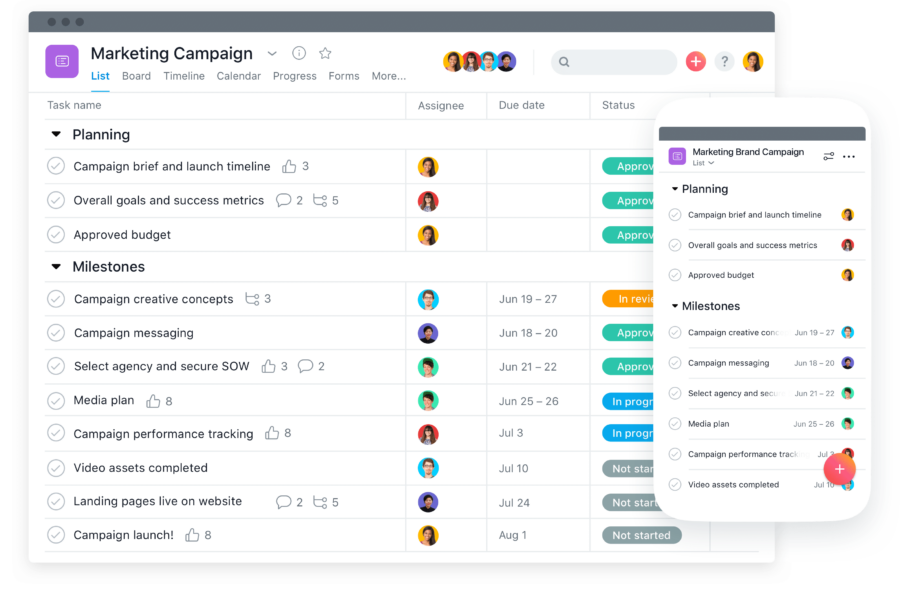 Asana is a leading project management system created by one of Facebook's founders, and easily ranks among the top visually appealing project management tools. Used by creatives and teams all over the world, Asana's dynamic format and design keeps users engaged and active in the platform. Asana helps people and teams increase overall accountability and improve communication.
Cost: Pricing starts at $10.99 per month when billed annually.
14. Casual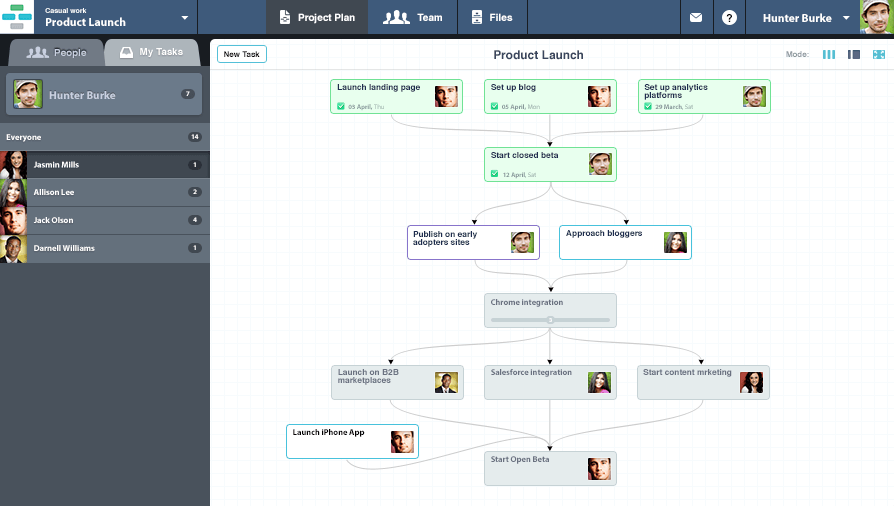 Casual is a unique project and campaign management tool that helps team visualize tasks and ideas into easy-to-understand workflows. This tool works well for people who are new to the project management scene and want a simple, visual tool. Some of Casual's other features include sub-processes, templates, milestone measurement, and deliverable tracking.
Cost: Pricing starts at $9 a month for up to 2 users.
15. Quorum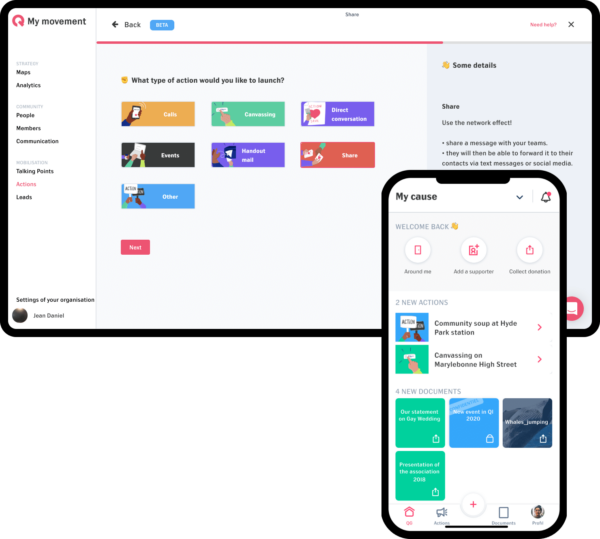 Quorum is a campaigning tool built to help campaigns, NGOs, political parties, and unions organize their teams and actions on the ground. In other words, it helps them organize and engage their community of supporters. Quorum is also used by corporations planning to launch powerful and targeted campaigns locally or on the field and that wish to manage teams of local ambassadors.
The web platform and mobile app help push information and actions to local ambassadors, centralize the information collected by the ambassadors on the field and, for the most advanced campaign, target priority areas in the field based on geoprofile function in Quorum.
Cost: Free demo upon request, starts from $65/month.
16. Newoldstamp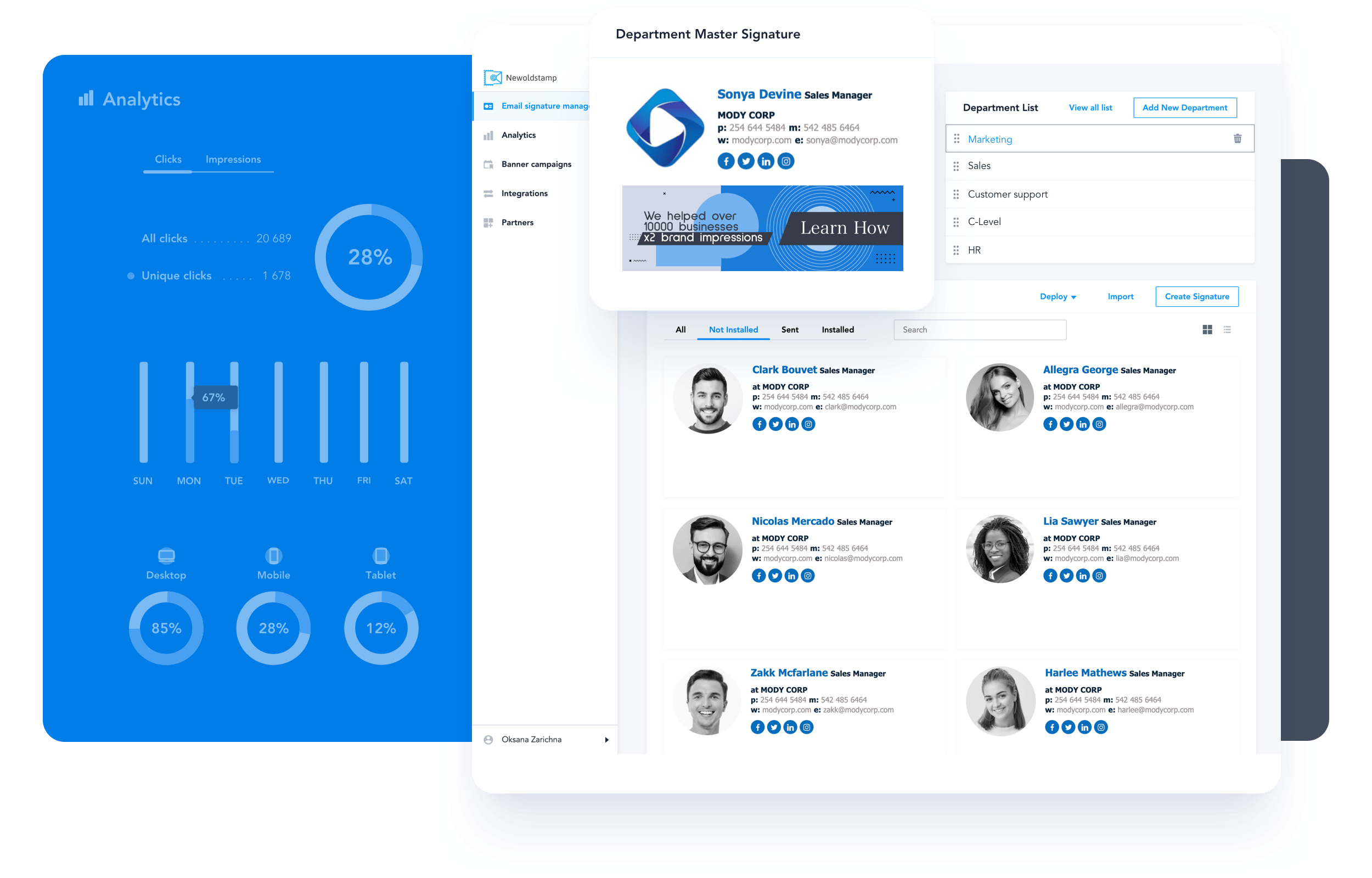 Newoldstamp helps you promote your company using email signature marketing. Personalize calls-to-action in every email sent by your team to increase brand awareness and improve CTR rates. Your email outreach can rise with this type of marketing, leading to more leads for the business as a whole!
When it comes to features, with the email Signatures Central Management, you have complete control over the company email signatures. You can request a custom generator that will be tailored to your requirements. Your email signature marketing campaigns are fully branded and include features like centralized dashboard management.
Cost: The price of the package is based on how many employees you have, starting from $6.
CRM Tools
CRM (customer relationship management) tools are an essential part of every campaign and work as key campaign management tools. Not only do they centralize customer information and help align sales and marketing teams – they're ideal for maintaining the customer relationship throughout the campaign lifecycle. They also generally help keep the sales cycle running smoothly, which is important, since sales are usually the end goal of every campaign.
Here are a few of our favorite CRM tools on the market.
17. Salesforce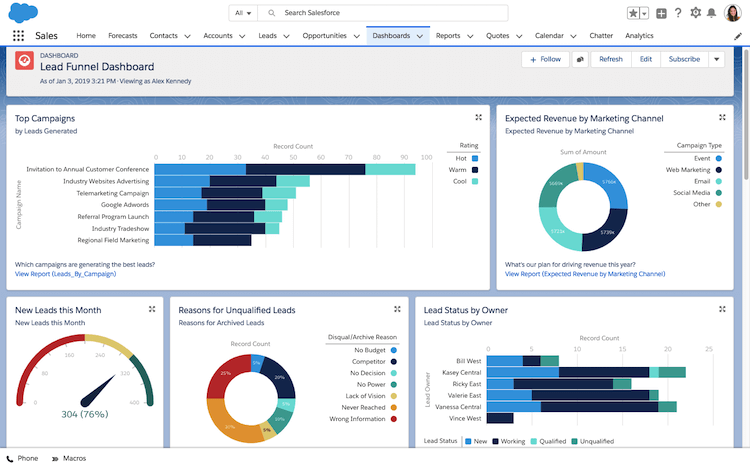 Broadly speaking, this powerhouse company provides an array of CRM, marketing automation, and analytics tools. Before Salesforce was founded in 1999, companies often had to build their own CRM tools in-house which was expensive and time consuming.
Salesforce outsourced that process, and exists on a cloud that anyone can access. The tool is very customizable and can be used for many things, including tracking lifecycle leads and customer journeys throughout a campaign. Using a tool like Salesforce also helps address successes or any issues you're running into during the campaign so you can make the necessary tweaks.
Cost: The cost of Salesforce starts at $25 per user per month for use by teams of 10, and goes up from there to $300 per user per month.
18. BIGContacts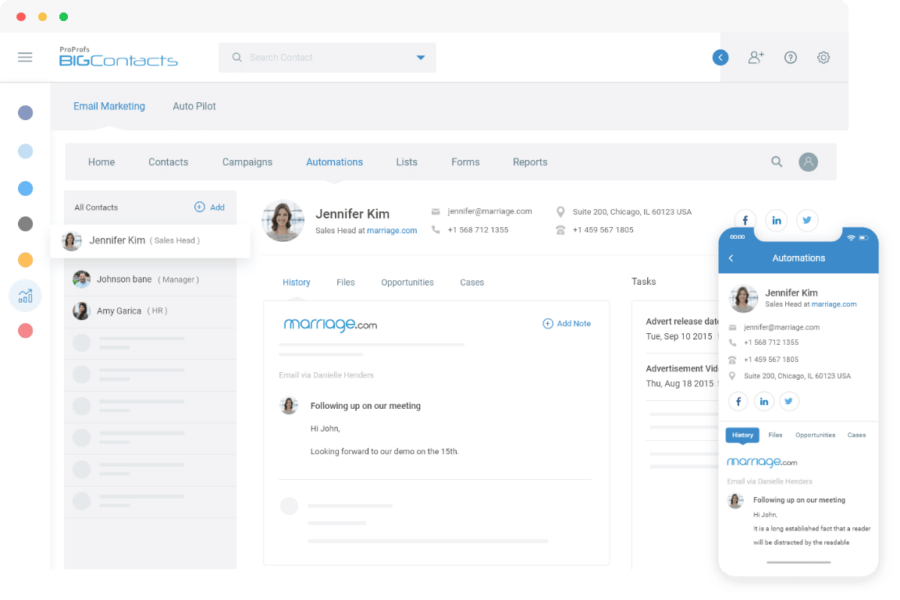 BIGContacts CRM offers a comprehensive range of business solutions, including contact management, pipeline tracking, and marketing automation. It allows you to track all tasks, contacts, and emails in one place, helping boost overall productivity and manage campaigns seamlessly. You can use BIGContacts to craft automated email sequences based on customer journeys and preferences.
The tool lets you generate reports to stay updated with business performance and make better decisions. Moreover, it integrates with various solutions including Emma, Mailchimp (as well as some of the best Mailchimp alternatives) Active Campaign, and more. BIGContacts can also help schedule automated reminders, so you never miss important deadlines.
Cost: BIGContacts offers plans ranging from $5/user/month to $25/user/month, based on the required functionality. A custom-priced enterprise plan is also available.
19. EngageBay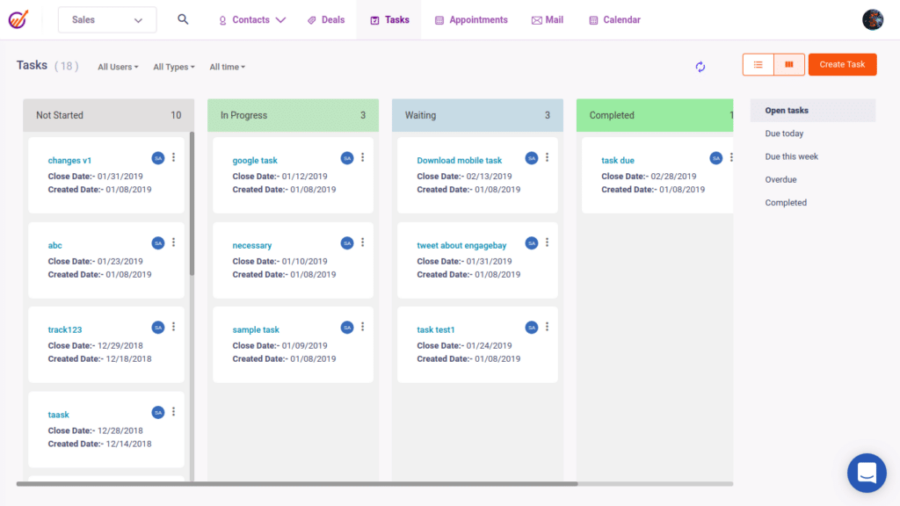 The EngageBay CRM tool is designed specifically for small businesses and startups. It's a great option for those who are just starting out and need something that's easy to use and affordable. One of the best features of EngageBay is that it integrates with many other tools, including G Suite, Zapier, and social media.
EngageBay is an interesting all-in-one CRM tool that provides a lot of value for the price. It offers lead management, email marketing, event management, SMS marketing and many other features that can be used to improve your campaign performance. It's also considered to be one of the best push notification services.
Cost: There is a free-forever plan with limited but essential features, and monthly pricing for the other plans ranges from $12.99 to $99, depending on the features you need.
20. Streak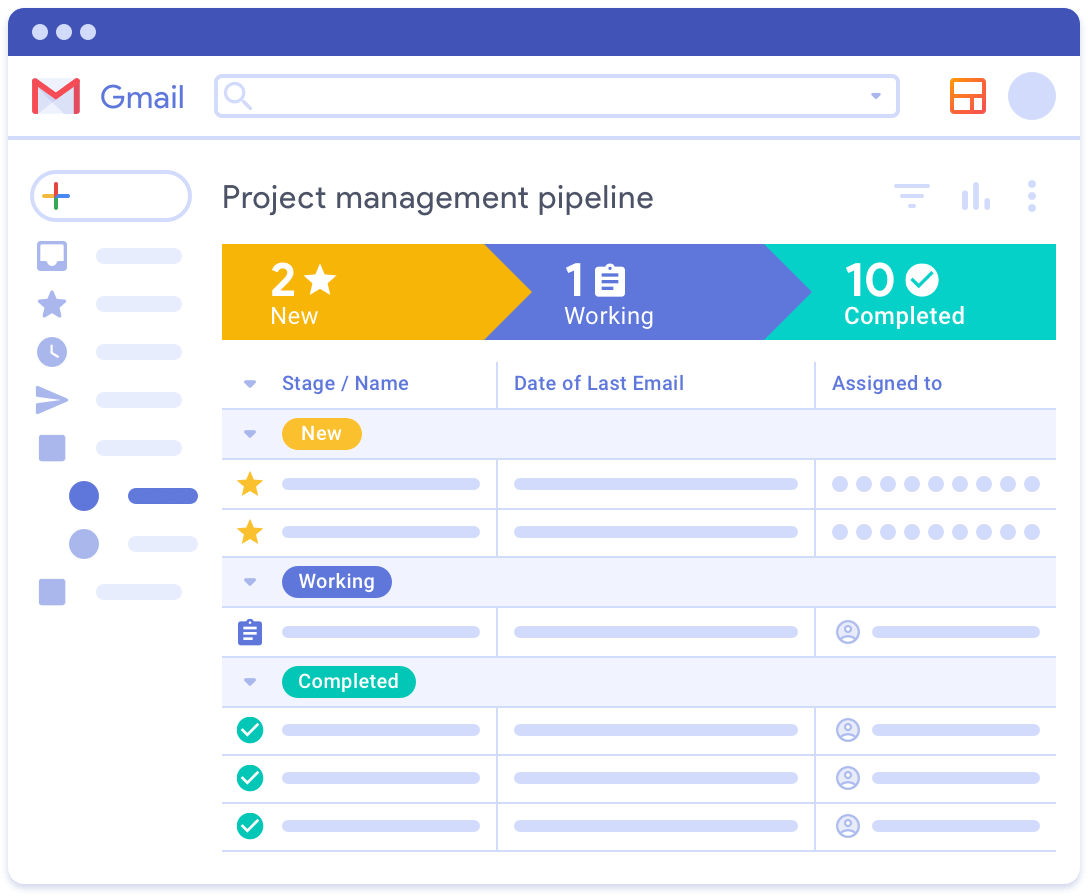 We like Streak as a CRM and campaign management tool because it's front and center in your inbox — it actually brings your leads into your email and automatically captures data from emails. You can customize your flow however you want, or you could use one of the app's "flavors" or templates.
On top of the CRM, you get email tracking, mail merge, reminders, scheduling, and many more features that makes it easy to plan and track the leads that have come through a campaign.
Cost: You can track up to 200 emails per month for free, or pay a premium of $49 or $99 per month for more features and usage.
21. Zoho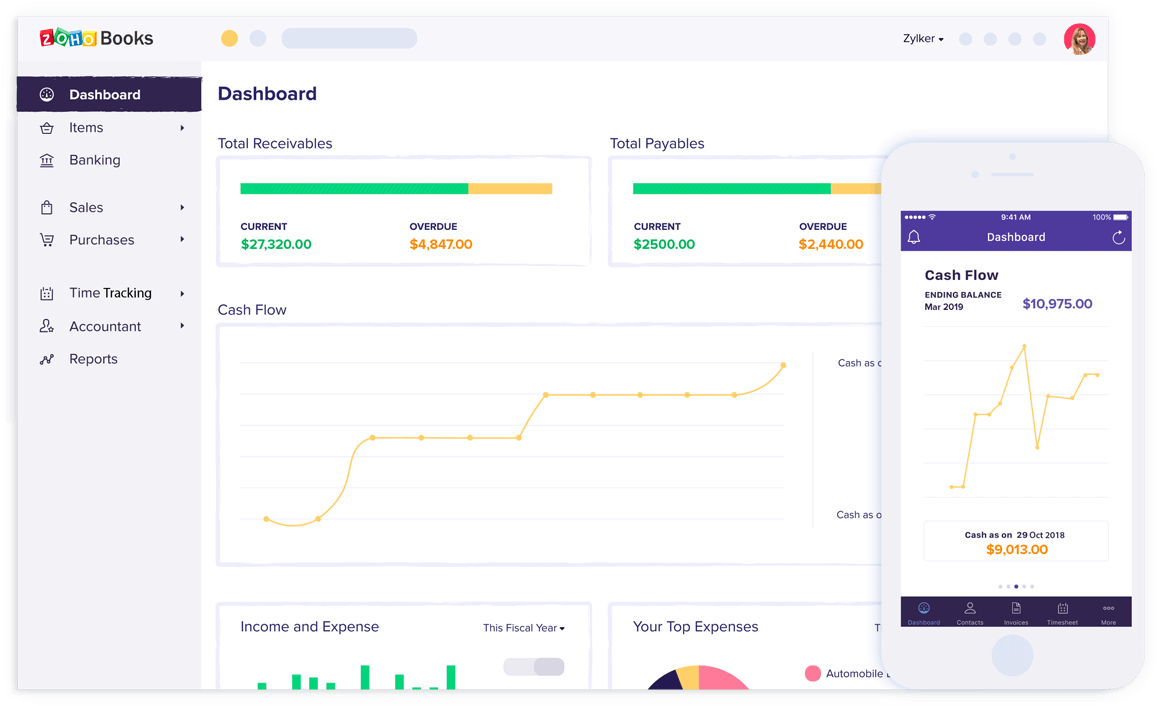 Zoho is another great web-based CRM option that is great for lead tracking, purchase control and pipeline management. This tool automates sales tasks, including leads, prospects and account management, and also easily connects to Google Apps, MailChimp, Microsoft Outlook, and Quick Books.
Cost: Starts at $12 per user per month, and goes up to $35 per users per month.
Analytics Tools
If you've gone through the entire process of organizing and executing a campaign, it's imperative that you utilize campaign management tools in the analytics bucket to measure success. There are thousands of different metrics you can use, so having a tool to help you parse through them all makes everything much easier. Below, find a few of our favorite campaign management tools that fall into the analytics category.
22. Google Analytics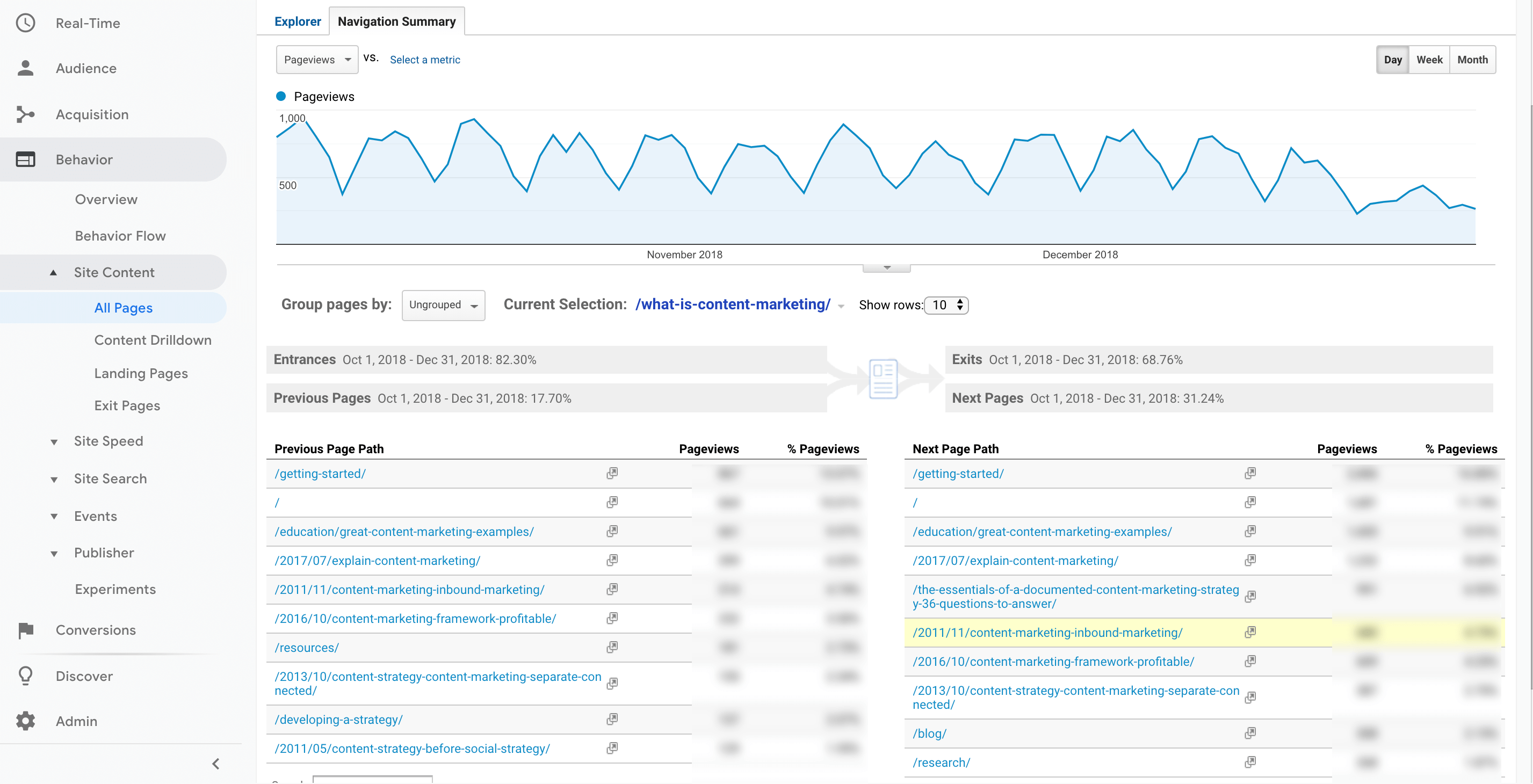 Google Analytics is a basic marketing and analytics tool that is absolutely necessary for businesses who have a digital presence. After you've hooked your website up to Google Analytics, you can easily track visitors and parse in a variety of ways, including by if they're new users, their source, and if they've made a purchase.
Custom dashboards are a great way to save views for individual campaigns.
Cost: Free, premium enterprise starting at $150,000
23. SE Ranking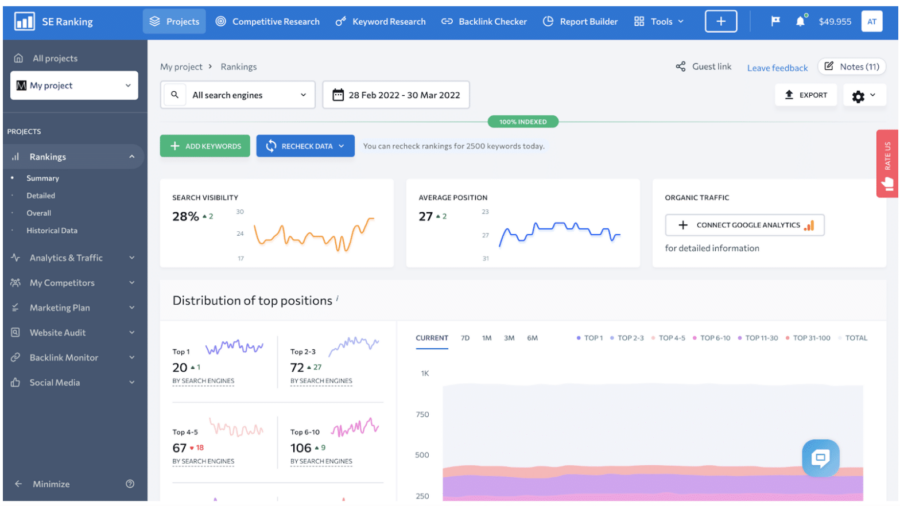 A perfect campaign management tool is one where you can complete all tasks in one dashboard. SE Ranking is an easy-to-use SEO platform that includes all needed tools for digital marketers to run strategic SEO campaigns and increase search presence. Staying on top of the latest Google ranking factors is complicated, but this tool will make sure your content doesn't fall through the cracks.
Simply start a new project and review your website's current ranking positions, find your target keywords, see the state of your competition, and check your technical optimization regarding page speed, broken links, and other issues. SE Ranking also offers white-label reports to track your progress and measure results.
On top of that, you can connect Google Analytics and Google Search Console in the SE Ranking dashboard to ​​get insights about organic traffic to see and evaluate the full picture of your SEO campaign.
Cost: SE Ranking's paid plans start from $39/month for one user and go up to $189/month for up to 10 users + White Label.
24. Acoustic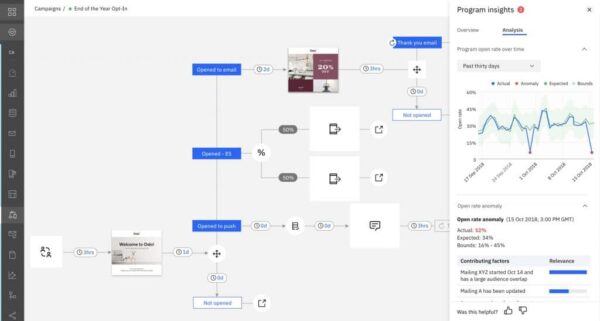 Acoustic is a great campaign management tool because it allows you to break down audience and program insights in an accessible and east-to-digest way. With their Acoustic Campaign offering, you can build out campaigns in the tool itself corresponding to a seasonal or quarterly launch. Plus, the in-app analytics make it easy to assess how well you've done and alter the program should you need.
Cost: Acoustic doesn't list their prices publicly.
25. Domo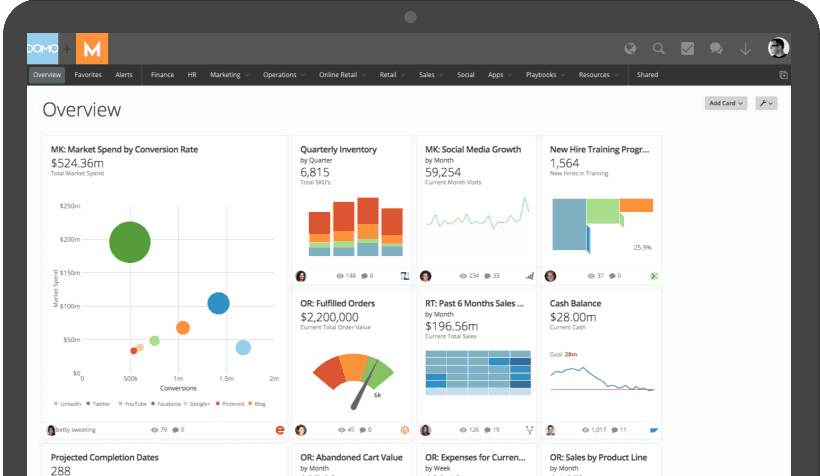 Domo is a comprehensive analytics and data visualization tool that can quickly provide valuable business insights. With this tool, you can connect data from over 1,000 sources and parse through a variety of apps that can be custom coded.
Think of Domo as Google Analytics on steroids — a fully customizable dashboard with all of your business' data that can help you make informed campaign adjustments and decisions. Domo is also available for mobile, so you can garner insights on-the-go.
Cost: Pricing starts at $95 per user per month for 5 users.
26. Crazy Egg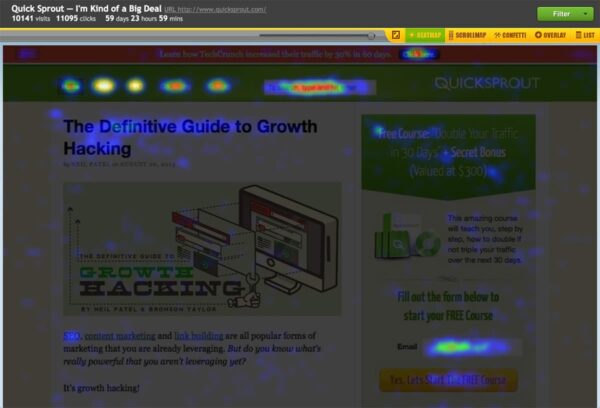 Crazy Egg is a great tool for teams looking to get enhanced insight into how people are interacting with their website. With this tool, you can view heat maps of your website to see where people are clicking and how users are converting over time.
With Crazy Egg, you can use their 30 day trial by simply inputting your site details and generating and generating quick website heatmaps. These can help you understand the basics of how your site is functioning, which is crucial for anyone who is running campaigns and hoping to optimize landing pages as much as possible. To learn about other website analytics tools specifically, check out this broader list by Leadfeeder.
Cost: Crazy Egg's basic version starts at $24 per month.
27. Mixpanel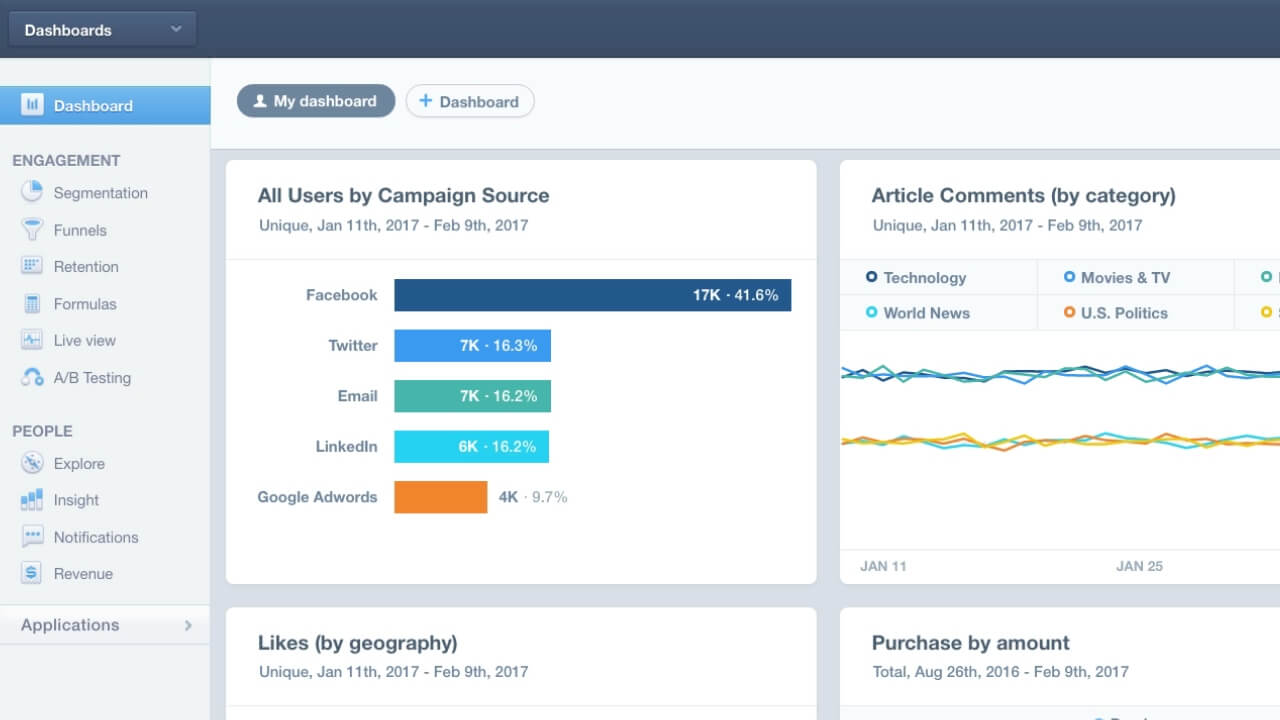 Mixpanel is a website analytics tool that is focused on event tracking, rather than page view tracking, which is what Google Analytics is based on. Events can be a range of things, including purchases, button click, or a video view. Aside from that major difference with Google Analytics, Mixpanel can also process data at an increased speed.
You can also use Mixpanel to build in-app customer messages and push notifications, which can be valuable if you're mobile-app focused.
Cost: There's a basic free version, and more advanced versions start at $89 per month.
28. DataFeedWatch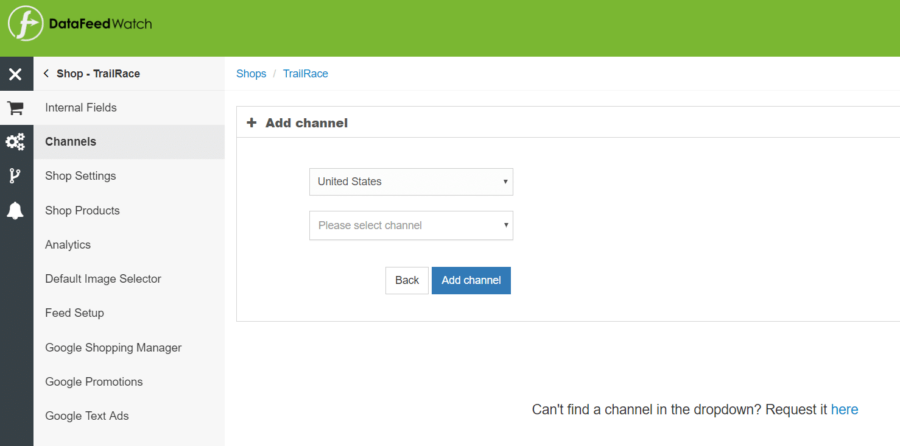 If you work with an eCommerce business, it's crucial to stay on top of eCommerce trends and use that knowledge to run ad campaigns across multiple channels. Optimized product feeds are the foundation to any successful PPC campaign — but how do you keep track of all of this data to optimize campaigns in the first place?
With DataFeedWatch you can create fully optimized product feeds based on your existing data and then send them to the channels like Google, Facebook, Instagram, and more. It's a perfect eCommerce monitoring and tracking tool to manage the performance of thousands of products across multiple channels.
Cost: Pricing plans begin at $59/month for up to 1000 products and scale up from there.
29. Databox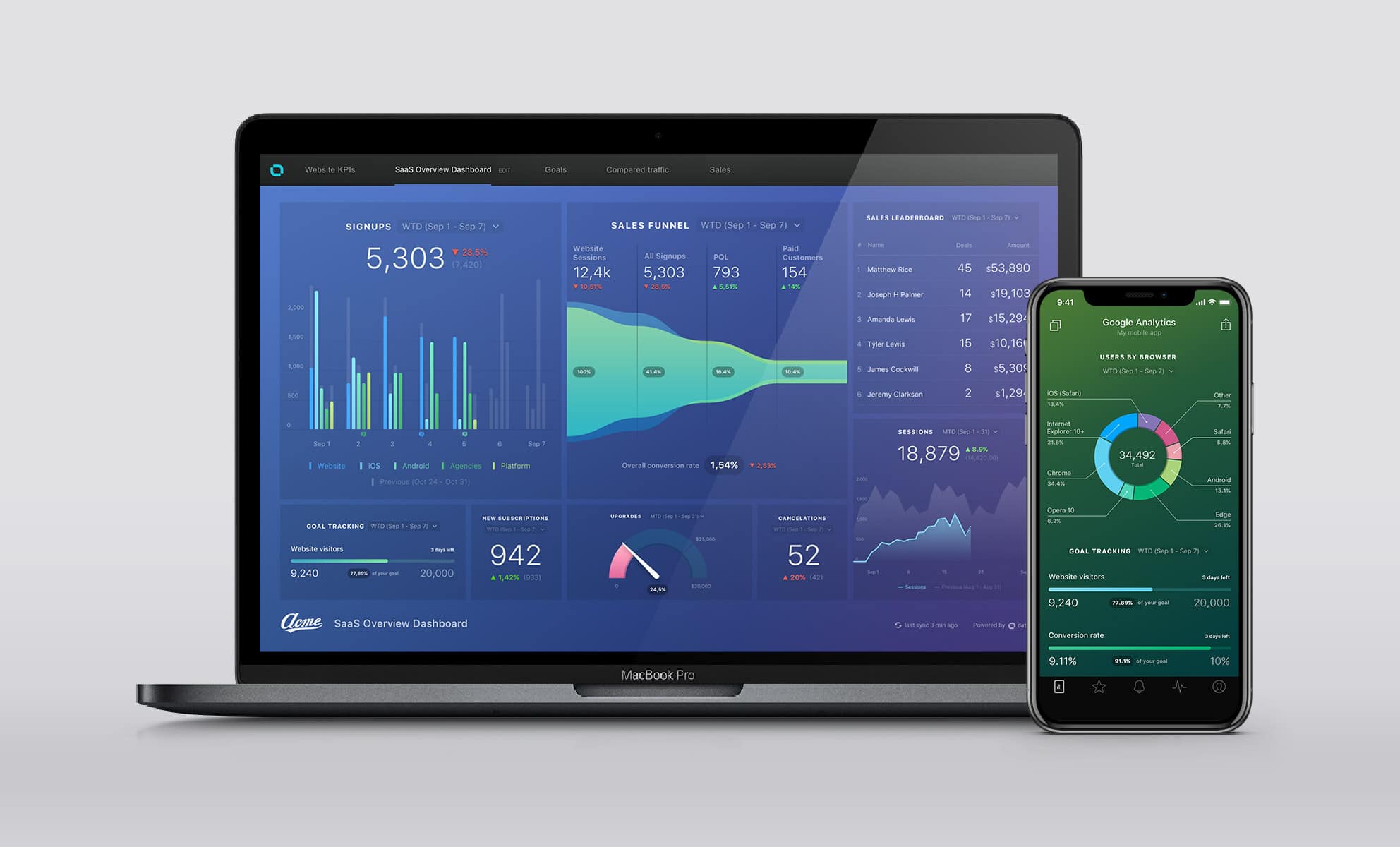 Databox is a business analytics software built to give your entire team and stakeholders real-time access to performance data. With over 70 integrations, 300+ prebuilt report templates, and an exhaustive list of useful features, such as scheduled report snapshots, KPI alerts, KPI scorecards, and KPI calculations, to name a few, this powerful tool saves you time on analysis and reporting.
Cost: Databox offers both a freemium plan and paid plan. Paid plans start at $72/month for 5 users.
30. DashThis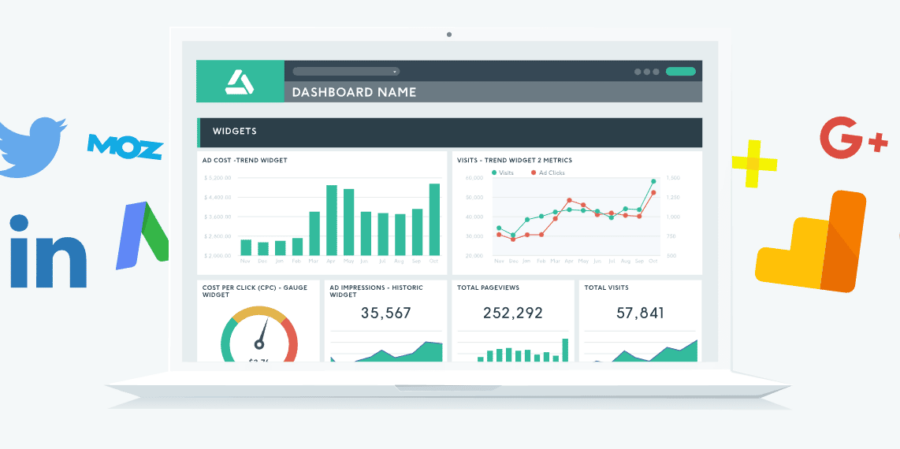 DashThis is a marketing analytics dashboard tool that makes it easier for teams to track KPIs. You can create a dashboard, generate a shareable link, and allow your team to have a single source of truth to check on all marketing campaigns & KPIs in one place.
It has native integrations with popular marketing tools across every major channel. For example, Ahrefs, Semrush, Google Ads, Facebook Ads, Mailchimp, and more.
It has a bunch of ready-made templates that make it quick to get started, and the drag-and-drop UI makes it easy to customize.
Cost: DashThis plans start from $33/month (paid annually), or $39/month (paid monthly) for 3 dashboards. Pricing scales up for more features, and more dashboards.
31. Magento 2 Advanced Reports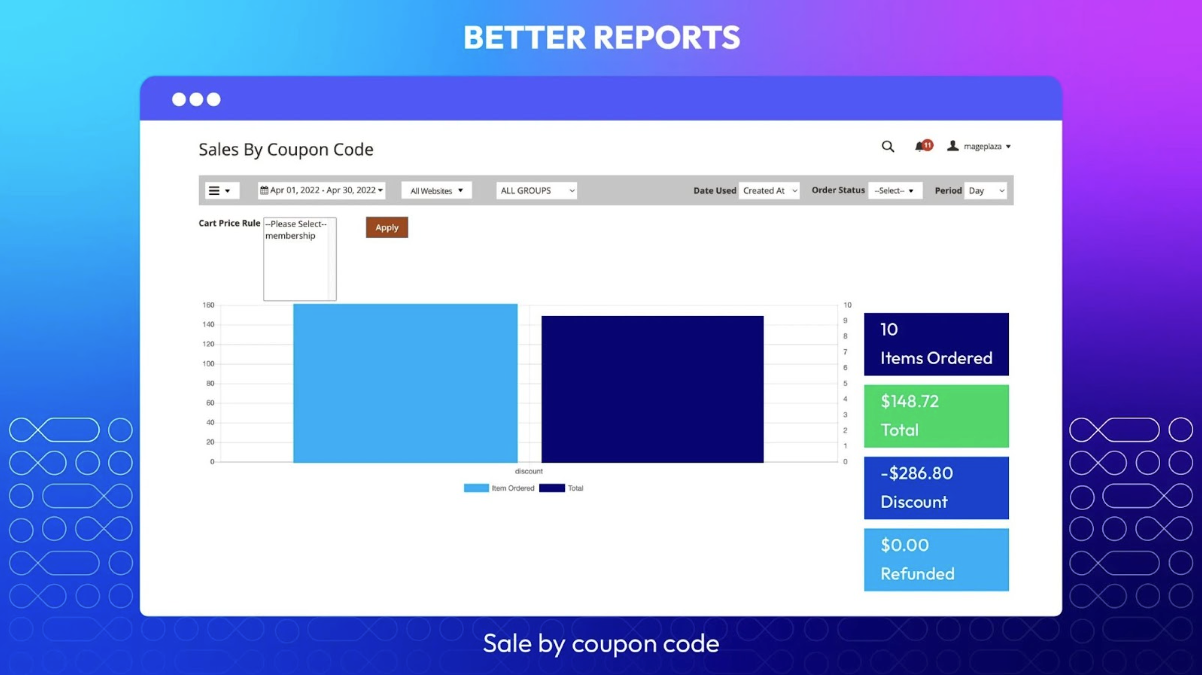 E-commerce businesses benefit from live data tracking the efficiency of work processes. Magento 2 Advanced Reports extension by Mageplaza equips your site with a tracker that can provide you with detailed reports in an engaging real-time dashboard.
Magento 2 provides you with advanced reports, ranging from conversion funnels and repeat customer rates to abandoned carts and sales by reports. These reports collect data from customers, orders, sales, and products on a regular basis so you can track everything from repeat customers to subscription payment plan churn.
You can also filter report elements, search custom report periods, and view data as a chart for better comparison. The dashboard layouts are customizable and use an easy drag-and-drop format for editing. Whether you've just started to build an eCommerce website or have been running your online store for years, these dashboards are impactful for businesses of all shapes and sizes.
Cost: Magento 2 Advanced Reports has three subscription plans available starting at $99/year.
32. Whatagraph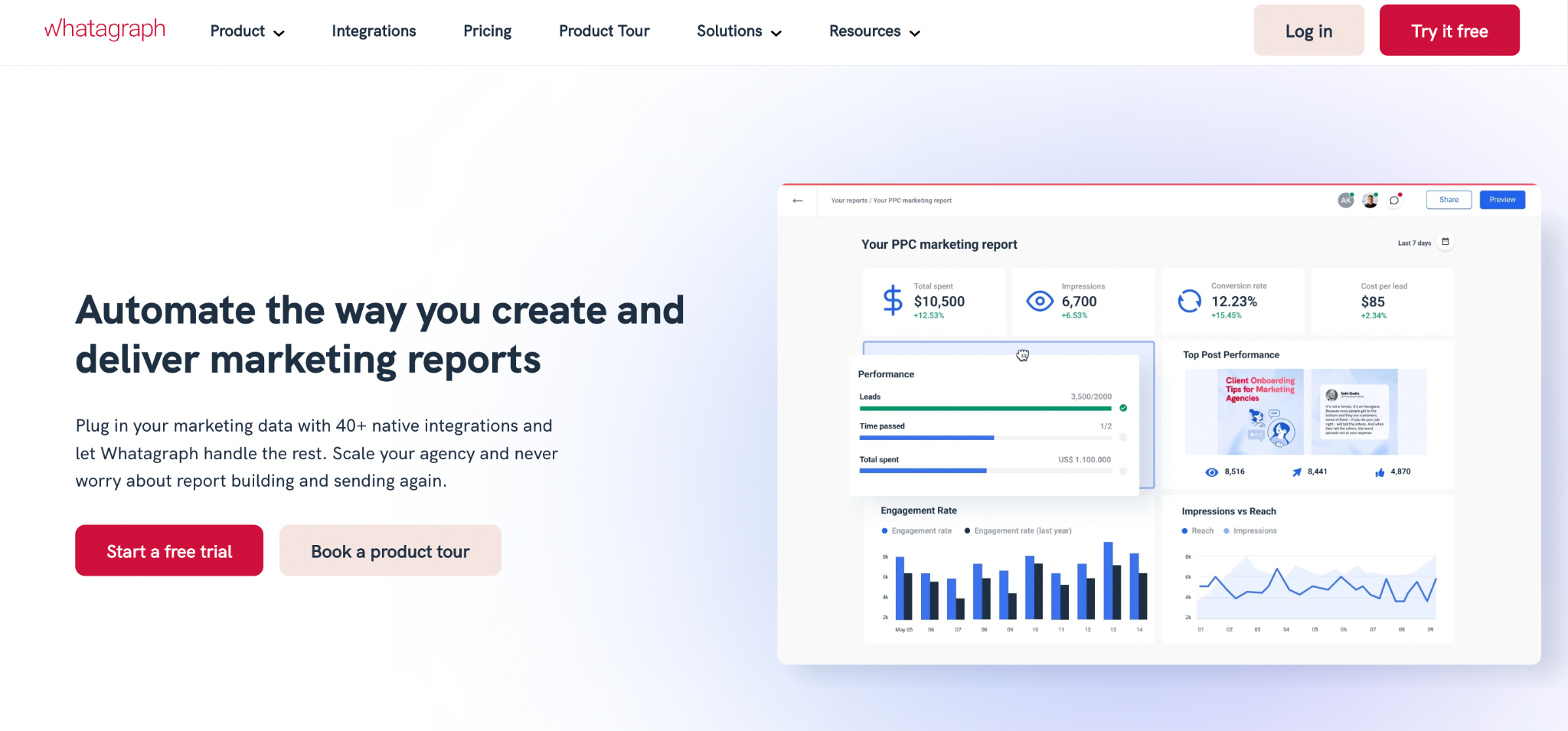 Whatagraph is a marketing reporting tool that lets marketers in agencies and in-house teams take their data and create beautiful reports. With over 40 different data platforms supported, it allows you to build a functional and great-looking report in minutes. The newest capability of the tool? Whatagraph introduced a data transfer feature, which allows you to transfer your marketing data in bulk from any source to Google BigQuery.
Cost: Paid plans start from $199 per month and a free seven-day trial is available.
33. Sitechecker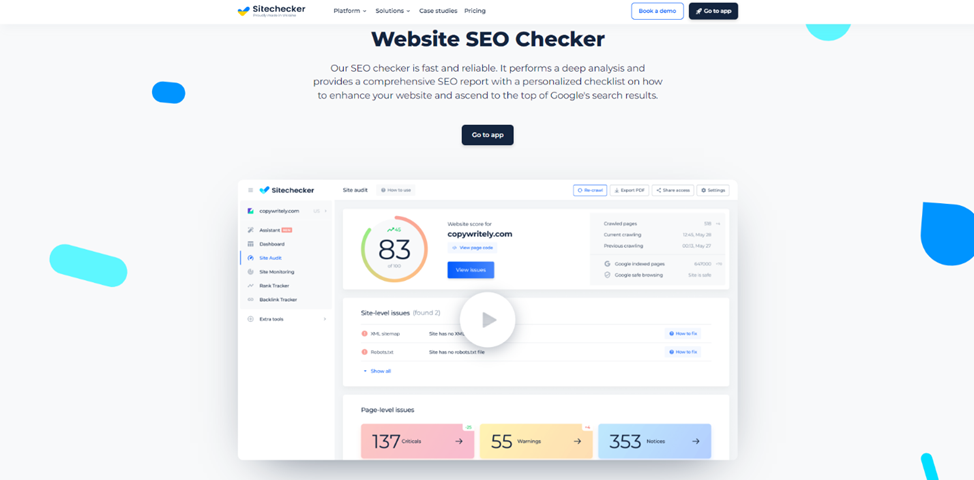 Sitechecker is a powerful tool that offers a range of features and analytics to help website owners and SEO professionals improve their website's performance. One of the key features of Sitechecker is the SEO Checker, which analyzes a website's technical SEO performance by crawling its pages and identifying technical issues that may affect its search engine visibility.

The SEO Checker provides users with detailed analytics, customizable settings, and practical recommendations for improving their website's technical SEO. By using Sitechecker's SEO Checker, website owners and SEO experts can quickly identify technical issues that may be affecting their website's search engine ranking and make improvements to increase their visibility.

Cost: Sitechecker offers a 7-day free trial. Paid subscription levels range from $39/month to $249/month.
Social Media Tools
Social media is an extremely important part of all marketing and advertising campaigns in the 21st century, and therefore many critical campaign management tools are social media-related. Apps like LinkedIn, Facebook, Twitter and Instagram are core parts of people's daily lives, making them the perfect place to advertise to a variety of customers after defining your target audience.
If you're looking to increase your brand's presence on social, whether that is through brand advertising or native content on your social handles, you can utilize tools to make the process much easier. Social media is also a great way to source new customers. Want to automatically receive Facebook leads via email? What about collecting data on every Instagram direct message so that you can be sure to follow up?
Whatever you want to accomplish with your campaigns, here are a few of our favorite social media tools for campaign execution and tracking.
34. Hootsuite
Image via RivalIQ.
Hootsuite is a social media marketing and management dashboard that helps you plan and schedule social posts across networks. It is one of the first tools to allow easy scheduling for posts on LinkedIn, Facebook, Instagram and many other social media networks, which will ultimately save your social media manager tons of time.
This tool also provides clear post performance analytics that help your team dissect successes and failures, and plan for improved reach in the future. To compare with similar tools on the market, check out this list of Hootsuite Alternatives.
Cost: Pricing starts at $29/month for 10 social profiles and one user, and goes up to $599 for up to 10 users.
35. Social Status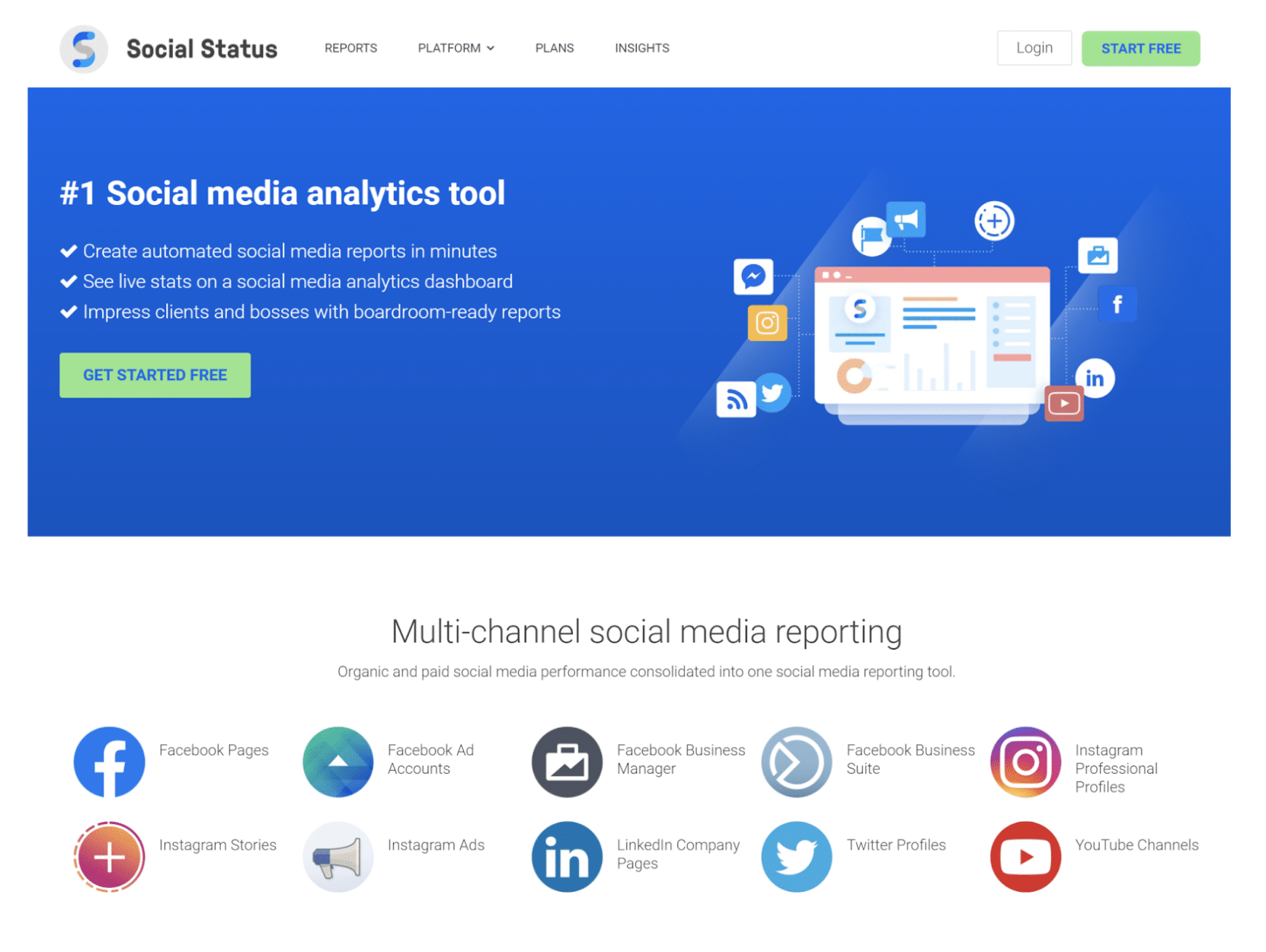 Social Status is a social media analytics and reporting tool for Facebook, Instagram, Instagram Stories, Twitter, LinkedIn, and YouTube.
The tool provides live dashboards perfect for monitoring key metrics, whether that be conversions from your latest LinkedIn Advertising campaign or the number of views from your most recent Instagram story. Plus, you can export full customizable reports to CSV, PDF, PowerPoint, and Google Slides. Agencies can also white-label reports for each client.
Cost: Free with paid plans starting from $29 per month.
36. Later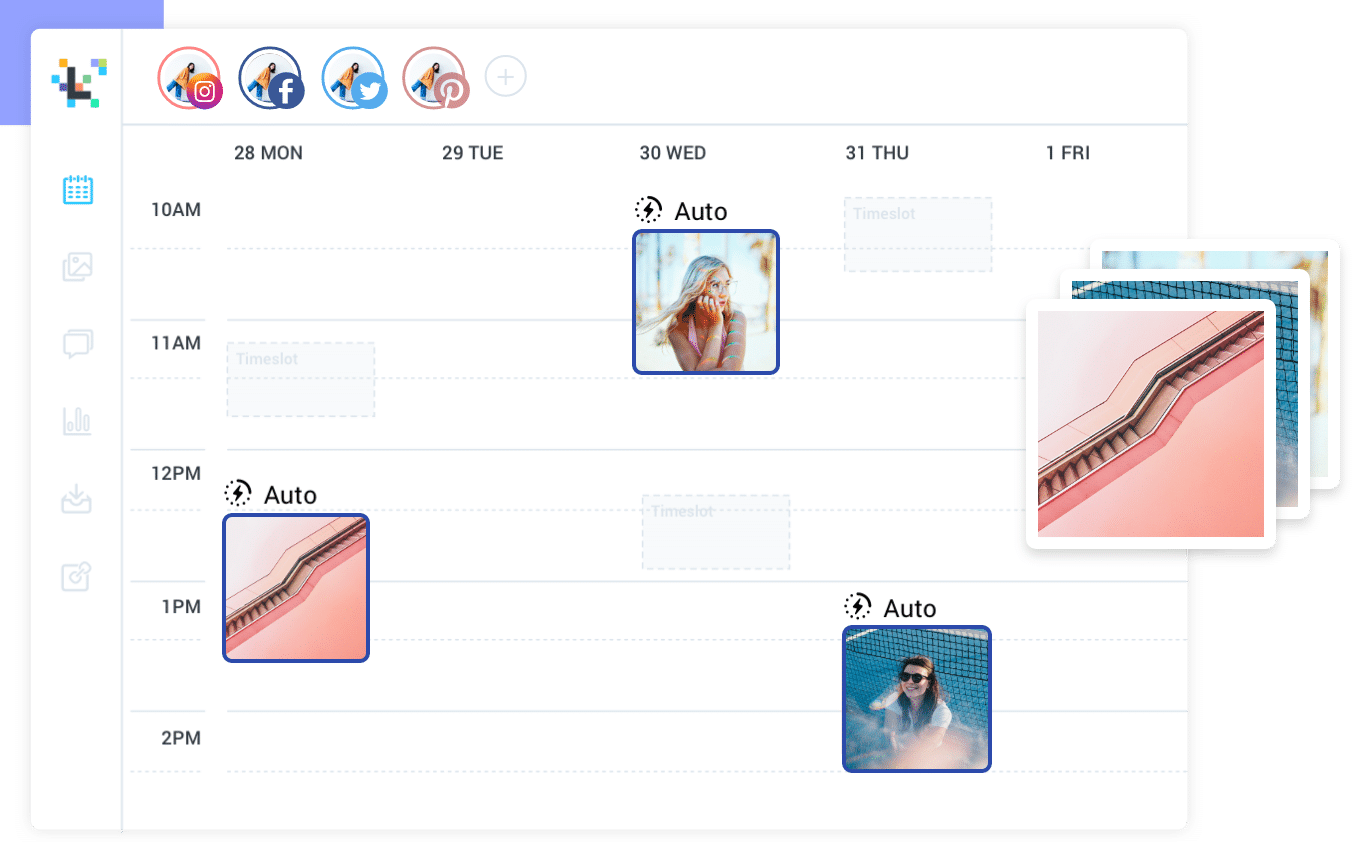 Later is an ideal tool for visual brands and storytellers, as it lets you plan out your social schedule across a visual board. It also helps you find and publish content from other users via hashtags, @mentions and posts, which is great if you're trying to sprinkle in content from other creators in your feed. Later is easiest to use for Instagram, but you can also use it across other social media platforms like Facebook, Twitter and Pinterest.
Cost: $7.50 a month for solo users, and $16 a month for this "Plus" subscription.
37. Planoly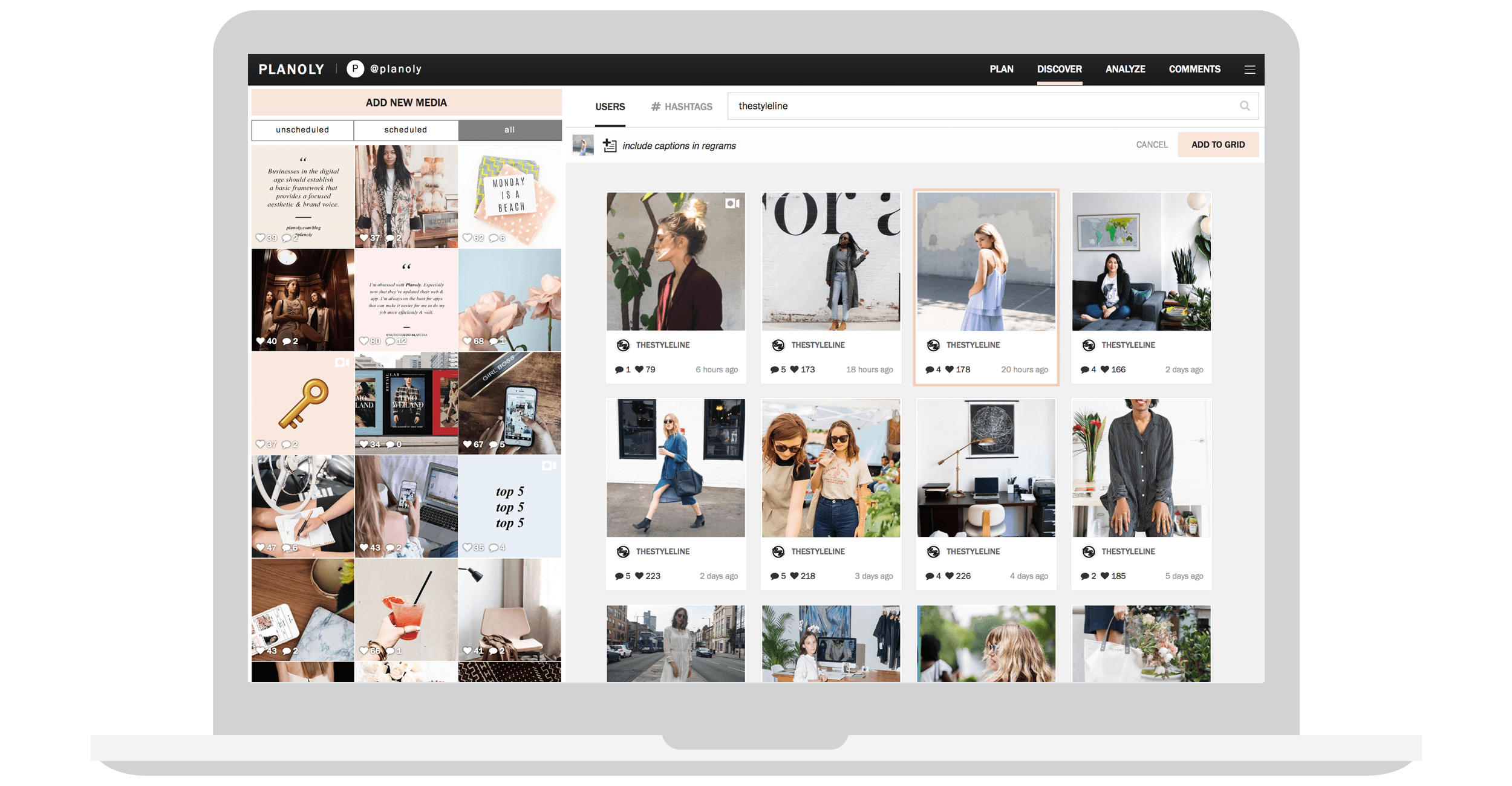 Planoly is a great tool for Instagram specifically, as it lets you visualize how a post will look in your feed. The app was created from a designer's perspective, and is the first app for visual Instagram planning. With Planoly, you can schedule, auto-post and analyze content once it's gone live.
Cost: Free for 1 user and up to 2 social profiles, paid versions start at $7 per user per month.
38. SproutSocial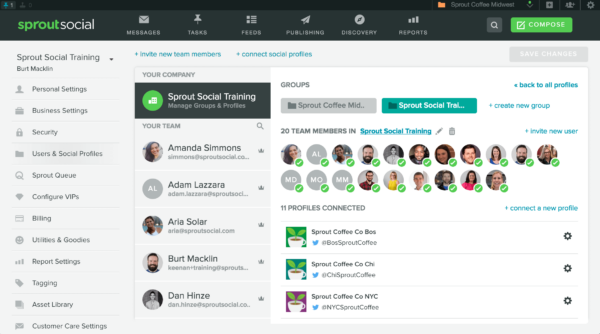 Sprout is another social media tool for content creation, distribution and performance measurement. With Sprout, not only can you draft and schedule posts, but you can also use the live activity updates to map out who on your team is working on specific posts.
Once your post is live, Sprout can help you analyze your performance and compare to other competitors in the same space. Sprout Social also lets you analyze the results of both paid and organic traffic. This can help you understand your ROI and determine if things like an ad creator or social media consultant is worth the investment.
Cost: Pricing starts at $99 per user per month for up to 5 social profiles.
39. Buffer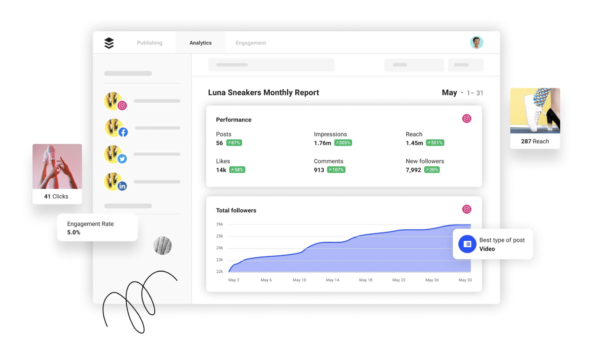 Buffer is a great social media app that lets you schedule and analyze posts across social media channels. With their scheduling and publishing tools, you can plan, collaborate on, and publish content across Instagram, Facebook, Twitter, LinkedIn, and Pinterest all from a single dashboard.
With Buffer's analytics tool you can view post performance across all social media channels and glean insights on things like impressions, reach, Twitter and Instagram follower counts, comments, likes and more. This is one of the many reasons it is one of our top campaign management tools.
Cost: Buffer's Pro plan starts at $15 per month.
40. Social Champ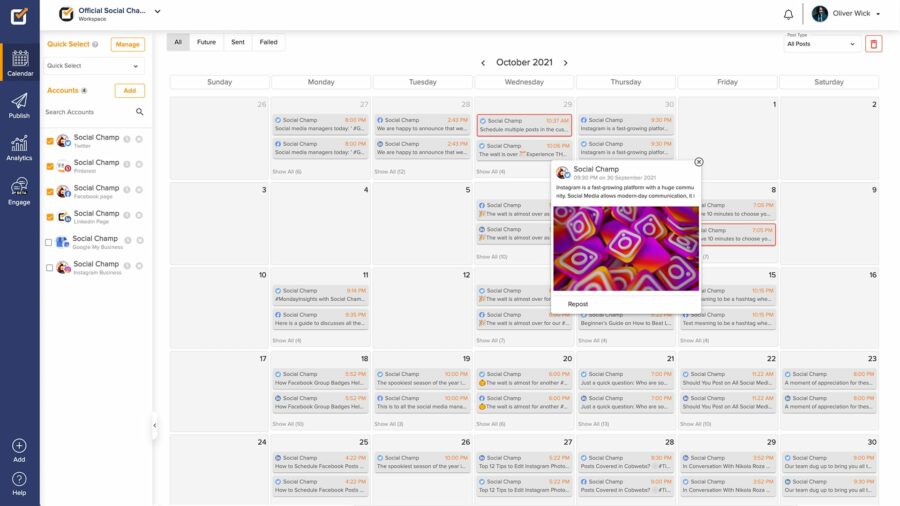 Social Champ is a social media management and automation tool with all-in-one support for multiple platforms. It helps the user create, edit, schedule, & publish the content across social media platforms, including Facebook, LinkedIn, Twitter, Pinterest, Google Business Profile, YouTube, Instagram, and TikTok. Social Champ's powerful features include Auto RSS, Bulk Upload, Social Media Calendar, recycle, repeat, Analytics, Team Collaboration, Workspaces, etc.
Social Champ has an easy-to-use and vibrant dashboard from which you can manage all social media networks and schedule posts. The dashboard for social media management also houses a lot of powerful features that make content creation fun, quick, and accessible. The social media calendar also shows a grid view of published and scheduled posts to either reschedule or edit using the drag/drop functionality.
Cost: Free for up to three social profiles and unlimited scheduling. Paid versions starts at $29 per month.
41. trendHERO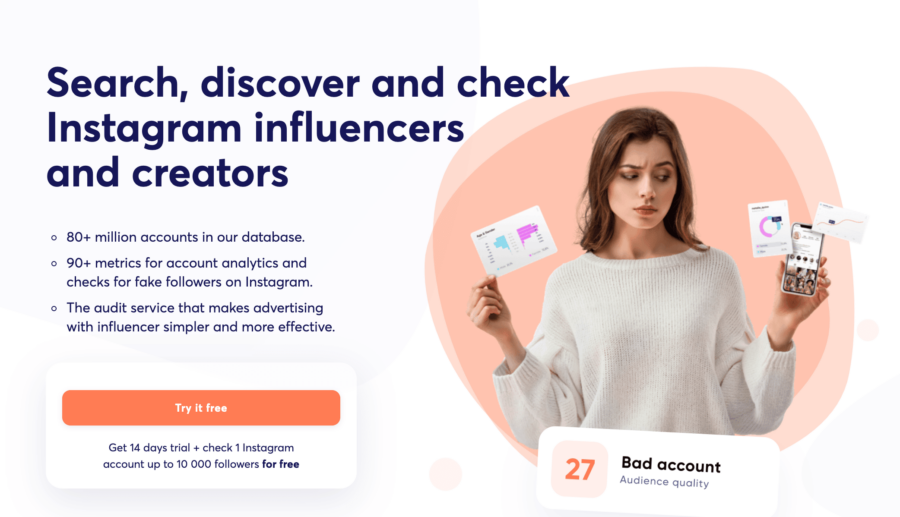 trendHERO is an influencer marketing platform for Instagram. This influencer marketplace tool can be used for your influencer marketing campaigns or analytics. Agencies also use trendHERO for monitoring niche and clients' competitors, and because of export to pdf or xls feature. Influencers often use Tracking to see the instagram follower count history, mentions impact and best time for posting. trendHERO offers an analytical depth previously only available to the most notable of brands with the largest of budgets for their influencer marketing campaigns.
Its main features are:
Search — 100M+ database, 20+ filters.
In-depth analysis — 90+ metrics, fake followers check.
Tracking — connect your or competitors accounts.
Ad posts — huge database of posts and stories with mentions.
Outreach — connect with dozens of new influencers in less than 5 minutes to take your blogger outreach to a new level.
Cost: Free subscription includes search and basic analysis. Paid plans starting from $15.99 per month.
42. Mailmunch
Mailmunch is a software for automating email blasts and organizing campaign workflows, helping to keep you continuously engaged with your audience. Mailmunch comes ready with useful lead-generated tools like landing pages, forms and popups, auto responders and broadcast messaging. These features can be used straight away or you can customize them easily according to your needs. With dozens of pre-built email templates to choose from, getting started with Mailmunch is simple. It gives you the ability to segment mailing lists, allowing you to focus your messaging more efficiently, driving more traffic to your business. And if you have an e-commerce shop, it even has a feature to help minimize cart abandonment rate.
Cost: You can try out Mailmunch at no cost for 14 days. After the trial ends, their premium plan starts at $13.99/month.
43. Smartlead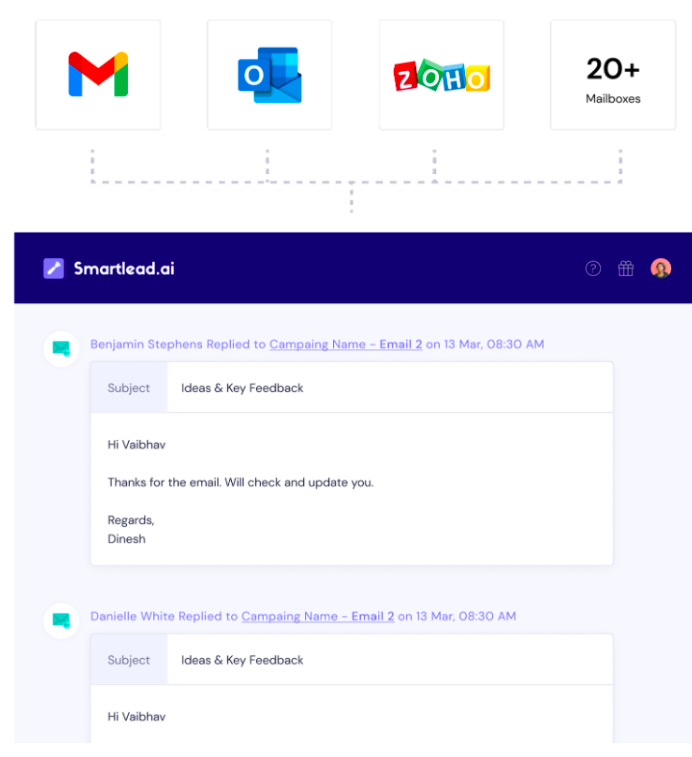 Smartlead lets you streamline your lead generation efforts with unlimited sender accounts, AI-powered personalized messages, and email warm-up capabilities. With unlimited sender accounts, your messages will get into prospect leads inboxes. Smartlead allows you to scale outreach with automated workflows, high-delivery IP servers, and a limitless platform.
Smartlead also helps enhance brand awareness and build a comprehensive customer database by connecting multiple email accounts and automation of message rotation. Smartlead's sequence creation feature allows you to set up automated tasks and track your outreach within the system. There's no need for complicated routing, as messages are automatically sent to the right person based on your settings. With this software, you can easily keep track of your leads and nurture conversations from a single, central location, never missing a lead again.
Cost: Smartlead basic plan starts at $24/month. Its popular package is offered for $57/month. You can also get its pro plan for $78/month.
44. Statusbrew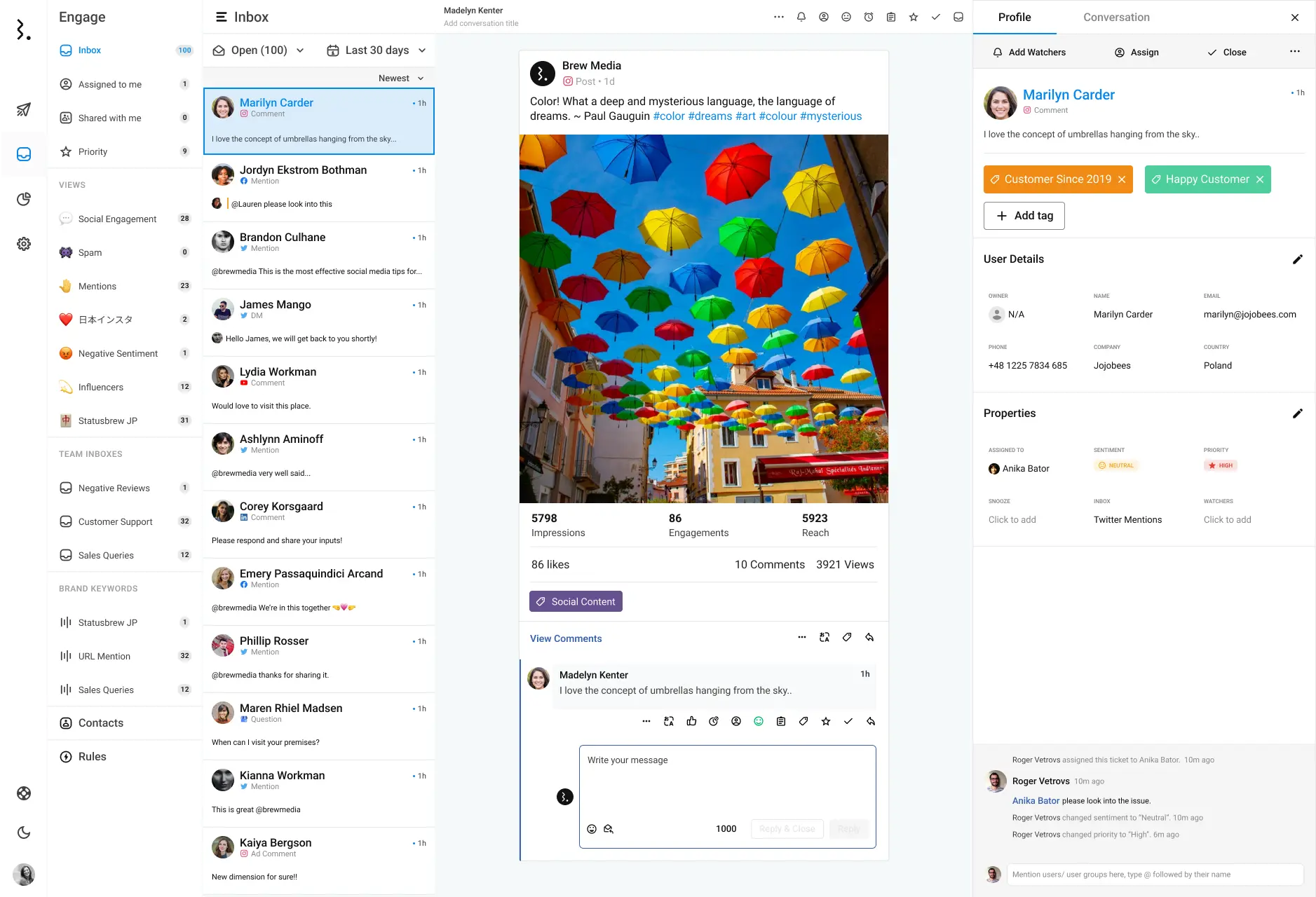 Statusbrew is a robust social media campaign management solution that directly competes with Hootsuite. Its centralized dashboard allows businesses to plan, create, and publish content effortlessly across multiple social media platforms, including Facebook, Instagram, Twitter, LinkedIn, Pinterest, YouTube, GMB, App Store, and Play Store.
To prevent internal lapses and missed deadlines, Statusbrew includes approval workflows. Additionally, Statusbrew's custom view and tagging features enable efficient organization and management of social media campaigns. The platform's analytics tools enable users to track important metrics, providing valuable insights for improving and boosting ROI.
Cost: Statusbrew pricing starts at $69 per month, and a 14-day free trial is also available.
45. RelateSocial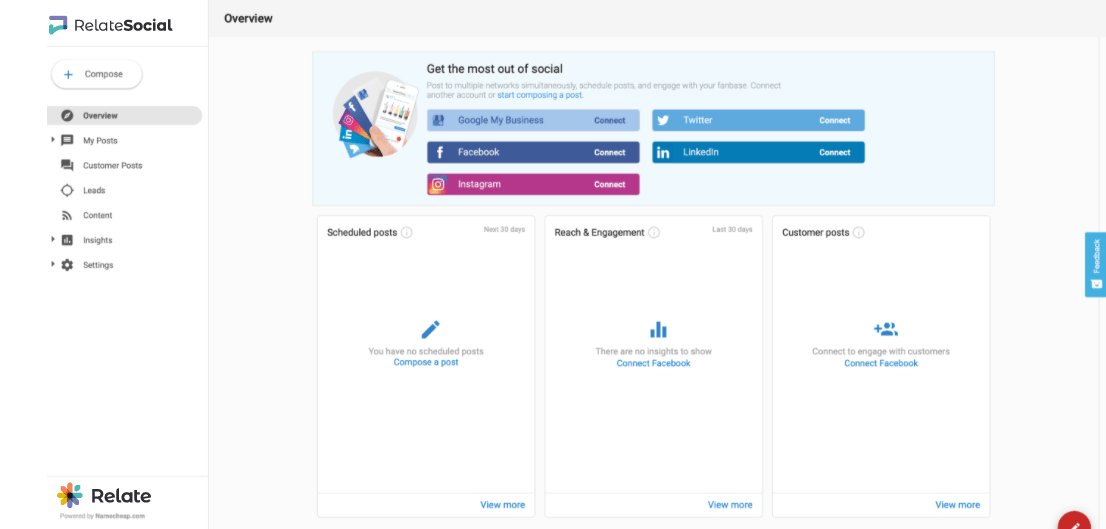 RelateSocial by NameCheap is a social media tool designed to help businesses streamline their social media efforts. With RelateSocial, businesses can easily manage and monitor their social media accounts, schedule posts, and engage with their followers. The tool allows businesses to create custom social media content, track analytics, and receive notifications when their brand is mentioned online. RelateSocial provides a centralized dashboard where businesses can manage their social media presence across multiple platforms such as Facebook, Twitter, and LinkedIn.
Cost: $2.88 per month (4 week free trial + 25% off 2nd month)
These are just a few of our favorite campaign management tools from several different phases and sections of the campaign planning and review processes. If you have any favorites that we didn't include in this list, please leave them in the comments below!