As our workplaces continue to evolve, so do our tools to get things done. Many businesses have migrated away from pen-and-paper to-do lists, instead moving on to more robust project management platforms. Luckily, the digital space is ripe with tracking programs that your business can use to keep projects moving forward and everyone on track.
These software tools are more than just simple programs that track the linear progress of a project from point A to B. Instead, they are complex and robust programs that incorporate project management metrics and can be tailored to your business goals and strategy.
In project management, the system of Objectives and Key Results (OKR) has become a popular way to track a team's progress. The use of digitally tracking OKRs has opened up a world of possibilities as software companies have created intuitive programs that can be used to measure and monitor your team's performance by setting objectives with associated key results.
There are several great OKR software tools on the market in 2023. Here we will focus on some of the best, discuss their key features, and determine which OKR software platforms are worth your investment.

What are OKRs and how do they work together?
If you have been following basic project management tactics for your business, the term "Objectives and Key Results" should have popped up along the way. However, if this term is still unfamiliar, I'll summarize it in simple terms. The term OKR refers to a goal-setting framework that defines and tracks progress toward specific, measurable, and time-bound objectives.
OKRs consist of two parts combined: Objectives & Key Results.
Objectives
These are high-level, qualitative targets an organization aims to achieve. Objectives are typically ambitious and inspiring and help align team efforts that strive toward a common goal. Objectives need to be defined, communicated and reviewed regularly. These objectives are meant to challenge teams and take on ambitious goals. Examples of objectives for your business can include "improve employee engagement or "improve customer satisfaction".
Key Results
These are quantifiable metrics that measure the progress toward the objectives. Key Results are more aggressive but realistic. They are used to help track the success of the objectives and are part of the equation used to ensure that they are attainable and measurable. Examples of key results for your business can include "Increase participation in company events by 30% by the end of Q2" or "improve customer satisfaction scores by 5%".
Notice how both objectives and key results work together? For example, you can't just expect your business to succeed in the objective to "improve customer satisfaction" without the key results stepping in to move it along to hit certain goals or benchmarks.
ORKs work together like a boat works with a rudder. A boat without a rudder can move – it just might not go in the direction you want. Combine the boat and the rudder, like you combine both objectives and key results, and you can get your project moving in the right direction in no time!
Choosing The Right OKR software
When you search for your OKR software, what is your business end game or requirements? Do you need this tracking software for individual goal setting or collaborating on larger team goals? Do you want your tracking platform to have AI capabilities and be suitable for a small team, or do you need enterprise capabilities to scale as your organization grows?
Knowing exactly what your business needs and how you want to track it helps you hone in on what goal-setting platform you need for your short and long-term objectives and results.
Here are some of the top OKR software platforms to help your organization stay on track.
1. Hive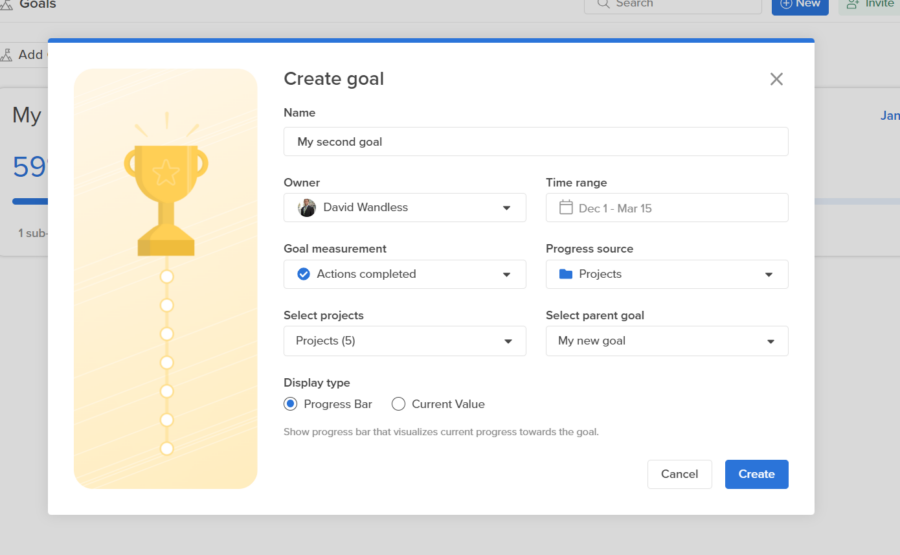 Hive is a project management platform that allows individual users and businesses to manage projects, track tasks, set goals and monitor progress. To support your OKR-setting needs, Hive has a powerful Goals application that lets users create and track customizable goals and objectives.
Once you create a goal, Hive lets you share it with other users, assign the goal to relevant teammates, track activity and give yourself a deadline. Hive's Goals dashboard is much more than a list of endpoints — it's your North Star.
Key features include:
Creating goals with other team members in real-time

Sharing of the team's objectives within a dynamic dashboard

Accurate tracking with automated notifications and AI assistance

Project-based goals that populate statuses based on task completion and overdue items

2. Weekdone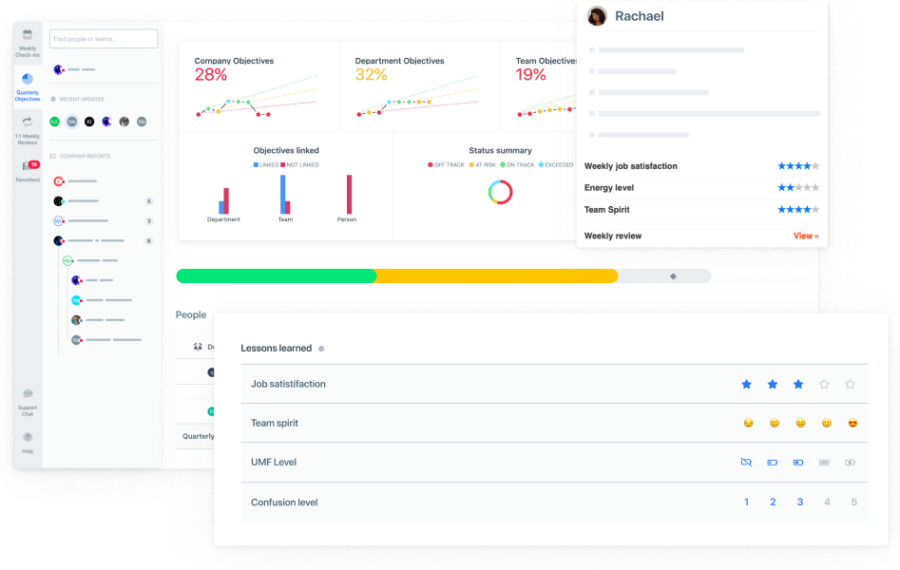 Weekdone is an OKR software tool designed to help large enterprises measure, track and improve their organizational performance. While it does offer long-term goal setting, this platform focuses mainly on, you guessed it, projects worked on and completed during a week. From weekly updates to quarterly meetings, Weekdone's OKR framework offers an all-in-one solution for businesses that want to increase their team's productivity and cross-department communications.
Key features include:
Team objectives and key results for each department

Automated reminders for goals

Interactive real-time dashboards

Quarterly OKRs mixed with weekly planning and success metrics
3. Coda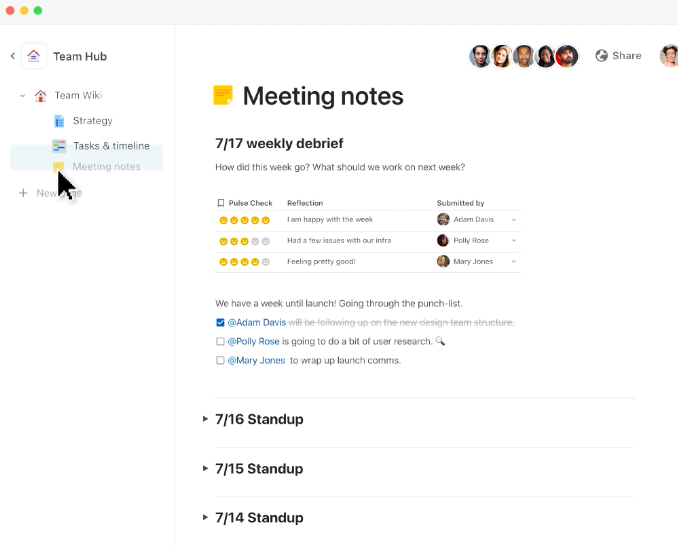 Coda is another great option for setting organization-wide OKRs that focus on employee engagement. From creating progress visualizations for stakeholders to connecting OKR tables and analysis to other documents, Coda is the perfect platform for businesses looking to simplify their OKR framework. Coda's team-building abilities also make it easy to get your whole organization on track, and its interconnected platform ensures that projects are tracked, measured and
Key features include:
Prebuilt templates take the guesswork out of your campaigns

Seamless integration with Slack, Zoom, and other applications

Useful activity feeds drive and facilitates discussion amongst team members

Offers "one source of truth" for users
4. Lattice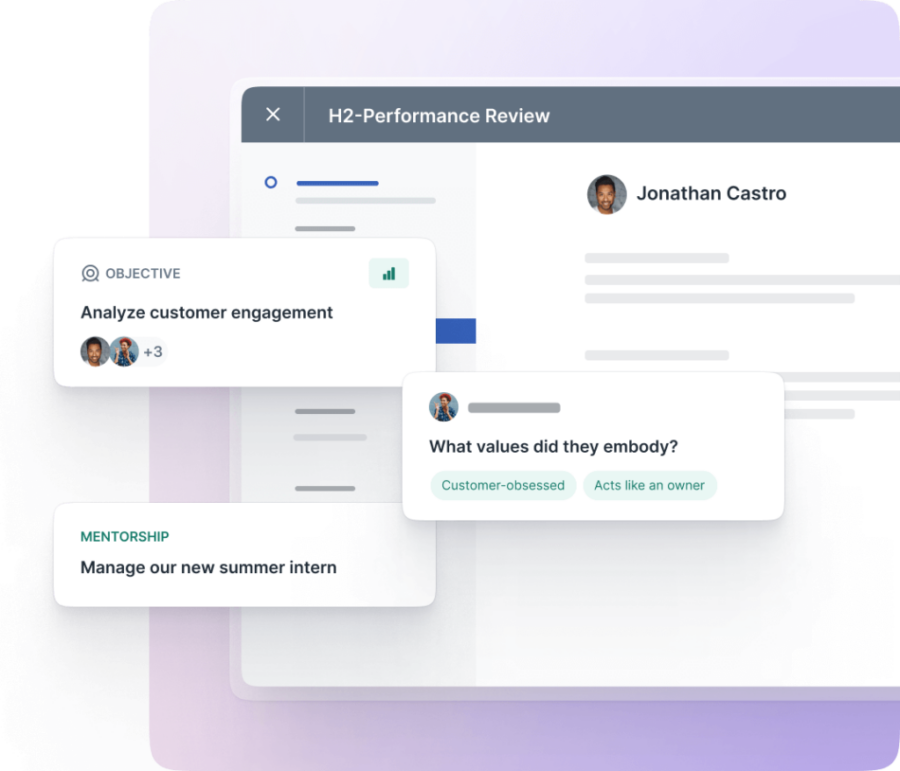 Lattice is an OKR software designed to help small and medium-sized business track objectives, manage collaboration and share progress. This platform provides a place to track tasks and objectives and allows employees to communicate, engage and grow within their roles freely.
Key features include:
Integrated goal tracking with performance reviews

360-degree feedback

Real-time messaging and collaboration

Customizable security settings
5. Trello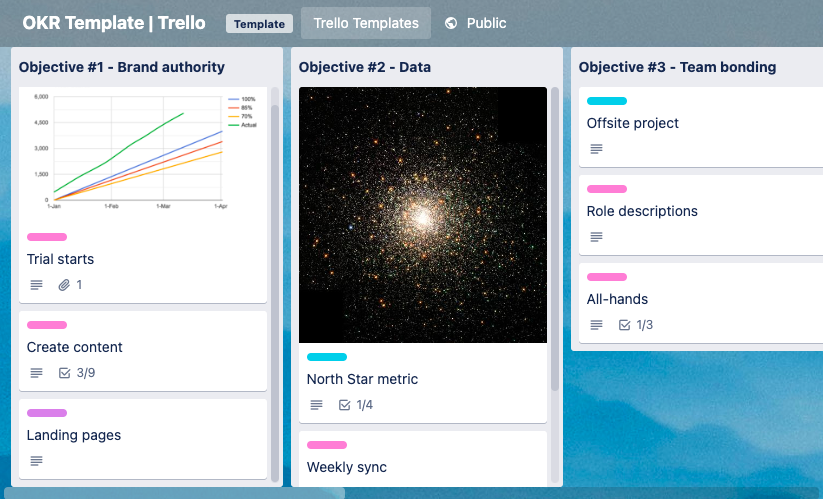 Trello is a project management software known for its Kanban boards, which makes an effective way to track OKRs. You can also use lists and card views to see your projects and tasks. Navigate to Trello's template library and you'll find pre-made boards with OKR planning.
In the first column, you'll see "Objective" (category) and in each card, within the column, you'll find a "Key Result" (goal/target). With Trello's OKR template, your team can easily update their progress periodically. Trello is an intuitive tool, its no-code automation features help you optimize the time spent on repetitive tasks.
Additionally, Trello allows you to invite new members to collaborate in your workspace, track tasks, and use color-coded labels for organization. And it integrates with many popular apps like Slack, Google Drive, and Microsoft Teams, so there's no need to stop using software you already love. Trello has a free version, and its paid plans start at $5 per user/month.
Key features include:
See your work from multiple angles: Kanban board, timeline, table, calendar, and more

Automate repetitive tasks and enhance workflow

Integrate with over a hundred of your favorite tools

Dozens of premade templates

Pre-built Trello playbooks designed for all teams
6. Profit.co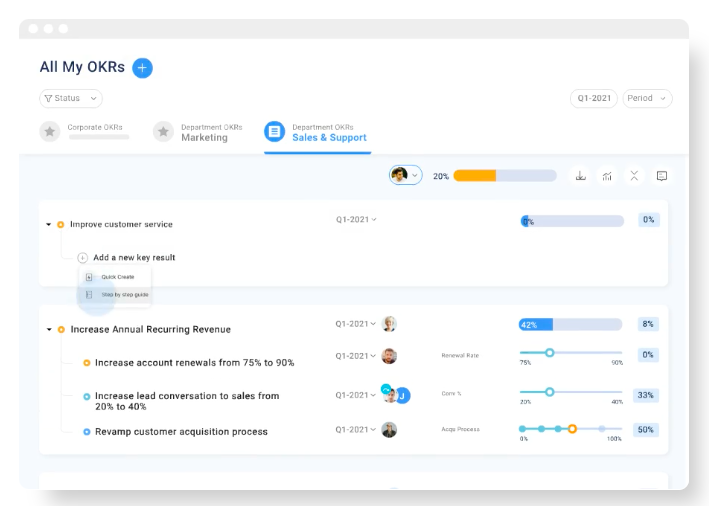 Profit OKR is a project management software that helps companies prioritize goals, save time, engage teams and execute strategies with limited resources. Profit OKR dashboard makes it easier to visually track progress and issues, helping managers to adjust tactics and fix project misalignments. You can filter and export files from the dashboard and easily measure performance by department. Profit is free for up to five users. Its paid plan starts at $9/monthly per user.
Key features include:
Real-time heatmaps allow managers to identify potential problems easily and push for progress.

Link your tasks with Key Results with expert-step guidance, and facilitate the progress of Key Results with the assigned tasks.

Employees can tag colleagues with @mentions which encourages more collaboration, and also they can share their learning with #tags.

Available for iOs, Windows and Android.
7. ClickUp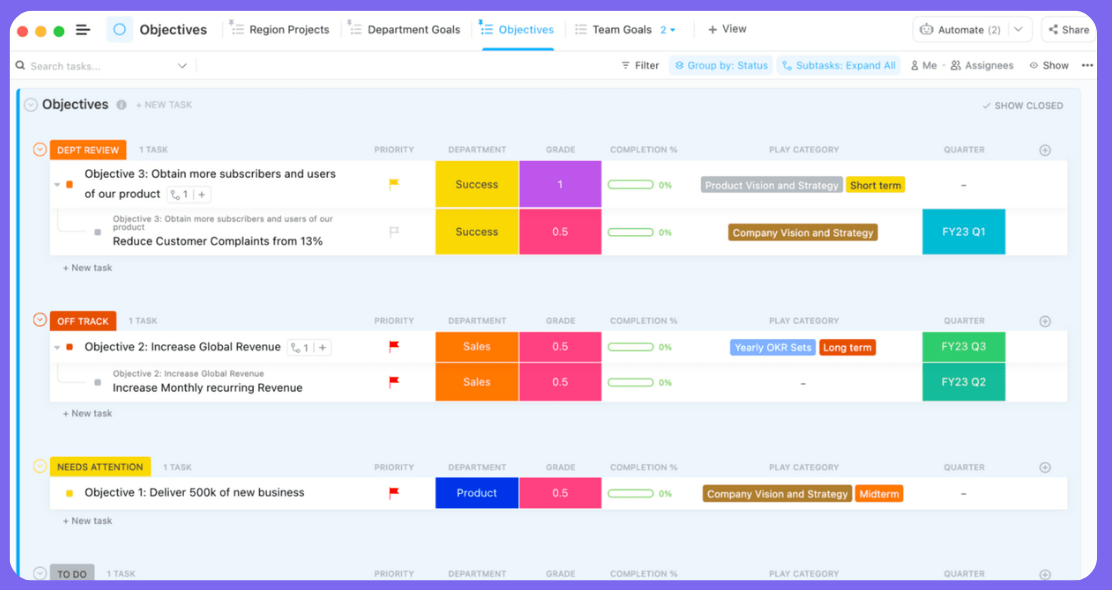 ClickUp offers a library of customizable templates, including Company OKRs and Goals. Its flexible framework lets you craft your company's goals while setting up the important metrics for each team. The template includes filters such as status, custom fields, tags, apps, and view types.
One of the advantages of automated systems on ClickUp is the possibility of working with external apps by integrating them into your workflow. For example, you can automate ClickUp tasks with Google Sheets, Dropbox, Calendly, GitHub, Slack, and Airtable integrations. ClickUp has a free plan, and its paid plan starts at $5 per member/per month. To see how ClickUp stacks up against other tools on the market, check out our complete guide to Click Up alternatives.
Key features include:
Automation: allowing users to reduce manual efforts in specific tasks while freeing up teams to focus on other priority goals.

50+ pre-built automation to help with workflow automation and processes.

Native chat and email, dynamic recurring tasks, customizable board views, and free integrations.
8. PeopleGoal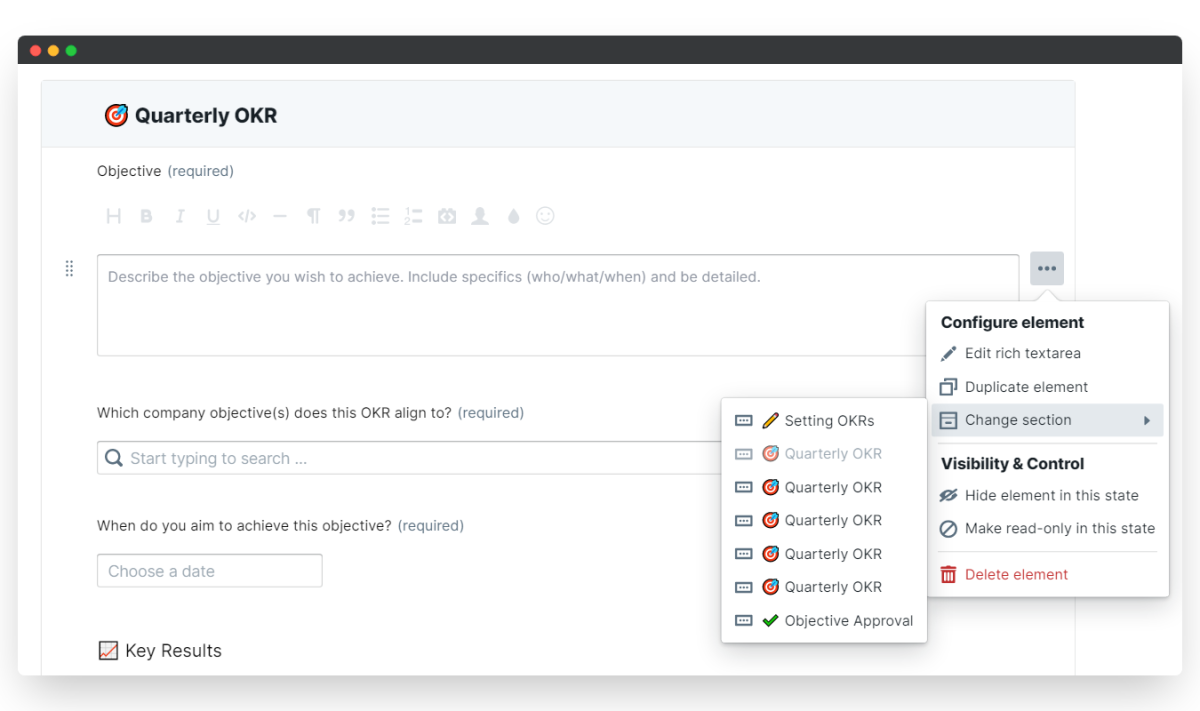 PeopleGoal is another good choice for tracking OKRs because it provides apps specifically designed for setting and managing objectives. With its OKR app, users can set specific and measurable goals, assign them to individuals or teams, track progress, and receive timely feedback. The platform also offers custom reports and analytics that allow companies to drill deeper into their OKR data and build custom reports with charts, graphs, and interactive data sets.
Additionally, PeopleGoal provides apps for SMART goals, 360 feedback, continuous feedback, performance reviews, surveys, development plans, one-to-ones, career plans, job families, and more. PeopleGoal has a 7-day free trial and offers a simple plan at $4/user/month with a minimum charge of $199 per month (approximately 50 users).
Key features include:
No-code configuration for HR workflows

Apps for OKRs, SMART goals, 360 feedback, performance reviews, surveys, and more

Custom reports and analytics

Seamless workflows across teams.
9. Mooncamp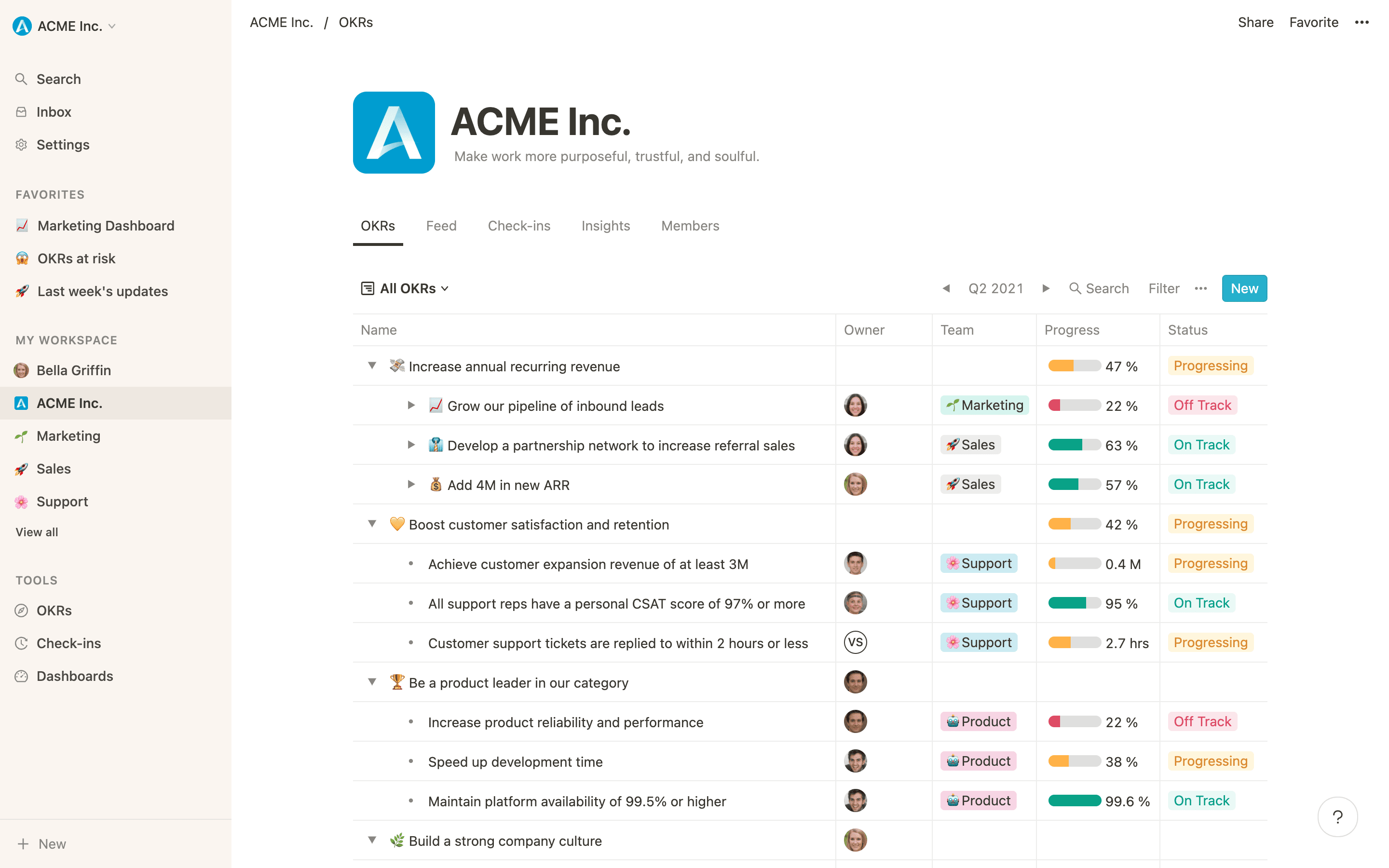 Mooncamp is a comprehensive OKR software solution with an intuitive and user-friendly interface. It enables businesses, regardless of size, to create, manage, and track their strategic goals effectively, promoting a results-driven organizational culture. By providing visibility into individual, team, and company-wide objectives, Mooncamp fosters alignment and boosts overall productivity. It has real-time tracking functionality that allows for easy progress monitoring, with collaborative features that encourage team engagement, making goal tracking not just a managerial task but a collective effort.
Mooncamp plans start at $6/user/month and you try it out free for 14 days.
Key Features Include:
Objective alignment across individuals, teams, and the organization

Real-time updates on OKR progress

Completely customizable goal system

Integrates with tools like Slack, Google Workspace, and Microsoft Teams
10. Perdoo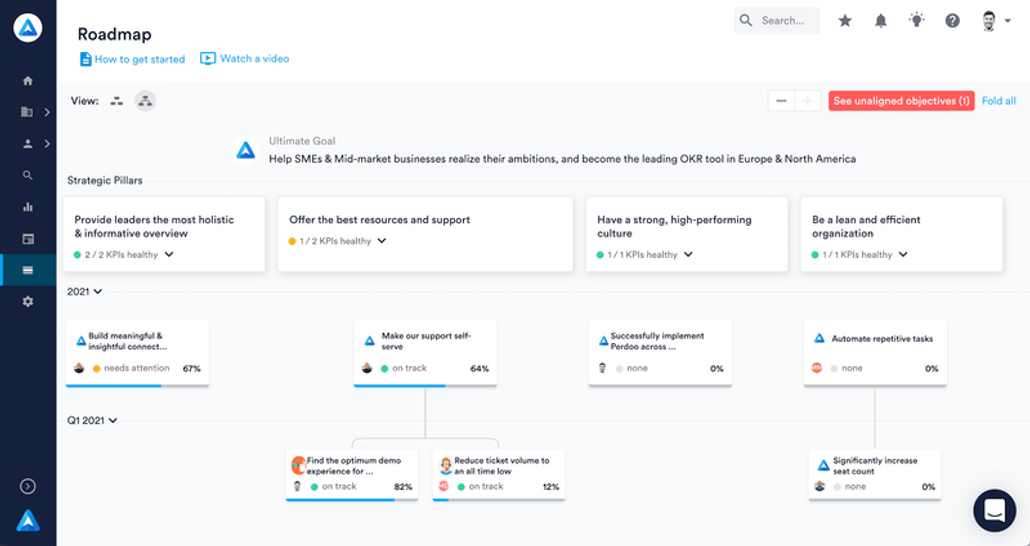 Perdoo is another great OKR software candidate with a strong emphasis on goal alignment and integration. It has an intuitive, user-friendly interface which makes OKR management less intimidating for those who are new to the concept. It guides users through the process of setting and tracking OKRs, ensuring that objectives are clearly defined and results are measurable. The software promotes transparency throughout an organization by displaying how individual objectives fit into the broader company goals.
Perdoo also offers integration with popular tools such as Slack, Google Sheets, Jira, and more. There's a free plan for up to 10 people and paid plans start at $3.50/user/month.
Key features include:
'Initiatives' feature that allows you to link tasks and projects to specific objectives

'Health Check' feature for regularly assessing the progress and status of OKRs

Resources and coaching services to help businesses with OKR methodology

'Insights' to analyze the success of OKRs and derive data-driven decisions

Create custom user roles and permissions
11. Simple OKR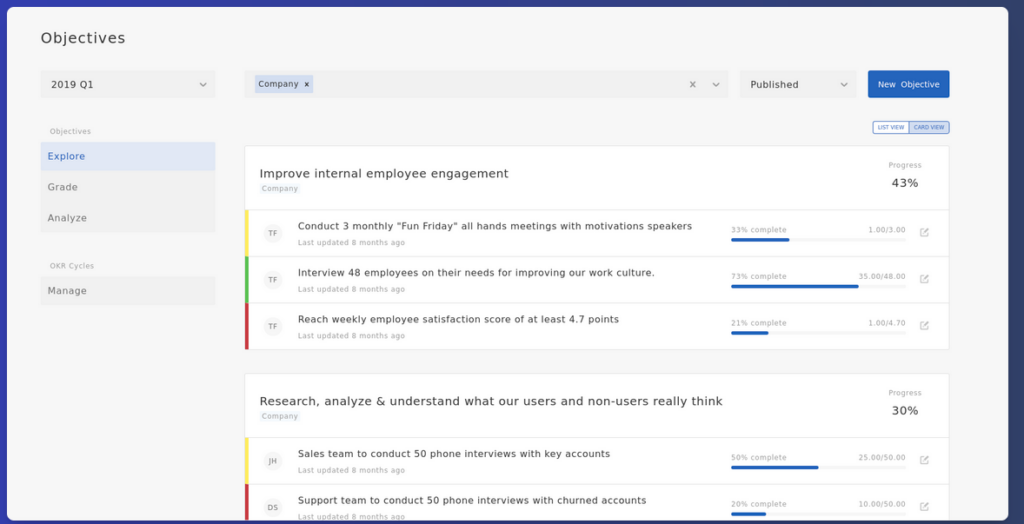 As the name suggests, Simple OKR is a tool designed using the principles of Objectives & Key Results (OKR) methodology to create and track measurable goals. The vision behind Simple OKR is to incentivize employees to see who their work contributes directly to the company's goals and priorities. How? By setting between three and five high-level objectives that are key to the overall success of your business, this way you will be able to engage each member of your team and inspire them to deliver their needed contributions to make those goals possible. Simple OKR offers a free 7–day trial and their paid plan has a unique tier: $49.99 /month. The plan includes: company, team and personal OKRs, progress tracking with OKR targets, OKR alignment for all team members, Single Sign-on (SAML v2) and unlimited users.
---
While this list is by no means exhaustive, you can see that by evaluating different OKR software options, you'll be able to find the best one for your organization's needs. Whether it's a platform that offers excellent employee communication options or one with stellar goal-tracking metrics like Hive, each tool has unique features that may make them better suited for specific tasks or businesses.
OKRs are a great way to measure progress and ensure success in 2023. By choosing and setting your team up with a new OKR software tool, you can track progress and ensure everyone is on the same page.
Are you more familiar with other tools? Let us know in the comments below!