Managing projects can be a challenge, especially in today's new era of remote work. Whether you're struggling to keep everyone in the loop or stay on top of deadlines, you'll want to leverage the best possible collaboration tools to ensure success. Zoom is one of the best tools for the job.
For many people over the last year, Zoom has become more than a simple video conferencing app. Zoom is one of the best tools on the market for remote team communication, helping millions of people quickly and easily setting up webinars, meetings and conference calls.
While Zoom is a fantastic remote work tool, most businesses these days utilize a whole host of different programs and plugins to help them work faster. In our Remote Work Survey, we found that 91% of remote workers use a video conferencing tool, but 62% of those workers also use project management tools, and 61% also use a messenger or chat platform.
Fortunately, Zoom integrations can bridge the gap between many of the tools you are already using, making it easier than ever to stay streamlined and connected. And to help you navigate this crowded tech market, we are highlighting some of the best Zoom integrations to help you work efficiently and have the best Zoom meetings possible.
1. Hive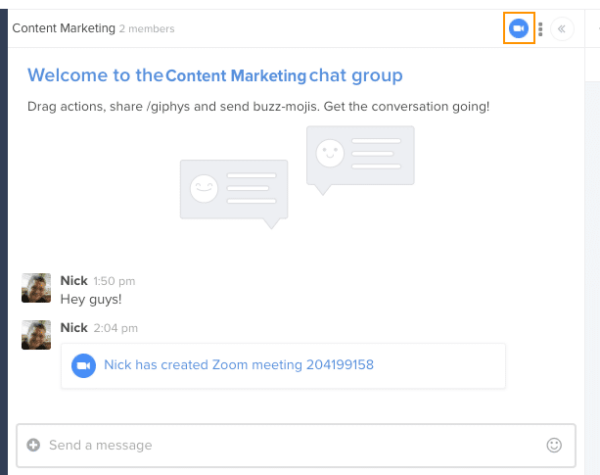 Hive has one of the best Zoom integrations for project management on the market. You can easily start a meeting from any project, group or individual chat by typing "/zoom" in the chat box. Setting this up is as simple as heading to Hive apps, clicking on Zoom and confirming your Zoom details.
Once you've saved them, you'll be able to start Zoom meetings in your team chat with no downtime. This allows you to move between our productivity tool and Zooms video conferencing in seconds. Because Hive offers you a broad and flexible set of management tools, you can easily plan meetings, take meeting notes, and communicate with your team well in advance. With Hive, you'll show up to your Zoom meeting with everything you need to discuss already in front of you.
Hive's also the most comprehensive project management tool on the market — it's got email, chat, projects and notes all in the app itself. So if you're looking for some efficient ways to fold Zoom into your project management and want to know which apps are best to use, maybe it's time to consider ditching the individual apps altogether and opting for a platform that covers all of that functionality and more, like Hive.
2. Google Calendar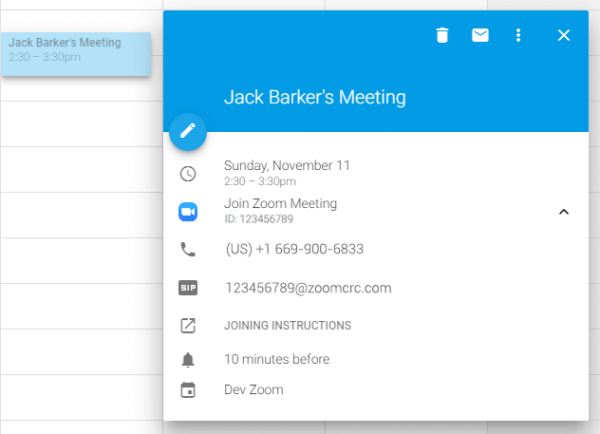 Starting with the basics, integrating Google Calendar with Zoom is a simple process in Zapier, a service that allows quick connection of web-based apps. While it's not the most complicated integration, it easily allows you to schedule a meeting in Zoom and automatically add it to any Google Calendar of your choice.
This is especially useful for projects that have shared team calendars, and will make organizing team meetings and internal communication easier. With this integration, you can also automatically create detailed calendar events whenever you create a Zoom meeting.
If your project relies heavily on shared calendars, this is super helpful because you won't have to spend double the time populating the calendar invite. You'll even have direct Zoom links automatically added to the corresponding meeting, so when the time comes it's just a matter of clicking and connecting. If your team uses Google Calendar, or if you simply have to schedule a lot of meetings, this integration will save you a ton of time and effort, streamlining overall processes and communication.
3. Slack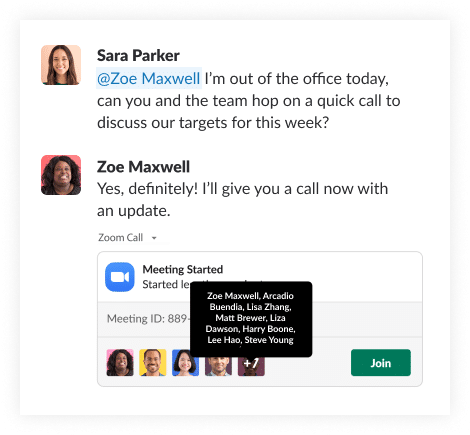 Another popular tool that teams often use to keep in contact or discuss ideas is Slack. Quite often when deadlines are looming, team members with specific tasks will be too focused to check their schedule and remember any Zoom meetings they might need to be a part of.
This Zoom and Slack integration is great because it will automatically post meeting reminders in specific Slack groups — no more missing important meetings or running late for check-ins with your manager. You can also configure it to send custom messages to specific Slack channels, or even contact a user directly.
Integrating Slack and Zoom is especially helpful if you know someone who is prone to forgetting meetings, or you simply want to send yourself a personal reminder. It's like having an automated assistant.
4. MailChimp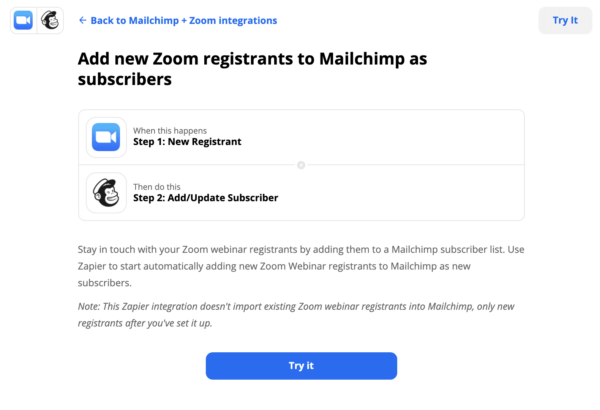 If your project relies on sales and webinars, then you'll find a whole host of Zoom integrations at your disposal to help you track registrations before and after, and follow up with them as potential leads. Connecting Zoom and MailChimp is an effective method of managing email follow-up with webinar registrants. To connect these two tools specifically, you will need to set up a Zap in Zapier.
The best part of using adding MailChimp to your integrations? You can configure it both ways, meaning can set up a Zap to automatically add new webinar registrants as MailChimp subscribers, or the reverse, where new MailChimp subscribers become webinar registrants. Setting up this well-rounded integration lets both platforms run side by side to create a seamless webinar process and support a well rounded marketing presence.
5. Salesforce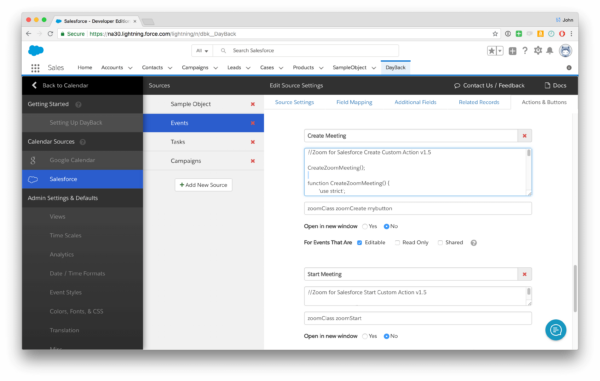 Another option for webinar follow-ups is to integrate Zoom with Salesforce. With this integration, whenever someone registers for your Zoom webinar, they will be automatically added as a new lead in Salesforce so you can follow up later without taking down any information manually. By integrating the two, you can also have Zoom meetings automatically scheduled as events in Salesforce.
6. Gong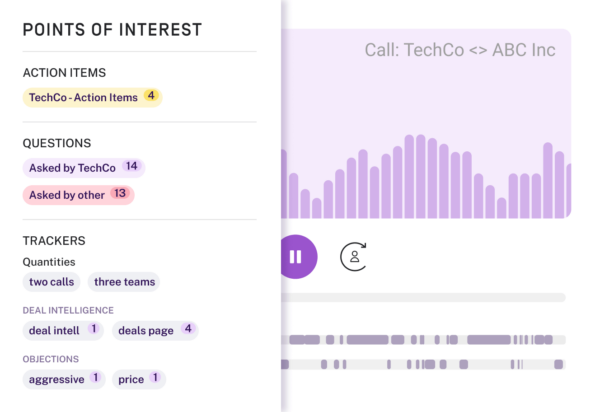 Gong's Zoom Integration lets you record, transcribe, and analyze Zoom meetings scheduled in G Suite or Microsoft Office 365. Based on the information gathered from your meeting, Gong also provides insights so you can monitor and stay on top of your team's sales performance. And Because Gong is the only recording tool that works natively in Zoom, your sales representatives and prospects are able to carry out their meeting as usual– no trainings or interruptions involved.
When you link Gong and Zoom, participants are automatically prompted to give video consent at the beginning of the Zoom meeting. When the meeting is over, all recordings are automatically uploaded to Gong in HD quality. Want even more information about your sales meetings? Gong's AI analyzes every Zoom meeting to identify coaching opportunities, deal risks, and important moments that will ultimately help your team close more deals.
7. Coda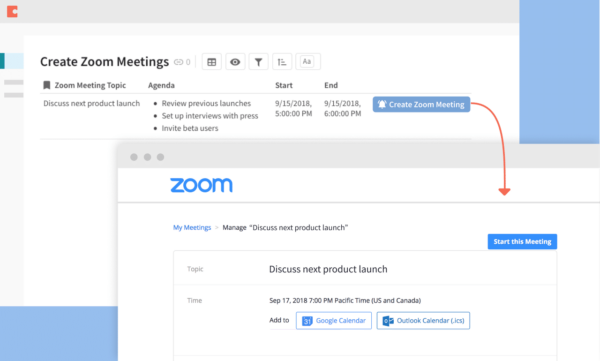 If you use Coda to manage your meeting notes or log your general project activity, then you'll definitely want to integrate it with Zoom to make your life a little easier, especially if you have to attend a lot of meetings and keep track of lots of moving parts.
By integrating Zoom and Coda, whenever you create a Zoom meeting you'll create a corresponding row in a Coda table — this is great for making sure you're not mixing up meetings and notes. This integration is also particularly useful if you want to share any thoughts or concerns that came up in the meeting with your team. It's another fairly simple integration, but it can drastically improve productivity.
8. Dropbox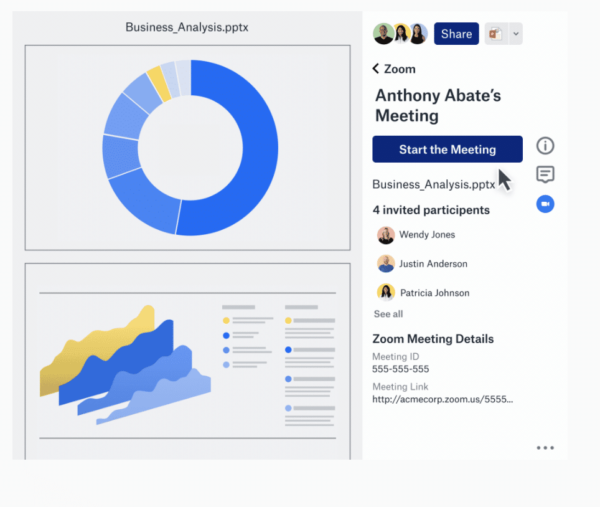 Dropbox is one of the most widely-used file hosting services that lets teams share and backup filed in a cloud-based storage platform. Because many teams already use Zoom and Dropbox independently of each other, this integration is a great way to get even more out of the existing tools you already use.
With the Zoom and Dropbox Integration, you can immediately start a Zoom meeting from a Dropbox file, automatically copy transcripts and meeting recordings from Zoom into Dropbox, and quickly present Dropbox files on-screen during a Zoom meeting.
Additionally, you can utilize Hive, Dropbox and Zoom together, as Hive's Zoom integration allows you to start a meeting by typing "/zoom" into a chat window. From there, you can discuss Dropbox files shared in Hive during your meeting. Now that's a productive trio of tools.
9. Otter.ai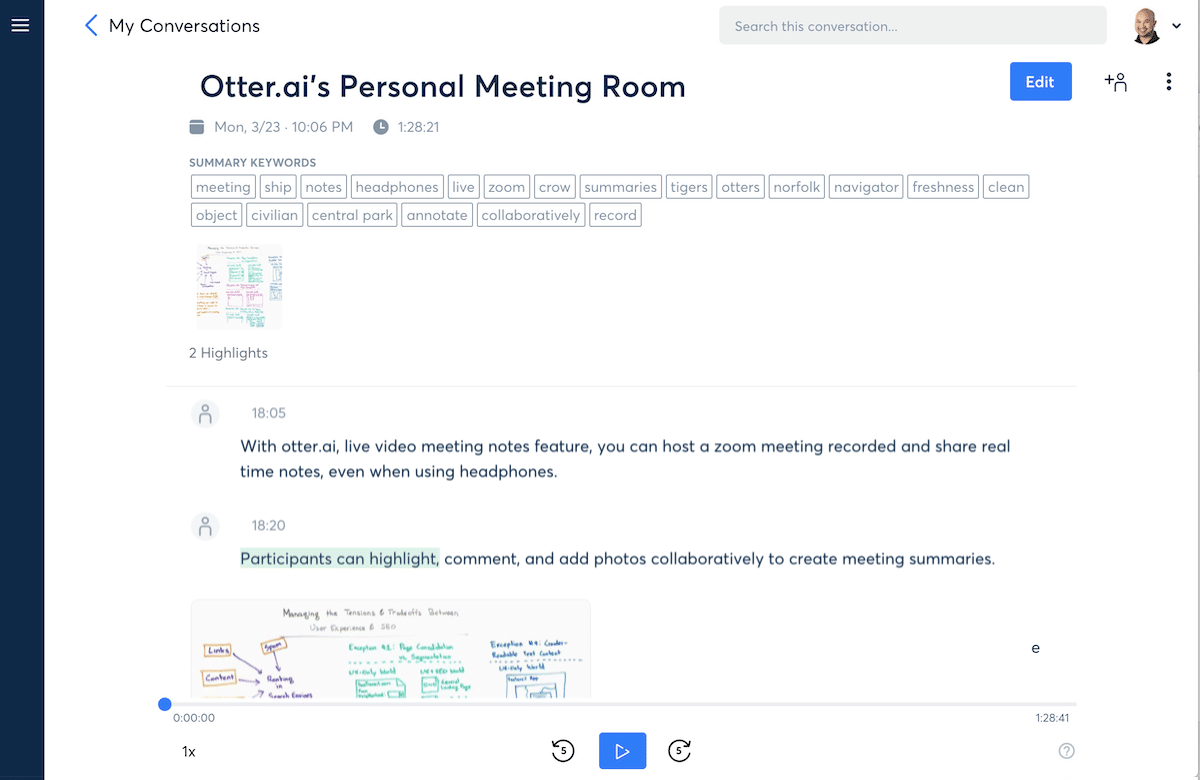 Otter.ai is one of the best integrations for transcribing your Zoom meetings. With the Otter and Zoom integration, Otter will automatically download your meeting once it's finished and provide you with a transcription. This tool makes sure all information is captured accurately, without the need for someone scrambling to take notes throughout the meeting.
If you have an Otter for Teams subscription, you can also access live meeting transcriptions and live meeting captions. Live transcriptions serve as collaborative notes, where participants can view, highlight, comment, and add photos to the transcription in real time. This Otter business plan starts at $20 per user per month.
10. Clipchamp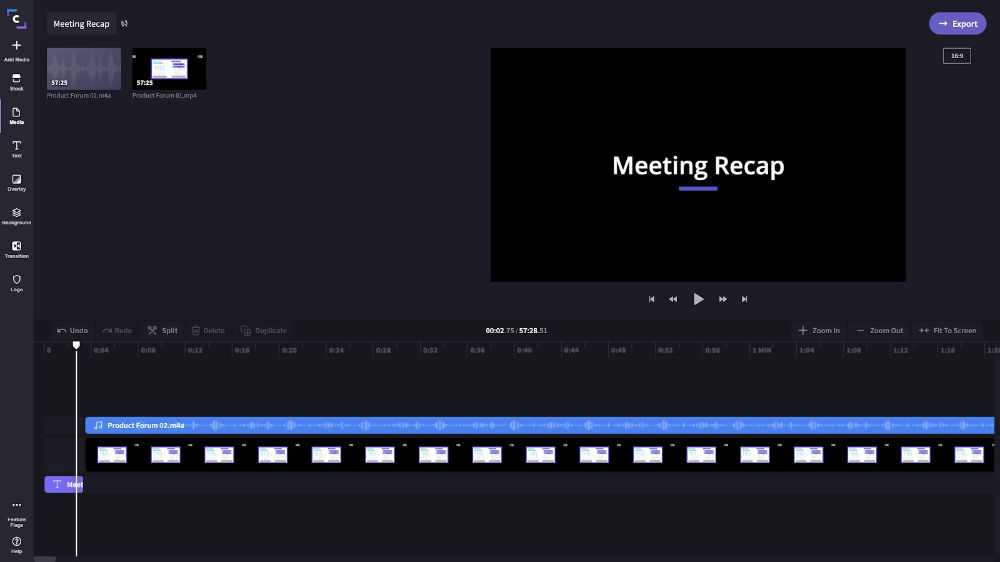 There are times when meetings need to be recorded for other team members who were not able to attend or for sharing company conferences with the public. Whatever it is you need a zoom recording for, Clipchamp is a useful tool for editing zoom recordings and creating corporate videos. You can add captions, trim the video, cut unnecessary parts, or add effects to make it more engaging.
Using just a browser, Clipchamp integration makes it easier to import and edit video recordings from Zoom Pro, Business, and United Business accounts. This integration is a great option for small businesses and creators because the free basic plan already offers a suite of editing tools to effectively edit and enhance a zoom recording.
11. Appy Pie Connect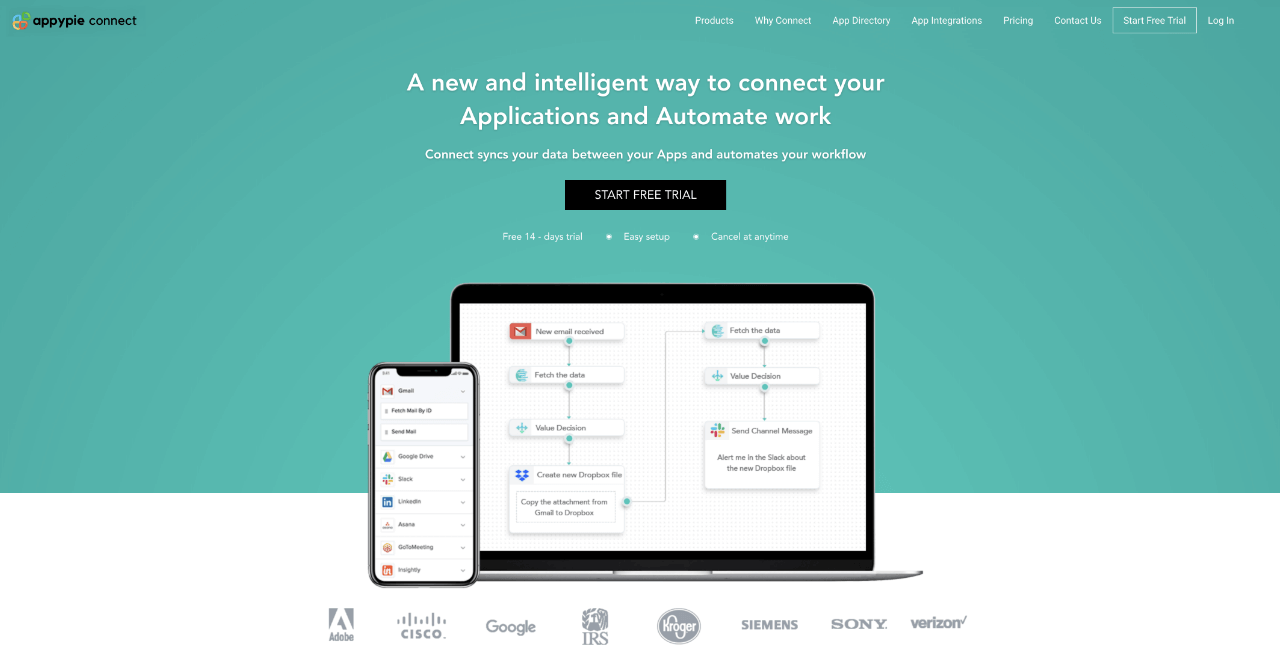 Appy Pie Connect is an online automation platform that helps you connect all of your favorite apps together and automate workflows without any coding. It's simple to set up and use, and it saves you tons of time every day. And when you use Zoom and Appy Pie Connect together, you can bring this enhanced productivity to your video platform as well.
Appy Pie Connect allows you to connect Zoom with more than 250 apps supported on its platform, including Slack, Hubspot, Paypal, and Salesforce. To do this, simply set up workflows called "Connects" with a few combinations of triggers and actions — no coding experience necessary. With this Appy Pie and Zoom integration, you can automate your workflows and increase the productivity of your teams.
12. Google Drive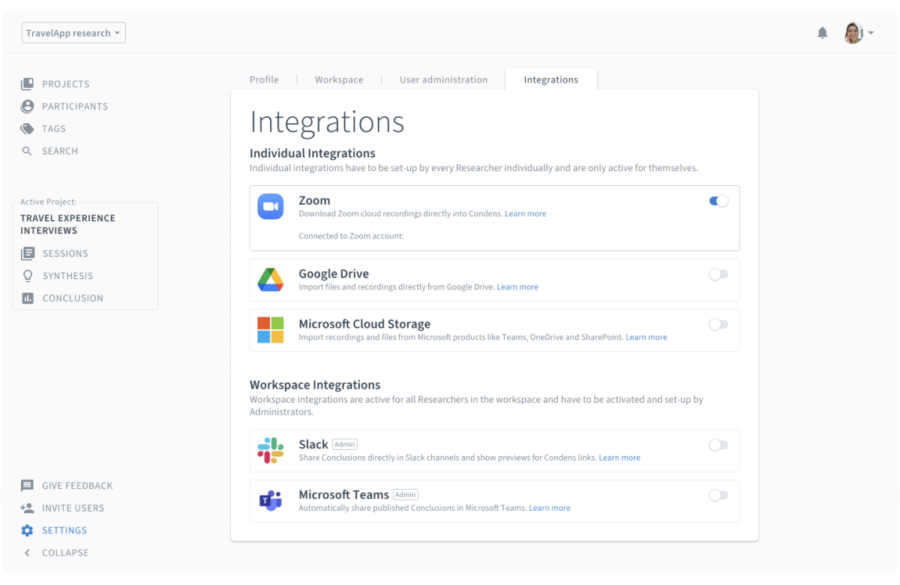 Productive meetings on Zoom result in everyone being on the same page and that's why the integration with Google Drive makes it easier to achieve that. When running a productive meeting, whether it is sharing the meeting agenda or an important doc with your team, this file-sharing integration allows you to distribute your message easily in chat and during a meeting.
You should get this integration if you use Google Drive as your cloud storage and management solution. One of the advantages of Google Drive is having everything backed up, protected and synced across all devices.
13. Miro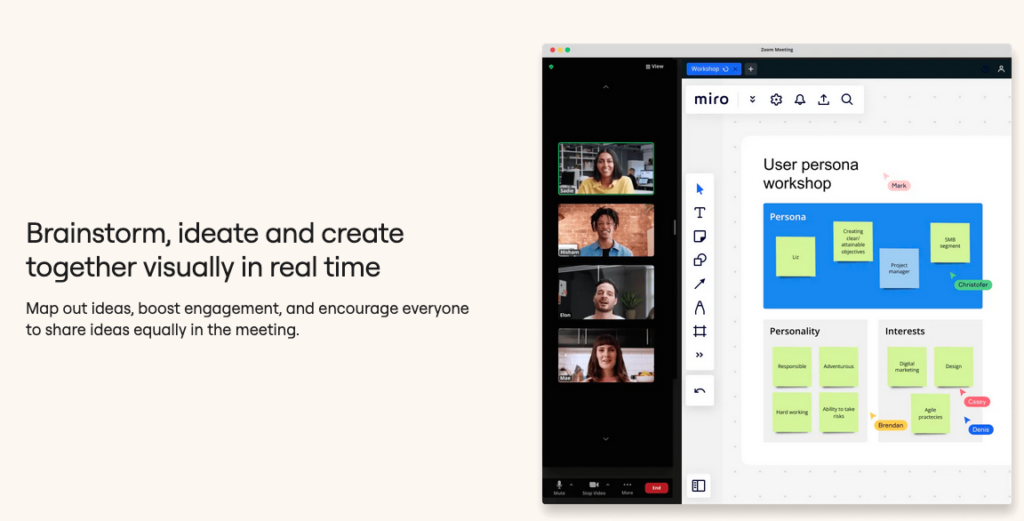 Miro is a cloud-based whiteboard platform ideal for collaboration with remote and hybrid teams, Miro's integration with Zoom lets you brainstorm in real time using their infinite virtual whiteboard. You can use Miro to brainstorm with your team or new clients, ideate new services, manage projects, design and prototype new products, facilitate workshops and meetings, and document and share knowledge among departments. Miro has a free plan with limited capability, a starter plan at $8 per member/month and a business package at $16 per member/month.
---
Are there other Zoom Integrations that help your team collaborate? We want to hear from you! Let us know how you make the most out of your Zoom calls in the comments below.