It's hard to imagine a time when virtual meetings weren't a part of our workday. In fact, when we surveyed over 300 people at the end of 2020 about their remote work experience thus far, 91% of people said they use video conferencing tools at work — significantly higher than any other category of remote work tools. 
Although Zoom meetings have taken over our calendars, most people still look for ways to improve how they run virtual meetings. And in a world with countless articles circulating about Zoom fatigue, there's an even larger emphasis on making meetings productive and optimizing efficiency. There's nothing worse than wasting time on a poorly run meeting. 
In this article, we are outlining the best practices that will help you run an effective virtual meeting. You might not need every single one of them, but you can use this guide as a general guide to run virtual meetings that everyone will actually enjoy. So here you go – you're already on your way to your best virtual meetings yet.
1. Set your meeting goal.
Whether you're running a meeting about your own project or about some other initiative, it's important to understand the purpose of the meeting and set a goal aligned with that purpose. You may want to consider the meeting's context within the overall project — what needs to be done in order to move forward to your next step? 
When you set a goal before the meeting even begins, it gives you a guiding light for everything in the preparation stages. Based on what you want to accomplish in the meeting, you can better decide who needs to be invited, what should be discussed, how much time you need, and what information you need to walk away with. 
2. Choose your virtual meeting tools.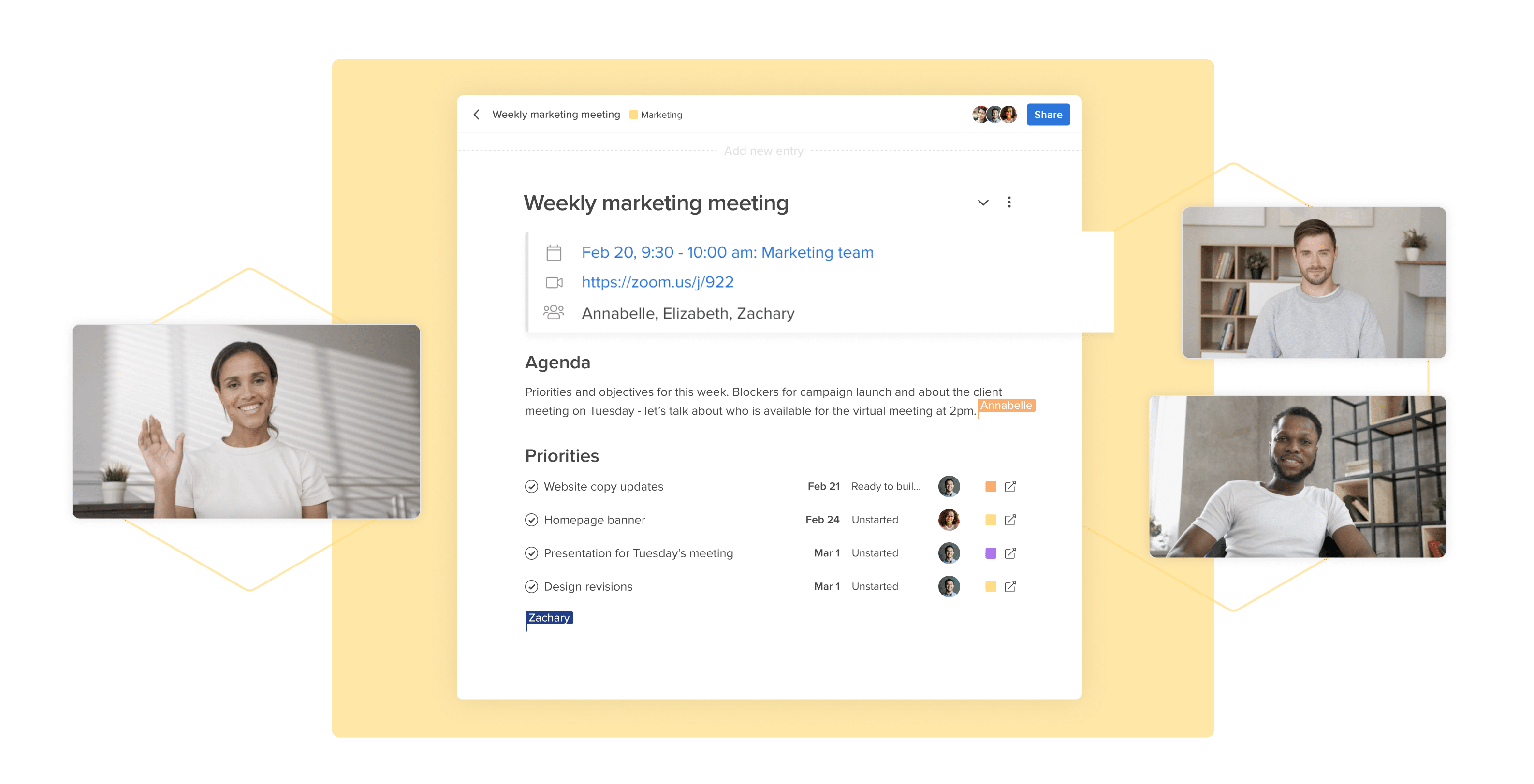 There are many different meeting tools on the market that let you run virtual meetings smoother every step of the way. We don't know how we functioned before we started using Hive Notes for meetings — it's been a real game changer. But depending on how you plan to run your virtual meeting, you will want to pick an online meeting tool with certain features and integrations.
So what types of meeting tools do you need? Scheduling tools can help align calendars and find availability, while video conferencing tools are the platforms that actually host the meeting and connect everyone in an online "room." You should take time to research and familiarize yourself with these tools before it's time to use them — you never know when some troubleshooting will be necessary. 
To better understand which tools can help you run your virtual meetings, ask yourself these questions:
What video conferencing platform will everyone have access to? Just because you use Zoom, Teams, or other popular Zoom alternatives for video conferencing, it doesn't mean everyone else does. If your meeting includes internal and external participants, you may want to check beforehand and make sure they can access the meeting platform you currently use. Most tools have free trials or support external participants, but it never hurts to check. 
Do I need help scheduling?

If so, you may want to look into a

meeting scheduling app

. If you already use Google Calendar to send meeting invitations, luckily it has built-in scheduling features to see when all guests are available. For a tool that lets others book time on your calendar, check out

Calendly

.

Do I want everyone to collaborate in the meeting? Depending on the formatting and purpose of the meeting, you may want to choose a platform that allows everyone to collaborate. Hive Notes is a great meeting tool for real-time collaboration, as it lets everyone edit and contribute to the note at the same time. Contribute ideas and take meeting notes using rich text, images and GIFs. 
Do I need to present slides, share my screen, or display information?  If so, make sure your video conferencing platform supports screen sharing or integrates with your presentation software. You can also drop images, graphics, or charts into a shared Hive Note — and then share the Note on the Zoom screen — for an interactive presentation that encourages everyone to be engaged.
How will we assign next steps? Will you follow up on next steps via email? Or perhaps you already use a task or project management tool to assign actions and track progress that way. Hive Notes is also great for assigning next steps in meetings. With Hive Notes, you can turn any talking point into an action item, assigning next steps right within the note. When it's time for your next meeting, simply revisit the note to see what has (and what hasn't) been done yet.
3. Create a meeting agenda and share beforehand.
In Doodle's study of 19 million meetings, 43% of people said poorly organized meetings keep them from having enough time to do the rest of their work, while 38% of people say a lack of organization results in a loss of focus on projects.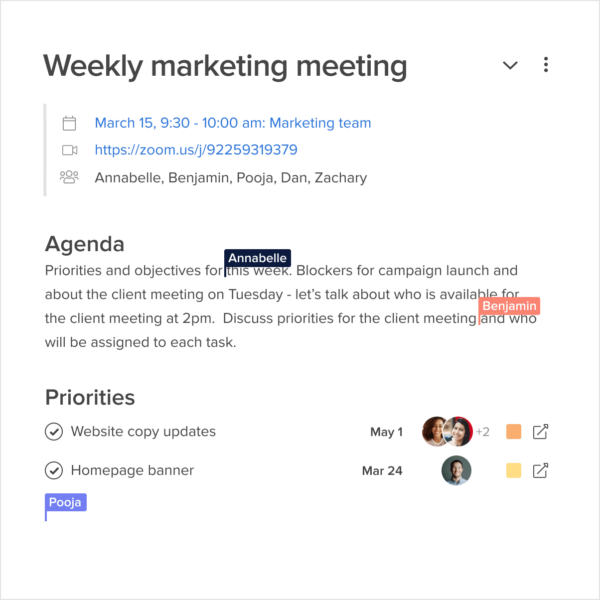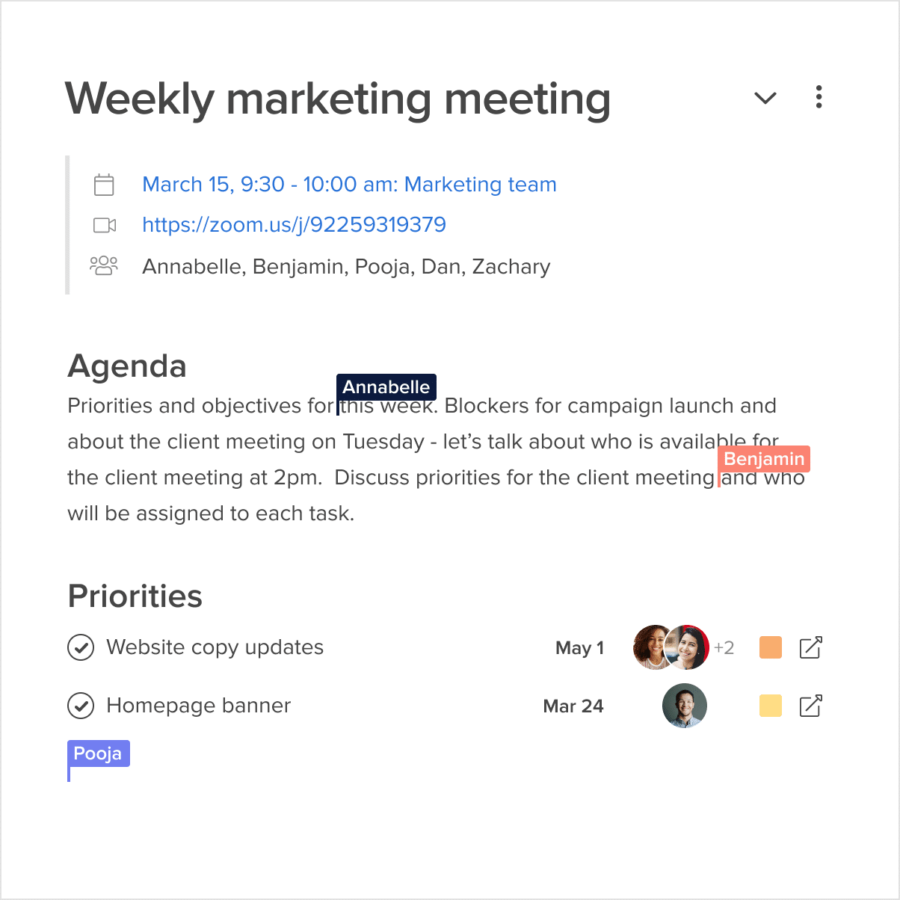 Meeting agendas are one of the best ways to keep everyone organized and on the same page. You shouldn't skip out on meeting agendas just because Zoom meetings aren't held in person. In fact, agendas may be more important for virtual meetings. When you think about it, the need to keep everyone on the same page is even more crucial with distributed teams.
Thanks to new meeting tech, you can say goodbye to stale, static agendas. With Hive Notes for Zoom, you can easily create an agenda, link it to an existing meeting, and share it will all meeting participants ahead of time. During the meeting, all participants can type and add ideas to the agenda in real-time as you as you work through topics and take action on each talking point. You can also assign action items to participants and share the notes with anyone who wasn't able to make the meeting – it's the best way to make sure everyone leaves with clear next steps and nothing falls through the cracks.
The best part is that this Zoom app brings Hive Notes right into your meeting window, so there's no need to juggle several tabs as you take notes. It's a brand new virtual meeting experience, and it's totally free, forever. Simply download the Hive Notes app in the Zoom Marketplace to use it in your next virtual meeting.
4. Send a reminder.
Everyone has been there. A calendar invitation gets buried in your inbox, you forget to click "yes" to accept a meeting invite, or you simply get distracted by other tasks. As people get used to remote work and learn to stay organized in a completely online world, it's more important than ever to send meeting reminders. 
To make sure your attendees don't miss your virtual meeting, send a follow up email 30 minutes or an hour before the meeting begins. You can also do this informally via Slack or another messaging platform if you communicate there.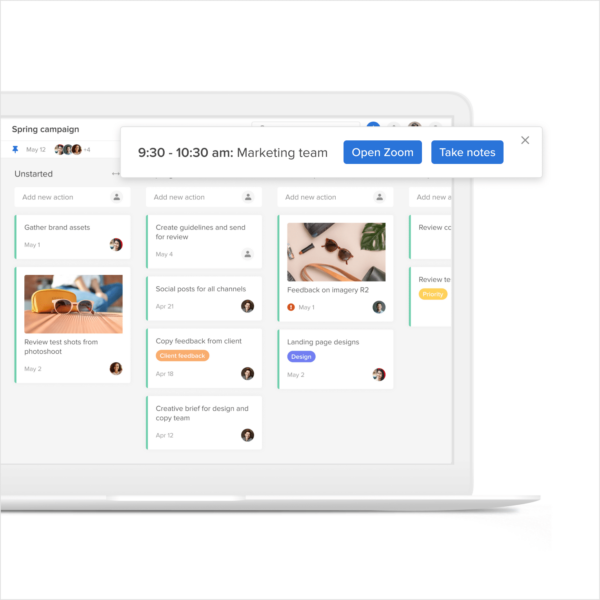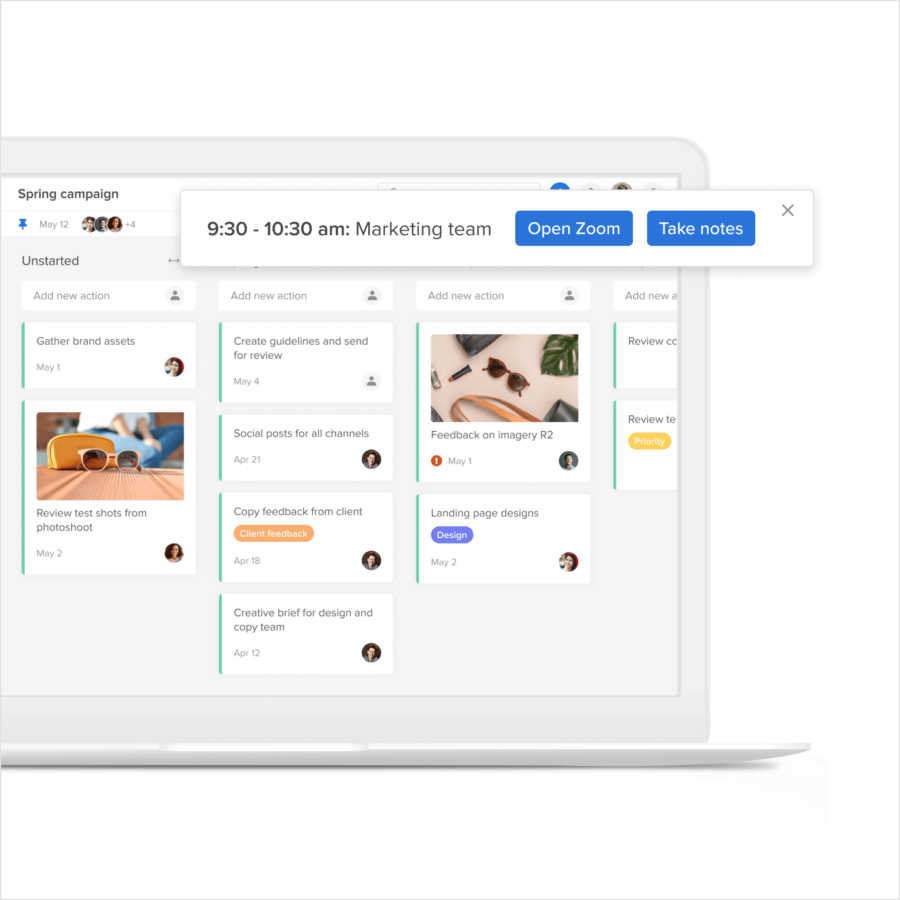 You can also check and see if your meeting tool has a built in reminder or notification system. For example, when you use Hive Notes for meetings, all participants will receive a toast 10 minutes before the meeting begins, prompting them to open Zoom or to take notes. A reminder that makes it easier than ever.
5. Create a positive environment.
Virtual meetings don't have to be awkward. In fact, virtual meetings can actually help level the playing field and give everyone a chance to contribute. It's very easy to feel intimidated in a board room full of people, but with everyone behind a computer screen, it takes away some of the tension and nervousness of pitching ideas to people you've never met before.
So as the leader or meeting organizer, it's your job to make sure you set the tone of the virtual meeting and make everyone feel comfortable. One way to do this is with virtual ice breakers, which help cut the awkward silence at the beginning of the meeting and almost always lead to a couple of laughs.
Obviously this isn't necessary if you're in a 1:1 or meeting with your internal team, where everyone is acquainted. But if you're looking to build better relationships and foster team culture, consider scheduling a virtual team building activity to mix up your regularly scheduled meetings. Taking a pause to focus on team connection will ultimately pay off in future productivity.
6. Give your full attention.
Just as you would in an in-person meeting, avoid eating and checking on your phone during a meeting. If possible, have your camera on and encourage others to do the same. There's nothing worse than conducting a meeting where you cannot see others' reactions. If you cannot turn on your camera, try to engage with the speaker using reactions and emojis. Make sure to have your audio turned off to avoid being a distraction or interrupt the speaker. When in doubt about meeting etiquette, talk to your peers about their preferences about camera on or camera off. If you are the host, make sure to allow time for people's questions and interactions. If you are a participant and have a question, use the chat to ask instead of interrupting the speaker, unless advised otherwise by the host.
7. Clarify next steps before the meeting ends.
We're all familiar with the post-meeting follow-up email, where the leader recaps what was discussed and outlines next steps. It's great in theory, but how often do people forget to send the follow up email? And what about the hours (or days) between when the meeting ends and when the follow up is sent? This gap leaves room for miscommunication and also hinders productivity.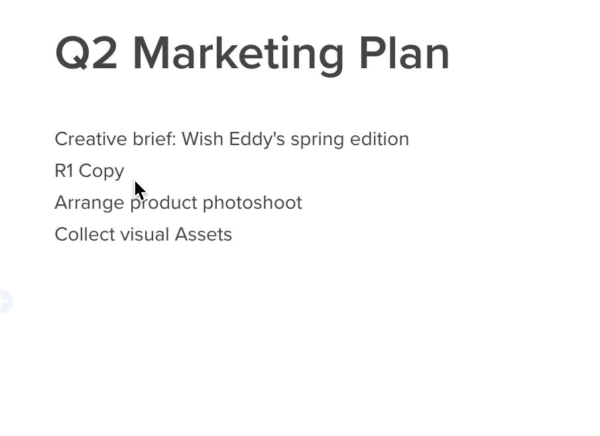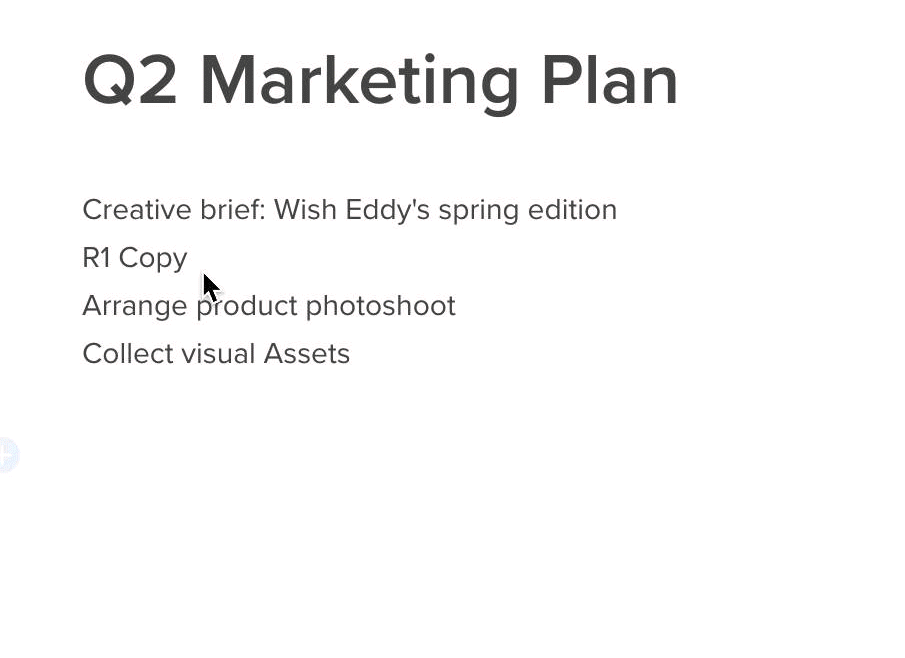 That's why it's important to clarify next steps and outline responsibilities before the meeting actually ends. With Hive Notes for meetings, you can assign next steps directly from the shared meeting note. Hive Notes lets you assign actions to internal and external participants, set due dates for tasks, and then track progress even after the meeting ends.  
All of this can be done right within the note you use for your meeting, so everyone (literally) remains on the same page. So don't wait until the meeting ends to start working on your projects. Assign next steps as you go, that way everyone leaves the virtual meeting knowing exactly what they need to do, and when it needs to be done. 
8. Follow up after the meeting.
Your team left the meeting, and now is time to follow up to ensure everyone is on the same page. If you discussed the following steps before the call ended, your follow-up email should be clear, short, and to the point. Make sure to have a direct subject line, preferably a call-to-action. If needed, offer some context, and point out specific tasks and responsibilities. Email etiquette can significantly help you to improve your communication with a remote team and take you further in your career.
9. Improve Engagement with Interactive Elements.
Virtual meetings can sometimes have lower participant engagement due to the lack of physical presence and more opportunities for others to get distracted. It can be helpful to incorporate interactive elements to encourage engagement and also ensure the effectiveness of the meeting. You can incorporate for example: polls, Q&A sessions, break-out rooms for smaller group discussions, or virtual whiteboards for brainstorming sessions. And best of all, you can find most of these tools in Hive!
Interactive elements not only stimulate participation but also help you to receive valuable insights from your team members. Promote open discussion and solicit feedback during your meeting to make sure everyone's voice is heard. Inviting your team to participate can significantly improve the outcomes of your virtual meetings and the overall team satisfaction. Remember, the key to a successful meeting is not just about the tools and technology, but also about cultivating a collaborative and inclusive environment for all participants. Using these strategies, you're sure to boost engagement and productivity in your virtual meetings.
We hope these tips can help guide you to running your best virtual meetings yet. Do you have any other best practices that we should add to this article? Tell us about your virtual meeting tips in the comments below. We'd love to hear from you! And in the meantime, check out Hive Notes for meetings — and get started totally free.