As a business owner, you know that project management is essential to your success. But what about when you're on a tight budget? Or what if you have no budget to speak of? There are plenty of free project management software options, whether you're in a start-up environment needing a free solution, or part of a long-standing business that's looking to optimize its processes.
If you are stressed about the bottom line and can't afford to add in another monthly cost, here are our picks for the best free project management software that can help your team reach peak productivity.
Narrow Down Your Project Management Options
If project management platforms were a game of darts, you wouldn't land a bullseye every time. There are so many free project management software platforms out there — from spreadsheet versions to drag and drop Kanban tools — that you might need to try out or research a few options before you settle on the perfect one. However, you can narrow down your chances of getting that coveted bullseye if you determine exactly what you need in a project management software before you start.

Ask input from your team.
What are the main tasks that your team performs? Are they remote? Do they follow the hybrid work model? What functions would they want their project management platform to achieve? If you ask your team for their input, you can better gauge what will work and what won't work. You might also be surprised by many who have used specific platforms before and have good input on past experiences. Asking your team before choosing the final solution can help get your employees involved and could also help with a smooth onboarding when you are ready.
How large is your team?
This is a huge factor when it comes to free platforms. Count your team and ensure that the platform you choose has a free version that can account for everyone. For example, a free project management software like Hive has more free functionality, but is only available for two members. On the other hand, ClickUp has less features, but offers unlimited members for free. Make sure you consider the size of your team to get the most bang for your buck. 
Does it have the features you need?
When project management software first came out, they were all very basic. You could create tasks and assign them to team members, but that was it. Nowadays, there are a ton of project management platforms with different features. Suppose your team needs a specific feature like Gantt charts or time tracking. Make sure that the project management platform you choose has the features you need. Otherwise, your team will be stuck using a basic platform that doesn't allow them to perform their tasks to their best abilities. 
What's the user experience like?
This is a big one. If you've ever used a project management platform that was difficult to navigate or had a confusing user interface, you know how frustrating it can be. The user experience should be at the top of your list when choosing a project management tool — for both you and your team. After all, you don't want to be stuck trying to figure out how to use the platform when there's a project due tomorrow.
Take your time and find the right fit.
There are so many project management platforms on the market that it can be tempting to just choose one and get started. But, taking your time to find the right project management platform for your team is worth it in the long run. By following the tips above, you can narrow down your choices and find a free project management software to help your team succeed — without breaking the bank.
1. Hive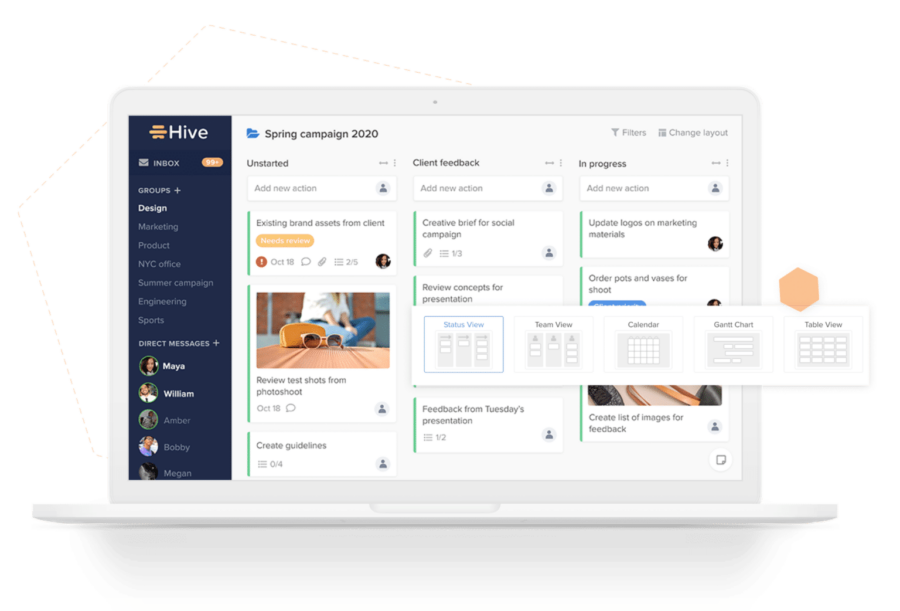 Hive is a project management platform that serves teams of all sizes. Hive Free, the platform's free-forever plan, offers full project management functionality for up to 10 users. This makes it a great free project management software for small teams, freelancers and entrepreneurs who want to streamline their work and manage day-to-day projects. 
With its simple user interface, Hive makes it really easy to get started right out of the box. And with all of the standard task management and collaboration features, there are plenty of useful tools to keep your team organized. From a native chat to multiple project views and a helpful note-taking section, the free version of Hive gets the job done. Some of the best Hive Free features include:
Unlimited tasks
Unlimited collaborative notes
Gantt, Kanban, Calendar and Table views
Email in Hive
Native chat messaging
200MB of storage 
As the world's first democratic productivity platform, Hive is built based on user feedback. This means that you have the ability to influence what new features are rolled out weekly Hive — and is one of the reason so many Hive users love the platform today.
If you want to access more storage, add additional users, or add "Apps" with more functionality to your Hive workspace, you can upgrade to Hive Teams for just $12/user per month. Hive Teams offers additional perks and features to help streamline your work, including timesheets, analytics, shareable forms and more.
But for those with lighter project management needs and a team of 10 or less, get started with Hive Free today to access all the features you need to keep your workday on track!
2. Zoho Projects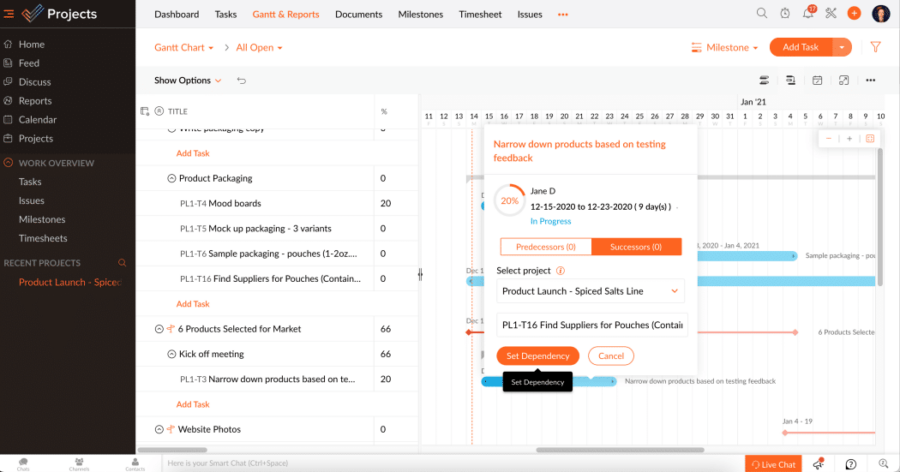 Don't be fooled by the child-like logo — Zoho Projects is not an immature choice. In fact, it offers teams a handful of robust features for sales and marketing, including powerful integrations, secure cloud storage, plus some extras like Gantt charts and time tracking. Zoho projects also sit within the larger suite of Zoho products, which includes a CRM platform, virtual assistant software, meeting tools, and much more. This makes it easy to bundle software options to find the best fit and value for your team's needs. 
Zoho projects can be used at no cost for up to 3 users, making it a great free project management software for small teams. But for teams with more than three people, you'll need to pay for the Zoho projects premium plan. Zoho Projects premium plans start at $5/user per month, while the enterprise plans start at $10/user per month. 
3. Trello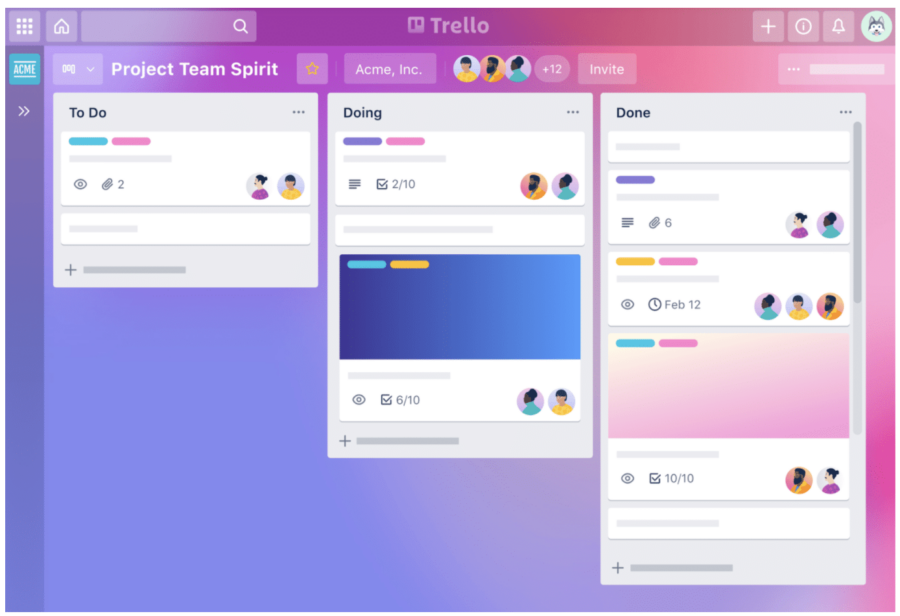 Trello is a popular project management platform known for its simplicity and ease of use. Perfect for small teams who want a basic project management tool that's easy to figure out. A popular go-to free project management platform for businesses and freelancers, Trello offers workflow visibility with its Kanban style layout. So if your team wants to move around projects, keep an eye on tasks, and loves working with moveable cards, this tool could be the one for you. 
One of the biggest benefits of Trello is that its free plan includes unlimited cards and members. When it comes to simple, useful tools to keep your team organized on a tight budget, Trello is one of the best picks. However, keep in mind that if you want to unlock the full power of the tool, you will need to upgrade to a paid pricing plan which starts at $5/month per user.
Want to learn about more tools like Trello? Check out these top Trello alternatives on the market.
4. ClickUp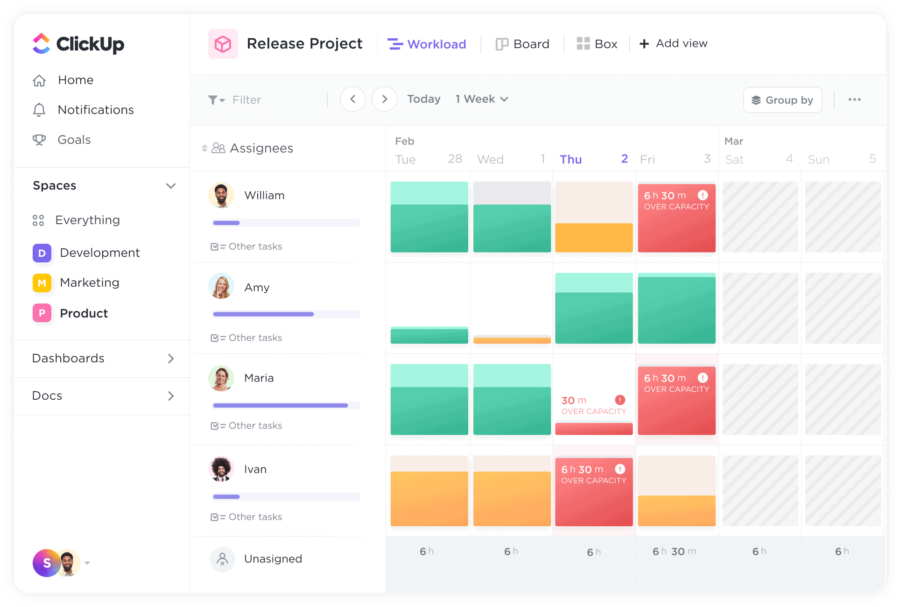 If you have ever used any of the paid versions of ClickUp, you might agree with me when I say that it is an absolute project management behemoth. ClickUp can do almost everything you need in project management tasks, permissions, and goals. It is important to note that ClickUp's free project management option is more limited in functionality than its paid pricing plans.
Using the free version, there have been so many times when I would click on a feature I would want to use, but alas, it's only available for the paid version. However, I would still recommend the free version of ClickUp over some other PMs on this list. While ClickUp feels watered down, it still offers many perks for small teams and can be a game-changer for your small business to optimize its processes. Some of their free version perks include 100MB of storage, unlimited tasks and members, real-time chat, and collaborative docs. 
Check out our guide to the best ClickUp alternatives to learn about other comparable tools on the market.
5. Airtable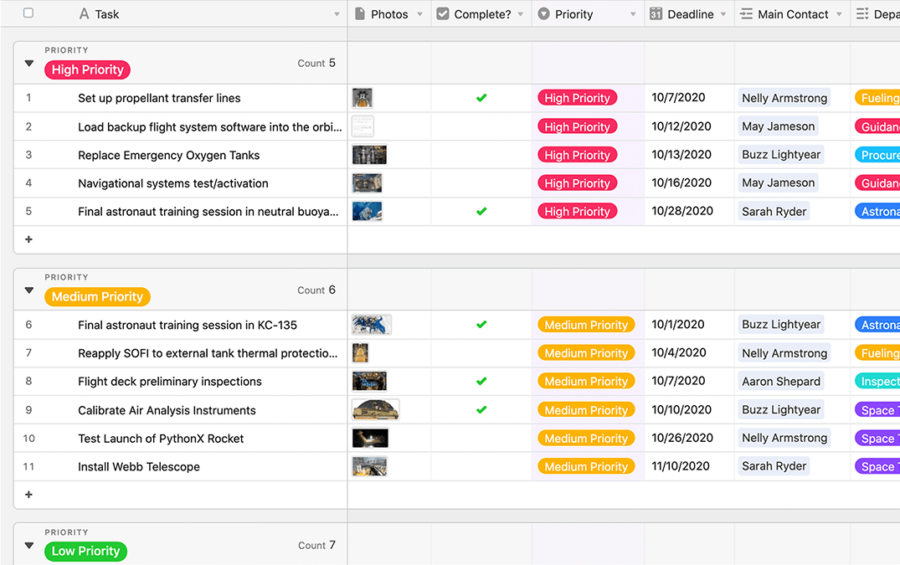 After discussing with your team about their needs and wants on a project management tool, Airtable might be just right for your organization. The platform is an easy and low-code solution for teams looking for automation, tracking workflow, and building collaborative apps. Airtable has pre-made templates that make onboarding easier. The software allows integrations with the most popular tools including Google Workspace, Slack, Facebook and Twitter. Airtable offers a great interface and real collaborative experience, with the ability to see projects and tasks on grid-like view, Kanban boards, Gantt charts, and calendar views.
Airtable has a free plan that includes up to 5 creators or editors, you can create unlimited bases, unlimited commenter and read-only users, up to 1,200 records per base and a total of 2GB of attachment per base. The Plus plan costs $10/month and offers several premium features such as custom branded forms and automatic table syncing.
For similar tools, check out our guide to the best Airtable alternatives on the market.
6. Wrike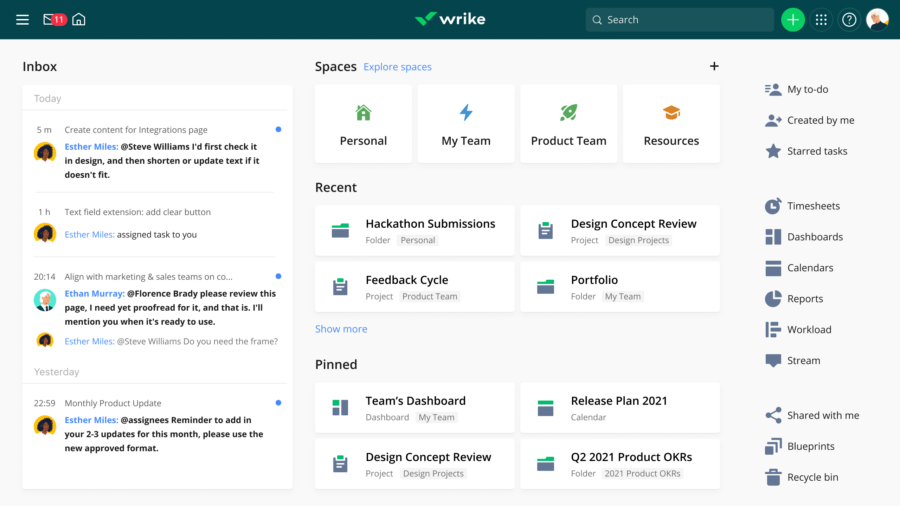 If you have a small to midsize business, Wrike might be just right for your organization. The project management tool offers a flexible, drag-and-drop Gantt chart that makes it easy to overview tasks deadlines and dependencies. Teams can collaborate with the in-app commenting, user tagging, and an approvals/proofing module. Wrike displays data and insights on a visually appealing dashboard making reporting to stakeholders an easy task.
The tool also offers native and third-party apps to complete tasks, manage KPIs and generate reports. Wrike's freemium plan allows for unlimited users, cloud storage integrations (Google Drive, Dropbox, Box, Microsoft Office 365, and One Drive), and 2 GB of storage space per account. Wrike's Professional plan starts at $9.80 per user/per month. 
Check out our guide to the best Wrike alternatives to continue your research and learn more.
7. Monday.com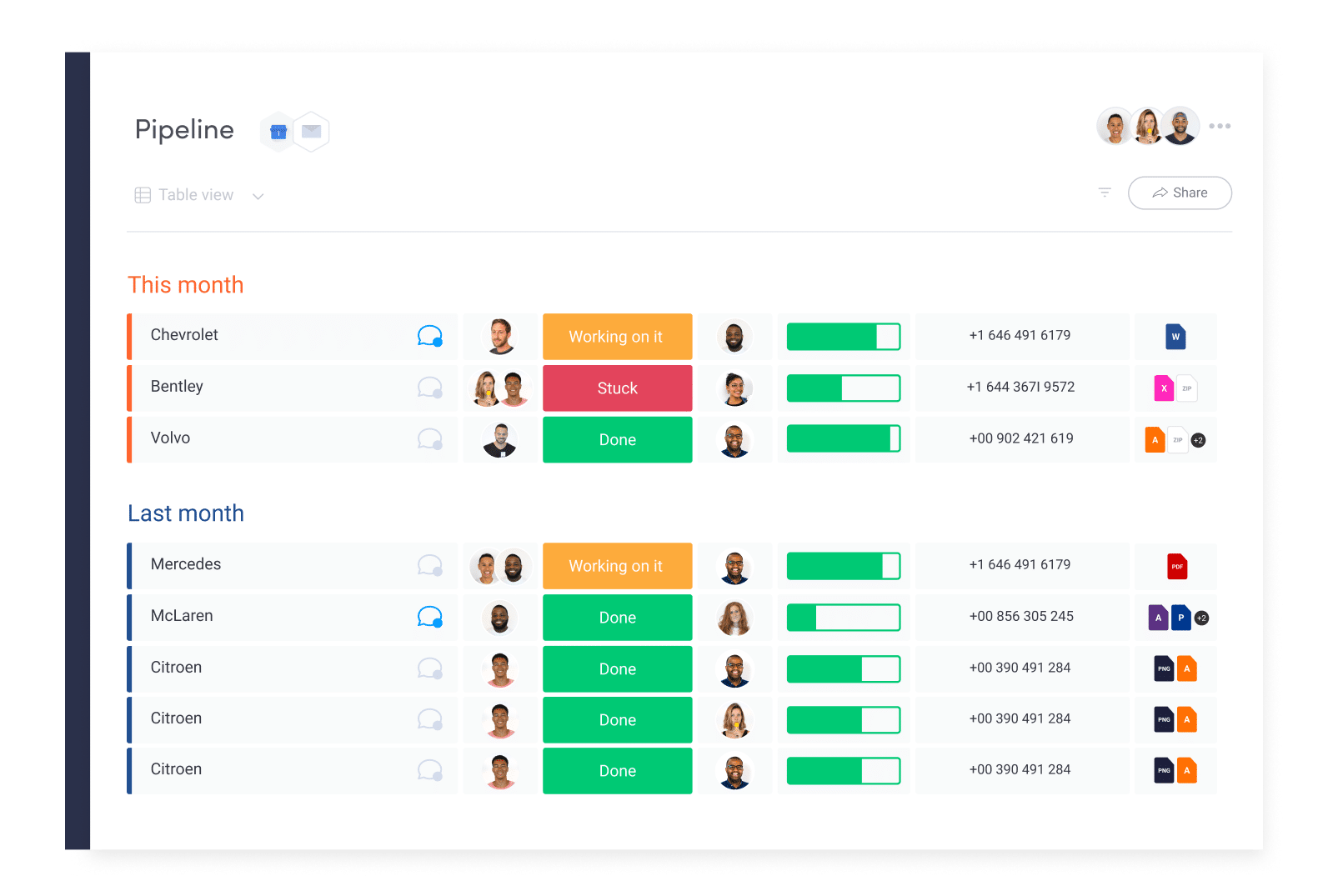 Monday.com has a free plan to help you and a team of up to 5 people to manage projects. The platform offers task management, dependency tracking and several app integrations, such as Slack, Jira, Asana and HubSpot CRM. Monday.com also offers native social media management, customer relationship management and free educational webinars for all subscribers. It also has a "panic button" feature, which allows users to lock down the entire account to protect data in case the account gets compromised. 
Monday.com supports unlimited docs and is available for iOs and Android apps. The project management software also offers templates, checklists, boards and columns, apps integrations, and task automation. The free version includes limited features and the basic plan starts at $8 per month/per user. If you are unsure if this is the best free project management software for your team, check out our guide for Monday.com alternatives. 
8. Asana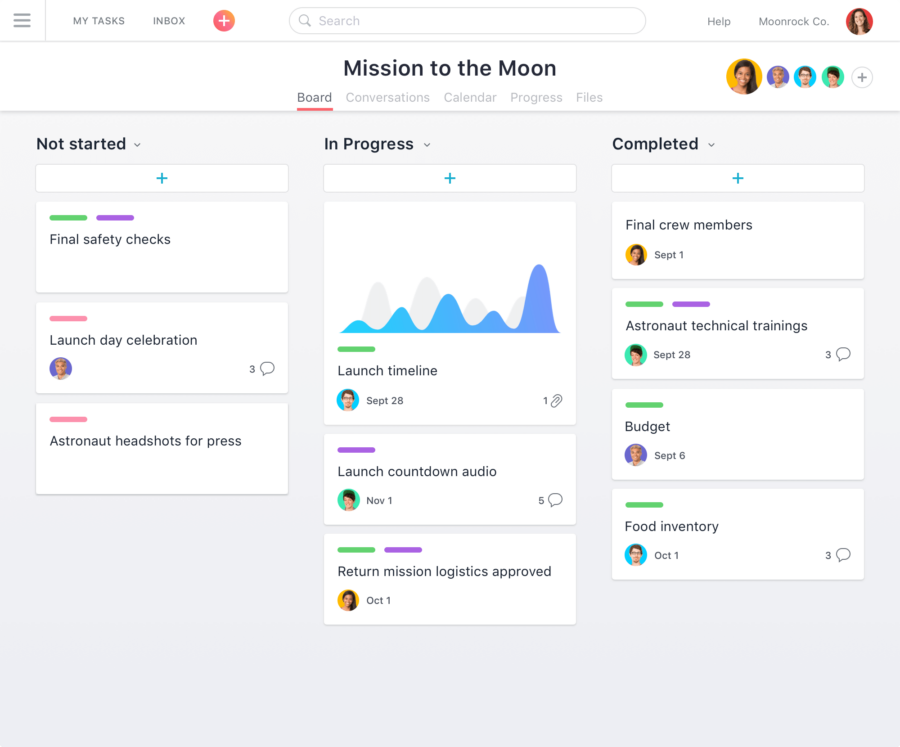 Asana is a great project management software if you are looking for a project management tool with a free plan for more than 10 people. Asana's free plan allows 15 people to collaborate, and create unlimited tasks, projects, messages, activity logs, and unlimited file storage (100MB per file). As an agile tool, Asana lets you streamline work pipelines and easily spot bottlenecks and backlogs. The platform is built on tasks, which can be grouped into larger projects and assigned to individual team members. The tool has flexible dashboard views, such as Kanban, board, Gantt chart, and calendar view. Asana has a free plan with limited features. Its paid plan unlocks premium features and starts at $10.99. 
To see how Asana stacks up against other tools on the market, check out our full guide to Asana alternatives.
9. nTask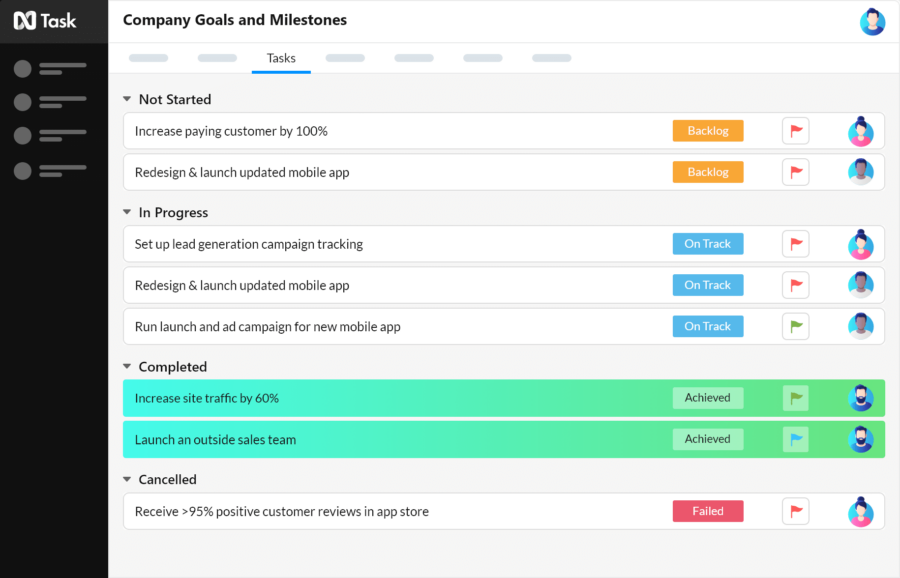 Another project management application on the list is nTask. The task management tool facilitates tracking project development, collaboration across teams, and risk assessment. 
The application has an intuitive and minimalistic interface, making it easy to onboard new users. nTask is also easy-to-access being available on multiple platforms. Some of the key features include team management, risk management, meeting management, bug tracking, Gantt charting, Kanban boarding, time management, and timesheet management. 
nTask basic plan is free and offers unlimited workspaces, tasks and to-do lists. On top of the free basic version, nTask also offers a free trial on its premium and business plans. The paid plan starts at $3/month/user.
10. GoodDay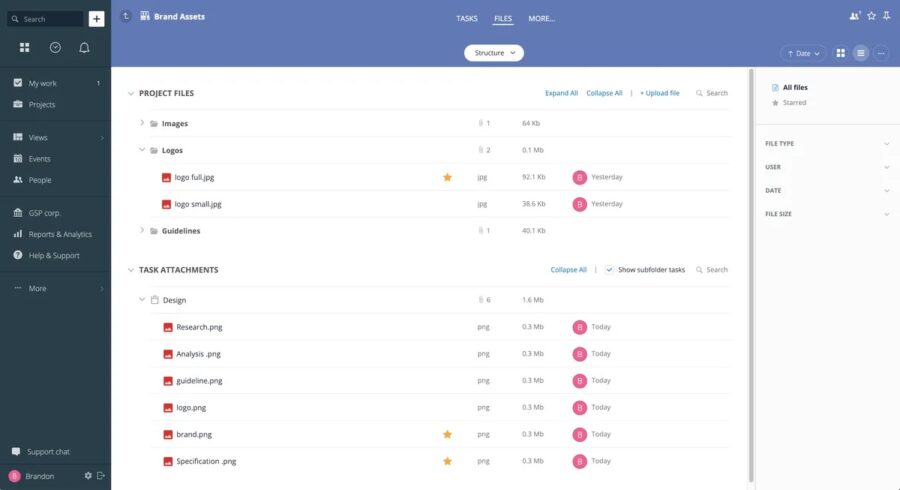 GoodDay offers a simple "task organization and productivity growth based on transparency, agility, and motivation." The features are customizable to suit various project requirements and everything can be accessed in Gantt, Kanban, Board, and Calendar views.
GoodDay is available on multiple platforms making it easy for anyone on the team to utilize it. Key features include one-click start templates, resource management and milestone tracking.
You can get started with GoodDay for free in a plan that includes unlimited projects/tasks/events for up to 15 users, or upgrade to the Professional plan for $4/user/month for additional features including advanced views and integrations, custom fields, user roles customizations, and more for up to 250 users.
11. MeisterTask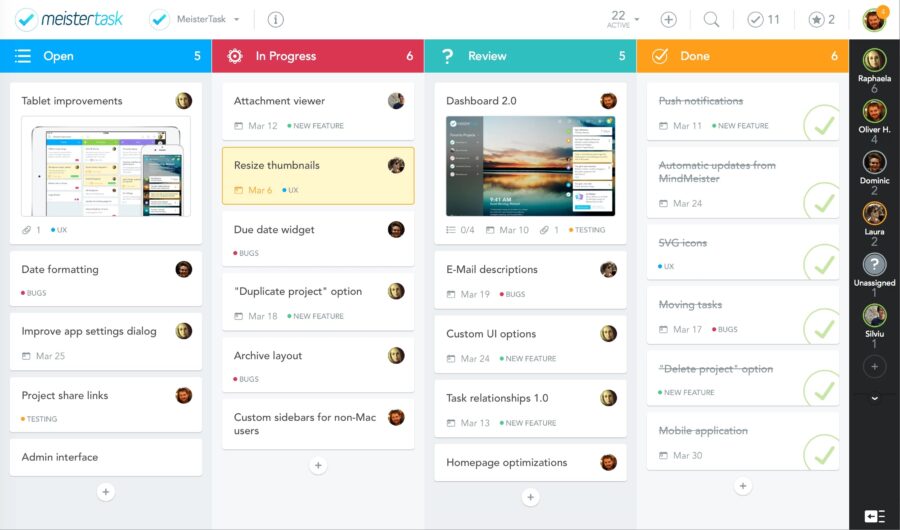 MeisterTask is another great choice if you're looking for a free task management software to get you started with your project. The free Basic plan allows a single user to work on up to three MeisterTaskprojects with unlimited project members. It includes customizable Kanban boards, but integration capabilities are limited. 
Collaborating on a project is simple with easy to use task cards in which you can upload attachments up to 20mb and leave comments between team members. You can use MeisterTask across multiple devices with their native desktop and mobile apps. 
Although there are no timeline or automation features, the free plan gives you plenty of tools to get you started with your project management. If you decide you want additional features and the ability to work on unlimited projects, MeisterTask has plans available starting at $8.25 per month.
12. Indy
Indy is a great project management tool with a free option. The software features easy to use productivity tools focusing on freelancers, entrepreneurs and small teams. It includes templates for proposals, contracts, forms, and invoices. Indy lets you manage your projects with boards and lists, and you can message clients from within the app. With an intuitive calendar, you can monitor your schedule and there's even a time tracking feature. Indy provides its free users with 10 GB of storage to keep all of their files in one place. 
Indy gives you much of what you need to manage your independent business— and it's free forever. If you'd like more features, like Zapier integrations, automated workflows, and 1TB of storage, Indy's Pro Bundle plan is $6.75/month when paid yearly.
13. Nifty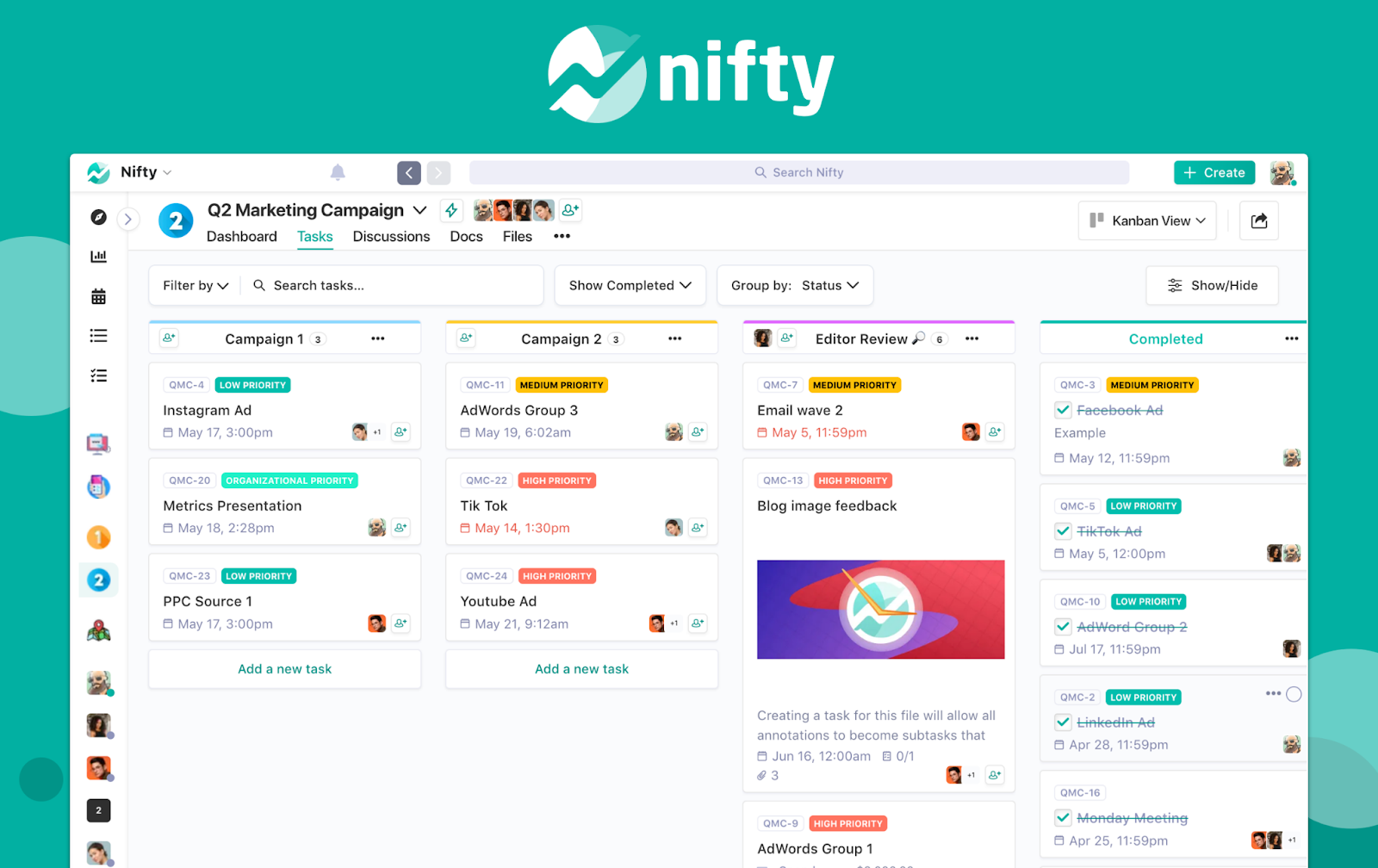 Nifty is a good free project management solution for startups, new teams and small businesses just getting started. From simple to-do lists to full-blown project plans with automated progress reporting, Nifty can help you out. It's an easy to use platform for teams and guests, allowing you to invite clients and freelancers to join specific projects. The best part? They don't need a subscription to view the projects.
Upgraded plans allow you to track projects with built-in discussions, milestones, automation, time tracking and more. Nifty allows you to keep documents and files in an organized hub for each project. You can even customize each project's home screen to fit your workflow. The solution offers over 1,000 integrations – including built-in Zoom, Teams, Google video calls, as well as Google Workspace. Nifty has most expected features in a project management app and some surprises — such as two-way editable Google docs and a built-in Direct Messaging suite. 
Nifty has five different subscriptions, starting with a free plan with limited functionality. If you opt for a paid plan, you can save up to 45% by paying for an annual subscription.
14. Plaky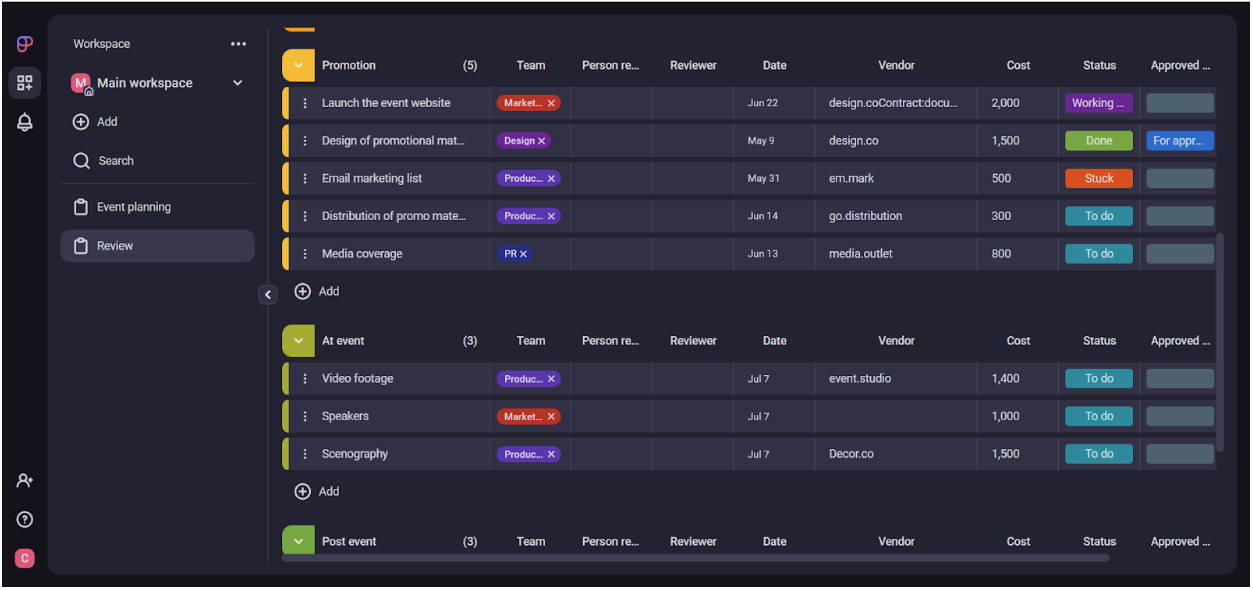 Plaky is a completely free task management tool for small and growing businesses. It's a straightforward and user-friendly platform with customizable features, making it easy to craft each workspace according to a team's workflow. Some of its key features include: unlimited users, projects, and tasks, table and Kanban board views, editable templates, time tracking integration with Clockify, guest access, as well as permissions control on a per-workspace basis.
If you've been looking for a software to effectively manage your projects at the office or on the go, without breaking the bank or worrying about data security, Plaky is worth looking into. Best thing is all of its functionalities can be accessed for free. 
Which will you choose?
All of these free project management software platforms are great choices for your team. But ultimately, the best platform for your team depends on your specific needs. By taking the time to consider your team's size, needs, and user experience, you can find the perfect project management platform for your business.
Which option will you choose for your team? Or did we miss a free project management software that you think should have made this list? Let us know in the comments below!