Airtable is a modern and widely used piece of project management software that mimics the spreadsheetlike operations of Excel or Google Sheets. While both Excel and Google Sheets were not meant to function as project management systems, in comparison, Airtable offers added features that are useful for businesses that like the spreadsheet look and are comfortable with this form of tracking.
However, Airtable does come with limitations of its own. Its structured and spreadsheet-like views might prohibit your company from scaling, and the program does not offer as many features as some alternative options on the market. For businesses looking for Airtable alternatives, we have put together a few options for you to choose from.
From project management platforms like Smartsheet, which has the same spreadsheet-like functionality as Airtable, to programs like Hive, which offers visually stunning dashboards and multiple project views ⁠— there are plenty of Airtable alternatives to improve your business's processes and help you manage projects better. Let's dive in.
The Pros and Cons of Airtable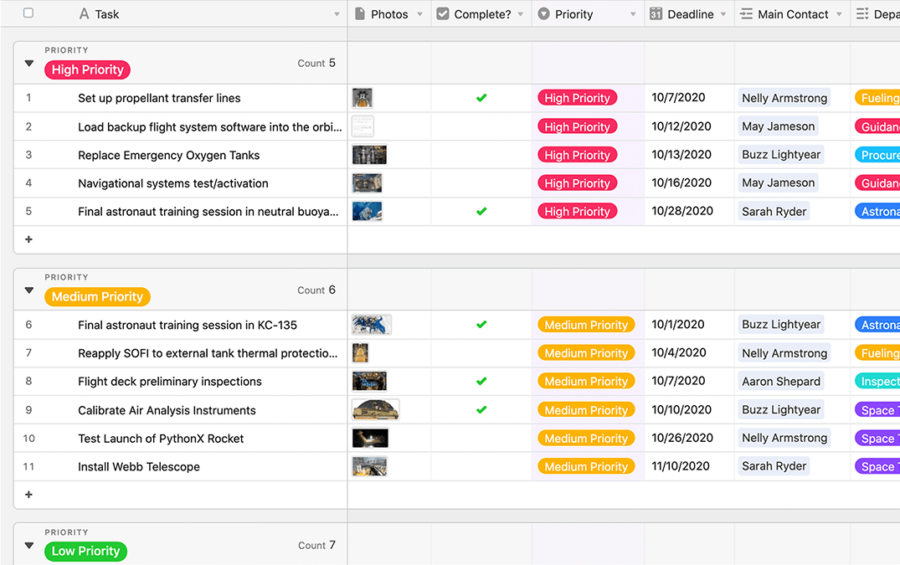 Airtable has a distinct look: the spreadsheet workflow. For those who like working strictly in spreadsheets, there are several other spreadsheet tools on the market that offer similar layouts. However, if you want to explore other game-changing platforms that expand your options beyond the simple spreadsheet workflow, there is no shortage of project management tools to explore.
While the spreadsheet look and limited functionality of Airtable might be the reason you are looking for alternatives, another reason might be a lack of features. While Airtable is customizable and made for team collaboration, it gets bogged down by complex operations and can get extremely clunky when you try to add additional members or collaborators.
12 Top Airtable Alternatives
If you're reading this article, chances are that you feel limited by some aspect of Airtable's features. Luckily, you've come to the right place. No matter which of the Airtable alternatives you decide to go with, it's important to choose one that will fit your unique business model and one you are comfortable working in.
Explore these great Airtable alternatives and see how you can level up your spreadsheets.
1. Hive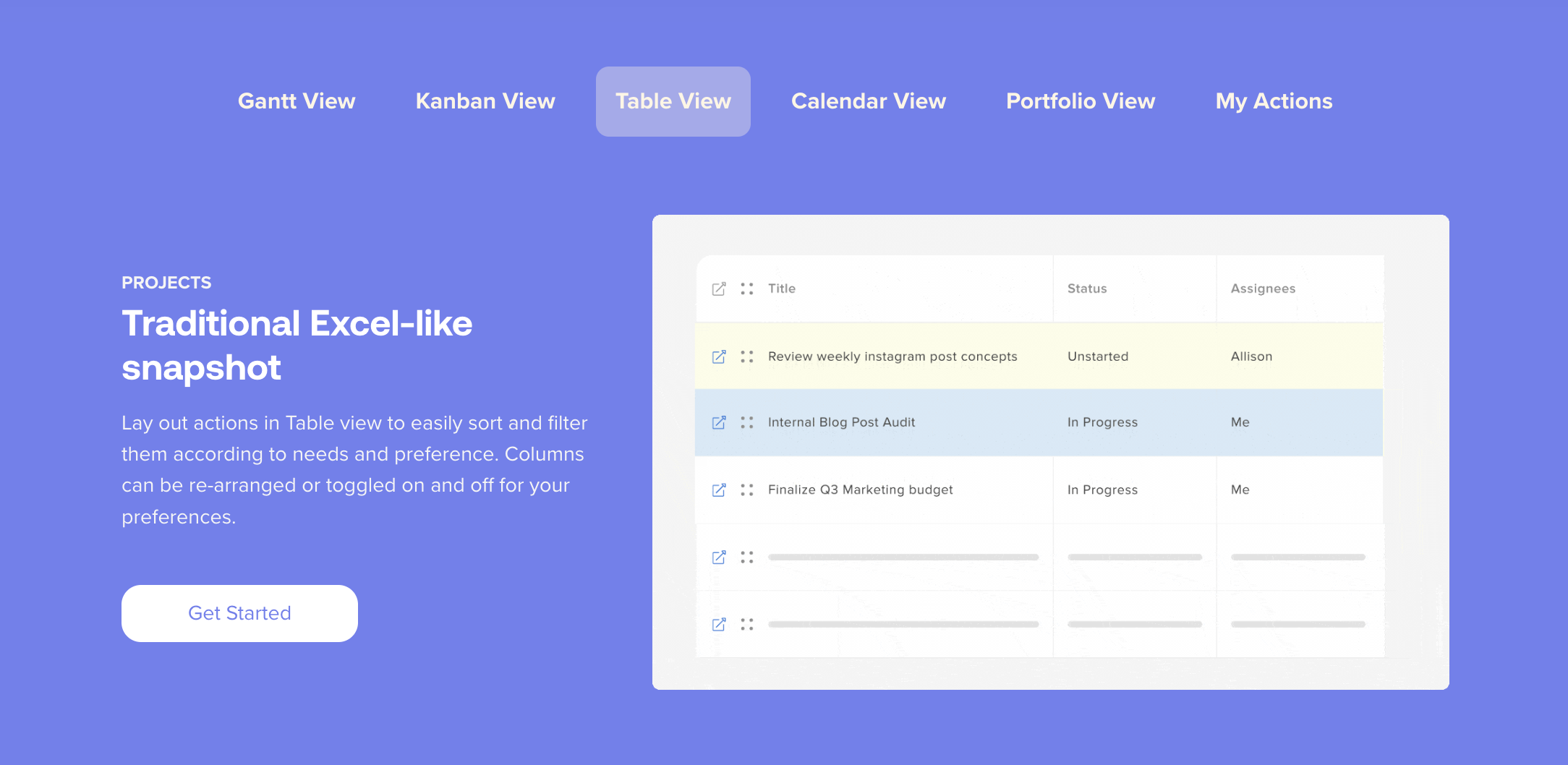 If you want a platform to help you track tasks in a Spreadsheet-like view — plus so much more — it's time to check out Hive. This project management program is "built for users, by users" and offers integrated workflow management with plenty of room to scale.
With its built-in chat functionality and ability to choose switch between project layouts at any time (including Table, Calendar, Gantt and Kanban views), Hive offers the perfect place for teams to communicate and collaborate.
Hive's automation tools give vital time back to your business. With Hive Automate, you can build workflows within Hive or integrate with other workplace tools so your team can focus more on projects and less on redundant tasks.
This platform is a great way to create simple workflows from an overly complicated work process. Built on a user-friendly dashboard with a killer customer service department for any questions, Hive is the perfect platform for teams of any size.

Key Features:
Intuitive dashboard for streamlining project management
Time tracking, customizable workflows, and a native chat function
Over 1,000 integration options
Pricing: Hive is available in a free version, or you can upgrade to $12 /month for unlimited users. If you want to check it out, you can also try it for free for 14 days!
2. Smartsheet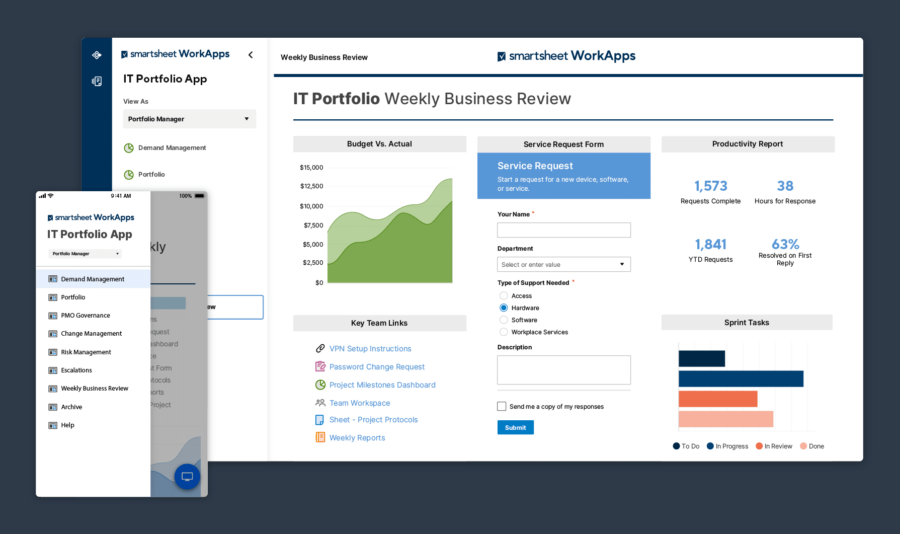 With a tagline that promises "custom solutions to fit your work", Smartsheet delivers. A platform that is both spreadsheet-based and scalable, Smartsheet is a dynamic program that offers its users solutions to unlock productivity. Smartsheet can help teams on a single project from beginning to end or connect multiple projects together with collaboration, communication, and task management.
Smartsheet is one of the best Airtable alternatives, but it also provides some additional features that you don't get with Airtable. With its powerful tracking functions and a built-in resource management tool, Smartsheet gives its users great customization options and excellent project management tools.
Check out our list of top Smartsheet alternatives to read about even more tools out there.
Key Features:
Team portals to connect users
Built-in resource management tool
Document management with shareable sheets and file attachments
Pricing: Available to try for 14 days for free, you can try this program out without the obligations of a monthly fee. If you want to upgrade to the paid version, individual plans start at $7/month, and enterprise businesses should call to get a price.
3. Trello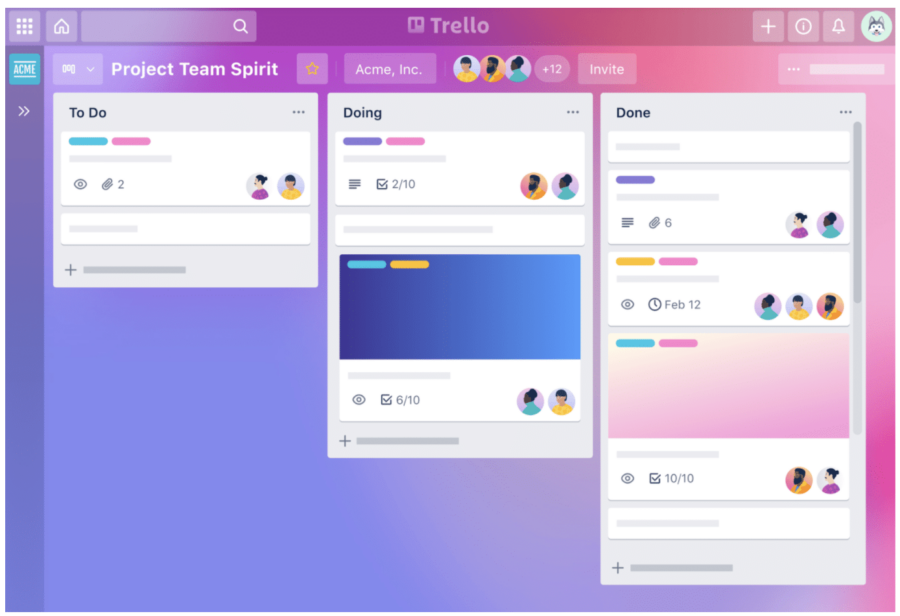 A project management platform that is completely different than Airtable, Trello exists as a neatly organized collection of moveable boards and lists. Your team can take these boards and grow and scale from there, adding tasks, timelines, individual productivity metrics, and more. Trello has an easy learning curve, and after a few minutes into the system, even the most novice of users can get the hang of it. It's also one of our top free Airtable alternatives.
Trello's built-in automation helper, Butler, can help your team reduce time and tasks across the organization by reducing the time spent on tedious or redundant tasks. Trello also offers its unique spin on integrations, calling them "Power-Ups," which are available to help integrate third-party apps into the Trello dashboard.
If this sounds appealing, check out these top Trello alternatives for more similar tools on the market.
Key Features:
Visual interface with unlimited card availability for projects
Custom backgrounds & stickers
Included "Power-Ups" and automation options
Pricing: Available as a free version with a ton of bells and whistles, or you can upgrade to standard for $5/month for enterprise for $17.50/month. You can also try it free to see if you like the platform.
4. Workzone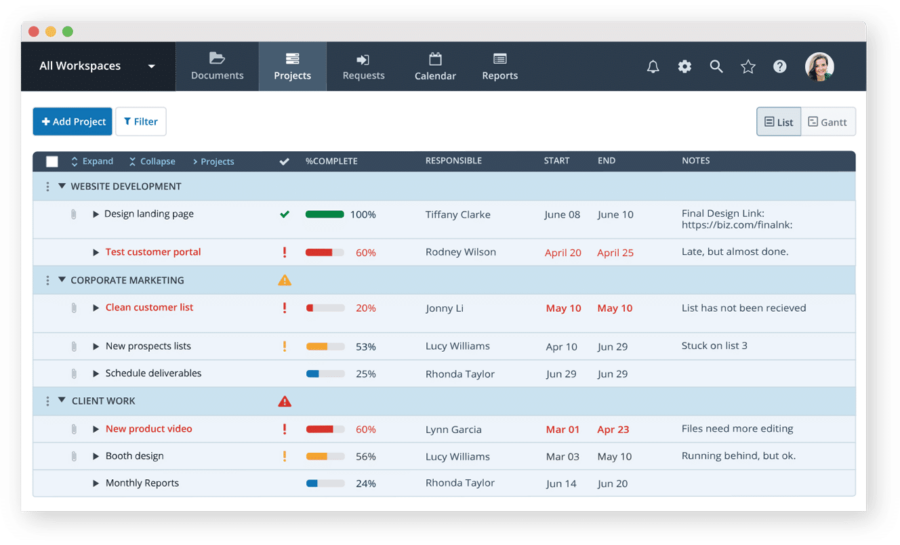 A platform that has been around since 2000, this web-based software program is a little bit older than the other options but just as robust. Workzone is a spreadsheet-based project management tool that works like Airtable. However, Workzone has a little more functionality. Built with great project management tools such as resource, task, and time tracking, Workzone has many built-in offerings that make it one of the top Airtable alternatives. 
With customized reporting and automation, Workzone can do as much – or as little- as you need. The best part is that if you still love that spreadsheet look, Workzone offers that feel, that but also gives its users alternate views like Gantt or calendar view so your team can see tasks, projects, and deadlines in different ways.
Key Features:
Time tracking with reporting functionality

Resource allocation charts

Unlimited training & support
Pricing: Begins at $24/month for teams of 5 or more and goes up to enterprise pricing at $42/month.
5. Monday.com

Monday.com is one of the top Airtable alternatives if you are looking for a functional yet clear way to manage your projects. While Airtable uses tables to store and manage data, Monday.com is guided by tasks. The platform offers task management, dependency tracking and several app integrations, such as Slack, Jira, Asana and HubSpot CRM. 
Monday.com also offers native social media management and free educational webinars for all subscribers. The project management software has a feature called "panic button" which allows users to lock down the entire account to protect data in case the account gets compromised.
For more, check out our full guide to other top Monday.com alternatives with similar features.
Key features:
Boards & Columns

Tasks automation

Checklists

Apps Integration

File views, Kanban views, form views, chart views
Pricing: Monday.com has a free plan for up to 2 users with some feature limitations. Basic plans start at $8/user/month. Get a 14-day free trial.
6. ClickUp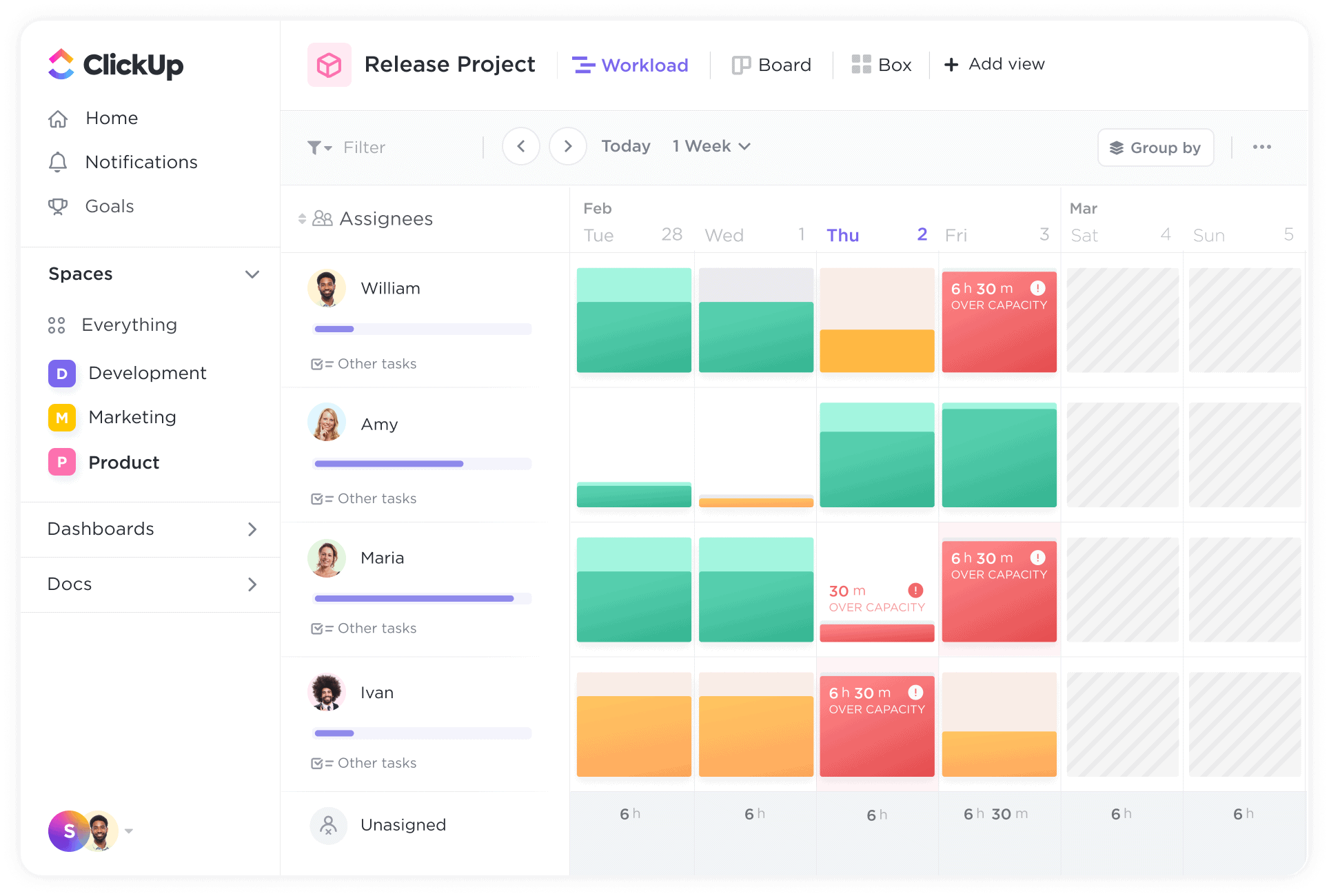 ClickUp is an alternative to Airtable with a highly efficient dashboard view and collaboration features. The platform free version offers features that you only get in the paid plan of Airtable, such as goals, embedded emails, conditional automation, task checklists, custom task statuses, sprints, and 24/7 support. ClickUp also offers native email, several templates and free integrations.
To see how ClickUp stacks up against other tools, check out our complete ClickUp alternatives guide.
Key Features:
Workload view

Team chat

Smart Notification

Custom roles

Dynamic Recurring Tasks

Assigned Comments

Docs & Notepad

Customizable Board View

Mind Maps
Pricing:
ClickUp has a
free plan
, with paid plan options starting at $5 per member, per month.
7. Notion
Notion is another Airtable alternative that offers spreadsheet-styled project management capabilities using its 'tables' feature. Get started by creating a brand new page and choosing 'table' from the database section. From there you can adjust the functions of the columns and rows similarly to how you would in most other spreadsheet applications. You will be limited to the variations that Notion offers, but if you are looking to use more advanced formulas, you can embed a Google Sheets doc into your Notion workspace.
The software also allows you to view your table in a calendar and list view, giving you the ability to approach your spreadsheet from different perspectives quickly. There are many other great Notion alternatives if you're interested in learning more about the market.
Key Features:
Create calendar and list views of your table

Save your table as a template button for future use

Includes several other useful project management tools
Pricing:
You can try Notion for free with limited features and they offer paid plans for small teams and big companies starting at $8/user/month.
8. nTask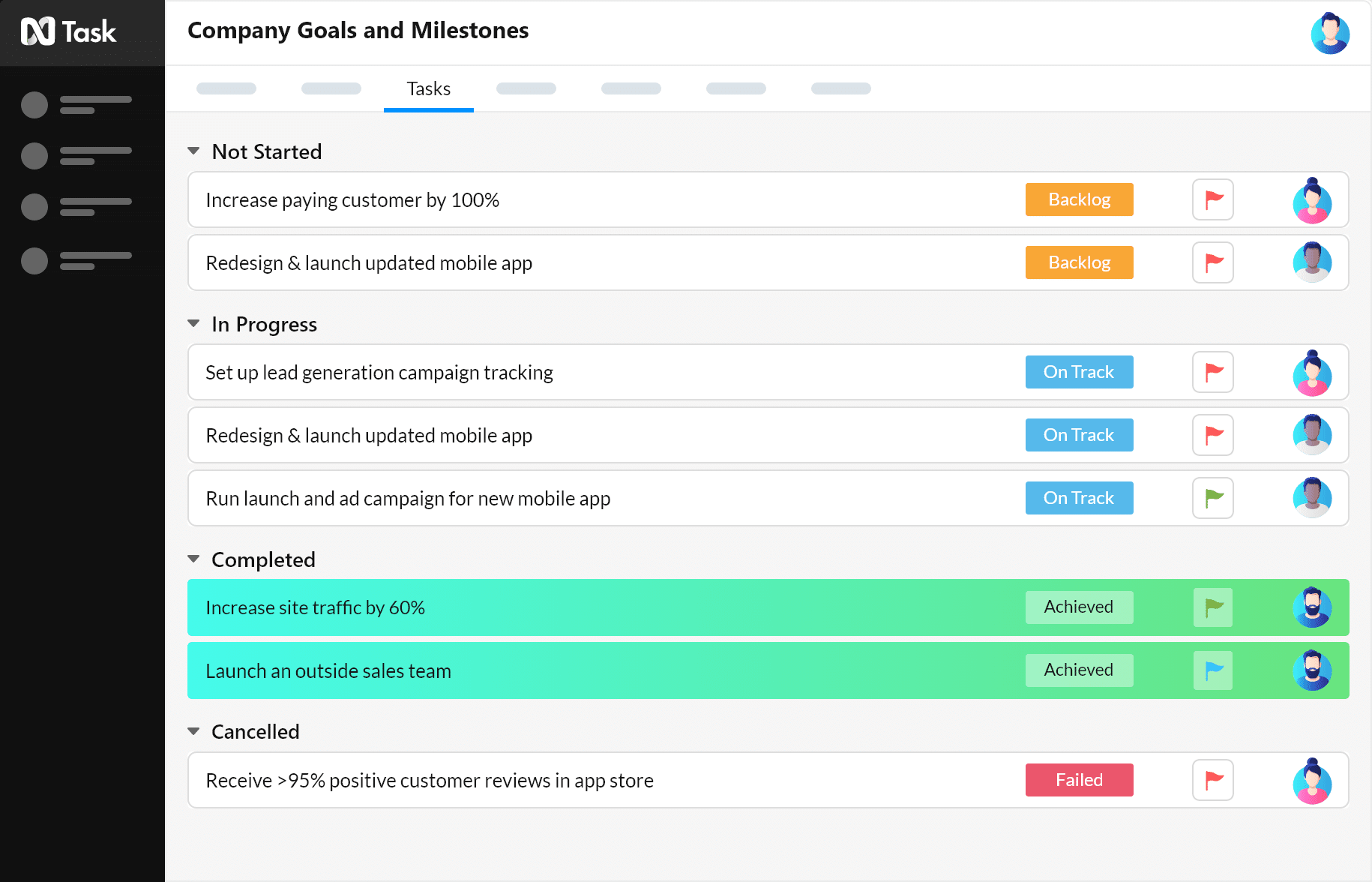 Another Airtable alternative is nTask, a project, task and team management application that helps track and organize your company's workflow. The software has risk management and issue-tracking features to monitor risks that can derail a project. nTask offers meeting management tools to coordinate agendas with your team members and clients. Like Airtable, nTask also offers Gantt charts and Kanban boards for different views of tasks within a single interface and for tracking the project's performance as it develops. 
Key features:
Task management
Gantt Chart and Kanban board
Time-tracking & timesheet
Risk management
Pricing: There is a free version for anyone who would like to use the software with limited features, then you have the option to access more tools starting at $3/user/month.

9. Zoho Sheet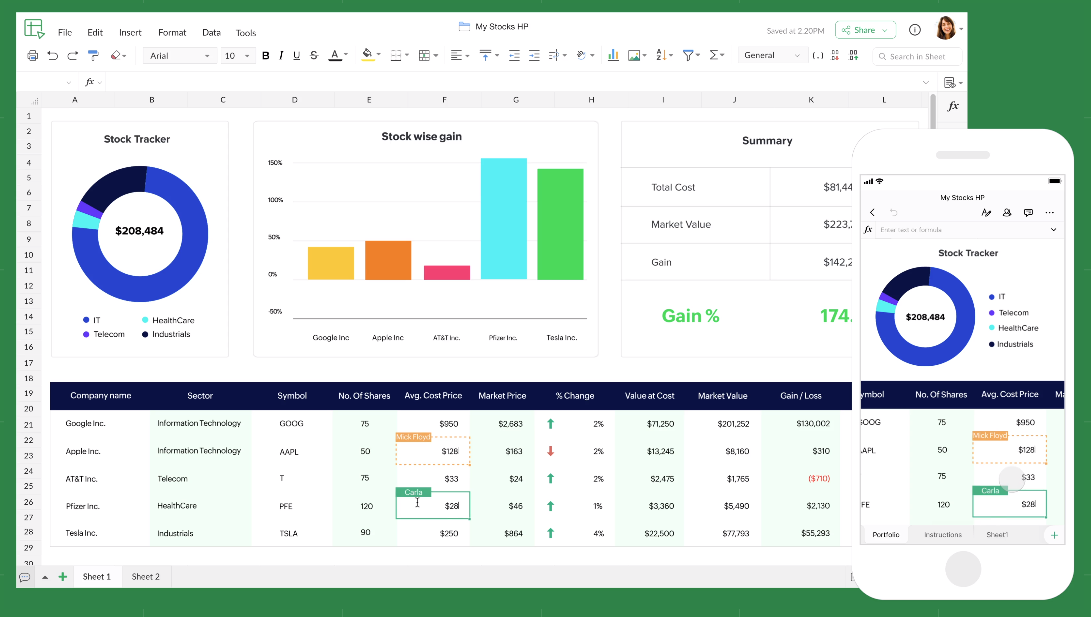 Zoho Sheet is a free collaborative spreadsheet tool that you can consider as an alternative to Airtable. The cloud-based software allows users to organize data with an automated processor and use AI-assisted analysis for data handling and management. It also includes interactive application building tools with automatic data cleaning features.
One thing to note is that while Airtable has a bigger customer base, Zoho Sheet offers customer support via phone, which can be a great help depending on the type of issues you're trying to fix. Zoho Sheet also has the ability to import data from a variety of sources, including Google Drive, Dropbox, and Excel spreadsheets making it easy to bring all of your data together in one place.
Key Features:
Advanced formulas and over 350 functions, with advanced functions like VLOOKUP and XMATCH

Visualize data with charts, graphs, and pivot tables to analyze and identify patterns or trends

Multiple users can collaborate on a single document in real-time and share data

Mobile app that allows users to access their spreadsheets on-the-go
Pricing:
Zoho Sheet is free to use if you sign up for a Zoho account. They offer paid plans to unlock more features for small teams and big companies starting at $8/user/month.
10. Coda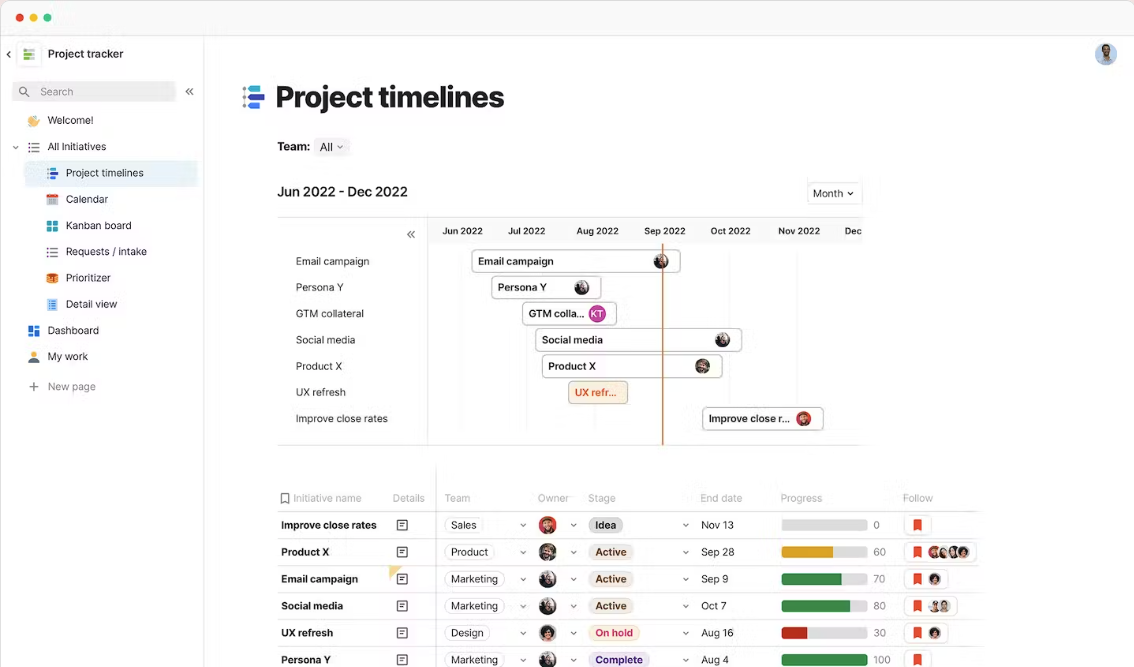 Coda is an excellent alternative to Airtable, offering unique capabilities that set it apart from traditional database tools. One of the most significant differences is Coda's ability to blend the functionalities of documents, spreadsheets, and custom applications within a single platform. This allows users to create interactive documents with embedded tables and data manipulations that go beyond the spreadsheet-like databases offered by Airtable. Coda also has a powerful formula language that can perform complex computations.
Within Coda you can build a custom project management app that includes an interactive task tracker, a project timeline, and a reporting dashboard. This would allow your team to interact with the data, update statuses, and view project progress in real-time, directly within the document. This type of integrated, customizable functionality provides a level of flexibility and interactivity that can be more suited to complex or evolving projects than the more structured, grid-like database format of Airtable.
Key Features:
Pack system for data integration

Ready-made templates for various tasks

Automation of routine tasks

Real-time collaboration features

Document version history tracking
Pricing:
Coda offers a free plan and paid options starting at $10/user/month. They also have enterprise plans with custom pricing available for larger teams.
11. Stackby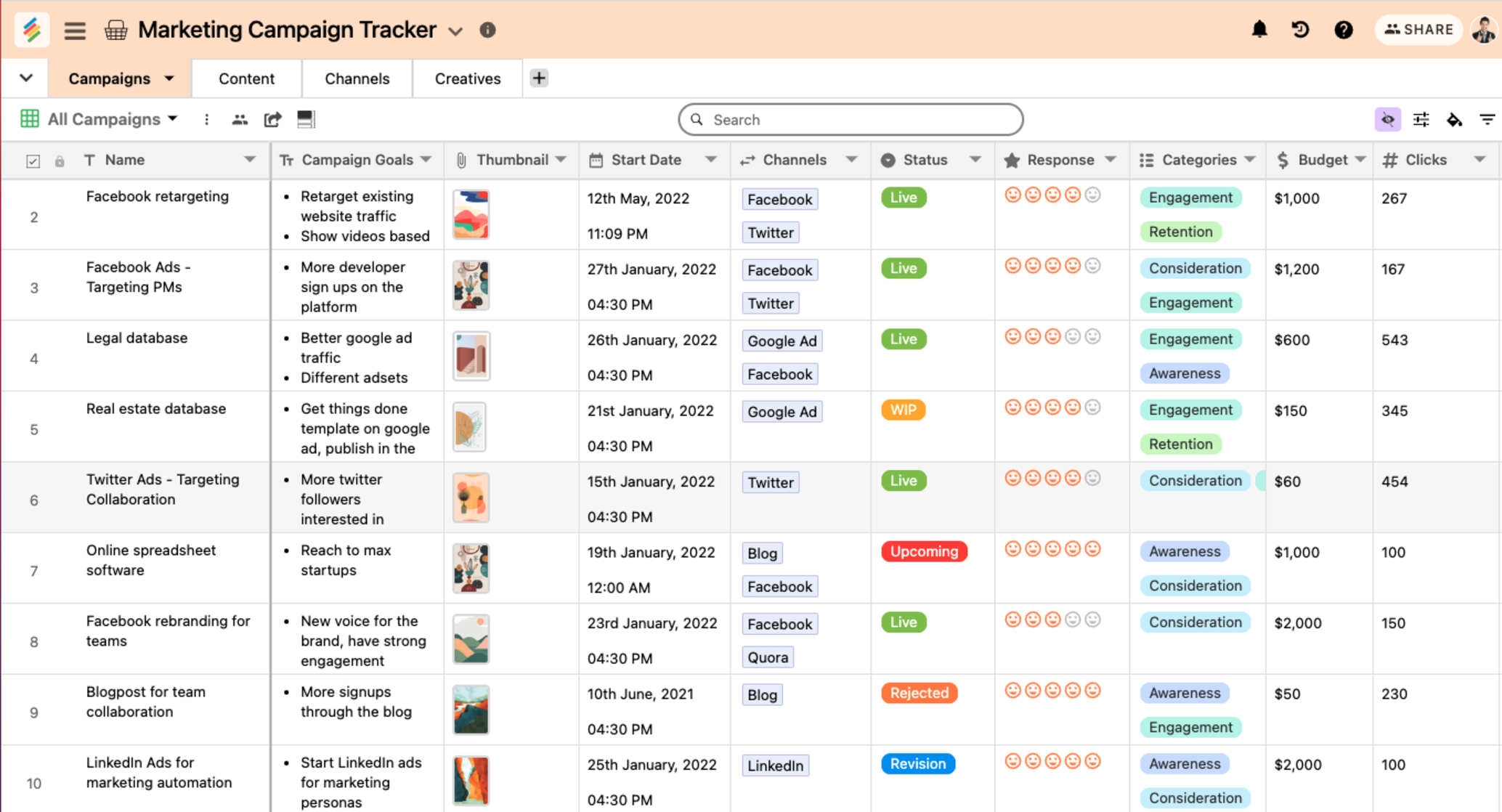 Stackby is an excellent task management alternative to Airtable due to its highly customizable design. Like Airtable, it offers spreadsheet-style databases that make it easy to manage and organize data.
Stackby has the ability to connect with various business APIs allowing for real-time updates within your spreadsheets and databases, eliminating the need for manual updates, a feature not as flexible in Airtable. Stackby doesn't have a steep learning curve, facilitating onboarding and adaptability.
Stackby offers an extensive template library compared to Airtable. While both platforms support collaboration, Stackby takes it a step further by allowing users to comment not just at the row level but also at the cell level, leading to more precise and efficient team communication.
The one potential downside of Stackby compared to Airtable could be fewer integrations, since Airtable has been around for a bit longer and supports a more extensive list of app integrations.
Key Features:
Field types including attachments, links, checkboxes, dropdowns, and more

Advanced database features like data linking between tables and data grouping for organized views

Custom API integrations with services like YouTube, Google Analytics, etc.

User-level permission settings
Pricing:
Stackby has a free forever plan, with the only limit being the number of rows and attachment storage you can get per stack. Paid plans start at $4 for single users and $8/user/month for teams.
12. Quip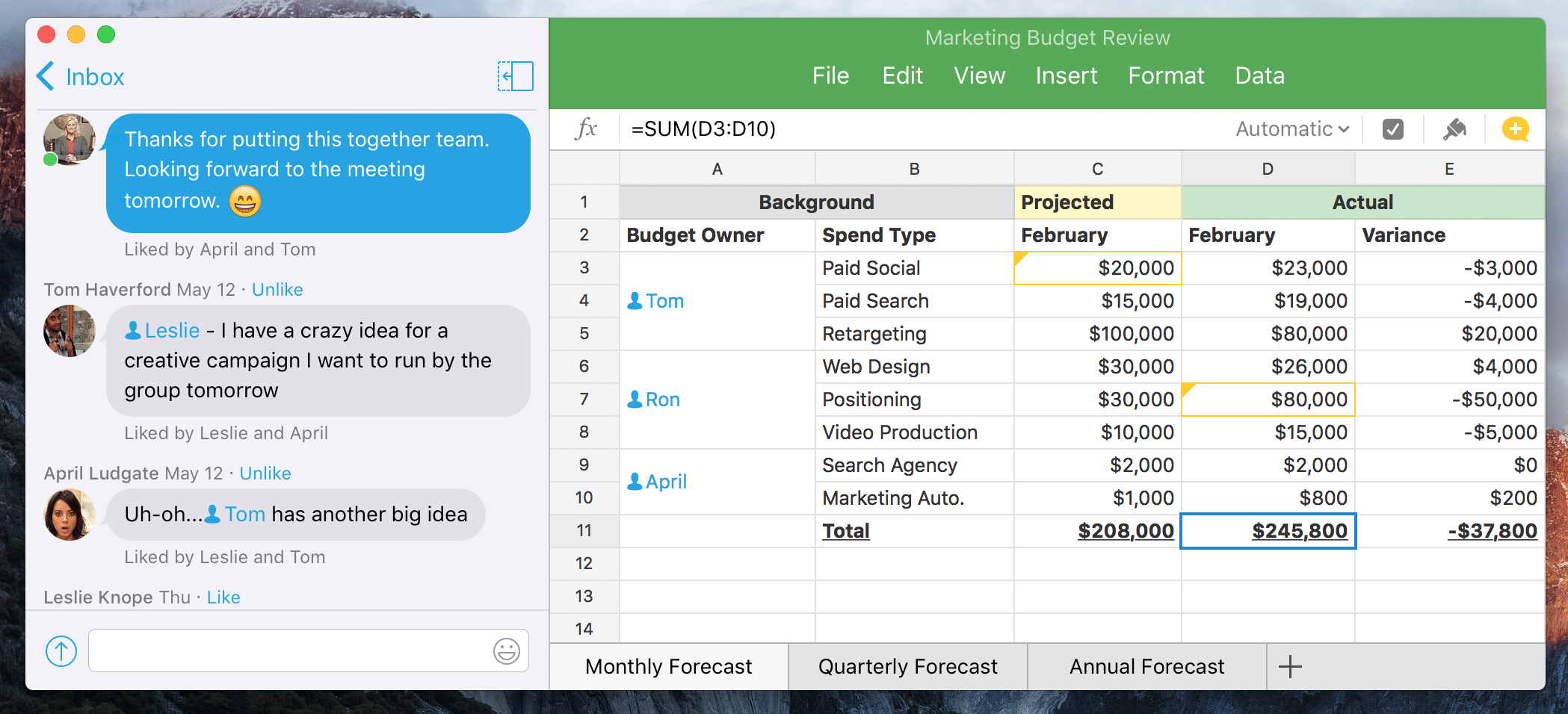 Quip is a spreadsheet application that offers robust collaboration capabilities ideal for small and medium sized businesses. If your company needs word processing and presentation solution, Quip is adequate for the job, but if your business needs a relational database software with flexible customization and modeling, Airtable might still be your best choice.
With Quip, you can @mention specific users to get their attention, leave comments on specific cells, and see a history of all the changes that have been made to the document. Quip also offers task management features so you can easily keep track of your team's progress. Quip integrates with a variety of other software programs giving it additional project management features.
Standout Features:
Internal chat & collaboration

Cross-device access

Spreadsheet integration
Pricing:

Quip offers a free trial
, and if you love it, you can upgrade for $10/month for each member of your team.
13. Podio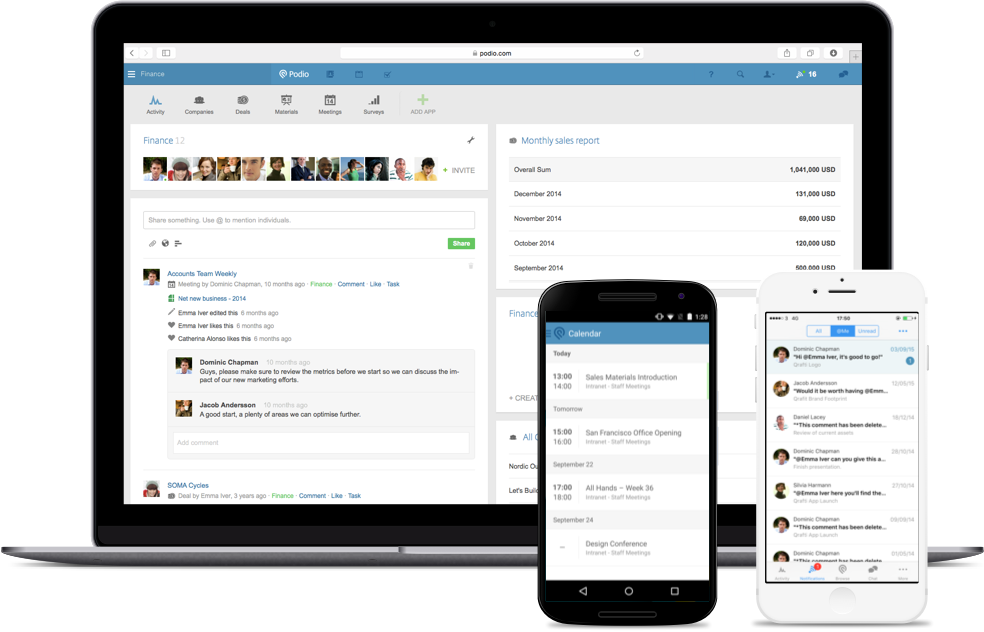 Podio is a task management alternative to Airtable with simple interface, efficient automation, strong integrations and affordable plans. While Airtable offers more flexibility in terms of customization, including formulas, pivot tables, and custom views, it can also have a steep learning curve. It's quite common to need an Airtable consultant coming in to teach your team how to use the platform or to build specific automation on the platform. With Podio, you might not have this extra cost, but also might have limited capabilities. But if you have a large team, Podio might not be a solution for you. Their free plan allows only five users.
Key Features:
File sharing
Extensions
Feature Index
Mobile Apps
Task Management
Podio API
Pricing: Podio's paid plan starts at $11.20 per month.
As we listed here, there are plenty of great Airtable alternatives available. Did we miss a tool that makes a great substitution for Airtable? Let us know!