Managing a business and its workflow can be a challenging task. You've got to simultaneously chart a course forward while reflecting on past performance, data, and current initiatives. This is especially true for someone in a project manager role, and is even more true during this new era of remote work. While staying on top of a lot of moving parts is in the job description, a project manager's life can be made a lot less stressful when utilizing the best project management tools and creating a powerful productivity tech stack.
There are a wide range of software suites out there for you to choose from, and picking the right one can be a daunting task – each company is different and adopting the wrong one can leave you with a whole host of functions you don't need and several areas you still need to improve. And while Asana is one of the most popular project tools on the market, it isn't a "one size fits all" solution. That's why we are going to explore some of the best Asana alternatives in this article.
First let's review Asana itself. As one of the original project management tools, the concept came to life while the founders were working at Facebook trying to improve the productivity of employees. The founder's past at Facebook made Asana a natural choice for other companies to adopt – they trusted these successful entrepreneurs to provide a quality product. Currently, the tool is free for up to 15 users, and priced starting at $9.99 per user/month for the more advanced version.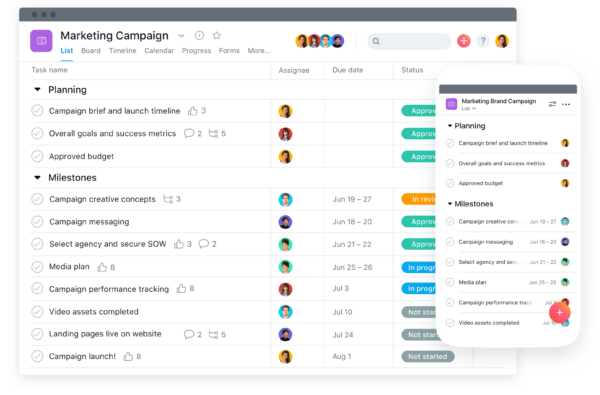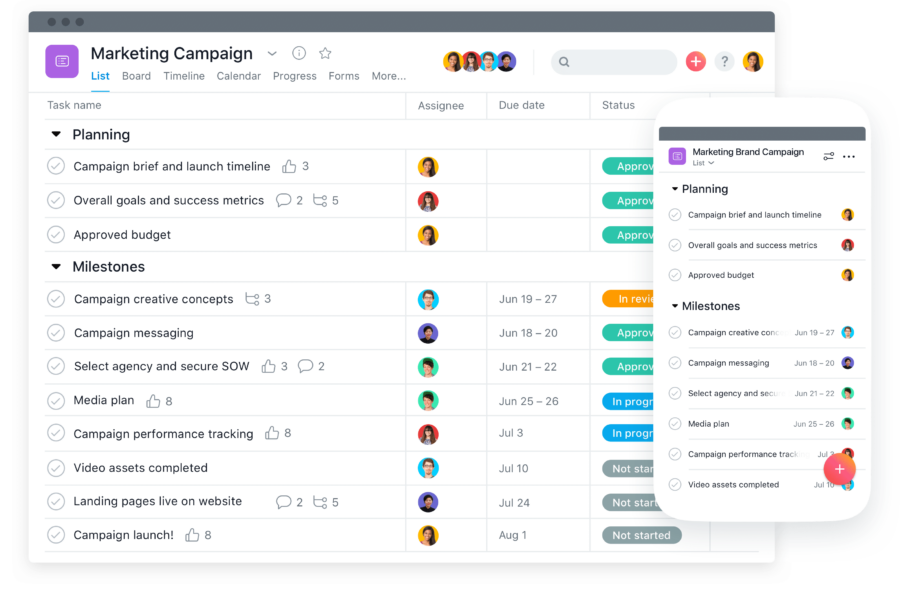 Over the years, Asana has been streamlined and improved upon, but other project management platforms have since been released that have more comprehensive and different features. And when you align work and communication on one or a few tools, you can drastically increase your own efficiency and the speed at which the larger team can execute. So, if you're an Asana user and looking to switch up your software, or you're just in the market for a tool and want to learn more, we've rounded up the top Asana alternatives. Let's dive in.
1. Hive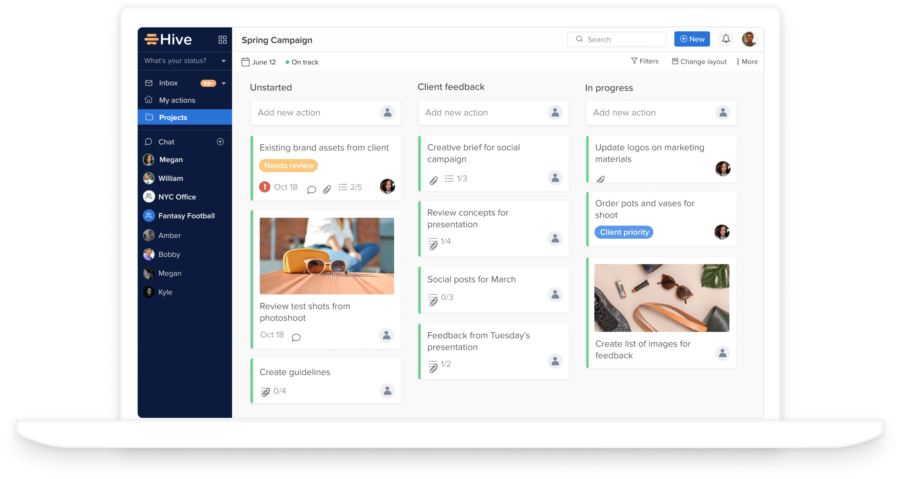 Hive is a project management tool that works off of "tasks" as a building block, the same way Asana does. Hive's interface is extremely user-friendly and boasts a first-of-its-kind email integration which sends messages directly from Gmail and Outlook to Hive, which Asana does not have.
Hive is also the first and only productivity platform built for users, by users. This means that customers can submit feature requests and vote on requests that will actually improve their workflow on a daily basis — Hive has all of the functionality you need, plus all of the features you want.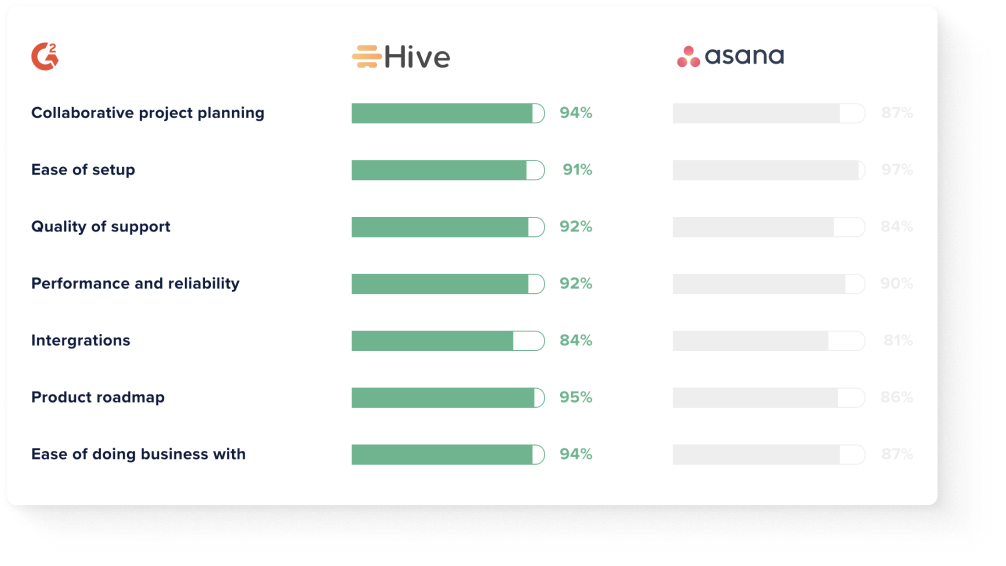 The tool also has several features that Asana doesn't have, including data import, customizable templates, note-taking, and custom forms – which makes it one of our top Asana alternatives. So, if you're going to be manipulating data or customizing content, Hive is probably your better bet. Hive also offers all of the features teams need to succeed in today's workplace, including:
Flexible project layouts including Gantt, Kanban and Calendar view
Time management via time-tracking and timesheets
Resourcing capabilities
AI writing tools
Customizable dashboards via Pages
Asana is free for teams of up to 15, while Hive is free for teams of up to 10. For large teams, Hive Teams pricing starts at $12 per month per user. So whether you're utilizing Hive Free or Hive Teams, there's an affordable option for teams of all sizes.

2. Basecamp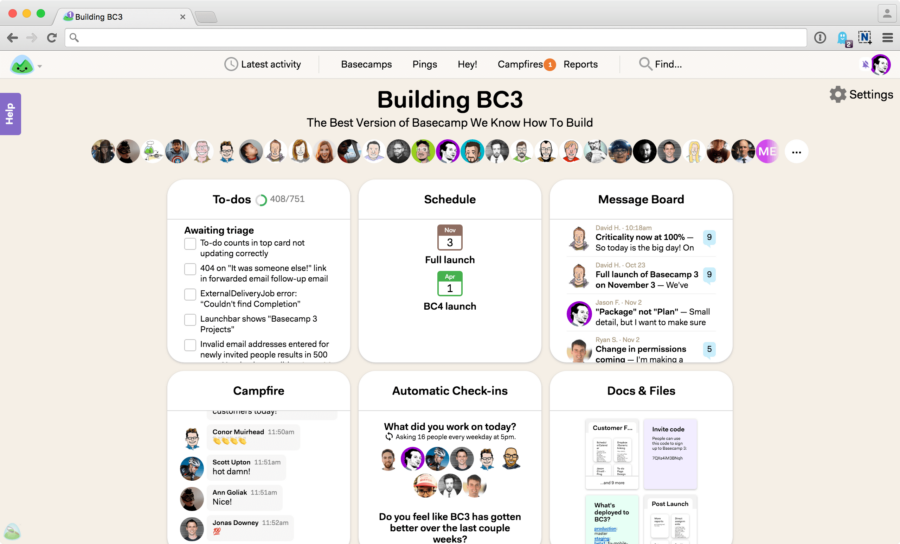 Basecamp is one of the older apps on the list, but it's on our list of top Asana alternatives for good reason. The primary draw of Basecamp is that it's a totally web based solution for managing your projects. This means that so long as your team members have access to a web browser, they can pitch into whatever aspect of the project they are responsible for. It's also specifically designed for service businesses, enabling them to give clients access to project information to cut down on unnecessary back-and-forth. This is a good example of an alternative to Asana that would appeal to a niche company, as Asana is generally considered more of a serious team based platform.
The drawback of this client focused, free flowing style is that it lacks a real depth of features, and you don't have access to the kind of customization that a more robust platform would offer. Add to that the fixed price tag of $99 a month (up to 100 GB of storage) which offers limited flexibility for smaller businesses, and you can start to see some of the drawbacks of the platform.
To see how Basecamp stacks up against another tools on the market, check out our full guide to Basecamp alternatives.
3. Monday.com
Monday.com, formerly Dapulse, is a lightweight, visual project management tool that is easy to implement across a team. To get started with the tool, you simply make an account, pick a template, and fill the template in with tasks and projects. The basic version starts at around $8 a month per user, and provides unlimited board views and unlimited free viewers on your project, which makes it one of our top Asana alternatives.
While Monday.com has a few features that Asana doesn't, including data import, event tracking and file transfer, the tool lacks some necessary project management aspects, like the ability to have multiple projects, milestone tracking, or take project notes. This is one of our favorite Asana alternatives.
4. Trello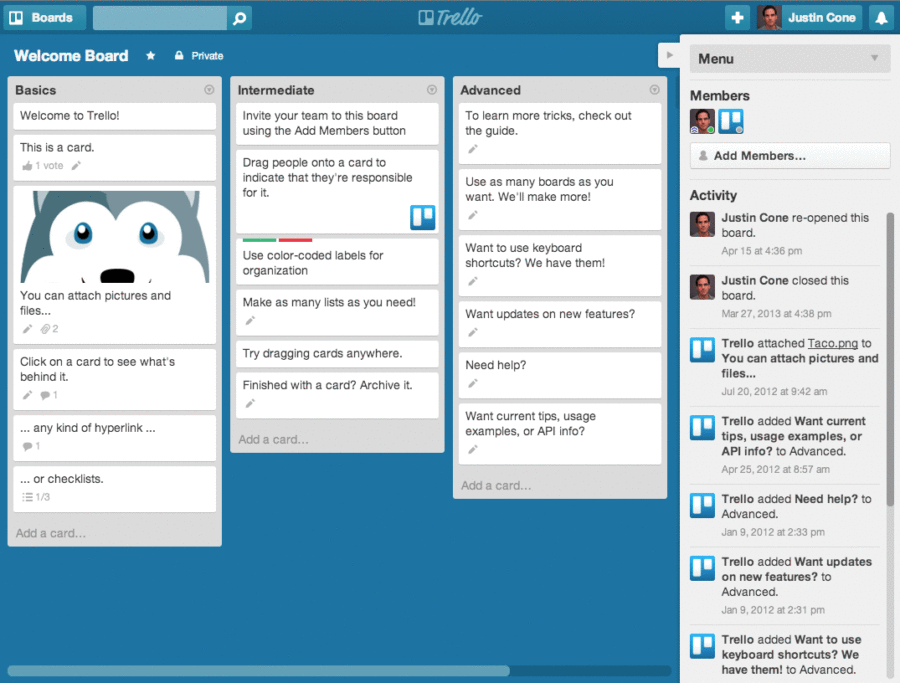 Trello is another popular choice for businesses looking for a different perspective on project management, and one of our top Asana alternatives. Like Basecamp, Trello is a web based platform that offers users a more flexible and collaborative approach to managing projects. Managers can establish workflows and individual projects in the Kanban style – a task visualization method that involves a three-step workflow. This is one of our top Asana alternatives for smaller teams.
The advantage of this is that it's easy for new members to quickly throw themselves into a Trello project because more of the information is displayed visually, but the tool lacks advanced project view features and functionalities including document management and project reports. So if you wanted to change the format of your project, or customize and display your data meaningfully, that would be tricky.
Ultimately for smaller, creative businesses (or freelancers) looking for an Asana alternative this a solid choice, but we wouldn't recommend this for large companies. To see how Trello stacks up against another tools on the market, check out our full guide to Trello alternatives.
5. Smartsheet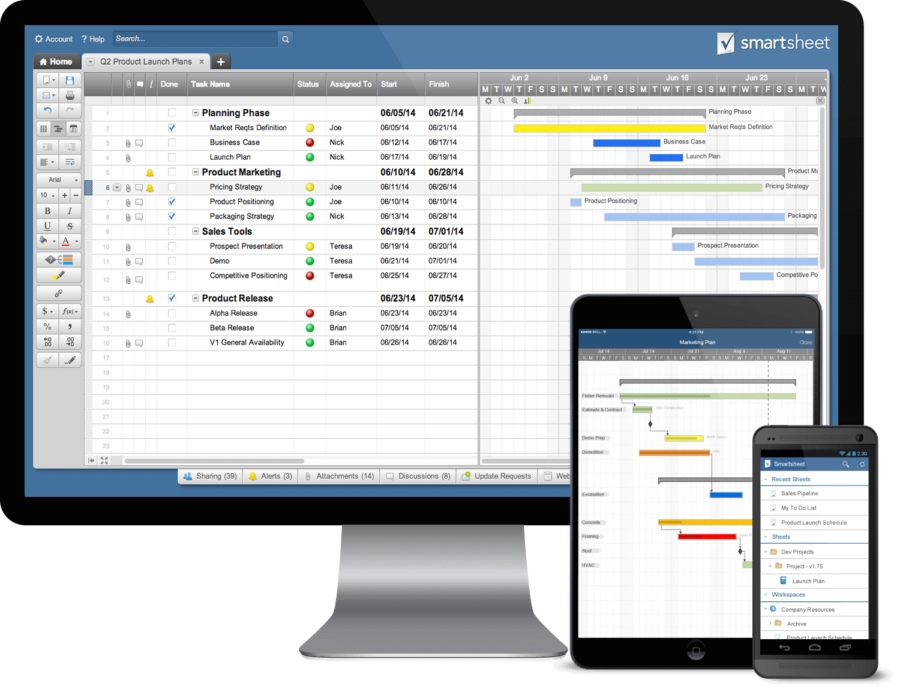 Smartsheet is a spreadsheet-based project management alternative to Asana used to track, assign and filter tasks in the workplace, and is one of our top Asana alternatives. The app is cloud-based, and used by teams ranging in size. In addition to the spreadsheet view, Smartsheet also offers Gantt, file sharing, and workplace automation. Smartsheet offers a few capabilities that Asana does not, including time tracking, resource management and budgeting.
However, Smartsheet does not offer a central communication hub, which could make it harder for larger teams to use or integrate fully into their workflow. Smartsheet also does not offer a free version of their tool — the individual user license starts at $14.
6. Wrike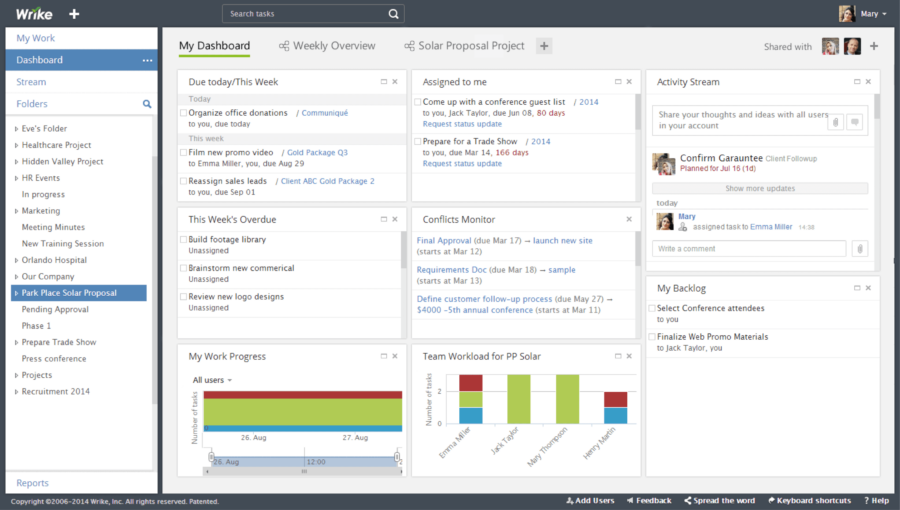 Wrike, a project management tool designed to organize and oversee project workflow, is another great option for Asana alternatives. Wrike helps you plan, streamline and track progress as an individual and team, and is free for up to 5 users. After that, the pricing starts at $9.80 per user/month.
Compared to Asana, Wrike is a very comprehensive tool with tons of helpful functionalities. Wrike has Gantt view, task dependencies and resource management, which Asana does not have. However, Asana's visually appealing interface and ease of use make it an ideal project management tool for creative teams.
To see how Wrike stacks up against another tools on the market, check out our full guide to Wrike alternatives.
7. Airtable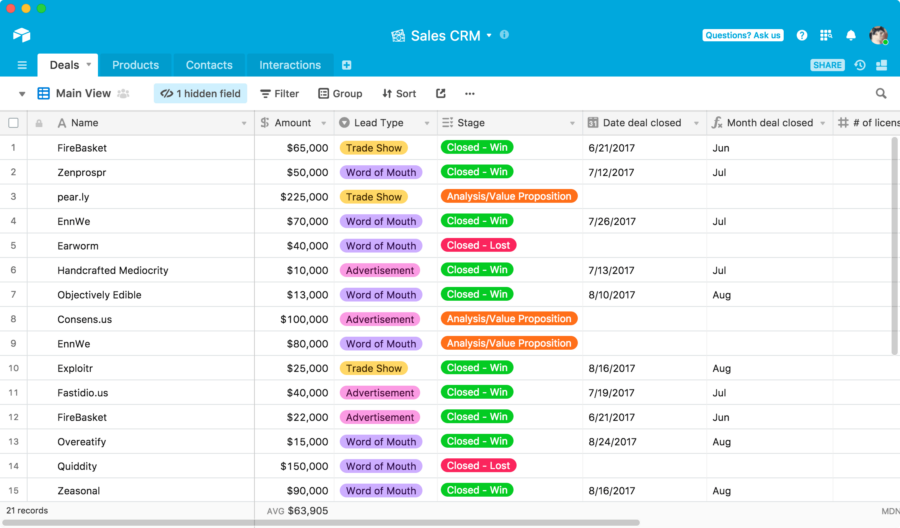 Airtable is another great project management tool and one of our top Asana alternatives. As it's name suggests, Airtable helps you organize and plan tasks in a customizable table format. Tasks can be stacked by priority, deadline, assignee, department, and more. The tool markers itself as "part spreadsheet, part database," with its main view formatted as a grid. In addition to this standard grid view, Airtable has a few other options including calendar gallery, form, and and Kanban views. This is one of the biggest areas where Airtable is more limited than Asana, which has views including list, board, timeline, progress, portfolios, workload, inbox and my tasks.
Like Asana, this tool also has integrations with a ton of apps, including Slack, LinkedIn and Gmail. Airtable does not have a feedback and approvals feature though, so if that is something your team is looking for, you may want to stick with Asana or look into another tool like Hive. Also like Asana, Airtable has a free plan option for limited use. After you surpass a certain "row" or task capacity, plans starts at $12 per user/month.
8. Jira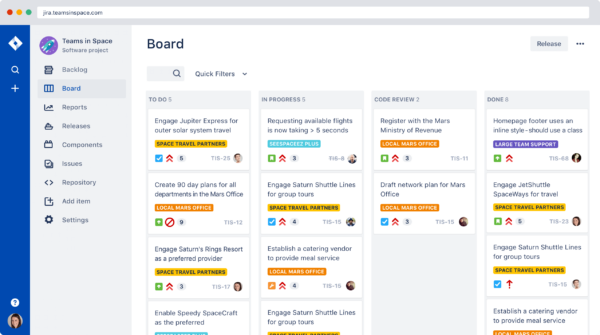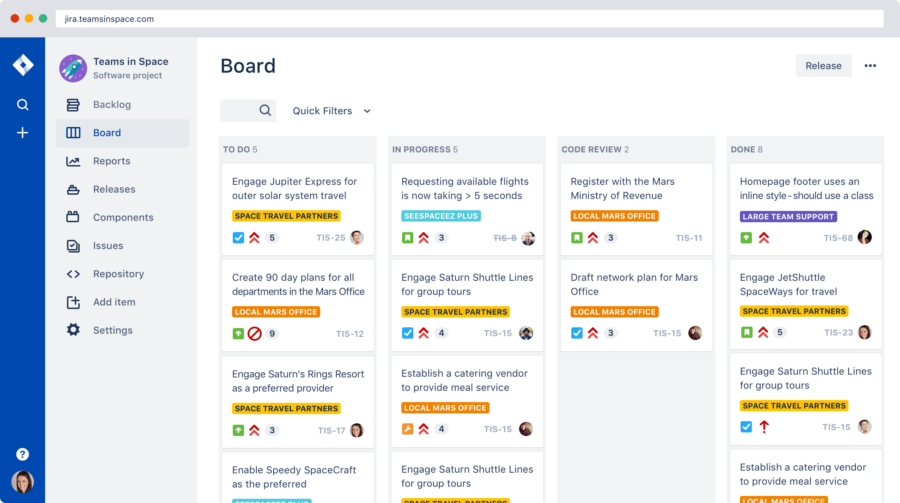 Jira is another project management tool that is comparable to Asana in many ways, but Jira's most notable distinction is its emphasis on agile project management. Jira sells itself on being a top tool for agile teams, and specifically software developers, who utilize agile methods in their workflow. To help these teams manage their projects, Jira offers layouts including Scrum boards, Kanban boards, and roadmaps. Jira's reporting capabilities are also notably better than Asana's.
With that being said, Asana is a better option for non-engineering teams. When it comes to basic project management software functions and an easy-to-use interface, Asana has more layout options and features. It all comes down to what your team is looking for in a tool. Price is also a differentiator between the tools, with Jira's tiered plans coming in slightly cheaper than Asana's pricing options.
9. ClickUp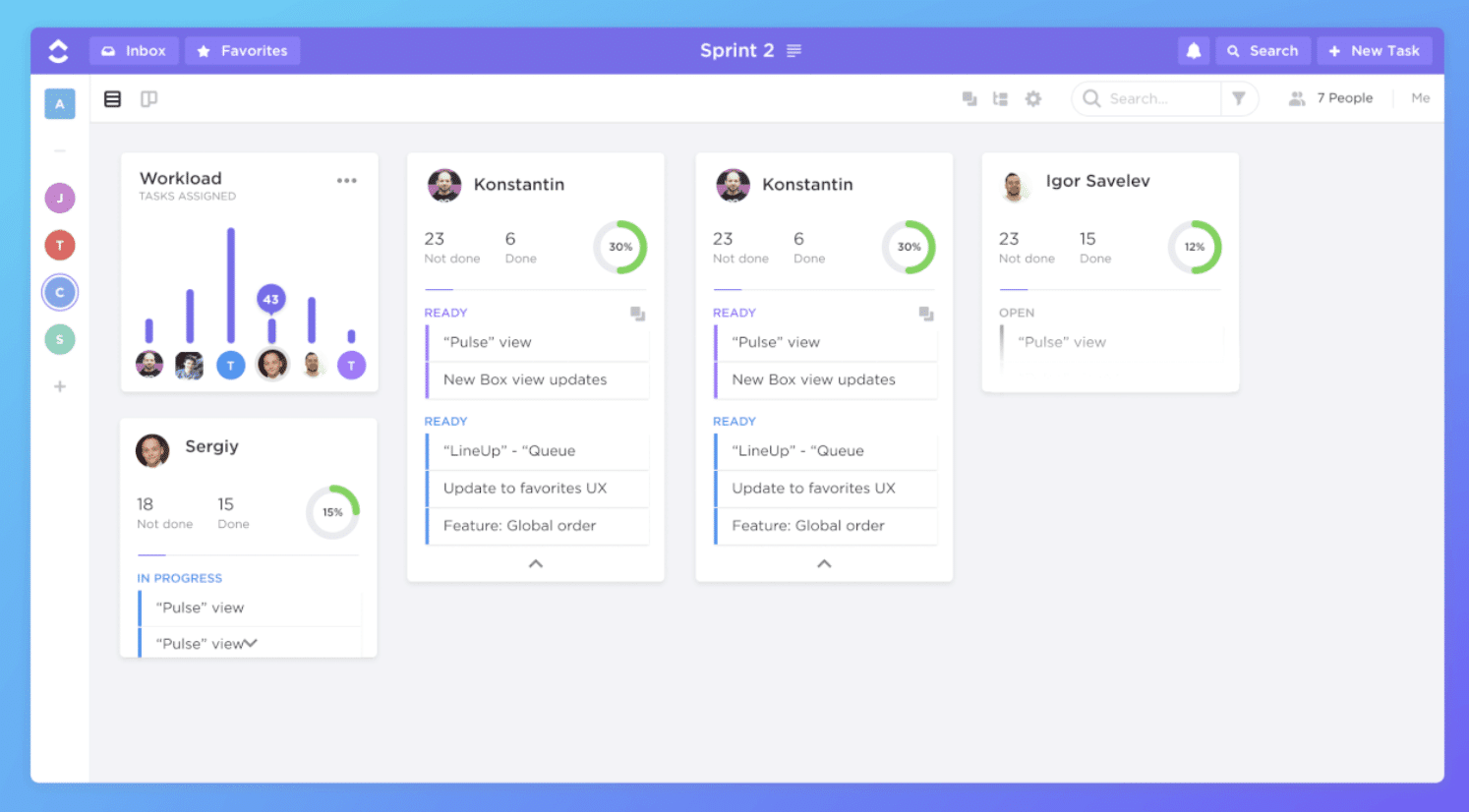 ClickUp is another great Asana alternative for a few key reasons. First of all, ClickUp is very user-friendly and has the bold colors that many Asana users are familiar with. ClickUp is also constantly updating their platform and releasing new and improved features, which is great for agile teams. Additionally, if you're looking for an Asana alternative that better integrates outside communication, like emails, ClickUp could be a great alternative.
Finally, ClickUp also gives you the ability to create and customize views, which is super useful for teams with a variety of functions and different roles, as they can all operate with ClickUp in their own unique way. ClickUp also has a free forever plan, which is helpful if you've got a limited budget.
To see how ClickUp stacks up against another tools on the market, check out our full guide to ClickUp alternatives.
10. ProofHub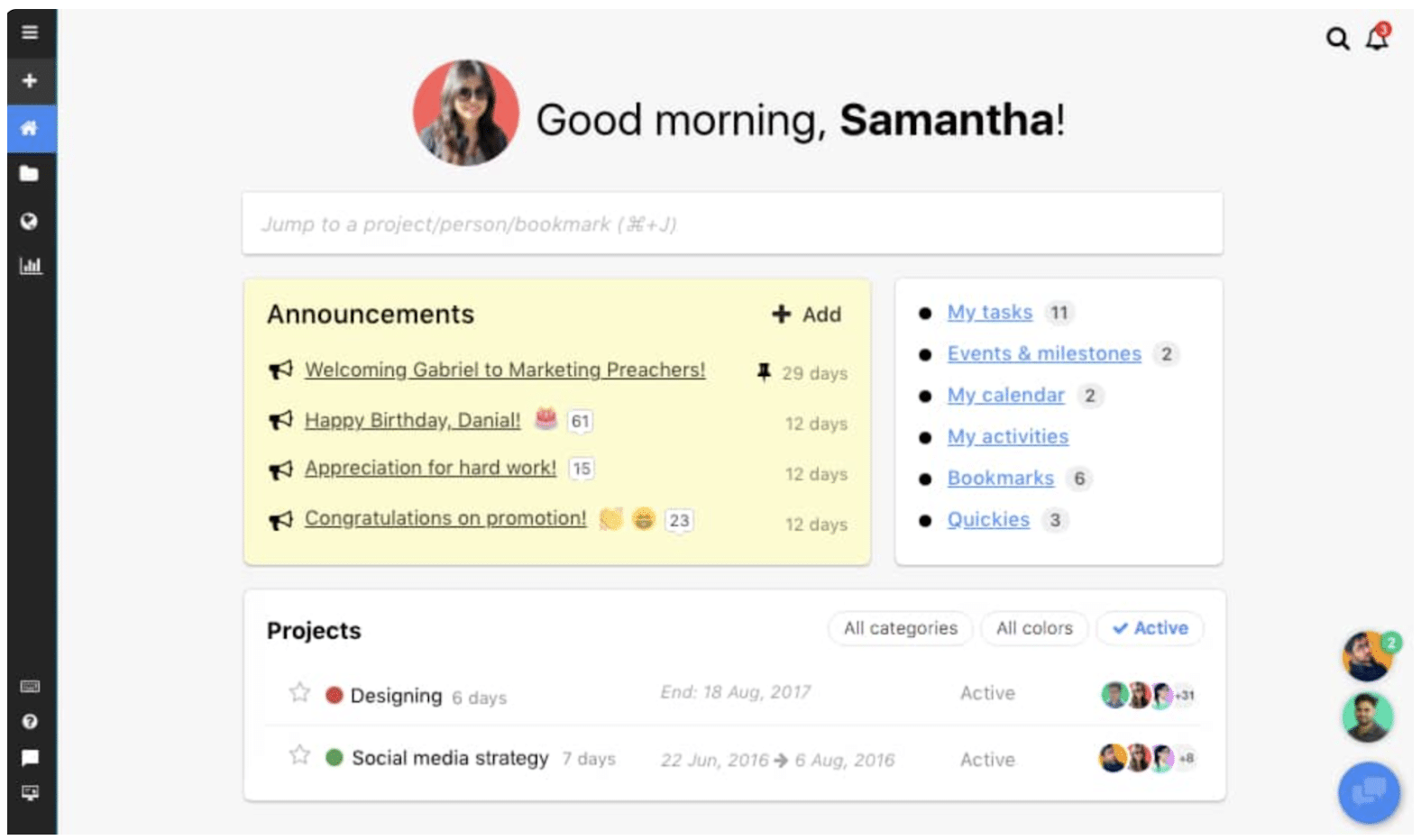 ProofHub is a comprehensive project management software and one of our top Asana alternatives. ProofHub has similar features to Asana, albeit in a more straightforward and less aesthetically pleasing layout. With ProofHub, you can assign and track tasks in the same way you can in Asana, viewing in multiple views including Gantt, Kanban, calendar, and table view.
One negative about ProofHub is its price, which is quite a bit more expensive than Asana's at a starting price of $45 per month. If you're a smaller organization with limited budget, other options like Monday or ClickUp could be better Asana alternatives.
11. Proprofs Project
ProProfs Project is an excellent Asana alternative if you're looking for an all-in-one project management tool capable of managing complex projects effortlessly. In comparison to Asana, ProProfs Project is easy to set up. You can choose from its ready-to-use and professionally designed templates. Simply tweak the project name, create tasks, allocate resources, define due dates, and you're ready to get started with your project within minutes.
In addition, the tool offers time tracking ability to monitor which tasks your team members are engaged in. This facilitates hassle-free invoicing by providing you with accurate billable and non-billable hours for each team member.
ProProfs also allows you to assign multiple users to a task, a feature that Asana lacks. The tool overall offers everything you need to deliver projects successfully. However, one area where Asana trumps ProProfs Project is the pricing plans. Asana offers a free plan that includes unlimited projects, tasks, and messages along with unlimited file storage, while ProProfs' Essentials plan starts at $2 per user per month.
12. nTask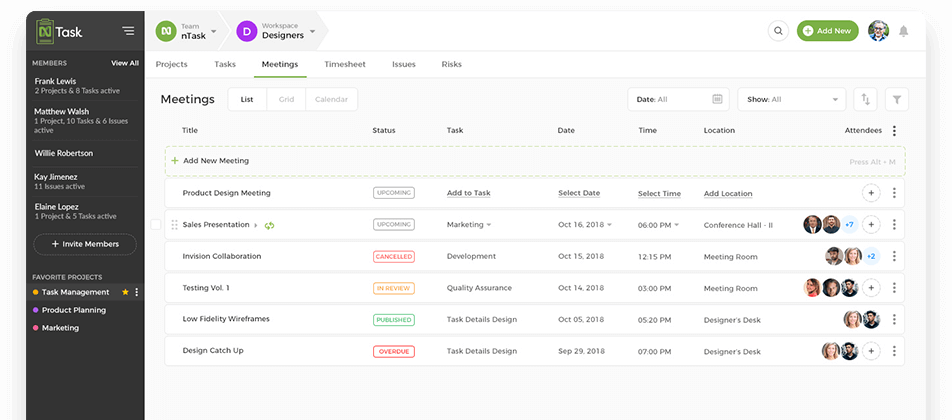 nTask is a project and task management tool that offers risk management and issue tracking, along with layouts options to better visualize your projects.
The platform features include Kanban boarding, Gantt charting, meeting and time management. The application's paid subscription starts at $3/month.
13. SmartTask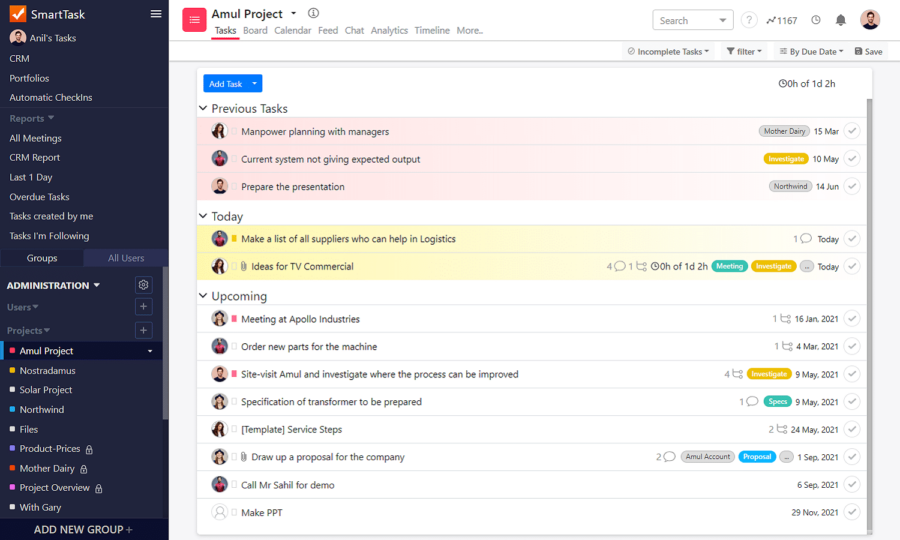 SmartTask is an all-in-one cloud-based work management software that has gained popularity as one of the cost-effective alternatives to Asana in the project management space. Its premium version costs $5 a month per user with many other additional features that Asana doesn't offer.
It helps you automate workflows, streamline your processes, and manage all your work in one place. It comes with project management, task management, team collaboration, time tracking, CRM, custom analytics, and reporting features.
SmartTask offers a few features that Asana doesn't, including CRM, custom charts, custom reminders, task auto-scheduling, project baseline, productivity scoring, time tracking, and automated check-ins.
Apart from that, it offers four different views to manage tasks, including list, kanban board, calendar, and timeline views. You can manage multiple projects with the portfolio view and allocate resources with the workload view. Team collaboration features allow you to chat, comment, trigger video meetings from tasks, invite guest users, and share files.
14. Nifty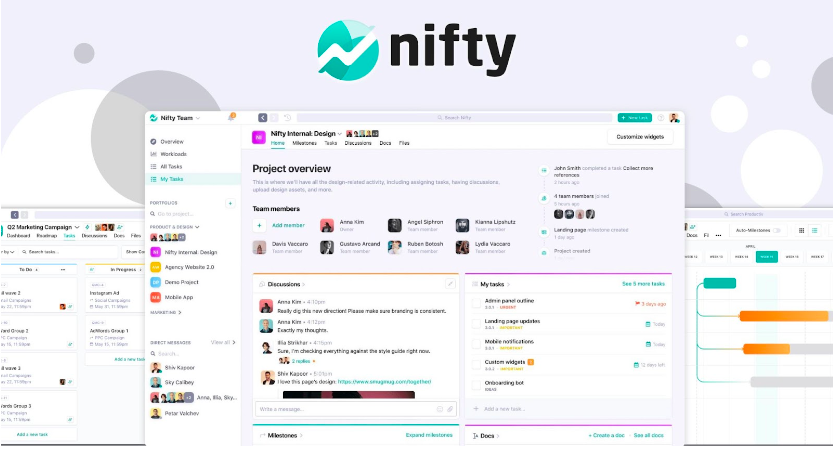 Nifty's flexibility, feature richness, and affordability make it a popular Asana alternative. Famously easy to use, Nifty is a powerful project management solution for an entire team. Nifty allows access to projects for guests as well, so clients and freelancers can join specific projects without being a part of the subscription.
Nifty has a lot of what's expected from a project management solution and even offers some surprises – such as two-way editable Google docs and a built-in Direct Messaging suite. Asana users typically find transitioning to Nifty is a smooth process with Nifty's Asana importer and as well as some similarities in the UX.
As for cons, metric-driven reporting is an area where some teams might find Nifty coming up short. If that's not a dealbreaker and your focus is on a tool that's simple and flexible right out of the box, Nifty can be a fantastic fit.
15. Scoro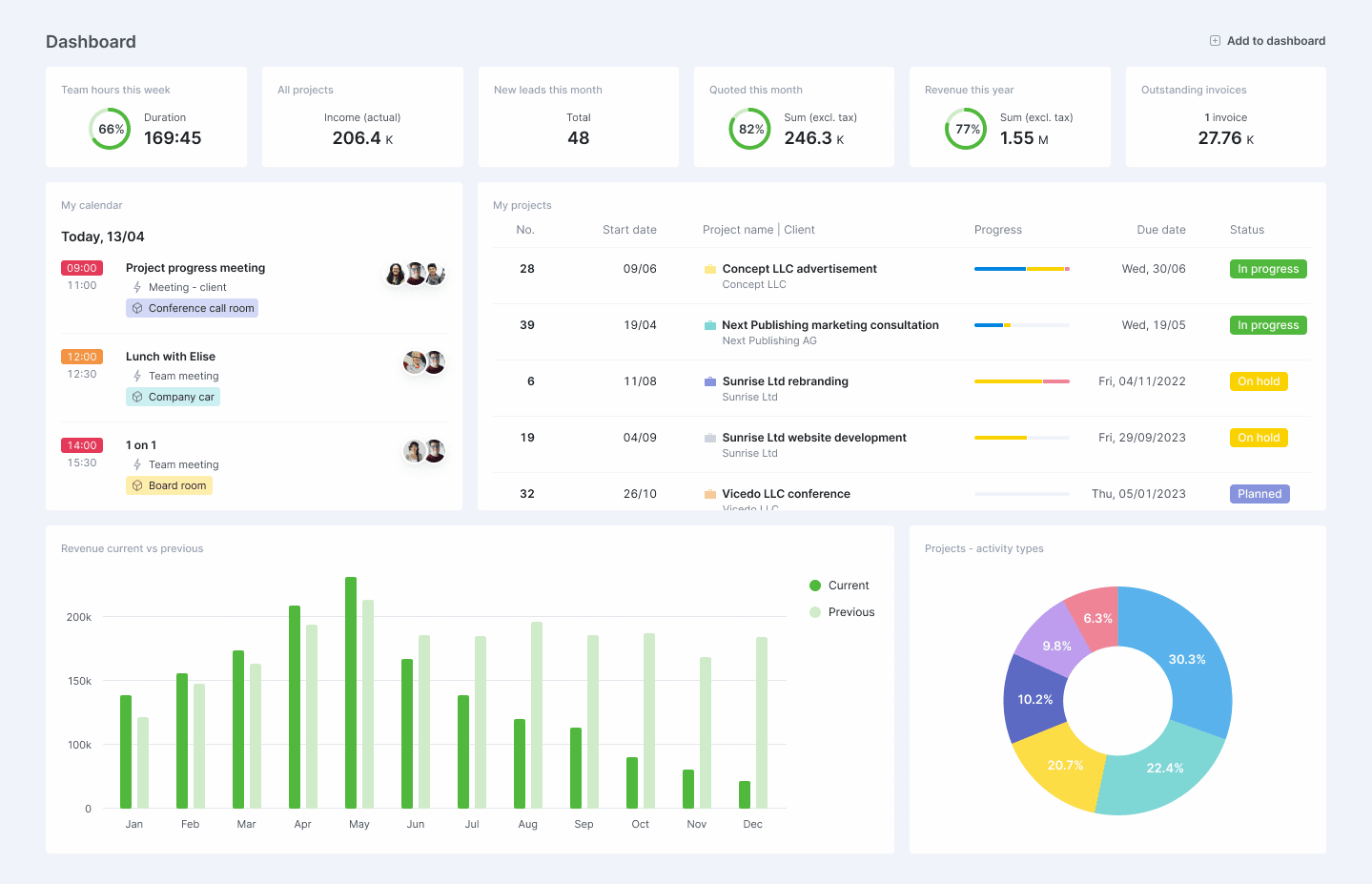 Another alternative to Asana is the project management software Scoro. The application's features focus on speeding up performance, with solutions such as agile methodologies, Gantt charts, Kanban boards, issue management, as well as time and expense tracking. Scoro's KPI dashboard offers a holistic view of each aspect of the business, allowing users to track projects, workflow, and financial KPIs in real-time.
Pricing for Scoro begins with the Essential subscription at $26/user/month and requires a minimum of 5 users. The plan includes projects, calendars, task list & task board, contacts & customers, quotes, invoices & receipts, bills, dashboards and summary of financial reports. One downside is Scoro doesn't have a free version, only a free trial, while Asana has a free forever version with limited features.
16. MeisterTask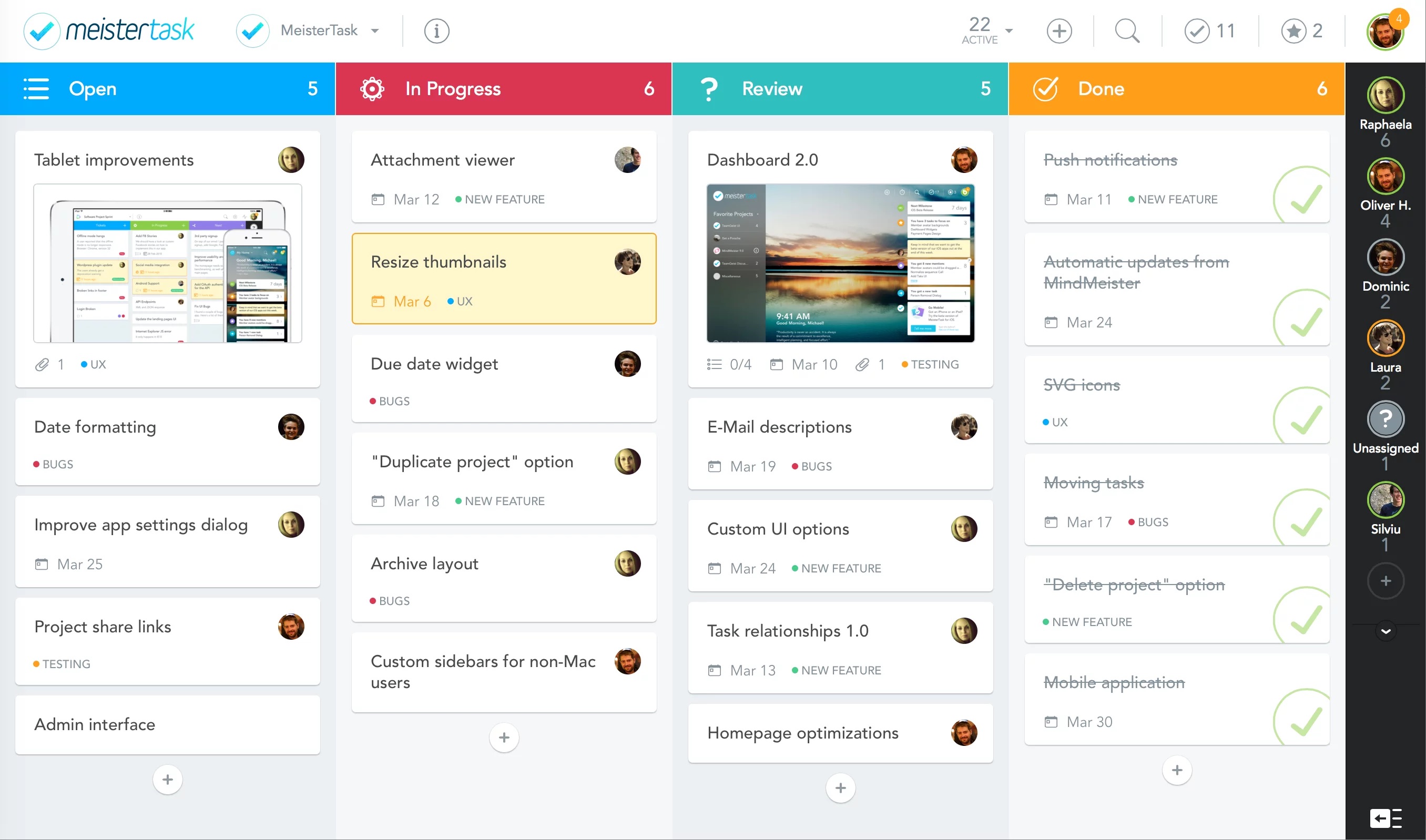 MeisterTask is an Asana alternative for managing projects. The software has customizable Kanban boards and collaborating features. It lets you assign tasks, upload attachments and leave comments across multiple devices with native desktop and mobile apps.
While MeisterTask doesn't offer action item tracking or activity news feed or agenda management features, the software has stellar customer service, including by phone, which is something Asana doesn't have.
Other features include time tracking, unlimited automations, WIP limits, recurring tasks, and more. A free Basic plan allows a single user to work on up to three MeisterTask projects with plenty of tools to get you started with your project management. If you want additional features and the ability to work on unlimited projects, MeisterTask has plans starting at $14.49 per month.
17. Teamwork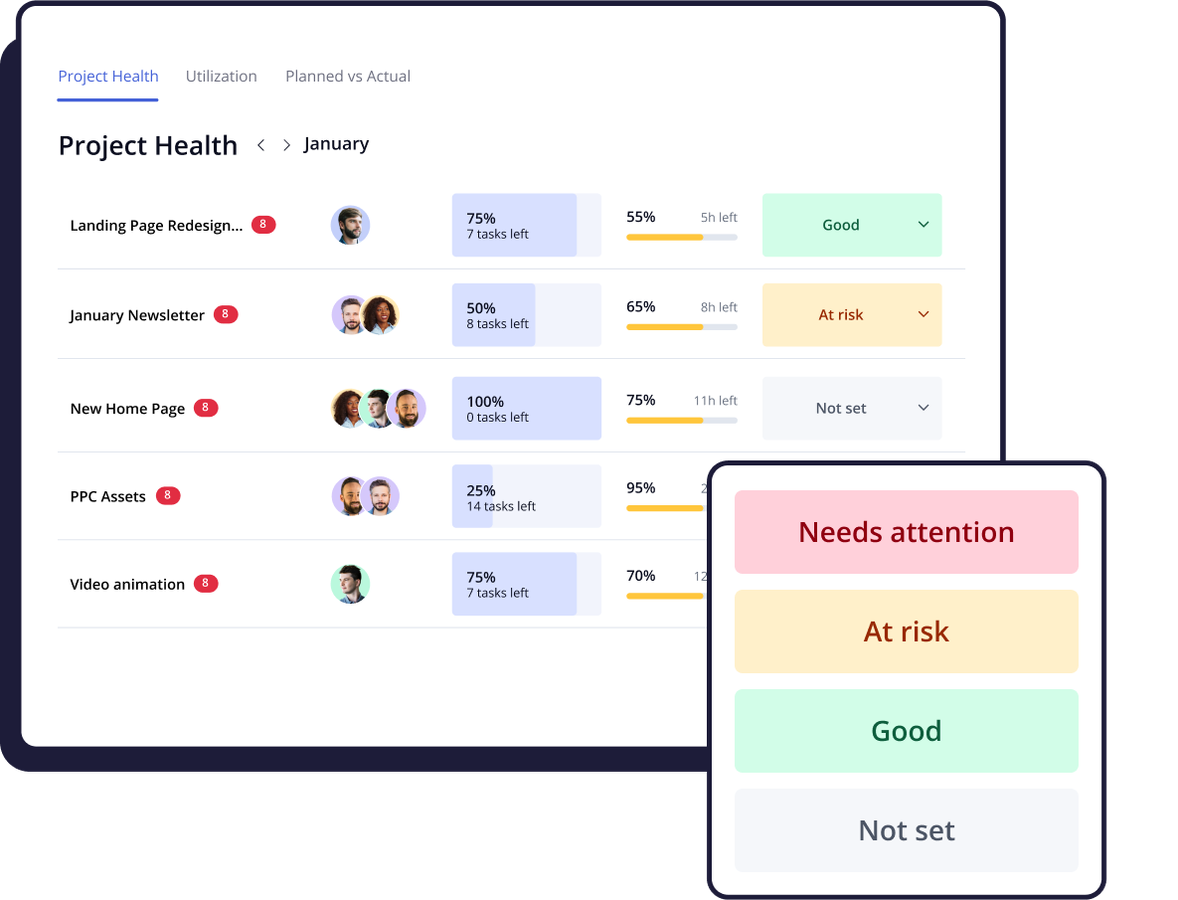 Teamwork is a project management solution that supports various project management methodologies including Waterfall, Agile, and Scrum. Unlike Asana, which leans more towards task management, Teamwork offers a more flexible platform accommodating various workflows. It is especially beneficial for larger teams or complex projects that require a more structured and multi-faceted approach.
Teamwork allows for personalized project dashboards, giving users a tailored view of their projects. On the downside, Teamwork's user interface might seem less intuitive compared to Asana, and it might take users some time to get accustomed to it. Teamwork offers a free forever plan for up to five users and paid plans start at $5.99/user/month.
Do you have any other favorite Asana alternatives that we didn't include? Let us know in the comments below.