Digital Division (DD) is a creative agency specializing in digital marketing services. The company has a large client base and provides a comprehensive range of services, including website design, creative social campaigns, strategic paid campaigns, branding, content development, messaging, video production, and more.
Based in Kansas City, DD has deployed a fully remote model since 2020 and now has employees all over the US and beyond. Each account manager has their own group of clients, and extra teams can be pulled into projects when needed.
Today, DD manages projects for hundreds of clients. As well as working directly with companies, the agency also provides white label services for smaller agencies.
We sat down with Javina Barbernitz, Operations Manager at DD, to learn how the company is using Hive to streamline day-to-day work and manage requests from its large client base.
Why did DD choose Hive?
Javina explored multiple options before choosing Hive and had experimented with Birdview/EasyProjects. "I looked at every possible project management and CRM [customer relationship management] software. I spent a month going through meetings with different companies looking for the best solution," she explains.
Hive stood out due to its functionality and its customizable Projects, views, and Forms.
"At the end of the day, my final decision was based on Hive's customizable format. I can do anything I want with Hive. Hive has the time tracking, the resourcing, the ability to make my projects different for every type of team that I have," Javina adds. "We've got left brain and right brain people in our teams. And it's hard to get everybody to think inside the same box. So, as Operations Manager my job is to find a solution that adapts to everybody's thinking, style and process. And Hive had that for us. So, it was really a no brainer at the end of the day."
Hive's customer service team and learning resources, such as easy-to-follow how-to videos and regular webinars were also a big draw for Javina, who wanted a platform that people could use and learn about easily.
Inside the agency's Hive workspace
Javina has customized the company's Hive workspace so it can be used to streamline every aspect of the company's day-to-day work, from onboarding clients to resourcing projects, managing approvals, time-tracking, analytics and more.
Let's take a closer look at the company's workspace.
Setting up Projects:
DD has a Hive Project for each of the clients and agencies it works with. The agencies it works with have multiple brands. So, an agency is set up as a parent project, and child projects are then added for the agency's brands.
Typically, Javina and the two company owners build out Projects in Hive and assign each Project to an account manager. Account managers handle a varying number of Hive Projects, while others manage a fewer number of accounts that have a higher volume of client activity. DD uses a single action card called 'Client Information', which is marked as 'urgent' so it stands out and teams can access vital information about the company quickly.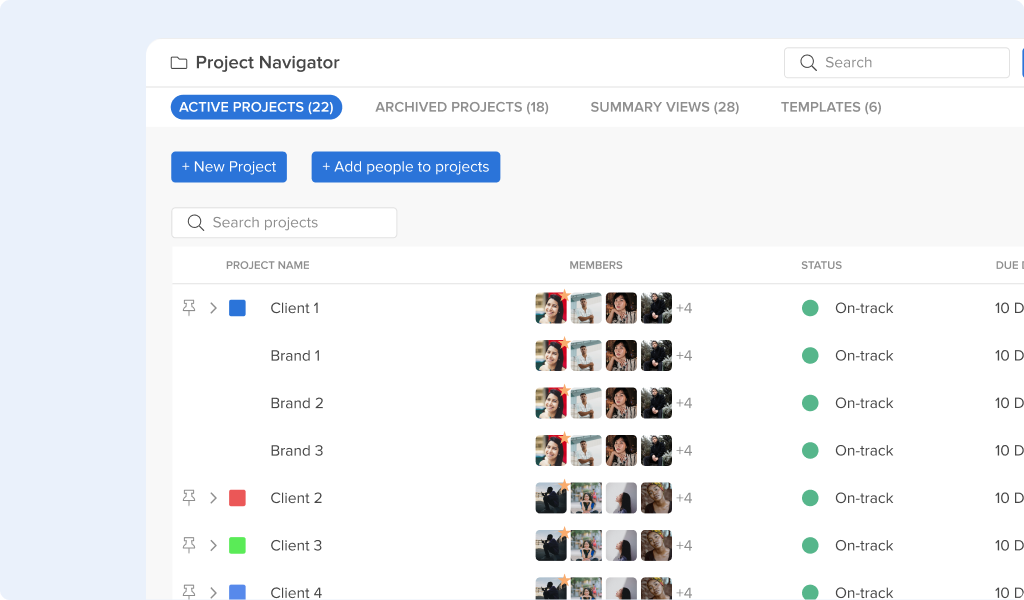 Currently, DD has more than 400 active projects, but account managers can only view the Hive Projects specifically assigned to them. A full overview of all Projects in Hive can only be seen by high-level employees.
Leveraging Project templates
Javina and the DD teams use Project templates for each different type of service the company offers, from graphic design to social media management and pay-per-click (PPC) web advertising projects, and more. They currently have more than 20 project templates to help them get ongoing work requirements and new requests up and running. Some of the services are provided on a request basis, while other services are delivered regularly, such as ADA (Americans with Disabilities Act) maintenance and compliance. Using Project templates for repetitive tasks and specific types of recurring work saves the company time and enhances overall team efficiency.
Using Hive to oversee Projects and actions
Javina and her teams use Hive Status View to oversee Projects and get a quick overview of work-in-progress. Hive Status View is a kanban board with three default statuses: Unstarted, In Progress, and Completed. Custom fields can also be added to Status View and Javina has created a custom field to show which account managers are assigned to each project.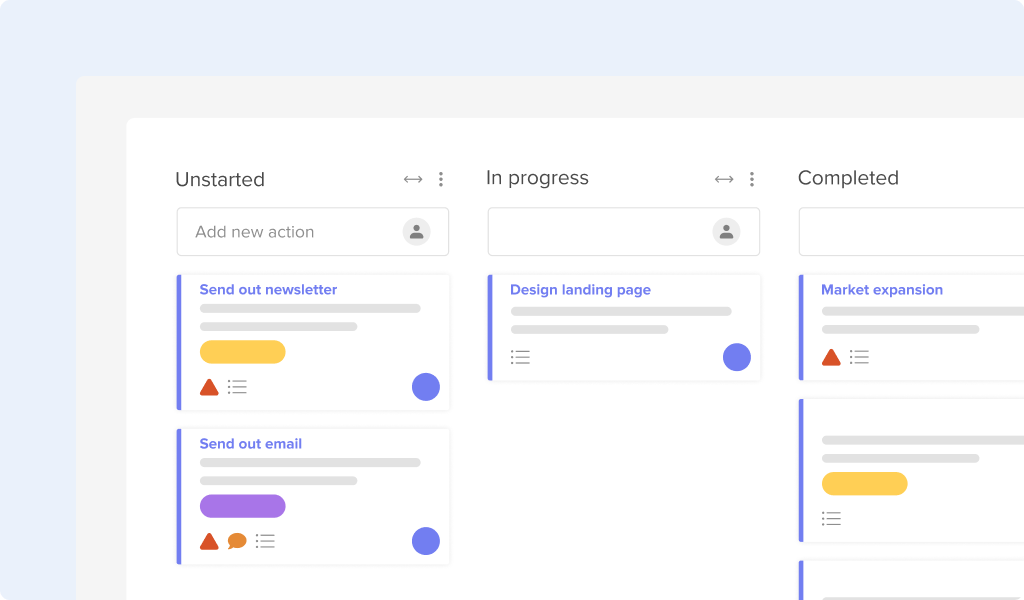 Hive users can use the 'My Actions' view to see a list of all the actions that have been assigned to them. "We all use the 'My Actions' view on a regular basis," says Javina. "It's especially helpful for proofing and approvals that need attention."
Organizing client requests with Hive Forms
Hive Forms can be filled out by internal and external users, and DD uses them to gather information about client requests. The company's account managers have close relationships with their clients and often fill in a work-specific Form after a verbal request from a client. However, some clients fill in Forms themselves, particularly for recurring work, such as PPC campaigns and social media requests.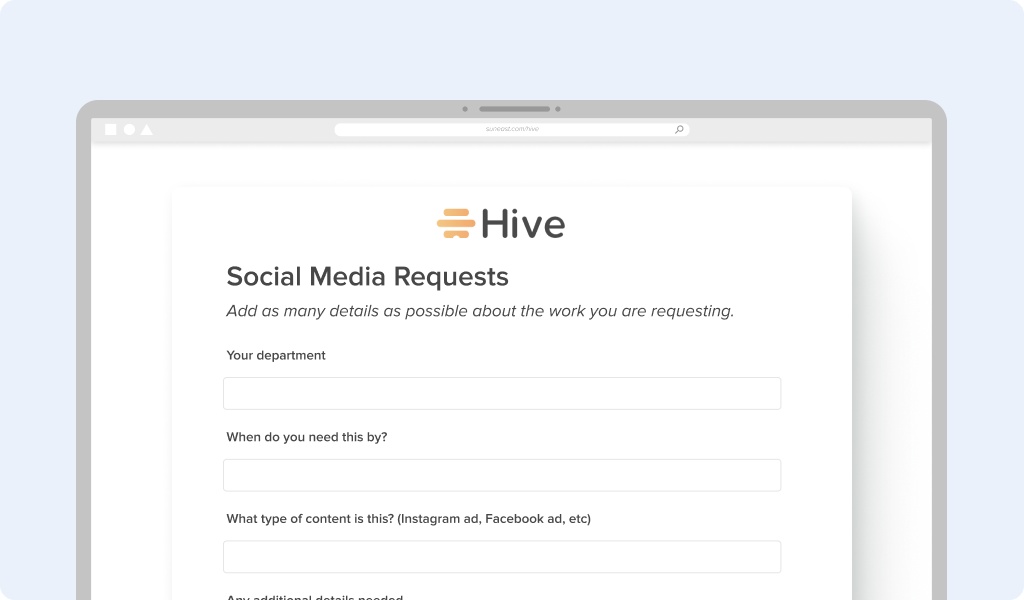 Javina has customized all Forms so they are routed to her Parent Project, where she can oversee and assign each request.
"I use Hive Forms as a ticket system. I created a Parent Project called Tickets, and all the Forms are routed into that, so I can view requests and move them through," she explains. "We have customized Hive Forms for a huge variety of use cases, including new client onboarding, customer requests and surveys. I especially like the color-coding function on the Forms, as I can see from the colors what type of work is required and which requests are urgent. I also love seeing every request that's ever come in and having a comprehensive overview of the work we've completed for each client."
Document creators can trigger a 'proofreading' notice once they have finished the first draft, which alerts the account managers to know it is complete and ready to review before they send to the client.
Time tracking for client billing
At DD, some clients are billed on a monthly recurring basis, while others are billed based on the time that's spent on their work. Users are required to track down to the minute to provide an accurate reflection of the time they spend on projects. Time tracking within Projects is key for managing billing, and team members typically track their time directly onto the relevant Action Cards. As well as using time-tracking data for billing, Javina also uses the data to analyze where efficiencies can be made, and work can be improved.
Conclusion
Hive's ability to support customization and cohesive communication has been key for Javina and her teams at DD. Hive's hands-on, personal customer support has also helped Javina and her team make the most of Hive.
Hive has enabled the agency to systematize processes for all aspects of project management. Since using Hive, the team have found that they can manage all aspects of their day-to-day work and client relationship management from onboarding new clients and handling client requests to the proofing and approvals stage.
"Hive is entirely customizable in ways that other project management software companies can't provide," Javina concludes.