Headquartered in Sarasota, Florida, SmartPro Financial is a financial advisory firm that supports a remote network of 80 financial advisors across the USA. The company is closely partnered with a financial coaching organization, and advisors' clients come to them directly from the coaching program.
SmartPro Financial's team supports advisors with a wide range of time-critical back-office activities. Responsibilities include creating new retirement accounts for advisors' clients, money and asset movement, documentation, and Office of Supervisory Jurisdiction (OSJ) compliance.  
The company began using Hive just over two years ago when it was still in startup mode. We sat down with Joe Loughran, Chief Operating Officer of SmartPro Financial, to learn how the financial advisory firm uses Hive to support its remote network of advisors.
How SmartPro Financial worked before using Hive
Before SmartPro Financial adopted Hive, email was the main communication tool.
"We'd all come in on Monday morning and have about 200 emails," says Joe. "Being able to use Hive for project management alleviated all those emails and we found that we got things done faster because we spent less time typing emails."
The company experimented with a few different solutions, including a spreadsheet-based system for client contacts and customer relationship management (CRM) software. "After about a week I was like, 'No, this is not going to work. We need more integration,'" Joe adds.
The firm's services are time-critical, so streamlining working processes was a key priority for Joe and his team.
"When we have an advisor that has a client who says, 'Yes, I want to work with you,' we've got to move those assets. It could be $500 or $5 million that needs to be moved into a new account," Joe explains. "The client needs to DocuSign paperwork, and then have our internal trading team actually trade those funds into the appropriate mutual allocation. There's a lot of work that goes into that. So, we were looking for a tool that allowed us to set up a workflow and push those accounts through in a systematic way."
During asset movement and trading, advisors need to stay in touch with the client and keep them updated. So, another big priority for the company was finding a tool that could provide visibility over operations, so advisors would have a clear overview of their clients' accounts and how each request was progressing.
"We wanted to give the advisor – who could be in Texas, California or Hawaii – full visibility over what's happening throughout that whole process. We found that most platforms gave us really awesome tools and really awesome workflows, but there was no visibility or transparency for the advisor who actually has the communication line open with the end consumer," Joe adds.
When the SmartPro Financial team began exploring Hive they found it offered all the visibility, functionality, and integrations they needed.
Organizing teams in Hive: Financial advisors' roles as external users
Joe highlights how vital it is to provide Hive users with the appropriate level of visibility and access for each role and requirement. External users can use Hive to add comments, fill in Hive Forms and gain visibility over workflow, but they cannot change any key details that would impact the back office. Internal users have more functionality inside the platform, so they can execute back-office activities and make changes to projects and forms.
The company has its internal team members set up as internal users, while its network of financial advisors is set up as external users. This provides advisors with the functionality they need while limiting the number of people who can make changes.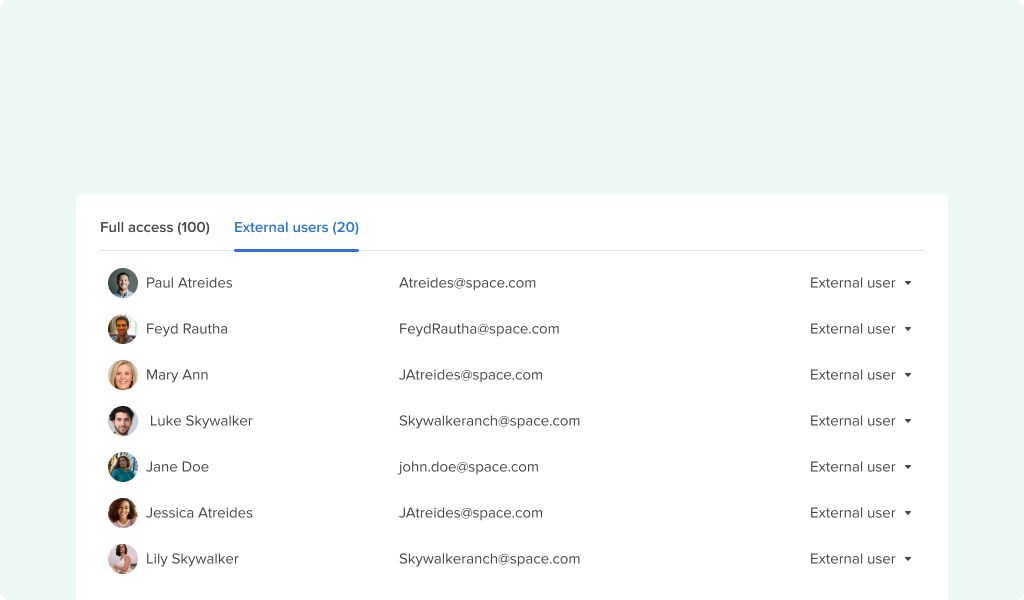 With Hive, the company also has the flexibility to give additional access to users on a case-by-case basis. For example, while most financial advisors are external users, some individual advisors have become internal users so that they can develop new workflows.
"We have a couple of financial advisors that want to experiment with Hive and use Hive for different projects that then can be replicated and shared with the entire firm. Pretty much every advisor who wants to use Hive to innovate wants to create something awesome and then share the wealth with everyone," Joe continues.
How SmartPro Financial uses customized Hive Forms
Hive Forms are an integral part of the company's working processes. Since starting with Hive, the company has created a wide range of customized Hive Forms for specific use cases. Joe estimates that the team has created approximately 100 to 150 customized Hive Forms to address specific needs, streamline workflow and ensure client requests are actioned immediately.
When setting up and customizing Hive Forms, the company utilizes conditional formatting to route work into the most relevant projects. It also uses action card due dates to understand how quickly tasks need to be assigned.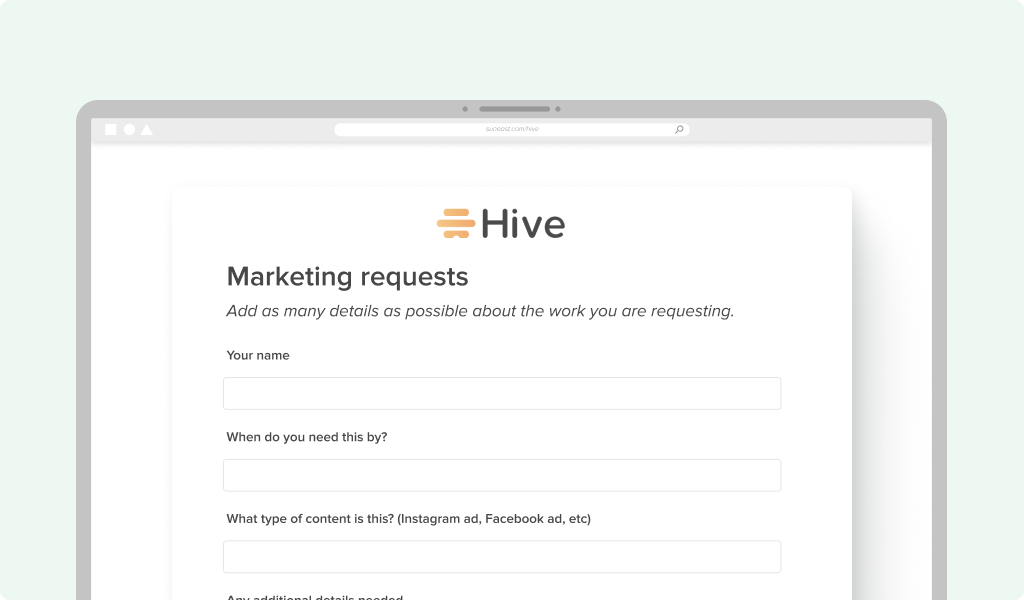 Here are a couple of examples of how the company uses Forms for its day-to-day operations:
Using Hive Forms to execute time-sensitive customer requests
Suppose a client wants to move their 401K to SmartPro Financial, for example. In that case, their financial advisor uses a customized Hive Form to collect the necessary information to move forward with the request. This Hive Form has been set up to route the sequence of workflow through the relevant teams and departments so the whole process is as fast and efficient as possible. Throughout the process, the advisor has visibility over the transaction's progress via Hive, so they can follow along with the latest developments and update the client on how things are progressing if required.
Using Hive Forms to request marketing support
The marketing team at SmartPro Financial supports advisors with marketing materials and content, such as newsletters. When advisors need personalized marketing support, they use a customized Hive Form to make a request. Rather than 80 advisors emailing the marketing team and all that information being siloed, the dedicated Hive Form enables the marketing team to curate requests in just a few clicks, so they have a quick overview of what needs to be addressed. Eliminating emails and cutting out manual tracking and curation enables the marketing team to focus their time on creating and pushing out content.
Department-specific Projects and managing workflow in Hive
The company has Hive Projects for each team. Access to Projects is limited, so team members generally stay within their own team's projects. However, people can be invited into different projects and departments when their input is needed.
Joe uses Projects to oversee each person's workload and track metrics such as deadlines, overall capacity and business trends as a whole, which helps with resourcing decisions.
"For example, inside Hive I have a project called Support Team. And I set up a filter so that I can view each team member as a column and see how many pending accounts they're working on. As we get new Hive intake forms coming in, I can look at everyone's workflow and due dates, and allocate the new work depending on individual capacity," Joe explains.
Hive gives Joe the ability to generate daily reports to monitor workflow and catch any overdue actions.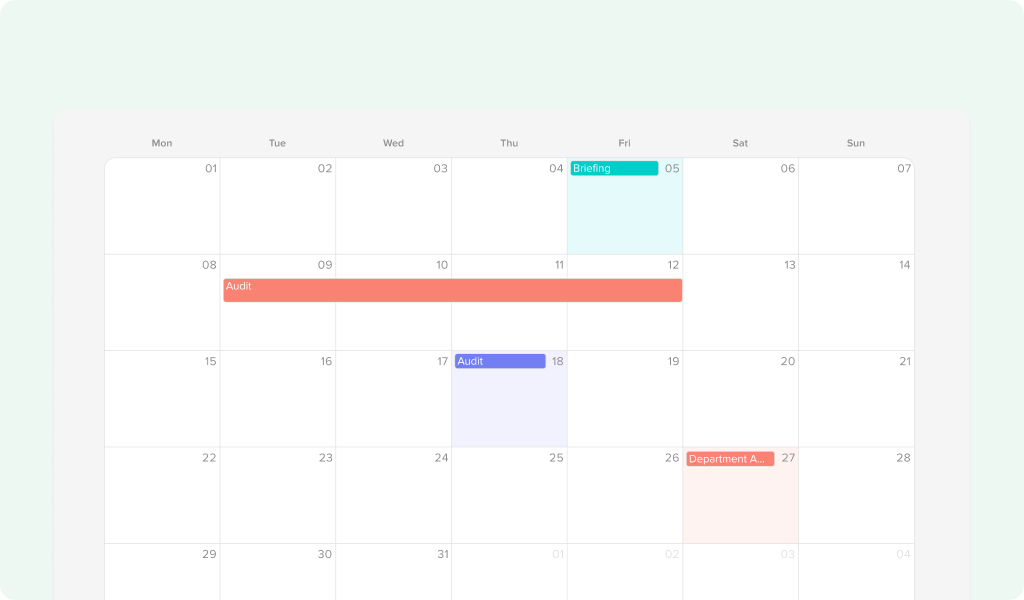 The company uses Hive Calendar View to manage workflow and support advisors. For example, the company's Office of Supervisory Jurisdiction (OSJ) team uses Hive Calendar view to manage advisor audits. Audits are spaced out in Hive calendar view, so the OSJ team can manage workflow and contact individual advisors ahead of their audits to let them know which documents they will need to provide. There are currently 80 advisors in the network, each with their own project and the OSJ team has full visibility over all 80 projects.
Conclusion
Hive has enabled SmartPro Financial to reduce emails and manual admin significantly while enabling teams to collaborate flexibly and effectively, regardless of their location. The seamless integration with third-party apps has also provided added convenience.
Hive's ability to support collaboration and teamwork is another stand-out feature for Joe.
"The biggest thing for us is multi-team integration. Being able to have multiple people working on different things and having the flexibility to pick and choose how workflows are set up and adapted according to resourcing. Having all the functionality of the Hive Apps and the ability to integrate third-party Apps, means we can customize Hive to our specific requirements as we grow," Joe concludes.