With so many possible spreadsheet uses to optimize your business, it's important to have a powerful tool to manage these projects. At Hive, we love organizing our work in Table View, a spreadsheet layout where your actions are organized in a list of rows. Simply click to edit any field, and you can filter by multiple fields (i.e. label, assignee, and even custom fields) to hone in on specific actions. It's great for projects where you have a lot of data that you want to be able to rearrange quickly.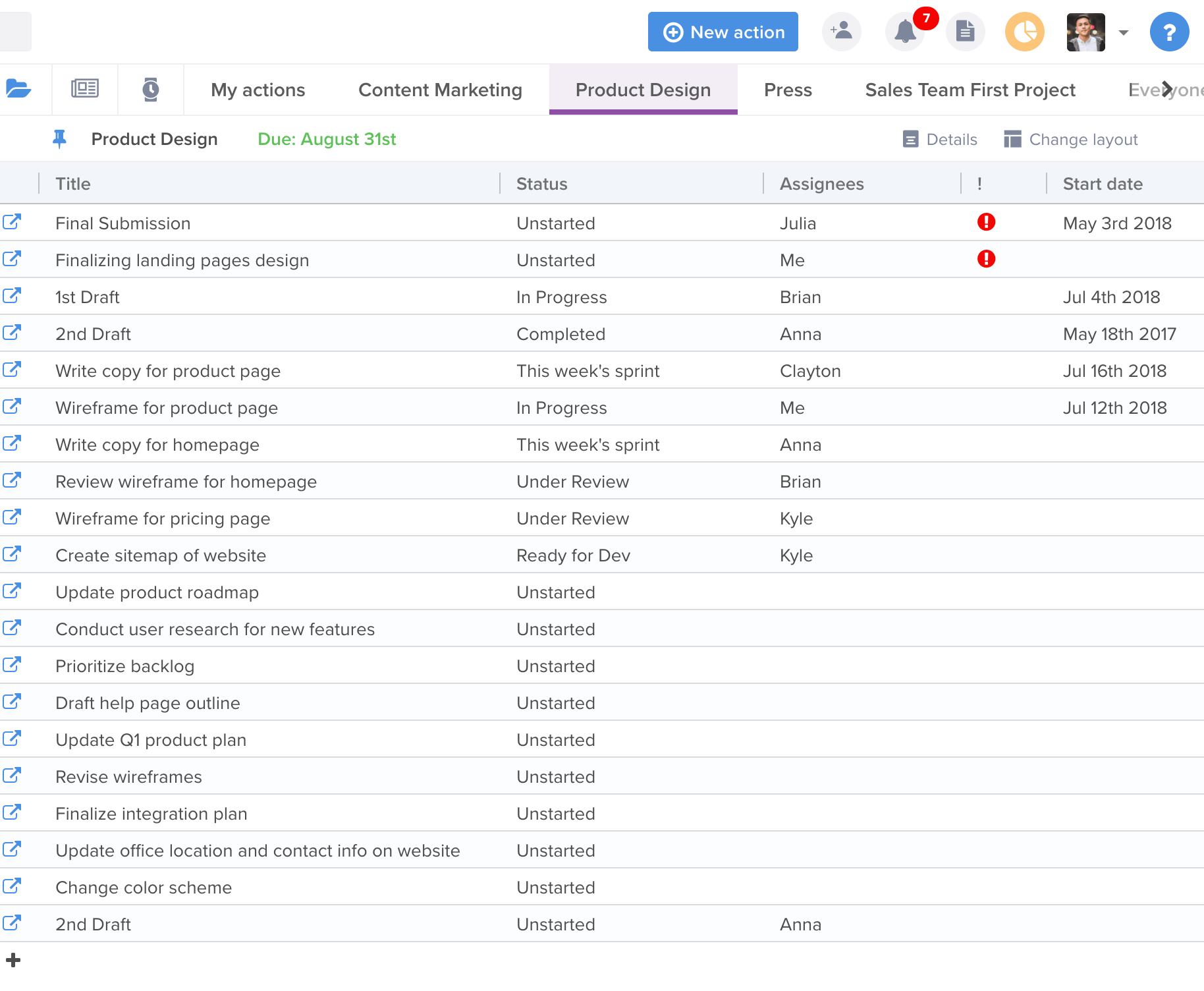 Unlike traditional spreadsheet uses, Table View's features allow you to plan, communicate, execute, and monitor your project from start to finish. You can receive robust analytics on the project status, notify the team immediately of any changes, and easily view your project in a calendar, gantt chart, or kanban board.
To give you some inspiration, we've put together four examples of projects that are perfect for Table View. Even if you don't use Hive, you will probably find some great ideas about spreadsheet uses you can introduce to your team. So here are 4 great project ideas that work well in spreadsheets — and even better in Table View.
1. Content Calendar
What it does: A content calendar organizes a robust content pipeline. Each row represents a piece of content you want to create. You can use statuses to follow items along in the creation process from research to writing to promotion. Labels can identify the type of content from blog posts to webinars. You can even use custom fields to add links to drafts and key assets. Even better, it can serve as a place where team members can add their ideas so you always have plenty of options when looking ahead. And if you need some extra help, you can always hire a SaaS content marketing agency to assist in creating the calendar.
Who can use it: It's great for marketing teams that have a robust content marketing strategy.
Why it's great: Table View makes it easy to view the status of many content pieces at once, and filtering helps you determine what areas need more help.

2. Product Backlog
What it does: Maintains all reported product bugs, feature requests, and product ideas so you can prioritize what goes into development sprints. All ideas and requests are listed in each row. Statuses show if an item is blocked, needs design, or is ready for development. Custom fields can show priority level (e.g. low, medium, high) and time estimates.
Who can use it: Any product team that's overwhelmed by the number of ideas and requests and want a better system to prioritize.
Why it's great: You can filter by priority and effort to clarify which items you want to add to the next development sprint.

3. Employee Performance Review Process
What it does: It manages the performance review process. Every employee is represented in action card and the assignee is the person responsible for their review. You can add custom fields to write out the employee's goals or key responsibilities. Labels can be used to organize people by department.
Who can use it: HR teams responsible for organizing the review process.
Why it's great: With many employees, this allows HR to set the process in motion and track progress without follow up emails. Table view makes it easy to filter and check the status of a certain manager or department.

4. PR Outreach Campaign
What it does: Keeps track of outreach to journalists for a specific campaign. Each journalist is represented by an action card and custom fields can be added to included details about their email address and publication. Statuses can show what stage each opportunity is in the process form pitched to follow up to interview scheduled.
Who can use it: PR agencies or internal teams responsible for reaching
Why it's great: Custom fields allow you to add the key contact details you want to keep track of in this type of campaign like email address. It also makes it easy to run through through the list of contacts and see where things stand.

Try it now for free. No credit card needed.