In the digital world of today, the importance of creating compelling content is extremely high. As editor-in-chief, I know that without engaging and helpful content, the possibility of keeping a reader's attention is far from none. But creating content doesn't have to be hard. In fact, it can be as simple as using artificial intelligence to help you along the way.
Regardless of where you are in your career journey — if you're an EIC or even a recent grad — using AI is a helpful tool. Personally, I use HiveMind, Hive's newest feature, which takes full advantage of AI technology to make every team's workday run more efficiently, streamline workflows, and best of all, help create amazing content.
This is how I — as an editor-in-chief — use HiveMind to help create content that's on-brand, always fresh, and always ready to drive home our message.
How I use HiveMind as an Editor In Chief
1. To create outlines for articles
Sometimes, you just need a starting place. And as a writer and editor, that usually means having an outline of what you're working on to get the creative juices flowing. For me, that means having an outline that features three things:
A headline idea: First things first, I always start by needing a headline idea. A headline, or HL, can give you a basic idea of what your content is going to be about.
A lede: Otherwise known as an intro paragraph, a lede is the first paragraph that a reader will see at the opening of an article. It should be captivating and tell your reader what to expect throughout.
H2s and H3s: These are headers, which help to break up content and make it more digestible. Instead of a long block of text, these make it so that readers can easily glance and see what the different sections of content are truly about.
HiveMind can help me create an outline in seconds. Rather than staring at a blank screen for twenty minutes, all I have to do is ask for the right things. Say I want to write about working from home in the winter — that's a no-brainer.

To accomplish this, I'd ask HiveMind to:
"Write an article headline about working from home when it's cold outside. Then write an intro paragraph to an article about working from home during the winter. Finally, write an article outline about working remotely during the winter with H2s and H3s."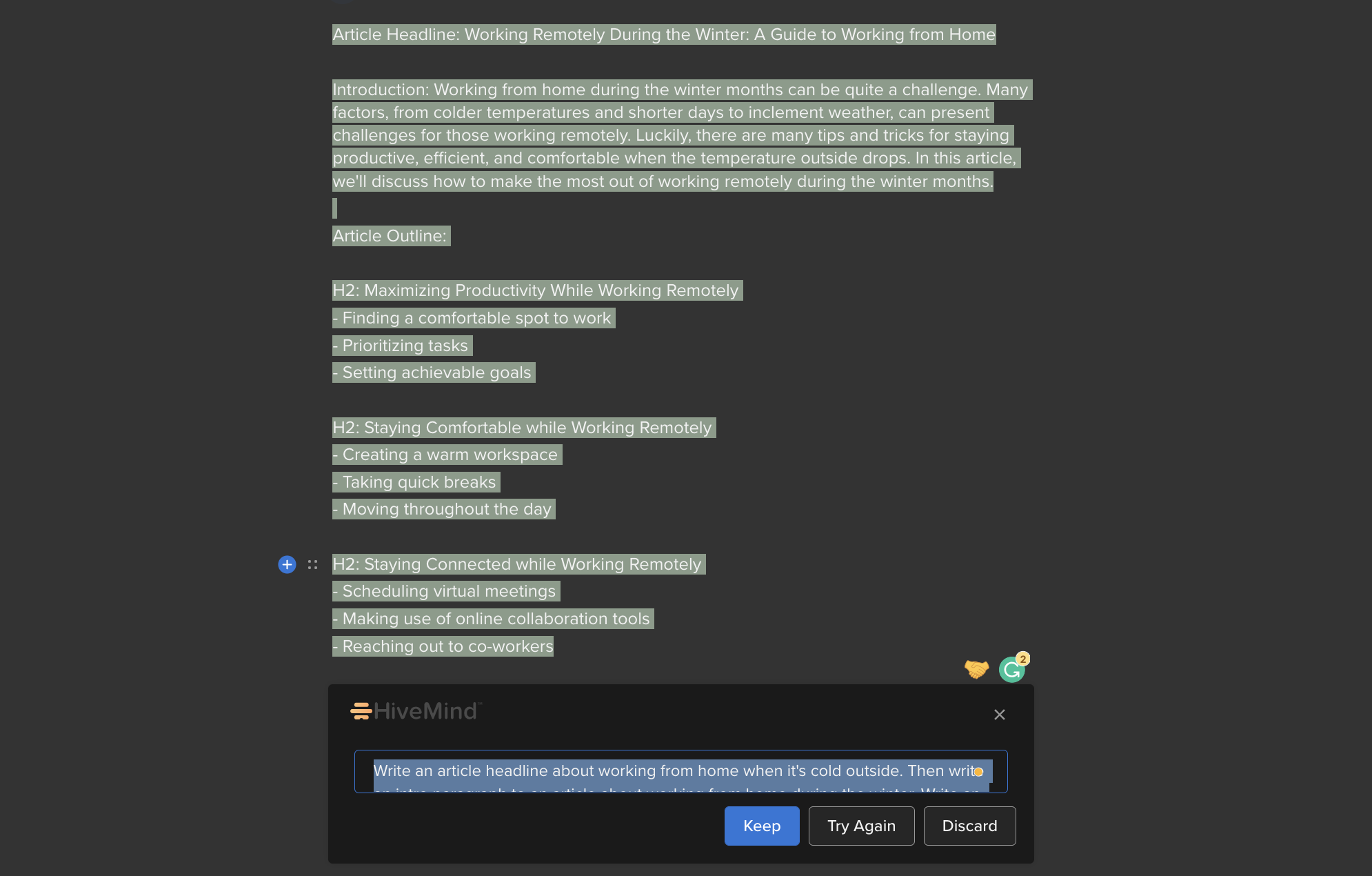 In seconds, there it is. It's truly that easy. Then, I can start writing. Or… I can just have HiveMind do it.
2. To brainstorm ideas about a niche topic
Personally, my favorite way to use HiveMind to my advantage is to use it to brainstorm ideas about a niche topic. For example, say I want to do a content series on using Zoom while working from home. I might be able to think of a few different articles ideas about this topic on my own, but having HiveMind at my side certainly does help.
To accomplish this, I'd ask HiveMind to:
"Create twenty articles headlines about using Zoom while working from home."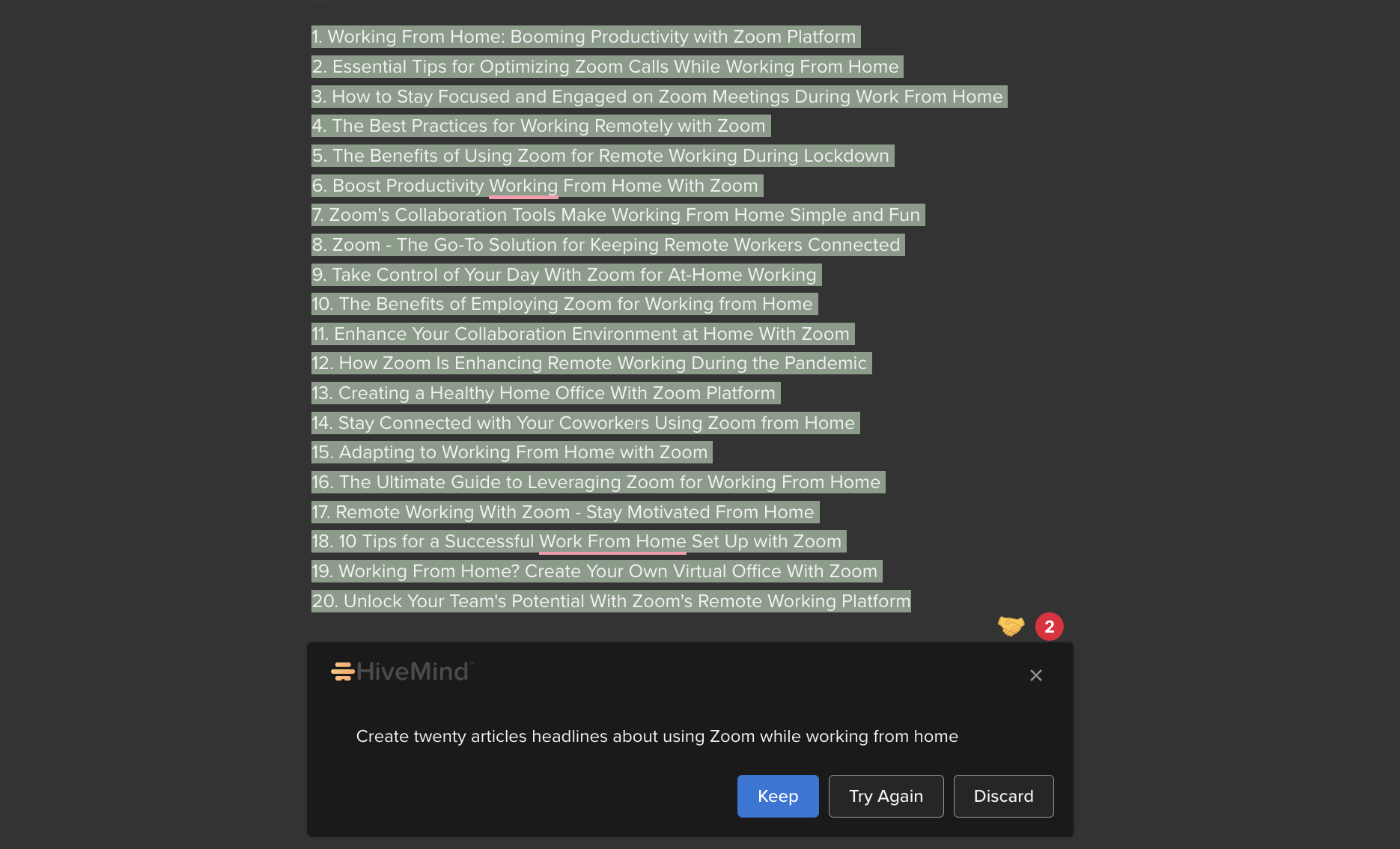 Now, I can just fill out a content calendar with all of my engaging content ideas. It saves me so much time.
3. To find sources
As an editor-in-chief, another favorite feature of HiveMind is the ability to use it to find sources to include in articles. When it comes to creating engaging, reputable and quality content, readers want to know that they can trust you. And that means including sources that are professional, trustworthy and reliable. Using HiveMind makes finding these sources so simple. 
Gone are the days of searching through a phonebook and calling around to find sources. Instead, HiveMind can crowdsource ideas from a wide range of professionals, tapping into different perspectives. It can also draw on the expertise of many. This feature allows me to identify potential influencers, experts, and thought leaders who can help them create the most compelling content.
Say I want to create an article about TikTok influencers who help people to climb up the ladder in their careers. But first, I need to find a source.
To accomplish this, I'd ask HiveMind to:
"Find an influencer on TikTok who specializes in career advancement"

Then, I can plug in the source to the article and link to their TikTok page. Easy-peasy.
Make your life as an editor that much easier
HiveMind has the potential to become an editor-in-chief's greatest asset when it comes to creating compelling content — trust me, I'd know. The platform has truly made my workflow and process 100x easier when it comes to brainstorming ideas, writing actual articles, and finding sources. It's the easiest it has ever been and anyone can do it. Ready to try it for yourself?