If you have a business in the digital space, you might be overwhelmed with the number of tasks associated with marketing. Unfortunately, managing "all the things" can be very time-consuming. The day-to-day tasks of running a business online are endless, from tracking customer journeys to crafting and sending engaging email and social media campaigns.
If you need a way to speed up your workflow and become more productive and efficient, invest in an automation software platform. Automation platforms allow you to create workflows that will automatically do tasks for you. Then, as the user, all you have to do is set them up once, and then they'll run independently.
Why Should You Use Automation Software?
While automation software can seem intimidating at first, don't get overwhelmed with all the bells and whistles. Any of the programs on the list below have specific automation protocols that will be perfect to increase your business efficiency and save time.
You could completely automate your process and use a platform like Hubspot, or you could stick with a program like Hive that has a few simple built-in automation features and ease into this technology. But, no matter which program you choose, any one of these platforms will help your business in the following ways:
Save time: By automating tasks, you can free up your time to focus on more important things.
Increase productivity: Automated tasks run on their own schedule, which means you don't have to worry about forgetting or skipping a task.
Increases consistency: Automation keeps everything running smoothly without any hiccups or missteps.
Reduces Human Error: Human error can account for many missed opportunities or loss of resources. Automation keeps these errors in check.

How To Choose The Right Automation Software For Your Business
Over the past few years, automation platforms have seen explosive growth. 75% of marketing leaders are already using at least one marketing automation platform, and of this number, 50% claim that automation technology has increased their overall conversion rate. In conjunction with other conversion tools, these platforms drastically boost your business performance.
While we know that these platforms will do wonders when running a business online, the first question to ask is how do you pick the right automation software? What are some of the key features you should look for?
When you begin looking at these automation tools, keep in mind what you want to be automated within your business process. Typical automation software platforms will offer solutions for automating some (or all) of these tasks:
Email marketing
Integrations
Lead capturing
Analytics
Customer segmentation
Social media
Workflow tasking
When looking at programs on the market today, keep a running list of the features you would like to utilize when running your business online. Some options may be more robust (and pricy) than you are looking for, and some are just right. Keep an open mind and start your research by checking these top automation tools on the market.
Top 19 Automation Software Tools
1. Hive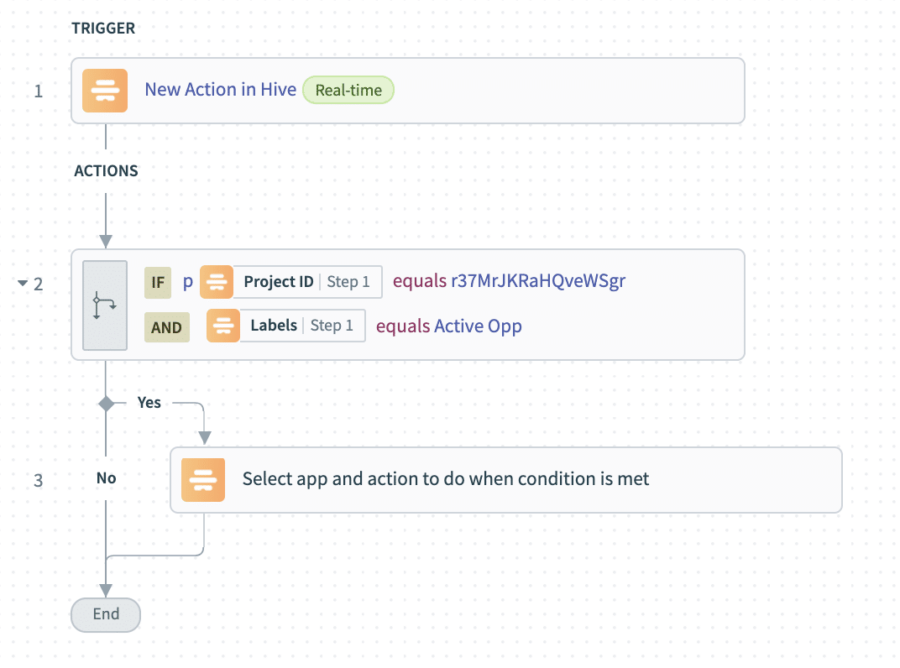 Hive is a leading project management program that offers in-app automations, as well as integrations with outside tools to help you create the ultimate streamlined workflow. Hive integrates directly with popular work tools including Zoom, Slack, Gmail and Dropbox, letting you access the power of those tools right within the Hive workspace. But what about all of the other tools you use in your day to day work? That's where Hive Automate comes into play.
Hive Automate is a powerful new feature that saves you time by automating everyday tasks, inside and outside of Hive. Hive Automate gives you the power to connect, integrate and build automated workflows across thousands of work apps. This allows you to work better with colleagues and teams regardless of what work tools they are using. Here's how it works. 
In Hive Automate, you can build "Recipes" using triggers and logic that lead to desired actions. Recipes are automated workflows that can span across multiple apps. Each recipe comprises a trigger and one or more actions that can be carried out when the trigger event is picked up. Actions can occur outright, or be triggered by IF conditions, IF/ELSE conditions, Repeat Actions, be made callable by other recipes, and provide error handling. Using these different variables, we can create multi-step workflows utilizing as many different applications as necessary.
And with access to thousands of apps, the Recipe opportunities are endless! Learn more about how to create a recipe using Hive Automate here.
Cost: Get started with a 14-day free trial. Hive Teams plans begin at $12 per user/month. Check out the Hive pricing page for full details.
2. HubSpot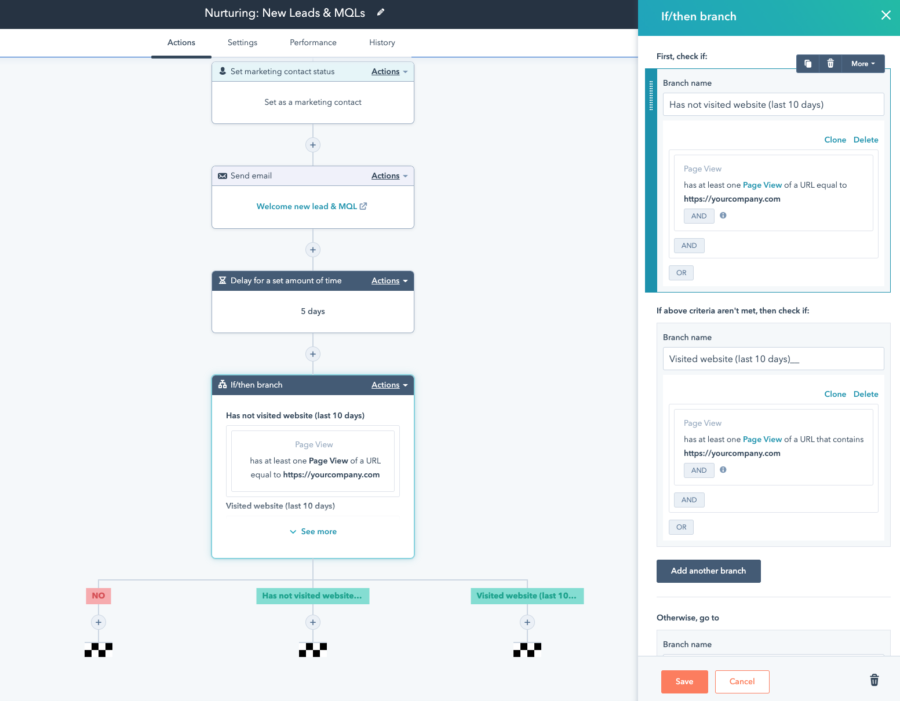 HubSpot has been around for a long time and is one of the most well-known (although costly) options on this list. With its wide range of automation tools — including automation for email marketing, creating and executing sales funnel templates, and streamlining customer service — Hubspot is an extremely powerful CRM platform that can help automate many aspects of the user journey while also tracking customer behavior.
In Hubspot, you can easily create email workflows for your customers, contacts, or prospective clients. With Hubspot's visual editor, you can easily envision those workflows in real time, whether you're building simple follow-up campaigns or complex, multi-stage journeys with multiple branches.
Hubspot workflows are not just for emails in the strict sense. You can use workflows to call an email validation API or automate your process for recurring everyday tasks, like rotating leads across your sales team or updating data properties in bulk. For example, you create a workflow that triggers an internal notification to your team when a contact takes a specific action, or adds a task to Salesforce when your sales team should follow up with certain contacts. The possibilities are endless.
Unfortunately, all of these useful automation features come at a high price. Because Hubspot is more expensive than the other tools on the market, it's ideal for larger teams and may be prohibitive for small organizations or entrepreneurs.
Cost: Pricing begins at $800/per month and will cost an enterprise-level client $3200/month
3. Mailchimp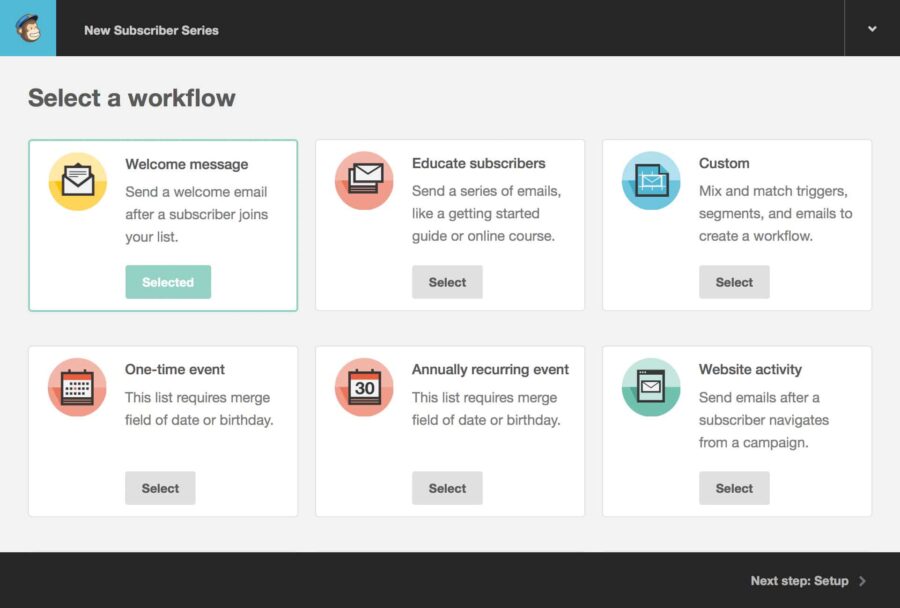 Another long-time favorite, Mailchimp is one of the best platforms out there to automate complex emails and newsletters. This e-mail marketing king is still a top contender because it offers an intuitive and user-friendly platform with great automation features.
However, email automation isn't all that Mailchimp can do for your business. This platform also helps with building and automating a landing page, A/B testing, social media advertisements, and more. Its automation tool also offers email segmentation so that you can segment subscribers by location (such as region) or demographic characteristics (such as age group). This helps businesses target their marketing efforts more effectively.
Cost: Pricing begins at a free version and can cost an enterprise-level client $299/month
4. Keap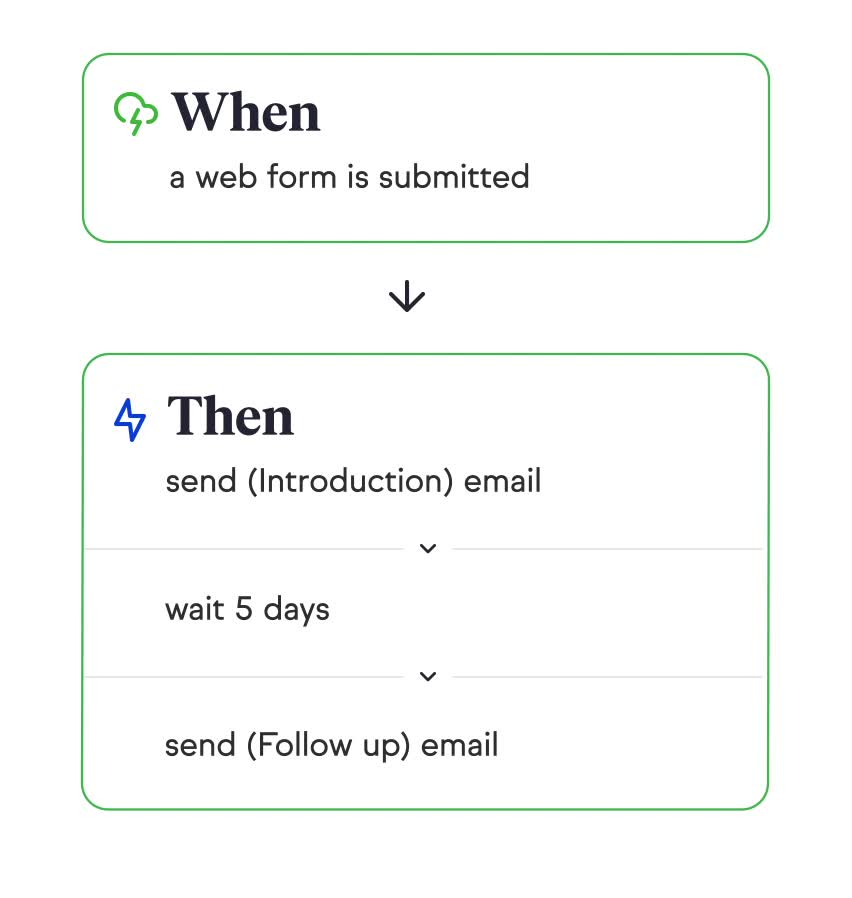 Keap gets high marks for its service as an all-in-one sales, CRM, and marketing automation platform. Formerly known by the name of Infusionsoft, Keap is the perfect automation tool for sales and lead generation for small businesses with less than 25 employees.
Keap has all the features you need to automate your sales process, from lead capturing and contact management to email marketing and automation. Keap also integrates with other applications such as Salesforce, Google Apps, and Zapier so you can get the most out of your automation workflows.
Cost: Pricing starts at $79/per month and can cost an enterprise-level client – $299/month
5. LeadsBridge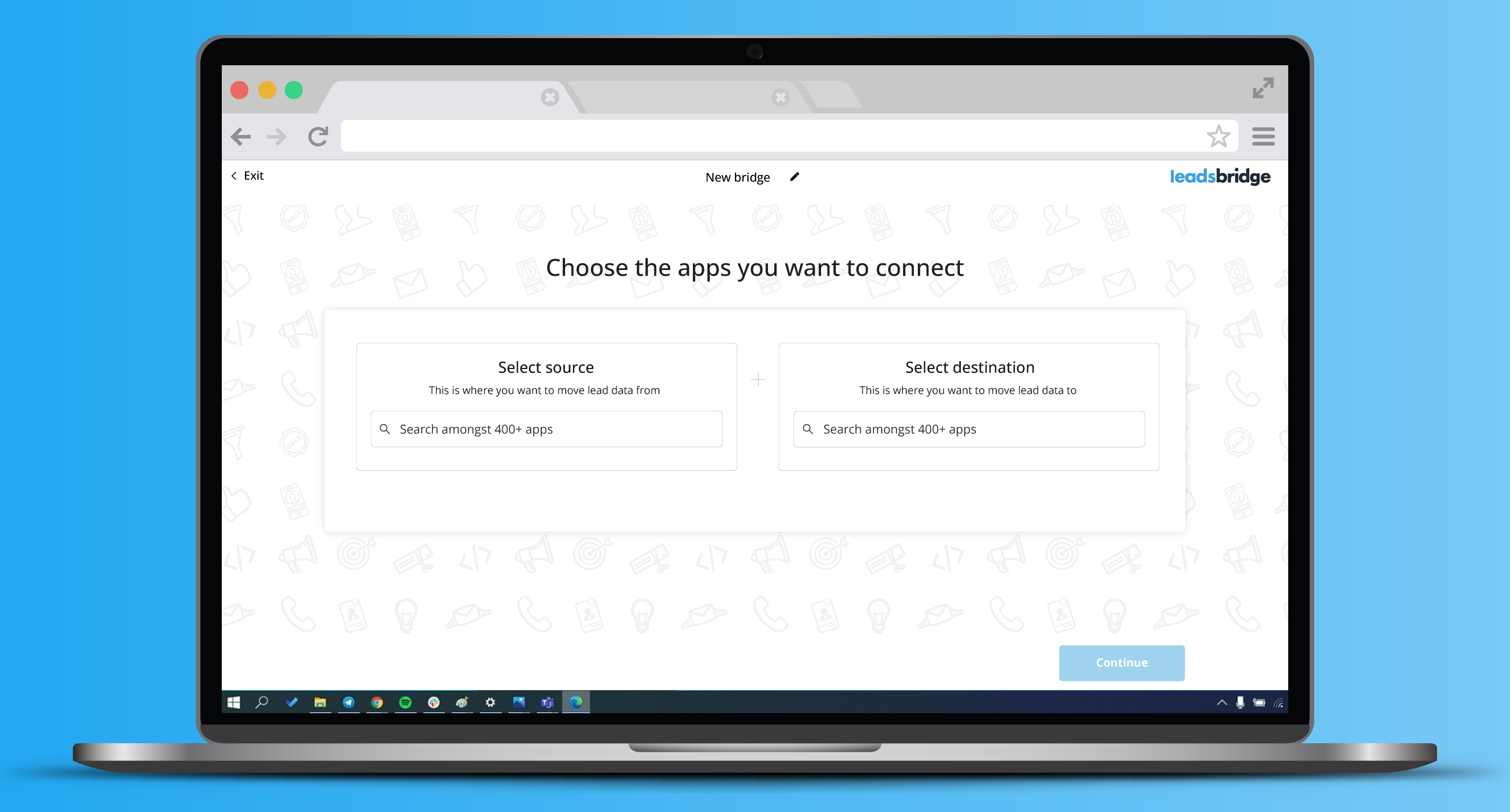 LeadsBridge is an iPaaS automation solution that enables marketers and advertisers to enhance their omnichannel strategy and build their own interconnected marketing ecosystem.
LeadsBridge fulfills your integration needs, focusing on bridging gaps between top advertising platforms – Google, Facebook, LinkedIn, and TikTok – and main marketing platforms – CRM, email marketing software, autoresponder, and so much more. LeadsBridge is also equipped to develop tailor-made integrations based on your unique business needs.
The LeadsBridge platform is specifically designed for companies that want to streamline their advertising activities by integrating their marketing stack with Facebook & Instagram Ads, Google Ads, LinkedIn Ads, and TikTok Ads.
With 380+ out-of-the-box integrations available, you can easily connect your favorite software with your advertising platforms, seamlessly synchronizing data for your marketing workflows.
Cost: LeadBridge offers a free plan, which includes 100 leads per month and one running bridge. The paid Pro plan starts with 3 bridges and 800 leads/mo for $22 a month. In the Business plan, the volume of leads and the number of bridges is customized to your specific needs and priced out manually. All plans are GDPR and CCPA fully compliant, keeping all customer data safe.
6. Customerly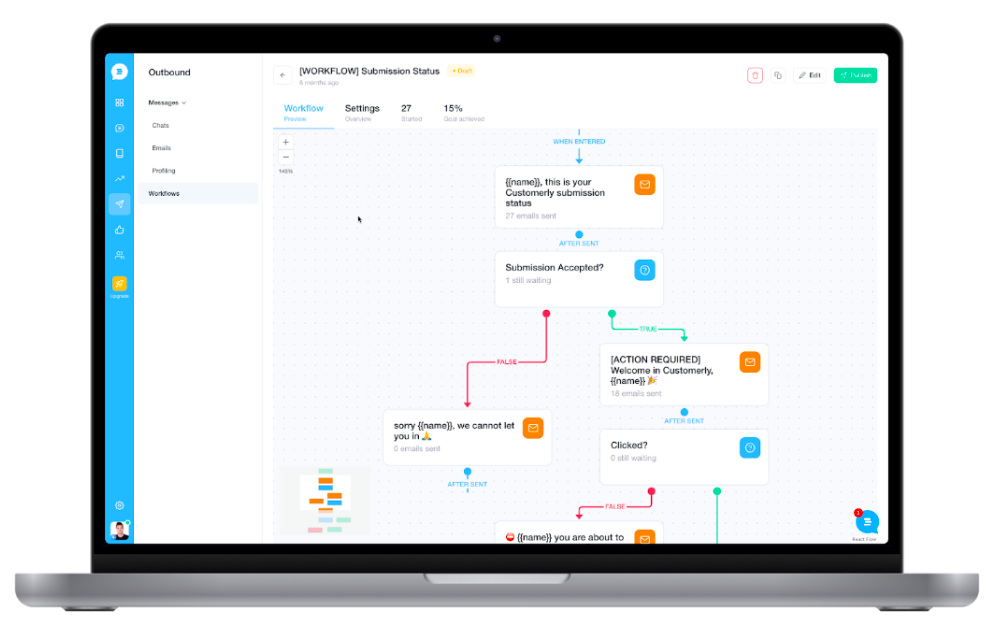 Customerly marketing automation solution will let you send the right message at the right time, always to the right customer. Whether via chat or email, Customerly will let you automate your marketing communications and effort.
With Customerly, you can create dynamic segments of your customers based on their behavior or tags and automatically send emails or chat messages within minutes. 
The Workflow and Email Template Builder are easy to use with a drag-and-drop interface. For example, you can create an onboarding email sequence in minutes triggered by your user actions. It can easily integrate with your current tech stack and offers plenty of external integrations.
Customerly differs from its competitors by offering fair pricing based on Interactions. Making the software ideal for small and medium-sized businesses.
Cost: Pricing begins as little as $39/per month and offers Enterprises packages starting at $299 monthly.
7. Zapier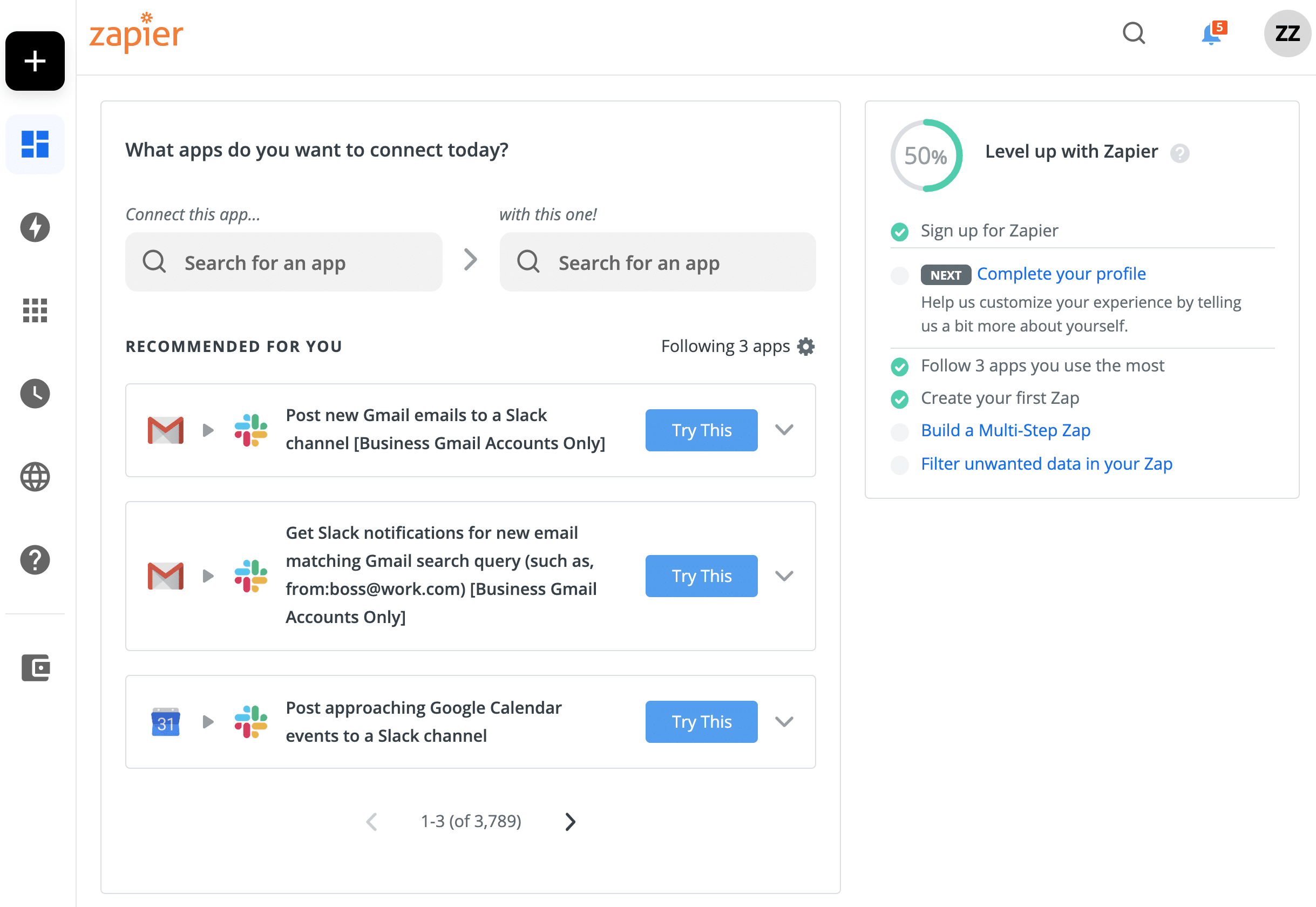 Zapier is an integration platform that automatically moves information between your online tools, unlocking a more efficient way to work. By giving Zapier the power to handle the repetitive tasks in the apps you use every day, you can save yourself time and energy to focus on the things that are most important. So how does it work?
Zapier is a great way to speed up your workflow and connect apps that otherwise would not be possible using automated connections called Zaps. With Zaps, you have the ability to choose one app as the "Trigger," which is where your information comes from. When this Trigger event occurs, you can choose to send this information automatically and cause one or more "actions" in another app. Zapier offers integrations with over 3,000 apps, so there's a good chance your work tools are already included in the Zapier ecosystem.
Cost: Pricing for Zapier is broken down by automation used monthly. For the forever free plan, users can get 100 automations monthly. For the 'Starter' package, get 750 automations for $19.99/month. The plans go up from there — see which is right for you.
8. ActiveCampaign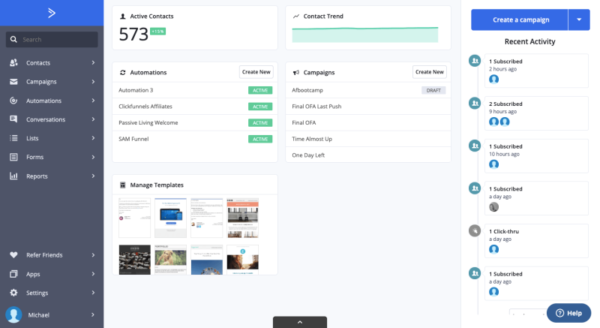 If you have a small business with a smaller budget, ActiveCampaign automation software might be where you need to look. It offers some of the same great automation features that the competitors like Hubspot offer, but at almost half the price.
Offering a wide range of automation features like email automation, lead capture, lead scoring, event tracking, customer segmentation, and predictive sending. This platform can get as complicated or as simple as you need. 
Built with basic automation features and the ability to integrate with popular platforms WordPress, Shopify, and Magento, this automation software might be just the one you were looking for.
Cost: Pricing starts at $49/per month and can cost an enterprise-level client – $259/month
9. Airtable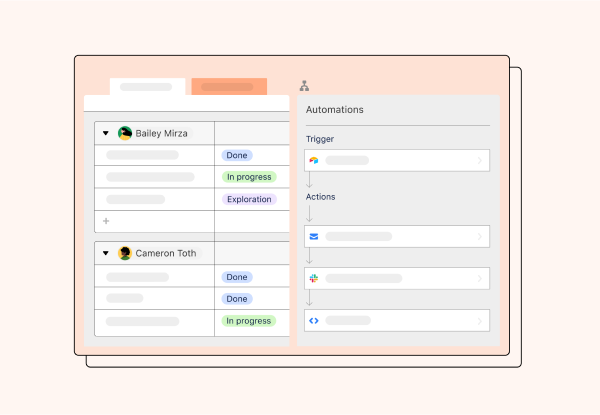 Airtable is an easy solution for teams looking for automation. The solution is a low-code platform for tracking workflow, and building collaborative apps. Airtable has pre-made templates that makes onboarding easier. The software allows integrations with the most popular tools including Google Workspace, Slack, Facebook and Twitter.
One of the big highlights of Airtable as a project management tool is the interface and real collaborative experience, with ability to see projects and tasks on grid-like view, Kanban boards, Gantt charts, and calendar views. Airtable is also used as a backend by many platforms, like Softr, which can serve as a visualization tool for your Airtable data.
Cost: Airtable has a free plan that includes up to 5 creators or editors. The Plus plan costs $10/month and offers several premium features such as custom branded forms and automatic table syncing.
Comparison: Check out the top Airtable alternatives on the market.
10. NapoleonCat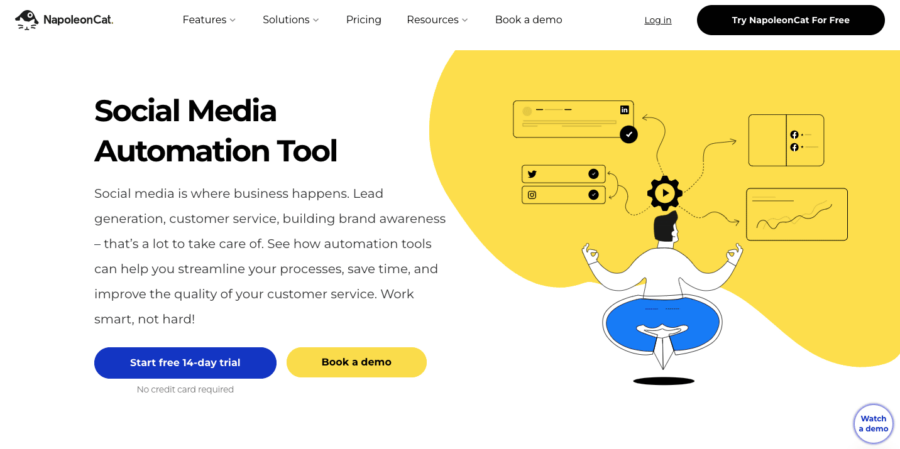 Do you sometimes feel that you keep on replying to the same questions on social media over and over again? Maybe you've experienced unpleasant situations when you had to delete an offensive comment on your Facebook page? Or caught your competitors trying to use your paid reach and post links to their websites under your Instagram ads? 
If any of the above concerns you, an automated social media moderation software is what you need. With NapoleonCat's Auto-moderation, you can set up automated sequences and reply to repetitive queries hands-free. You can also automatically hide or delete comments that can harm your business and the community gathered on your profiles. Most importantly, these features are also available for Facebook and Instagram ads!
NapoleonCat also offers other automation features such as post scheduling and automated social media reporting. 
Cost: You can try NapoleonCat free for 14 days. The paid plans start at $23.25 a month.
11. Engagebay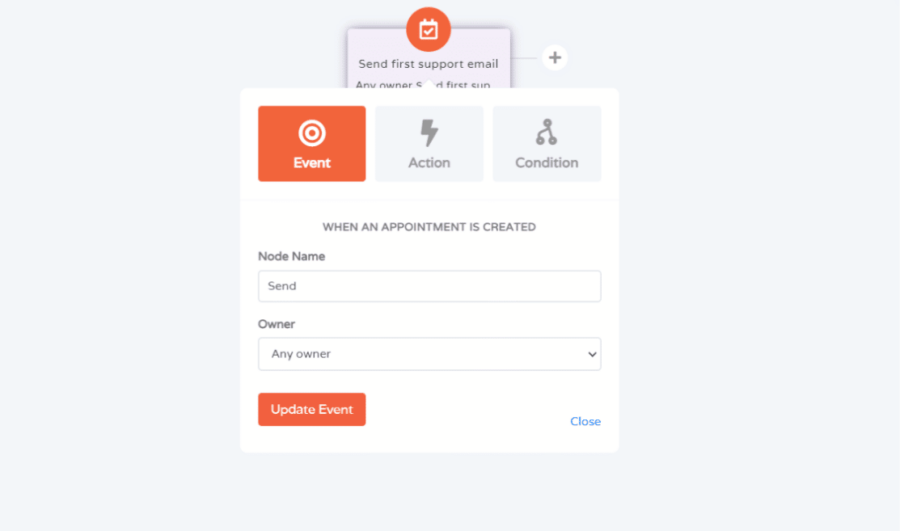 EngageBay is an emerging favorite workflow engine for marketing and sales teams with tools for project, deal, contact and campaign management. EngageBay is an alternative to Salesforce and Zoho that brings together these major CRM, marketing, and project management capabilities into a single cloud system.
With EngageBay, your team can tackle many common marketing tasks, including: creating automated marketing campaigns, sending engaging email blasts with personalized messages, utilizing automated lead generation forms, tracking your website visitors' behavior with web analytics, posting on social media, running SMS and video marketing campaigns, and integrating the CRM with Zapier, Google Suite, Shopify, and other popular platforms.
The software helps small business owners cut down on the number of tools they use, thanks to its all-in-one approach, with tools for marketing, sales and CRM automation. Using one platform like EngageBay is a great way to increase your business efficiency. 
Cost: EngageBay offers a free plan and their enterprise-level package starts at $99 a month.
12. SureTriggers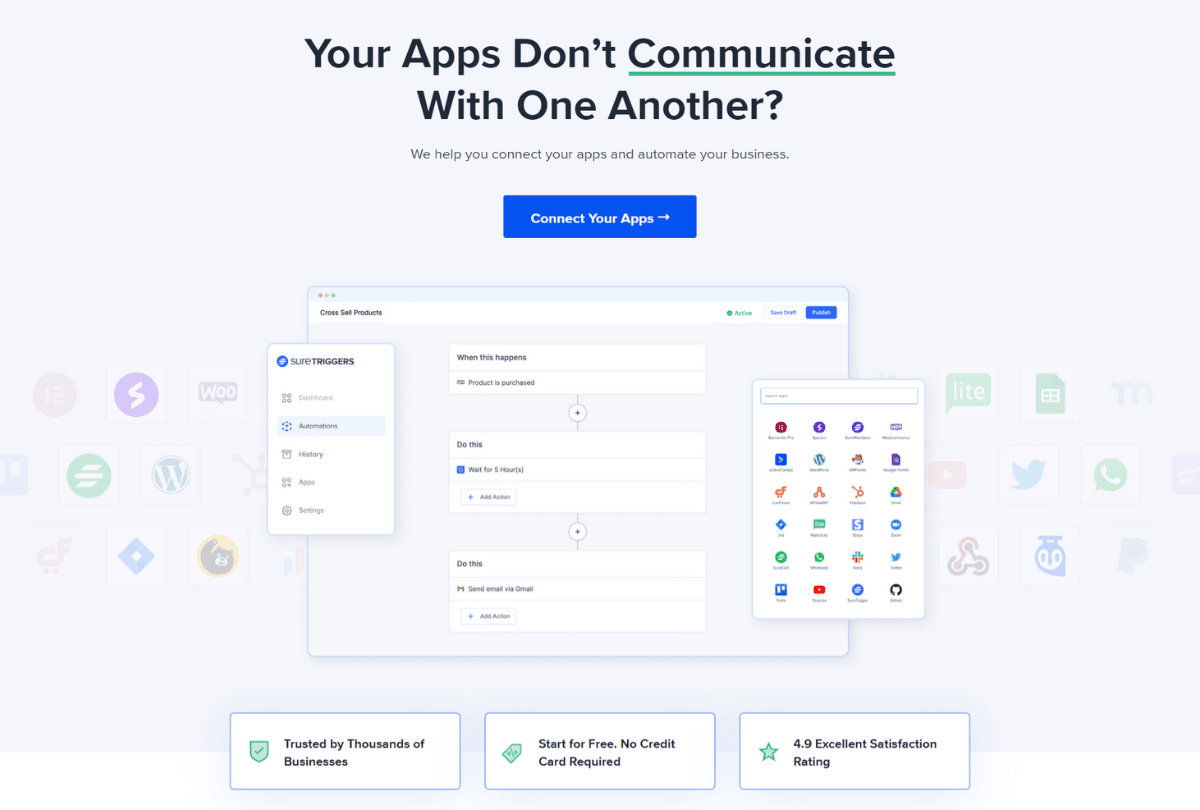 SureTriggers is an integration platform that automates processes between different websites, applications and WordPress plugins. It enables third-party products and services to work with your WordPress website using the IFTTT methodology as most automation platforms. SureTriggers can automate marketing functions, outreach, customer retention, order processing and more. 
You can set up your automation with features like schedules, filters, conditions, paths, delays and webhooks. The platform has a visual canvas editor for creating automated workflows, syncing services, and creating triggers and actions using a drag-and-drop page builder for all skill levels. It integrates with many popular WordPress plugins and external services while providing a lot of flexibility to automate and save time.
Cost: SureTriggers has a free version that lets you use 5 automations on a single website and offers paid plans with additional functionality and features.
13. ClickUp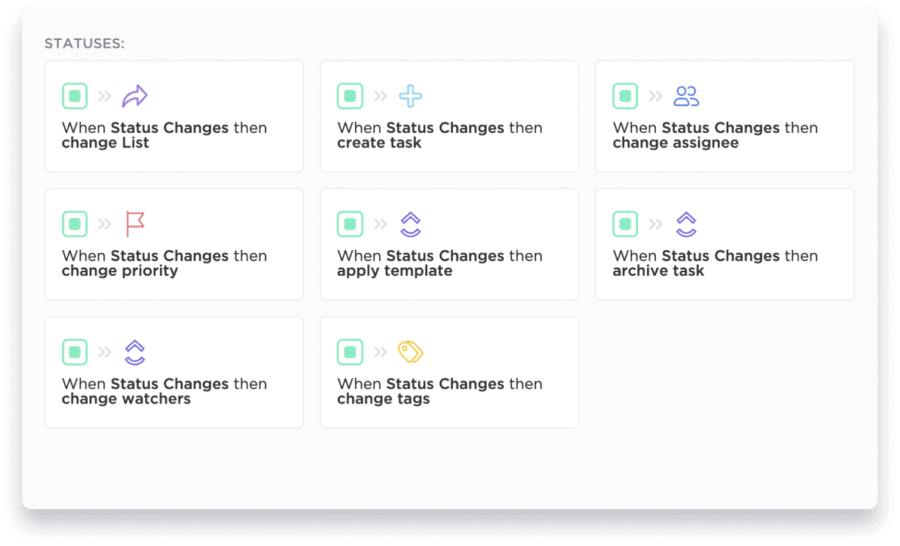 ClickUp automations allow users to reduce manual efforts in specific tasks while freeing up teams to focus on other priority goals. You can use ClickUp to automatically assign members to a task, add a tag to a task when priority changes, modify status when a deadline arrives and even post a comment when a status or assignee for a task change. One of the advantages of automated systems on ClickUp is the possibility of working with external apps by integrating them into your workflow. For example, you can automate ClickUp tasks with Google Sheets, Dropbox, Calendly, GitHub, Slack, and Airtable integrations. 
ClickUp offers 50+ pre-built automations to help with workflow automation and processes. The platform offers native chat and email, dynamic recurring tasks, customizable board views, and free integrations. To see how ClickUp stacks up against other tools on the market, check out our complete guide to Click Up alternatives.
Cost: ClickUp has a free plan, and its paid plan starts at $5 per member/per month.
14. Groupboss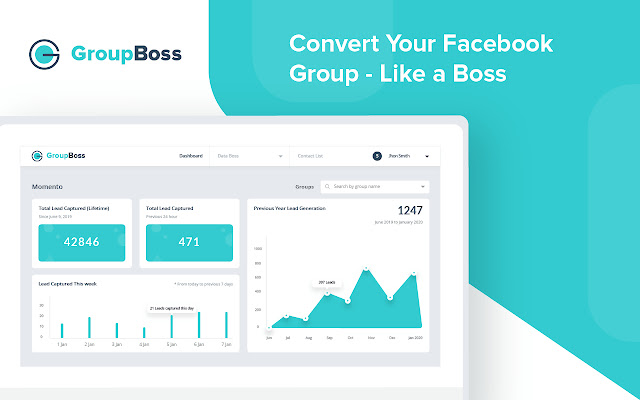 Groupboss is a social media automation software that helps Facebook group owners generate leads from members. This platform automates your workflow and saves you from wasting time on the manual admin tasks associated with turning new members into leads. 
With Groupboss, you can automatically collect the answers from your customized Facebook group membership questions asked before they are admitted to the group. That way you can utilize their answers to follow up with individuals as new leads. Groupboss has direct integrations with the popular email marketing autoresponders like Mailchimp, Lemlist, Snov.io, GetResponse, Activecampaign, and many more. 
Cost: There are three different pricing plans of Groupboss. $19/month for 2 groups, $99/year for 3 groups and $189/year for unlimited groups.
15. FindThatLead

Are you having trouble finding customers? Is it getting tedious to manually search and contact your target market to finally sell them your product? FindThatLead is a set of tools that allow you to automate your entire B2B lead generation process, both via email and LinkedIn.
Within FindThatLead, you can use Scrab.in's LinkedIn automation features to put your LinkedIn profile on autopilot. This allows you to automate actions such as growing your network of contacts, scheduling automatic messages with InMail, and crawling data and information from your entire target market on LinkedIn. Another top tool for extracting lead information from websites is Scrape-It.Cloud, which could be useful to use in conjunction with FindThatLead.
FindThatLead also allows you to automate the process of finding your target market with "Prospector", which by assigning basic and/or advanced parameters such as "Industry" or "Job Role" allows you to find and export in .csv the contact of your target market and then, from the same tool, configure and automate a mass emailing to the generated list.
Cost: FindThatLead offers 50 free credits per registration. Payment plans start at $9/month.
16. AppFlows
AppFlows is an email software that creates automated email workflows easily. AppFlows can segment audiences and deliver content that matches tastes and trends. Customize emails using its simple drag-and-drop builder with elements that helps you to stay engaged with your customers.
AppFlows lets you schedule email campaigns and send reminders, which helps with overall customer retention and care, improving loyalty. Take advantage of its template library tailored to fit specific industry needs to kick off your branded email campaigns. 
Pricing: AppFlows plans start at $99/month.
17. iSmartRecruit
iSmartRecruit is a AI recruitment software for corporate HRs, mass recruiters, staffing and recruiting agencies. It provides an applicant tracking system and recruitment CRM which easily automate recruitment cycles. By eliminating manual and repetitive tasks in the hiring process, you can focus on picking out the best talent to fill open roles. iSmartRecruit has useful tools to help staffing and recruitment agencies, executive search companies, headhunting firms, and corporate HR departments. 
iSmartRecruit gives you the ability to send out automated job opportunities across various platforms and social media. Within the AI-based recruitment software, you can automate your processes for interviewing, hiring and onboarding to streamline your recruiting process. 
Cost: iSmartRecruit offers a 14 day free trial and plans begin at $25/month/user.
18. Kommo
Kommo is an automation software that transforms messages from different platforms into a powerful sales tool for your company. This multi-purpose CRM application helps businesses of all sizes manage their B2B leads and sales through simple messenger integrations. It allows you to automatically regulate your messaging activities, adding a personal touch to customer interactions. From communicating with leads and moving them through the sales funnel to setting tasks for your team and monitoring the work progress, everything is completely automated. 
With Kommo, easily implement new marketing strategies by launching and running large-scale ad campaigns in just a few clicks. The tool is equipped with a code-free AI chatbot that you can program to perform repetitive tasks and it can promptly respond to your customer queries, saving on resources and reducing wait times. Kommo can generate real-time reports offering detailed insights on lead life cycles, sales predictions, campaign performance, and more to leverage your business growth. 
Cost: Check out Kommo with their 14-day free trial and see what it can do for you. After the trial is over, they offer monthly subscriptions with pricing starting at $15/month/user.
19. Syncari

Syncari is a data automation tool that helps organizations automatize their data transformation processes. It provides a platform for ingesting data from multiple sources, including external systems and legacy applications, and transforming it into a standardized format.
A major issue facing businesses today is the need for a comprehensive no-code data platform that can be used to automate revenue operations. This can be due to a range of reasons, including the complexity of data and the need for custom functionality.
One common data automation platform is LinkedIn Automation. It allows users to create scripts and automation that automatically pull in information from LinkedIn profiles, join conversations, and generate reports. Web scraping also offers similar capabilities, allowing users to extract data from websites and create visualizations.
Both platforms help extract data from different sources but only offer some features that businesses may require. For example, LinkedIn Automation doesn't allow for customizing automated scripts, while web scraping requires manual input when creating heatmaps or PDFs.
Cost: Syncari has a starter plan that goes for $2995/month, and they offer more advanced plans depending on your business needs.