It's hard to remember the days before virtual meetings. Most of us spend several hours of our workdays collaborating in meetings thanks to Zoom Video Communications, but until now, something has been missing. 
In the midst of screen sharing docs, taking handwritten notes, and logging tasks in your task management app, things fall through the cracks. And we all know that feeling when you log off a video call and feel like you missed something important, or lose momentum because you don't have clear action items. 
Our solution? Hive Notes for Zoom. It's the next step on our mission to help teams move faster, and a powerful solution for teams who already use Hive, or people who are just hearing about it for the first time. 
For the thousands of teams who already use Hive, this launch is a much-requested extension of the current Hive Notes feature in Hive. We know many of you already use Hive Notes to collaborate in meetings, and this app for Zoom will make it easier than ever before. And for anyone else who is just looking to make their Zoom meetings more productive, you too can experience the power of Hive in your Zoom meetings — and it's totally free.
With the new Hive Notes app for Zoom, you can turn your Zoom video meetings into engaging affairs where everyone comes prepared, is empowered to contribute ideas and leaves with clear next steps. As Hive CEO John Furneaux says, "It's the most natural way of getting work done in meetings." 
Hive Notes was designed to fit how people actually conduct meetings, with features that support productivity before the meeting begins, while it's happening, and even after it's done. And better yet? It's completely free for anyone and everyone who uses Zoom. 
Here's how you can use Hive Notes to improve your productivity — and have meetings where work actually gets done.
Before the meeting: Create and share meeting agendas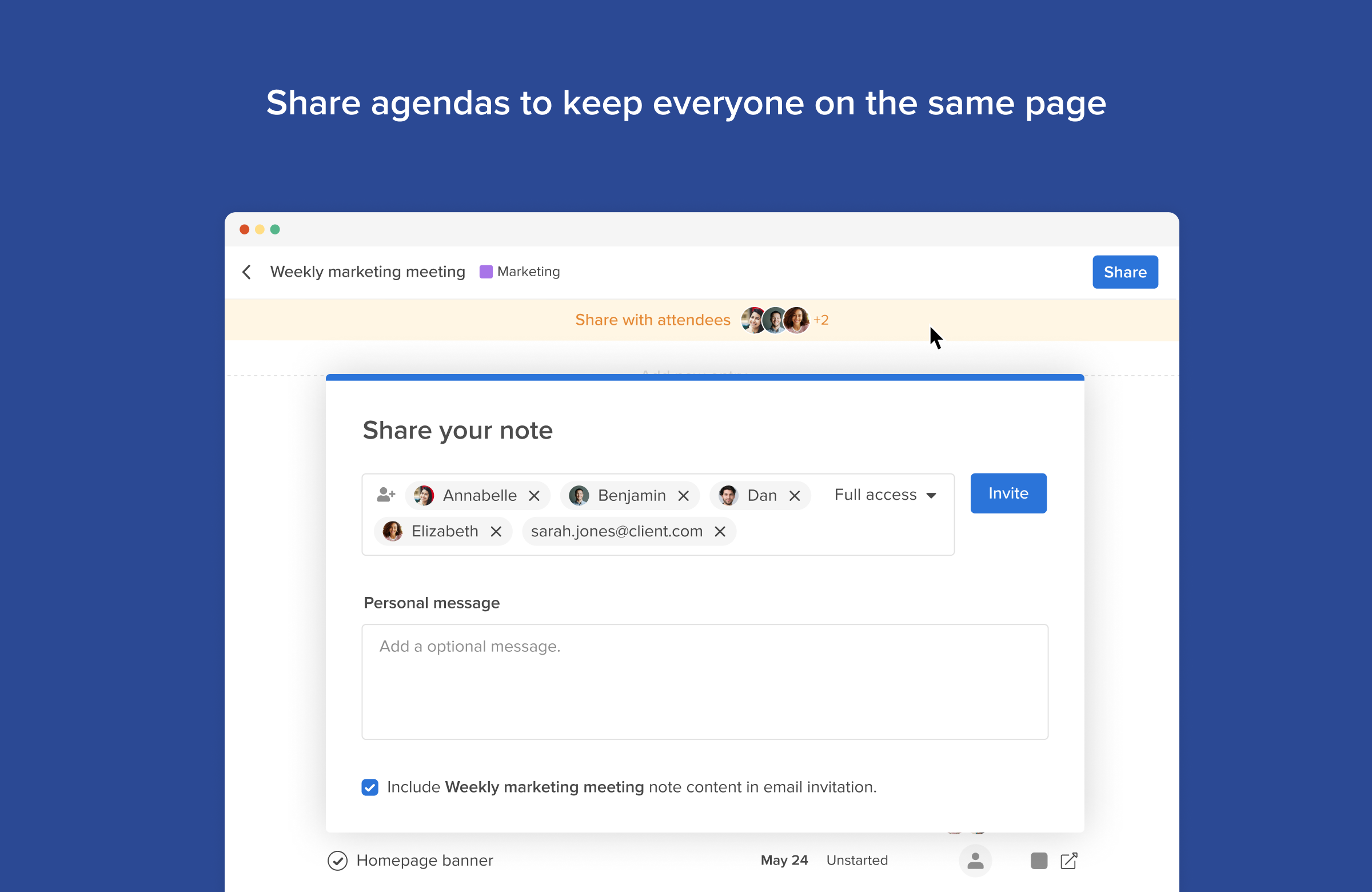 With Hive Notes, you can create an agenda to keep everyone on the same page from the start. Simply create a note with your meeting agenda and share it with your meeting participants. Participants can view the note before the meeting begins and can then open the note from within the Zoom meeting via the Hive Notes app.
Don't know where to start with your Note? We've got you covered. You can choose one of our six Notes templates to get you started and provide inspiration for whatever type of meeting you are planning. Whether you're preparing for a weekly one-on-one or a project kickoff, Hive Notes templates can help you get organized and hit the ground running.
During the meeting: Collaborate in real-time, assign tasks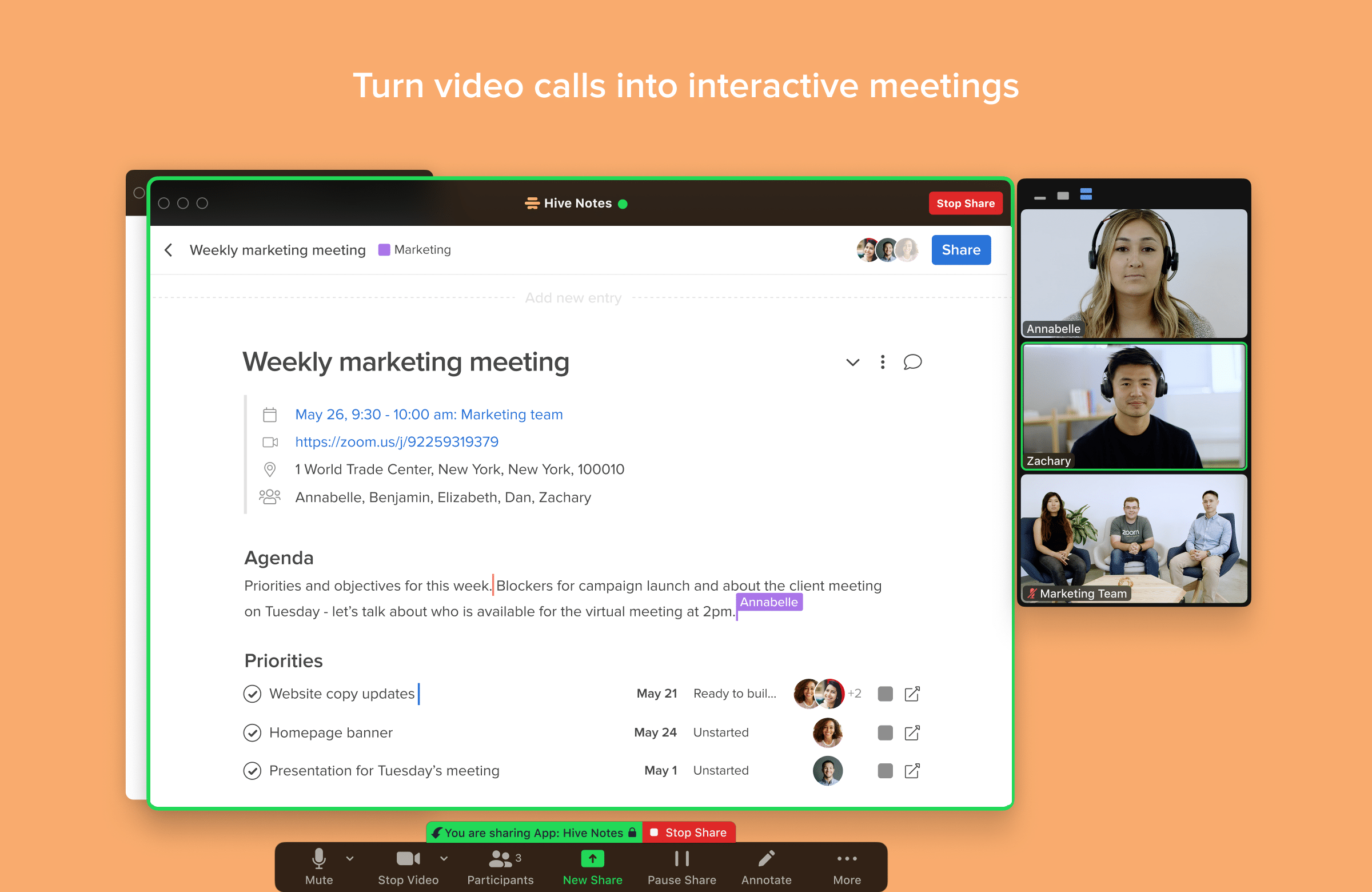 Once you've shared a note with meeting participants, everyone has the ability to collaborate and type in real-time. Empower everyone on your team to contribute their ideas, while also lessening  the burden of having one single note-taker. There's also a separate "Private Notes" section for anything you don't necessarily need to share with the group. 
From the note, you can turn any talking point into an actionable task. Assign these tasks to anyone in the meeting and set deadlines right as you are discussing them. Rather than waiting until after the meeting to decide who is doing what, start working during meetings. When you use Hive Notes, you will always leave with clear next steps.
After the meeting: Share notes, carry momentum into the workday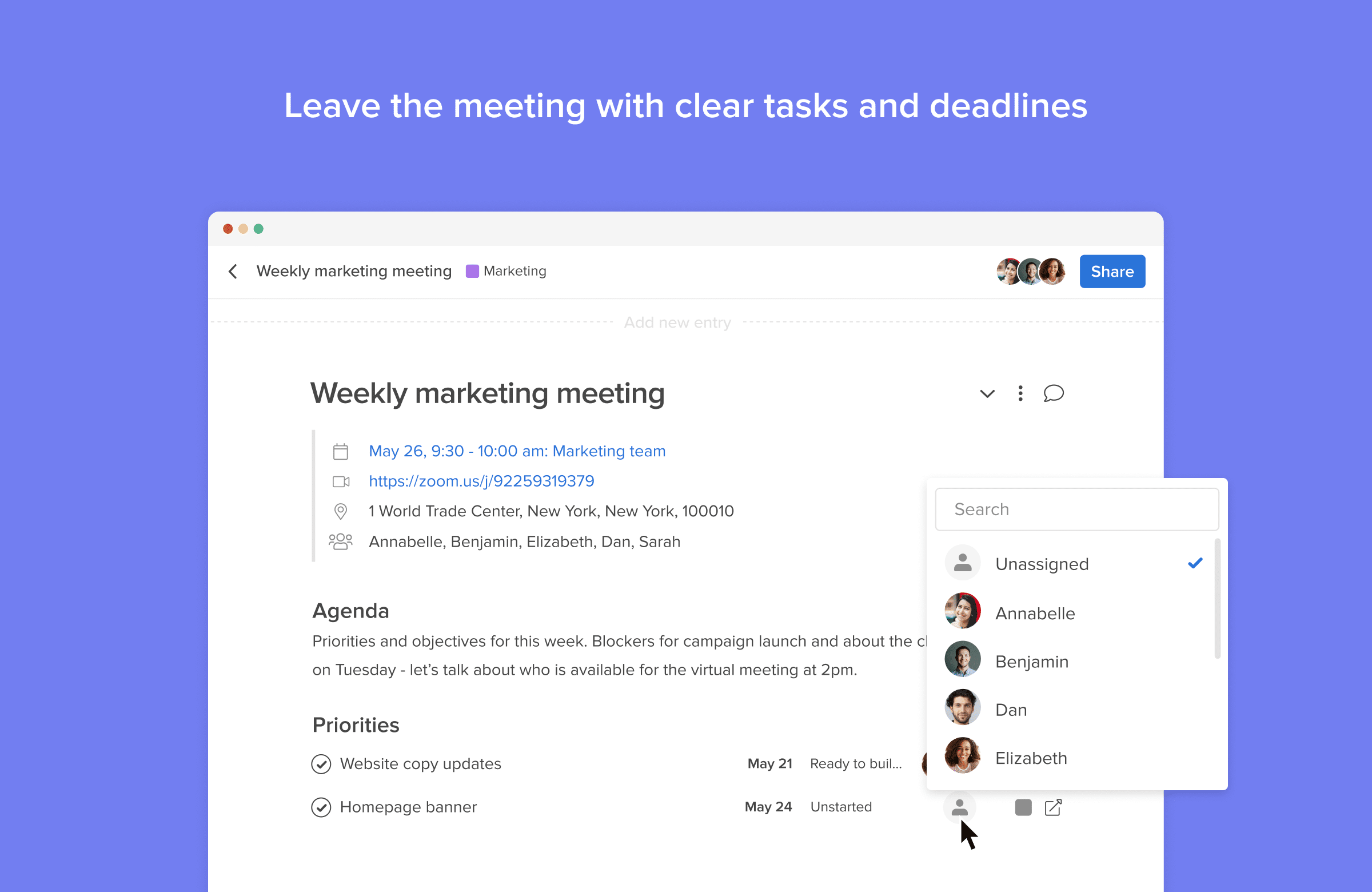 Once the meeting has ended, you can share your note (in Hive Notes or via email) and loop in anyone who wasn't able to make it to the meeting. Using your Note as an action plan post-meeting, the entire team can carry momentum into the workday and actually keep the ball rolling. 
Hive Notes also help you hold people accountable after the meeting ends. Revisit the note at any time to track your team's progress and see which tasks may need an extra nudge.
Have this meeting on a recurring weekly or monthly basis? Click "Add new entry" and the next note entry will populate with the same meeting details. With all of your past meeting notes stored in the same thread, you can easily revisit old meeting notes or next-steps.
Try Hive Notes For Zoom Now 
So what are you waiting for? You're clicks away from experiencing your best Zoom meeting yet — all you have to do is open the Hive Notes app. In your next Zoom meeting, simply click on the "Apps" section at the bottom of your window and search Hive Notes. Soon you'll be asking yourself "how did we ever have Zoom meetings without Hive Notes?"