In 7 Hours With, we explore the routines of leading professionals in their space to learn the when, why, where and how they work. In each diary, we will look at what they're doing at seven different check-ins throughout their day.
John Furneaux is the founder and CEO of Hive, an AI-based project management tool used by brands like Uber, Starbucks, WeWork and IBM. This is how he spends his 7 Hours.
7 AM, East Village
My lights automatically go on in my East Village apartment at 6:45 AM, so I've got no choice but to wake up. I can't sleep when it's light, so I get up pretty quickly. It's something I've been doing for years, and it helps me kickstart my day. I'm not a morning person, but once the lights go on I'm up for the day. Part of Hive's engineering team is based in the Ukraine, which is several hours ahead, so I like to be up to deal with critical issues promptly.
Related: Why Meditation Is The Next Big Productivity Tool
My background is Customer Success, but three years ago I taught myself how to code on the shores of Lake Tahoe. That was how the first Hive prototype was born. Now, I'm the CEO, but am still very involved in the product side of the business.
10 AM, Hive HQ
Everyone is in the office now. Requests start flying and emails start rolling in from US-based clients. This is what my desk looks like — pretty organized but not "neat," by any means.
I don't find it easy to focus in an open office environment. In honesty, I don't believe they're a great idea. Open offices didn't exist for hundreds and hundreds of years. They're a brand new idea. You can't think. I listen to music to try and zone out.
Related: How Working Out At Lunch Made Me 90% More Productive
The flip side of course is that I don't want to spend my life in my house or isolated in a traditional office. I love the camaraderie of being among the team for wins, and sharing the low points together.
12 PM, Hive HQ
I only have one hour unbooked on my calendar today, which is around noon, but I never actually take a "break." I've found that in my role now, people are drawing on my time constantly. It seems completely unrealistic to me that I would be able to plan my day, given that we have hundreds of customers. Some of our big customers are featured on our "Wall of Honey" near my desk, which I look at daily to remind myself of who we're actually doing this for.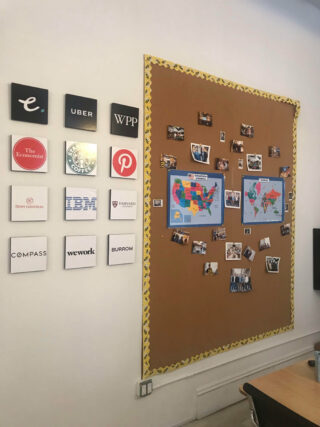 Warren Buffett and Bill Gates were talking about work styles recently, and I realized I'm Bill Gates style. Buffett says he has no meetings, and sits and plans out what he's going to do for the day. That's just not the reality of my life. We've got a people-oriented business. I'm definitely a Gates-type.
But there is one thing I do every day. I re-read one employee's "User Manual" (each Hive employee writes one for themselves the week they start). That means it's at most three weeks since I've reminded myself of why a given person is here. Now that I'm thinking of it…I have to buy Max exotic fruits. (Ed. note: Max is one of our superstar engineers — his user manual details his love of strange fruits). I once went to Whole Foods to try and find the weirdest fruits for him. I got three types of things that all looked like a peach to me.
3 PM, Hive HQ
I finally break for lunch. And by break I mean, order Taco Majal (an Indian-Mexican fusion place) on UberEats, which will be delivered right to the office. It's so bad to get delivery and not venture outside, I know. I got two massive Indian tacos. Ah, the joys of New York City food delivery.
I always eat at my desk, even though I know it would be better to take actual time out of the day to eat lunch. I just don't have the luxury of that extra time right now. Hive is at around 20 full-time employees in our New York office — enough to have built out sales, engineering and marketing teams, but I still provide the final seal of approval on most big decisions on each team.
Related: What Your Horoscope Says About Your Work Style
I'm checking my email every few minutes, which means I've checked it around 75 times by 3 PM. I've read a ton of thinking on why you should only check your email twice a day. I don't know where those people work or what kind of job they have, but if they have any job in management, then they're making life difficult for those around them.
For example, if a board member has a meeting at 11 AM and shoots me an email at 10:30 needing a piece of information, of course I'm going to give it to them. Checking emails twice a day with a client-facing business is unrealistic because that's the only mechanism that they have to keep in touch with me.
Safe to say, I check my email constantly. Probably every 4 minutes.
5 PM, Hive HQ
I basically don't snack, at all, but around 5 PM I grazed on some of these cardboard tasting things that we have in the office. They're like biscuits that don't have any flavor to them. I was recently informed that they were animal crackers. I'm British, so that's my excuse for not knowing what they are.
I field additional questions from our customer success team about the security questionnaire for a big agency client that we're courting. We want to onboard them before 2019, and there's a lot of red-tape involved. We have other people on the team, including my co-founder Eric, working hard on the questionnaire, but it's on me to make sure its packaged up, accurate and complete.
7 PM, Union Square
I leave the office around 7 PM with my co-founder Eric Typaldos, who is Hive's CTO. Eric is my most trusted advisor — I use him as a sounding board for most of my decisions. I think it's called rubber ducking, where you just explain your problems to someone as if you were talking to a rubber duck in a bath. Oftentimes, I can solve my problem just by explaining it to Eric, without him even having to say anything. Other times, I just need his advice.
I consider our walk home together a "walking meeting," which I wish I could have more of, I love them. They're absolutely amazing, and all the science shows that you make better decisions when you're walking because your heart rate is slightly elevated and your circulation is increased.
Eric walks home with me nearly every day. I live near the L train, which he takes back to his place. It's our daily regroup time where we talk about any product issues, potential clients, and upcoming launches (Hive deploys new features every week, which Eric spearheads, but I like to stay on top of them).
11 PM, East Village
I've been working from my couch for the last three hours. I never get to all of my to-do list during the actual work day — I usually have between 10 and 14 to-do items that I need to get done per day, and I don't typically start them until I get home. An example of one of these items was today was negotiating with a supplier, or sorting through interview candidates. I do a lot of the things I can't get done during the day in the office because I'm constantly fielding other requests.
It's been a long day, but I don't think I will ever devote less time to Hive. I do think that the type of time might evolve, but not the actual amount of time I spend. In the future, I'd like to make time for my passion – helping make criminal justice fairer for everyone in the US. But for now, I'm sketching product features on napkins. A glamorous end to the night, right?