There is no doubt that remote work is here to stay. Since the COVID-19 pandemic forced employees across the world to work from home, many businesses have decided to make it permanent. And even before the pandemic turned life upside down, 4.7 million people were already working remotely in the US. Now some companies will not be going back to the office at all, while others are splitting time between office and remote work, known as a hybrid work model.
Regardless if you work from home 2 days or 5 days of the week, you know that remote work can take some getting used to. But people are absolutely finding ways to be more productive when working from home. According to our own Remote Work Survey, 86% percent of workers said their productivity at home is the same or better than in an office in 2020. It's no wonder why 72% of people working from home due to the pandemic plan to continue doing so moving forward.
This statistics proves it's possible to optimize your work from home environment, but with more people venturing into remote work for the first time, it's useful to break down the basics. We're here to help. Here are 6 easy ways you can be more productive at home, or wherever you are working remotely.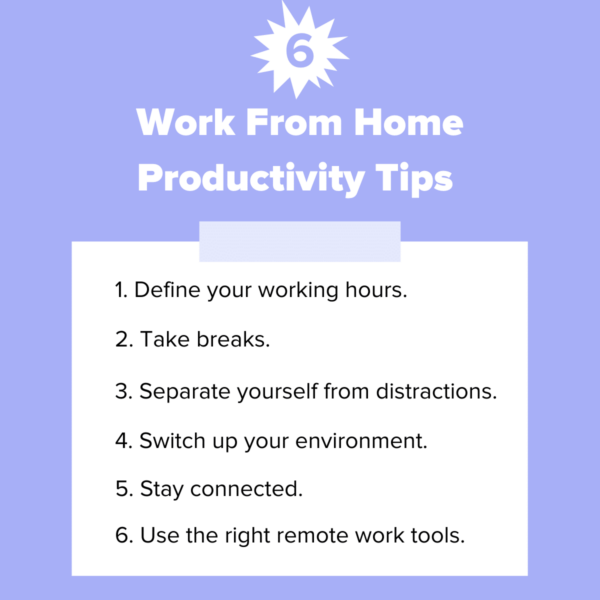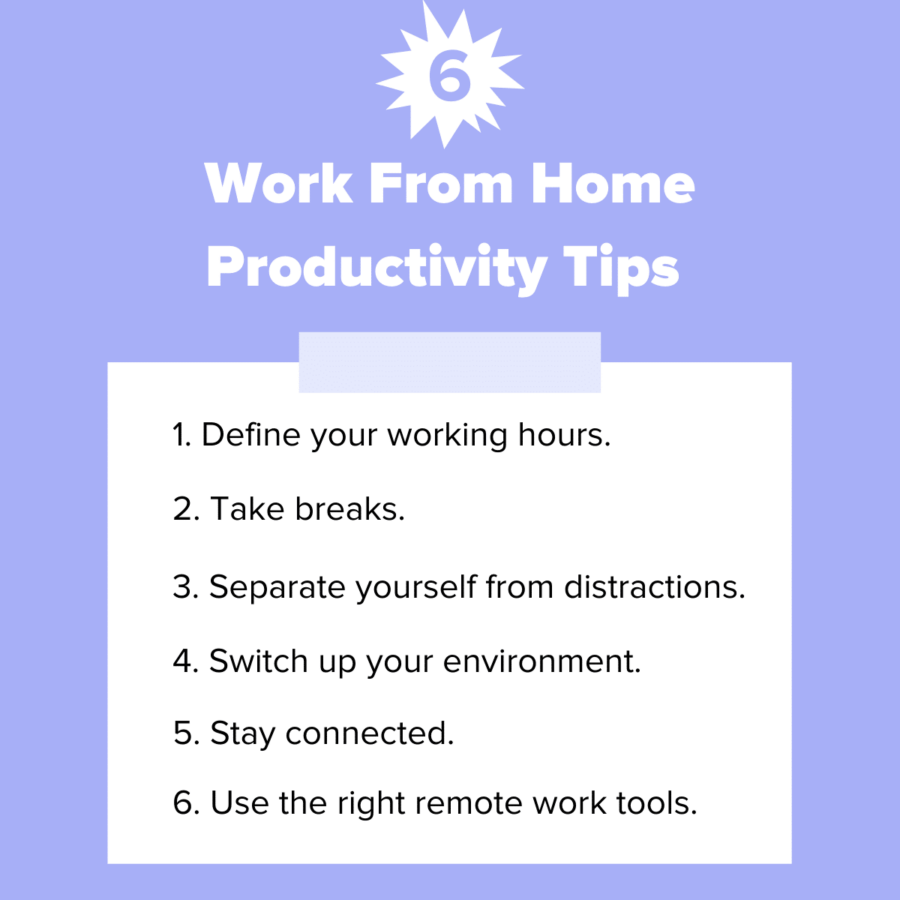 1. Define your working hours. 
Without a doubt, increased flexibility is one of the best benefits of remote work. The traditional 8-hour workday has been the subject of many criticisms, but swinging too far in the opposite direction can be just as frustrating. Remote employees who work from home all day are more likely to find themselves responding to emails after dinner, or waking up a few hours early to finish up a Powerpoint first thing in the morning. This lack of work life balance can create employee burnout and overall dissatisfaction. 
This is why 33% of remote employees claimed that set working hours are the most effective way to stay productive at home. This doesn't mean you have to totally give up your flexibility. Instead, figure out what hours make the most sense for you. When are you most productive? When is the majority of your team online? Once you do that, make sure to communicate your schedule to coworkers. Setting some structure to your work hours — even if they do fall outside of the standard 9:00am – 5:00pm — will help you separate work from home life and will optimize the time you do spend working. 
2. Take breaks. 
It may seem counterintuitive, but breaks have actually been proven to increase productivity. When you take breaks, you help your brain increase focus, prevent decision fatigue, restore motivation, and increase creativity. You're basically granting your brain the opportunity to take a cat nap, and in return, it'll come back better than ever. 
Taking a break can be a slippery slope for people working from home, especially if you have a tendency to get distracted or do other things. If this is you, the Pomodoro Technique can provide additional structure to help hold you accountable. This time management method uses a timer to set 25 minute working intervals, with 2 to 3 minute breaks in between. This method can be executed with any timer — even the one on your iPhone — making it easy for anyone to do in any environment.
3. Separate yourself from distractions. 
Freedom and flexibility are major perks of working from home, but it's hard to believe anyone can work to their fullest potential with reruns of The Office on the TV in the other room. It's tempting to use remote work as a chance to knock out many things at one time, but multitasking can actually reduce productivity and cause additional stress. More often than not, multitasking is a way to distract yourself from tasks you don't want to do. 
Distractions come in all shapes and sizes, so the first step is recognizing your own weaknesses. Do you find yourself scrolling through Instagram, TikTok, chatting with your roommates, or doing chores around the house instead of working? Whatever it is, take some time to identify what distracts you from your work, and then be intentional about preventing it. One idea is to rearrange the apps on your phone, making sure the most distracting apps aren't right in front of you on the main screen. You can also set boundaries with roommates or family members who are also at home during the day. The bottom line: understand your weakness and be proactive so you aren't tempted in the first place.
4. Switch up your environment. 
With many people confined to their homes now due to the COVID-19 pandemic, getting a fresh perspective and switching up your space is more important than ever. One of the benefits of working from home is that you can technically set up and work anywhere, provided you have access to the resources you need and can follow social distancing protocols.
To avoid feeling trapped and stifled in your own home, try bringing your laptop to a coffee shop, sitting in a public park with WiFi (hotspots are great too), or scheduling a "work date" with a friend or co-worker at their place. You can do "walk and talk" phone calls, which are a great way to get fresh air and give yourself a break from all of those screens. 
For those who don't have the luxury of working away from home, there are still ways to switch things up. If you usually work in a home office, take some time away from your desk. Try sitting on the couch, standing at a kitchen counter, or bringing a chair outside for some fresh air. Obviously this flexibility depends on the nature of your job, so, if you absolutely have to work at your home desk, schedule break time to get up and separate yourself from your work setting. 
5. Stay connected.
We don't think about it on a daily basis, but working around people with similar goals and interests can actually motivate you and improve your work ethic. Think about that motivated feeling when you leave a team meeting or a networking event. Those moments remind you why you do, and encourage you to wake up the next day and keep going. That's why it's important, even when you are working from home, to carve out time for coworkers and industry colleagues. These social activities don't have to require a lot of effort on your part. Message a coworker and ask them to have a virtual coffee with you. RSVP to a virtual industry event. Even if you only have have 30 minutes to spare, make sure you stay connected to the people who inspire and drive your work ethic.
6. Use the right remote work tools. 
If your team doesn't already use remote work tools, now is the time to get on top of it. 
Remote work isn't going anywhere, and these tools can help your team work more effectively now, while also building a foundation for success in the future. Remote work tools can help teams address crucial needs, including team collaboration, video conferencing, remote desktop connection, VOIP calls, and instant messaging. Here are some top tools for each of those needs:
Hive: Team collaboration
. 
Hive is an all-in-one team productivity solution that has everything you need to work together remotely: projects, action cards, an email integration, file sharing, and meeting notes. With Hive, you can open up the app in the morning and get everything done without leaving the tool. Try Hive free for 14 days and see for yourself why thousands of teams choose Hive for their remote and hybrid workplace needs. 
Zoom: Video conferencing
Zoom has become a household name over the past year, and it's easy to understand why. With Zoom, you can create a recurring digital meeting room and host up to 100 participants for free. The app includes collaborative features like screen-sharing, a whiteboard, and the opportunity to call in via phone. Zoom also lets you send private messages and create breakout rooms for periods of individual collaboration among team members. Zoom easily integrates with Hive, allowing you to launch a video meeting without ever leaving the Hive app. 
TeamViewer: Remote desktop connection
TeamViewer is a remote desktop software that lets employees access their office desktop from anywhere. This means employees can access files and information stored on their computer at work from anywhere, without having to proactively save files to a backup device or to cloud storage. TeamViewer also helps teams collaborate remotely in the app, with secure online video conferencing, VoIP calls, instant messaging, and screen sharing features.
Slack: Instant messaging 
Slack is an instant messaging platform that is used by over 750,000 companies — if you don't already use it, you've probably heard of it. Slack is especially useful for remote teams because it brings all employees together in one space. To help organize communication in the workplace, Slack breaks out into "channels," where employees can collaborate with teammates on specific projects. There are also individual and group chat features for on-the-spot collaboration with coworkers.
Slack itself integrates with voice and video calling apps, which makes face-to-face collaboration a breeze. Slack also integrates with Hive, which lets Hive users access their chats without ever leaving the Hive app. 
With the right amount of thought and action, it's absolutely possible to thrive while working remotely. Do you have other tips to maximize productivity at home? Share your thoughts with us in the comments below.