Online forms are web-based ways to collect information from people. Instead of filling out and submitting a paper form (remember those days?), your customers can use the internet and fill in business form fields electronically. Most websites often use online form creators for visitors to submit inquiries, feedback, job applications, etc. All the data is then sent over the internet, so there is no need to print out a hard copy or worry about physical storage space.
There are also forms that can be used specifically for internal communications. These forms can help your team share and coordinate information between team members and make calculated decisions from the data provided.
While most companies use forms that are directly built into their websites, there are other alternatives to this option. Companies that offer project management solutions, or stand-alone form programs, are great ways to add customized and interactive forms to your business.
No matter what kind of form your business needs today, we have rounded up our top online form creators that will help you narrow down your picks.
1. Hive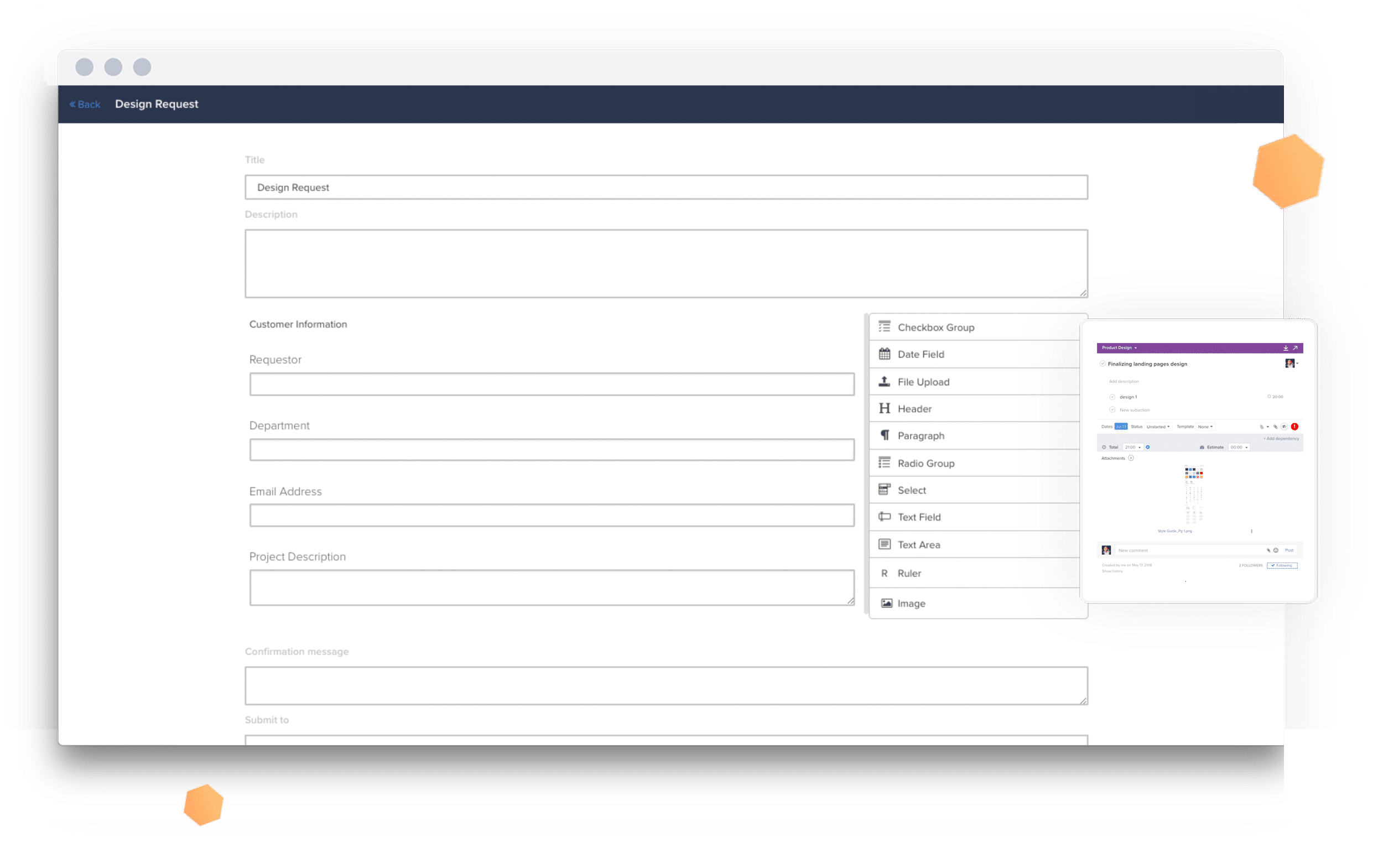 More than just a leading project management system, Hive is the ultimate productivity tool you always need in your back pocket. Built by users for users, Hive is a customer-first program that offers native chat, calendar integrations, time-tracking software — and yes, a custom form builder. Within Hive, you can create custom forms that anyone (internally or externally) can access and fill out in their browser.
When submitting forms in Hive, your team has the option to create action cards with all of the form details automatically. These action cards will keep all of the data in one place and are perfectly set up to track and report within the Hive ecosystem.
Hive also doesn't limit the number of forms you can build, and multiple users have access to the same format once, creating transparency and instantaneous feedback between collaborators. Each Hive form also comes with its unique URL that you can share and post directly in your chats, websites, or even through social media channels.
Key Features:
Drag and drop feature for form building
Real-time form access for multiple users
Unlimited number of forms to make/send
Hive begins at $6 /month with a higher tier pricing that unlocks additional features. If you want to check it out, you can also try it for free for 14 days!

2. Airtable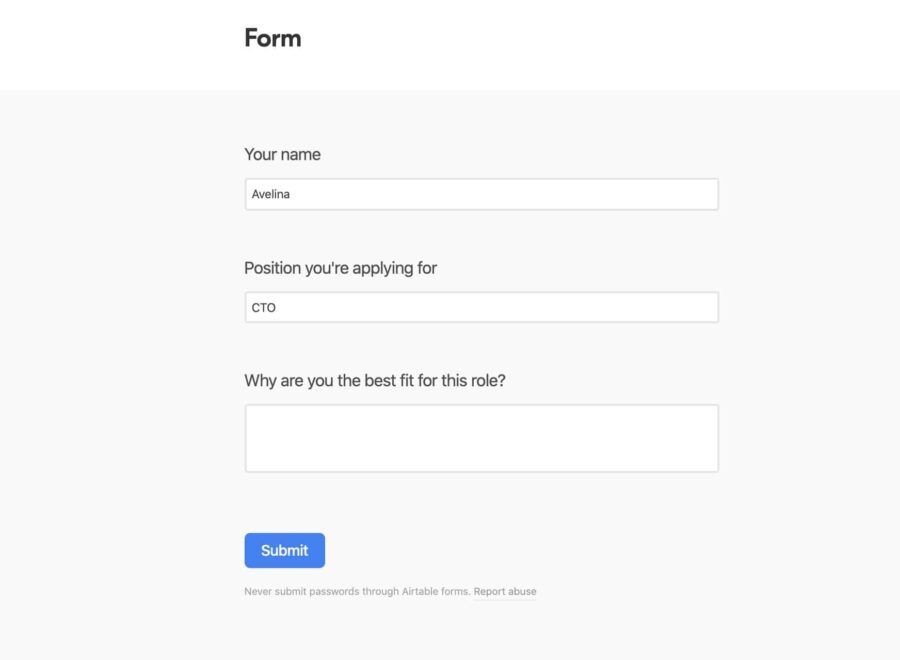 Countless teams use Airtable for project management to inventory and contact lists. However, it also has powerful document management capabilities built-in through their web apps' collaborative editing functions, where each user can create their own custom tables and forms.
With forms built to collect information designed by the team – your team can quickly create and plug-in form results directly into their workflow. With Airtable forms, you can share your data within your company or with external partners and teams who are outside your network. With Airtable forms, you can pull the data from each form to be reviewed, updated, edited, and turned into a comprehensive report.
Key Features:
Forms plug directly into workflows
Can share forms internally or externally
Form data can be transformed into easy-to-read reports
The forms add-on is only available for the plus plan or higher, and this pricing begins at $10/mo.
For other similar tools, check out our guide to the top Airtable alternatives on the market.
3. Google Forms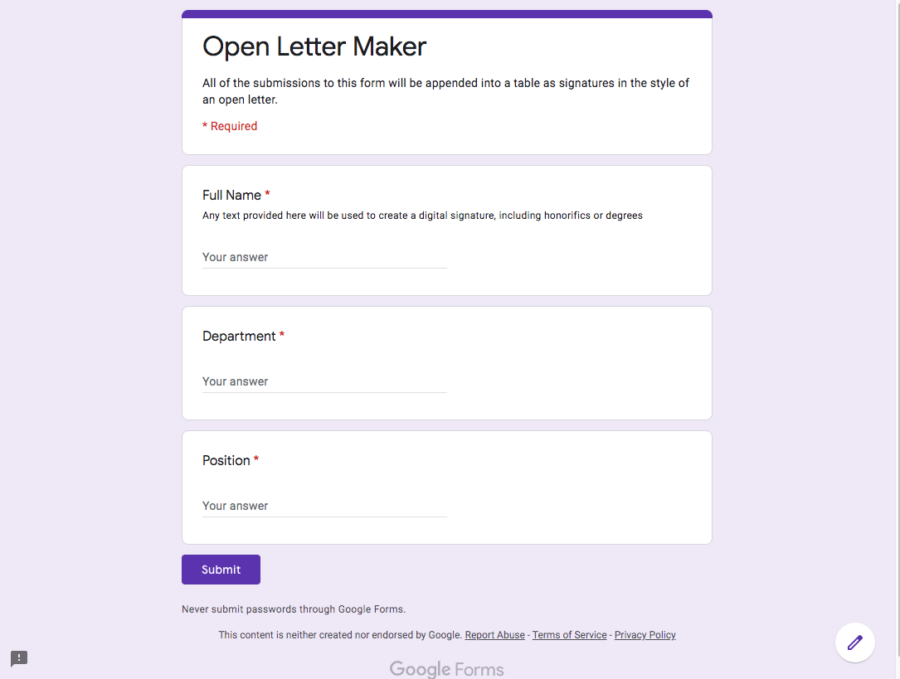 Are they a little unattractive? Yes. Do they lack some panache of some of our other form picks on this list? Yes. But do these forms still work like a charm? Heck yes.
While not as fancy as some of our other picks, Google Forms is an online tool provided as part of the G Suite that allows you to create simple web forms automatically processed by Google Sheets and Google Docs editors. Since these forms only contain text fields, Google Forms often works best for forms where you want users to input text data — e.g., questions or addresses.
Google Forms is a suite of tools that provides the power of Google's online form processing engine, but with a few extra options not found in its base product. Form Publisher adds the ability to share saved forms across multiple Google Apps domains or set up directories for sharing specific forms.
Key Features:
Simple text string form-fills
Cross-functionality with G Suite products
Form results are easily stored in the Google Sheet of your choice
Available in Personal and Business options, Google forms are free for anyone who has a Google account.
4. Involve.me
Involve.me enables creators to build and customize various interactive content elements such as quizzes, surveys, calculators, funnels and forms. This online builder is no-code and everything can be done by simply dragging and dropping elements onto the canvas.
Involve.me's form builder is one of the simplest tools out there for creating beautifully designed forms with advanced functionalities such as form validation rules, logic jumps and the like. All data collected via Involve.me forms can be viewed in the account's dashboard or transferred automatically using one of 30+ native integrations in the tool. You can share your forms via links, embed them on your website or use them as standalone landing pages.
Key features:
Drag and drop form builder

Advanced form validation rules

250+ templates to choose from

There is a free plan. Starter plan costs $19 a month
5. Woorise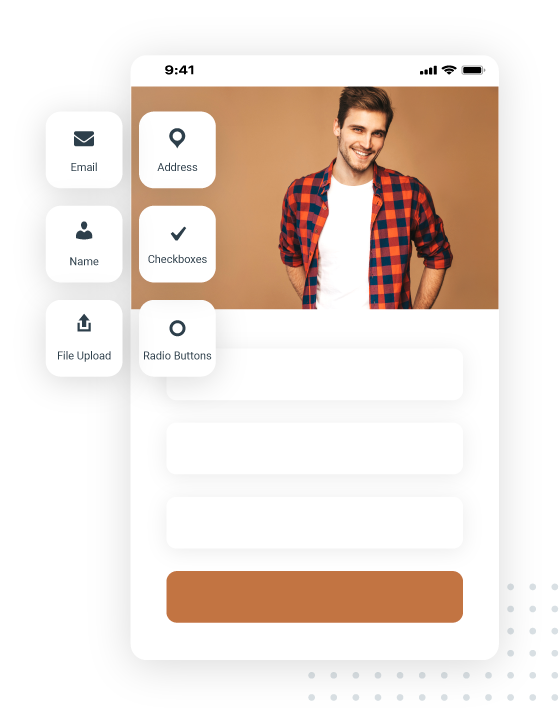 Woorise is an all-in-one lead generation platform that allows you to create a wide range of interactive campaigns: from giveaways & contests to landing pages, forms, surveys and quizzes. The tool accepts payments and offers great features to collect leads and engage your audience.
With Woorise you can build simple or advanced multi-page forms with features such as email notifications, file uploads, conditional logic, and calculations. After creating your form, you can easily embed it on any platform or website or use their WordPress plugin.
Woorise also integrates with popular marketing platforms such as Mailchimp, Hubspot, ActiveCampaign, Aweber, Google Analytics, Bitly, Zapier, PayPal, Stripe and many more.
Key Features:
Beautiful and fast design with a powerful drag & drop landing page and form builder

100+ customizable templates for interactive campaigns and landing pages

Send personalized Email Notifications

Multi-language support and built-in analytics

Secure payments support from 6 providers including PayPal and Stripe

Starts with a "Free Forever" pricing option, with a higher tier pricing that unlocks additional features as you scale.
6. Wrike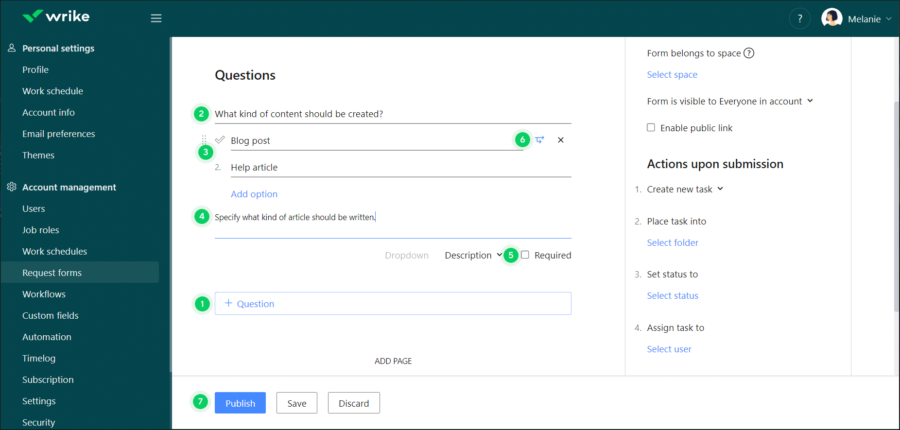 Wrike is an online project management application that allows you to create and update tasks, assign them to team members, communicate the work, and track progress. Wrike also has a native tool that enables basic form submissions with custom fields for collecting feedback.
These native Wrike forms were explicitly created for teams to establish an internal or external process to collect data. The data is inputted into the forms and they create a place that provides storage for the answers and the ability to transmit across multiple platforms when needed.
These custom request forms can also gather and store details to help you auto-create and auto-assign tasks to future teams. These forms also sync efficiently and dynamically between users and your team can route requests based on rules created within the form field.
Key Features:
Want to learn more? Check out our guide to the best Wrike alternatives on the market.
7. ClickUp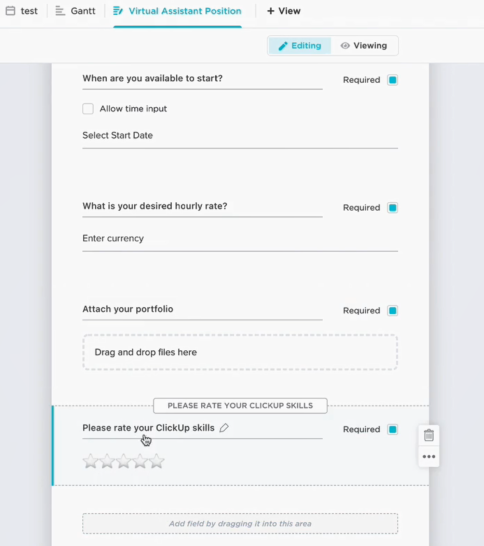 ClickUp is a compelling project management program favored by small and large businesses alike. While we have discussed this platform at length in some of our previous articles, we have never jumped into the ClickUp pool and swam around with some of its unique features. Mainly it's a built-in form option.
With ClickUp, you can build forms using a drag-and-drop feature with customized branding capabilities to make each form unique. There are also incorporated URL and category tags to help your teams better manage and share the form information. These ClickUp forms can be embedded into any website. With the category tag customization, these form an easy way to distinguish between different projects or departments that use the specific forms.
Key Features:
Drag and drop form builder
Customized branding options
Secure integration into websites or can be viewed via the app
Starts with a "Free Forever" pricing option, with a higher tier pricing that unlocks additional features as you scale.
To learn more, check out our list of the best ClickUp alternatives with comparable features.
8. Jotform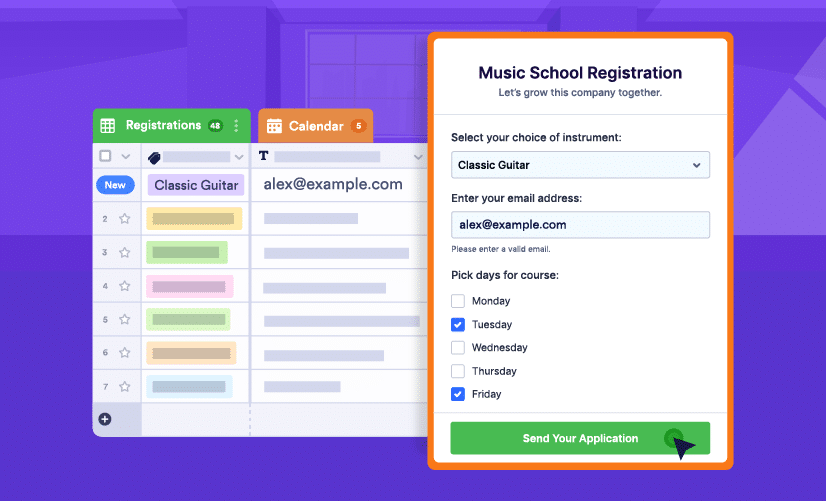 While not an all-in-one project management solution like Hive and some of our previous examples, Jotform is a powerful stand-alone form project that does one thing amazingly well: forms. With Jotform, you can build forms that collect information, request feedback, and even allow users to upload files. With hundreds of templates to use and dozens of forms to choose from that are industry-specific, you have all the forms you could ever need at the click of a mouse!
If templates are not your jam, and you want to be creative, Jotform's drag-and-drop user interface makes the building process a snap. Worried about your lack of coding expertise to build a great form? Jotforms prebuilt blocks make creating your form easy and straightforward without writing a single line of code.
Key Features:
Hundreds of form templates to choose from
Drag and drop form builder for customized forms
Previous coding experience not needed
Offers limited forms and features with the free option, but a monthly pricing option starting at $24/mo offers more forms, use, and submissions.
9. 123FormBuilder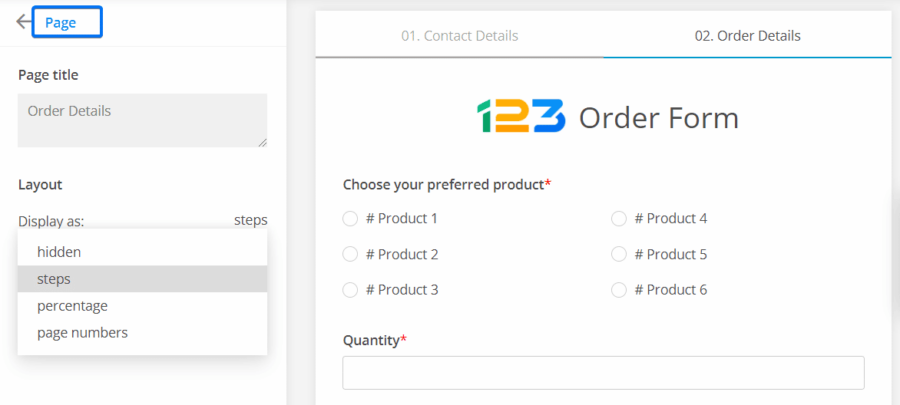 123FormBuilder is a secure and easy-to-use online form builder that you and your team can use for a wide variety of use cases, including those that help you collaborate better when working remotely. No coding is needed to create forms and you have 2,000+ form templates to start from. Built with security in mind, all forms are GDPR compliant and integrate with the tools you already use.
Key features:
Collecting leads and sending them by email to the right sales representative

Collaborating on the data collection process with specific user access settings

Tracking employee time

Collecting signatures and generating automated PDF documents

Surveying employee satisfaction

Creating workflows for your projects

Collect information for tasks and assign them

Open bug reports
10. Typeform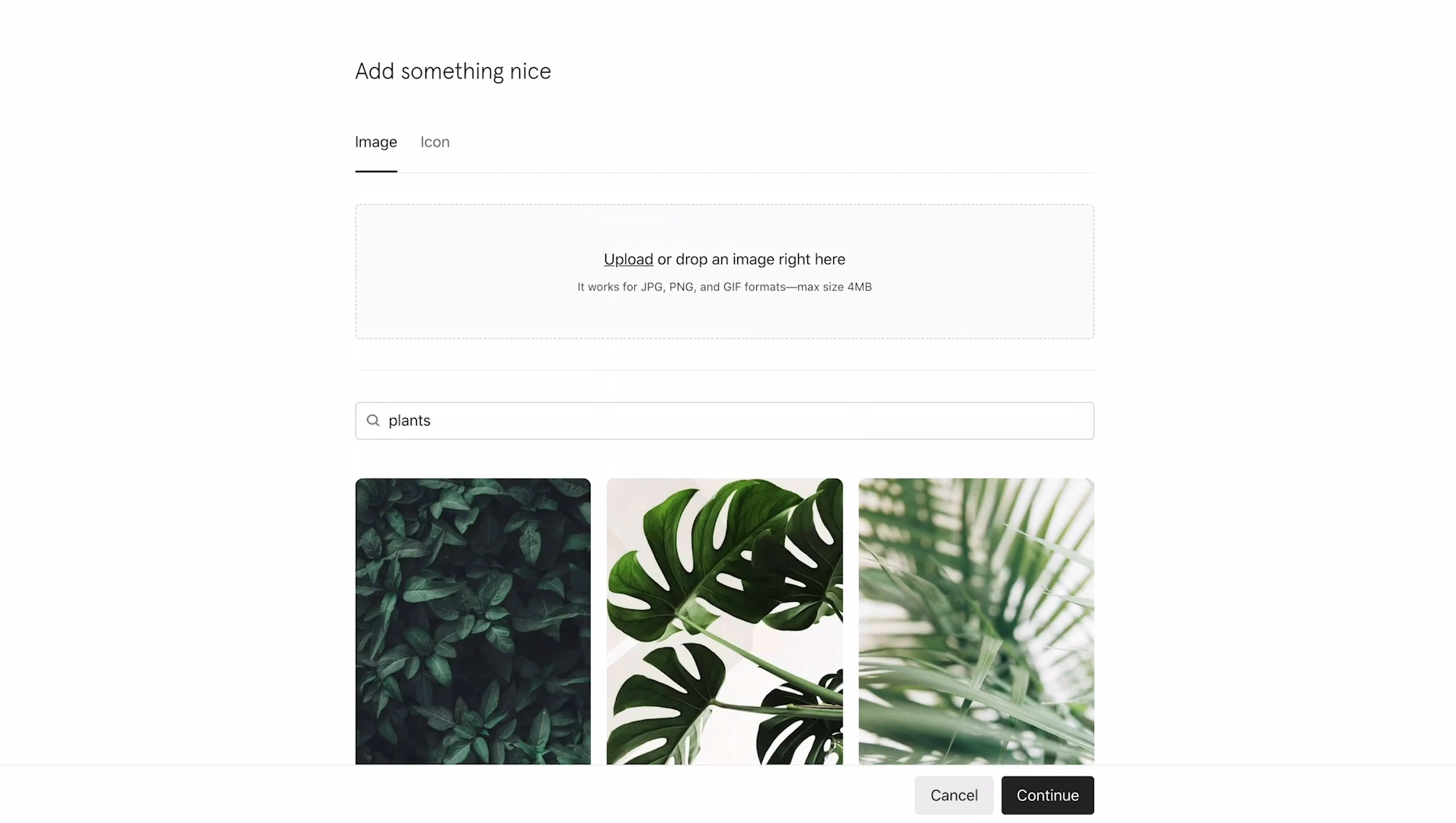 Typeform is a great choice for creating online forms with a wide range of customization. Users can easily design forms that match their brand and style, and add a variety of fields, such as multiple choice questions, dropdown menus, and open-ended text fields. The platform's interface is intuitive and inclusive to all skill levels. It includes a wide range of pre-built templates making any onboarding in the platform seamless.
Typeform has a "built-in logic" feature that allows users to create forms that adapt to the answers given by respondents. This can make forms more engaging and relevant to their audience. It also has integrations with other platforms, such as Google Sheets and Slack, as well as a variety of resources, including tutorials, webinars, and a comprehensive knowledge base.
Key Features:
Easy drag-and-drop editing

Plenty of templates to get you started

View survey responses in real time

Pricing starts at $25/month
11. Visme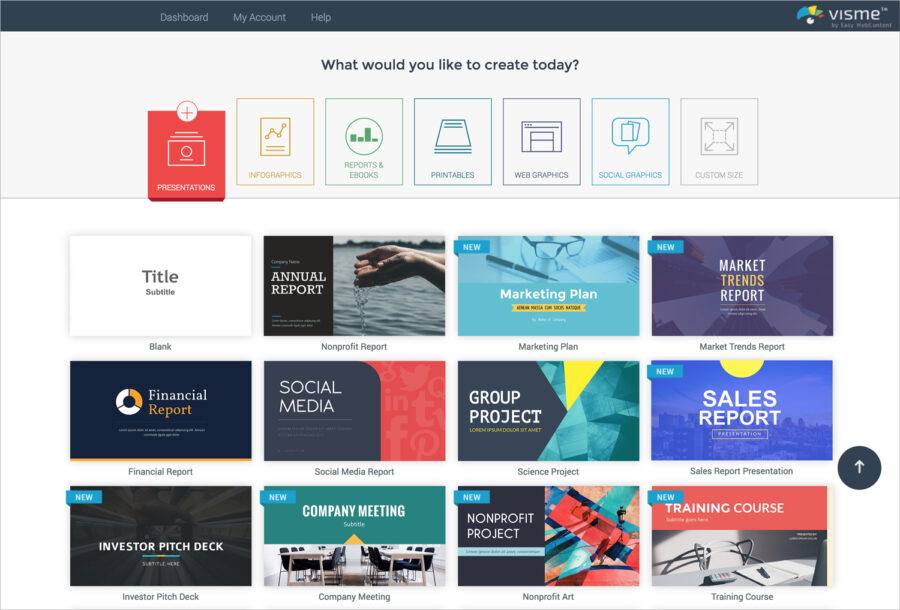 Visme is an all-in-one content creation platform that helps to simplify your workflow. It provides professionally designed templates, team workspace initiatives and lead-generating features such as a form builder.
Visme's form builder allows you to meet all your lead generation needs by letting you create single and multi-step forms with various pre-designed form styles. Explore Visme template library, then customize your form with your brand colors, fonts, borders and background design. The best part? No coding or design experience is required to build your form from start to finish.
Key Features:
Integrate with major tools like Google Sheets, Airtable, Salesforce or Hubspot

Access in-depth analytics and instantly view form results

Embed forms on your website or share them via a link

Control access to who sees or edits your forms

Convert data from forms into easy-to-read reports

Use AI-Powered Brand Wizard to create branded forms instantly
12. forms.app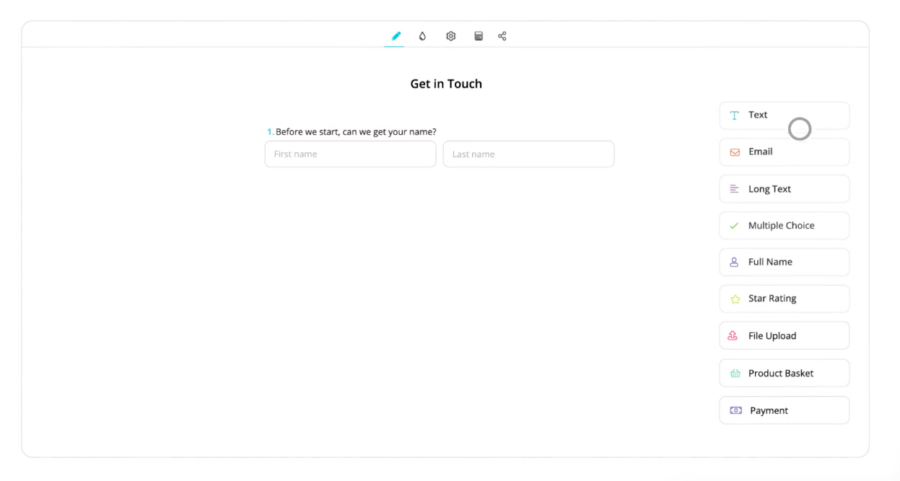 Looking to create elegant forms easily? With forms.app, users can build and customize their forms, surveys, and quizzes without coding knowledge. Thanks to forms.app's flexibility you can fill out, create, and access any forms and surveys wherever you want. The app is available on IOS, Android, and Huawei and offers more than a thousand pre-made templates. You can choose a template and customize it with advanced features to best serve your needs in a minute. forms.app has more than 500 third-party integrations through Zapier so automation is just another stress-free process.
Key Features:
Over 1000 free templates

Collect legally binding e-signatures

Avoid unnecessary questions thanks to conditional logic

Accept payment without extra fees

Monthly prices start from $19 to $99
13. Pandadoc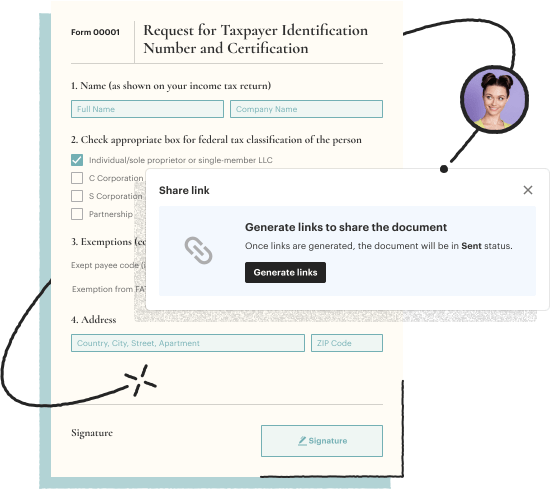 Pandadoc is an intuitive online form builder that simplifies the process of creating and sharing custom forms. With Pandadoc, you can easily build forms that can be accessed and completed by anyone, regardless of whether they're internal or external to your organization. Even more, each form created in Pandadoc comes with its unique URL that can be shared and posted on your chats, websites, or social media channels.
Submitting forms in Pandadoc generates action cards that contain all of the form details, enabling you to keep all of your data organized and easy to track. Multiple users can access the same form at the same time, ensuring transparency and seamless collaboration. PandaDoc also offers signature tools that allow you to electronically sign and execute documents within the platform, making it a comprehensive solution for all your document management needs.
Key features:
Build custom forms quickly and easily
Automate workflows and streamline processes
Collect eSignatures and specify signing orders
Gain powerful insights with advanced analytics
13. Zoho Forms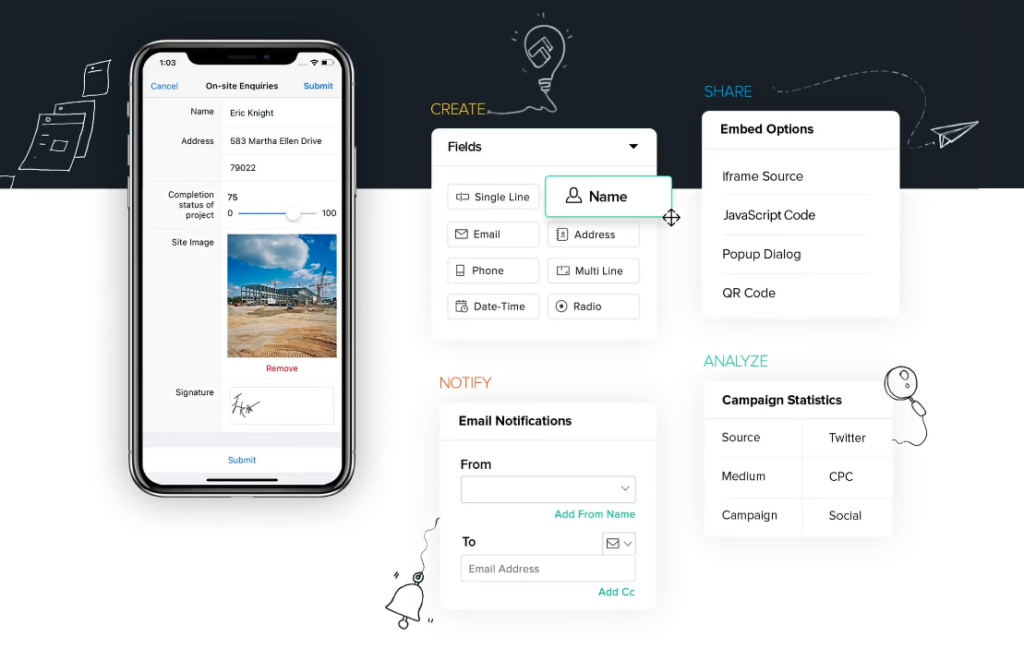 Zoho Forms lets you create and share forms online. The platform has instant alerts, and an efficient way of managing the data you collect through the forms using integrated apps. Zoho Forms lets you customize 30+ field types in your form and design a form that has your brand identity. With this solution, you will be able to personalize themes, create situation-specific templates, and build beautiful, functional forms for all your needs. Zoho Forms basic plan costs $10 per month billed annually. Although it lets you create unlimited forms, receive up to 10,000 submissions a month with unlimited reports; this plan only gives access to one user and has a limited 500MB storage. Zoho Forms has other plans with enhanced features starting at $25 per month billed annually.