Setting goals is an essential part of personal and professional development. However, setting arbitrary goals with vague deadlines is just not enough; you need to set realizable goals. For those new to SMART goals, this helpful acronym stands for goals that are: Specific, Measurable, Achievable, Relevant, and Time-bound.
And if you're having trouble setting some SMART performance goals for employees on your team — or even just for yourself — here are a few examples that are sure to set you up for success.
1. Increase productivity by 20% in six months
Specific: This goal names a percentage rather than just generally referencing increasing productivity.
Measurable: Rather than just using the word productivity without a definition, you have to ensure that you can measure what that word means to your team, especially when it comes to productivity vs efficiency. Try conceptualizing productivity as the number of tasks completed in a given time frame rather than the number of hours an employee works.
Achievable: The goal is possible because it's a slight stretch that can be reached with hard work, focus, and dedication. Goals like "doubling productivity" are much harder to reach and will ultimately wear down team morale.
Relevant: Productivity is always a goal teams can invest in as it influences one's personal and professional work ethic. But be sure to gather some data to make sure that productivity can be increased; if your team is already highly productive, choosing another goal would probably be beneficial.
Time-bound: The six-month timeline gives plenty of space to measure, analyze, and pivot the goal if needed.
2. Attend one professional development event every quarter
Specific: This goal isn't generally telling your team to go to networking events every so often – it's all about professional development events, which you can define amongst yourselves in any way you see fit.
Measurable: One event is good enough, and it's an easy goal to hit because you know exactly when, where, and how the event starts and ends.
Achievable: Even if you and your team are busy, attending only one event every quarter is a reasonable commitment that gives you time to prepare.
Relevant: Find the professional development events that are the best skill-building or networking resources for your team – don't just pick any event, as some may be less of a good fit than others.
Time-bound: By stating that the goal will be hit every quarter, you don't just set the goal and forget about it months later.

3. Increase sales by 10% in the next quarter
Specific: With this SMART performance goal, you're not trying to reach for the stars. You just want to increase your general sales by a certain percentage, and if you want to make it even more specific (for instance, the sale of a particular product), that's a good move as well.
Measurable: If you have a system for tracking sales, then you have a simple way to measure the progress of this goal.
Achievable: The goal is achievable because 10% isn't an unbelievably hard percentage to hit in the grand scheme of things.
Before you chart out this course, make sure that you know exactly what the market is like and how difficult it will be to increase sales by looking at past data. Then, if you need to, pivot the goal to make sure it makes sense in the context of your team.
Time-bound: With one quarter to prepare and one quarter to execute, you'll have six months to make this goal a reality.
4. Finish a course or certificate for one new skill in the next two months
Specific: This specific goal isn't just about learning a new skill, as "learning" can be defined in a number of ways. Whether you're completing Foundations 1 of Duolingo or earning a certificate from Alison in coding, you'll know when the goal starts and ends.
Measurable: Learning a new skill isn't just about a vague sense of achievement. It's about executing and completing one particular course.
Achievable: With only one course to complete, no matter how hard the skill might be, you have parameters for how you'll be studying it.
Relevant: A new skill is always pertinent to your career, your personal life, and your current job – as you'll never know when you'll need it.
Time-bound: Rather than making this goal with a six-month timeline, you'll have two months to complete your course because longer timelines for self-driven activities sometimes lead to procrastination.
5. In two weeks, find five knowledge gaps your competitors have filled
Specific: Rather than just researching a competitor, make sure that your time is spent wisely by learning precise knowledge gaps in your company that various competitors have solutions for.
Measurable: You can alter how many knowledge gaps you find, but make sure you have a specific number to keep the goal grounded.
Achievable: This goal, being research-based and predominantly head-down work, is very feasible.
Relevant: Current competitors solving contemporary problems is as relevant as it gets. The knowledge gaps you're looking for will likely be topics covered by your team or your department (for instance, IT teams will look for gaps in IT knowledge), making the goal even more relatable.
Time-bound: If you're having a hectic period and can't meet the two-week deadline, extending this goal to a month is absolutely fine. You can also choose to start the goal when you don't have much other work and keep the two-week deadline.
Ultimately, SMART performance goals go nowhere if you don't have the right format to track, manage, and assess them. Whether you're increasing sales, learning a new skill, or attending development courses, you should have the best tools behind you. Using Hive Goals to create goal trees with sub-goals, your goal achievement will be centralized and automated. You'll even learn which goals are at risk with data pulled from other systems integrated into your Hive workspace.
6. Conduct monthly cross-training
Specific: This goal is all about sharing knowledge with your team members to improve cross-functional skills. The sessions can be scheduled monthly and can cover topics such as marketing, product management, or customer service.
Measurable: Tracking the number of team members who attend the session and the feedback they provide afterward can be used as key points to measure the success of the goal. The effectiveness of these sessions can also be assessed by measuring any improvements in cross-functional skills.
Achievable: The objective of this goal is to have everyone on the team trained to fill-in for a colleague, in case of absence due to sick days, PTOs or vacation. Encourage your team to take turns in leading the sessions and to share their expertise until you have the entire team fully cross-trained.
Relevant: Professional growth is essential for teams to stay ahead in their field. By enhancing cross-functional skills, team members can better understand the overall business and improve their problem-solving abilities.
Time-bound: Conducting monthly knowledge sharing sessions provides a specific timeframe and frequency for achieving the goal. It also helps team members to understand others' workflows, routines and potential road-blockers.
7. Implement a new feedback and recognition system within the next three months
Specific: Establish a new system within a specific timeframe. The aim is to improve communication, motivation, and employee engagement within the organization.
Measurable: Track progress and gather feedback from employees about the new system while monitoring the frequency and effectiveness of how feedback and recognition influences work practices.
Achievable: With a three-month timeline, the goal allows for adequate planning, development, and implementation of the new system. You can break this process into smaller tasks, such as conducting a survey in the first month, hosting one-on-one conversations with employees in the second month, and launching a recognition badge or ceremony to celebrate your team's accomplishment. It is achievable by allocating resources, involving key stakeholders, and ensuring effective communication throughout the process.
Relevant: Establishing a feedback and recognition system is crucial for fostering a positive work culture, enhancing employee morale, and strengthening performance management practices. It aligns with the goal of improving employee engagement and creating a supportive work environment.
Time-bound: The three-month time frame provides a clear deadline for the implementation of the new system, allowing sufficient time for training, testing, and fine-tuning before its full rollout. Regular progress check-ins can help ensure timely completion and address any challenges that may arise.
8. Reduce customer churn by 3% in the semester

Specific: This goal is about reducing customer churn, but it can also generate insights on how to increase customer experience and improve retention rates.
Measurable: Establishing a way to monitor your churn rate is a way to ensure you can improve it. You can do that by using customer relationship management (CRM) software or analytics platforms, Hive Analytics, for example, can help you generate customizable reports on customer churn.
Achievable: There are several small tasks that can be taken to understand your churn rate which make this goal achievable, here are some of them: conduct surveys with leaving customers (Pro-tip: use Hive forms), analyze their feedback, personalize the customer experience in your emails and follow-ups use their name, send relevant offers, provide them with timely support, create an easy communication pathway for your customers to get in touch with you either through your website, email, phone number, social media channels and even a native chat, like the one Hive offers. You can also offer incentives for customers to stay and send regular updates to keep them engaged with your brand.
Relevant: Your customer experience with your brand/product is key for measuring the scalability of your business and overall evaluation of your company's health. A highly engaged customer is more willing to upgrade their services and purchase new products from you.
Time-bound: Giving your team six months to work on this tactic is double, if you have coordination among marketing, sales and customer success teams.
Using Hive To Set Your Goals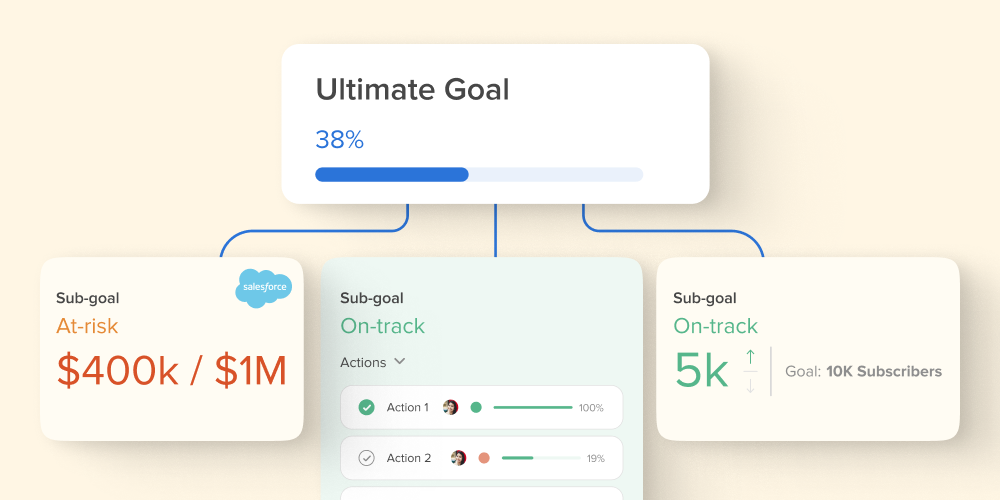 Are you ready to start setting some goals with your team? You're in luck — Hive's newest (and most exciting) feature is Goals. Everyone wants to know how they're moving their organization forward, and your team is more than just a project. With Goals, you can set various goals, visualize progress, and keep everyone aligned in one centralized dashboard. You can also:
Create one, ten, twenty, or more goals for your team, so everyone understands what they're contributing to.
Centralize and automate your goal tracking and reporting.
Pull data from other systems into Hive to streamline operations and reporting.
Share your goal or goals, assign the goal to relevant teammates, track activity, and give yourselves a deadline.
Understand how your team and organization are pacing towards an individual goal or a set of goals.
Color-coded designations allow an easy understanding of "on-track" items.
When it's time to review progress, accomplishments, and achievements, easily export all relevant information.
Get started, today!