These days, headlines and researchers often gawk at the crisis of "smartphone addiction," while urging the general public to spend less time staring at their phone screens. This concern is understandable given that, on average, a person will spend four hours on their phone each day. Essentially, people will spend one day out of each week glued to their phone.
As a result, smartphones have garnered a reputation as distractors, preventing their users from engaging with the world around them or from concentrating on necessary tasks. Many hard-working individuals are made to feel guilty about their weekly "screen time," but spending time on an iPhone doesn't necessarily have to be a bad thing.
By carefully loading your device with apps designed for productivity, spending four hours a day on a smartphone suddenly doesn't seem so detrimental. Why the iPhone focus? Nearly half of U.S. smartphone users have an iPhone, making it the most popular mobile phone in the country.
So, we've rounded up some of the best iPhone productivity apps out there to help you help yourself. From project management to healthy meditation, each of these iPhone apps can play a powerful role in the way individuals maintain productivity on the go.
1. Simple Habit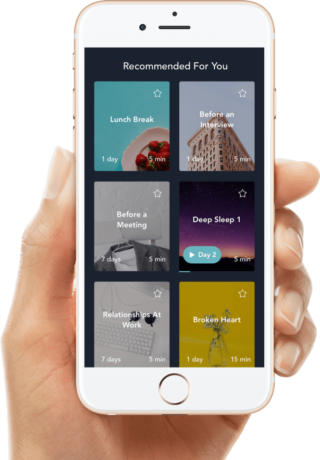 Research has shown that daily mindfulness meditation increases productivity throughout the day, strengthening the ability to resist urges which distract individuals from completing work.
Simple Habit makes meditation easy, even for beginners, by offering short but powerful guided meditation sessions ideal for even the busiest lifestyles. The app offers meditation sessions designed for a variety of life situations, which are crafted and led by the world's leading meditation experts.  
Where To Download: Simple Habit on the Apple App Store
Cost: Free to download. Options to upgrade at additional cost
2. DocuSign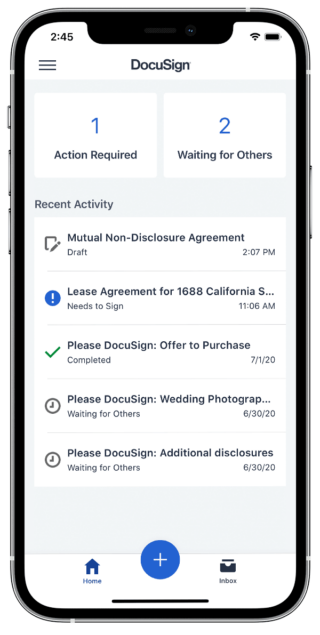 Many professions involve contract or document signing, but finding a printer, signing documents, then scanning them and sending to a recipient can waste a ton of time that could be better spent on other tasks. DocuSign consolidates and streamlines all of that — you can receive, sign and send off documents electronically and on-the-go — no printer or scanner required! If you're still not convinced of the apps utility, just remember that over 200 million people have signed a document via DocuSign. It's hard to argue with that.
Where To Download: DocuSign on the Apple App Store
Cost: Free to download. Options to upgrade starting at $9.99
3. Hive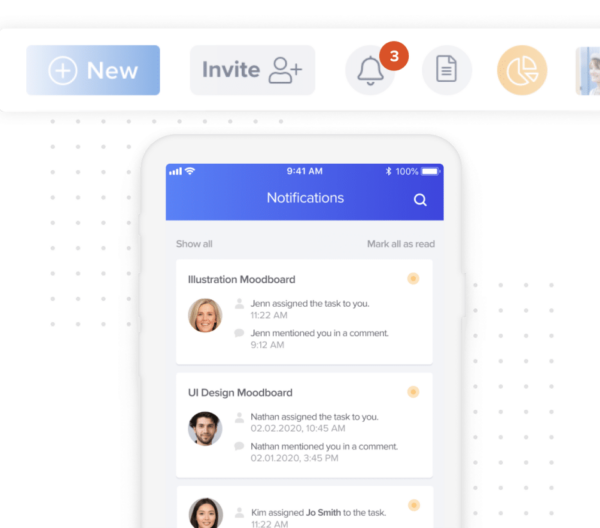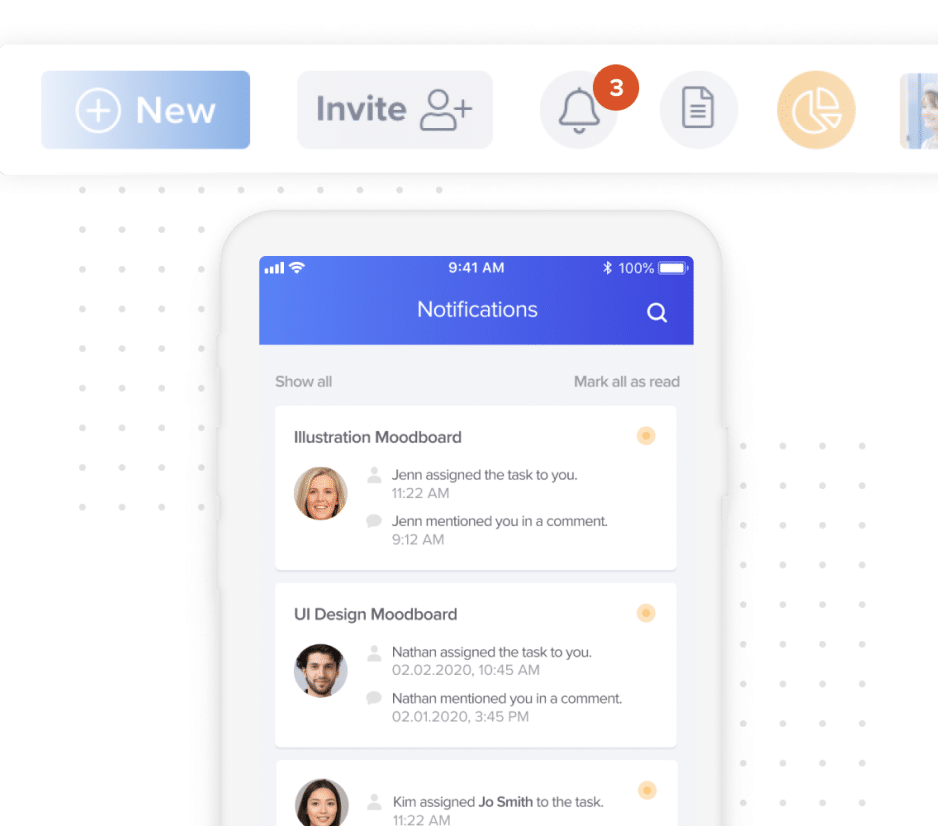 Hive's productivity platform is one of the best tools on the market. When synced with Hive's desktop and web applications, the iPhone app provides yet another way to improve work ethic and productivity throughout the day. With Hive, project managers and other team members can check their to-do lists, communicate with one another in real time, collaborate on schedules, share files, and check up on the latest project progress.
Paired with the desktop application, which integrates a myriad of other features including Gmail, forms, time tracking, and a detailed analytics platform, Hive's iPhone app adds an easy way to check-in on tasks when you're remote, in-transit, or outside of work hours.
Where To Download: Hive on the Apple App Store
Cost: Free to download. Packages start at $12/month per user
4. Doodle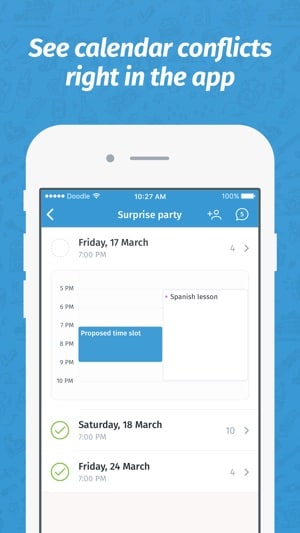 Scheduling meetings (especially with large groups) is often a time-consuming hassle involving lengthy email threads, a high chance of miscommunication, and no-shows or late starts the day of the gathering. Doodle offers a simple solution to eliminate these problems so that meeting participants can spend less time scheduling and more time focusing on what matters — agendas, preparations, and goals.
By offering a survey-style format where each invited member fills out a poll with their available time slots, Doodle takes the hard work out of finding a time when a majority of any team can get together, no matter the size.
Where To Download: Doodle on the Apple App Store
Cost: Free to download.
5. HabitMinder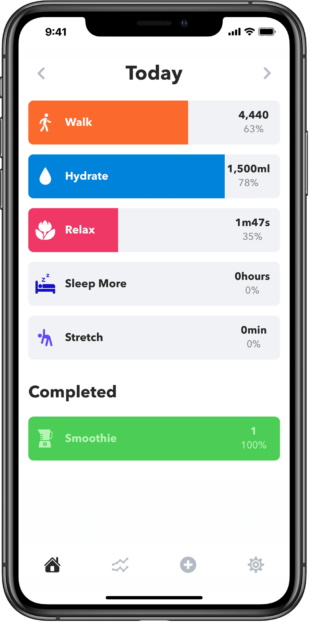 Partnering HabitMinder with other productivity apps like Simple Habit is one of the most powerful ways to form habits catering to a more productive lifestyle — it's one of our favorite iPhone apps for productivity. HabitMinder purposefully reminds its users to drink enough water, stand up, stretch, take a walk, get better sleep, and eat more conscientiously.
Those with a jam-packed schedule and a sea of deadlines will find this app's reminders particularly useful, because these basic wellness tasks will keep minds fresh and bodies healthy — both necessary to achieve the highest quality of work.
Where To Download: HabitMinder on the Apple App Store
Cost: Free to download. Monthly subscription starting at $0.99
6. Evernote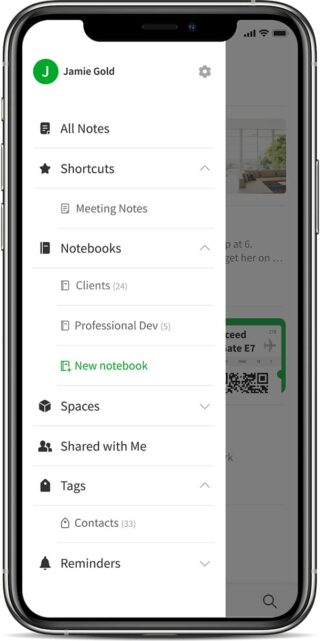 Evernote is one of those apps that does a bit of everything. From taking notes to saving files to uploading pictures or reminders, Evernote will sync seamlessly from iPhones to other devices. Evernote is also useful for sharing these notes or files with a group. Collaborative editing performed easily from a mobile device can make it easy to team up and be productive during a long commute, time spent in a waiting room, or anywhere else.
Where To Download: Evernote on the Apple App Store
Cost: Free to download. Premium upgrades at additional cost
7. Paper by WeTransfer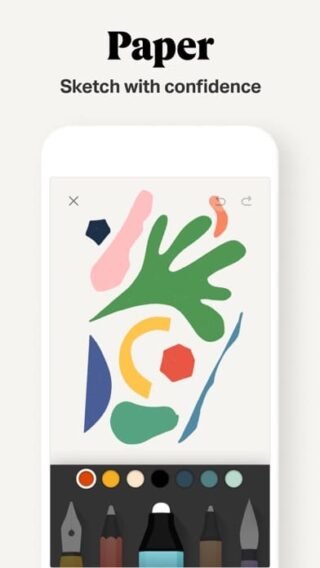 Sticky note enthusiasts will adore Paper by WeTransfer which gives users a digital stacks of sticky notes and even customized journals, all from their iPhone. Paper's designers truly returned to the root of paper's original concept — to capture ideas.
Integrating sketch functions, photo snaps, and text input all into a single interface, Paper is the perfect tool for creating quick idea boards or jotting down reminders on the go. Categorize these "sticky notes" and view them all at once for a quick overview. The best part? These notes will never lose their adhesive backing.
Where To Download: Paper by WeTransfer on the Apple App Store
Cost: Free to download. Premium upgrades at additional cost
8. Forest – Stay Focused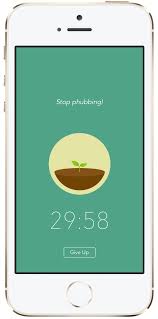 Sometimes, sitting still and focusing on a single task can be difficult no matter how closely a deadline is looming! For those moments when the iPhone does become addicting, Forest users can utilize this app to garner motivation to set their phone aside. As time is spent away from your phone and focusing on the task at hand, new trees grow in the app, and players are rewarded with additional tree species and calming sounds to accompany their forest collection.
Over time, Forest players can track focused time via statistics and trends.
Where To Download: Forest on the Apple App Store
Cost: Download for $1.99
9. Habatica
Another app for the gamers-at-heart, Habatica takes the stress out of forming healthy and productive habits. Modeled after a classic RPG format that all ages will find endearing, Habatica users can input their daily goals, to-do lists, and habits. As these tasks are completed, players will level up, improve their equipment, and even earn custom rewards set by the user.
Habatica allows for multi-player collaboration, too, so that users can involve their accountability partners or team members as they complete projects and work toward daily goals.
Where To Download: Habatica on the Apple App Store
Cost: Free to download. Monthly subscription starting at $4.99
10. 1Password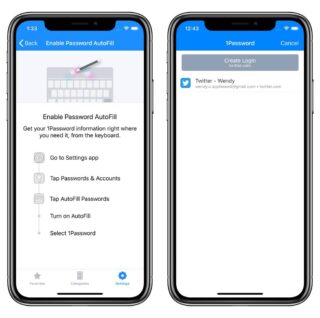 The most productive people likely have more passwords than they can manage, and will often waste time with forgotten passwords and frequent password resets or, even worse, sacrificing security for the sake of convenience by using the same one or two passwords for all accounts.
1Password safely stores all passwords and rolls them up into a single password — remembering one is much easier than twenty, which frees up the mind for more creative pursuits.
Where To Download: 1Password on the Apple App Store
Cost: Free to download. Monthly subscription starting at $3.99
With these apps, the world is your oyster. Who would've thought that the iPhone could be transformed into a weapon for healthy focus, time management, and productivity mastery? Utilizing tools like these can truly transform an iPhone from a distractor to a reliable productivity partner.