Productivity is personal. You can read advice from others about how they get things done, but productivity tips that work for one person might not work for you and your work style. The same goes for productivity apps. With so many different apps and tools available, it's important to identify what exactly you are looking for. Maybe you are an efficient note-taker, but you have a really hard time staying focused on tasks. Or perhaps you have a great system to communicate with teammates and contacts, but you don't have an effective way to schedule meetings with them. 
Here at Hive, we've done some research to help you narrow down all of the apps out there. In this article, we are breaking down the best productivity apps for each of your different needs. From digital notebooks to project management tools, here are the best productivity apps that can help address your needs and ultimately get things done faster.
1. Hive
Best For: All-around productivity and project management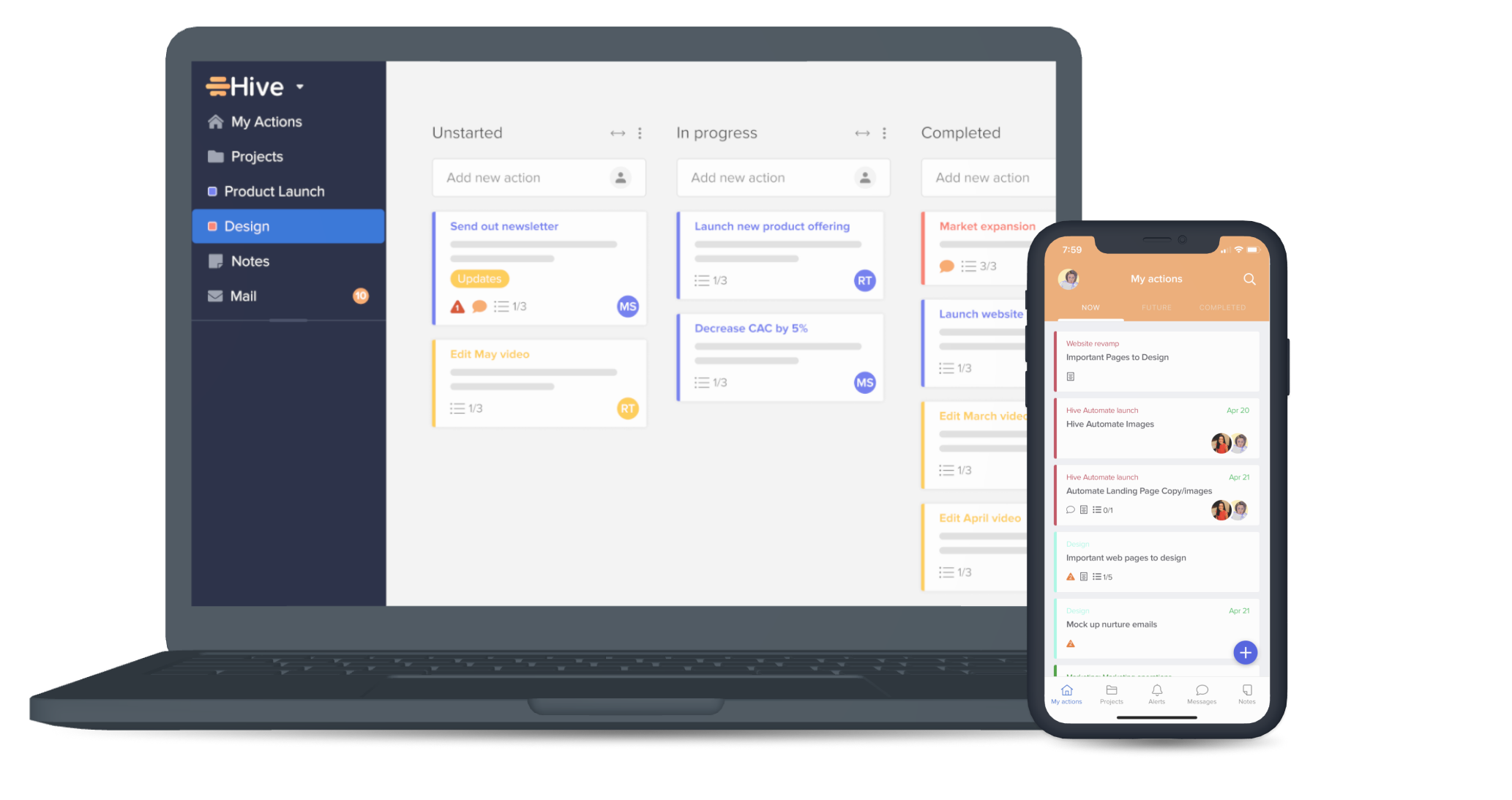 Hive is one of the best productivity platforms on the market. Available via mobile app, desktop app, and web browser, Hive provides yet another way to improve work ethic and productivity throughout the day. With Hive, team members can check their to-do lists, communicate with one another in real time, collaborate on schedules, share files, and check up on the latest project progress.
In addition to the mobile app, Hive's desktop and web applications have even more features to boost productivity. Every project can be viewed in multiple ways depending on someone's personal work style– including Gantt Chart, Kanban Board, Calendar, and more. Updates are reflected across all project views so everyone can work how they want, and the whole team stays informed. Tasks assigned to you across all projects also populate in your own personal to-do list, therefore holding you accountable and helping you prioritize upcoming tasks.

👉 Did you know that Hive just made Capterra's list of top 9 project management platforms in the world? It's the only project management software that is built for users, by users. Get started for free today to see why Hive scored 100 out of 100 in popularity among its customers – the highest score of all project management solutions on the market.
Cost: Free to download with a 14-day free trial. Hive Teams plans begin at $12/month per user.
Download For: iOs, Android and Desktop
2. Todoist
Best For: Managing your to-do lists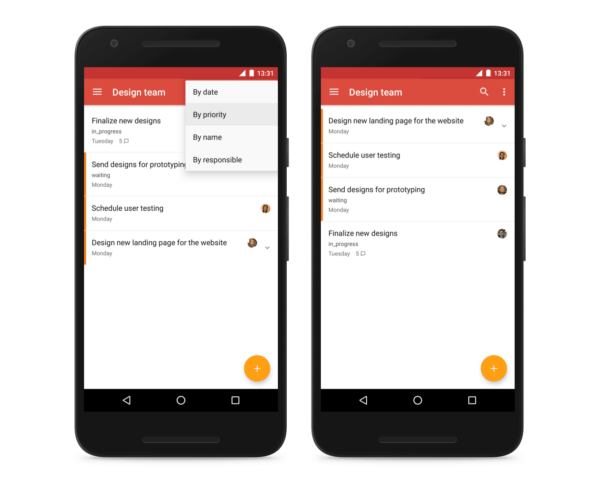 Todoist is a simple task manager app that allows you to record and group tasks together based on projects. Consider this an upgraded version of your traditional to-do list. In addition to recording and organizing your own tasks, you can use the app to collaborate with other people by sharing and assigning tasks. Having a shared to-do list is a great way to encourage teamwork. 
Cost: Free for the basic version (limited number of projects); Premium version is $3.99 monthly or $35.99 annually 
Download For: iOS, Android, Mac and Windows Desktop
3. Google Docs
Best For: Collaborating on documents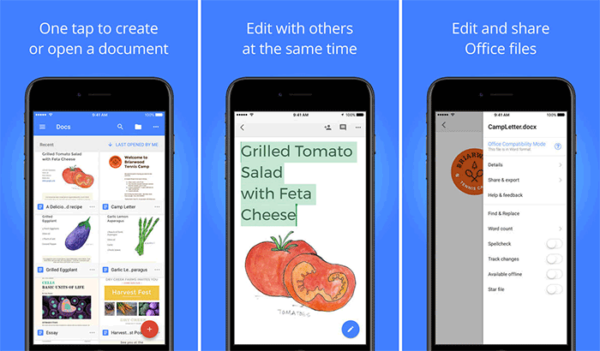 Google Docs is one of the best tools for sharing documents and collaborating in real-time. This online word processor eliminates the need to save and send files back and forth throughout the writing and editing process. Depending on your settings, you can share files and documents inside and outside of your organization. This lets team members work together from anywhere, reduces redundant documents, and helps minimize miscommunication. Google Sheets has similar benefits, such as the ability to import CSV into Google Sheets, which lets you keep all of your documents in one online hub.
Google Docs also has a comment feature for highlighting and making notes about a specific piece of text. Comments directed at specific users will also trigger an email notification to make sure everyone stays in the loop. To protect privacy and security, Google lets the document owner determine the editing capabilities of each user shared on the doc. You can online download the documents as PDFs and edit them online.
Cost: Free
4. IFTTT (If This Then That) 
Best For: Automating tasks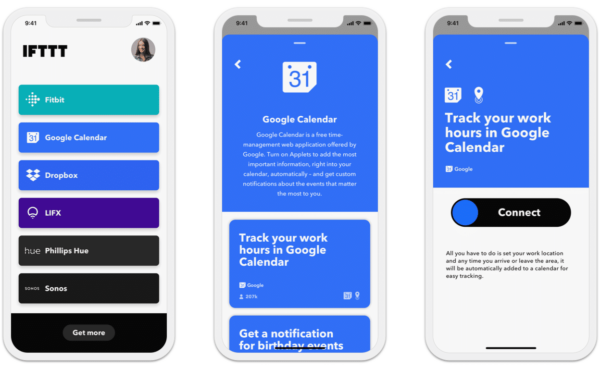 If This Then That (IFTTT) is an automation tool that seamlessly connects different apps and experiences. You can set up a range of different automations in IFTTT, from everyday tasks to more niche occurrences. For example, you can have google add a reminder to your calendar if it's going to rain tomorrow or set a reminder to drink more water. If you want to get really creative, you can also do things like set it up to get a notification every time the International Space Station passes your house. 
This app helps you automate repetitive tasks, which ultimately gives you more time to focus on other, more important aspects of your work. 
Cost: Free 
5. Calendly
Best For: Scheduling meetings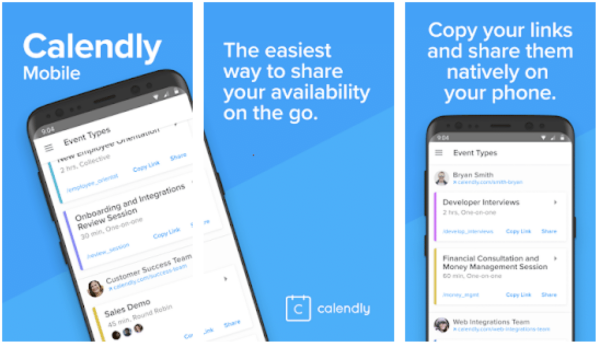 Calendly helps you schedule meetings without the back-and-forth emails.
When you register for an account with Calendly, you'll be asked to sync your calendar and choose your availability preferences, including time slots (15 min/30 min/45 min/etc) when you're available. Then, when you need to schedule a meeting, you simply give the person your Calendly link and they can choose the best time slot for them. No back and forth. How amazing? There are also a number of Calendly alternatives you can check out which offer different functionalities at various price points.  
Cost: Free for Basic Plan users. Upgrade to the Premium Plan for $8/month and the Pro plan for $12/month
6. Brain.fm
Best For: Focusing with music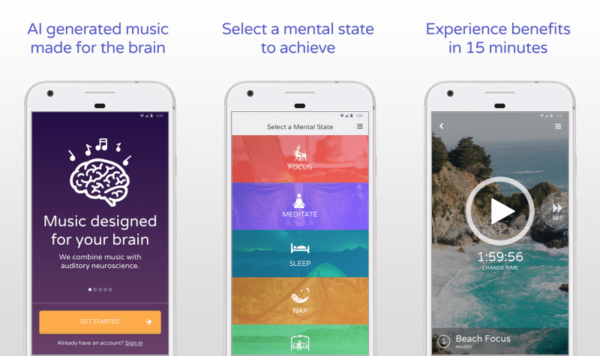 Brain.fm is an app that plays music designed for the brain to enhance focus, relaxation, meditation, naps and sleep within 10 to 15 minutes of use. It's not a myth, certain types of music really can help you focus, relax and sleep better. Brain.fm uses scientific research to design and play music based on your desired outcome. Just set up your bookshelf speaker or sound system, turn on some tunes and let this app do the rest.
Cost: Free to download. Upgrades to Pro versions starting at $6.99
7. Internxt
Best for: Privacy and security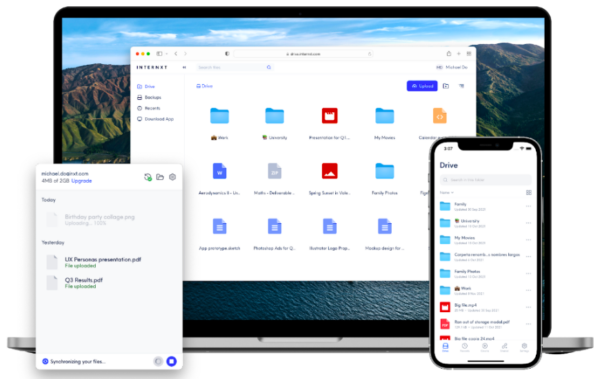 Internxt is a privacy-forward secure cloud storage service that lets teams share sensitive files, photos, and documents. Putting users and their privacy first, the service end-to-end encrypts all data stored and sent across their decentralized network.
Internxt services are open-source and independently verifiable, and the company's commitment to zero-knowledge technology grants users complete control over who can access or share their data. The solution currently offers three primary privacy services: Drive for general cloud storage, Photos for sharing and viewing pics across devices, and Send for safe encrypted file transfer. 
On top of their flagship services, Internxt has designed several free tools to bolster safety for web collaborators, such as their Virus Scanner and Password Checker. 
Cost: Free plan up to 10GB. Premium plans start at €0.89/month. Business and annual plans are also available. 
Download For: iOS, Android, Windows, Mac, Linux, and web
8. ClickUp
Best for: Agile Project Management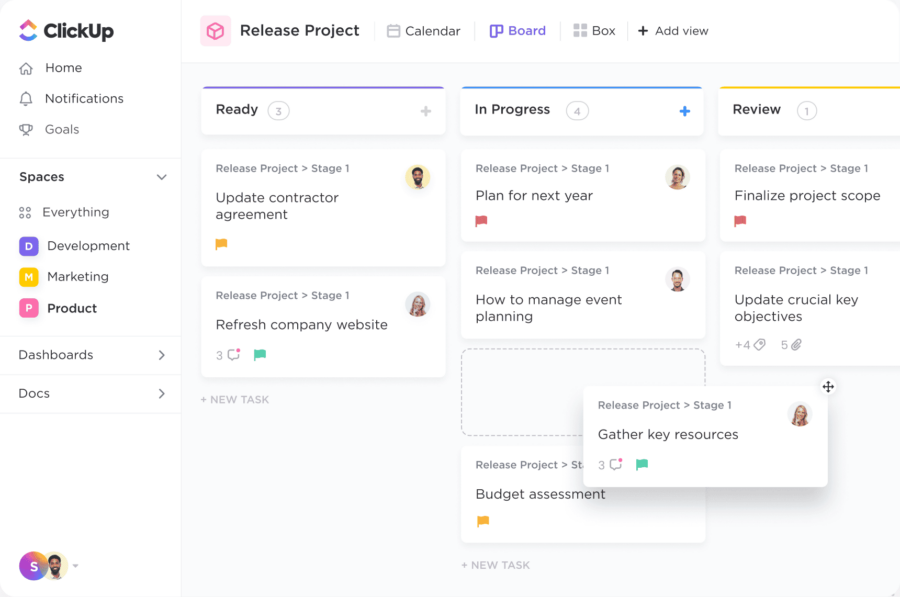 ClickUp is an all-in-one productivity platform with an intuitive, user-friendly interface that makes it a perfect solution for agile project management. It's designed to easily adapt to any workflow, especially for development methodologies such as Kanban, Scrum, and Agile. With over 15+ custom work views, including Kanban, Box, and Gantt views, teams in ClickUp can manage time and resources, get a high-level overview of their work, easily spot priorities and bottlenecks, and create the perfect Kanban workflow to visualize tasks and project progress.
Cost: Free Forever (free), Unlimited ($5/member/month), Business ($12/member/month), Business Plus ($19/member/month), Enterprise (contact for pricing)
Download for: iOS, Android, Desktop (Mac, Windows, Linux)
Comparison: Check out these top ClickUp alternatives in the productivity tool market.
9. Chanty
Best for: collaboration in video, audio and chat

Chanty is a team chat app used for collaboration and communication purposes for teams of all sizes. Over 75,000 teams use Chanty for a more productive work routine and to keep their tasks aligned and organized in one space. You can create, manage and assign tasks on Chanty, and even create tasks from a text message.
The Kanban board is a delight to use as you can optimize your workflow with a flexible, visual, and simple way to execute the Scrum project management methodology. With 20+ integrations, you can maximize your efficiency all under a single roof. Audio and video calls with screen sharing are available with the whole team or individual team members.
Cost: Free for the basic version (up to 10 members); Business version is $3/month/user and $4/annual/user.
Download For: iOS, Android, Mac and Windows Desktop
10. Evernote 
Best For: Taking and organizing notes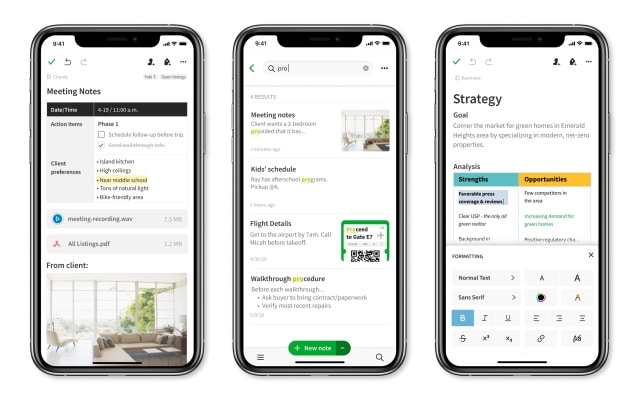 If you prefer to take notes digitally, or often find yourself with a mix of handwritten and digital notes, Evernote is for you. Evernote is one of the best tools on the market for collecting all of your ideas and thoughts in one place. One cool aspect of Evernote is that it allows users to take photos of written notes and upload them to the app, in addition to taking notes directly on your device.
Once uploaded, the search function lets users browse all of their files, written or typed, thanks to handwriting analysis. Once your notes are in the app, you can organize them in notebook systems and filter them by adding tags. Evernote syncs seamlessly across your devices so you never "forget your notebook" at home.  
Cost: Free to download. Premium versions starting at $4.99. Consider searching for an Evernote coupon before purchasing.
Comparison: Check out our guide to the top Evernote alternatives to learn about other similar tools on the market.
11. Forest 
Best For: Staying focused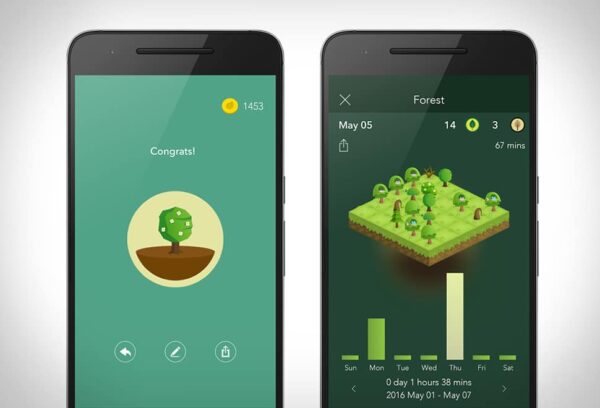 Forest is a great app for people who have a hard time putting down their phones and focusing on a single task. Whenever you want to focus, simply open the Forest app and plant a tree. This tree will grow as long as you are focused and not touching your phone. If you do exit the app at some point before the task is completed, your tree will die. Users can eventually turn these trees (and hard work) into an entire forest.
To make it more fun, players are rewarded with additional tree species and calming sounds to accompany their forest collection. Even better, Forest has partnered with Trees For The Future, letting users redeem earned coins to plant trees in real life. Using gamification to keep you motivated is one of the most impactful and enjoyable ways to work. 
Cost: $1.99 with option for additional in-app purchases
12. Toggl
Best For: Time tracking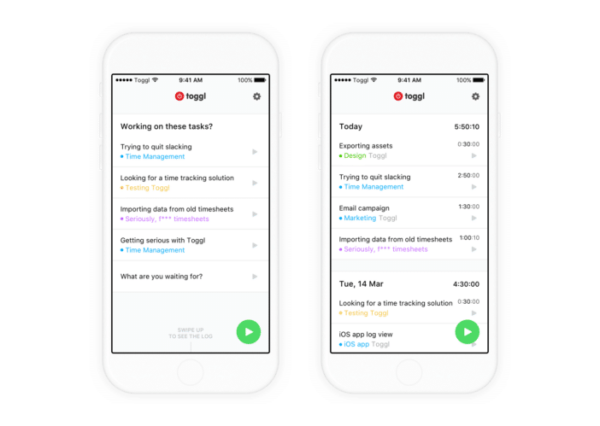 Toggl is known for its clean and simple interface, which sets it apart from other time-tracking tools and makes it really easy and intuitive for users. Toggl Track, it's specific time-tracking tool, is great for all different types of users, including developers, artists, and organizations of all size. In addition to basic time tracking tools, it offers features like custom reports and and billable hours, which can help improve any business. Using Toggl lets your business quantify how much time is spent on different activities and therefore help identify workflow inefficiencies. It's also easy to use on-the-go, with apps available on mobile, desktop, and even on your browser.
Cost: Free for up to 5 users. Starter plan for teams beginning at $8 per user
Download For: iOS, Android, and Desktop
13. Engross
Best For: Pomodoro Timer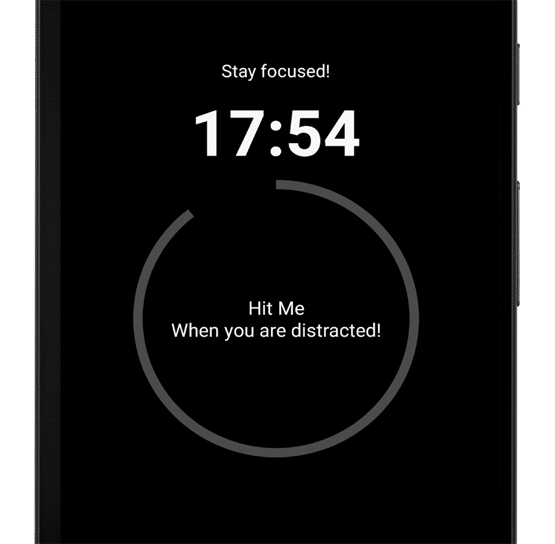 Engross is a time management app that helps improve your focus and manage distractions. One of the most notable features of the app is it's Pomodoro technique timer. The Pomodoro technique helps improve productivity by breaking down work into smaller intervals, typically in the range of 25-30 minutes, which are each separated by mini breaks of just a few minutes. Engross's timer lets users customize the intervals based on how long they want to work and how long they want to break.
Another helpful time management feature is the distraction tracker. Simply press a button on the screen every time you get distracted, and the app will compile statistics about when you are most distracted throughout the day.
Cost: Free for the basic app download.
14. MindMeister
Best For: Mind Mapping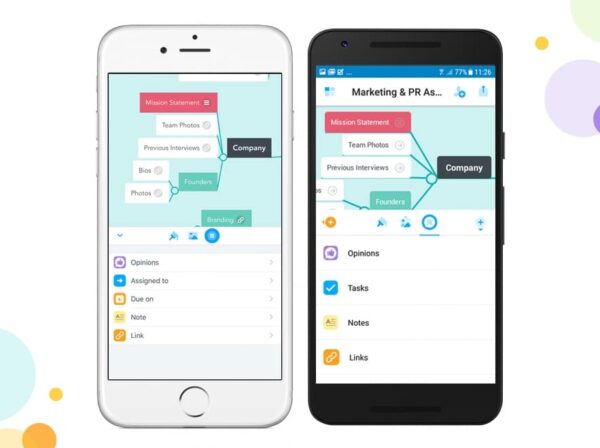 MindMeister is a digital mind mapping tool that is perfect for everyday business situations. Mind mapping tools like MindMeister are helpful for visualizing data, planning projects, and brainstorming ideas. MindMeister can be used on an individual level, or it can be used among teams to collaborate and share ideas in real time.
The tool includes many pre-set map themes, or you can customize your map with colors, styles, formatting, and images that best fit your needs. If you're looking to start an LLC for example, you can create custom branding for your brainstorms and planning. With all information stored in the cloud, this tool lets you digitally access your map without worrying about saving or sending in advance.
Cost: Free for up to 3 basic maps. Personal plans start at $4.99/month; Pro plans start at $8.25/month
15. Hootsuite
Best For: Social Scheduling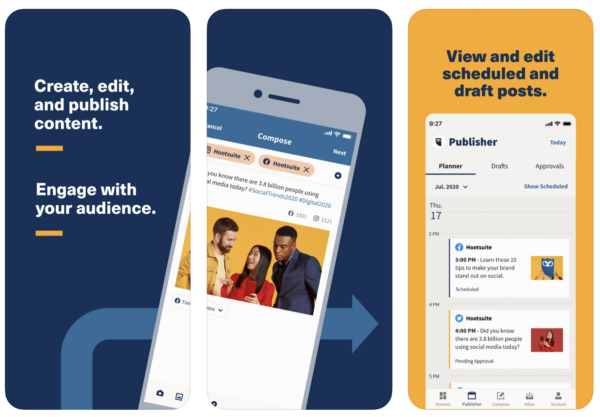 Hootsuite is a comprehensive tool that lets companies schedule posts and campaigns across all of their social sharing sites and channels. Once social posts are planned and scheduled, you also have an option to view them in a single comprehensive calendar, which is extremely helpful for aligning your campaigns, organizing your social media channels, and seeing the bigger picture.
In addition to planning and publishing content, Hootsuite also helps companies engage with their audience and create connections with potential customers. Hootsuite users can monitor post performance, respond to questions, boost positive comments, and share other posts– all within the platform. With options to assign customer inquiries to specific team members and filter incoming messages based on priority, this tool has many features to increase your team's productivity.
Cost: Free 30 day trial. Professional plan starts at $29 per month for up to 10 users, increasing from there. If you are considering a tool like this, be sure to compare Hootsuite's cost with other social media automation tools on the market.
16. FacileThings
Best For: GTD Method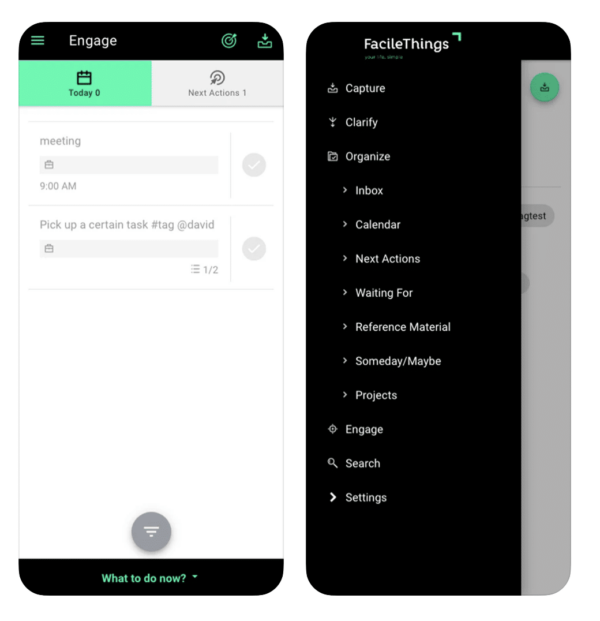 FacileThings is an app that helps people organize and manage daily tasks based on David Allen's GTD (Getting Things Done) method. The GTD Method consists of 5 steps that help people keep their mind free and feel that everything is under control, so that you can reach maximum productivity without stress and anxiety.
This app helps users kickstart their own personal GTD system. The app guides users through the process of learning GTD, ultimately helping people incorporate these habits into their daily routines. The app is available on most mobile platforms, which means you can also take it with you wherever you go. It also integrates with other top platforms, allowing relevant tasks and information to be imported right into the app.
Cost: Free 30 day trial. Monthly subscription starts at $12, with discounts for multiple month purchases.
17. Due
Best For: Setting reminders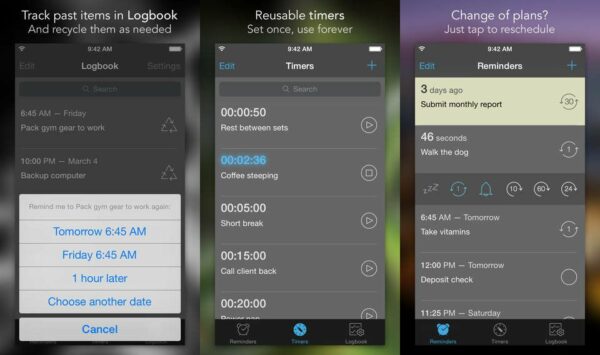 Due is a simple, easy-to-use app that helps you set due dates (get it?) and reminders in your schedule. This app is great for people who forget things easily and need extra help remembering what needs to happen when. Due has customizable options that lets users choose when they want to receive notifications about a specific item, with options to snooze or dismiss them as they come up.
Whats even better? Due will continue to send you notifications until you mark the task complete, making it almost impossible to miss among all of your various pings and nudges. You can easily react to these reminders right from the notification itself, quickly allowing you to snooze or change the due date without even opening the app. The Due App also syncs seamlessly between your Apple iPhone, watch, and desktop, so you never miss a reminder ever again.
Cost: $6.99 for the mobile app and $14.99 for the desktop app
Download For: iPhone and Mac Desktop
18. Krisp 
Best for: Noise cancellation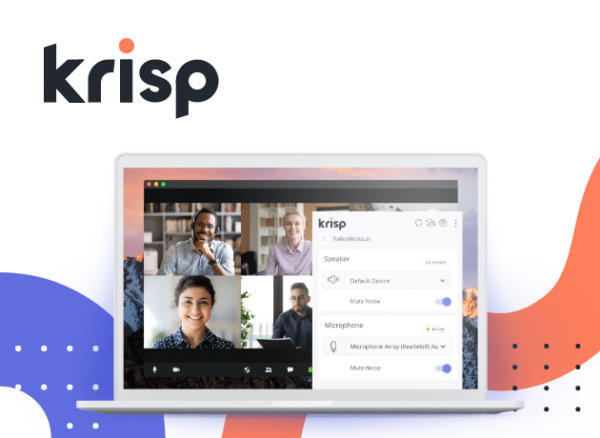 Krisp noise cancelling app is a communication tool that has recently emerged on the market. It's an AI-powered app that removes all kinds of background noises during a call in real-time and allows people to communicate with each other professionally. You can use Krisp with over 800 communication, conferencing, messaging, podcasting and recording apps and you can pair it with any headphones, speakers and microphones that you prefer. Krisp can be used as both Mac and Windows noise cancellation software at any given time.
Cost: Free personal plan for up to 120 minutes per week. Pro plans start at $5 per month
Download For: Windows and Mac Desktop
19. Everhour
Best For: Team time-tracking 

Everhour is a complete time tracking software that helps teams work more efficiently than they ever dreamed. Alongside being a handy time monitoring tool, Everhour's intuitive functionality integrates seamlessly with project management tools such as Basecamp, Jira, Asana, GitHub, ClickUp and more, to allow stress-free project and budget management. What else is inside this time tracking tool? Opening Everhour, teams can find:
   

Reporting features

to ensure all is going to plan;

   

Invoicing tools

that make billing so much simpler;

   

Visual planning features

to review projects at just a glance;

   

Project budgeting

to keep time and budget on track side by side.
Cost: Plans start at $8.50 per user, including a pricing discount if you pay annually instead of monthly. Everhour also offers a free 2-week trial before committing to a paid plan.
Download For: Browser extensions and iPhone
20. Last Pass
Best for: Storing and managing passwords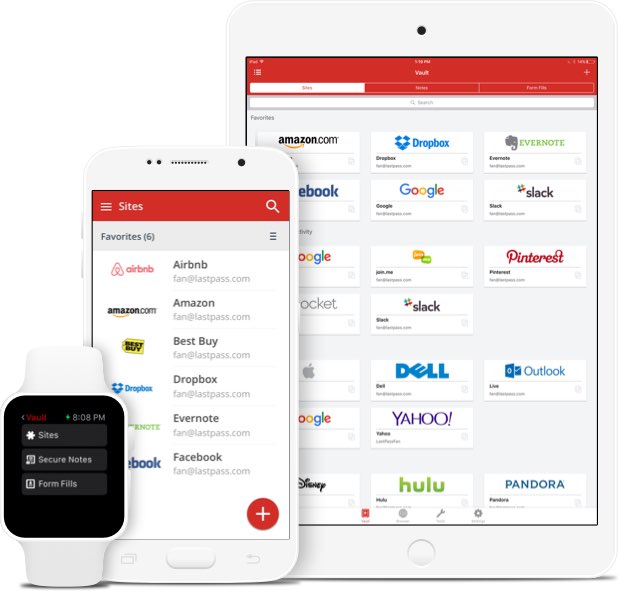 How much time do you waste every day manually signing into various accounts? Last Pass is a password management app that helps you store all of your digital passwords in one place, making it easier to log into all of your various accounts while also keeping your digital information secure. Last Pass has a browser extension to keep everything secure on your computer, but their mobile app is a life-saver for people who are constantly on the go.
When you download the Last Pass password manager app for your tablet or smartphone, you will be able to Sync your data across all platforms. Once you've added an account to Last Pass, utilize the automated app fill on mobile devices to remove the hassle of typing on small mobile keyboards. You can also log into Last Pass with your fingerprint swipe, making it easier than ever to access your information. Last Pass has options for personal or business accounts, depending on how you want to use the app.
Cost: Last Pass has a free plan, but it does not include syncing across all devices. Premium plans start at $3/month for personal use, and $4/month for business teams.
Download for: Browser extension, iOS, and Android
21. Hypercontext
Best for: More productive meetings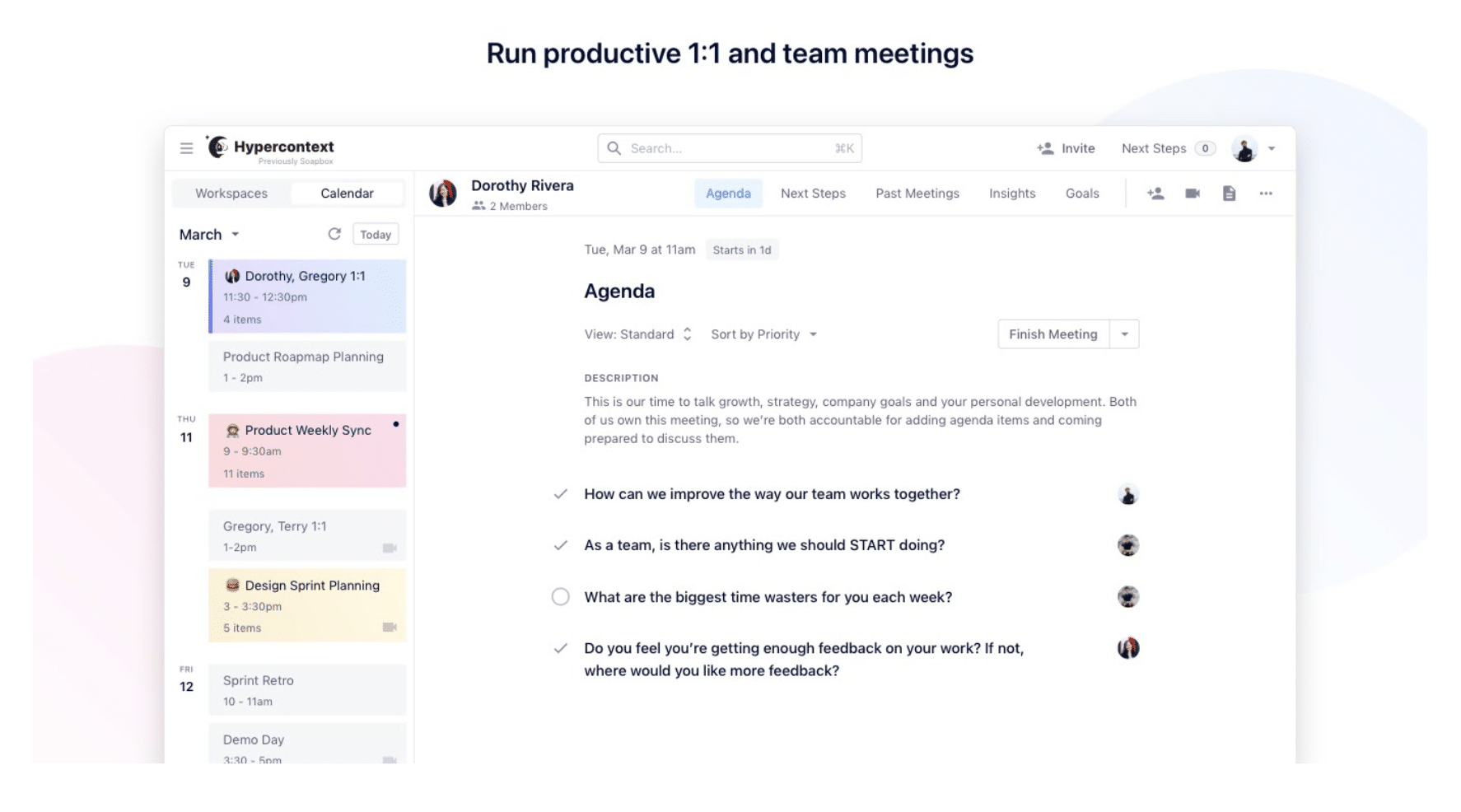 Hypercontext is a solution that empowers managers and their teams to be high-performing by streamlining meetings, goals, and morale into one workflow. The meeting agenda app allows you to build collaborative meetings agendas for one-on-one, team, and cross-functional meetings, access hundreds of conversation starters, and hold everyone accountable for sharing feedback every single meeting. It's a dedicated space for employees and managers to exchange feedback, document decisions, and track goals, all while driving engagement up across the company.
Cost: There's a free forever version, a Pro plan, which is $7/user/month, and a Business plan priced at $11/user/month. Small teams of up to five can take advantage of their starter team pack priced at $5/month total for the first five users.
Download for: Chrome extension, iOS, Android, Teams, Zapier
22. TroopMessenger
Best For: Organizing business communications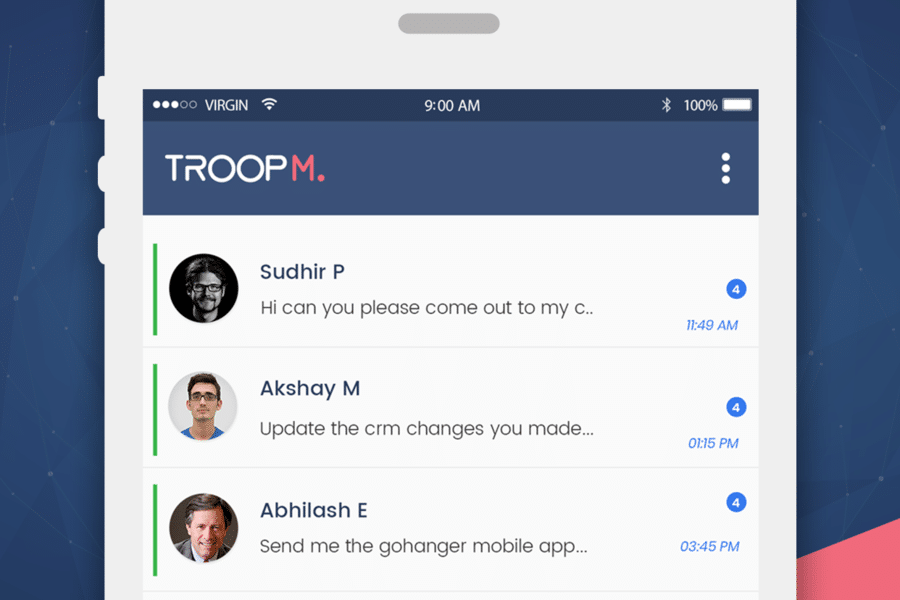 Troop Messenger not only helps its global users to communicate and collaborate on work on a unified digital workspace, but it is also has many productivity features that help users work faster. With its Global Search filters, users can search files shared across 1:1 messages and group chats, saving time typically spent scrolling through the entire chat list to find people, projects, groups, guest users, and exited employees. This feature lets users retrieve text files, images, videos and URLs without digging through the ocean of chat conversations.
This business messenger tool also has an exclusive file management functionality that stores all the shared files of 1:1 and group chats at a central repository for faster and easy access. This is another way that users can save time when trying to revisit past conversations or find important information. In addition, users can upload the files from their PC to Troop Messenger cloud to access them anywhere anytime.
Cost: One-month enterprise free trial, Premium@ $2.5 per user per month, and Enterprise@ $5 per user/per month.
Download for: Windows, Mac, Linux, Android, and iOS powered devices.
23. Scribe
Best for: Explaining processes and creating "how to" guides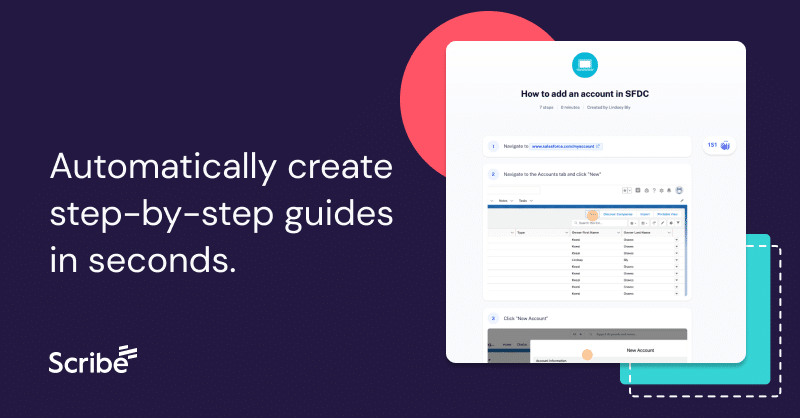 Scribe is a documentation tool that turns any process into a step-by-step guide. Users can streamline and standardize their knowledge share for enhanced productivity across teams. This saves hours in manual documentation and almost entirely eradicates the need for scheduled training sessions. Imagine what you could do with the hours you spend explaining complicated processes to others.
While Scribe isn't an app, it's a Google Extension that helps you create how-to guides for all of the other apps and platforms you use on a day to day basis. To develop a Scribe, simply click "Record" via the browser extension and continue your workflow in another app. Scribe will automatically create a how-to guide with written instructions and screenshots highlighting each click. A Scribe can be shared easily via a link, within the platform's shared workspace, or when embedded into any CMS or knowledge base. 
With Scribe, you can save time, eliminate redundancies, and ensures consistency for substantial benefits in productivity and growth.
24. Shift
Best for: Streamlining workflow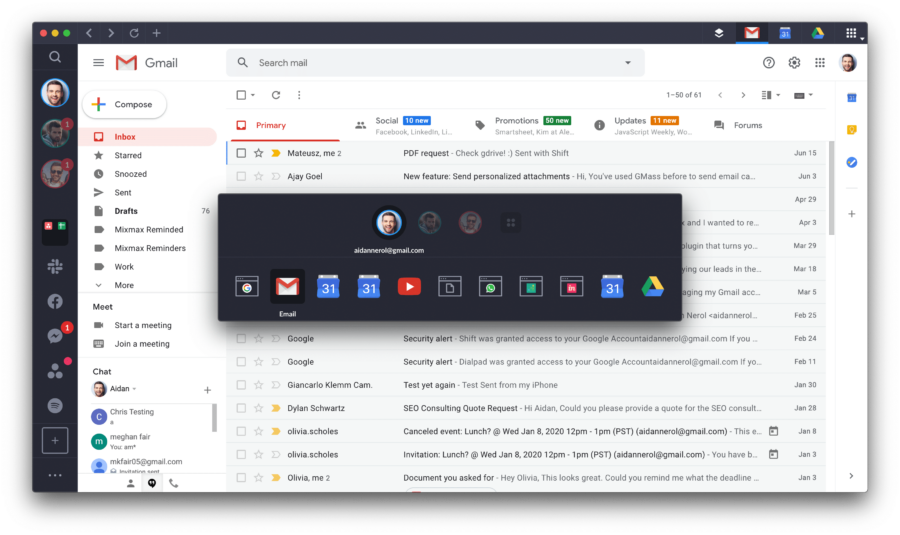 Shift is a desktop app that aggregates your email accounts, apps and extensions, streamlining your workflow with an all-in-one browser. Integrate with all of your favorite apps, build customizable workspaces and conquer inbox overload. Shift lets you:
Customize your workspace by connecting all of your email accounts and your favorite web app.

Search across any of your Mail, Calendar or Drive accounts.

Mix and match your favorite tools to find the perfect workflow.
Note: The only thing that Shift does not have is a "Unified Inbox", which would let you see all of your accounts in one single view. If you often wonder which inbox a specific piece of correspondence has gone to, an alternative to Shift might be worth considering so you can take advantage of this feature.
25. nTask
Best for: Web-based task management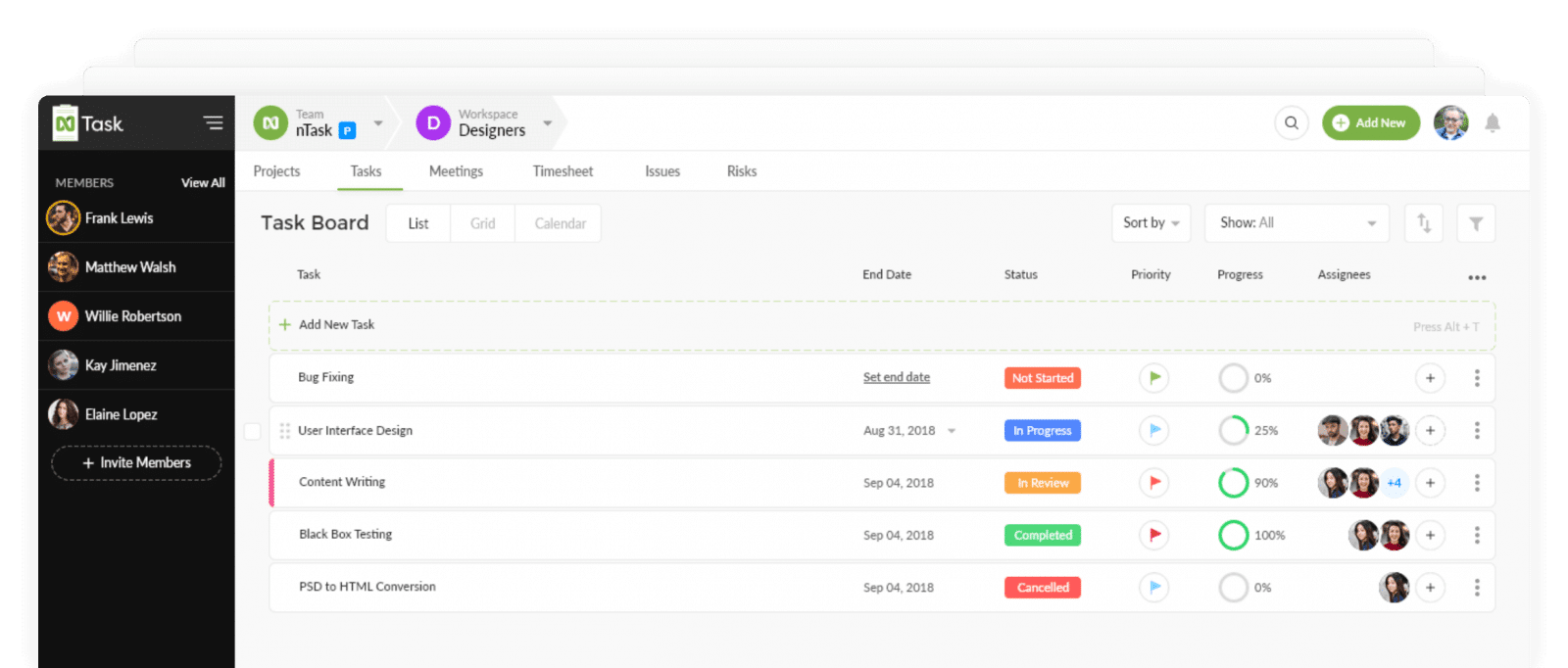 nTask is an incredible web-based task management and project management tool. The application features focus on productivity and collaboration, such as note-taking, time-tracking, and even timesheet management. nTask gives you an overview of how different tasks and processes are been performed by different teams, helping you to spot any opportunities to optimize their daily work routines. 
Cost: The application has a free trial and a free version. nTask paid plan offers premium features and starts at $3/user/month
26. Apploye
Best for: Remote Employee Monitoring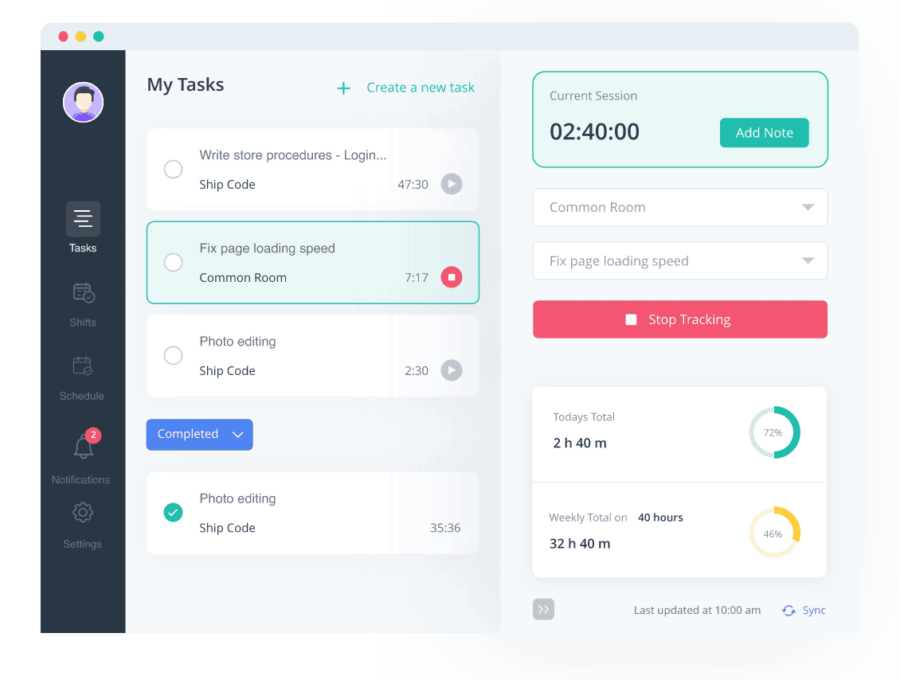 Known for its accurate time tracking and remote employee monitoring capabilities, Apploye is a comprehensive tool to keep your team productive throughout working hours. It can take up to three screenshots in an interval of ten minutes, tracks employees' internet behaviors, and measures app usage. 
Its dashboard shows a performance comparison amongst employees, Active & Neutral time analytics, and time spent on various projects. With Apploye, you can see reports on employee performance, manage timesheets, add manual time, and monitor multiple screens together. Furthermore, it offers Pomodoro Timer, Idle time tracking, and myriads of valuable features that help build a productive team and monitor them with ease.
Cost:  Solo: $4/user/month, Standard: $5/user/month, Premium: $6/user/month, Elite: $7/user/month. Get a 50% discount on annual pricing plans.
Download For: iOs, Android, Windows, Linux, Chrome Extension.
27. ProofHub
Best for: task management and tracking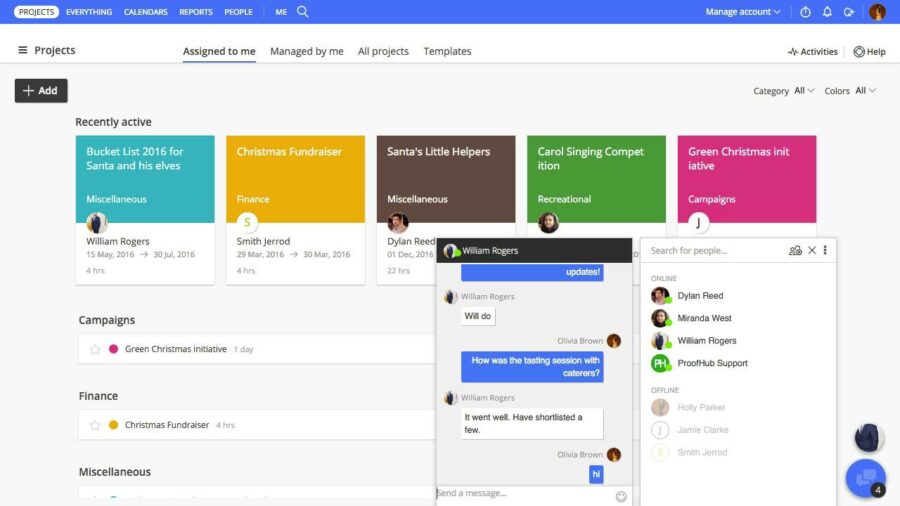 ProofHub is one of the leading project management tools that offers innovative solutions for task management and team collaboration in a centralized place. It has transformed the traditional ways of project management with an easy-to-use interface and features like Team Collaboration, Announcements, Task Management, File Integration, Kanban Boards, Online Proofing, Gantt Charts, Online Discussions, time tracking, and Custom Reports. 
With its custom reports feature you can track your progress on the projects, analyze, strategize and plan accordingly to keep yourself ahead of the competition. 
Cost: The standard plan starts at a Flat $45/month (billed annually), and the Ultimate Control plan is at $89/month (billed annually).
28. Nifty
Best for: Tracking milestones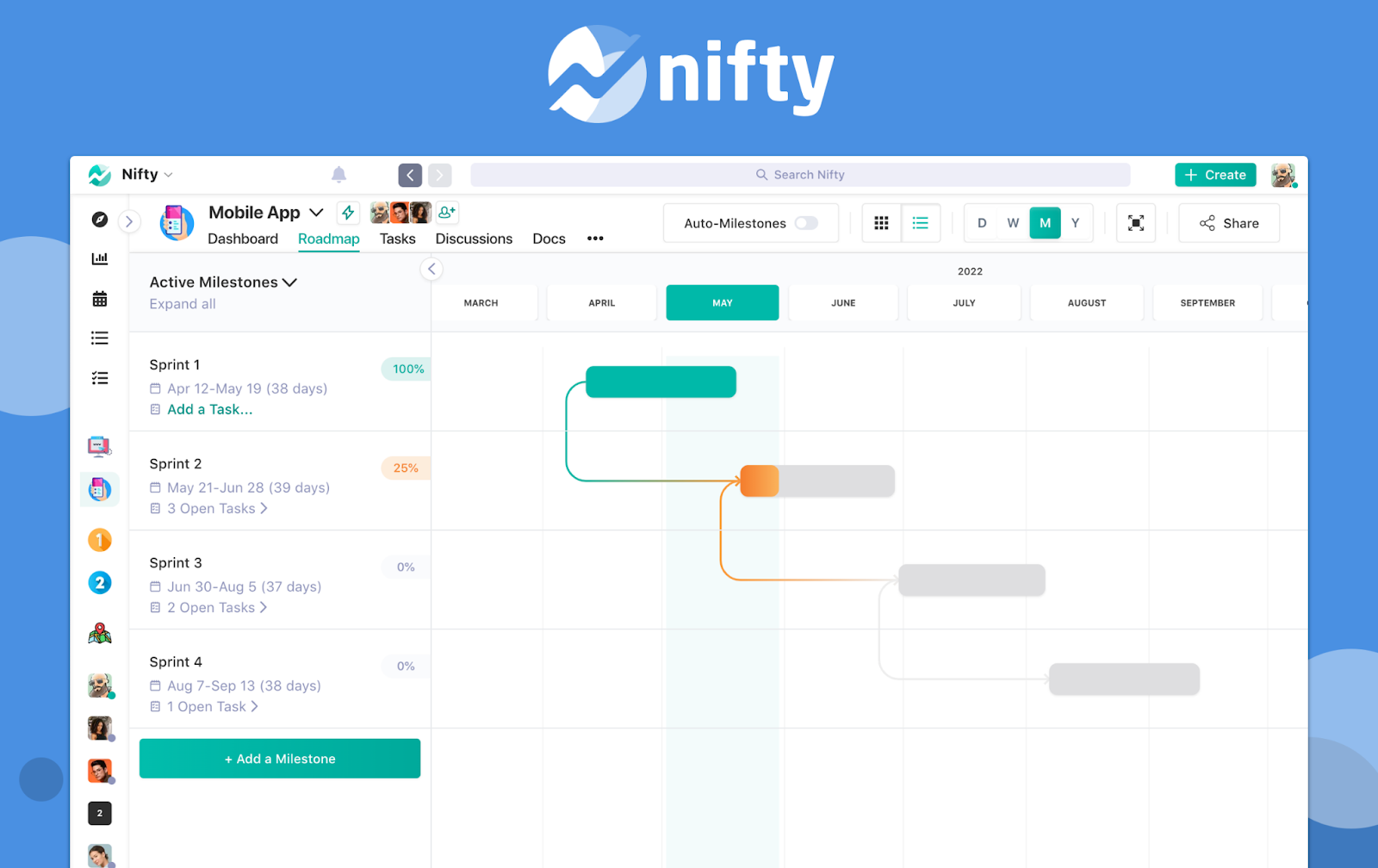 Nifty is a project management operating system that accommodates workflows of all sizes, including partners and clients. Whether you're creating a simple online to-do list or a full-blown project plan with automated progress reporting, it's all easy to accomplish with Nifty.
The solution offers over 1,000 integrations – including built-in Zoom, Teams, Google video calls, as well as Google Workspace. 
Pricing: Nifty has a free-for-life plan and their paid plans start at $5/user/month.
Available for: Android, iOS, and Desktop
29. Fellow
Best for: More productive meetings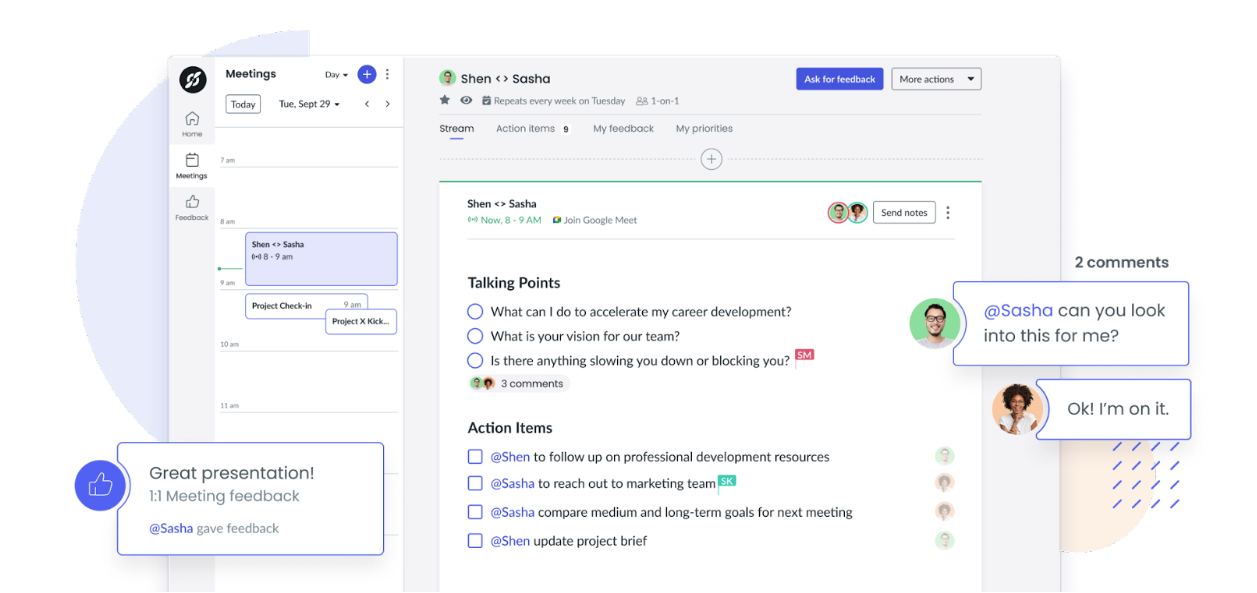 Fellow helps facilitate effective meetings using collaborative meeting agendas and shared note-taking. Having a clear goal and an agenda are the first steps to run a successful virtual meeting, and using an application such as Fellow helps teams to have a productive conversation. With Fellow, you can also record meeting notes and track action items, making it easy to follow up and assign tasks across a project's team.
Cost: Fellow is free for up to 10 users. The Pro plan is $5 per user per month, and custom-priced plans are also available.
Download for: Desktop, Mobile, Browser, and More.
30. WebWork Time Tracker
Best for: Productivity Monitoring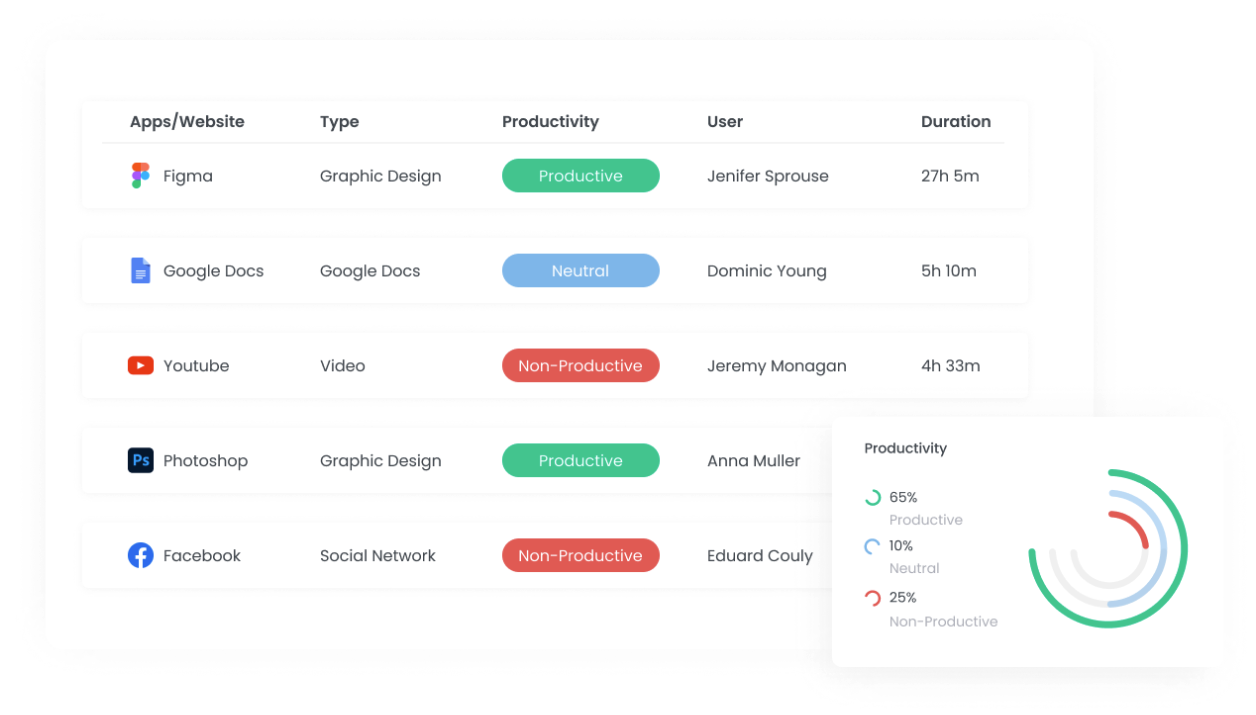 WebWork Time Tracker is a time tracking and employee monitoring software. It allows you to track time and productivity within your team by monitoring the time spent on apps and websites while they are on the clock. The software provides detailed information on your employees weekly productivity by tracking activity and measuring overall productivity based on the number of mouse clicks and platforms visited. 
With WebWork Time Tracker, it's easy to see whether resources are being utilized efficiently and with its task management feature, you can quickly reassign projects and edit schedules. By using statistics collected, WebWork Time Tracker identifies common tools used within your organization and labels them as productive, neutral and non-productive. This data can then be used to help eliminate non-productive website or app usage by sending a pop-up message to employees to redirect their focus back to their work.
Cost: Try WebWork Time Tracker free for 14-days and if you like it, their Basic plan is $4.99/month/user. They also offer an Enterprise plan for larger organizations.
Download for: Desktop, Mobile and as a Chrome Extension.
31. TMetric
Best for: Work Time Tracking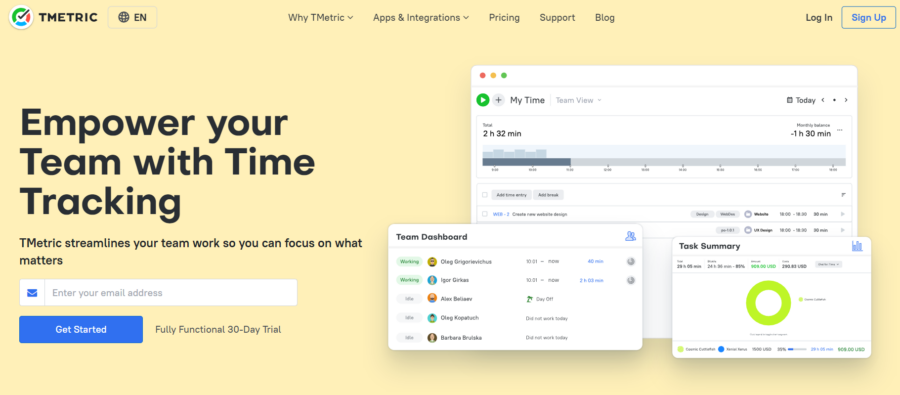 For precise work hours calculations, TMetric app is a great option. With its comprehensive feature set and easy onboarding you can start using the solution right away. 
The app is flexible for business and personal use. It allows managers to authorize sick days, PTOs, and vacations. Making it easier to control in-person and remote employee attendance. TMetric is also a good ally for personal use: it helps establish boundaries between work and life and saves time on tedious activities. Plus: The solution measures work time in both online and offline modes, provides options for budget tracking and syncs work calendars.
Cost: Free plan is available for teams of up to 5 users. Paid plans with advanced functionality start at $5 per month per user.

Download for: Chrome extension and Desktop.
32. Scalefusion
Best for: Mobile device management (MDM)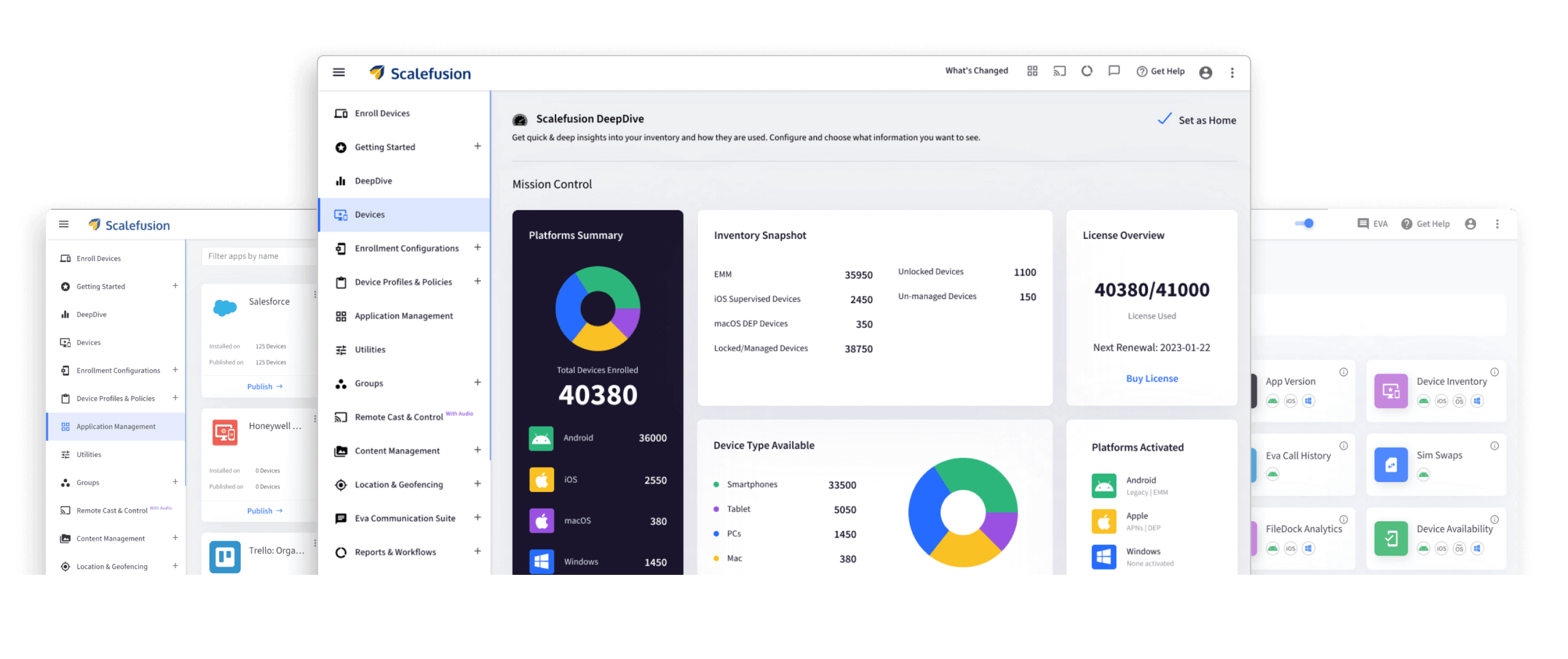 Managing hundreds or thousands of devices for remote-first organizations can be a nightmare for system admins. Scalefusion saves hours by provisioning mobile devices with over-the-air, zero-touch or light-touch enrollment for Android, Windows, and iOS across laptops, desktops, tablets, smartphones, and rugged devices. Scalefusion solves one of the most common productivity-draining challenges: troubleshooting devices. Scalefusion's Remote Cast & Control feature reduces time spent on diagnosing errors and fixing problems. Say good-bye to hours on the phone trying to resolve issues!
The MDM solution integrates with popular IT services software such as JIRA and Freshservice. This way IT administrators can manage user requests and the lifecycle of devices from a single pane of glass.
Cost: Plans range from $2-6 per device/month according to your organization's needs.
---
Do you have a favorite productivity app that everyone should know about? Leave us a comment below and tell us how it makes you more productive.