If you have recently spent time on popular social media channels such as Twitter or LinkedIn, chances are you have read all about the amazing benefits of artificial intelligence for writing — but also the OMG-artificial-intelligence-will-take-over-the-world-and-steal-all-our-writing-jobs rhetoric. All of the pros and cons of AI writing tools can be hard to keep track of. 
However, as a writer whose livelihood depends on the written word and content creation, I believe that AI writing is here to stay — and here to help. As much as I can see the other side of the argument (not the machines taking over, but the stealing our jobs argument), in my opinion, AI still has a long way to go before it starts stealing the pen from in between my ink-coated fingers.
So, until that day, I am firmly in the camp that using AI for content creation can be highly beneficial. If you are also interested in how AI tools can maximize your content output, follow along to learn about the best AI writing tools and how you can implement them into your workflow today.
How to pick the best AI writing tool for your content
HiveMind and RyterAI and JasperAI, Oh my!
While it doesn't have the same ring as lions, tigers, and bears, it still brings forth the same apprehension that Dorothy Gale from the Wizard of Oz felt: the fear of the unknown and so many to choose from. So where do you start?
If you are overwhelmed by all the AI writing tools on the market today, and their use cases are all blurring together, here are my top AI tools that are definite content contenders.
1. HiveMind

HiveMind is an AI-powered tool that automates writing tasks such as data extraction and summarization. This tool leverages NLP algorithms to generate summaries of long articles or documents quickly and accurately. HiveMind was built to work seamlessly within the Hive project management platform to increase team content interaction. HiveMind's AI was constructed not to just write blogs and essays for you but to increase user productivity and efficiency across the board. More than just a content builder, it is an assistant and a third content arm!
HiveMind Pros:
Free with Hive plans

Integrates with the Hive Project Management Platform

Creates project tasks based on simple inputs
HiveMind Cons:
Not as robust as other AI platforms on the market

You must have a Hive subscription to use it (however, that subscription is free!)

2. JasperAI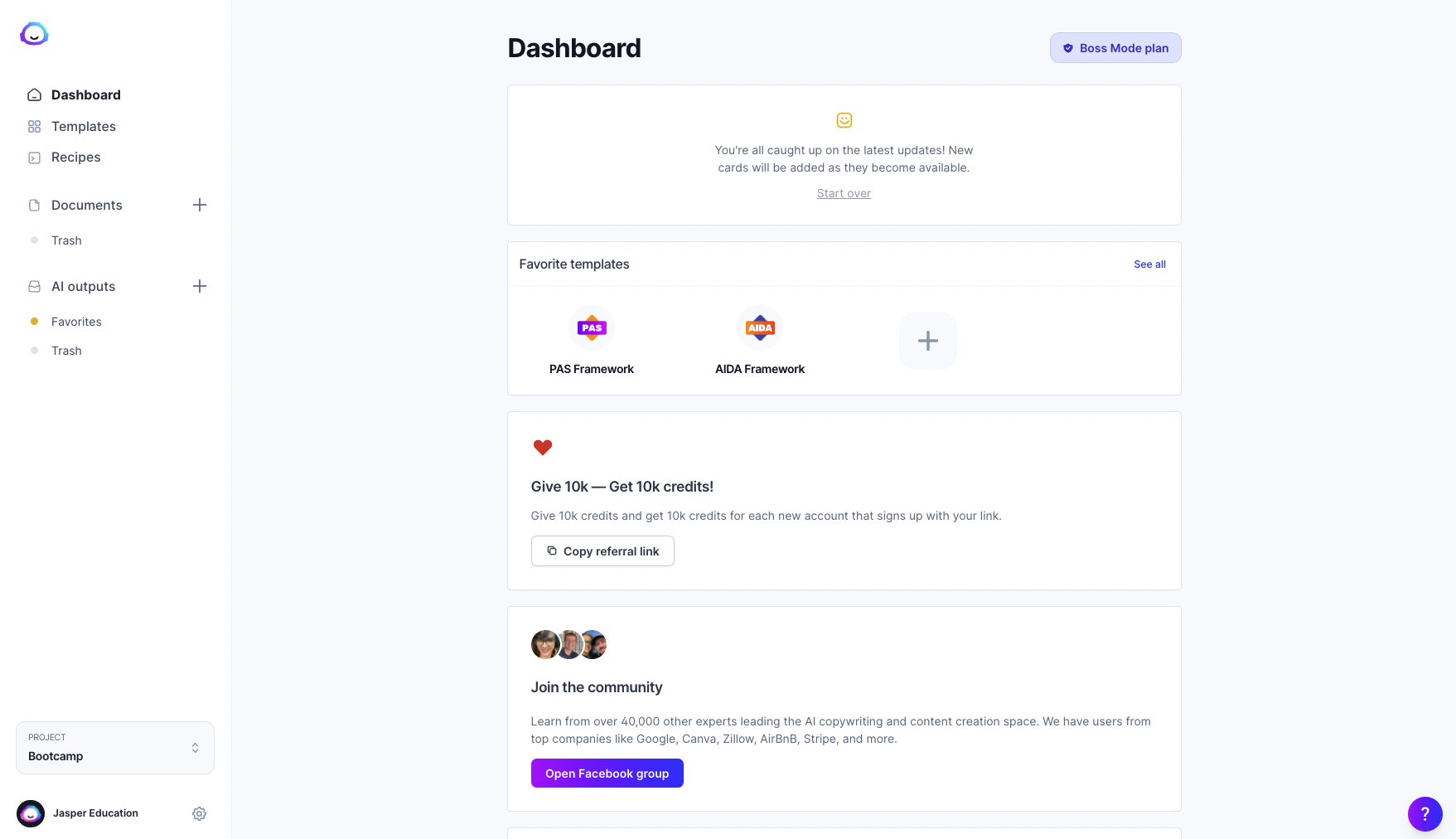 JasperAI, formally known as Jarvis, is an AI assistant that helps you brainstorm, edit, and publish excellent content. Powered by natural language processing (NLP), this tool can understand the context of your copy and suggest alternatives accordingly. It can also provide insights on trending topics and keywords, giving you a better understanding of how to craft content that resonates with your audience.
Jasper AI is a popular tool among many writer demographics globally. For more information, check out this Jasper AI review article which includes a real example use case for applying this tool in today's digital landscape.
JasperAI Pros:
Easy-to-use interface

Integrates well with other writing platforms like SurferSEO and Grammarly

Excellent at writing long-form content like stories or essays
JasperAI Cons:
Can be pricy

Can significantly miss the mark, and the content output goes off the rails
3. RyterAI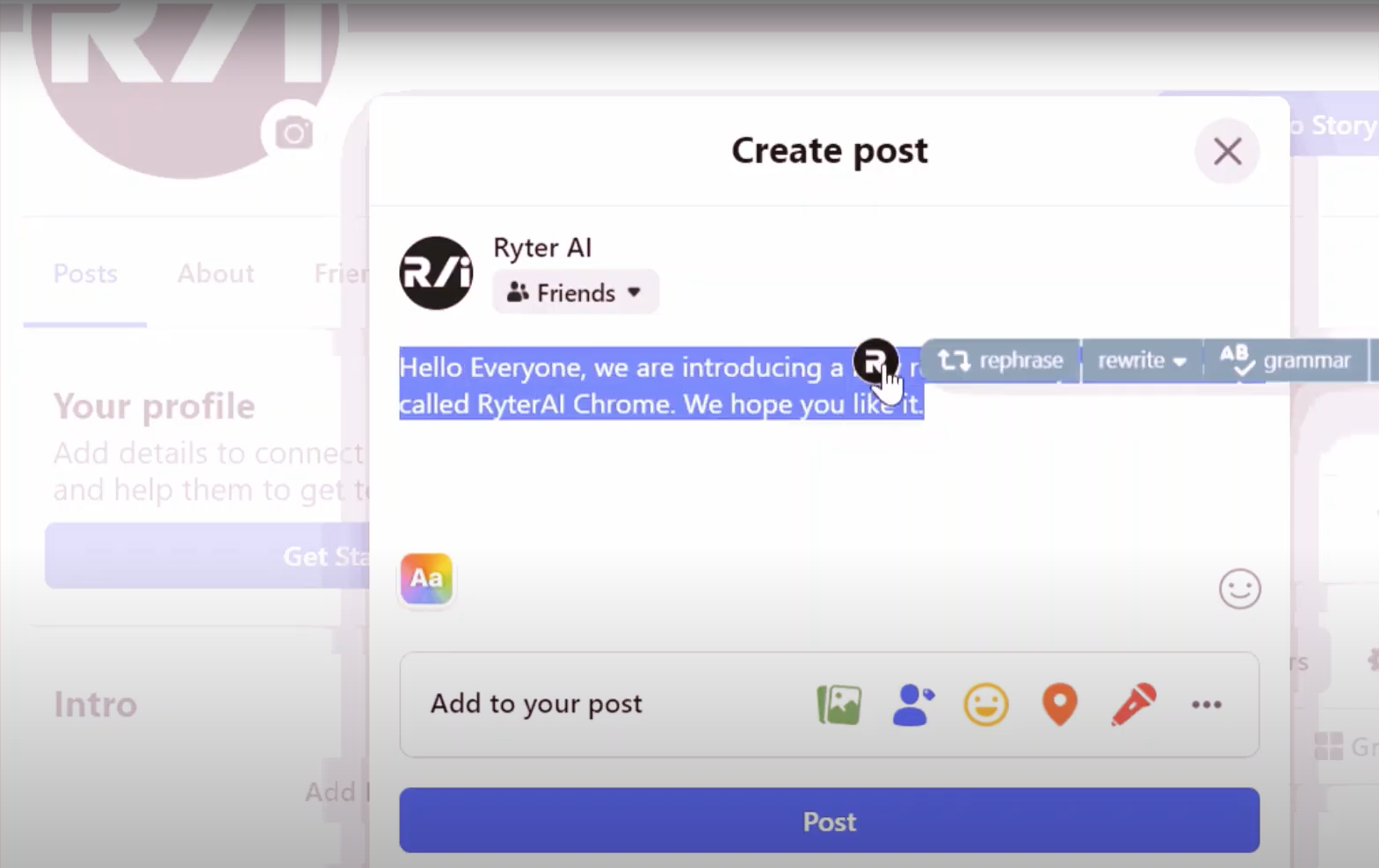 RyterAI is a natural language processing tool that helps you create content faster, more efficiently, and more accurately than ever before. RyterAI's usage of NLP algorithms will read through your text and offers personalized suggestions on how to improve it through grammar, word choices or by increasing clarity. It also identifies popular keywords so you can find the best ones to use for SEO purposes and rankings.
RyterAI Pros:
Excellent at grammar and spelling checks

Great at finding keywords to help you rank higher in search engine results pages (SERPs)

User-friendly interface
RyterAI Cons:
It can be expensive if you plan on using it for all your content needs

The final content still needs some tweaking/editing

Does not offer additional SEO features or 3rd-party integrations
4. Paraphrasingtool.ai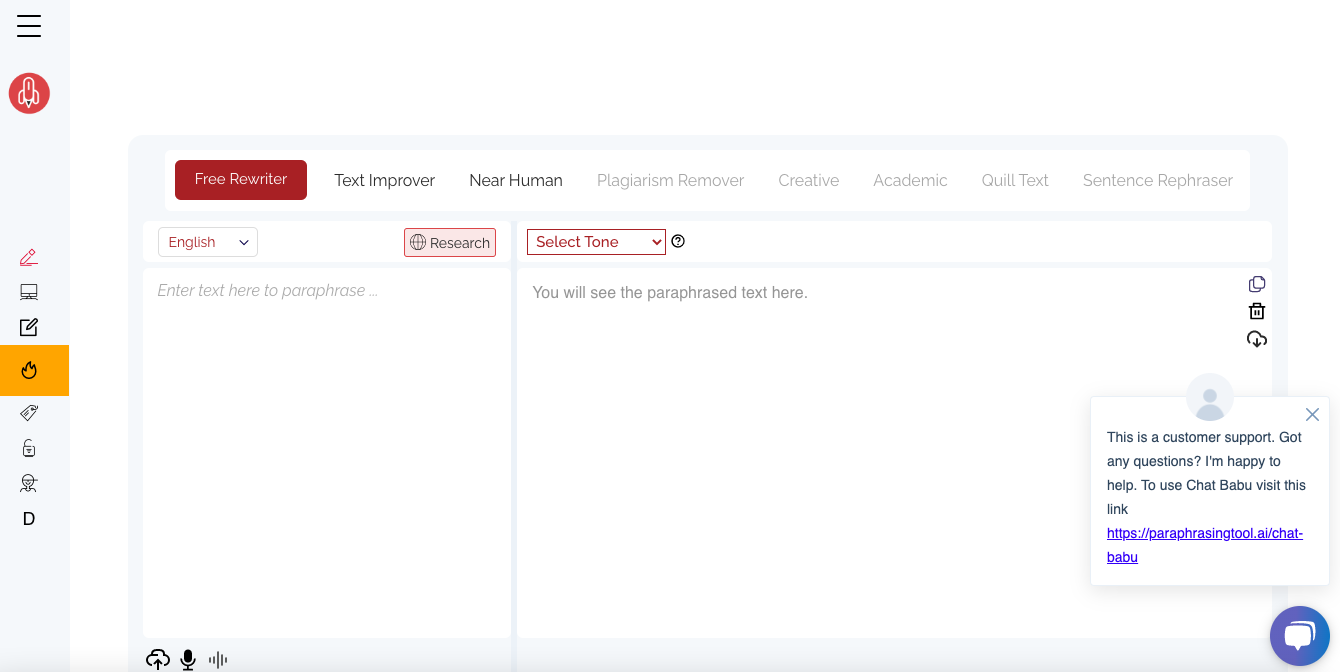 Paraphrasingtool.ai is a one-stop solution for all your writing needs, issues, and queries. From creating fresh content like articles, blogs, or essays to checking for plagiarism, and grammar mistakes, this website has you covered. Most tools are free to use and accessible from any device. Paraphrasingtool.ai offer applications for mobile users. Premium users get access to complex writing needs. 
Paraphrasingtool.ai Pros:
Sleek UI, easy to use, and offers free modes and features.

Users can create, check and finalize their content in one place

Tool offers top-notch writing results.
Paraphasingtool.ai Cons:
People with limited knowledge of AI tools might face issues using it

Monthly or yearly paid subscription is required for complex writing needs
5. ChatGPT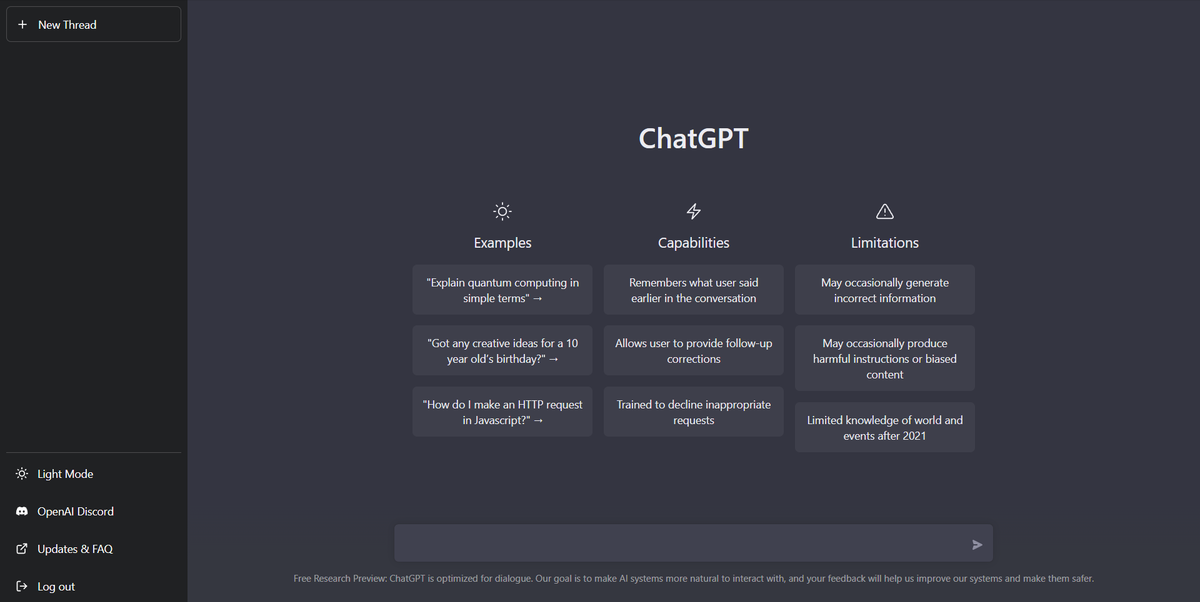 You can't search the web these days without someone mentioning ChatGPT and how it is revolutionizing AI content. But, it is just the new AI kid on the block, with more "fancy" features and a deeper code algorithm that "understands language." Essentially, ChatCPT is a conversation AI engine that enables developers to create chatbots and other conversational interface applications.
Unlike other AI writing tools, ChatGPT is an open-source tool with several useful features like text prediction, dialogue flow control, and natural language understanding.
ChatGPT Pros:
Open source platform

It can be used to build complex conversational applications

Easy-to-use API's
ChatGPT Cons:
Lacks the advanced features of other popular AI tools on the market

Limited support for languages other than English
6. Quillbot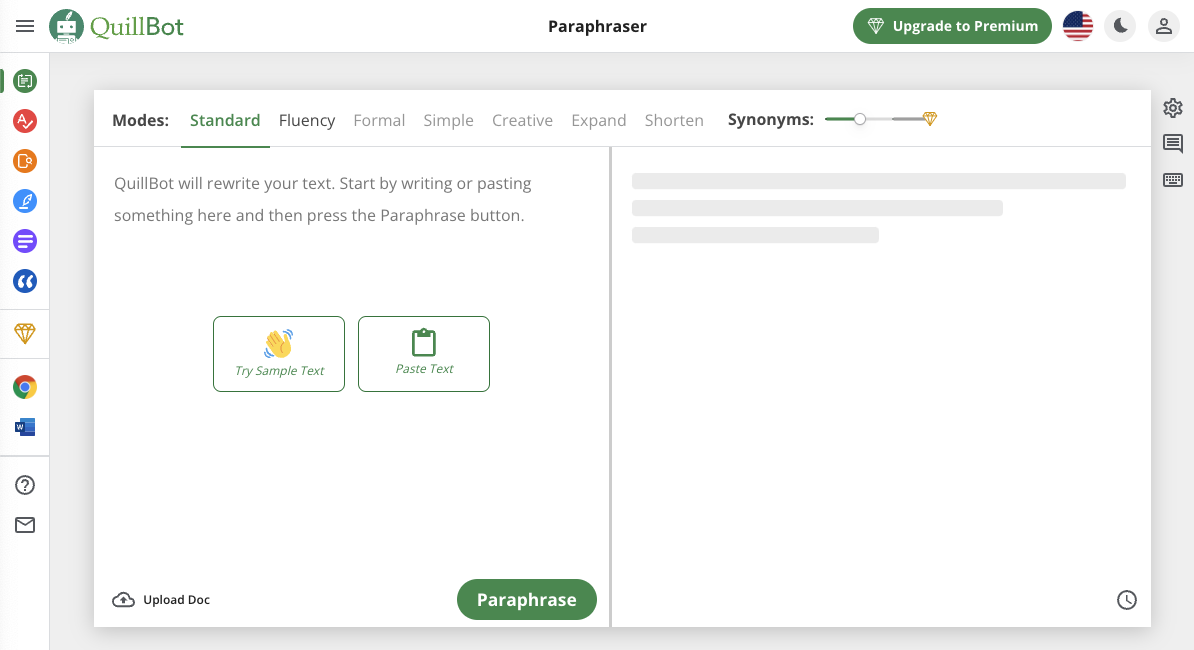 Quillbot is an AI writing tool that takes text input and assists you with paraphrasing, checking grammar, identifying plagiarism and more. The AI-powered assistant can make your thoughts and ideas more coherent and fluent by rephrasing them with changes to vocabulary, tone and style. Easily customize your text using a slider feature along with a mode selection to adjust the output to your writing needs. You can save time using Quillbot's summarizer and citation generator features and present your writing with confidence.
Quillbot Pros:
Can help improve vocabulary and language skills

Offers additional writing tools and features

Integrates with multiple platforms
Quillbot Cons:
May struggle with complex sentences

Limited customization options in the free version

Only available in English
Now that you have seen some of the top AI tools available today, let's look and see which of the tools is best suited for your content needs. Of course, each tool has its pros and cons, and you might be more comfortable with one interface but like the output of another. For a more in-depth look, check out my winners below, as they might help you pick the right tool for your AI-generated content. 
7.

Paraphraser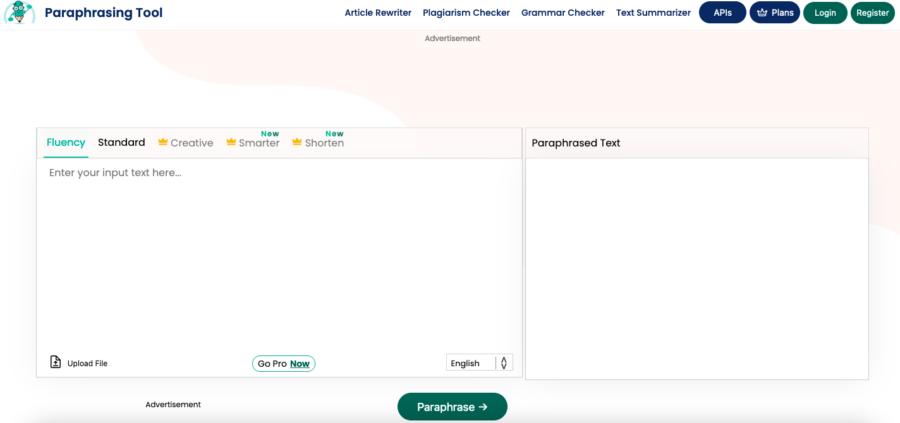 Paraphraser AI is an excellent paraphrasing tool that can improve all written works. Paraphraser can find the most suitable synonyms and phrases to craft a compelling and captivating message. The software can also modify sentence structure, expand your word choice pool, change your message voice from passive to active and improve the readability of your copy. Paraphraser offers a monthly and yearly plan and a student package with a special discount rate. 
Paraphraser pros: 
It's easy to use, straightforward, and free up to 500 words. 

Offers plagiarism and grammar checks 

Students only pay $9 per week for the premium package. 
Paraphaser cons: 
Limited free package. The premium package costs $23 a month. 

Website is not user friendly 

Pop-us and many adds might make navigation confusing 
8. Rapide.ly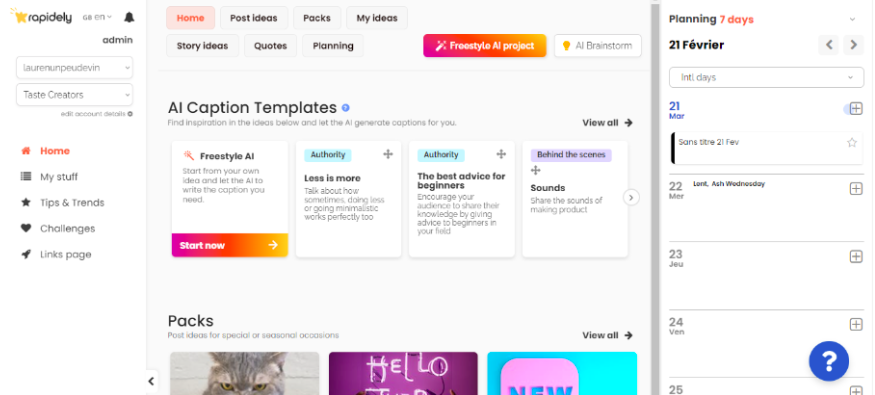 Rapide.ly is an AI-powered content generator for social media, allowing entrepreneurs and businesses alike to create captivating posts tailored specifically to their audiences. With Rapide.ly GPT-3 AI-designed brainstorming engine you can craft effective messages that engage your followers across multiple platforms such as Instagram, Facebook and LinkedIn.
Rapide.ly pros:

Calendar prompts help your content planning to stay on top of celebration dates

Weekly trends for Reels (audio and ideas)

Monthly content creation challenges to improve your content performance on social platforms
Rapide.ly cons:
Pay version only after free trial

Limited languages (currently, only English and French)
What AI Writing Tool is best for you?
1. The Best AI tool for writing long-form content
Winner: JasperAI
JasperAI wins this contest, hands down. With its long-form content writing capabilities and integration with other writing platforms like SurferSEO and Grammarly, it gets the long-form blog content job done. It offers excellent prompts to input tone of voice and keywords, and you can also use protective text and suggestions to help write the entire blog for you. Long-form couldn't be easier with the help of JasperAI.
2. Best AI tool for Generating content automatically
Winner: HiveMind
HiveMind beats out the competition in this category thanks to its free plan, seamless integration with the Hive project management platform, and ability to create project tasks based on simple inputs. This AI tool is perfect as a content assistant that works off of previous successes, and it can be integrated into your current Hive work process.
3. Best AI tool for writing social media posts
Winner: ChatGPT
Will ChatGPT take over the job of a social media manager on the web? Probably not. But helping us create social media tags, posts, and captions is a great way to utilize ChatGPT in your everyday marking activities. Furthermore, its open-source platform and conversation AI ability add to the reasons why it's great for social media posts. And because it can ultimately help you quickly generate engaging content that resonates with your audience, this tool is an excellent addition to any content creator's arsenal.
Key Takeaways 
From some of my top picks for AI tools to their best use case scenario–you definitely have a lot to consider when picking an AI writing tool for your content. While each one of the tools mentioned will get the job done, some are better than others, and only you can decide what tool will work within your content workflow.