Today we're going to talk about the agency tools that will set you apart from your competition. We all know that the agency world is unique. One single agency works for several — if not dozens or hundreds — of different organizations around the world that trust that agency with their offline and online marketing, advertising, and other digital campaigns.
The vast impact that advertising and startup marketing agencies have on the business world as we know it can be surmised with a few statistics. Did you know that U.S. ad agencies were projected to generate over 45 billion dollars in revenue in 2020? Additionally, the market size of the advertising industry, measured by revenue, in 2020 was over $54 billion. Those are staggering statistics. 
To be successful in this sort of role requires a specific skill set, attention to detail, and the proper agency tools. The idea of agency tools is specifically important because agencies conduct largely project-based work. Because one team can be working on behalf of several clients, having a project management, time-tracking, digital marketing, or file management tool at your disposal can make-or-break your success.
Keep reading to learn about the best agency tools for a range of purposes, including project management, SEO, file management and more.
1. Hive
Best agency tool for project management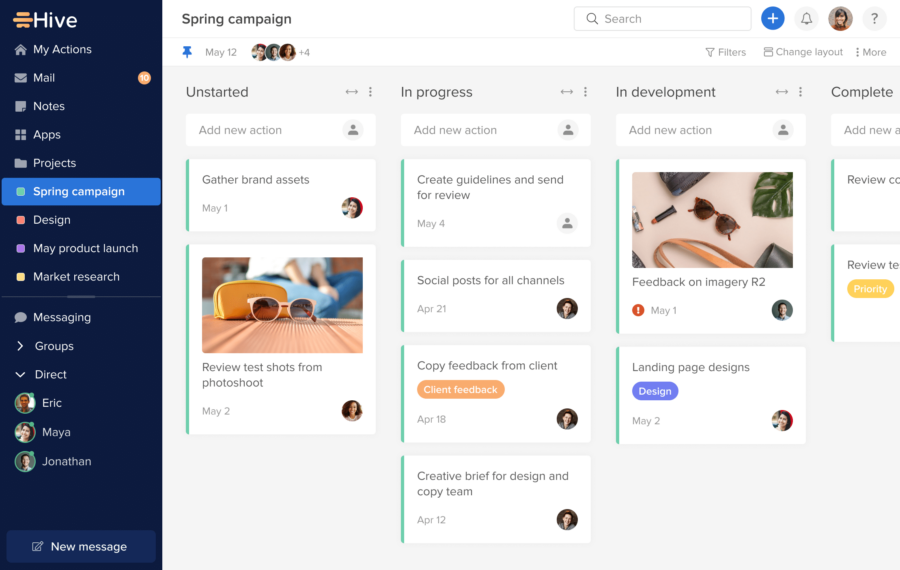 Hive is used by companies of all shapes and sizes, but it is especially useful for agencies. Because agencies are doing project-based work, having a project management tool at your disposal is a no-brainer. It's critical that you have a way to track tasks and projects throughout a campaign lifecycle, and for this, Hive is a great fit. 
Some features of Hive include:
Flexible project views, including Gantt, Kanban, calendar, table, and portfolio view

Ability to add comments, sub-actions, dependencies, and attachments to action cards

Time-tracking and timesheets capabilities

Resourcing functionalities

Integrations with over 1,000 tools like Jira, Gmail, Zoom and Salesforce

Native chat and email integrations that allow increased connectivity

Detailed, real-time analytics

Web and desktop apps

👉 Did you know that Hive just made Capterra's list of top 9 project management platforms in the world? Get started for free today to see why Hive scored 100 out of 100 in popularity among its customers – the highest score of all tools on the market. It's the only project management platform built for users, by users.
2. Dropbox
Best agency file management tool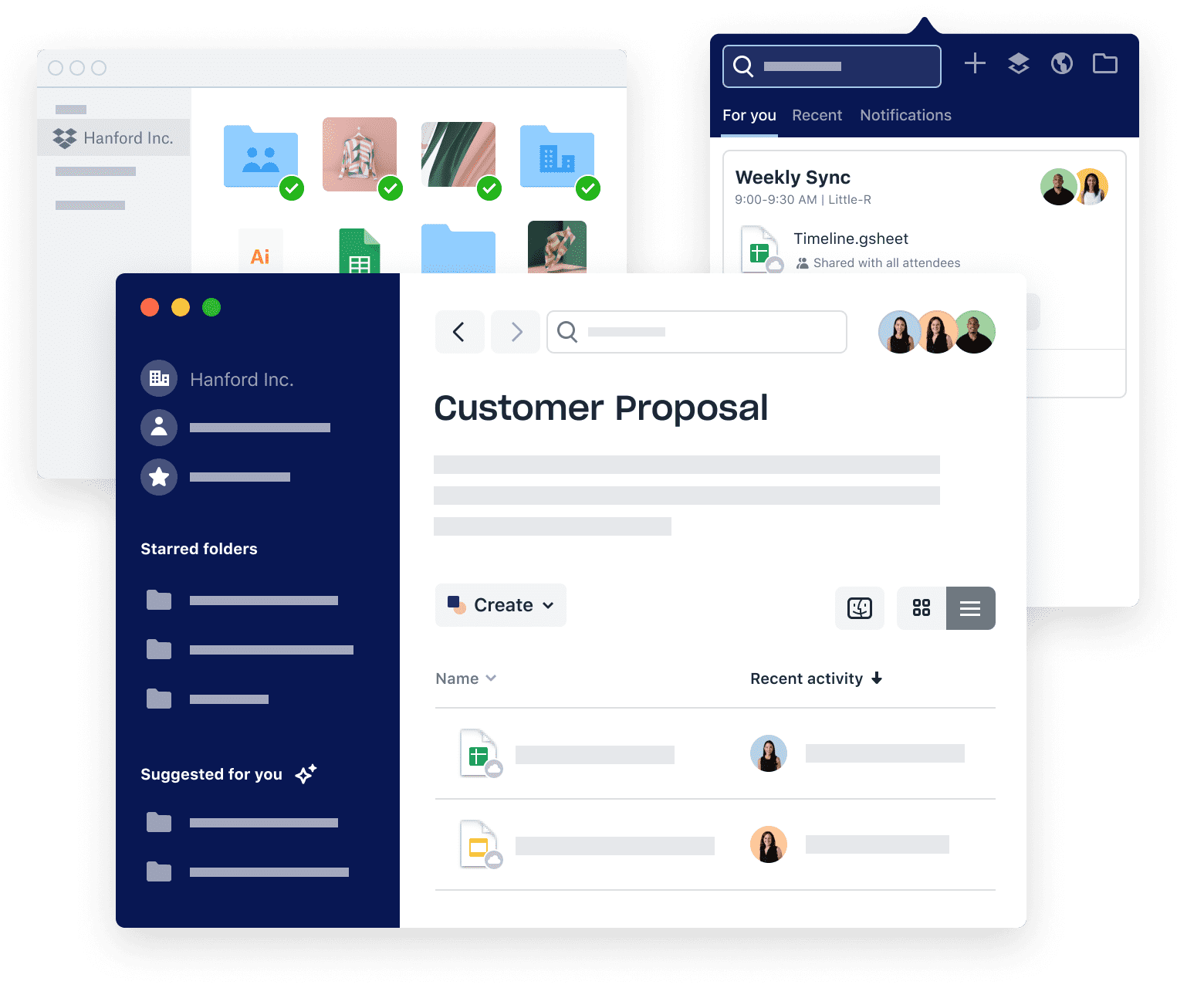 There's a reason Dropbox is trusted by massive brands and agencies, like Dentsu, all over the world. Over 500,000 teams are currently using Dropbox, and it's because the file storage solution is simple and straightforward while also being robust enough to handle more complicated storage and file management. Bonus: Check out Dropbox Paper if you want a note-taking tool for your agency.
Some features of Dropbox include:
Stress-free file sharing stored in the cloud that can be shared with anyone, even if they don't have Dropbox

Create shared team folders with Dropbox cloud solution for teams

Manage folder permissions so only specific people can access sensitive information

Sync files across devices and platforms

Get offline access to files across devices
3. Hubspot
Best CRM for agencies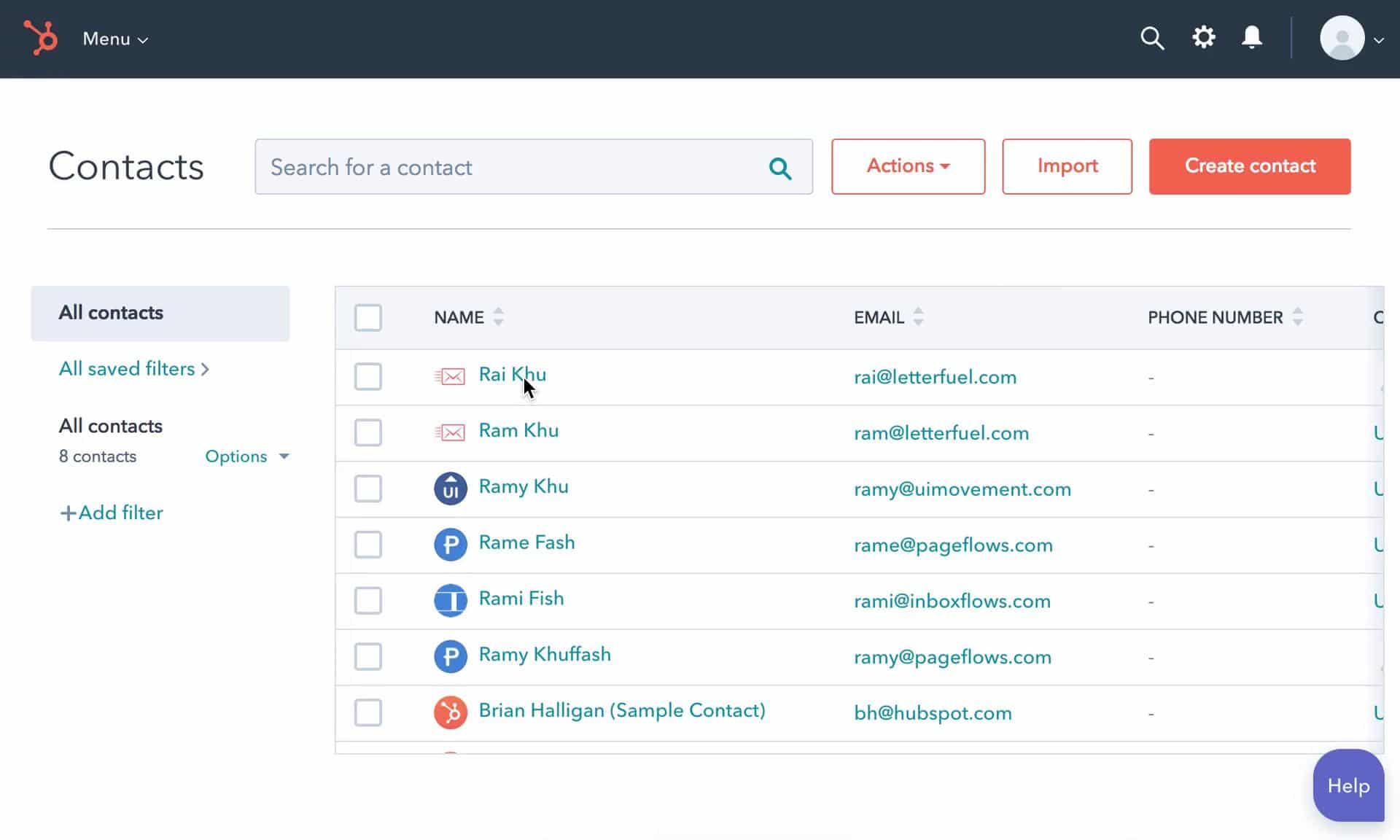 For agencies all over the world, having a CRM, or customer relationship management platform, is critical when you're pitching business and tracking customer engagement. Hubspot's CRM is a great tool for agencies because it's free, and has a lot of the basic functionalities you'd need to track pipeline and log sales activity.
Some features of Hubspot include:
View up-to-date sales information on a customized dashboard

Store all customer information and data

Tracks customer interactions automatically

Sort by deals won, meetings scheduled, or quota performance
4. SEMrush
Best SEO tool for agencies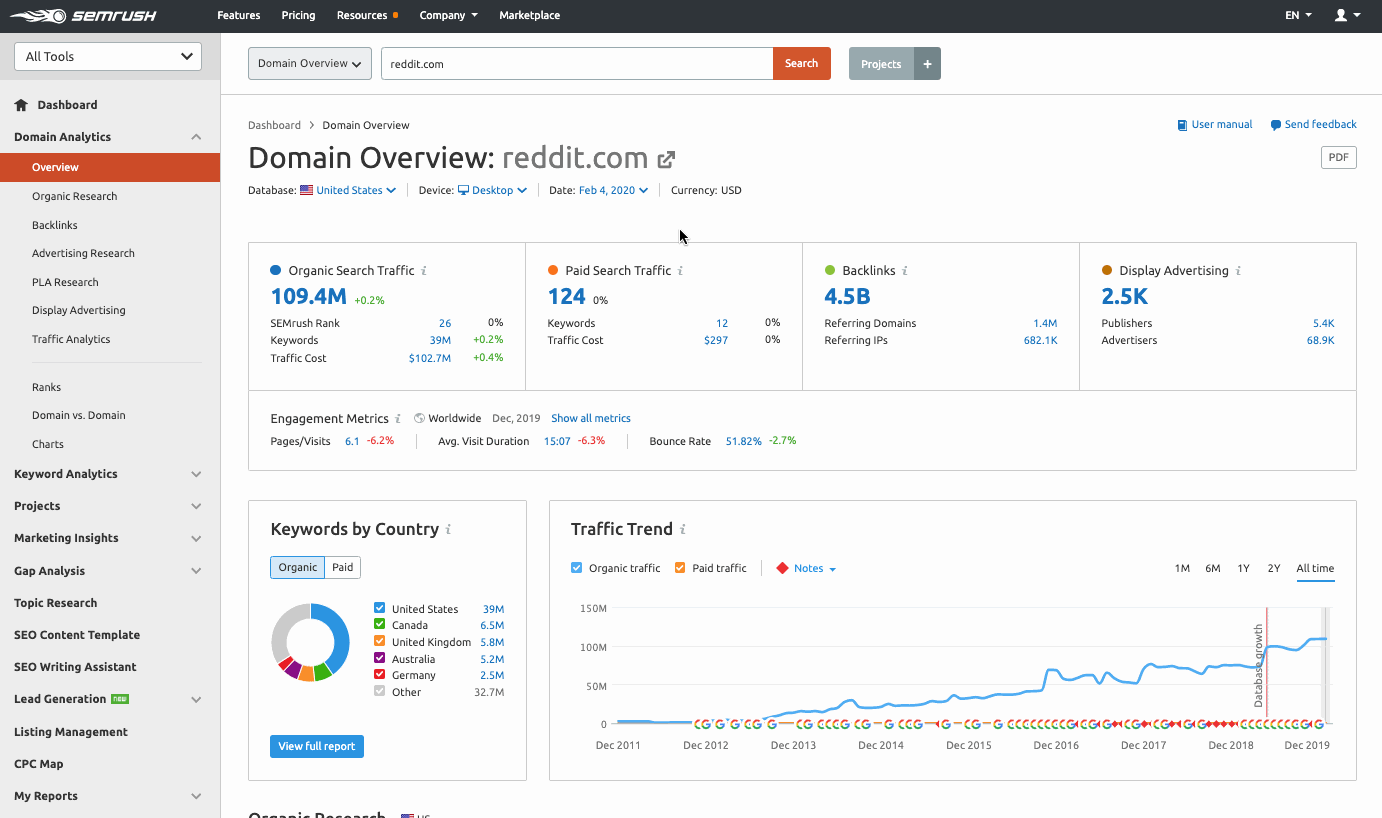 SEO and content development or management can be a large part of an agency's day-to-day, especially for a SEO company or content-specific agencies. SEMrush is amazing for agencies of all sizes, as it allows you to track and leverage actionable SEO insights for your clients. Check this in-depth Semrush review to learn more about the tool. 
Some features of SEMrush include:
An SEO dashboard that includes macro-level keyword and ranking insights for your client

In-depth traffic analytics

Site audit capabilities

SEO content templates
5. SE Ranking
Best all-in-one SEO tool for agencies of all sizes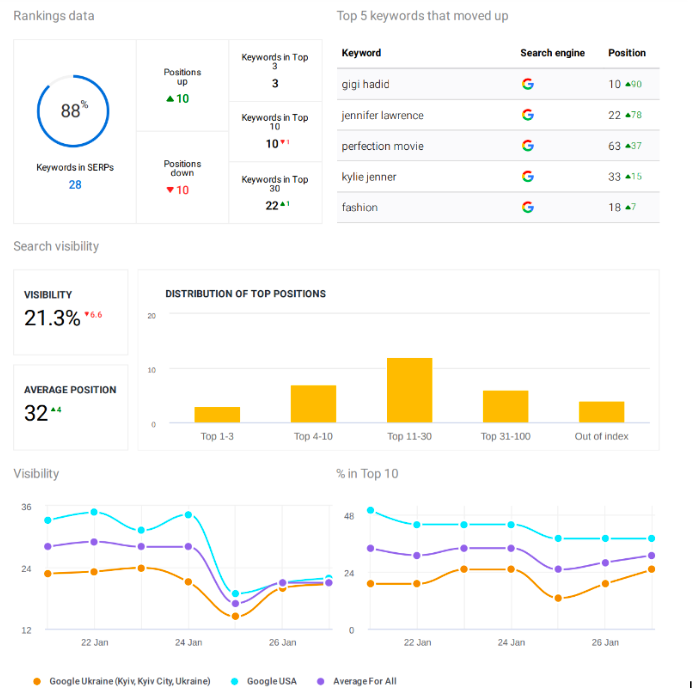 SE Ranking is an SEO platform offering flexible pricing plans and generous subscription limits, making it an excellent solution for all agencies, whether it's a small boutique firm or a large B2B digital marketing agency. It provides a complete and customizable set of SEO analytics and monitoring tools to provide all the data you need to build a robust SEO strategy. SE Ranking covers you: from accurate website position data and comprehensive technical audit reports to thousands of keyword ideas and competitor insights.
The tool integrates with Data Studio (now Looker Studio) and connects with Google Search Console and Analytics. The best part? You can combine all the data on a single dashboard. Intuitive drag-and-drop reports will satisfy even the most demanding clients with informative graphs and accurate data – you can schedule automatic SEO reporting or download reports immediately as a PDF, HTML, or XLS file.
Some features of SE Ranking include:
All major SEO tools within a single environment: Rank Tracker, On-Page SEO Checker, Keyword and Competitive Research, Backlink Checker, Content Marketing Module, and more.

One of the biggest databases of keywords and backlinks.

White-label SEO functionality.

User seats and guest links allow your team and clients to work effectively together and easily access any project.
6. Slack
Best agency tool for instant messaging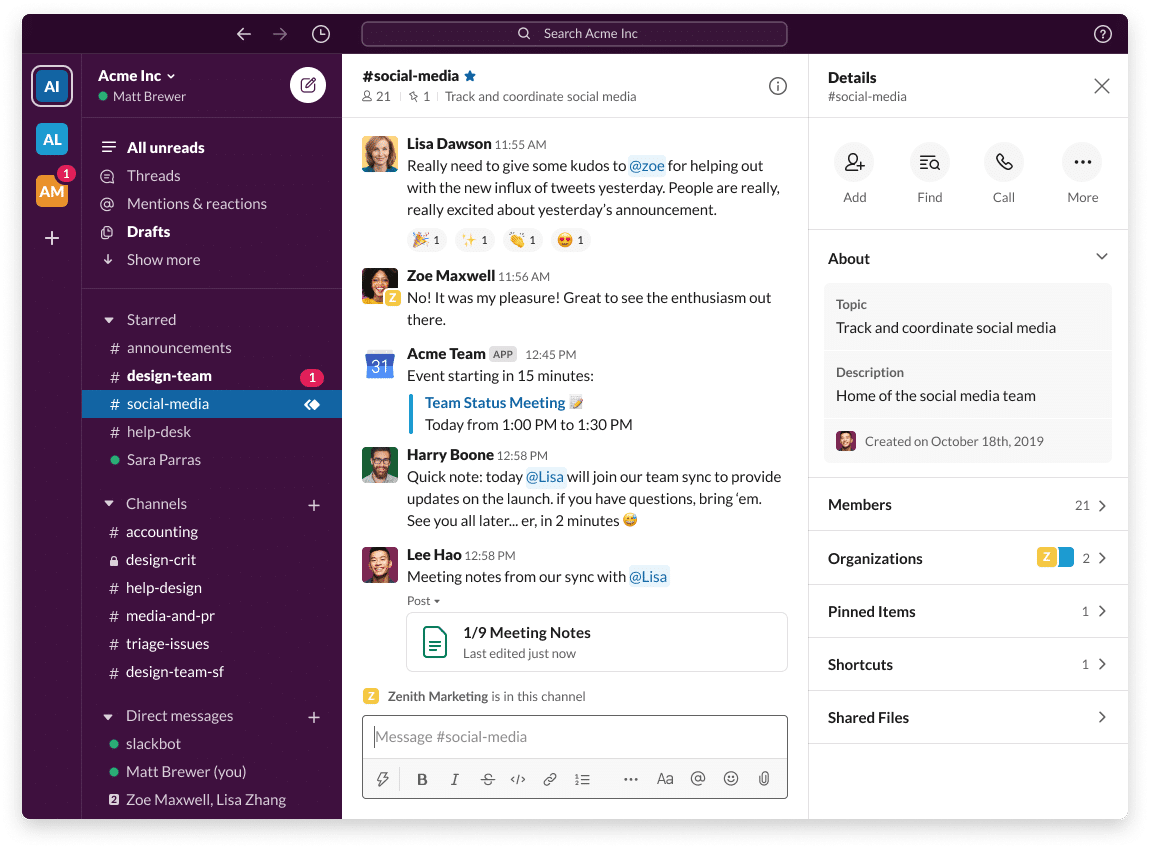 With so many moving parts constantly in flux at an agency, having a centralized place where individuals can communicate is key. Slack is great because you can individually message people, group chat, or set aside "channels" for your whole team. No matter what your agency focus is, Slack is a great way to facilitate collaboration and get work done. Many types of SEO teams, Saas SEO agencies, content marketers, and link-building communities use Slack these days. 
Some features of Slack include:
Channels which serve as a central space for communications, file sharing, and news

Chat for quick one-off messages with a colleague

Video and voice calls through integrations with tools like Zoom, Microsoft Teams, and Cisco

Integrations with over 2,200 tools including Hive and OneDrive
7. Google Analytics
Best agency tool for analytics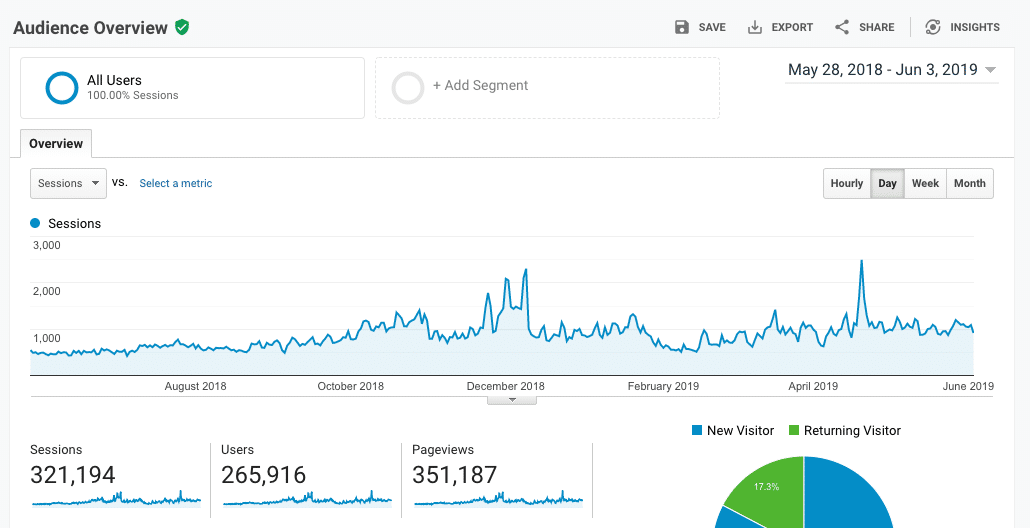 Google Analytics is a basic marketing and analytics tool that is absolutely necessary for any businesses who have a digital presence — if you're an agency, you should be able to use GA to understand your client's customer base, how they operate, and what parts of the site they resonate with. After you've hooked your client's website up to Google Analytics, you can easily track visitors and parse in a variety of ways, including by if they're new users, their source, and if they've made a purchase from your online business on Google Shopping, for example.
Some features of Google Analytics include:
Real-time tracking of traffic on your or your clients website
Ability to create custom reports based on traffic by source, URL, and more
Conversion tracking reports
Ability to set goals in-platform
8. Hootsuite
Best agency tool for social media scheduling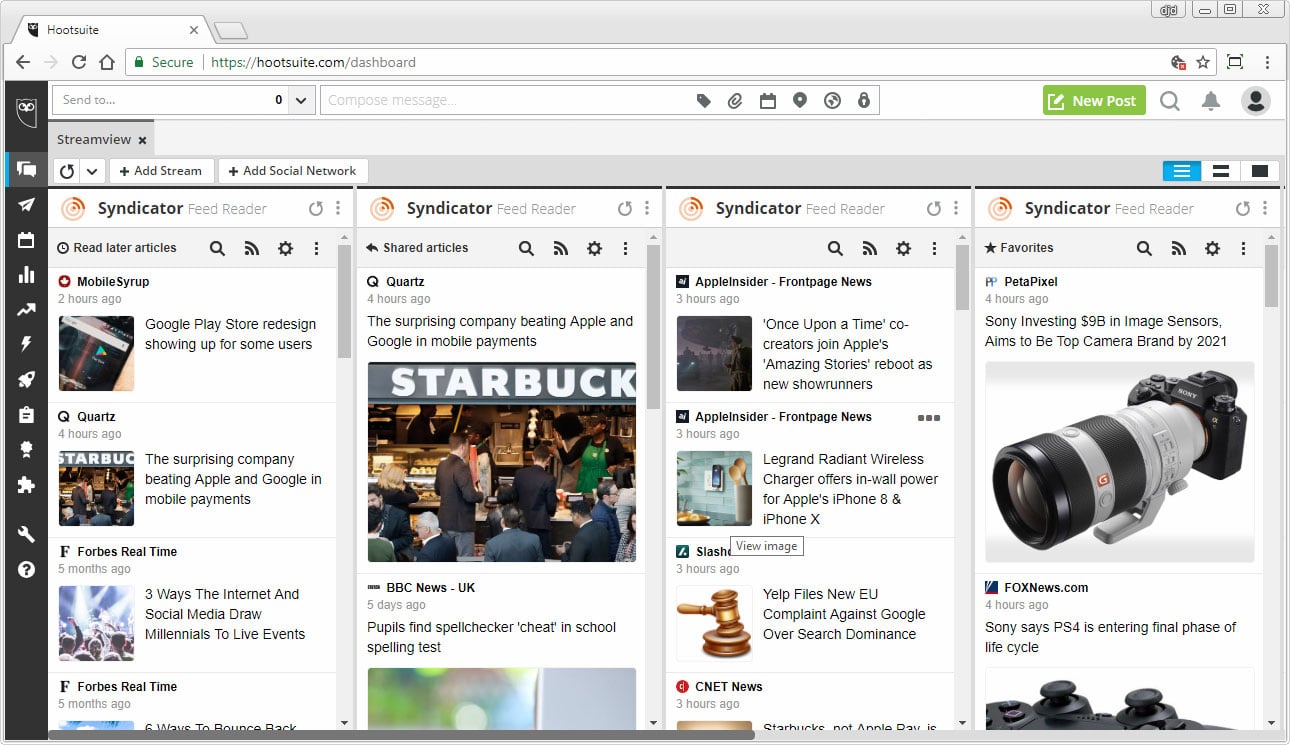 Hootsuite is a social media marketing and management dashboard that helps you plan and schedule social posts across networks — critical for any agency that is managing a client's social media. It is one of the first tools to allow easy scheduling for social posts, which will save your social media manager tons of time. This tool also provides clear post performance analytics that help your team dissect successes and failures in your social media marketing strategy, and plan for improved reach in the future.
Some features of Hootsuite include:
Ability to plan and schedule social media posts across platforms
Monitor trending topics on social media
Analyze past performance across platforms
Integrate with over 250 tools in the Hootsuite ecosystem including Canva and Adobe
9. Zoom
Best agency tool for video collaboration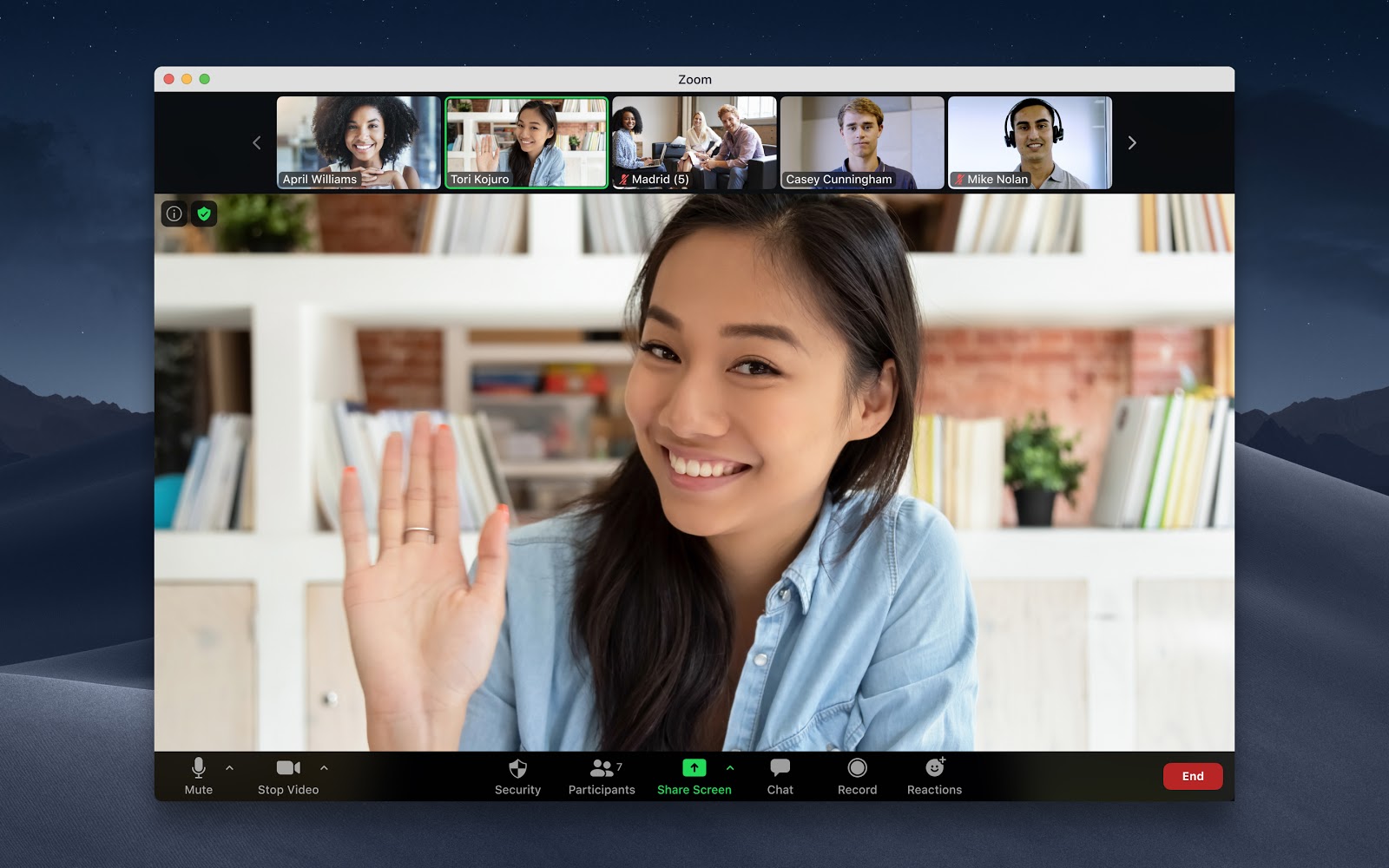 Zoom is an incredible video collaboration tool that lets you meet virtually with participants from around the world. Since companies all over the world went remote in the wake of COVID 19, Zoom has become a great agency tool for creative teams across the globe.
Some features of Zoom include:
Interactive screen-sharing on video calls
Virtual backgrounds that individuals can upload
Breakout rooms customizable for each meeting
Chat window for group participants
Ability to record meetings and save for future use
10. ControlHippo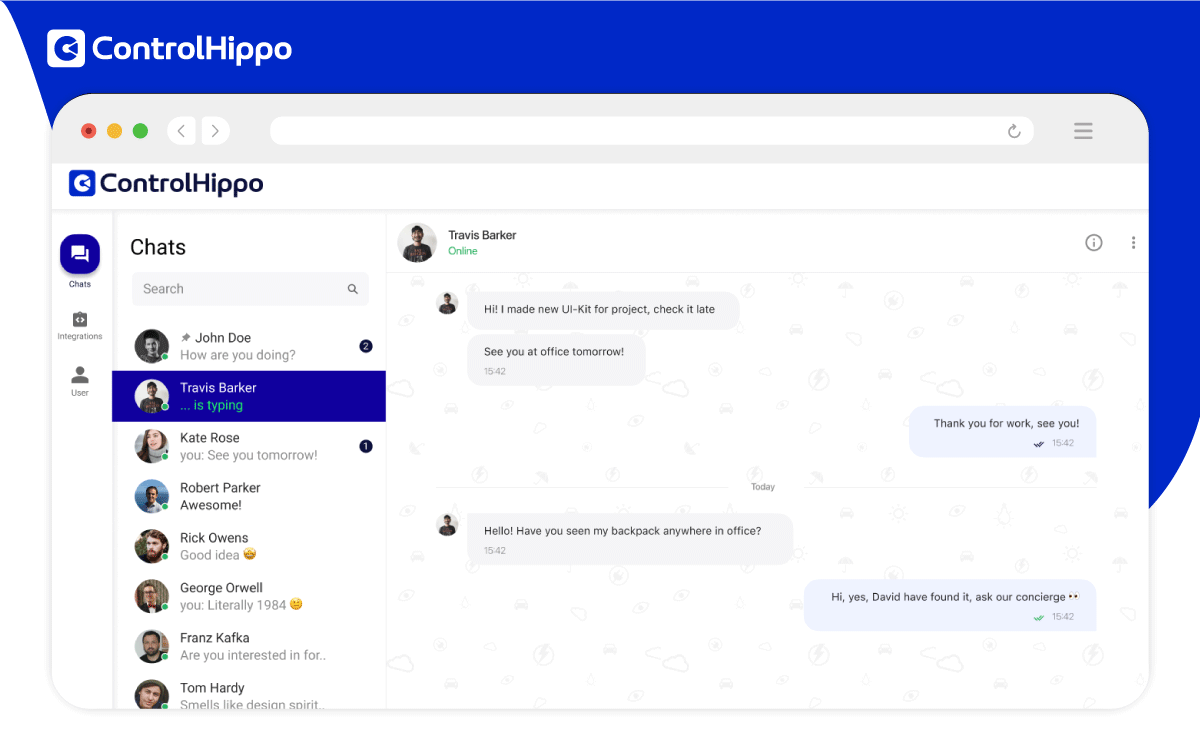 Best tool to manage WhatsApp communications
If your agency communicates with clients via WhatsApp, this tool is for you. ControlHippo is a robust web-based platform created to centralize and streamline WhatsApp conversations. It functions as a virtual inbox for WhatsApp, allowing businesses to access and manage various WhatsApp accounts and conversations centrally.  Using the most widely used messaging app in the world, ControlHippo can help you improve your customer service, support, sales, and engagement. 
Ability to manage multiple WhatsApp accounts simultaneously

Easy consolidation of all your WhatsApp conversations in a single unified box

Ensured streamlining of teamwork and improved collaboration

Automated response feature to create predefined replies to common queries
11. Loom
Best tool for agencies to communicate asynchronously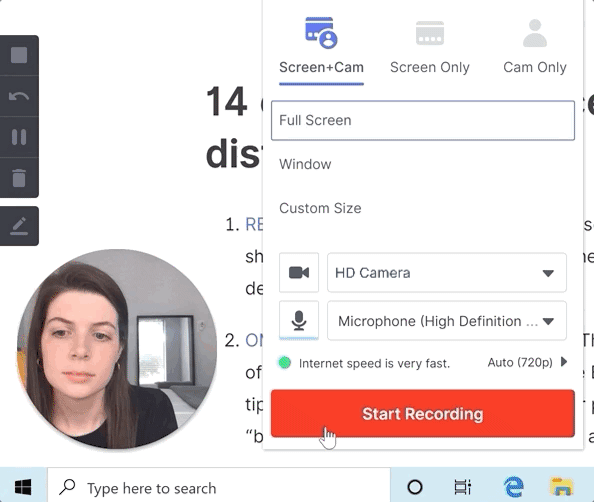 Loom is a great tool for async communication because it allows you to record video tutorials or videos of yourself sharing information with colleagues. For agencies, this is extremely helpful as it can be used internally, or as an updating mechanism for clients. Everyone is familiar with clients who want daily updates and have a high attention to detail — but scheduling 30 minute calls every day just isn't realistic. Instead, you can use Loom to record a message for them and update them on all of the progress.
Some features of Loom include:
Ability to record video messages of your camera or on-screen
Chrome integration that makes it easier than ever to record
Easy-share links of your videos that can be copied and pasted
12. Internxt
Best For: Storing and sharing files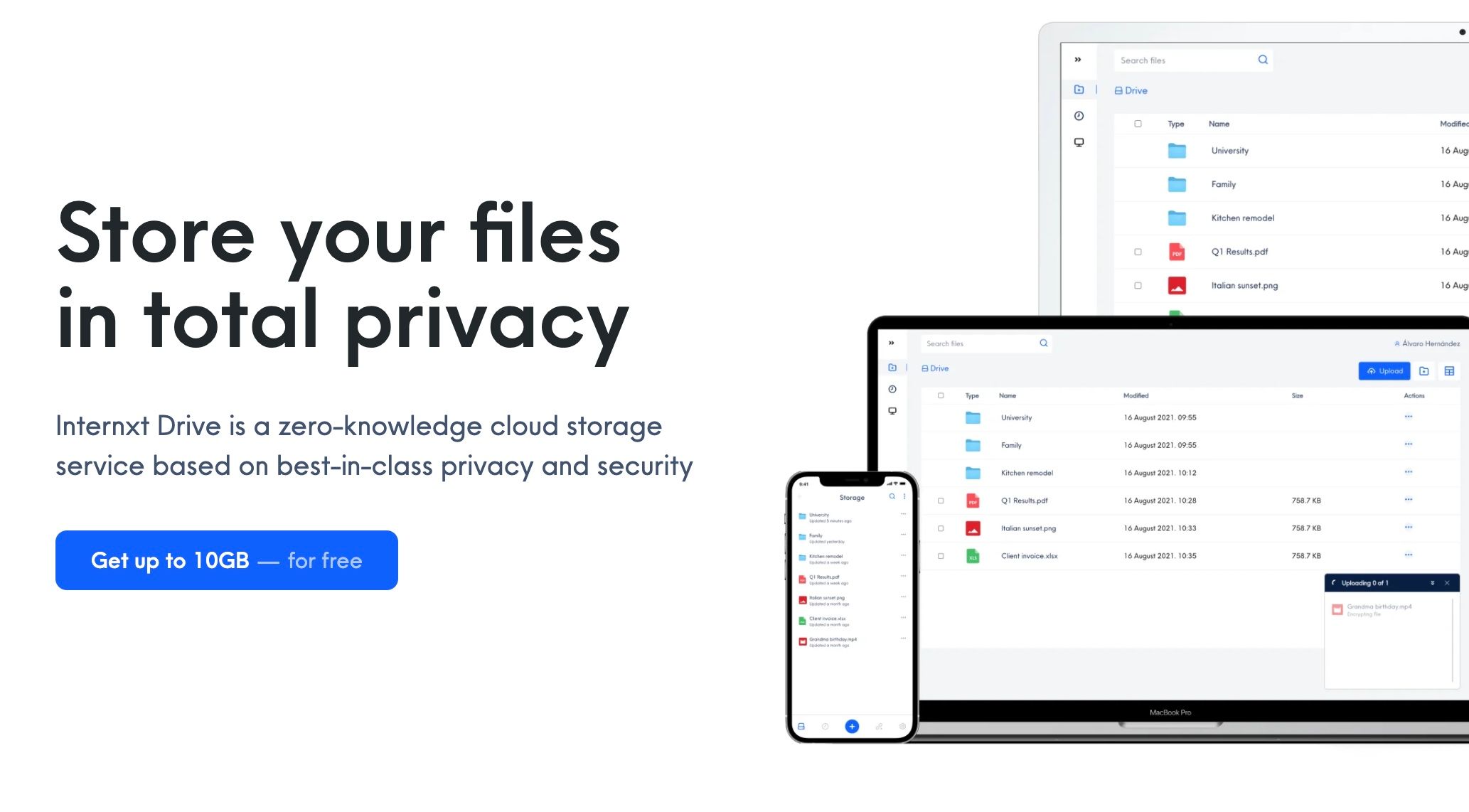 Internxt is an open-source cloud storage service designed specifically for safety, security, and privacy. Committed to the protection of fundamental digital rights, Internxt is an ethical alternative to cloud services offered by money-hungry Big Tech companies looking to cash in on user data. 
Unlike most online services nowadays, Internxt users are in complete and total control of who gets access to their information. All data stored and shared is end-to-end encrypted, so absolutely no first or third-party access to files ever. The service even grants users the ability to limit the number of times a file or photo can be shared.
Internxt is intuitive and easy to pick up and get going on any device. The cloud also seamlessly integrates with other popular services like Google Drive, Microsoft OneDrive, Dropbox, and Apple iCloud, making moving files effortless.
Cost: Free 10GB forever and paid plans start at 20GB for $1.15/month. Annual and business plans are also available.
13. Unbounce
Best tool for creating landing pages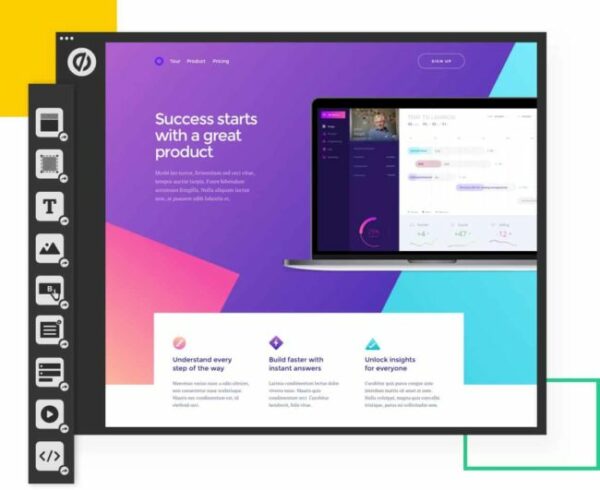 Unbounce is a landing page platform that is great for marketers and agencies who manage campaigns and programs online. Great landing pages can help agencies launch campaigns faster, and therefore start providing results for clients ASAP. This software makes it easy for anyone at your agency to create custom, high-converting landing pages, regardless of background or design experience.
Even more, the Unbounce account structure makes campaign management and client collaboration as seamless as possible. There's a reason why it's considered a top landing page platform on the market.
Some features of Unbounce:
100+ customizable templates to launch pages sooner
A/B testing to help optimize campaigns
User permissions let you tailor client access to each campaign
Lead notifications sent to clients in real time
14. Zapier
Best tool for automating agency tasks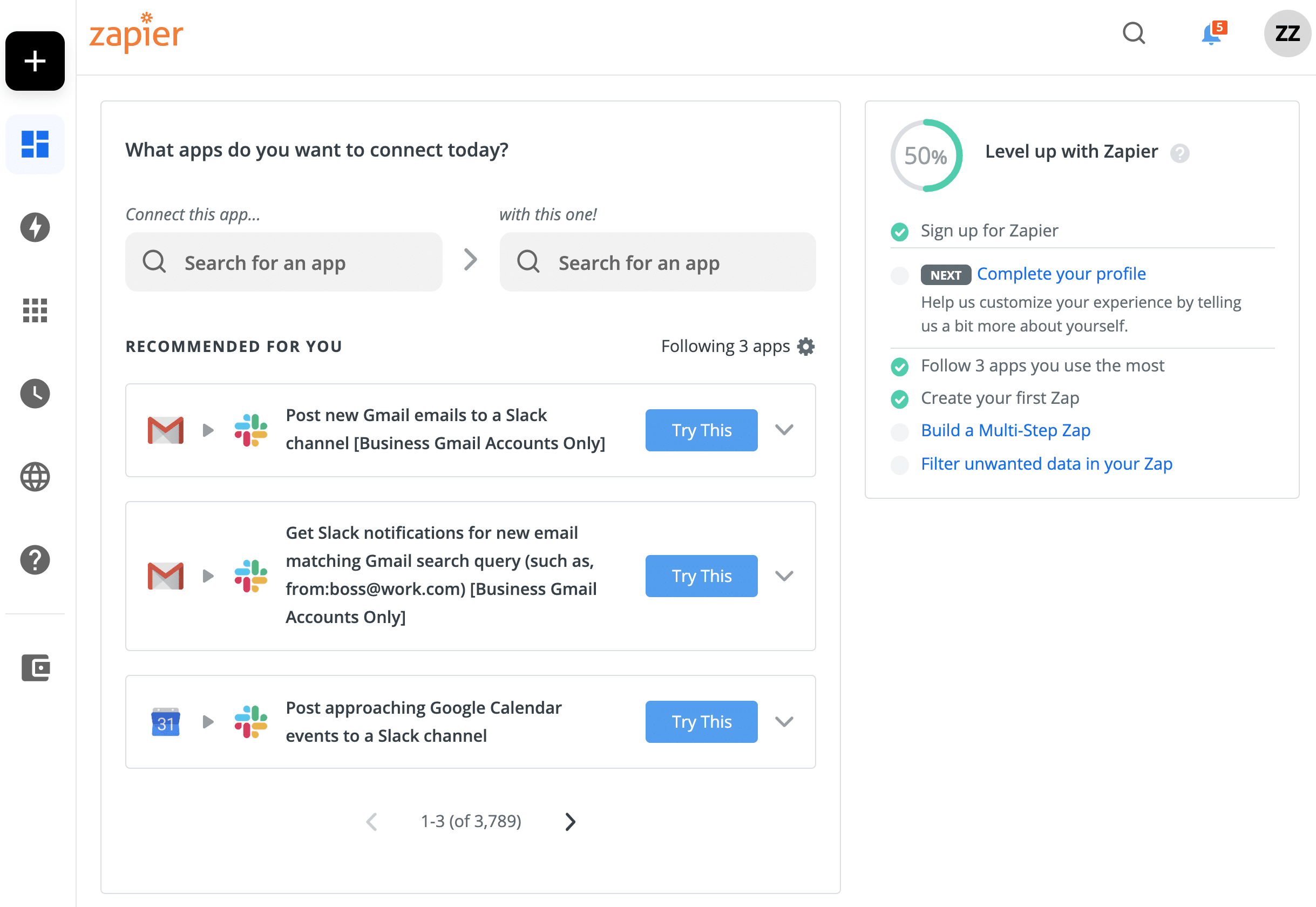 Zapier is the easiest way to automate your work. It's ideal for agencies who are working on lots of different tools and want a way to connect them all seamlessly. The first step of building a connection with Zapier is to integrate the two tools you're looking to connect, which can be done with a few clicks — this lets them share date. Next, you can automate your work by passing information between the two apps. From there, you can create full workflows.
Some features of Zapier:
Set a trigger to set off a series of straightforward actions
Finish routine tasks automatically with Zapps
Integrate over 3,000 apps
15. MobileMonkey
Best online chatbot tool for agencies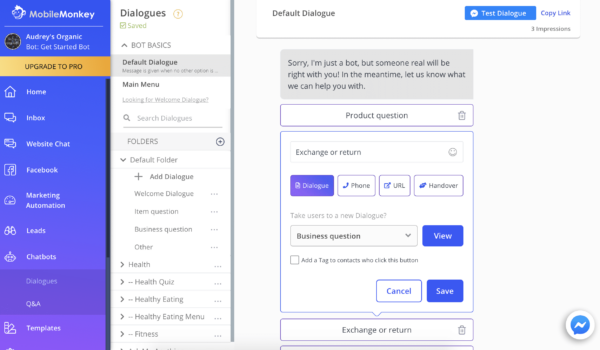 MobileMonkey is an online chatbot platform that provides digital marketing, sales, and customer support. This chatbot is especially great for agencies, as it helps retain clients longer as you drive meaningful results like increased lead volume, higher ROAS for Facebook Ads, and lower CPA. With MobileMonkey, you can use chatbots to capture leads, automate instant FAQs, book appointments, download digital resources, and register participants for webinars.
MobileMonkey even offers a special Team Plan for agencies, which gives you access to advanced marketing automation features, revenue sharing as an affiliate partner, and access to additional leads from the MobileMonkey Agency Directory.
Some features of MobileMonkey:
Omnichat technology, which lets you manage Facebook Messenger, Instagram messaging, live chat on websites, and SMS text message marketing from one single platform
Mobile Monkey and Zapier Integration lets you connect 1000+ apps
Mobile app lets you manage your multi-channel chat inbox from wherever you are
16. Scoro
Best Tool For Agency Business Management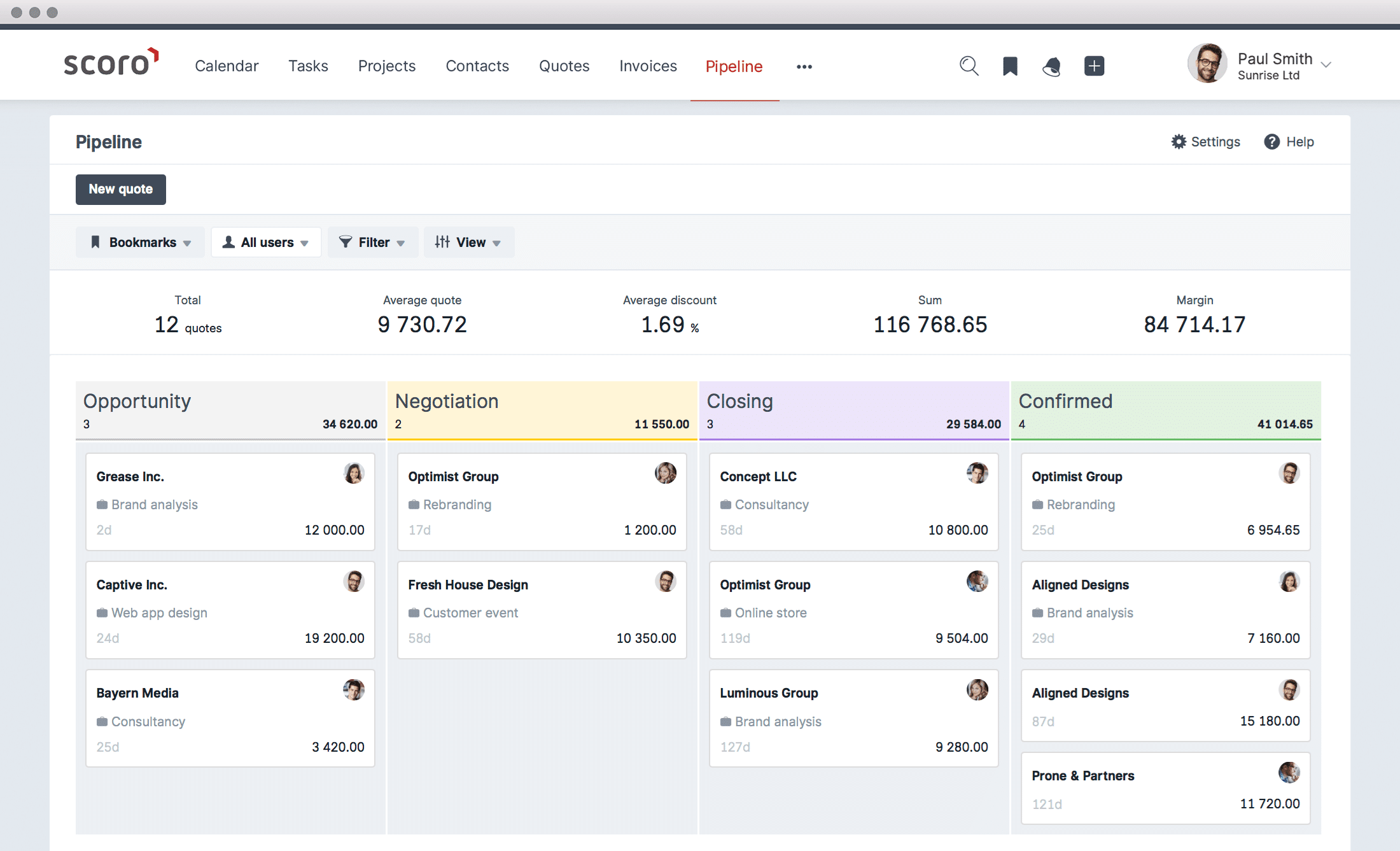 Scoro is a work management software that helps professional service businesses — including agencies — streamline every aspect of the business. Scoro acts as a one-stop-shop for agencies, bringing many different tool features into one single control hub. Scoro can help agencies manage projects, track sales and daily activity, and measure profitability based on time spent and billed. It's an end-to-end work and project management tool with the power to transform the way an agency operates.
Some features of Scoro:
Time management features include shared calendars, timesheets, and a built-in time tracker
Real time Gantt chart tool for collaborative project management
CRM features give 360 degree view of every contact
Track deals and opportunities in real-time to optimize deal velocity
17. Dialpad
Best hub for agency business communication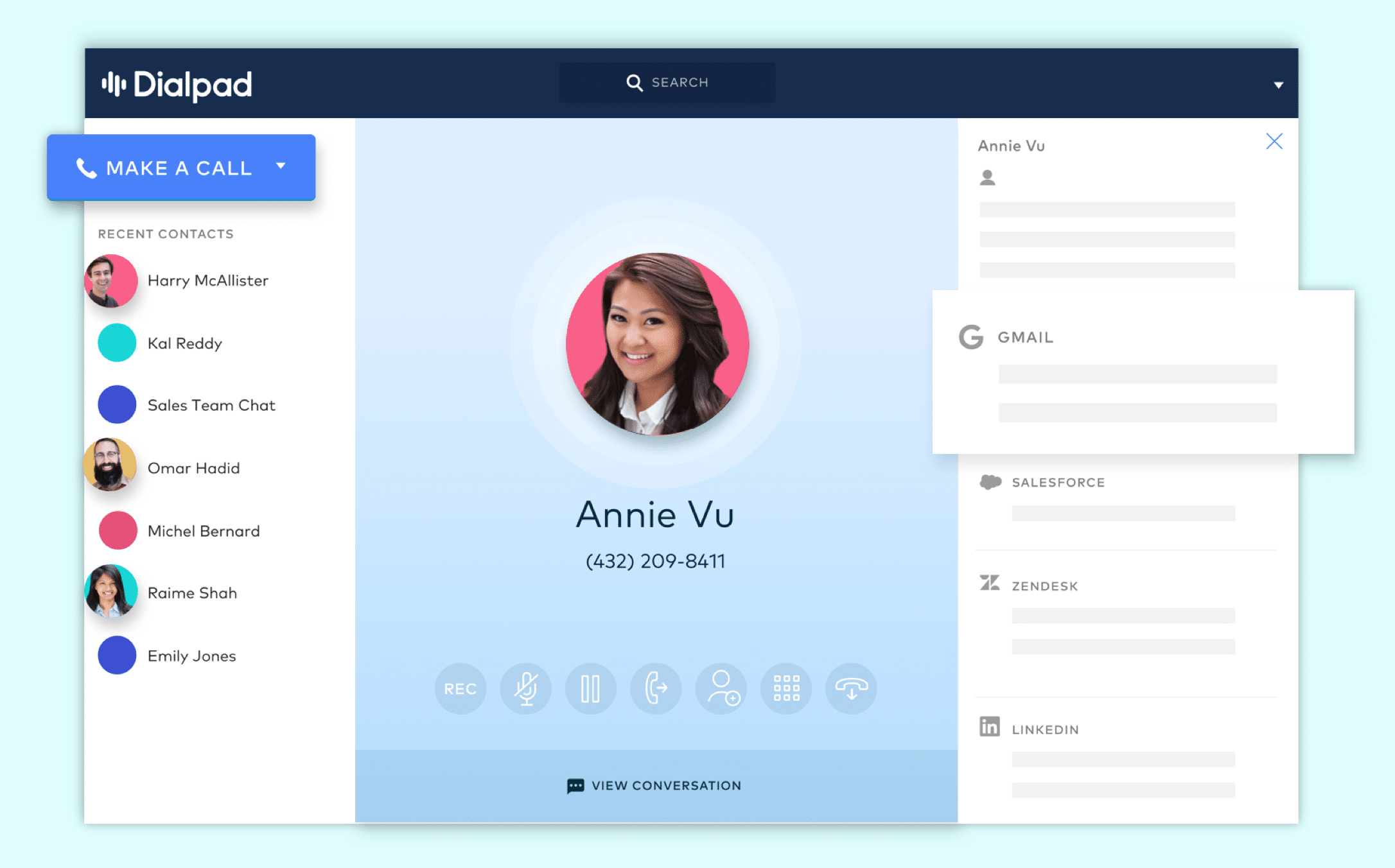 Dialpad is a business communication tool that meets all of your organization's needs with one single app. Whether it's internal meetings, customer service calls, sales outreach, or day to day conversations, Dialpad has a solution to help everyone on your team communicate effectively online. No matter what kind of business your agency is in, Dialpad offers a flexible and reliable platform that keeps your conversations and colleagues connected, regardless of where everyone is working from.
Some features of Dialpad:
Cloud phone system to make phone calls from anywhere, on any device
Video meeting tool with built-in AI
Messaging platform that supports 1:1 chats, group threads, and channels
18. Help Scout
Best tool for collaborating with clients over email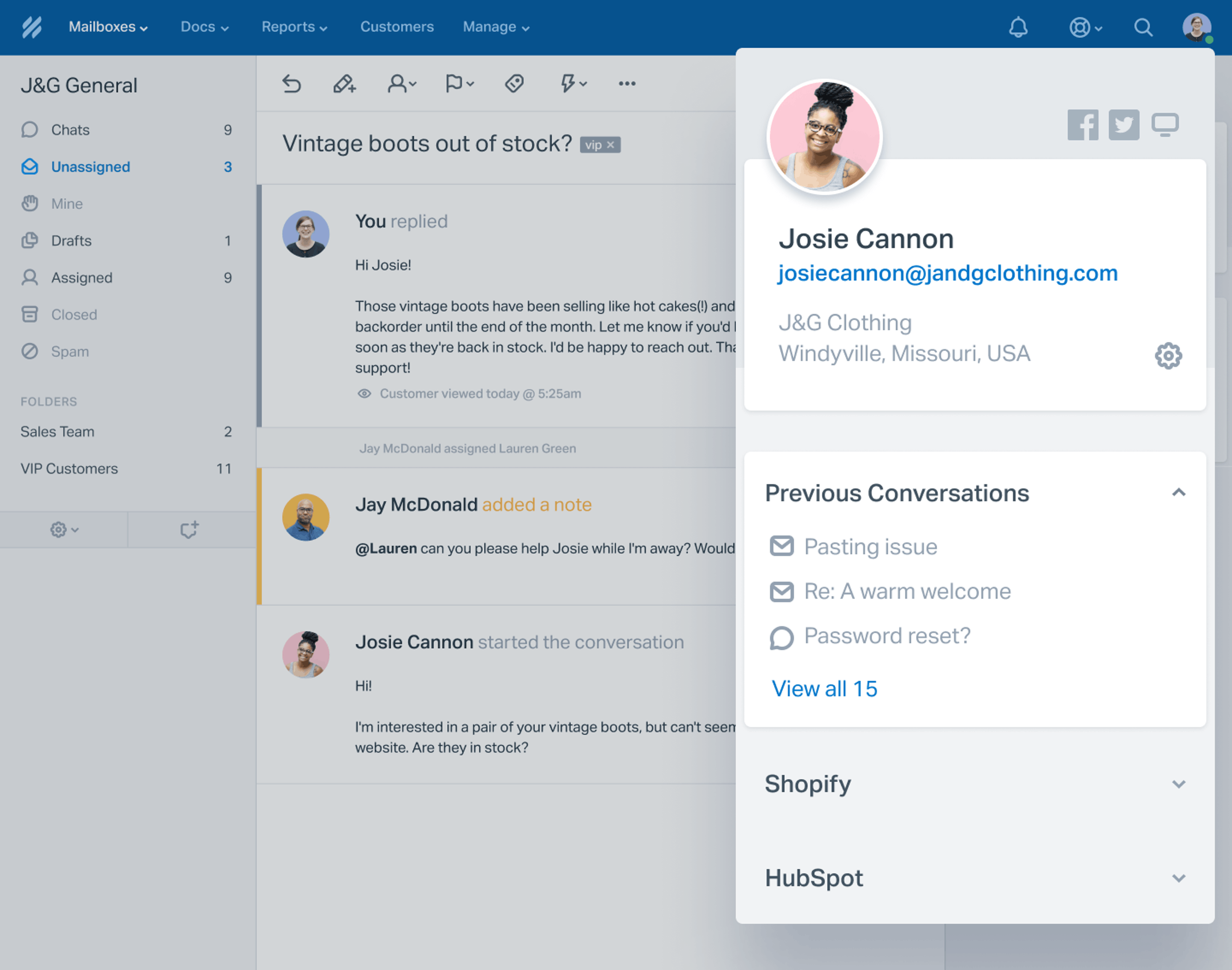 A popular Zendesk alternative, Help Scout is a saas helpdesk tool that helps agencies streamline email communications with clients. Use Help Scout to create one or more shared inboxes that let everyone on an account send emails to and receive emails from clients. You also get collaboration tools like collision detection that show you when someone else is actively replying or has already replied to an email, helping prevent duplicate responses and work.
Some features of Help Scout:
Shared inboxes that allow account teams to manage all email communications in one mailbox, making it easy for others to step in when someone is out of the office.
Proactive messages that let you engage prospects while they're browsing your site—share relevant content or encourage them to start a live chat conversation.
Integrations with 90+ apps like HubSpot, Mailchimp, Asana, and Slack.
19. DataFeedWatch
Best feed management tool for agencies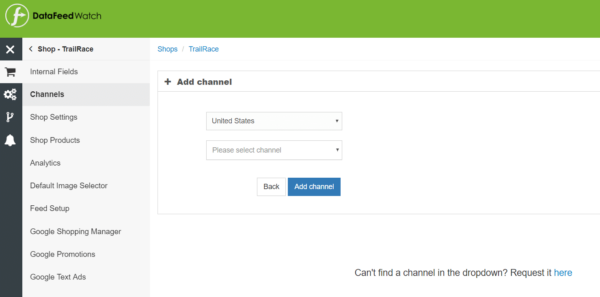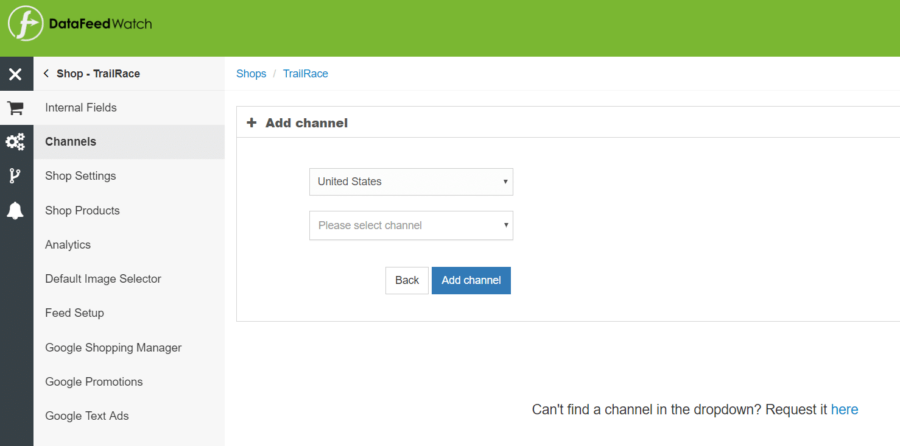 With online shopping becoming more of the norm, establishing a multichannel selling strategy is a must for advertisers. Optimized product feeds are the foundation to any successful PPC campaign. With DataFeedWatch you can create fully optimized product feeds based on your existing data and then send them to the channels like Google, Facebook, Instagram, and more. It's a perfect tool to manage the performance of thousands of products across multiple channels.
Some features of DataFeedWatch include: 
Create, manage and optimize feeds across your entire client portfolio with sub-accounts for your staff and your customers
Save time by creating universal feed rules that will work with any channel of your choice
Accessing and managing your clients' accounts – simplified
Flexible and custom-fit plans adapted to grow your customer base at your own pace
20. Snov
Best email verification tool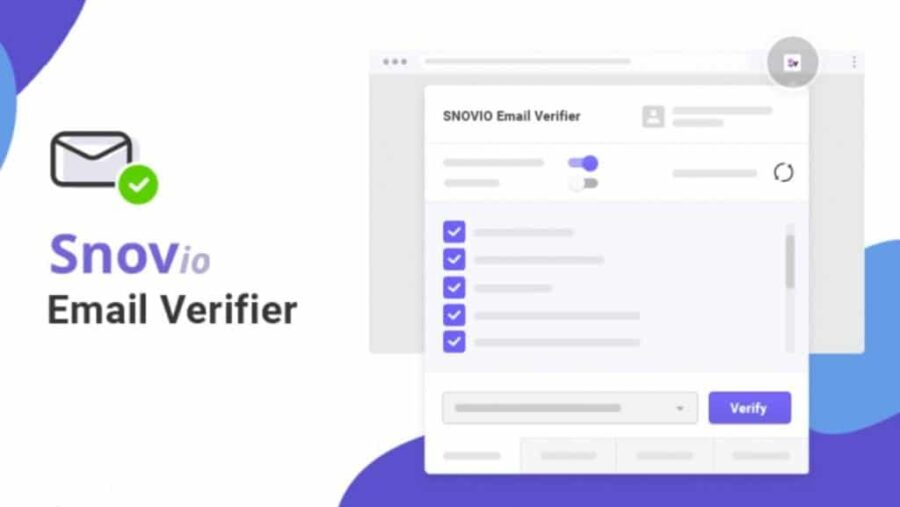 Email verification software is a useful tool that helps marketing and sales professionals check the validity of the email addresses in their mailing lists. This is extremely important for agencies who work with large mailing lists or need to confirm email addresses ahead of a campaign. Snov is one of the most popular email validation software that is used by more than a thousand professionals. Just last year alone, Snov verified over 90 million emails.
Some features of Snov email validation include:
Individual email checker
Bulk email verifier
Catch-all email and domain check
21. Renderforest
Best online branding platform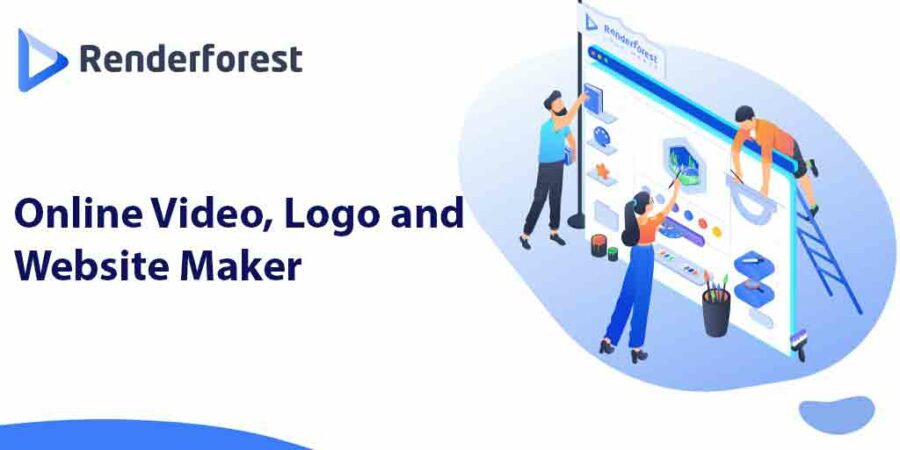 Renderforest is an all-in-one branding platform that enables you to create studio-quality tutorial videos, explanatory and promotional videos, interactive landing pages, and social media posts. It's ideal for marketing agencies, as well as any type of company with a marketing department that is looking to ramp up its branding with professional assets and visuals. With Renderforest, you can easily customize their templates to create landing pages, videos, logos and more ⁠— for a fraction of the cost of hiring a design professional or UX UI design agency. 
Some handy Renderforest features include:
Over 50.000 quality templates 

Ability to create unlimited 360p videos 

Simplified website builder
Online animation, video, and logo makers
22. Planable
Best social media pricing calculator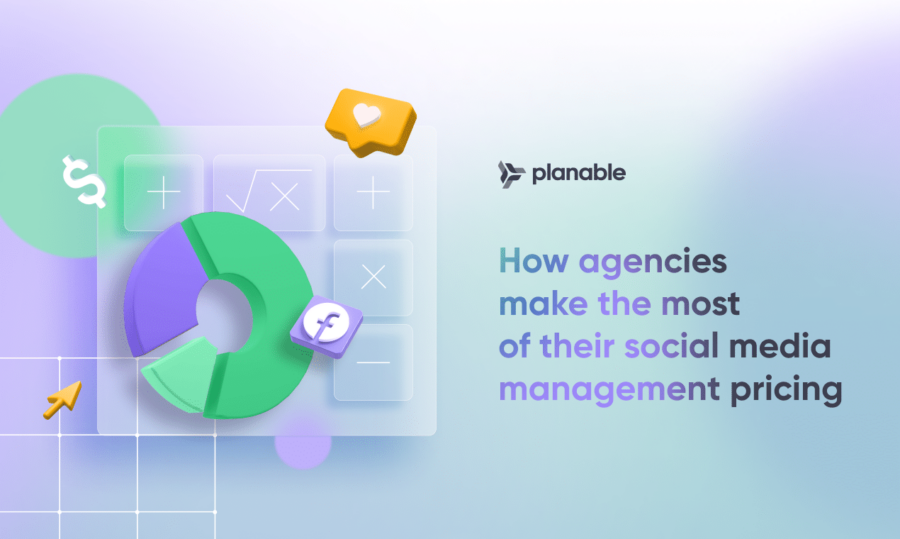 Pricing social media services correctly is probably one of the most important aspects of running an agency. It's also quite tricky, as prices may vary depending on the nature of the task, difficulty, number of people involved, and other factors outside their control. 
Developed by Planable and the pricing experts at Soft Fight, this social media pricing calculator uses a complex algorithm that determines the ideal pricing range for your social media services. It taps into 3 different sources to gather its data. Once you input all the relevant information, the calculator will determine an optimal pricing range for your social media services. It takes several variables into account, from costs, the quality of the work you provide to perceived value, and competition. 
Some features of Planable's pricing calculator include:
Intuitive, easy-to-use UI

Comprehensive, free e-book upon completion which covers pricing-related subjects

Powerful algorithm based on 3 data sources 

Sixteen variables to determine pricing ranges
Plus, is free to use and you get a free e-book about pricing models and strategies.
23. FlexClip
Best tool for editing videos from templates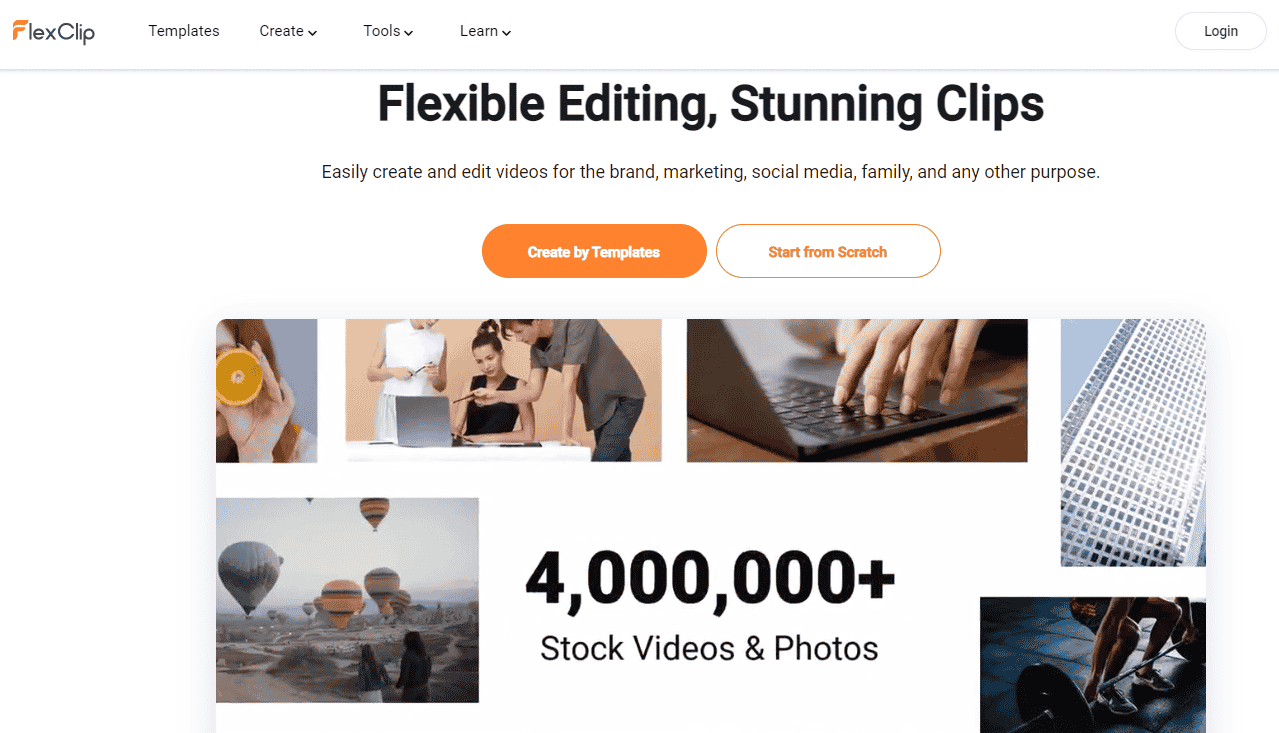 FlexClip is best suited for agencies, marketers, and publishers to create a branded content strategy to engage customers. The platform is most used by media companies and small businesses to get more leads and improve business revenue. In addition to the free version, the paid subscription starts at $5.99 a month.
This tool allows you to turn your ideas into how-to videos in minutes, even if you've never edited before. A collection of over 3,000 fully customizable templates is available for most sectors and situations, as well as a library of predefined elements such as CTAs (calls to action), stickers, layers, and more than 4 million images, video clips, and music that you can combine to create whatever video you need.
Some features of FlexClip include:
3000+ predefined video templates

Over 4 million royalty-free video and image clips

A cool collection of text animations, elements, transitions, etc.

Automatic background remover tool

A powerful yet intuitive editor that will allow you 100% customization

Share videos seamlessly
24. Linkody
Best Backlink Tracking Tool for SEO Specialists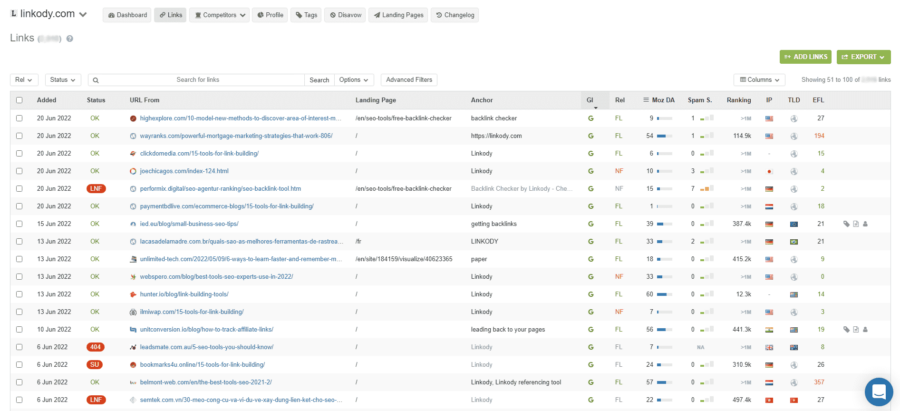 Linkody is a straightforward tool for backlink tracking and management with a plethora of features to quickly identify, analyze, and easily manage all your links and domains. It is a full-service tool that allows you to keep track of your link-building activities – you can get notified when you gain or lose a link, acquire insight into competitors' backlinks and backlink profiles, generate PDF reports for your clients, and create disavow files that are ready for upload into Google. This makes the link-building process all the more efficient as you can effortlessly keep track of your collaborations and systematically save your progress to ensure you never lose any link.
Some features of Linkody include:
Link status check (do-follow/no-follow, link not found, 403, 404, etc.)

Wide range of metrics (Moz rank, DA, spam score, number of backlinks,

index checking

, etc.)

Landing page overview with focus keyword setup

Competitor analysis with shared domain and pages filters

Disavow check and document export options

Graphs, charts, and advanced analysis to help your link building strategies 
25. SEOptimer
Best for white-label SEO reports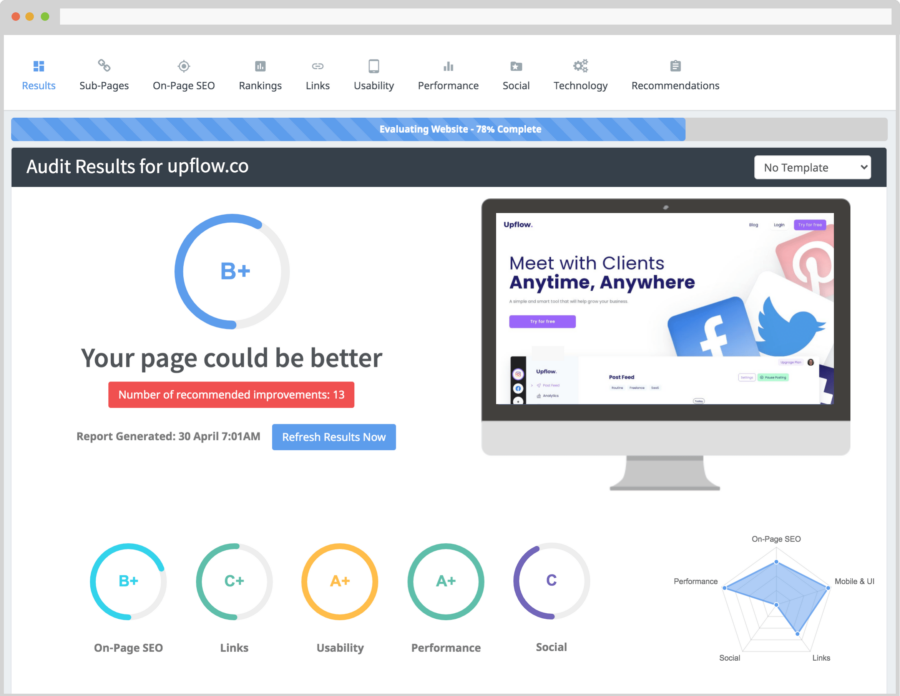 SEOptimer is an SEO audit and reporting tool for digital marketing agencies, specifically ones that work in content and SEO management. The tool can be used to create customized white-label SEO reports of any website. This general and local SEO audit tool checks the most important website data points to provide agencies with actionable steps on how to improve their clients' websites and increase search engine rankings.
Some features of SEOptimer
White Label Reports

Embeddable Audit Tool

SEO Crawler

Keyword Research Tool

Keyword Tracking Tool

Bulk Reporting

API
26. Grammarly
Best for making your writing more effective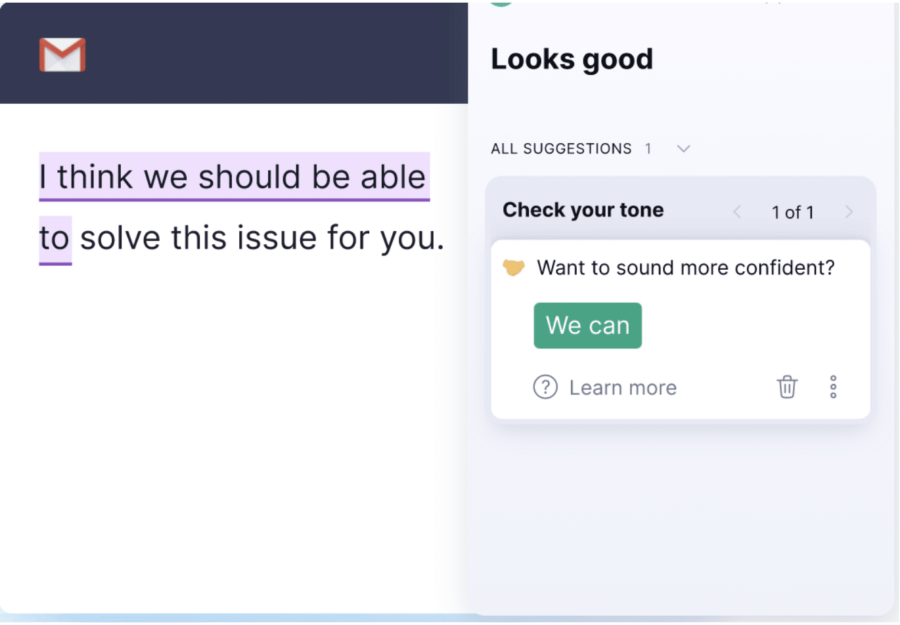 Using AI, Grammarly reviews your writing in real-time to help you get your message across with confidence and without grammar mistakes. The app checks any text's spelling, grammar, punctuation, clarity, engagement, and delivery mistakes. It quickly alerts the writer of errors and offers appropriate replacement suggestions so the user can review and approve the recommendations.
Grammarly users can also customize the tone and style and verify plagiarism in the paid version of the app. The tool is available for Android and iOs operating systems. Grammarly also runs in different internet browser extensions and offers keyboard integrations for mobile devices. The platform also integrates with popular word processing software such as Google Docs, Word, Salesforce, and Notion for a seamless workflow.
Some features of Grammarly:
Basic suggestions for grammar, spelling and punctuation

Use across apps, social media, documents, messages, and emails

Tone and clarity detection

Additional features like full-sentence rewrites, tone suggestions and more can be added with monthly plans available for individuals and businesses
27. Ryver
Best for messaging meets task management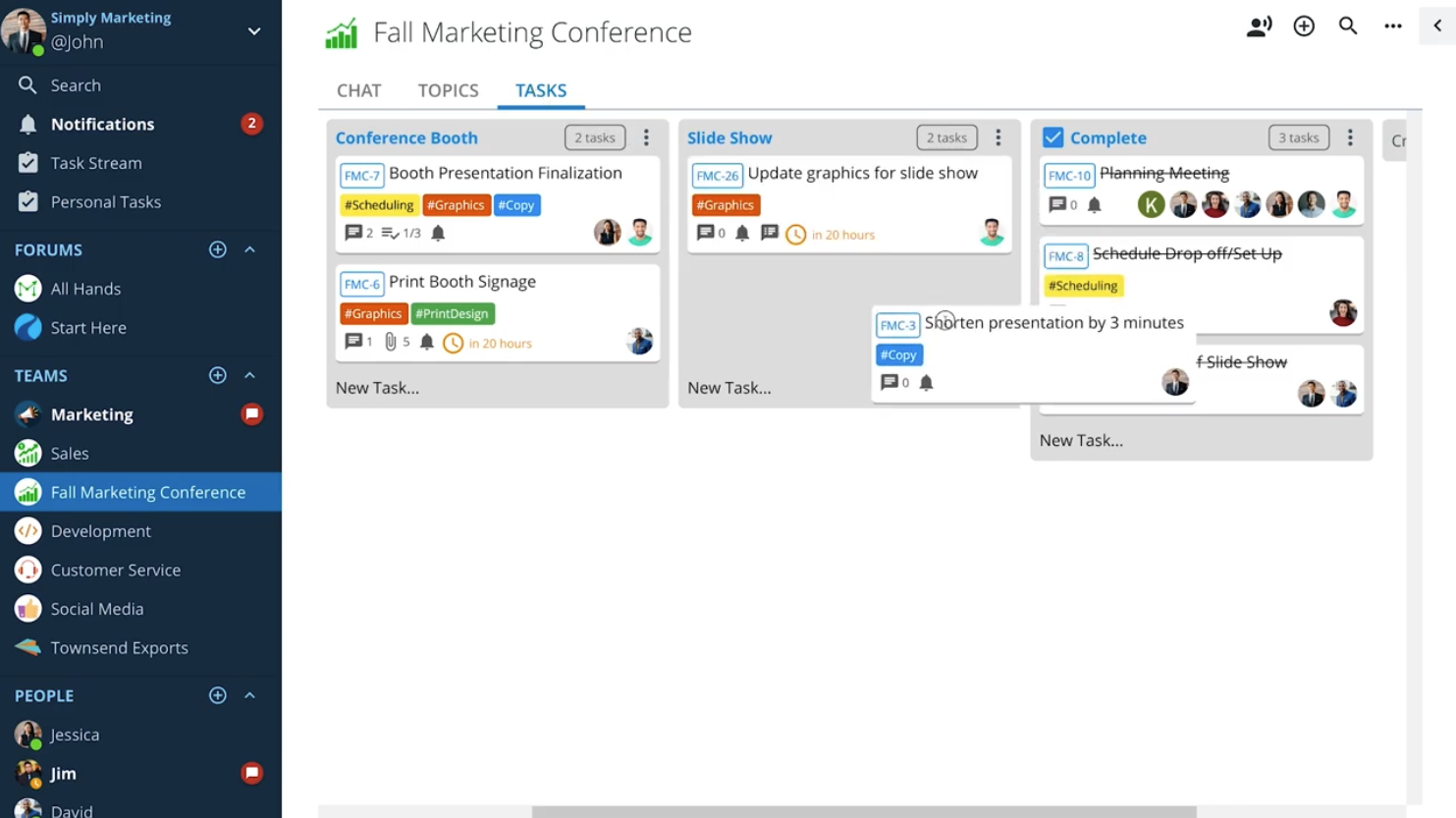 Ryver is a web conferencing software that combines internal communication tools with task management. It allows users to turn conversations with other team members or guests into action items. Tasks are presented in a Kanban board view where they can be moved, assigned and tracked. You can also convert chats into forums for longer ongoing discussions.
It also features a voice and video conferencing tool with the ability to share your screen for easier communication. Ryver also integrates with thousands of other apps utilizing Zapier, and offers the ability to create custom integrations and bots with APIs and webhooks. 
Some of the features of Ryver include:
Accessible on multiple platforms including web browsers, desktop and mobile apps

Users can make unlimited tasks and boards

Tasks can include checklists, due dates, reminders, tags, and attachments
28. Clearout
Best for email data validation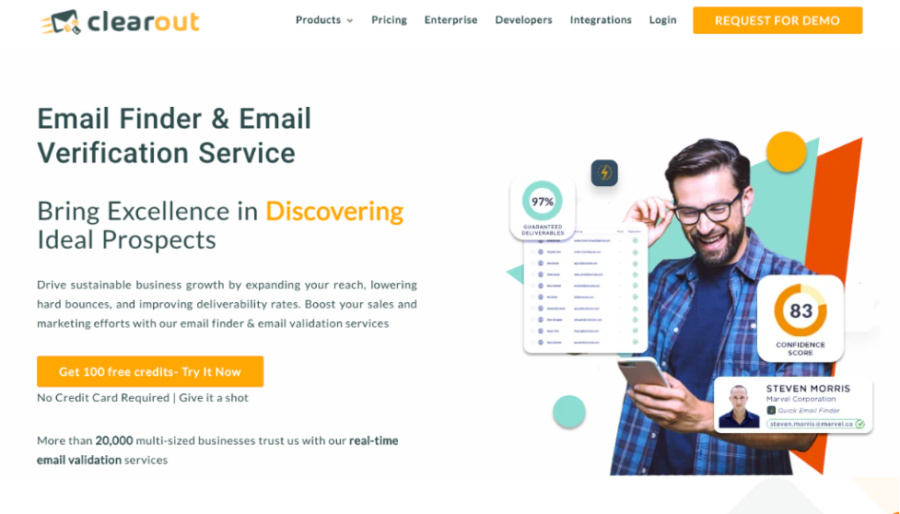 Clearout is a trusted email validation and finder tool. It offers both bulk and real-time validation with 98%+ accuracy. The tool also takes care of finding verified emails of your leads so your sales team can focus on converting them efficiently. Clearout keeps high-quality leads in your pipeline and saves resources while keeping bad, invalid, and unwanted leads out of your system.
The result? Better email marketing and outreach campaigns. The software integrates with all your sales and marketing tools, including forms and websites, making it easy to validate and use data effectively. 
Some features of Clearout.io:
Quick, Bulk & Point of capture email validation

Allowlist/Blocklist to keep out unwanted email domains

Strong quick and bulk email finder with confidence scoring

Reduces bounce rates with high accuracy

Advanced catch-all resolver

Integrations, API Support, WordPress plugin, & JavaScript Widget
29. Botsify
Best white-label chatbot tool for agencies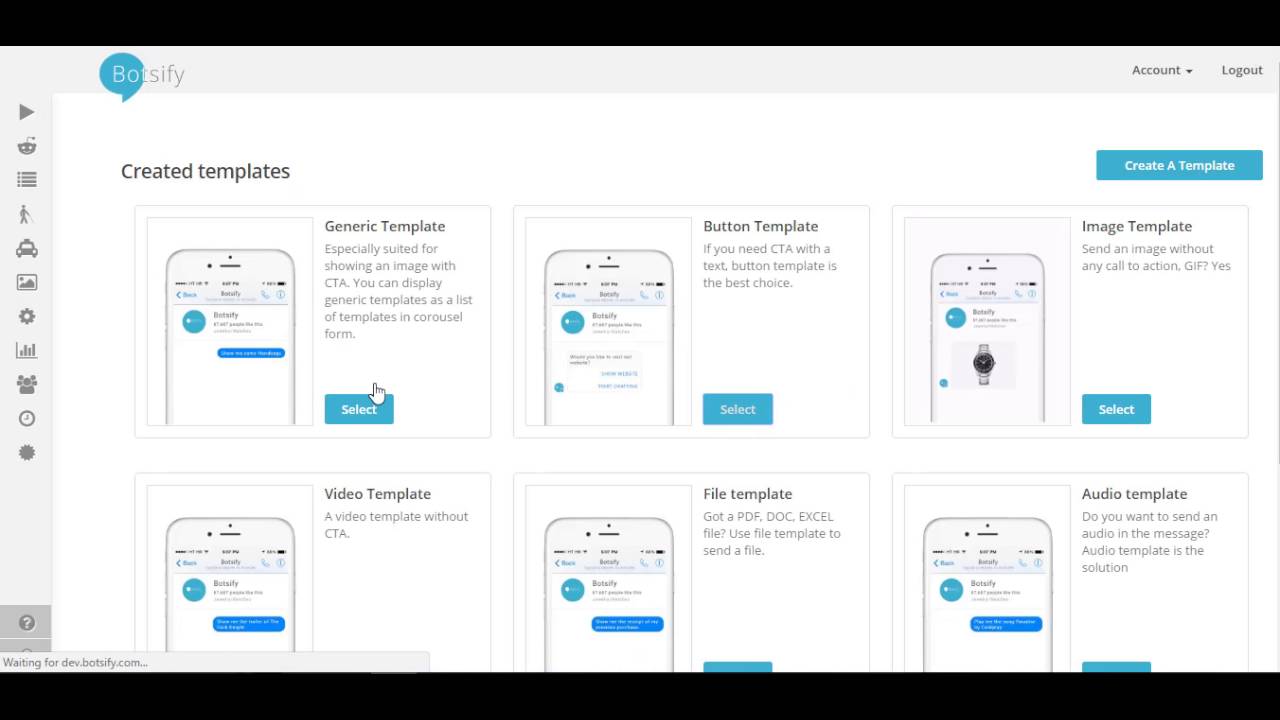 Botsify is a white-label chatbot platform that offers custom domains and email templates. Agencies can easily include chatbots in their services by contracting Botsify for $149/month.
What makes Botsify especially attractive to agencies? The tool can build custom landing pages, payment integrations, and email-sending settings. So you are not just building a business but also a brand. Plus: offering a custom chatbot is a great way to up-sell your marketing contracts with clients. 
Is customer service important to your clients? Botsify has 6 platforms where you can publish your chatbot, including Whatsapp, Messenger, Instagram, Website, Telegram & SMS.
Some of the features of Botsify:
Ominchat dashboard — attend chats from a single user interface

Chat from the mobile app

Over 1000+ app integrations through Make and Zapier

Multiple language translations and Open AI's GPT Chatbot integration
30. Graphically
Best graphic design service for agencies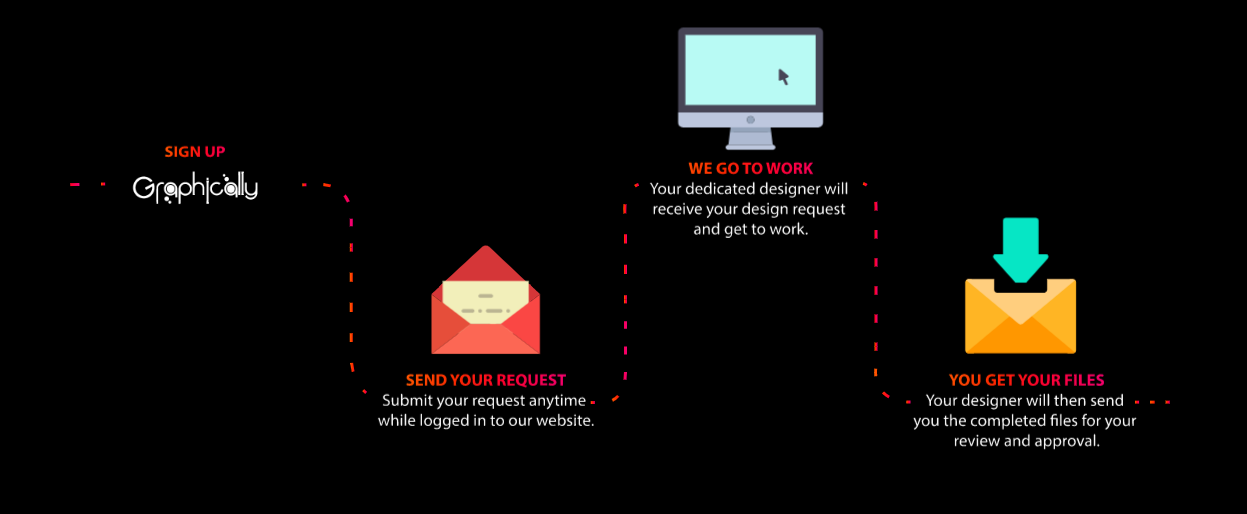 Graphically is a graphic design subscription service that can bring your vision to life. They have a dedicated team of top designers, carefully selected through an exclusive in-house hiring process. Graphically prides itself on its ability to deliver the highest quality work for every project.
Offering unlimited designs and revisions, Graphically will ensure you are completely satisfied with the final output. Whether you're looking for sleek new business logos or need timely updates to your existing designs, you can count on Graphically to get the job done right.
Some features of Graphically:
Unlimited graphic design services, including logos, banners, creative flyers, videos, and more.

No contracts — unlimited access starts at $299/month and try it for your first week for just $1.

Fast turnaround time of 24-36 hours.

Expert graphic designers — less than 1% of applicants become part of Graphically's design team.
31. Wepik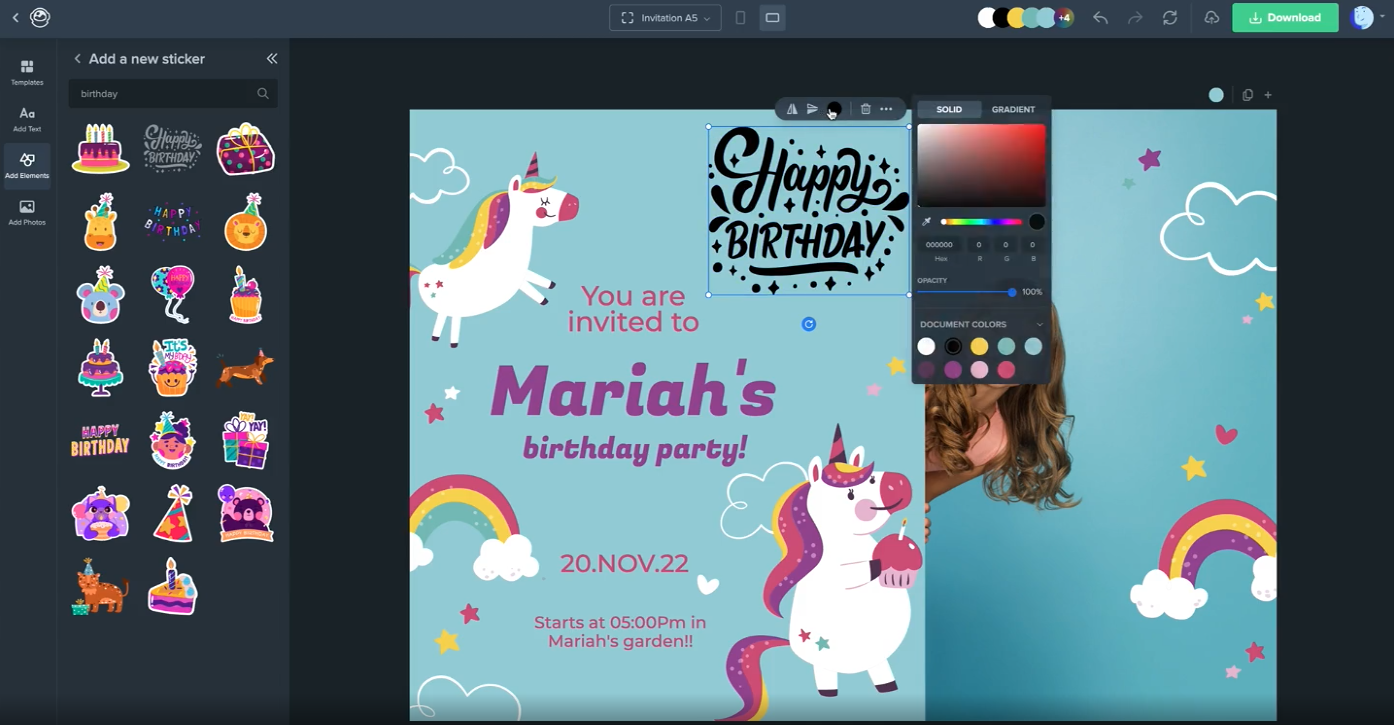 Best for creating engaging social media content
Wepik is a user-friendly platform that offers a wide range of templates for Instagram posts, allowing you to easily customize and create visually appealing content for your social media campaigns. With Wepik, you can quickly design eye-catching Instagram posts that resonate with your target audience and boost your online presence.
Some features of Wepik:
Thousands of professionally designed templates for Instagram posts, stories, and more
Easily customize templates with your brand colors, fonts, and images
User-friendly drag and drop editor, perfect for non-designers
High-quality, royalty-free images and icons available within the platform
Affordable pricing plans suitable for businesses of all sizes.
32. SEOPowerSuite
Best for SEO ranking, strategy and placement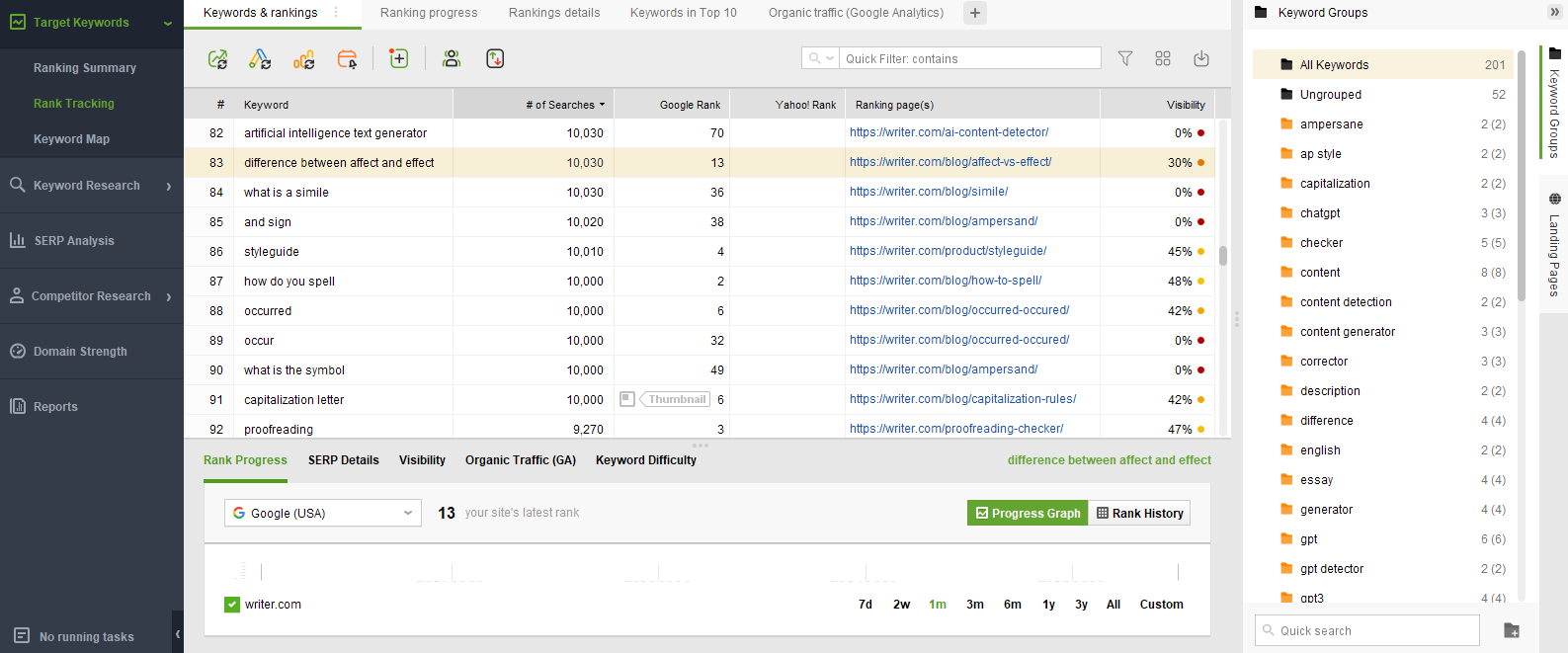 SEO PowerSuite is a comprehensive SEO software designed to help agencies and businesses improve their online visibility and attract more targeted traffic to their websites. The software includes four powerful tools: Rank Tracker, WebSite Auditor, SEO SpyGlass, and LinkAssistant, each with its own unique set of features and capabilities.
Some features of SEO PowerSuite include:
Rank tracking and analysis for multiple search engines and languages

Keyword research and analysis 

Technical website audit to identify and fix all possible SEO issues

In-depth backlink analysis to monitor competitors and identify new link building opportunities

Link building management to find and manage relevant link opportunities and track progress

Customizable reporting with white-labeling options for clients

Scheduled automated tasks to save time and increase productivity
33. Kompose
Best chatbot for handling inquiries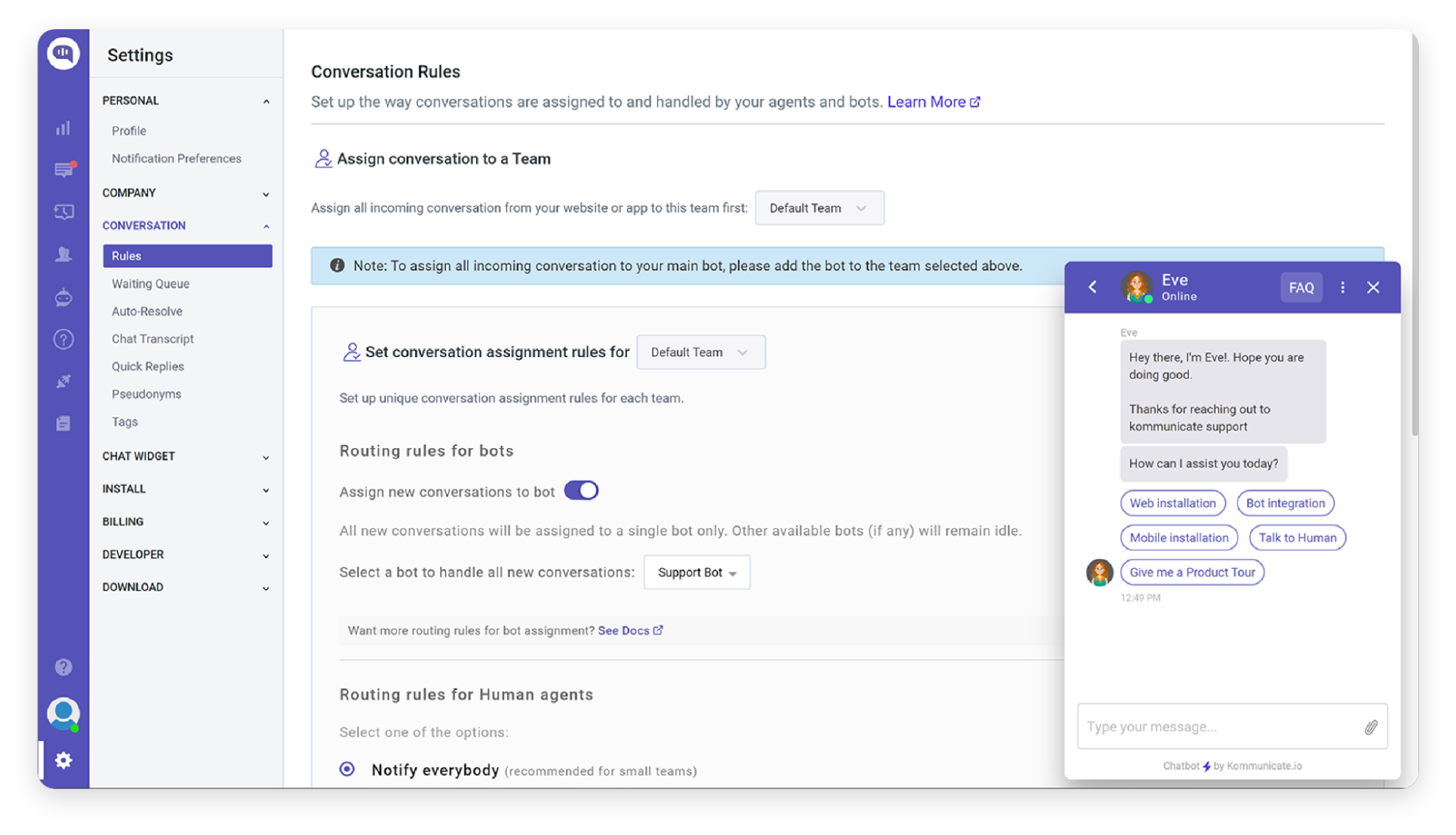 Businesses must have a strong online presence to succeed in today's digital age. A seamless and efficient online experience is therefore a necessity for businesses. This is where chatbots come in. One of the main benefits of chatbots is their ability to handle a high volume of inquiries simultaneously. This means that businesses can provide instant support to multiple customers at once, without the need for additional staff or resources, which is very useful for agencies who are representing multiple clients and looking to work as efficiently as possible.
Kompose, a chatbot builder tool from Kommunicate, allows users to create chatbots easily with its intuitive drag-and-drop interface. Users can customize their chatbots with various templates, widgets, and integrations, including AI and NLP. Kompose also provides analytics and testing features, making it easy for users to optimize and deploy their chatbots on multiple platforms. With Kompose, users can create a fully-functional chatbot in minutes, even without coding experience.
---
These are just a few of our favorite agency tools that your business can use to level-up your tech stack. We'll be regularly updating the list with additional finds, so keep checking back for updates.