A Gantt chart is an excellent tool for any project manager. This type of chart visually depicts the progress of tasks by using horizontal bars to track and manage specific tasks for a project. In this article, we're highlighting some top Gantt chart software that are easy to use and can be implemented today.
So whether you are new to project management and want to find the best program with a Gantt chart, or just need a refresher, read on to learn more.
Who Developed the Gantt chart?
If you guessed, "Mr. Gantt" You're right! More specifically, the Gantt chart was developed by Henry Gantt in the early 1900s. He created a chart to track the progress of his shipbuilding projects. In his business, Gantt realized that he needed a way to schedule based on time and not on quantities. So, he created the Gantt chart for his management to see, in graphic form, how work was progressing.
Gantt charts were meant to help individual managers make better choices and decisions based on their information. Gantt built out two specific principles for his charts:
To measure activities by the amount of time needed to complete them.
To use the space on the chart to represent the amount of activity that should have been done during that time.
The Gantt chart was so successful that Frederick Winslow Taylor later popularized it in his book, The Principles of Scientific Management. Since then, Gantt charts have been used extensively in project management.
Advantages of using a Gantt Chart
There are many advantages of using Gantt charts in project management. Perhaps the most beneficial aspect is that it provides a clear visual representation of tasks and deadlines.
This representation allows for easy identification of any potential bottlenecks or risks that could impact the project's timeline. In addition, Gantt charts can be used to track dependencies between tasks. This is a critical feature that helps the management see that all tasks are completed in the correct order and that no steps are missed.

Gantt charts can be easily customized to fit the specific needs of a project. For example, color-coding can differentiate between different tasks or highlight critical milestones. Also, most Gantt chart software programs make it easy to export and share charts with team members and stakeholders for transparency and collaboration.
The Best Online Gantt Chart Software
With Gantt's history and benefits behind us, let us look at some of our favorite picks for an online Gantt chart software. Gantt chart software has come a long way since its origins, and there are now many comprehensive project management platforms that offer Gantt charts as a built-in feature. We bet that both Henry Gantt and Frederick Winslow Taylor could never have imagined that their groundbreaking theories back in the 1900s would still be in use more than a century later — but here we are!
When selecting Gantt chart software, it is crucial to consider the specific needs of your project and team to find the best fit. Once you have landed on a program, Gantt charts can be easily implemented into your workflow for better task management and overall project success.
The programs listed below are just a few of our favorites, and each offers a different set of features to fit the specific needs of your project. Here are our top choices for your next Gantt chart software.
1. Hive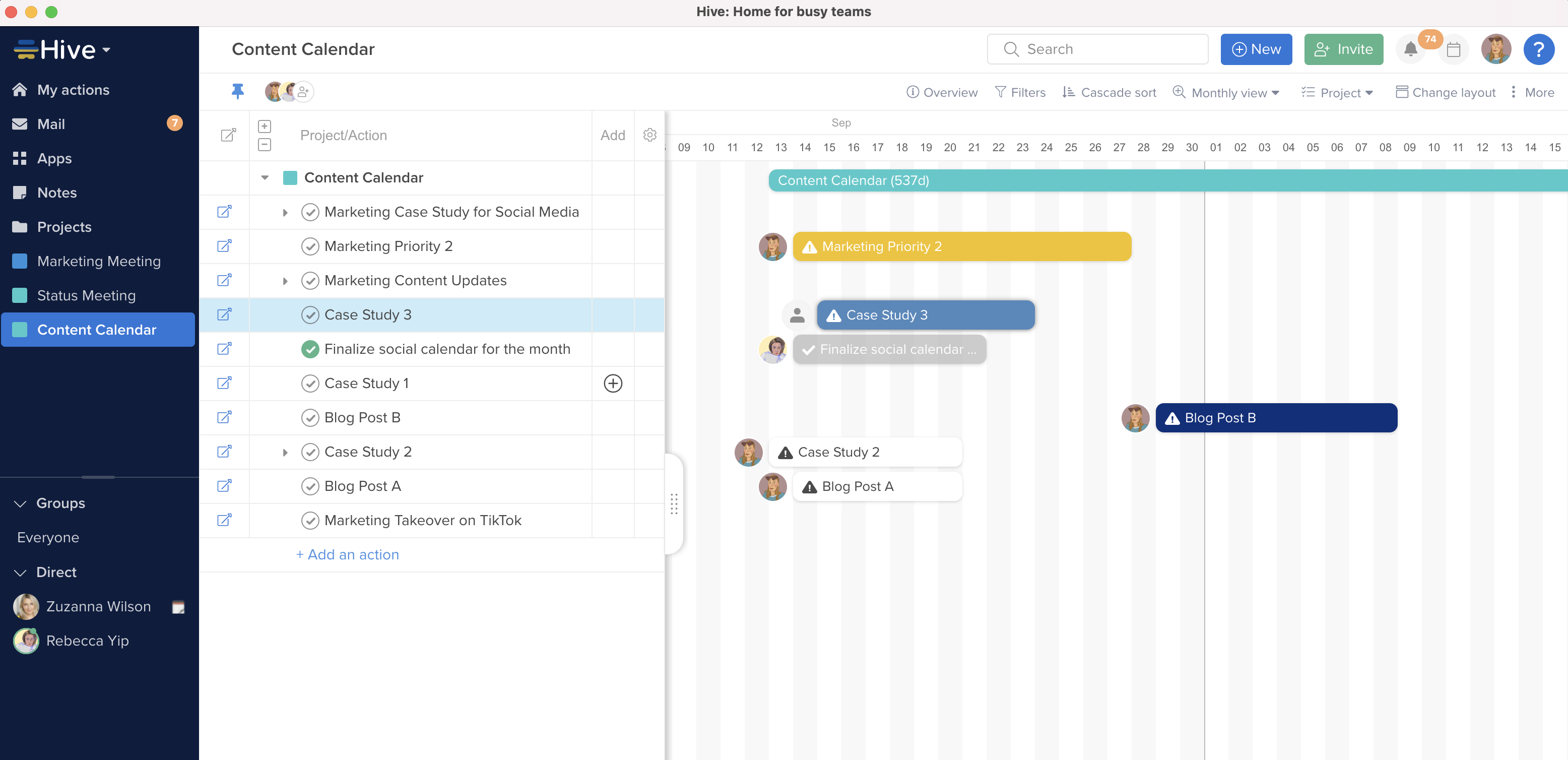 Hive is a project management platform that offers Gantt charts as a built-in feature. With Hive and Gantt charts, you can plan and execute your project, all within the same tool. With the Hive's Gantt chart view, you can easily create and edit charts to track the progress of your project.
For example, the Gantt view will quickly show you the action status in relation to its deadline. The view provides a comprehensive, visual representation of your project's timelines, allowing you to drag, drop and expand timelines and assign new users and actions.
One of the best attributes of Hive is that it is designed to be used by teams of all sizes and has a ton of built-in features that are perfect for project management. Since it is a project management platform, first and foremost, the addition of a Gantt chart gives Hive a leg-up on the competition.

Using a single project management software program can benefit many businesses instead of toggling back and forth between many programs. With Hive, you have everything in one central location (dare we say, in the Hive) to manage all your project essentials. Also, if you absolutely must continue using supportive apps outside of Hive, Hive offers a ton of integrations that can work within your project workflow.
The free plan, Hive Free, gives you access to Gantt charts for up to 10 users. Hive Teams subscriptions start at just $12/month and unlock all the features that make this a worthwhile Gantt chart plus project management platform. Start a free trial to Hive free for 14 days.
Key Takeaways:
In addition to Gantt, Hive offers flexible project layouts including Table, Calendar & Kanban views
Excellent customer support and community
Built for users, by users via the Hive Forum
Integrations with 1000+ popular workplace tools
2. TeamGantt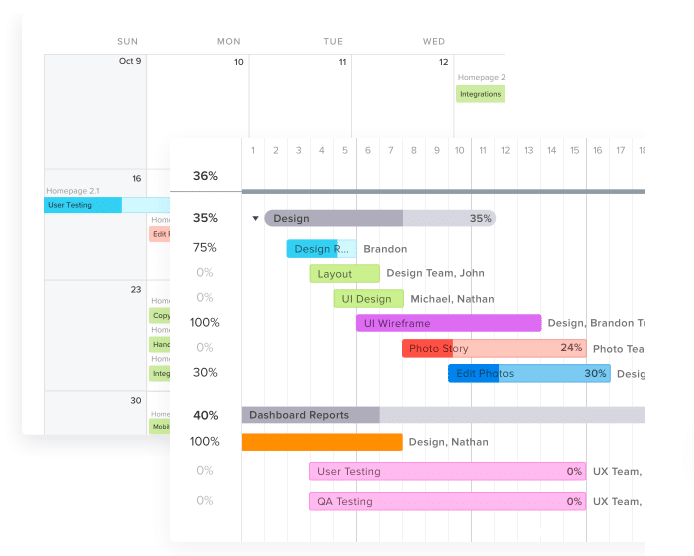 TeamGantt is another excellent option for Gantt chart software. One of the most prominent features that sets TeamGantt apart from other programs is it's user-friendliness. With its user-friendly design and UX, TeamGantt is one of our top picks for a Gantt chart that everyone can use and understand on day one.
Creating Gantt charts in TeamGantt is simple and can be done by dragging and dropping tasks into the correct order. You can also easily add subtasks, notes, and attachments to each task. Since this program lives in the cloud, you can also invite shareholders and teams to collaborate on your Gantt chart or project plans. TeamGantt offers a free trial to try out the features before committing to a paid plan. Paid plans start at $19/month for one user and unlimited guests.
Key Takeaways:
Great user UI/UX
Streamlined use
Free plan
Native chat feature
3. Wrike
Wrike is a project management platform that offers Gantt charts as a built-in feature. With Wrike, you can easily create and edit Gantt charts to track the progress of your project. With its free option, you have more options than some of our other picks, so consider Wrike if the price is a huge sticking point.
Wrike's free project management option will give you task and subtask management, unlimited users, and the ability for both internal and external collaborators. Wrike also integrates with many other popular software programs like Google Drive, JIRA, and Dropbox, so you can quickly implement it into your preexisting workflow.
Wrike offers a free trial to try out the features before committing to a paid plan. Paid plans start at $9/month, and once you sign up for Wrike, you will have access to their customer support team, which can help you get started using Gantt in your workflow.
Key Takeaways:
A ton of software integrations
Excellent customer support
Easy to use prebuilt templates
Multiple chart views
Comparison: Check these top Wrike alternatives for more great online Gantt chart platforms.
4. Smartsheet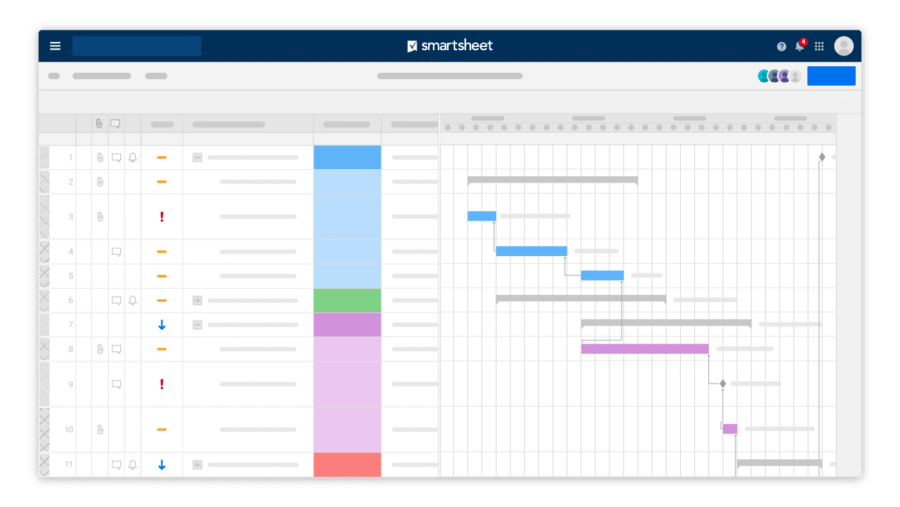 Smartsheet is another excellent Gantt chart software program used to manage projects. It offers a variety of features that make it a good choice for project management, including the ability to create and edit Gantt charts. Smartsheet is best known for it's no-frills Spreadsheet-based software, but it does come with some pretty user-friendly templates for anyone not familiar with the platform to start using. Smartsheet also offers a decent amount of automation options to keep everything moving smoothly and consistently.
Smartsheet has a free plan that is perfect for single users and minor projects. But if you have more complicated projects, you might need to opt for a paid plan, which starts at $7/month and includes additional features such as unlimited users and storage.
Key Takeaways:
Offers a free plan for small projects

Offers unlimited users and storage

Integrates with other popular software programs

Multiple project views
Comparison: Check these top Smartsheet alternatives for more great online Gantt chart platforms.
5. Toggl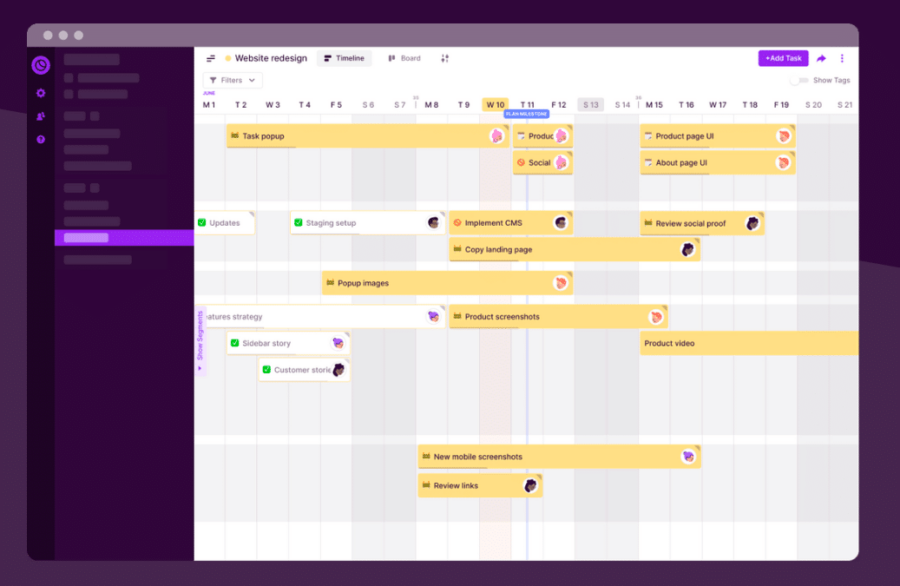 Toggl is a project planning and collaboration tool for small teams that makes it super easy to plan with Gantt charts. Toggl drag-and-drop interface allows flexibility when creating a project and customizing it to each team. The software allows you to see task statuses, set deadlines, add subtasks, and define task estimates. Plus, the tag feature for tasks makes searching, filtering and classifying projects and segments easier. Toggl is free for solo users. The premium plan costs $9 per user/per month and comes with additional features such as team planning, recurring tasks, and time tracking.
Key Takeways: 

Easy-to-use drag-and-drop Gantt chart timeline for planning projects and managing team's workload

Efficient auto-tracker function 

Free plan for solo users
Lacks automations and advance reporting on free plan
6. nTask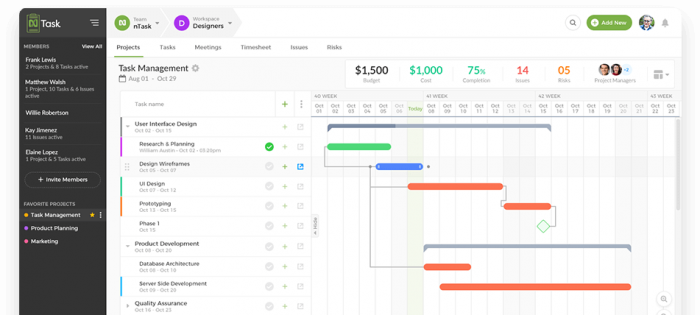 nTask is an application that offers adaptive and dynamic Gantt charts that are color-coded and interactive. When you update a task's deadlines, duration and billable hours, nTask Gantt chart will update those changes automatically. You can easily see your Gantt chart project's budget and current expenses. When using Gantt charts synced with timesheet features, users can easily create billable and non-billable hours expressing the real cost of the project. nTask also has features that focus on productivity and collaboration, such as note-taking, time-tracking and even timesheet management. Pricing starts at $3/user/month for the paid subscription with premium features. 
Key Takeaways:
The application is accessible from anywhere around the world 

Task management and project management

Risk management to weed out all of the risks and scope creeps

Meeting management and collaboration tools to keep everyone connected

Kanban tools and Gantt charts to view the tasks and processes from a different point of view
7. Agantty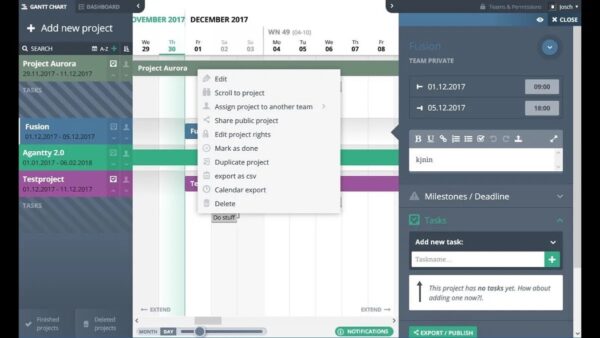 Featuring unlimited projects, tasks and teams all based on Gantt charts, Agantty offers an easy setup with the most essential tools to help you keep ideas organized and on time to deliver. There is a task overview where teams come together to share their progress with each other and assign tasks using drag-and-drop gestures. Managers can assign user-specific accessibility within projects. Tasks can be exported as PDF files and reminders sent via email.
Key takeaways:
Completely cloud-based

Simple and straightforward

Everything on one page

Free to use

for small and medium-sized teams
8. Proofhub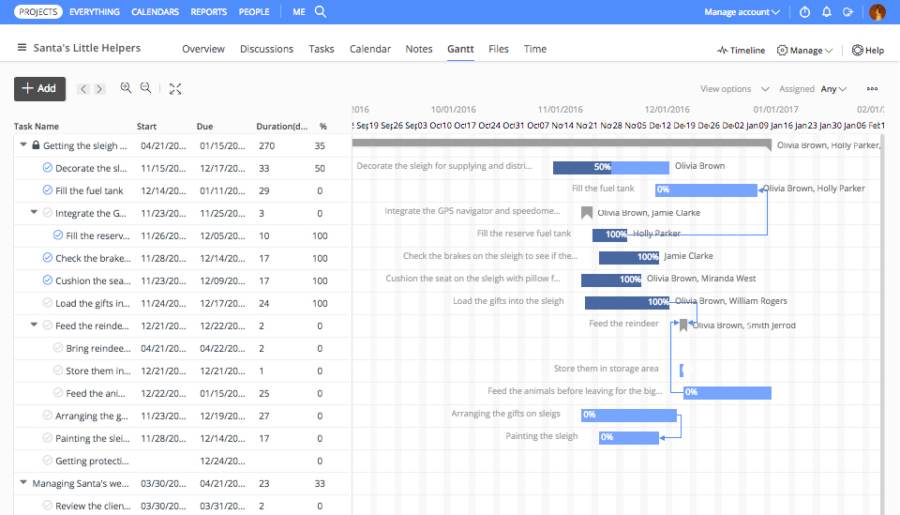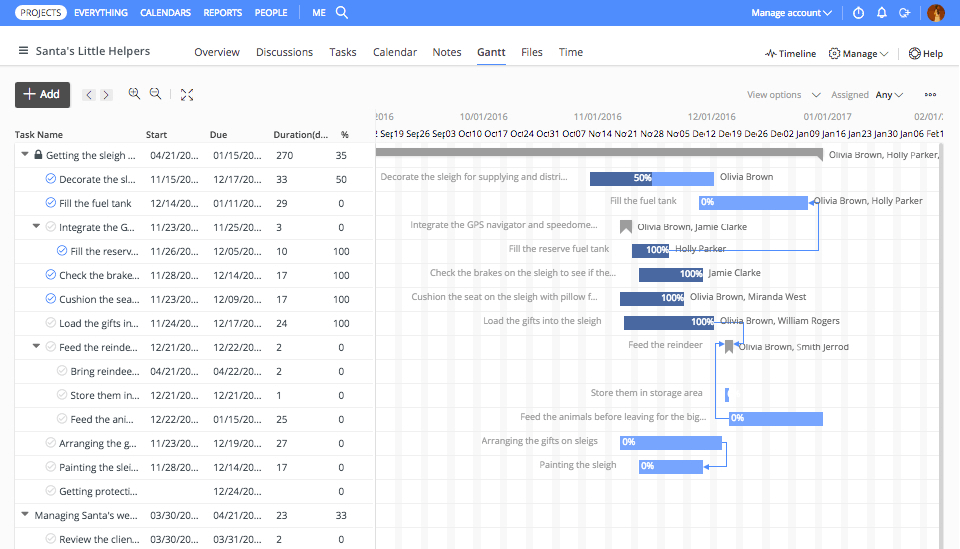 Proofhub lets you create projects, collaborate with teams and clients, all while keeping track of overall progress by viewing everything in a Gantt chart. Adding tasks is as simple as clicking the add button at the top of the dashboard and dependencies can be set by dragging and dropping from one end to another according to your project needs. Managers have the option to set up a baseline to see actual timelines vs projected timelines, which helps to assess potential delays in the strategic planning. Proofhub also has a chat feature for quick and easy communication and collaboration. The platform is cloud-based and everything is always backed up and secure. Plus, there is no need to install any software on a computer. 
Key Takeaways:
View progress in a timeline format 

Creating Gantt charts is easy and changes can be made by anyone with permission

All changes are updated for everyone automatically over the cloud

Two simple

fixed pricing

plans with no per-user fee
9. Instagantt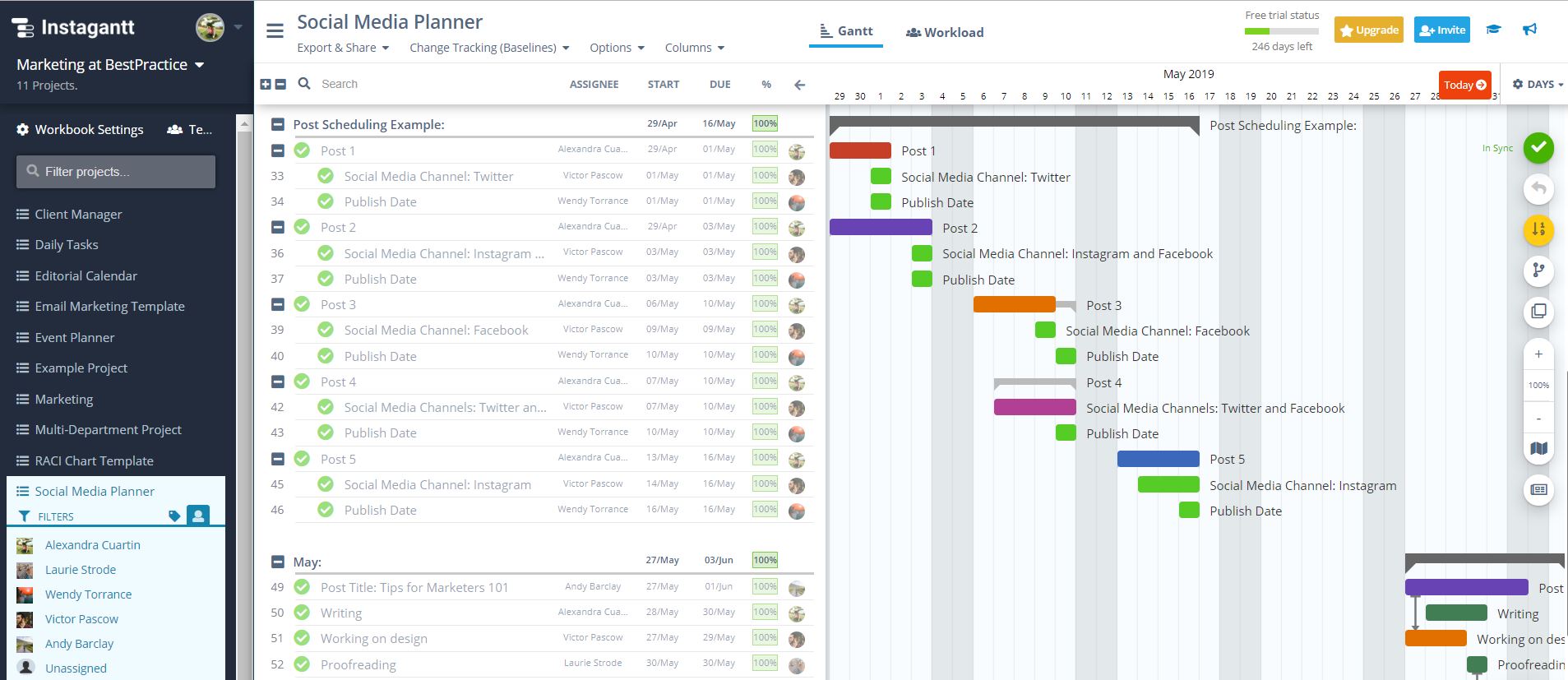 Instagantt is an online Gantt chart software for project management. It features a drag and drop editing style allowing you to easily schedule tasks and monitor your project's progress. Assign tasks to members of your team and automatically send emails from within the app to notify them. There's also the ability to leave comments within tasks and subtasks, as well as attach documents and files. Use critical paths to create detailed timelines featuring baselines, dependencies and milestones across multiple projects and workspaces. There's a 7 day free trial to try out the software and then you can choose between a single or team subscription with pricing starting at $5/user/month.
Key Takeaways:
Several export options including PDF, Excel and image files

Create custom views with custom fields

Use color coding for progress bars

Risk and Priority features

Workload view to monitor assignment balance within team
10. ClickUp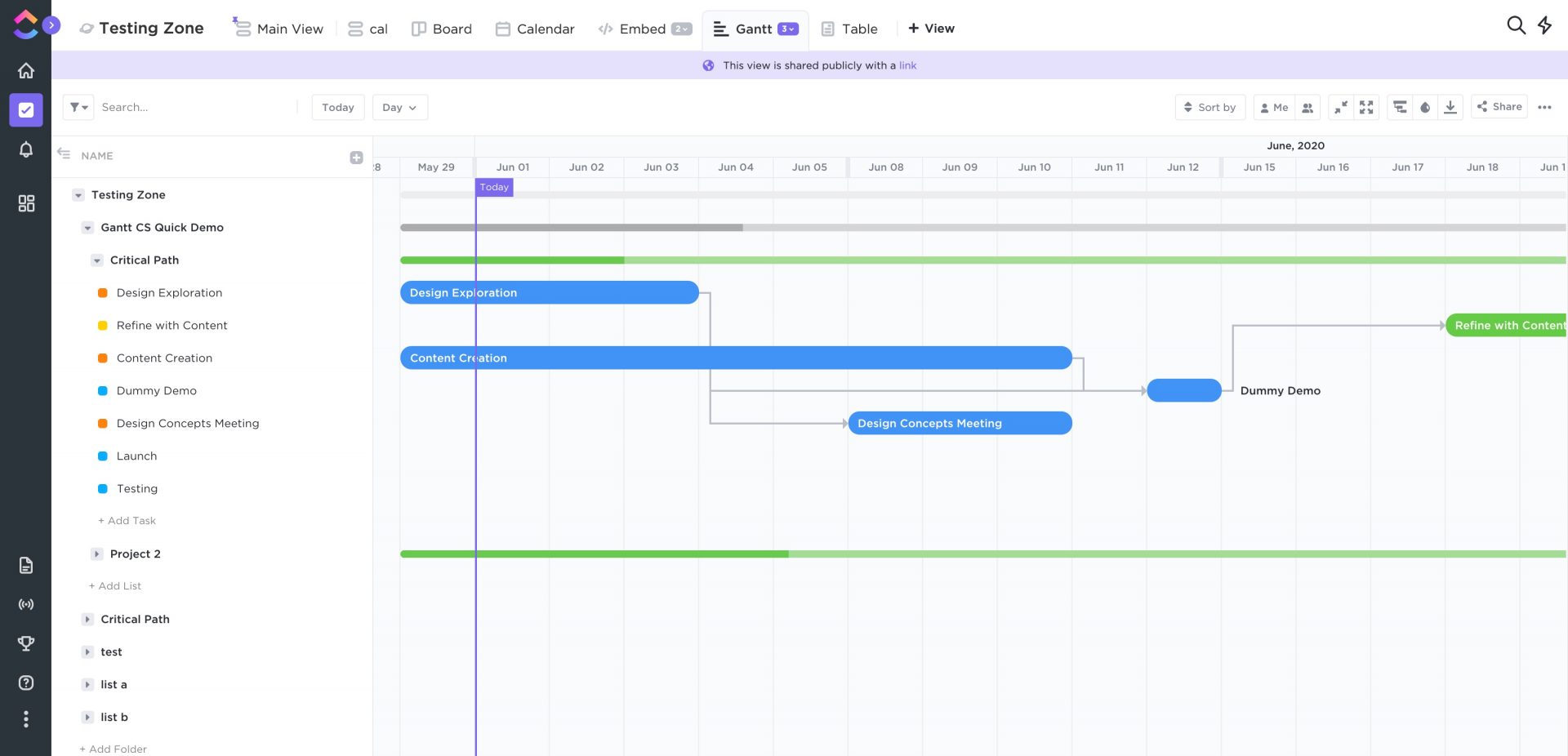 ClickUp's Gantt chart view lets you quickly adjust timelines, priorities, and tasks and stay on top of changes within your project. Get an overview of multiple projects at the same time and easily sort resources to avoid holdups and deliver on time. There's cascading views to see additional details within your project's tasks right on the timeline. Drag and drop tasks to assign dependencies and move due dates as your project progresses keeping everyone on the same page.  
ClickUp also integrates with over a thousand other apps and is accessible from any browser and on multiple devices including voice assistants. Build custom templates for repeated workflows or choose from several premade templates included with ClickUp. There's a free plan and you can upgrade to gain access to a lot more starting at $5/user/month.
Key Takeaways:
Variety of viewing options to sort details

Determine critical paths to forecast bottlenecks

Project dashboard with high level overview

Benchmark progress by marking milestones
Comparison: Check these top ClickUp alternatives for more great Gantt chart solutions.
11. ProProfs Project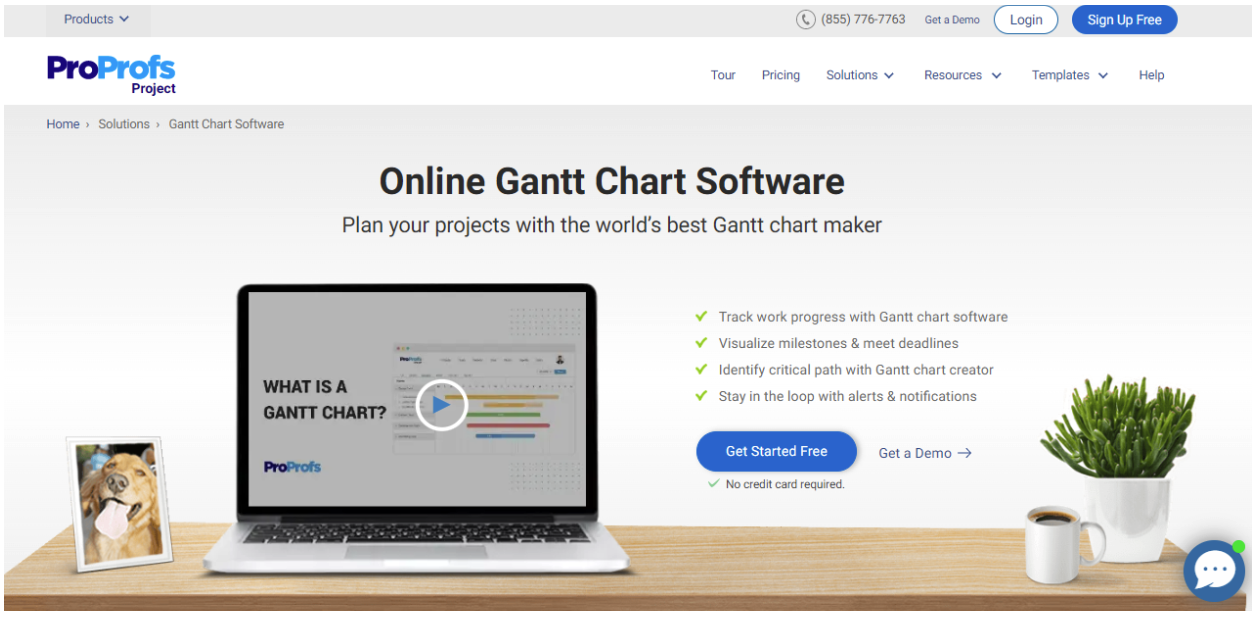 ProProfs Project is a project management software that features a Gantt chart view, allowing you to plan and schedule projects easily. Create tasks and subtasks, give them defined timelines, and assign them to your team with a clear view of who is responsible for which tasks. Also, if you wish to make adjustments, you can easily move things around with drag-and-drop editing.
ProProfs Project's Gantt chart view can help identify any overlapping tasks and gaps within the workflow. Stay on top of your project and optimize your resources for maximum efficiency. The tool also features project reports giving insight into key project metrics helping you make better  informed decisions.
ProProfs Project offers a 15-day free trial to try out all of its features, after that it's $39.97/month (billed annually) for unlimited users.
Key Takeaways:
Real-time collaboration

Thousands of third-party integrations with Zapier

Kanban Board and Calendar views

Task update notifications via email
12. Ganttify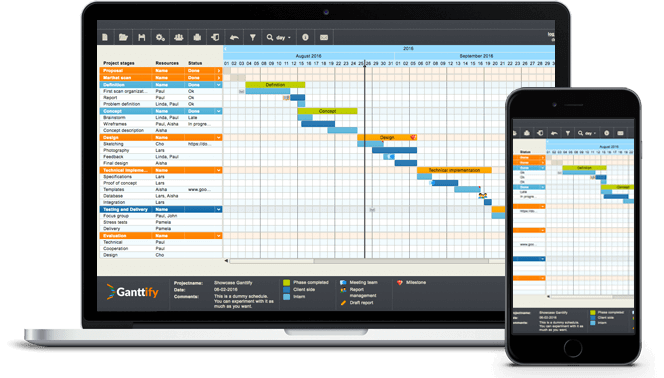 Ganttify is an add-on that enables you to easily create Gantt charts from your Basecamp,To-doist and Trello projects. The tool lets you automatically create a Gantt chart from your existing projects in seconds. Ganttify allows you to update deadlines, milestones and time blocks within the chart. Working remotely or across devices? No problem, Ganttify changes automatically sync back to your project management software. Ganttify has a free 14-day trial, discounted annual plans, and no contracts.
Key takeaways: 
Flexibility to

update your project management software data while working on the Gantt chart.

Task dependencies and synchronization of data prioritizing security and privacy

Export Gantt charts as a PDF and easily share them with your colleagues. 
13. Zoho Projects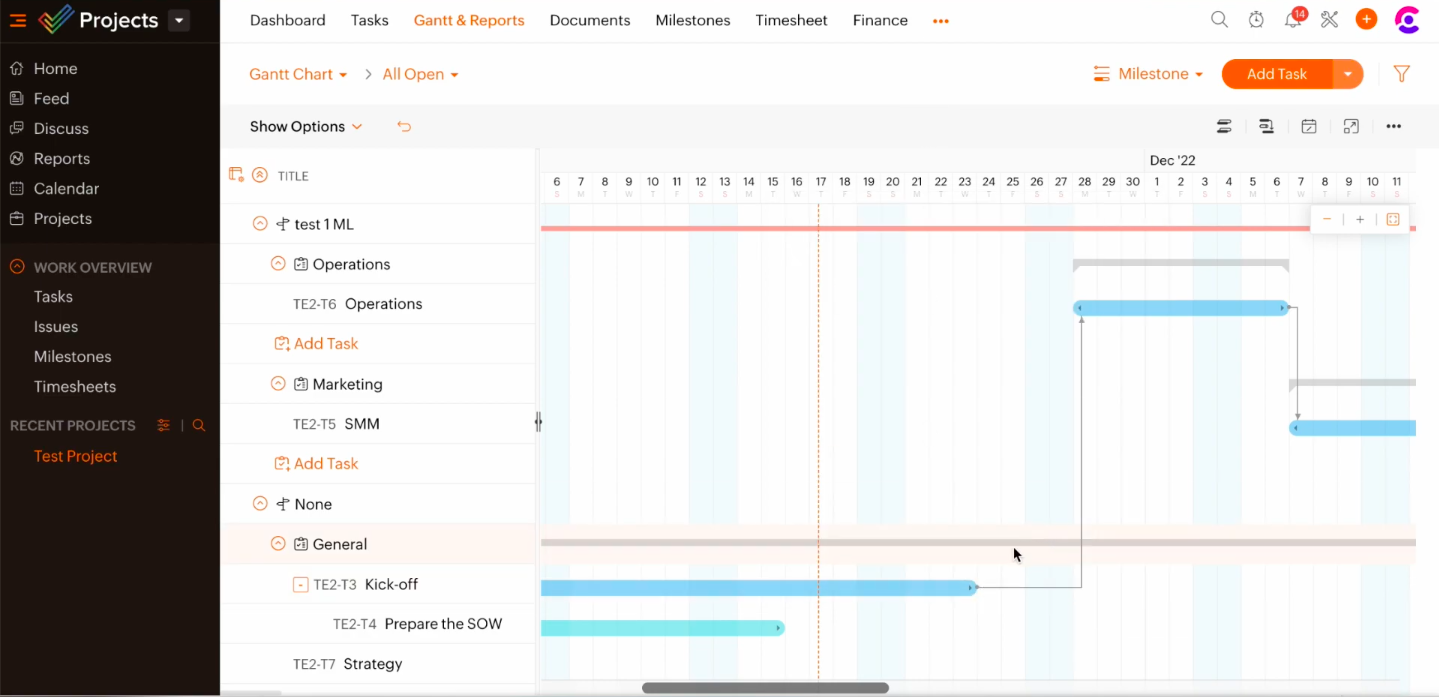 Zoho Projects is a comprehensive project management software that offers robust Gantt chart functionality. With Zoho Projects, you can easily create and edit Gantt charts to track the progress of your project, including milestones, dependencies, and critical paths. The software also allows you to set up recurring tasks and create task dependencies, which can help you save time and manage your team more effectively.
Zoho Projects has great collaboration tools, allowing you to assign tasks to team members, set deadlines, and track progress in real-time. You can also use the software's messaging and commenting features to communicate with team members and share files and documents.
Zoho Projects offers a free plan for up to three users, which includes Gantt charts and other project management features. Paid plans start at just $5 per user per month, making it an affordable option for teams of any size.
Key Takeaways:
Robust Gantt chart functionality

Real-time collaboration tools

Affordable pricing plans

User-friendly interface

Integration with popular tools like Google Drive, Dropbox, and Slack
14. Nifty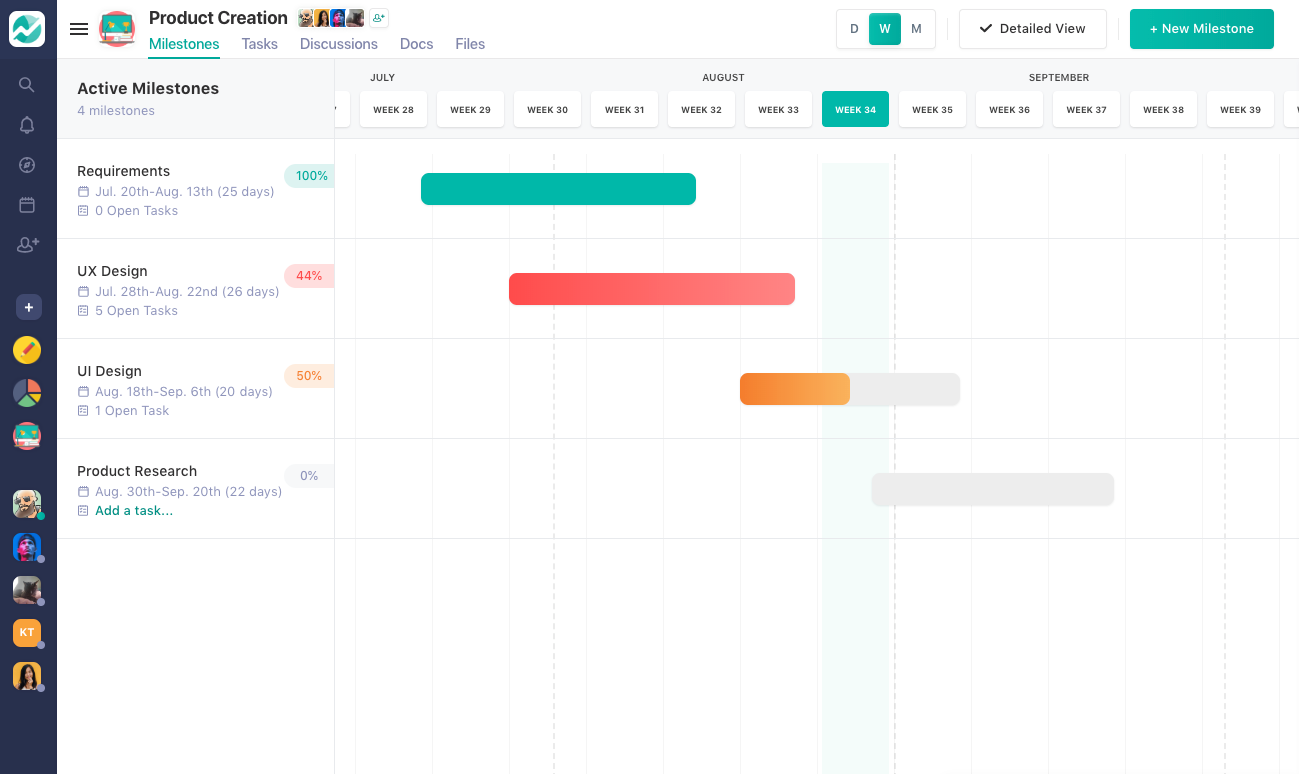 Nifty has a unique approach to Gantt charts that provides a birds-eye view across all projects, milestones, tasks, and timelines. Nifty Roadmaps roll up Tasks into Milestones, whose completion updates the progress of milestones in real-time, aligning all stakeholders. The dynamic timeline lets you schedule tasks, keep up with project progress, manage deadlines, and handle bottlenecks in one place.
Nifty's methodology is great for clear-as-day reporting (Roadmaps can even be shared as external links) for product roadmaps or client projects, but their Roadmaps don't currently indicate deeper level task dependencies or critical paths.
Key Takeaways:
Offers unlimited users on its free-forever plan
Provides unlimited Guests on any paid subscription
Emphasis on ease of use and scaled reporting
Multi-color reporting to automate progress tracking
Do you have a favorite Gantt chart software? Let us know in the comments below! And be sure to check out our other project management software roundups for more great tools that you can use to streamline your workflow.