With each new year, we set goals to be more productive and reach new heights in both our business and personal lives. But how do we get there? And where do we start? If you are excited about staying organized and being productive but absolutely overwhelmed with all the options out there, you are not alone. A simple Google search will return hundreds of goal-tracking apps, many of which have functionality way above and beyond what you need or may not have any features you would find helpful.
But before you give up or decide to go with a random goal-tracking app, take a deep breath and keep reading this article. You're in luck, because we've been researching too! We did the heavy lifting and are sharing our picks for the best goal-tracking apps on the market to help us all stay organized, plan tasks ahead of time, and meet deadlines.
Choosing the Best Goal-Tracking App For You
Okay, so we need to do a little brainstorming before jumping into these goal-tracking apps. Remember how we just mentioned that some of these apps will have an insane amount of functionality? So before you choose the perfect app, set some parameters first. It's not like you would buy snow boots for a trip to the tropics, right? It's the same with this type of tracking app. You wouldn't want to buy an app that didn't perform in the way you hoped. So, ask yourself the following questions to narrow down the best goal-tracking app for you:

What will it cost?
From a free version to a premium version, you've got options. While there are some great free options on this list, you may find yourself needing to upgrade to the premium version to unlock additional functionality. So keep an open mind, and maybe an open wallet.
What platform is it on?
The old iOS vs. Android debate may be a deal-breaker depending on what device you use. While most of these apps have downloadable options on both platforms, there are a few that are only available on one platform or the other, so make sure the one you love is on a system you use.
Does it have goal-tracking capabilities that work for you?
While it seems silly to ask if your goal-tracking app has goal-tracking capabilities, it is a legitimate question. Some of us love to have apps that go off at specific times to tell us what goals we are supposed to be working on. Others love tasks that just take up space and remind us when a goal is completed. How often you want your goal-tracking app to interact with you is a personal choice.
Can you work in the software?
Move on if you can't figure out the software or if it is overcomplicated. Wasting time figuring out the complicated functionality of an app that is supposed to help with productivity is both ironic and highly counterproductive. Instead, settle on a user-friendly app, that has good U/X, and you can see yourself daily.
Does it provide you with what you need?
What are your specific goals? Do you need this goal-tracking app to track your personal life (okay, soccer practice, we're looking at you), or do you need a task management platform for your work that is very robust and can be used with multiple people? Determine your what, and keep that in mind as you assess all the critical functionality of each goal-tracking app.
The Top Goal-Tracking Apps
Now that you've mapped out your ideal budget and capabilities for a goal-tracking app, it's time to start looking at the tools themselves. Here's what you need to know about some of the best goal-tracking apps on the market.
1. Hive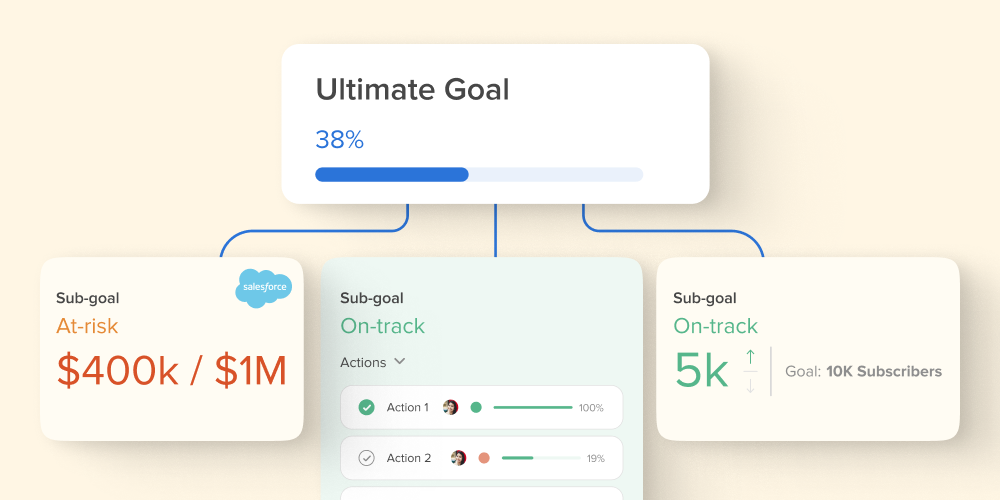 Hive is one of the best goal-tracking apps for individuals or teams who want to boost productivity and stay on track. In addition to tracking projects, teams love using Hive to collaborate on tasks, share updates in chats, take meeting notes and much more. So how exactly do you use Hive to reach your project goals?
With Hive Goals, you can set goals, visualize progress, and keep everyone aligned in one centralized dashboard. This interactive Goals dashboard is much more than a list of end points — it's your North Star. Easily create unlimited goals for yourself or share them with your team so that everyone understands what they're contributing to. You can also assign a goal to relevant teammates, track activity, and give yourselves a deadline.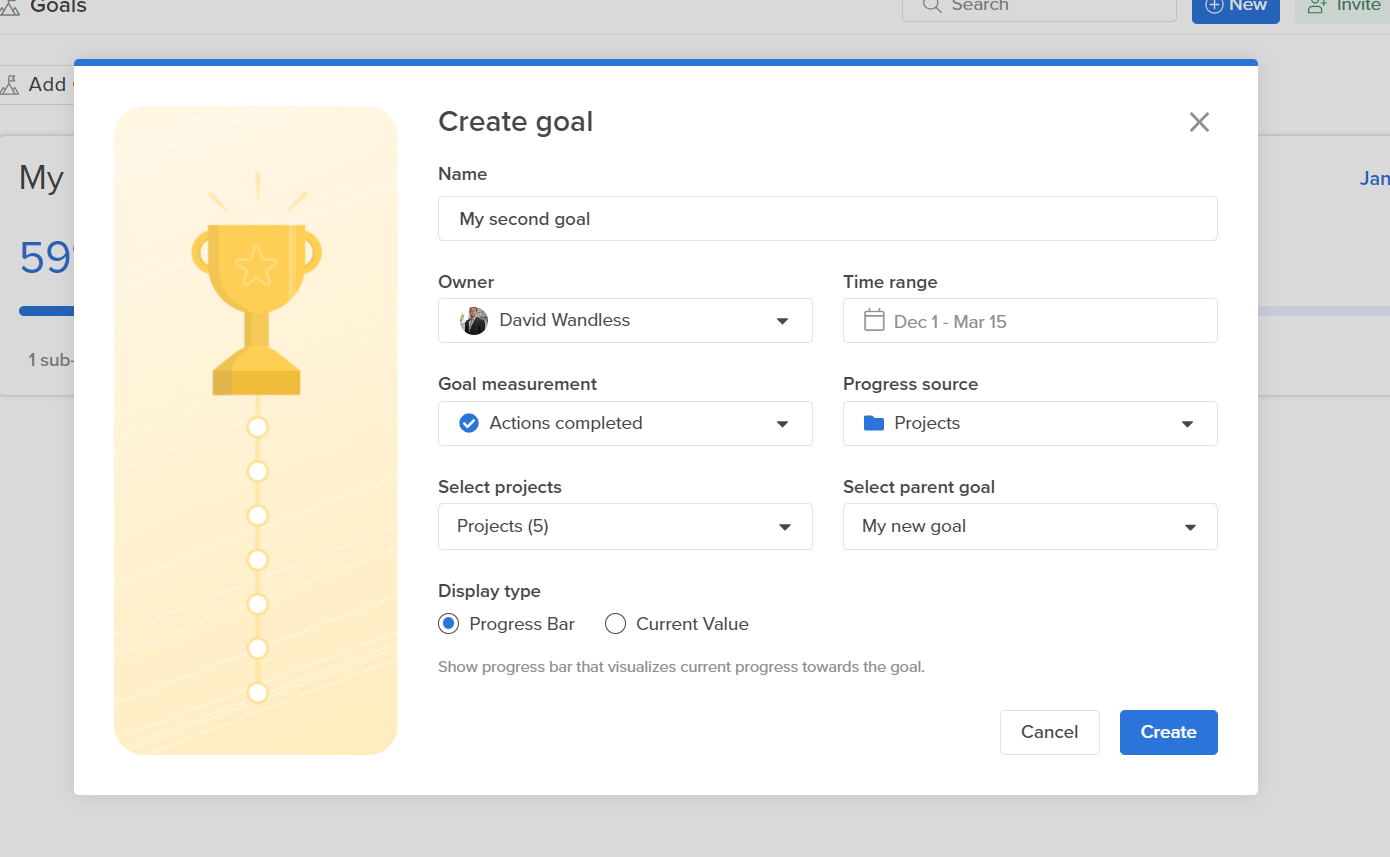 In addition to Hive's collaborative Goals App, My Actions view is a great individual tool to keep track of all of your upcoming tasks in one place in Hive. This view allows you to see all actions assigned to you, grouped by project. On the other hand, if you're a manager and want to track progress towards your goals from a higher level, you can utilize Hive's Gantt chart view or Project overview module.
So whether you're setting individual or team goals, Hive can help you reach them more efficiently than ever before. The best part? You can try Hive totally free for 14 days.

Key Features:
Task management
Timesheets, time-tracking and workflow automation
Over 1,000 integration options, including Jira, Gmail, Zoom and Salesforce

Collaborative note-taking

Native chat and email integrations

Detailed, real-time analytics

Web and desktop apps
Download Here:
2. Todoist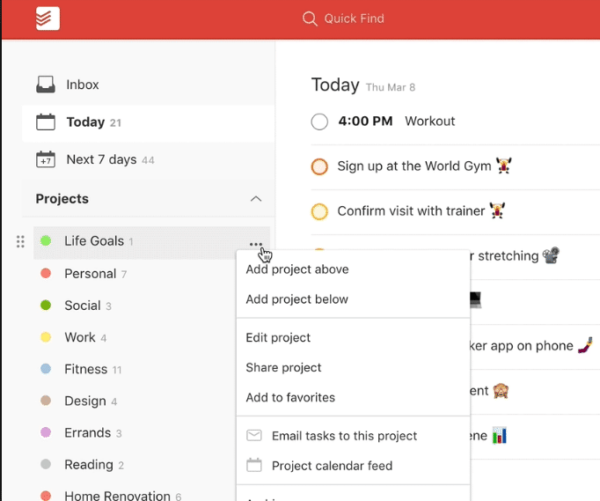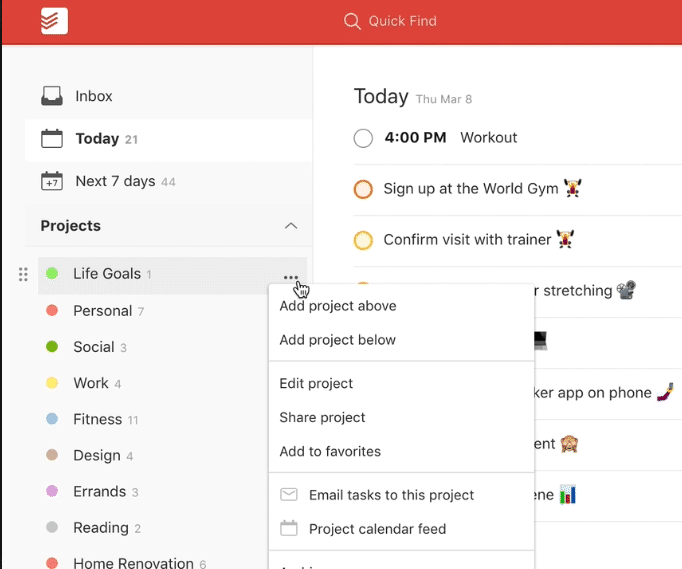 Todoist claims to "free up your mental space by getting all those tasks out of your head and onto your to-do list." Its various features help improve workflow by giving you an abundance of options and integrations to — you guessed it — create to-do lists. It provides you with the opportunity to see your single day or your "Next 7" days to get a birds-eye view of your upcoming tasks. Also, if you live and die by your Gmail, this app has a Gmail integration and a chrome extension that keeps all your devices connected seamlessly.
Key Features:
Perfect if you want to get granular with your days
Great integrations
Easy to update and create new tasks
Available as a free version, or you can upgrade to either Pro ($3) or business ($5)
Download Here:
3. Coach.me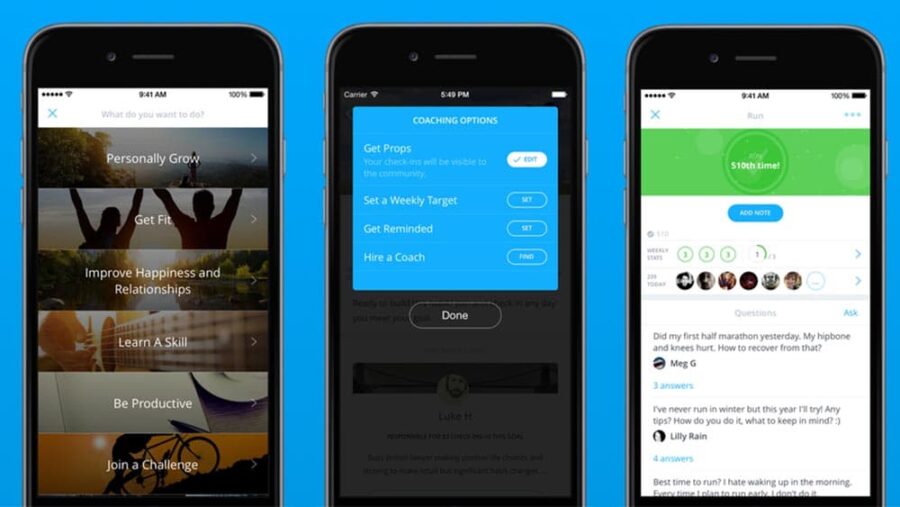 Coach.me is one of the leading personal goal-tracking apps — and for a good reason. If you want to develop a new habit or banish a bad one, this is the app to check out. This app helps get to the root of a habit (good or bad) and will track progress with reminders and weekly reports. Users can also join the Coach.me community where they will receive support and love from those trying to better their habits.
While Coach.me might not be the best app for those looking to set up meetings or track the status of the latest TPS report, it is a fantastic app for those who want to create and build good habits. I'm setting mine up to train for that next 5k!
Key Features:
Great to help build and encourage good habits
Uses a questionnaire to find your goals
Has a support community
Available as a free download, or you can upgrade to $25 for coaching services
Download Here:
4. LifeRPG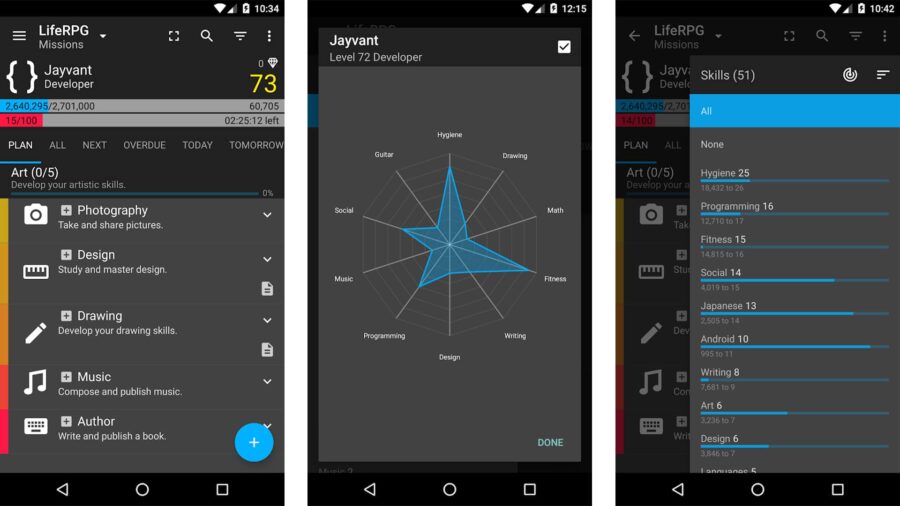 Some of us don't find the motivation to move around tasks or update lists, which is why LifeRPG is an outside-the-box alternative. LifeRPG is a tracking app that approaches tasks as one big game. The user creates the tasks, levels up, earns points, and performs different quests within the day. You can also add new skills and organize your missions by a set level of priorities, such as fitness, art, or even your energy level.
While this goal-tracking app might not be the one for you and your business cohorts, it is a fun, gamified approach to tracking personal goals that take a different approach to tasks that keep them fun and lighthearted.
Key Features:
Many icons or emojis to use with custom missions
Uses a reward system to encourage task completion
"Game" your way through your tasks
Free or you can download for $1.99 for a version without ads
Download Here:
Not available for iPhone or iPad
5. Strides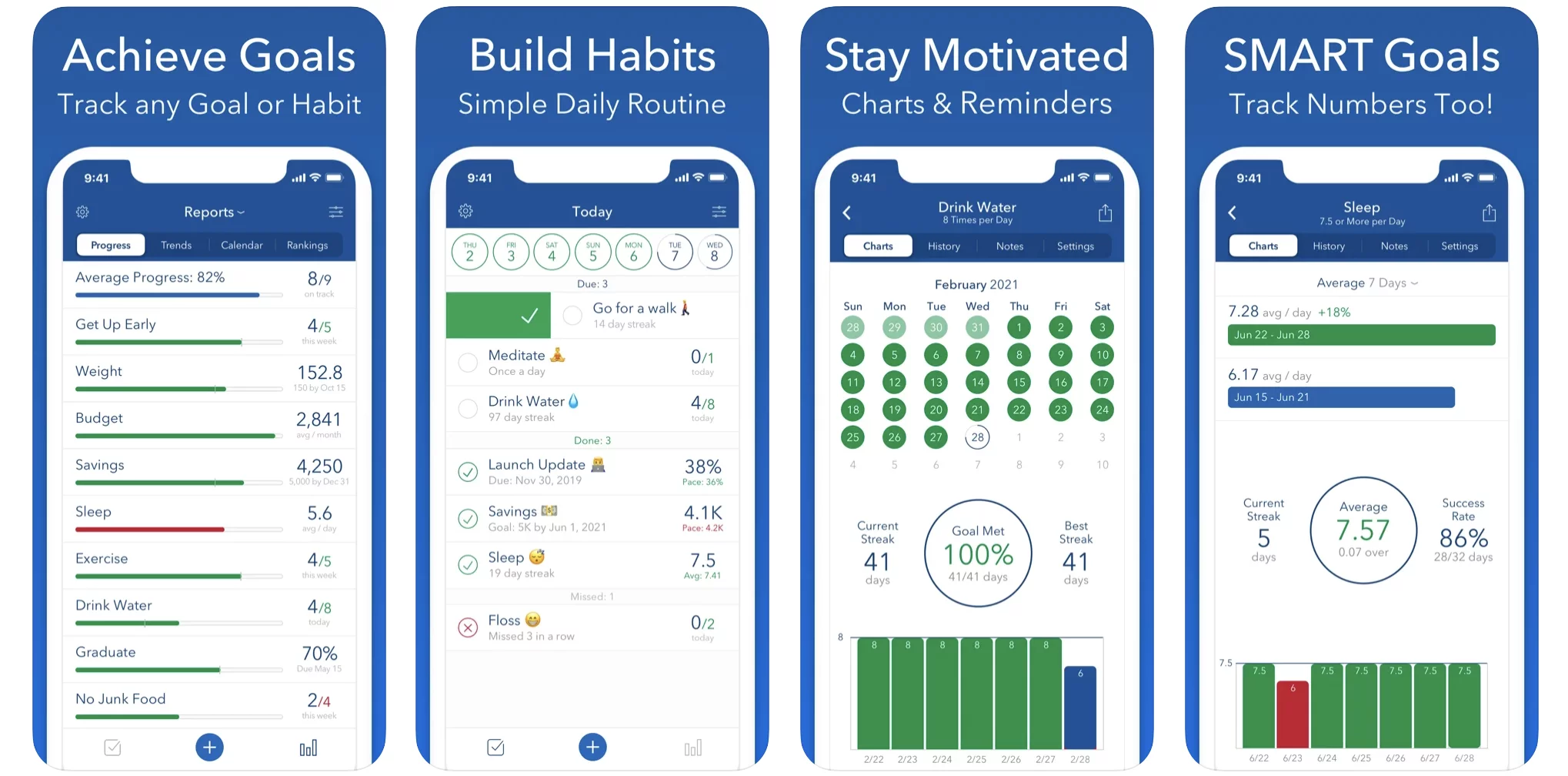 Strides is a powerful and easy-to-use goal-tracking app with a ton of integrated features. If you like charts, graphs, and data snapshots of your progress, then Strides should be your go-to. Strides can let you track at the granular level — by day — or even see your years rolling out before you. It all syncs together to give you a progress report of your latest stats, so you can see how far you are from accomplishing your goals. In addition, you can set up reminders for your daily habits and set target goals by date, so you know what actions need to be taken before you reach your goals.
Key Features:
Has 4 unique tracking screens to pick from
Progress reports capture all tasks both completed and in-progress
Fully synced across all your IOS devices, including the Apple watch
Free, but offers in-app purchases.
Download Here:
Not available for Android
6. Habitica.com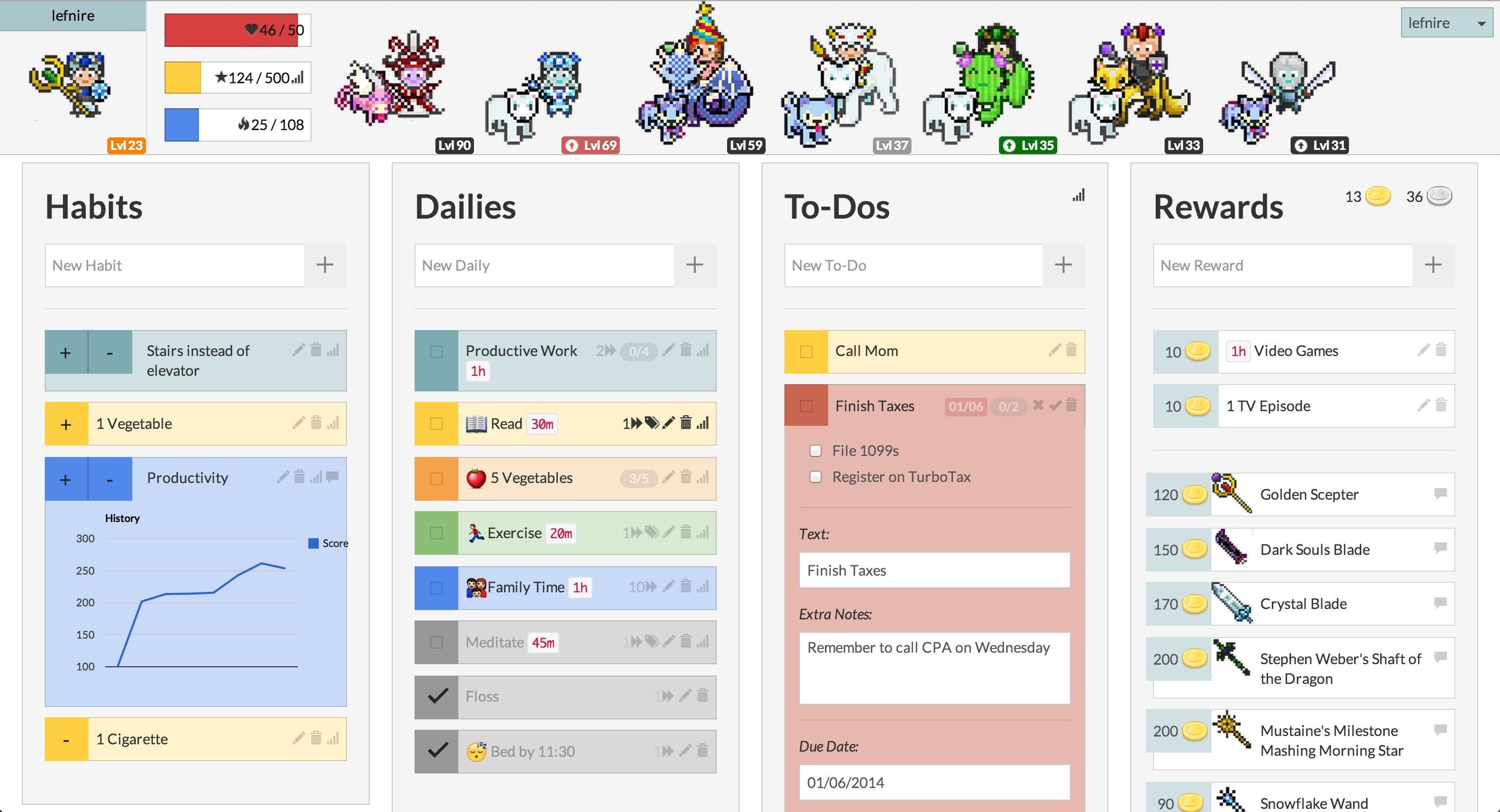 If you were underwhelmed with LifeRPGs graphics or bummed that it wasn't available for your iPhone, I would like to introduce you to Habitica. She's a little shy, but darn is she impressive. Another gameplay goal-tracking app, Habitica, was built using pixilated characters that have the same movement and feel as older video games from the late 80s. This app uses gaming mechanics to track habits and set goals and to-do lists. Once you complete tasks, you have access to enhanced gameplay to improve your character's skills and magic, such as picking up cool armor or weapons for battle. Love having a custom avatar that you can use slay foul beasts after checking off to-do lists from your day? Yes, please!
Key Features:
Uses a reward system when you complete tasks
Can join other "Habiticans" to earn in-game points and gold to trade for custom rewards
Has sample tasks and goals that are helpful to get started
Available as a free download to a $9 monthly subscription for a team. Users can also purchase or earn "gems" in-game for armor, weapons, and more upgrades.
Download Here:
7. GoalsWon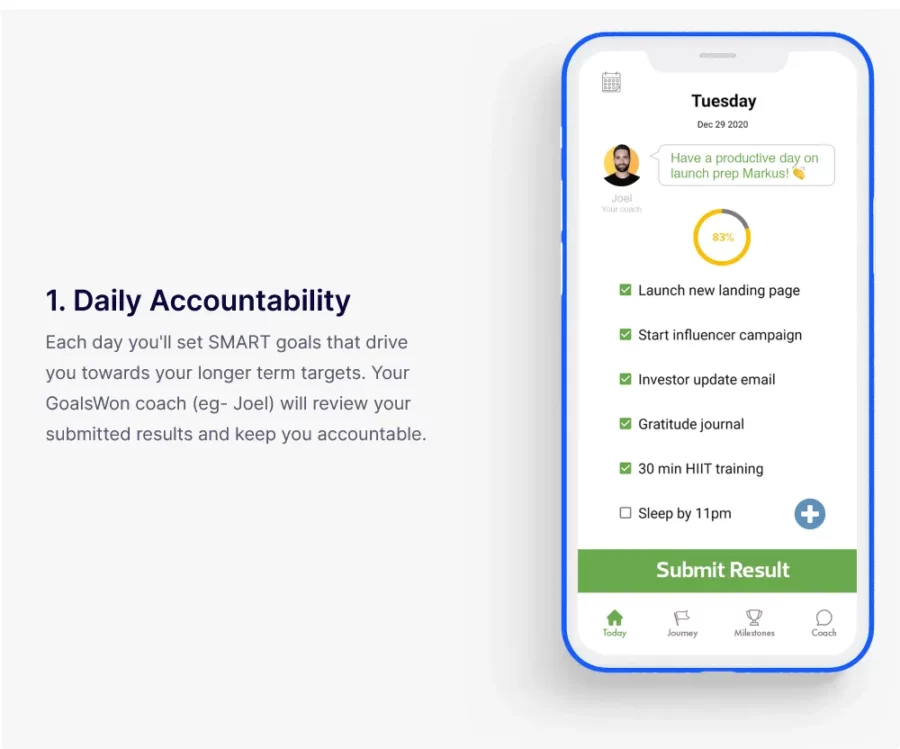 If you want to take your goal-driven strides to the next level, why not put accountability into the mix? Here's something unique: a goal-tracker that pairs you with a real-life accountability coach. GoalsWon's got the practical features of your favorite tracker apps, like goal-planning and analytics, complete with charts and graphs to track progress. But what sets it apart is that you get a professional to hold you accountable for the goals you're tracking every day. Your pro coach provides daily support, accountability, and advice based on proven behavioral techniques. Does your usual tracker make you feel totally isolated as you check off your to-do lists? Here's one to try!
Get personalized 7-day-a-week support from a dedicated accountability coach

Plan goals in specific timeframes and get professional feedback and advice

Take advantage of custom reporting and progress tracking

Get results-driven accountability coaching for as low as $2 – $3 a day.
8. Way of Life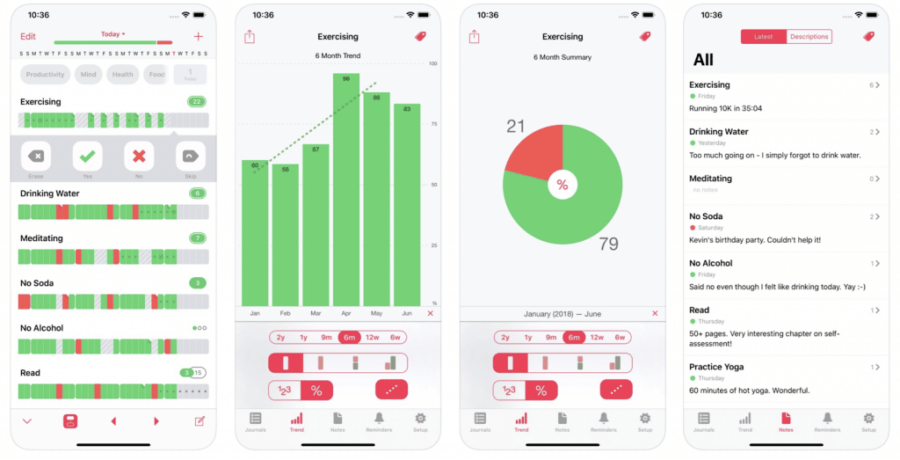 Way of Life is an app that helps you to break bad habits and build good ones. In an easy color-coded system of yes and no questions, you are able to track your performance in less than a minute. The app offers accountability graphics that report your activities. The reminder feature helps to keep you on track until your goal is achieved. Way of Life has a diary function that allows you to write about what has been triggering a bad habit, for example. One of the drawbacks of the tool is the absence of KPIs or OKRs tracking.
Key Features:
Track goals using a unique color-coded yes and no system

Daily reminders to keep you on track

Diary function

Charts lets you see the bigger picture in the daily, monthly, weekly and yearly basis
Download Here:
9. Toodledo

Another great goal-tracking app is Toodledo. The app offers to-do lists, but also allows you to write long notes, make custom lists and assign tasks and track your habits. Toodledo offers collaborative features, so you can share your lists and notes with your friends, family and co-workers. The app also has a functionality to automate tasks, so you can save time by scheduling recurring tasks.
Key Features:
Custom to-do lists

Attach files

Track time

Create repeating tasks

Get reminders based on your current location

View tasks on a calendar
Download Here:
10. Leapsome
Leapsome is a platform that allows you to keep track and collaborate on goals at all organization levels. The software is simple, modular, flexible and scalable, offering superior analysis features and seamless integrations. The tool combines performance management, employee engagement, OKRs, and learning. Leapsome is fully compliant with enterprise-level security, ISO 27001 certification and GDPR compliance. You can request a free demo and ask for a quote here.
Key Features:
Goal dashboards

Progress timelines

Sync 1:1 & Reviews

Customize goals visibility

OKR template
Download Here:
11. Productive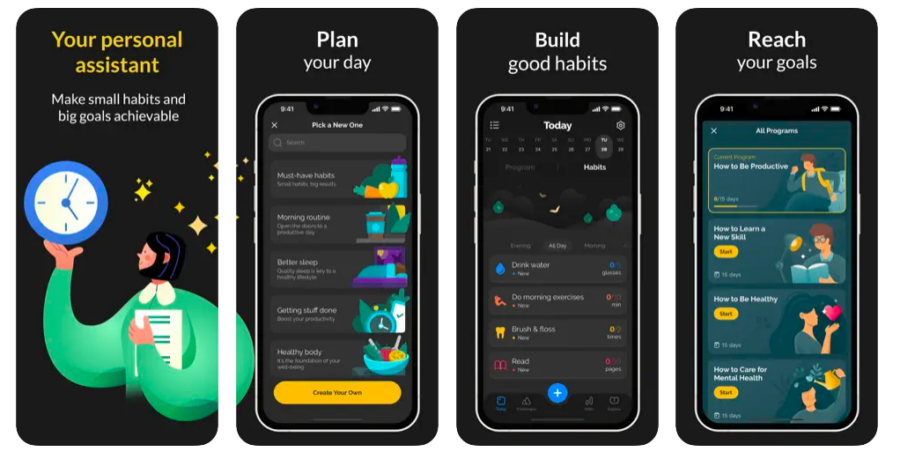 Available on both iOS and Android, Productive allows you to set personal goals, keep track of your progress, and ultimately keep your focus on what makes you more productive! Productive lets you keep notes on your habits and has programs designed to keep you on track with your goals. There are challenges to motivate you: you can see how you size up amongst users from all over the world. The app also features specially curated articles with personalized expert insights. You can customize your habits and goals using icons and colors, and keep track of personal stats. Turn on notifications and always remember to stick with what you set out to get accomplished!
Key Features:
Unlimited number of habits

Endless motivation with various challenges

Location-based reminders

Motivating stats for each habit

Habit trends with week-by-week data
Download Here:
12. Trello
You may need to take a 3-month prep course for an exam or start a weekly physical training for an upcoming 5k run, and setting goals and keeping track of them is the most effective way to achieve success. Mostly used as a project management tool, Trello is a software that can also be used to help you to track your personal goals.
Just like you would create a set of tasks for a team project, you can build personal projects and assess your ongoing achievements. Create Kanban boards and Gantt charts to visualize short and long term aspirations over various spans of time. The assorted views can help you to get a different perspective over your progress. Trello also allows you to set reminders for repetitive tasks.
Learn about other similar tools in our guide to the best Trello alternatives on the market.
Key Features:
Pre-made templates for different tasks

Automate tasks and workflows

Multiple views: Boards, timelines, tables, calendars, and more
Download Here:
13. ProProfs Project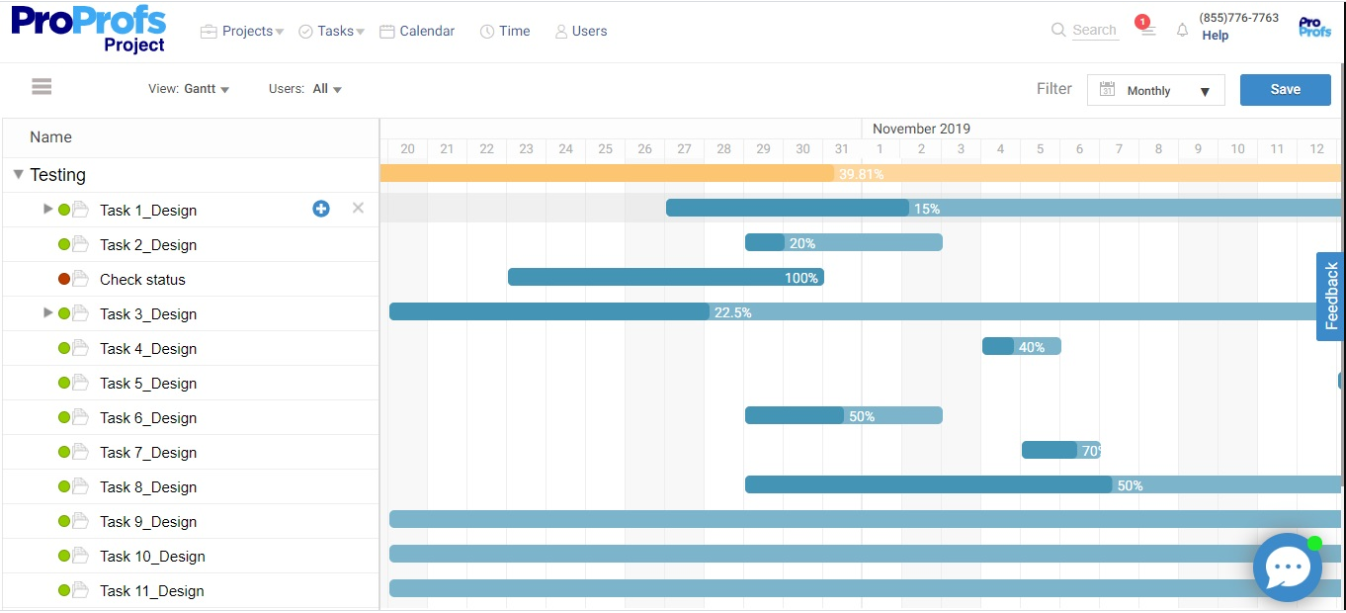 ProProfs Project is a great option if you'd like to track goals throughout a project with your team. With multiple ways to view your projects, from lists to Gantt charts, everyone can see how things are moving along easily. Collaborating with the software's chat and commenting features keep communication flowing seamlessly between team members. The intuitive dashboard is straightforward when assigning tasks to your team and setting goals with defined deadlines. ProProf Project also features AI-powered reports that can be viewed over set periods, enabling you to analyze progress and adjust the workflow as needed to hit your targets.
Key Features:
Time tracking

Automation for recurring tasks

Chat and comment with collaborators

AI-generated reports for actionable analytics
Download Here:
14. Progress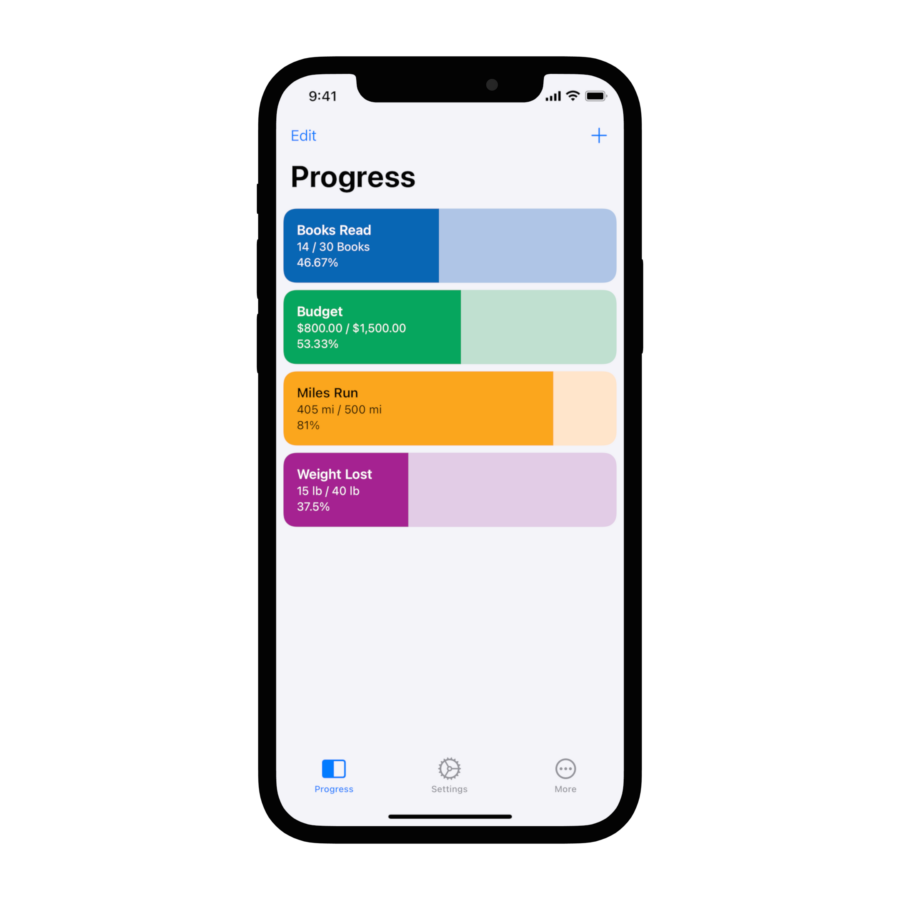 Progress is a goal-tracking app that helps you identify performance trends through historical data. Check the history of past activities and measure your progress with the help of visual charts right on your dashboard. The tool includes advanced Siri and offers shortcuts that support unlocking advanced integrations and powerful home screen widgets.
Key Features:
Categories: organize trackers into categories, then use them to filter down to what you want to see

Quick actions: customizable quick actions let you update a tracker with minimal effort

Automated resets: trackers can reset on a schedule, which is useful for daily, weekly, monthly or yearly goals

Tracker history and notes: see trends over time and projected completion dates
Download Here:
15. GoalsOnTrack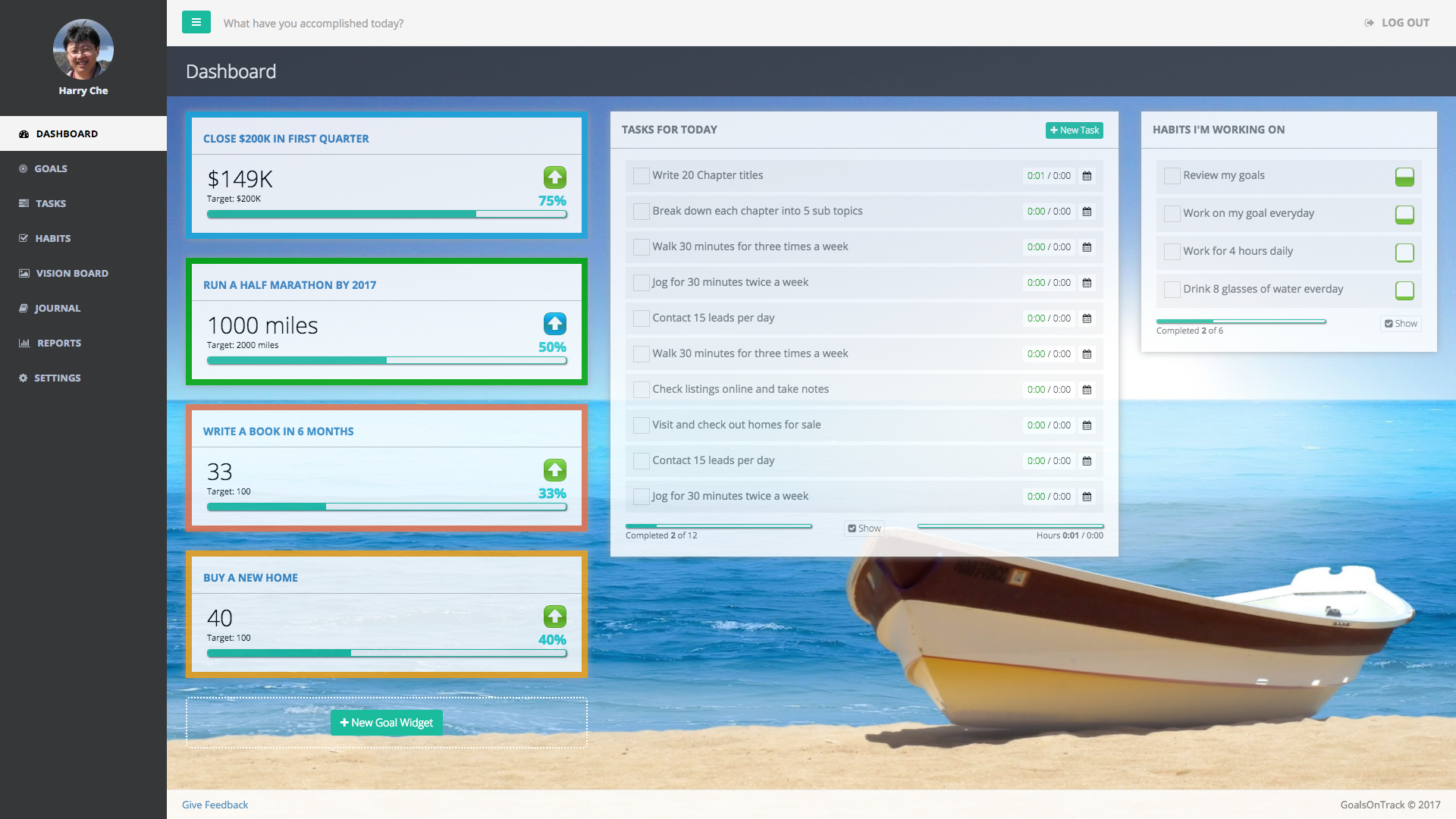 Labeled as "a goal software for high achievers," GoalsOnTrack lets you create SMART goals, and break them into long-term, milestones or sub-goals. The tool also allows you to organize your goals into categories and to set up recurring tasks so that you can track your schedule accordingly. Do you need to adjust your day? Make a change by simply dragging and dropping tasks on your calendar to revise your schedule.
Key Features:
Goal dashboard and S.M.A.R.T Goals

Multi-level subgoals and progress tracking

Goal templates and task management

Calendar and time tracking

Habit tracking and vision board

Goal journal

Reports & charts
Download Here:
16. ClickUp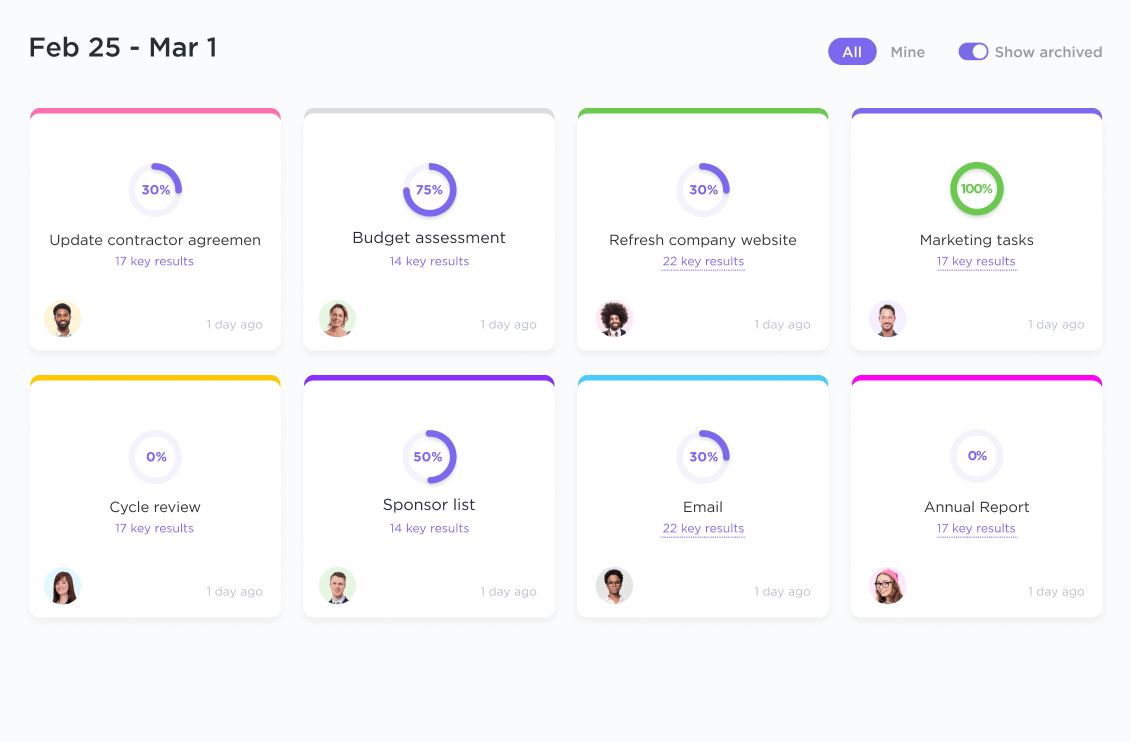 ClickUp is a user-friendly goal-tracking app that combines customizable goal-tracking, task management, time tracking, project management, and team collaboration tools. Its intuitive interface and features such as recurring tasks, notifications, and progress tracking make it easy to stay on top of goals. The platform fosters collaboration among team members, increasing productivity and promoting teamwork.
Check out these great ClickUp alternatives to learn more about other similar tools on the market.
Key Features:
Customizable goal tracking with progress tracking and visualizations

Task management with features such as recurring tasks, dependencies, and checklists

Time tracking with built-in timers and time estimates

Project management with project templates and Gantt charts

Team collaboration with features such as comments, mentions, and shared views

Integrations with popular apps such as Google Drive, Slack, and Trello.
Download Here:
17. nTask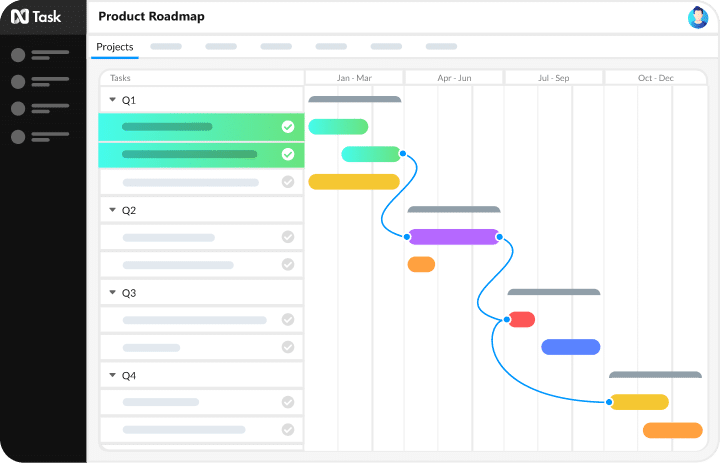 When it comes to goal-tracking apps, nTask is another great choice for setting goals and monitoring progress. While nTask is primarily known as a project management tool, it can also be used effectively for personal goal tracking. nTask allows you to create personal projects and track your ongoing achievements. You can utilize its Kanban boards and Gantt chart tool to visualize your short and long-term aspirations across different timeframes. nTask also offers handy reminders for recurring tasks.
Key Features:
Pre-made templates for different tasks

Task automation and workflow management

Prioritize your goals and divide them into deliverable tasks with set deadlines

Track the progress of each project and stay updated on your goals' statuses

Alerts, notifications, and reminders to stay on track

Lots of flexibility with third-party integrations and easy information transfer
Download Here:
18. Notion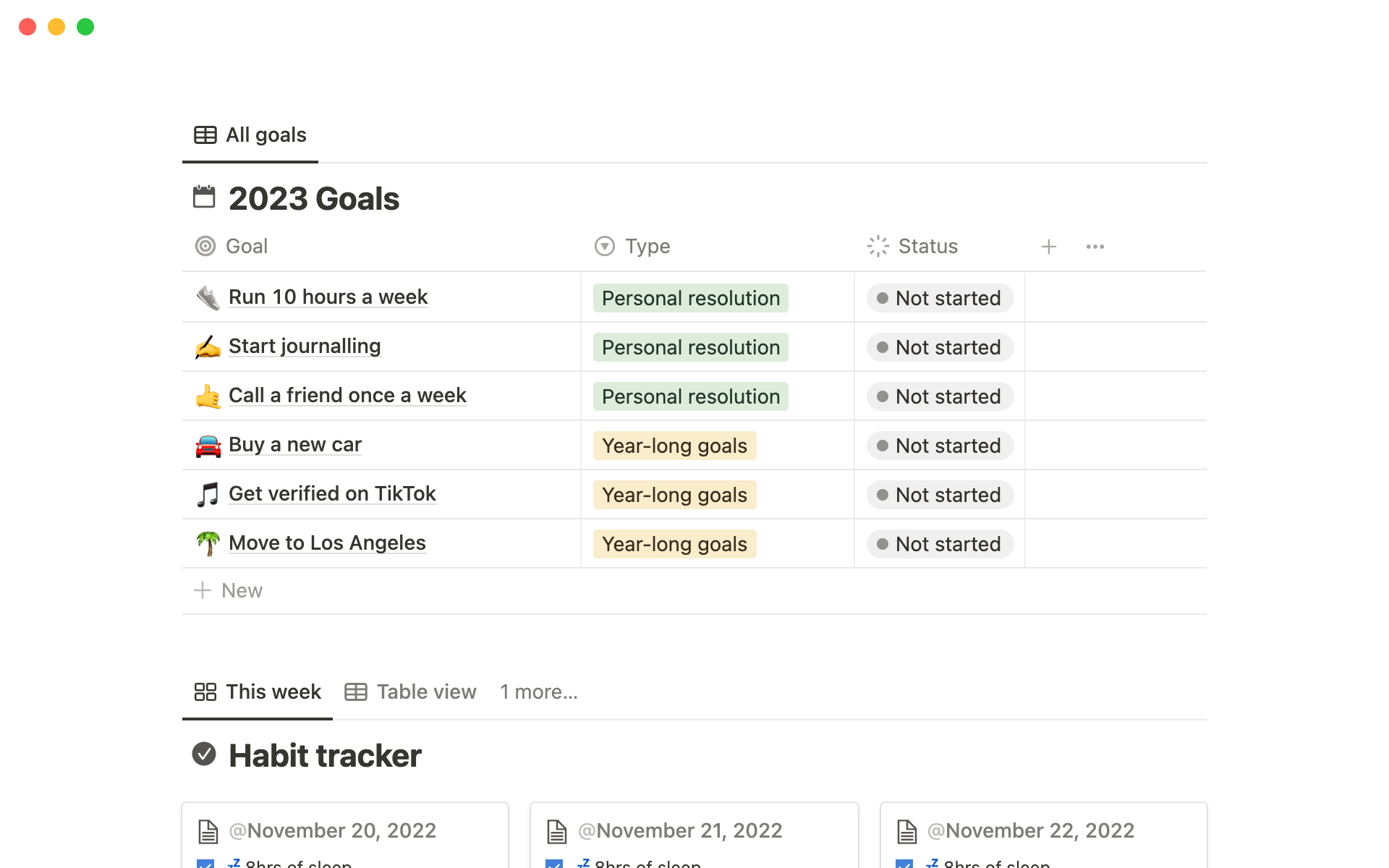 Notion is a productivity and note-taking app with an all-in-one workspace which makes it a great tool for setting, tracking, and managing goals. The flexible platform lets you create custom templates and dashboards to visualize your objectives and monitor your progress. Its adaptability makes it suitable for all types of goals, whether personal, academic, or professional. The drag-and-drop interface enables you to easily organize your goals and tasks to best suit your workflow.
Notion's functionality allows you to break down large goals into smaller, manageable tasks. You can then set reminders, deadlines, and create a priority list, helping you stay on track. It also has collaborative features that are handy if you're working towards common goals with others, with real-time updates and task assignment. Notion has a free plan with lots of useful features to help you achieve your goals and paid plans start at $8/user/month.
Looking for other similar tools? Check out these great Notion alternatives.
Key Features:
Customizable templates

Nested pages – useful for breaking down large goals into smaller tasks

Set reminders and due dates to stay on track of goals

Share goals, assign tasks, and collaborate in real time
Download Here:
19. TickTick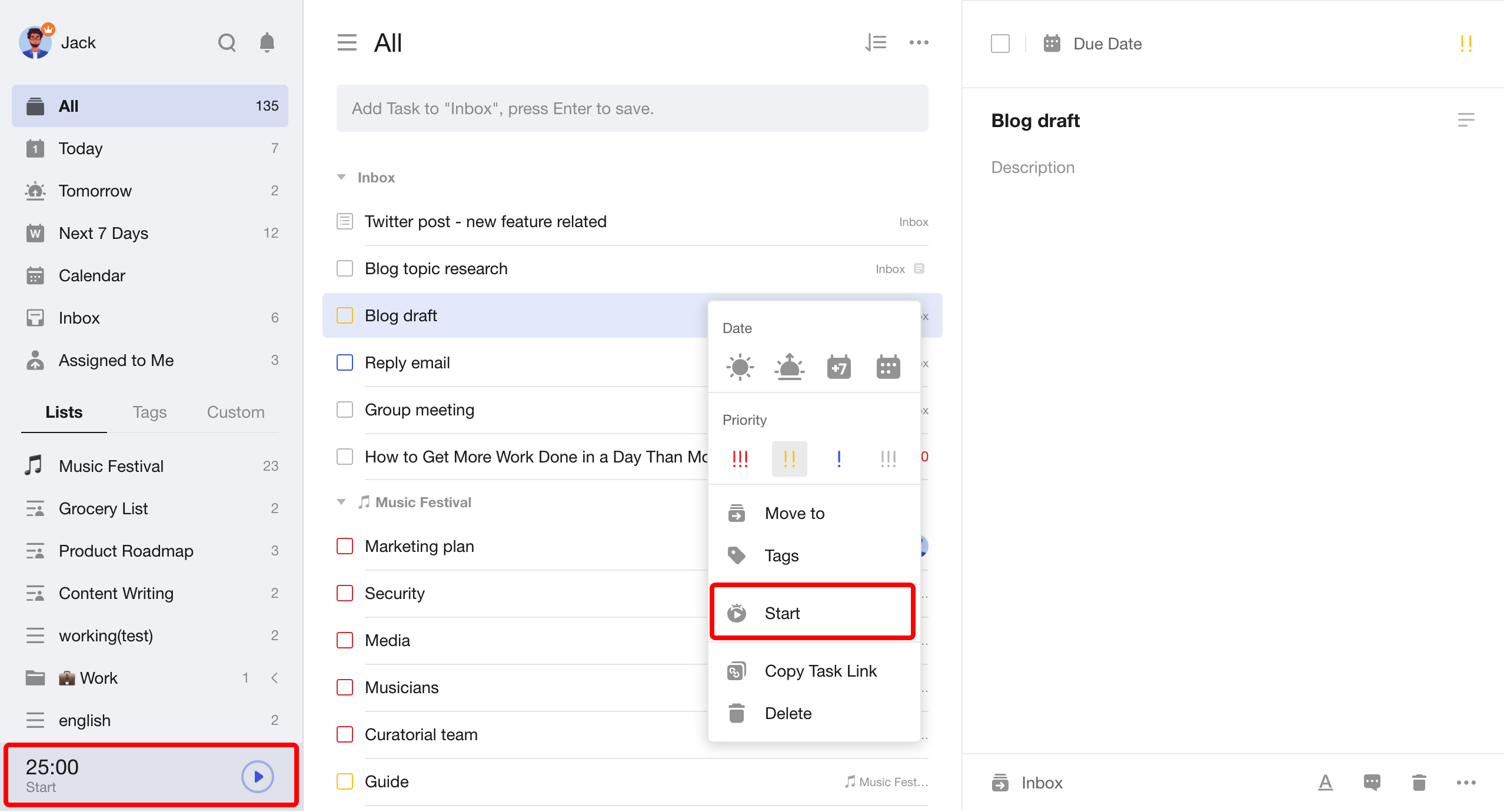 TickTick is a to-do list app with great features for goal-setting such as smart lists, calendar view, easy access to an overview of your daily to monthly tasks, and Kanban board view. TickTick can also help you stay focused with its Pomo Timer which can be used along with a built-in white noise generator to keep you from reaching burnout level. Track how effective your workflow is by accessing the summaries views and stay motivated with achievement scores.
You can use TickTick Goals view to be your central space for checking your goals at a glance. With Goal templates by TickTick you can easily set your goals for different areas of your professional or personal life. Reminders and integrations are also features that can help you on tracking your goals on TickTick. If you need an extra push to stay motivated, use TickTick Habit tracker to check your progress and improve your performance.
TickTick can be used for free, and for $27.99 per year you get extended use of the features within the app such as full calendar functionality and customized filters.
Key Features:
Add tasks by voice

Turn emails into tasks

Location reminder

Smart lists and filters

Calendar view

Achievement scores
Download here: iOs system: Mac, iPhone and iPad, Android
20. Beeminder
Beeminder is an unconventional goal-tracking app that uses an interesting concept to get people motivated. With a combination of data visualization, gamification, and financial incentives, Beeminder focus on rewarding success, penalizing failures and giving people a chance to track their progress along the way.
If you can put a number in your goal, you should be fine to use Beeminder — but you will need a number. Whether is a financial goal, a weight management goal or the time you spend on social media, a number will be required by the app. With Beeminder you can set up financial incentives for yourself, such as paying a small fee if they fall behind on their goal. There are however some drawbacks to Beeminder, it can get quite expensive to track multiple goals using their paid plan; it can be confusing at first especially if you are not into data visualization or gamification. Beeminder premium plan starts at $8 per month.
Key features of Beeminder:
Quantified self-tracking
Commitment contracts
Flexible self-control
Data visualization
Integrations
Download here: Mac and Android
21. Habit Tracker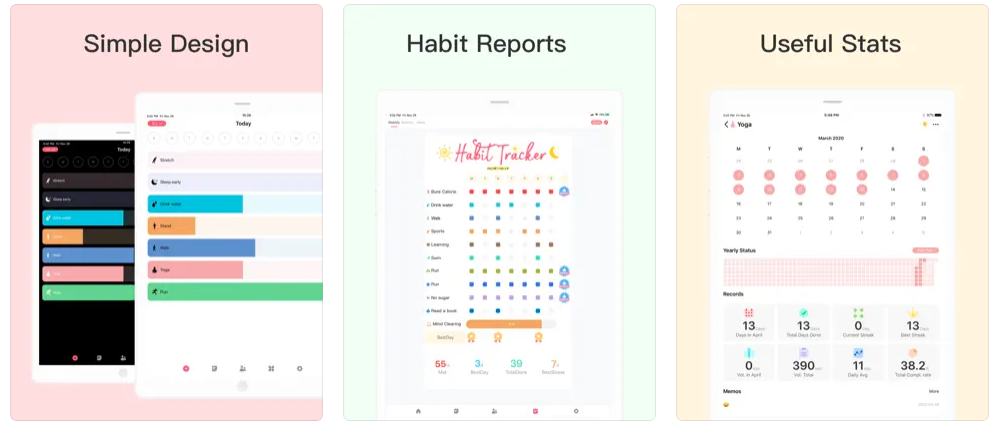 Habit Tracker is an app to help you build habits and reach goals. The software was created to remind you about tasks, so you can better track your habits with stats and notes. Habit Tracker has analytics features and reporting capabilities that allows you to visually see your progress on charts. There's a way to share habits with others so your team can track their goals together. Downside of Habit Tracker, available only for iOS users. The app is free, but offers in-app purchases. Lifetime membership or gift cards available from $5 to $20.
Key features:
Auto tracking: water intake, steps, exercise time, calories burn…etc, powered by Apple Health
Goal units: track with volume and units, not just did or not
Group habits: build, remind & track habits with your team
Powerful stats: detailed information to evaluate your results
Time-based or location-based reminders
Repeated reminders
Cloud backup & sync: data across different devices
Download Here:
---
Do you have other goal-tracking solutions that you think should be on this list? Comment below and share your favorite goal-tracking app with us!