Every project manager, startup founder, supervisor, entrepreneur, and creator understands the importance of managing time and to-do lists. Without the ability to coordinate and stay on-top of timelines and to-dos throughout each phase of a project, it's hard to achieve everything you want and also stay productive. If you don't have these tools, project managers tend to waste time and potential, minimizing overall growth.
That's where digital time tracking tools come in.
With sleek designs, user-friendly interfaces, and thorough integration with other collaboration tools, time tracking software has made vast improvements to the way that PMs everywhere track time spent on their projects. The utility of these tools means that there are a lot of them on the market. Anyone whose job depends on tracking tasks will have a favorite platform of their own, but the numerous options provide flexibility for all budgets, goals, and preferred features.
If you're still trying to find the best time tracking tool for your needs, we are here to help. Below are a few of the most effective time tracking tools which stand out from the crowd and help teams improve time management and work ethic.
1. Hive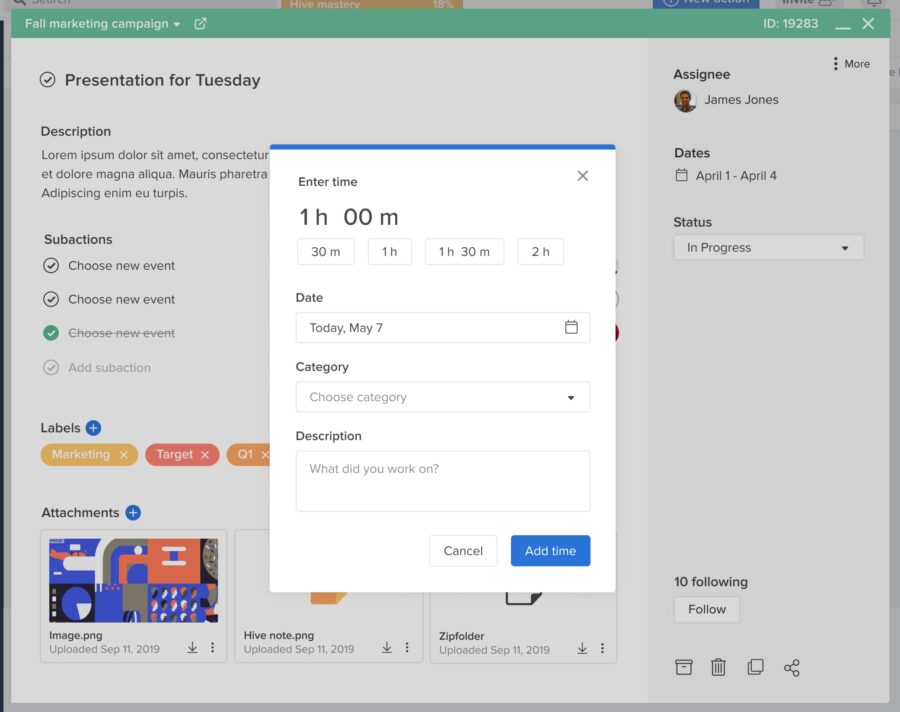 Hive combines the features of a robust time-tracking tool and power of project management software all in one single platform. Hive's clean interface is ideal for scheduling, planning, communicating with a team, time tracking, time estimations, managing to-do lists, gathering information and feedback via forms, approving project updates, emailing, and more. If there's something a PM or a team member needs to complete a project, Hive has a feature that can help!
Hive's usage of templates allows for impressive flexibility, meaning that users across multiple industries can utilize everything that Hive has to offer. These templates have been designed for business development, software development, HR, marketing, product management, and more. Some templates are ideal for planning, while others emphasize communication with team members via performance reviews and social media calendars.
Plus, with Hive Forms you can gain visibility on your calendar of outages and PTOs requests across your organization. You can also exclude company and national holidays from your task and project scheduler, this way no one gets a task assigned to them on a holiday!
Hive has more integration possibilities than many other time tracker programs, too. With over 1,000 integrations, users can customize Hive to fit seamlessly with tools they already utilize within their teams. Ease of use is further enhanced by the availability of syncing desktop and mobile apps to make working on the go an effortless experience.
In addition to this myriad of productivity features, Hive has even more useful utilities on the way, a couple of which include the addition of time-sheets and resource planning tools which will allow PMs to plan ahead and make the beginning of any project a breeze. In short, Hive is one of the best time tracking tools and productivity apps available, particularly for PMs who require heavy customization or who handle a variety of projects at one time.

2. TimeCamp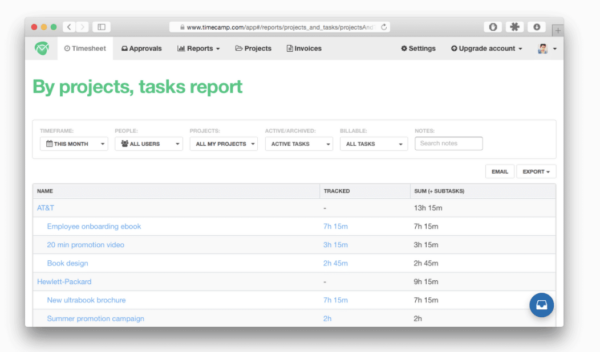 TimeCamp allows both individuals and managers alike to streamline the way they track time. Automatic time tracking paired with features like invoicing functionality and the ability to sort time reports by billable and non-billable hours make TimeCamp a great resource for freelancers or managers who want to ensure their projects are remaining profitable.
Managers can also make use of TimeCamp's attendance tracking and its ability to integrate with other popular organization platforms like Hive, Trello, Basecamp, and Evernote. Plus, the mobile application is easy to navigate and adds another dimension of flexibility and convenience for all users, regardless of team or project size. It can also be a great Harvest alternative if you are looking for a tool that does similar things.
3. Paymo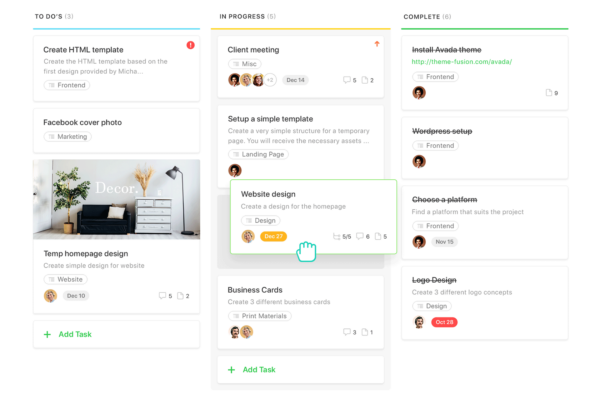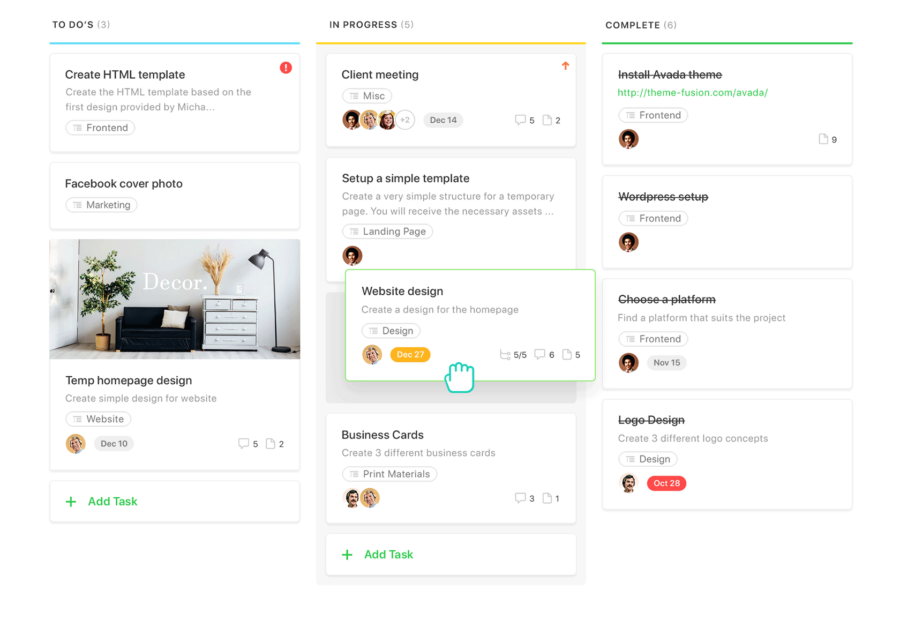 Paymo is designed to be used by both independent freelancers and those who are managing or working with other team members. This tool is best for resource planning, time tracking and allocation.
Task management capabilities are another aspect of Paymo — the program features a number of tools to help individuals and managers keep track of their to-dos while creating realistic schedules. The built-in Gantt chart creator, for example, allows users to create timelines for their own tasks and for their team's responsibilities.
Plus, communication features allow real-time discussion between team members to save time, reduce frustration, and improve the quality of your projects. Finally, as its name suggests, Paymo has all the invoicing tools necessary for success, too. You can also integrate Paymo with Hive, for extra project management oomph.
4. Zoomshift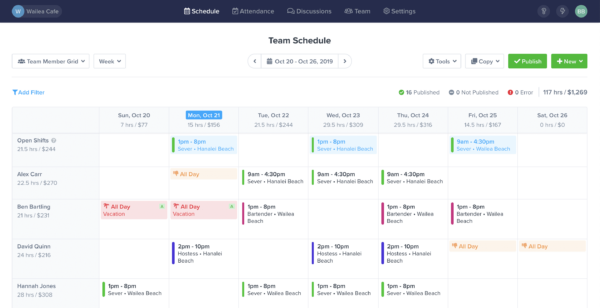 ZoomShift
offers a unique time tracking tool that puts you in control of employee timesheets. It allows
for better time management
so that milestones can be easily viewed and client expectations can be better managed. Employees can clock-in for assigned shifts using the web time clock or mobile time clock and management can edit timesheets on the fly from the free iOS and Android apps.
Time tracking errors can kill your bottom line. Missed deadlines, early and late punches, extra unscheduled shifts. You can lose hundreds of dollars a month if you're not careful. ZoomShift can help prevent these errors from happening and block employees from clocking in without being scheduled. Plus, the app communication features allows for real-time discussion between team members to increase productivity, and improve the quality of work.
5. ClickTime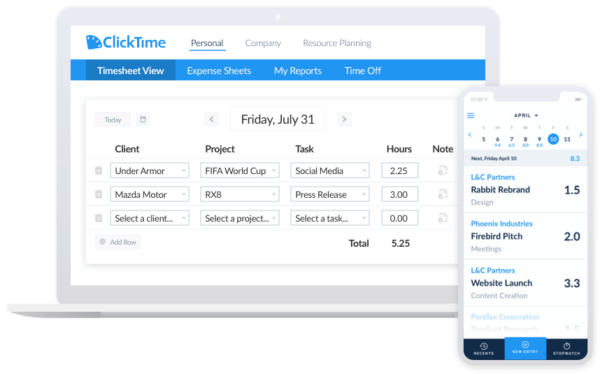 In their 20 years of industry experience, ClickTime has been tracking over 1 billion hours of time and saving their users over $150 million.  ClickTime offers unique, customizable time tracking and budgeting solutions for organizations of all industries and sizes. 
In addition to time entry, Clicktime gives you access to 1-click utilization reports, allowing you to surface high-level and deep project insights to monitor profits, costs, and billings in real-time. These reports allow managers to measure and gauge employee performance and billability. ClickTime also provides its users with seamless, easy-to-use integrations for platforms such as Salesforce, QuickBooks, Trello, Slack, and more.
6. Beebole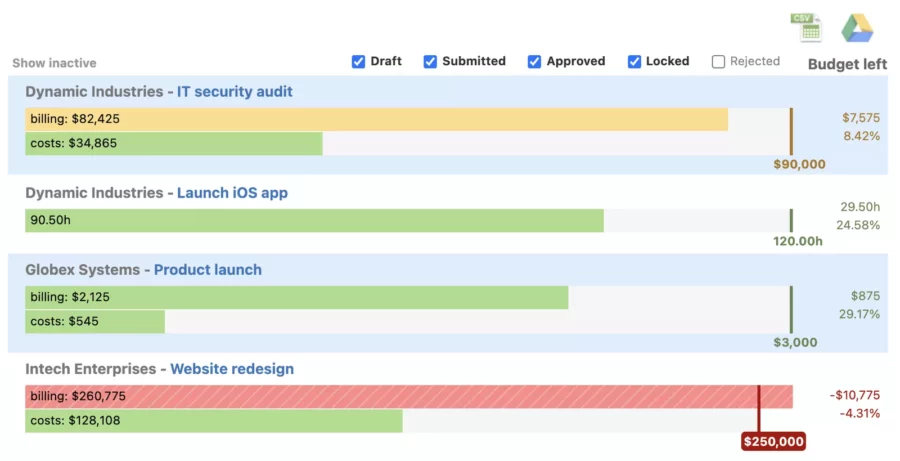 Beebole's project time tracking tool is the perfect choice for teams and organizations of any size. Not only can you track the hours spent on projects and clients, but you also use Beebole as an attendance tool. This feature lets you track total working time and breaks, rather than specific project time tracking.
Their customizable, in-depth reporting features set Beebole apart from the other project time tracking tools on the market. With Beebole, you can create unlimited reports on hours, costs, budgets, margins, and more, all of which can be combined to build insightful KPI dashboards for your team. 
Beebole's project time tracking tool is an all-in-one software for keeping track of your team's time, breaks, billable hours, and time spent on clients, projects, and tasks. It's GDPR compliant, easy to use, customizable, and available in 11 languages and multiple currencies. Trusted by hundreds of companies worldwide, it's a cost-effective solution to understanding exactly where your team's time goes.
7. Harvest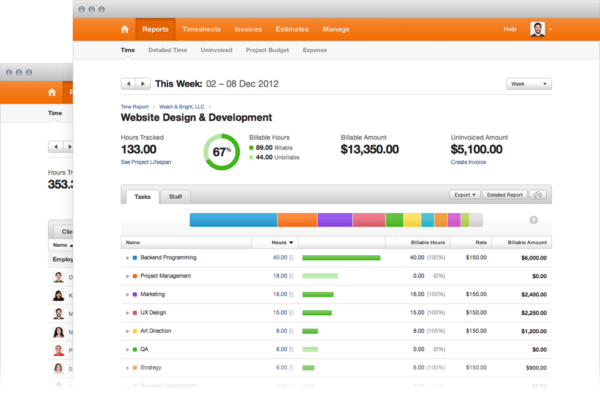 Harvest transforms timesheet data into visual reports that are quick and easy to understand, making it simple for any team leader or PM to track time spent amongst their colleagues. Invoicing tools are included, too, for a seamless transition between tracking time and paying for that time.
Some PMs will be particularly fond of Harvest's sister app Forecast, a predictive tool which encourages project leads to think ahead about the way that their employees are using their time and working toward a particular goal. Porting Forecast's data directly into Harvest allows PMs to decide whether or not their timeframes are doable, saving them from a potentially failed project down the line. You can also integrate Hive and Harvest with ease.
8. Toggl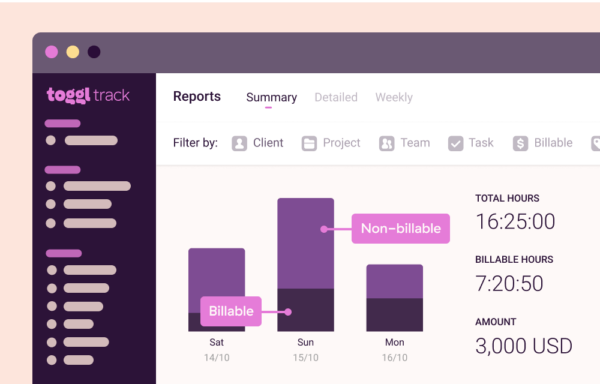 Toggl has a simple and straightforward interface, making it a popular choice amongst no-nonsense PMs searching for a clean but effective program to track time. Toggl is especially useful for those who prefer to avoid real-time tracking and prefer to track time manually.
Thanks to web, desktop, and mobile applications which all sync in real time, Toggl takes the hassle out of time management. Their calendar integration improves the scheduling aspect of managing a team, and starting a timer takes only a single click. Toggl also offers the option to enable notifications which remind users to start tracking (or to stop tracking when the program senses idle time).
9. Time Doctor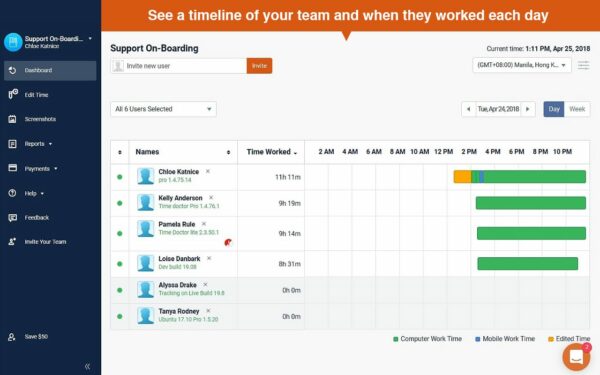 Time Doctor makes it easy to accurately track time with the click of a button. You simply start the timer to automatically start tracking your work time.
For Managers, Time Doctor will let you know when and what your team is working on. The visual reports dashboard shows tables and charts view of hours worked on a daily, weekly, monthly basis and over a custom date range. The reports also show time usage stats based on time spent on various projects and tasks, daily timeline report, poor time usage, GPS tracking and more.
Time Doctor also integrates with many project management solutions and has a really cool feature that gives you a friendly nudge when it detects that you might be distracted by a less productive task. With Time Doctor, you have deep insights to optimize your productivity.
10. nTask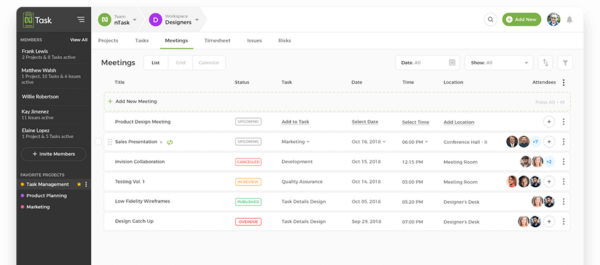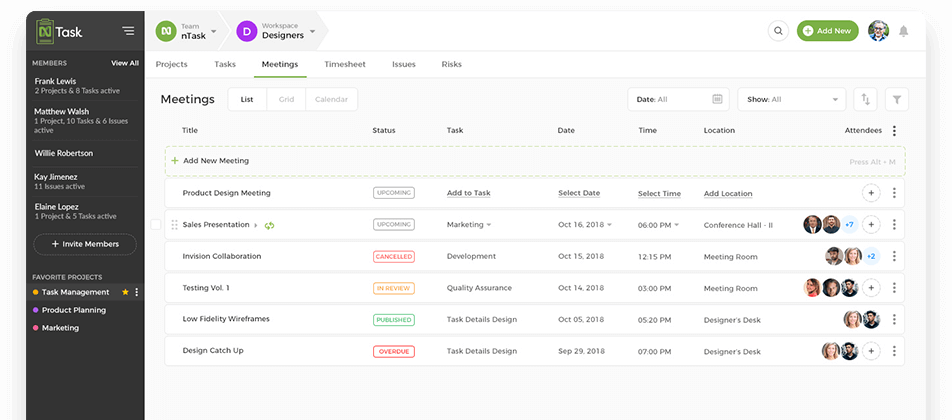 nTask is a productivity app used by more than 100,000 teams and individuals to get work done. This tool is free, and it has a wide array of features including an awesome time-tracking functionality.
With their online time-tracking and employee timesheets feature, teams can accurately identify bottlenecks and work to mediate any workflow issues that might arise. nTask has an automated web timer that helps you easily track time without a great deal of manual work. Additionally, you can use time-tracking on their mobile app if you're not at your desk.
For timesheets, nTask lets you create manual timesheets if you forgot to enable the auto time-tracking, which is a great additional feature. Overall, nTask is a great option if you're interested in a free PM tool with enhanced time-tracking capabilities.
11. Homebase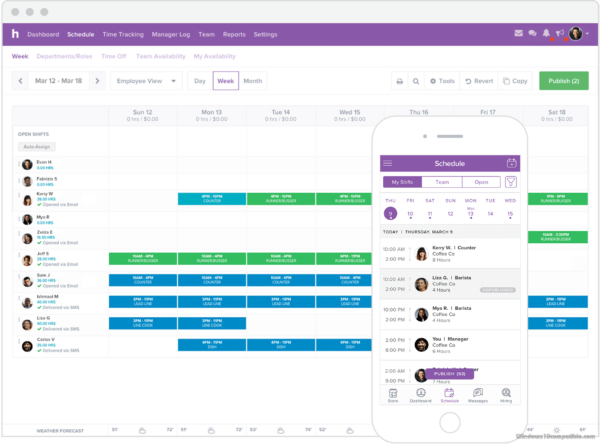 Homebase is a time tracking software especially made for small businesses and teams. With everything needed to track time and manage a team, Homebase aims to help small business run smoothly, without making things too complicated or expensive.
When it comes to managing employee shifts and prepping payroll, Homebase has scheduling and time-tracking features to easily record who worked, and as well as how long they worked for. It can also help with the hiring process, letting you post jobs, manage applicants, and onboard new hires online. Homebase's built-in messenger and real-time notifications also make it easy to connect with employees and keep everyone on the same page.
One of the best part about Homebase? The basic time-tracking features are totally free for an unlimited number of employees. If you want to add additional functionality to the app, there is a tiered pricing model depending on the extent of services you are looking for. But if you're just looking for basics, the free plan has you covered.
12. Monitask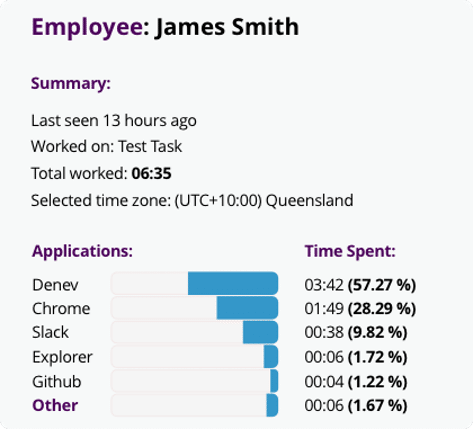 Monitask is an employee monitoring software with powerful time tracking features. With Monitask, employees and freelancers can manually start a clock when they begin working on an assignment for employers. Throughout their work, the application takes computer screenshots that can be reviewed online by the employer. These screenshots can be taken randomly, or can be assigned for a specific frequency or interval by the employer. This increases transparency — no spying or prying necessary.
Monitask has many time-tracking features in addition to the basic time clock and employee monitoring software. Using dashboards, employers can monitor the workload of individuals or the team as a whole. These real time dashboards help track what is happening within the team, showing information including employees web activity, current tasks and projects, and how long the actual workflow takes.
13. Deputy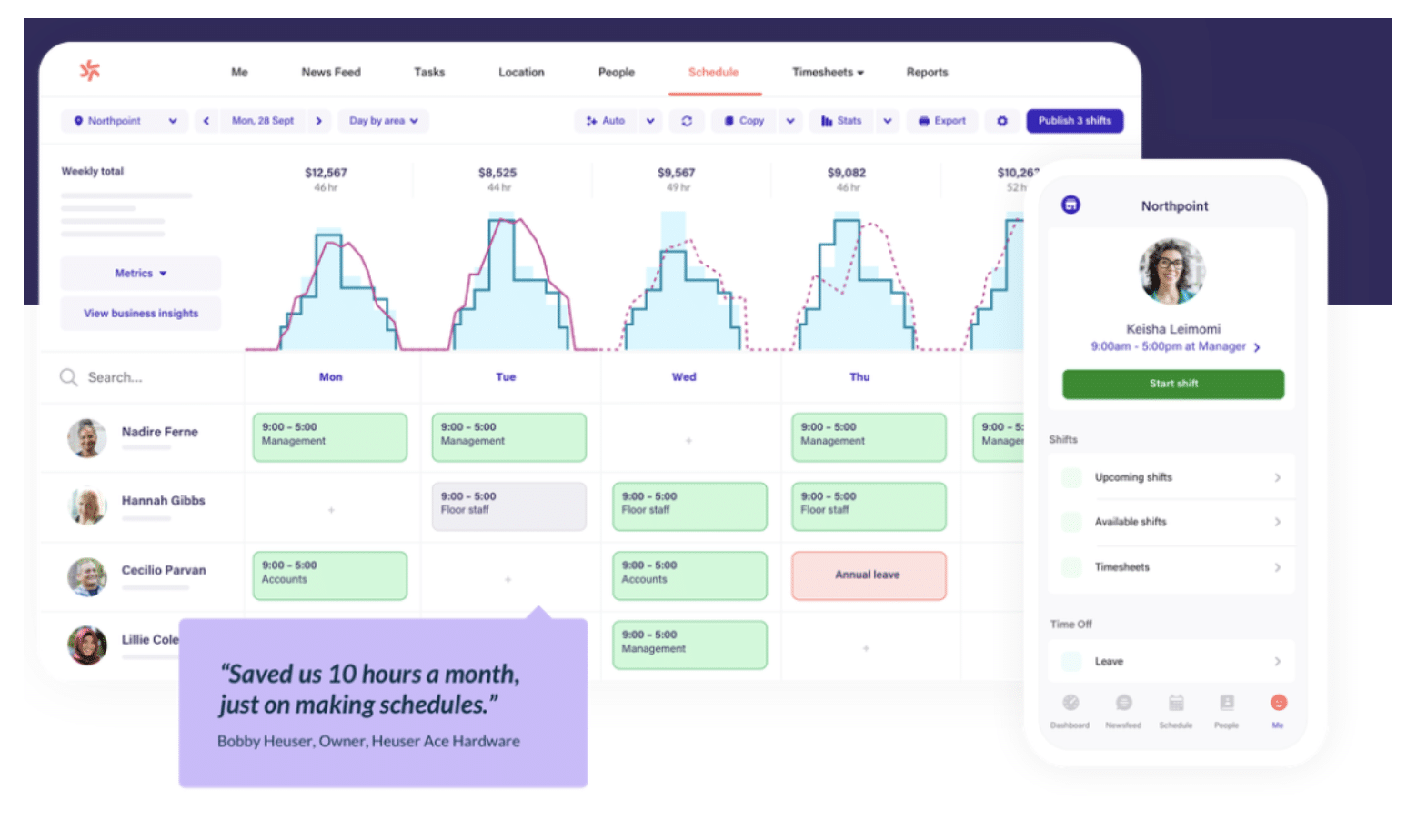 Deputy is shift scheduling software that helps business owners and HR managers manage their staff across a wide range of industries, including: healthcare, hospitality, retail, construction, manufacturing, security and many more. 
Deputy allows you to handle schedules, timesheets and communication all in one platform. It helps you and your team to stay organized and more engaged. You can post important documents, company policies, training videos or whatever you want on the news feed, and share that with the rest of your team. You can even introduce and onboard new team members – very helpful during these uncertain times, right?
Deputy also cares for the wellbeing of your staff and helps ensure sure they don't miss breaks or meals. Scheduling software will help you allocate meal and/or rest breaks, while the timesheet app will flag out any breaks that have been missed. The software can be integrated with other systems you use including payroll, HR software or POS systems. 
14. Indy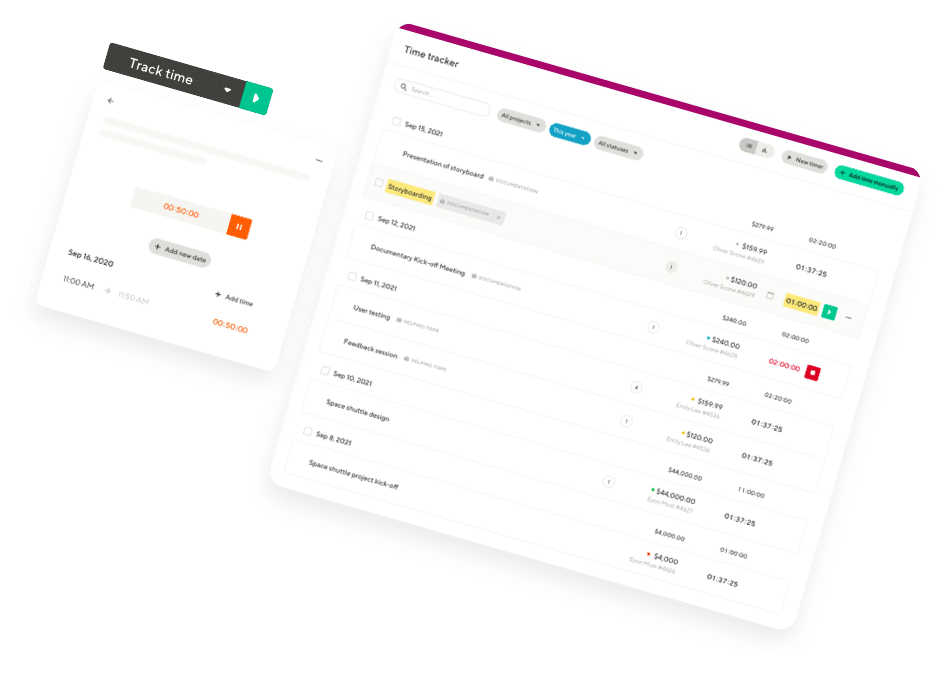 If you are looking for one of the best time tracking software for freelancers and self-employed people, the Indy Time Tracker tool helps you stay focused on the tasks and not the clock. The interface of the tool is very simple as you can see from the screenshot. Indy's Time Tracker tool was designed to help freelancers stay focused on their projects, not the clock. The tool is simple to use, letting you manage your time as you go from one task to the next.
The tool lets you clock in with the simple click of a button and hit pause anytime you take a break. The time tracker allows you to filter your timesheets in different ways so you can get an overview of your work hours and tasks. At the end of the week or month you can link your hours to an invoice, so all you have to do is add your hourly rate and send it off to your client for payment.
Unlike other competitors, Indy doesn't have any hidden costs or fees at all: everything is included in a low monthly fee. Indy subscription plans begin at $12 per user when billed monthly, or $9 when billed annually.
15. Workpuls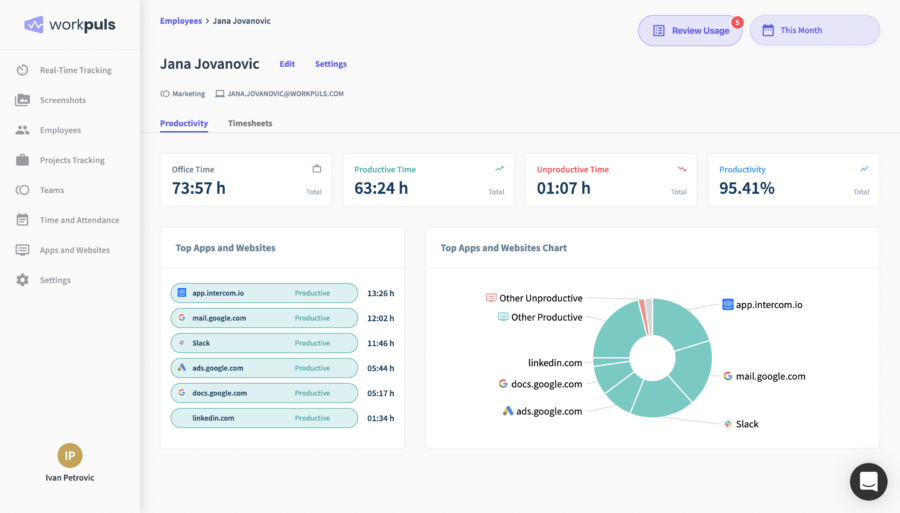 Workpuls is a performance-driven employee computer monitoring software that tracks the time employees spend on different tasks. In addition to time-tracking, Workpuls offers many different features including productivity monitoring, remote work management and more. It's been shown that when you use Workpuls to make more informed decisions about time, you can increase employee efficiency by about 24%.
How does it work? Use automatically captured screenshots and computer activities to make sure employees work from home as efficiently as possible. Workpuls also offers solutions for for project budgeting and automatic time-mapping. By boosting productivity and keeping a close eye on your most critical operations, you will be able to grow your business and beat the competition. The best part? You can try Workpuls for free with its 14-day free trial.
16. Replicon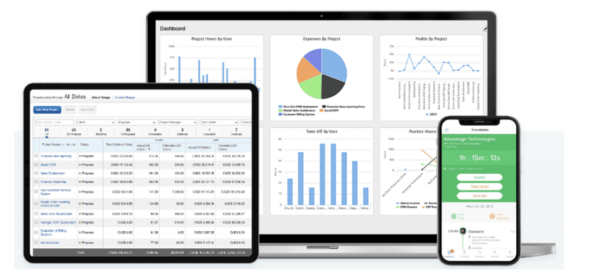 Replicon is one of the leading, comprehensive multi-feature time tracking suites that allow organizations to accurately track their employees' productivity and efficiency by offering a single source of truth for a time. Replicon offers a suite of features to business owners and managers that can help them manage their employees better. 
With over twenty years of industry leadership, Replicon, the Time IntelligenceTM company, is pioneering a brand new approach to time management. They have developed a suite of products that act as a plug-and-play service for companies of all sizes. The products range from basic attendance tools, to discerning the value of each employee's time, to tracking bills and expenses. Replicon TimeAttend monitors attendance and can be used on a tablet, like any traditional time clock, while more advanced services allow clients to monitor and manage contractors or other non-traditional employees.
Replicon QuickStart pricing begins at $60 per month for up to 5 users. Based upon the modules selected, pricing starts from $5-$22 per user per month.
17. Clockly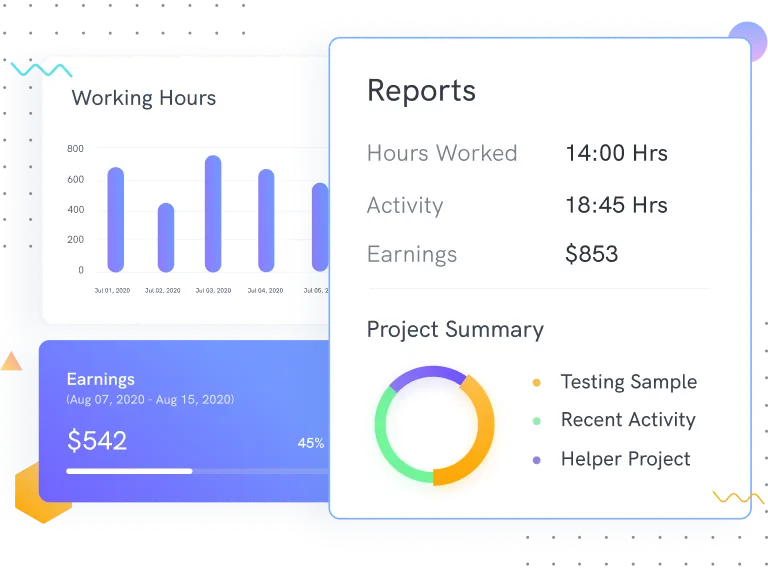 Clockly is a the top time tracking software that allows you to thoroughly evaluate your productivity. With Clockly, you will get a time tracking software that simplifies time management, monitors employees, manages timesheets, and assists with payroll. In addition, time tracking reports help you take access to all of the time and attendance data you need to gain more insight and make better decisions. If you are running a team of employees, Clockly has all of the features you need to optimize your business and work more productively.
Clockly pricing plans start at $14.99/month. For this price, users get access to 30+ workplace apps that fall under 500apps, a portfolio that provides best-in-class apps to help businesses succeed.
18. TMetric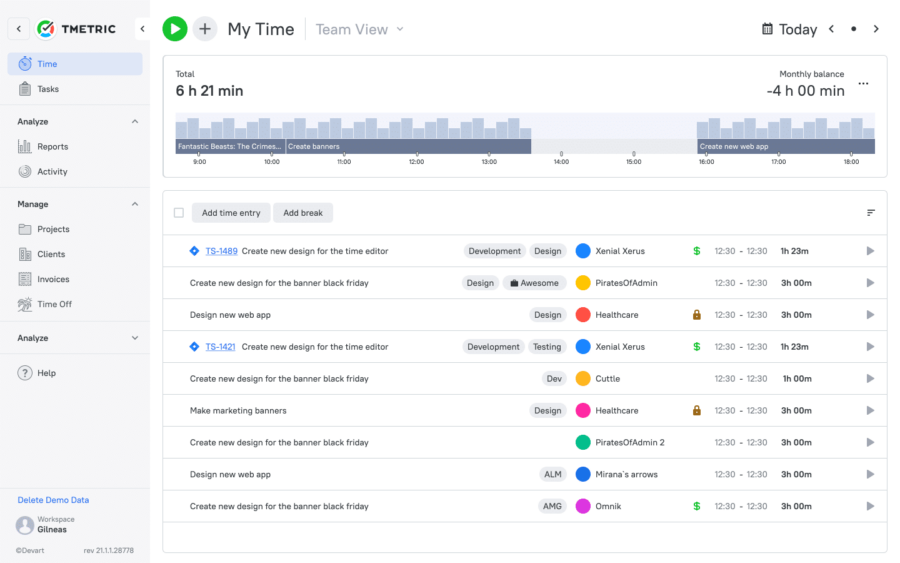 TMetric is a powerful time tracking solution when it comes to productive, efficient, and balanced work. The app is a good fit for freelancers, business owners, managers, and team members thanks to its functionality that allows arranging a working atmosphere, meeting deadlines in time, managing work time and vacations, and having stress-free workflows.
TMetric would be a perfect tool when you need work time and productivity metrics, detailed reporting, options for billing and invoicing, activity monitoring and screenshot capturing, project budgeting and task management, attendance control and time off calculations. The tool is flexible and can be configured the way it best meets the needs of your team.
The pricing starts at $5 per user per month, and before committing to a paid subscription with advanced functionality any user can test the software within 30 days for free. Basic time tracking is offered in the Free plan with no expiration date for teams of up to 5 users.
19. Everhour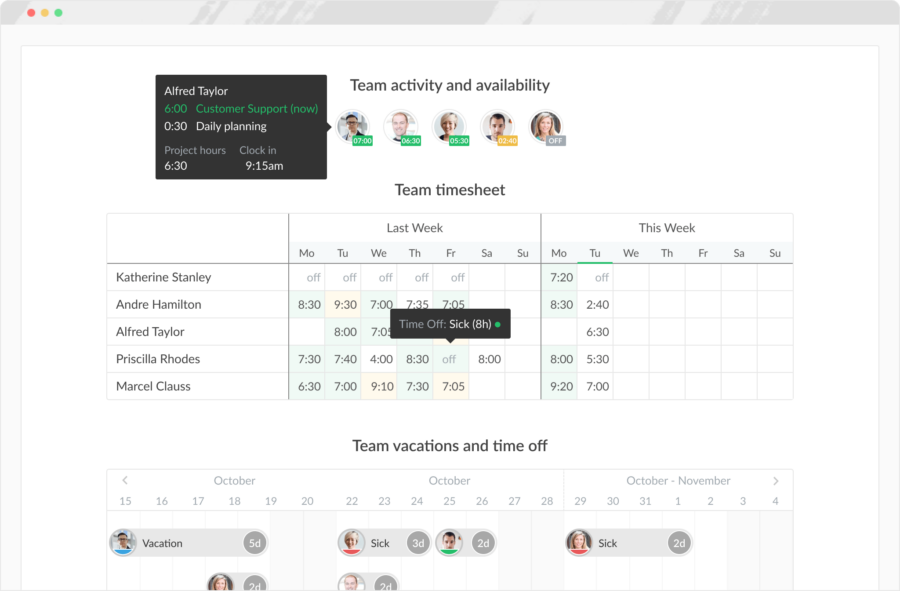 Everhour is a great time tracker for teams and small/midsize businesses thanks to its unique time and task management features that take care of most issues that arise when working in a team. It allows you to save time and streamline your working processes considerably by automating them: tracking work hours, vacation, days off, setting deadlines and budgets, creating reports and invoices, monitoring the project progress, and introducing immediate changes.
It offers a variety of integrations – from project management tools like Asana, Basecamp, Jira, Trello, ClickUp, to budgeting and accounting ones like Xero and Quickbooks. Everhour shows real-time changes and updates – so you can react instantly and ensure that the whole team is working in the same direction. Thanks to its user-friendly interface and easy setup, it's quite easy and quick to master – the learning curve is super short.
20. WebWork Time Tracker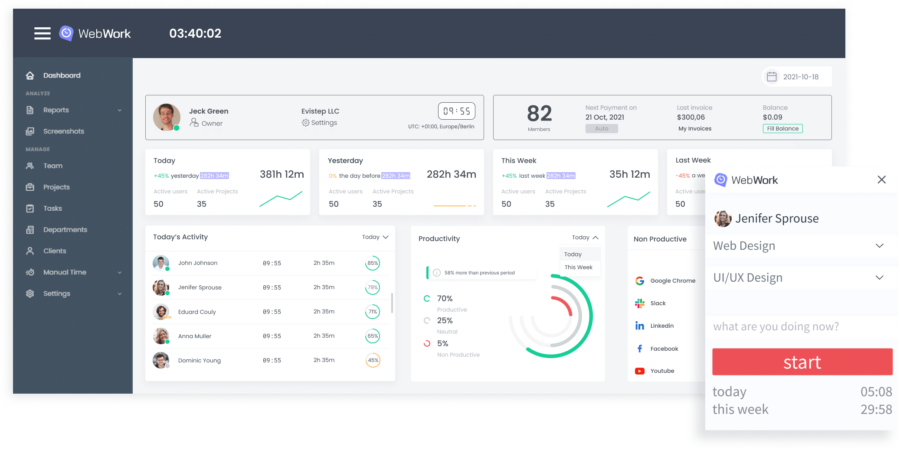 WebWork Time Tracker is an all-inclusive software for time tracking and project management. You can track time while managing projects, tasks and teams all in one place and without extra effort. WebWork Time Tracker gives you detailed reports about each work session and time tracked, so you do not need to go out of your way.
Features such as screenshot modes, attendance monitoring, activity level and app/website usage enable you to have a comprehensive idea about your teams' work process from start to finish. With WebWork Time Tracker you feel like you're right next to your remote team, and you get to see productivity levels that will help you make informed team decisions in the future.
WebWork Time Tracker works across 4 platforms including Desktop, Web, Mobile and as a Chrome extension making it available wherever you prefer to work. If you are searching for a software that has it all and without any limitations at an affordable price, WebWork is your best bet.
21. Apploye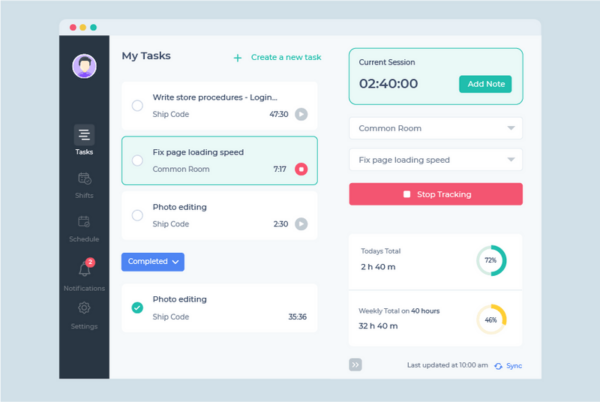 Apploye time tracker offers features suitable for a wide range of users, starting from a mere freelancer to a giant business enterprise. It is a wonderful tool for accurate time tracking and managing your workday more proficiently than ever. 
It can help you manage the tasks, get reports on the employee performance, and monitor them with the help of random screenshots, apps & URL usage. Apploye can help you manage multiple projects, allocate budget and set alerts. Its User Interface is supremely professional, yet it is smooth and incredibly user-friendly. 
Apploye's Dashboard is an intuitive one that provides you with a Performance-based comparison of your team working on numerous projects. You can export the reports on individual employee performances for any further evaluation. Overall, Apploye is a prolific tool for tracking your time and keeping your employees on the right track to stay productive during office hours.
22. Teamdeck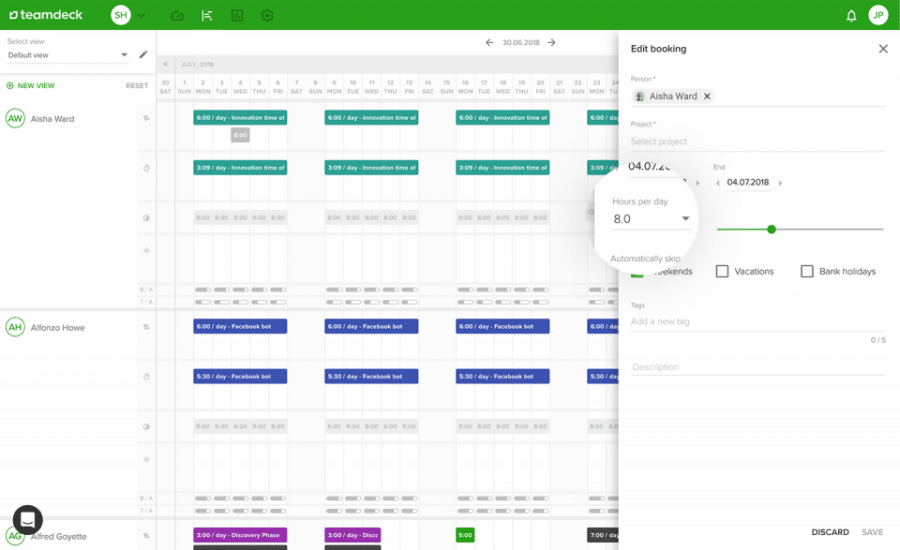 Teamdeck is a time tracking and resource management software and a child of Apptension, a Polish software development company that cooperates also with Netflix, Universal Studios, Heineken, and Uber. Teamdeck's resource calendar can be switched between people and projects.
Within the platform. Teamdeck offers team scheduling, workload management, time tracking, timesheets, resource planning, availability management, and a few other features. Thanks to Teamdeck, you can improve resource allocation by assigning people to projects on a calendar and defining their hourly schedule based on their availability, job position, skills, and your own defined attributes (ie. seniority).
Teamdeck also integrates with other tools such as Slack to enable notifications to inform the team about their future tasks.
23. Field Promax

Field Promax is primarily a SaaS-based field service management software. The cloud-based system also offers an integrated mobile app specifically designed for field team management. Thanks to GPS technology, it connects the field technicians with the management operations back in the office.
Using the app, technicians can also clock in and clock out, accept or reject work orders, update their job status, notify the management about the time spent on a single assignment, add items and parts used to the work order so that they are calculated in the final invoice, and do so much more.  From work order management to dispatching technicians, from creating estimates to generating invoices, Field Promax is the ideal end-to-end field service management software solution for any service delivery business.
24. My Hours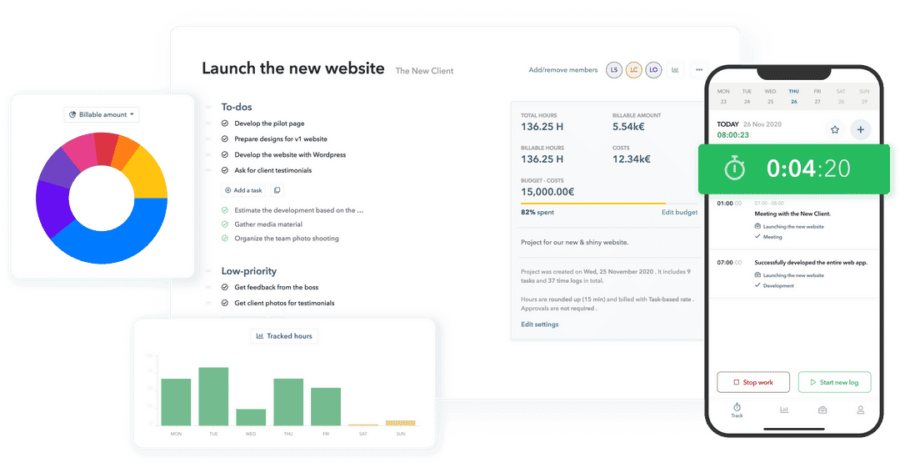 My Hours is built with one job in mind – tracking time so you can run profitable projects. The time tracking software excels at simple time tracking (timesheet or real-time tracker) and advanced but clear reporting.
Apart from being simple and easy-to-use time tracking software, offering both timesheets and a real-time tracker, My Hours has a rich set of features. You can use it to manage unlimited projects, tasks, clients, and team members. It is efficient for both small and large teams to organize projects, track employees' time, analyze reports and create invoices all in one place.
25. Bordio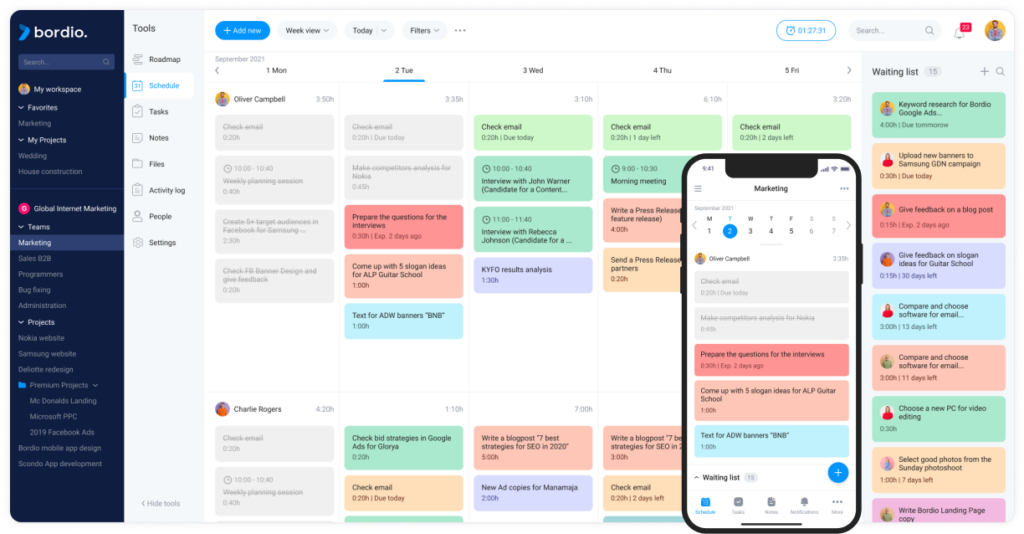 Bordio weekly planner is a modern online platform that offers a comprehensive solution to manage time effectively. Its highly adaptable and practical workspace enables you to organize all your tasks and appointments in one single place. This flexibility makes it an ideal choice for personal and professional use. 
Bordio is also convenient for tracking daily commitments and recurring events. You can utilize Bordio as a project management tracker, which is of much help in planning and handling large-scale projects. Another feature that makes Bordio special is a backlog or waiting list, which is designated for the to-dos that are not so important and can be done later. After you've done with the task, don't forget to mark them as completed to ensure that nothing falls through the cracks.
26. Sage Time Tracking Tool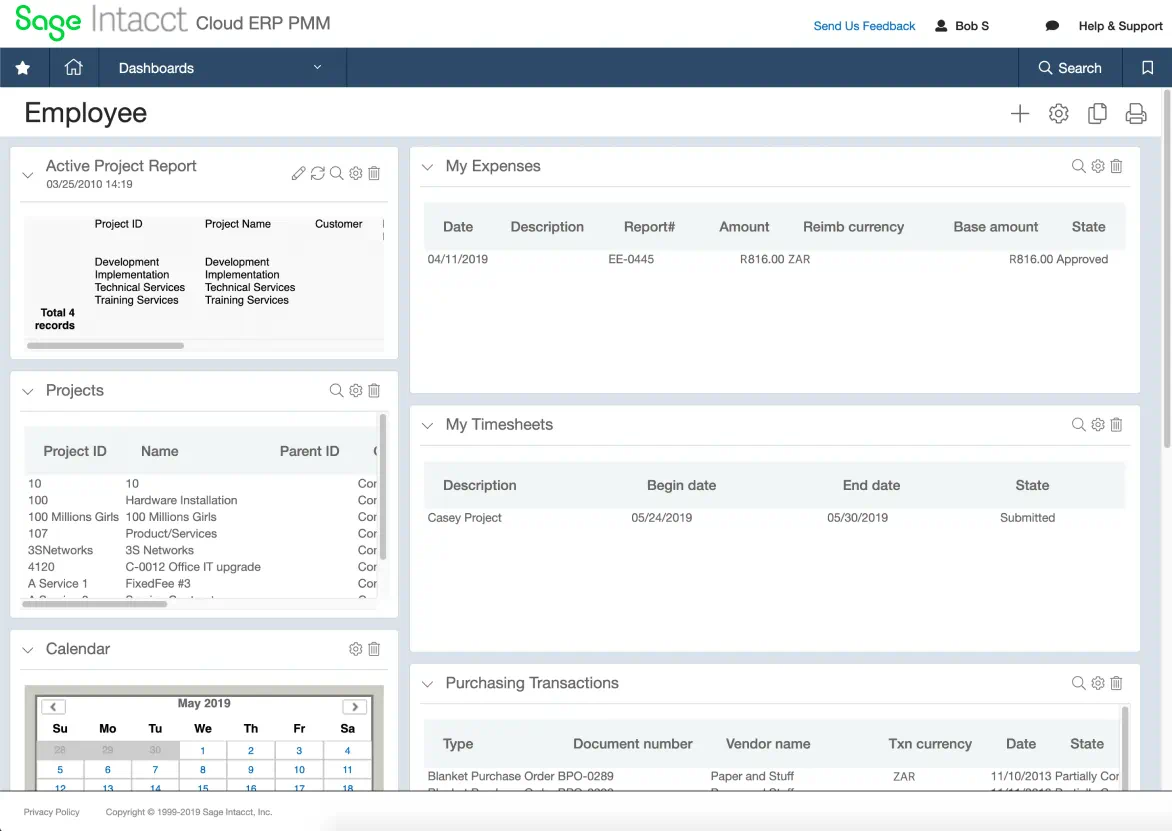 Sage's time tracking tool can help businesses, regardless of size, manage employee hours and ensure accurate and fair payment. Sage's time tracking tool can seamlessly integrate with your ERP system, allowing for even more streamlined and efficient management of employee hours and payroll. With Sage, you can track employee hours in real-time, automate timesheets, and generate reports that show how much time employees have worked. Sage also offers tools to help you manage time off requests, schedule employee timesheets, and ensure compliance with labor laws.
Sage offers different pricing plans based on your business requirements, with costs ranging from $5.50 to $16 monthly per user. The basic plan includes time tracking, scheduling, and time off management. The higher-priced plans provide extra features such as project management and expense tracking.
How To Start Time Tracking
Many time-tracking tools offer free trials, demos, or non-paid versions of their products for new users, making it easy for businesses to test out a few different tools and see which one best fits their needs. So whether you need a tool to track the number hours spent on a given tasks or help your employees clock in online, there's no harm is testing out a platform to see how it can change your workday.
Some of these offers, like Hive's free trial, even allow a user to invite unlimited team members and collaborators to use the tool during the free trial period. So what are you waiting for? Your time management skills are about to reach a whole new level thanks to these extensive time-tracking apps that will help you manage projects and track time spent on specific actions. With these professional solutions, even independent users or new startup owners can track time and tackle productivity milestones like the pros.