Project management is an ancient practice. It's been around for thousands of years, and has evolved over time as we've grown technologically. The technical definition of project management is "understanding and defining certain criteria and goals and managing the applications of processes, skills, methods, deliverables, tools, and techniques to achieve those goals in limited resources."
To put it simply, project management makes sure that your project is going in the right direction, and everyone involved is putting enough effort into reaching all the deliverables within the defined budget and time.
History of Project Management
Have you ever wondered how long the concept of project management has been around? Well, the short and straightforward answer is forever. Yes, you heard it right, project management has been around as long as human beings have been around.
Take the examples of the Great Pyramids of Giza, the Aqueducts of Ancient Rome, the Great Wall of China, or even the Great Pantheon. All of these were large, complex projects that involved various people who managed different areas of its execution. These gigantic projects had 'project management' even though the term came out comparatively later somewhere around the 1950s.
The Origins Of Project Management
Unlike the modern world, in ancient times, there weren't many foundations and organizations that shared and held up the project management process as we know it today.
Archaeologists are still not confident, and they argue about how the Pharaohs built such massive and gigantic structures, but one thing is for sure — there was some underlying management of the various tasks involved.
Ancient records illustrate the use of project management when constructing the pyramids and how each of the four sides had managers responsible for the completion of their work. The same is the case with the Great Wall of China, which was constructed in 208BC — their use of project management was very advanced at that time. Understandably, there might not be a distributional workload structure or any literature or project or task management, but there was undoubtedly a strong leadership and management at play.
Modern Project Management Timeline
Modern project management, as we know it today, started in the 20th century, and it has progressed by leaps and bounds. The list of bullet points below is a brief timeline history of modern project management.
Later developments like the agile manifesto in 2001, the total cost management framework in 2006, PMBOK's 4th edition in 2008, PMBOK's 5th edition in 2012, etc. added more value to the project management process.
Further milestones and ever-changing tools and studies continue to occur, and modern history regarding project management is constantly evolving.
The Project Management Life Cycle
Project management, as described earlier, is a very broad and complex concept, and there are several components at play simultaneously. There's always a person responsible for overseeing all tasks, and s/he is called the project manager. There could be many stakeholders involved, and the planning is done according to their expectations. The project manager controls and monitors the team for proper and timely execution of each deliverable under the umbrella of defined budget and time. Nowadays, as per the advancements and progress in the field of technology, using project management software, like Hive, is inevitable. Read on to understand the complete life cycle of project management.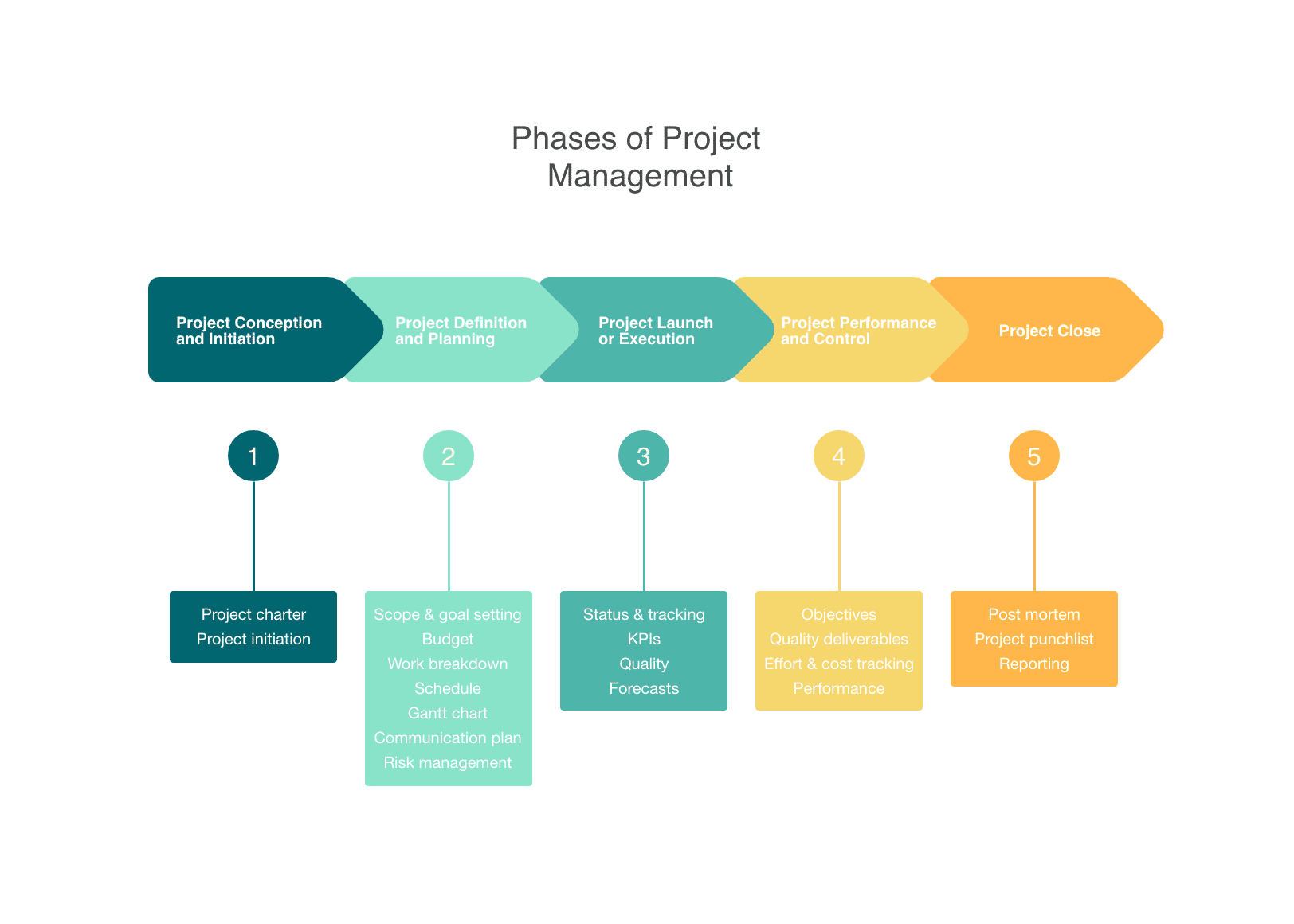 1. Project Initiation
The very first step of any project is to initiate the idea and to put together complete documentation regarding the purpose of your project. You can use a readymade Project Charter template available on the internet to save yourself time and money. It's always advisable to organize a detailed meeting with all the stakeholders, team members, and all the other relevant parties to define goals, timeline, and budget. Then you can move on to further steps, which are listed below.
2. Project Planning
The success of every project depends upon how you do the initial planning. You should put all of your effort and time to make sure that in the long run, you have every step mentioned in your project plan clearly to run the project smoothly. Follow the steps below to make your project planning more effective and efficient:
Identification of a project: As described in the getting started section: You should breakdown all the factors that you want your project to deliver and what they entail. For example, if your end goal is to build a store, this is very broad and open-ended. First you need to identify what type of store you want and what the long-term goals are that you want to achieve.
Defining the Objectives and Goals: Once you identify your project by narrowing it down, you need to pragmatically establish the objectives and goals that you want to achieve throughout your project. Objectives can be instances such as "Implement a self-solve customer support chatbot" for your SaaS tool, but the goal would be "improve mean-response time for customer support tickets."
Identify required tasks: With objectives and goals in mind, you can then begin to map out the necessary tasks required to meet each objective of the project. It's important not to get too granular at the start when planning these tasks out. A good rule of thumb is for each objective that should be met, the necessary tasks to get there should be 5 – 6 at a higher level. Depending on how detailed the project plan needs to be, you can then split each of these tasks further into a more detailed set of 'sub' tasks.
Building a Team: This is an important step as it helps determine the necessary resources required to complete each aspect of the project. If one task doesn't have the necessary resources, it can act as a blocker to your whole project or a critical objective that needs to be met. Not only will you need to identify and build the broader team, but also the core project team that will drive the project management process.
Create a Timeline: According to the size, manpower, and budget of the project, you have to decide first how much time it is going to take to complete your project by estimating the effort required to complete each task. You'll need to lay out all your tasks and identify the dependencies between them to get a clear idea of this.
Feedback and Adjustments: Once your initial plan is completed with the steps mentioned earlier, share your plan with all stakeholders and related members of the project to get their feedback. You'll have to make adjustments according to the feedback you receive, especially around effort estimations for each task.
3. Project Execution
After you have adequately planned out your project, its time to launch and execute those plans. This is the most important phase of the project life cycle because it produces the results and deliverables you will eventually pass along to key stakeholders. This means it is also typically the longest phase of the process. Project leaders should focus on these objectives during the execution phase:
Managing individuals and teams. In order to execute a project successfully, a project leaders should build a high-performing team and make sure everyone understands the various project goals. Project leaders can facilitate vision alignment by having frequent meetings, discussions, and check-ins with individuals and groups of team members.
Following the project plan. In order to execute the project as intended, it's crucial to follow the project plan, focus on determined KPIs, and implement quality control measures. All projects will have unexpected bumps in the road during the execution phase. This means a project manager must also be flexible, anticipate challenges, and understand when the plan needs to be adjusted.
Communicating information to all parties involved. To make sure the project is meeting expectations and going smoothly, project managers have to communicate both internally and externally. This can range from feedback to internal team members to providing results to stakeholders.
4. Project Performance and Control
Once you have started the execution process after planning, keeping your project on track as planned is very daunting. Planning doesn't necessarily mean that the project will be completed on time and will require revising, reviewing, and monitoring the project. Here are some tips on how to keep track of your progress and performance:
Reviewing the Project: Check the project progress regularly by defining the review interval and make sure that you never miss your review date, so you can ensure that everyone in your team is doing their jobs. A good way to do this is by having weekly stand-ups as a project team to identify blockers or constraints that need be addressed.
Communication: Constant and consistent communication with the project team is the key to lead the project in the right direction. Moreover, communication with dependent resources and stakeholders is needed.
Flexibility: Be flexible with your project team and trust their expertise. In addition to this, flexibility should also be factored into your project planning with sufficient buffer days in case there are delays.
Guidance and Directions: Always provide directions and guidance to your team and make sure that you provide them with all the necessary resources to run the project smoothly.
Time Management: Effective time management is crucial for your team to hit milestones successfully. Here are some tips on better managing time and prioritizing workload while on a project:

Delegate tasks: Don't waste your time doing all the tasks yourself. You can always assign tasks to new skilled team members if you are swamped.
Prioritize all tasks intelligently: Always put essential tasks on the top of your priority list and never procrastinate them. Share your thoughts and ideas with the team and get feedback from them to prioritize your tasks if needed.
Calculate tomorrow's tasks: This practice will help you to anticipate all the hurdles you can face in the time to come. You can make the required changes beforehand to avoid the possibility of all the obstacles that you might face. With a tool like Hive, you can see which to-dos are scheduled for which date, which really helps.
5. Closing The Project
After the execution and monitoring phases are complete, it's time to close out the project. This is arguably the most important phase of the project management process, as it involves tying up all loose ends and evaluating the success of the project overall.
Evaluating project success. This is when project leaders assess initial planning goals and determine if the project was completed on time, remained within budget, and hit target results. This is also a time to learn from the project outcomes. Were there any failures that can be avoided in the future? Any successes that you can replicate in your next project?
Closing out contracts. After determining that all work has been completed according to the project's plan and scope, leaders have to end contracts and pay out all parties accordingly. This is crucial for avoiding future liabilities from incomplete payments or open contracts.
Project Turnover. Project leaders typically create a handover (or turnover) package at the end of the project. This is the final project summary that will be handed over to the client, and is most commonly organized as a physical binder, file folder, or a digital document. Because this is a client-facing asset, you may want to involve design professionals to make it look visually appealing and aligned with both of your brands.
Project Management Tools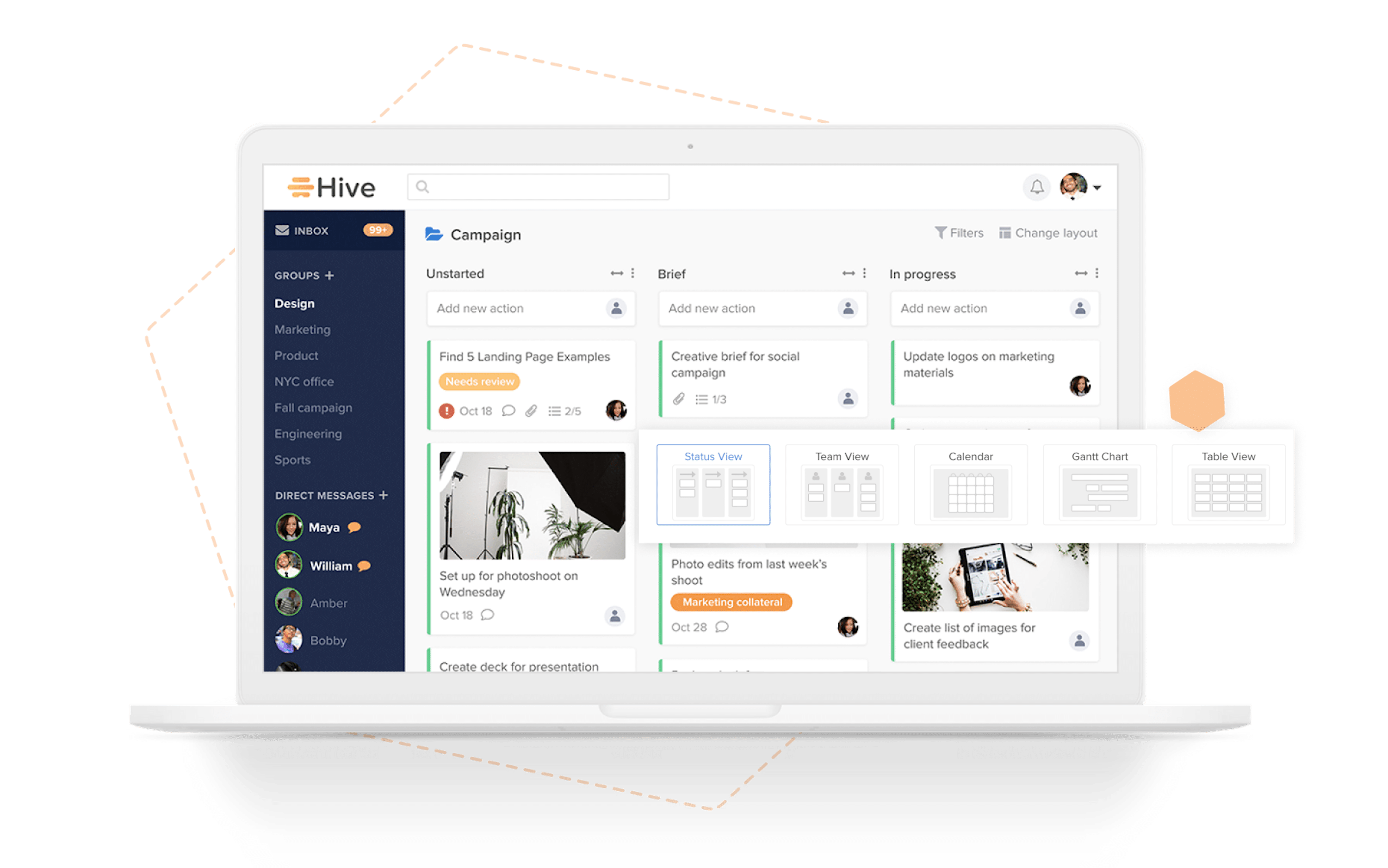 In this modern era, technology helps drive the entire project management process to make life easier and more efficient. Some of the best project management software tools are listed below:
Hive: Hive is a comprehensive, all-in-one project management tool that helps teams of all sizes collaborate more efficiently Some key features include a native chat system, native email, and over 1,000 integrations with top apps. Hive also lets users view their work in flexible project views, including Gantt, Kanban, calendar, portfolio, and table views. You can try Hive now with a 14-day free trial here.
Trello: Trello is a great option for small teams or individuals looking to utilize a simple project management tool. This tool is Kanban board-based, which is a project management methodology that uses individual boards for each project. Cards are the basics of Trello, which you can organize into different phases on the board.
Asana: Asana is very user-friendly and can be used to manage projects of all sizes. Tasks and subtasks can be assigned to individuals or teams, who can all communicate within the platform to keep communication streamlined and organized in one place.
Basecamp: Basecamp is comprehensive tool that lets you group tasks into projects, where teams can communicate and work together. With features including message boards, to-do lists, and scheduling, this platform aims to bring all of your tools in one place.
Zoho Projects: This task management software helps teams break up projects into manageable parts. One unique aspect of Zoho is its Blueprint feature, which lets you map out your entire workflow and automate tasks where possible. This is great for boosting your team's efficiency.
Podio: Podio brings all aspects of a job onto one page, which is reflected in their focus on "content, context, and conversation" tagline. The tool also integrates with apps, allowing teams to access everything in one place. The design also aims to increase sharing and peer-recognition, which ultimately helps foster great team cultures.
Project Management Techniques
Now that we've explored some great project management tools, let's take a look at the different types of project management styles. When looking at the different styles of project management, it's helpful to identify different aspects of the style that works for you, so you can choose the best project management tool on your end.
1. Scrum Project Management
Scrum project management is an adaptable process that embraces transparency, flexibility, and regularly scheduled communication between all team members. In scrum, there are various different team roles that people play to help guide the project from start to completion. Sprints are also a key part of the scrum workflow, as they guide team members through a short burst of work to achieve a specific goal. Great tools for scrum project management include Hive, Wrike and MeisterTask.
2. Waterfall Project Management
The waterfall approach to project management is more rigid and methodical in the way it organizes a project's steps from start to finish. It utilizes a linear model of time to break down a project into multiple parts, which are then completed sequentially. Visually, these distinct stages from a project's start to finish can be viewed as water trickling downwards—the phases flow like a waterfall from top to bottom. Gantt charts are a key part of waterfall, and a few tools that can help you create great Gantt charts include Hive, Redbooth, and ProjectManager.
Lean project management refers to a system where a project is managed in a way that minimizes the waste experienced during every step or task. It means that you're only using the exact amount of effort, resources, and work that is necessary to get something done. This is why the term "lean" was introduced – as it creates a "leaner" method of managing a team, project, clients, and other internal business operations. Kanban is a key part of the lean project management system, and some tools that include Kanban view are Trello, Hive and MeisterTask.
How Do You Become A Project Manager?
Many organizations, like Hive, are playing an essential role in improving project management processes. If you want to become a project manager, there are a few things you should consider. First, consider a project management course or certification. This will help you hone your project management skills overall.
Another important aspect of becoming a project manager is understanding the tools that you could be using. If you're interested in the field, testing out a two week free trial of a tool is essential to understand how they all operate.
If you're interested in looking at a project management position, there are a few big players with some very lucrative project management roles, as mentioned below.
Cisco
Microsoft
Southern California Edison
Jacobs
SAIC
Ericsson
Accenture
We hope you learned something about project management throughout this article. Please leave any comments or questions below in the comments section.