In today's era of remote and hybrid work environments, note-taking is more important than ever. Since we're all communicating digitally and collaborating over platforms like Teams, Zoom or Hive, taking high-quality notes that can be easily distributed to your team is critical. And whether you're taking notes on your own or collaborating on meeting notes in real-time, it's important to have a tool that supports all of your team's needs.
Evernote is a great note-taking tool used by teams around the world to take and organize meeting notes across multiple devices. One of the coolest parts about Evernote is that you can access it from your phone as well as other devices. You can also add images, scans, audio, and PDFs into Evernote notes, which is great for people who want to compile information from various sources.
But the tool that you use to keep everything organized is just as important as taking good notes, and there are no shortage of collaborative note-taking apps out there. So if Evernote didn't cut it for you, or if you're simply just researching all the options, we've rounded up the top Evernote alternatives to help you find the platform that best fit your needs.
1. Hive Notes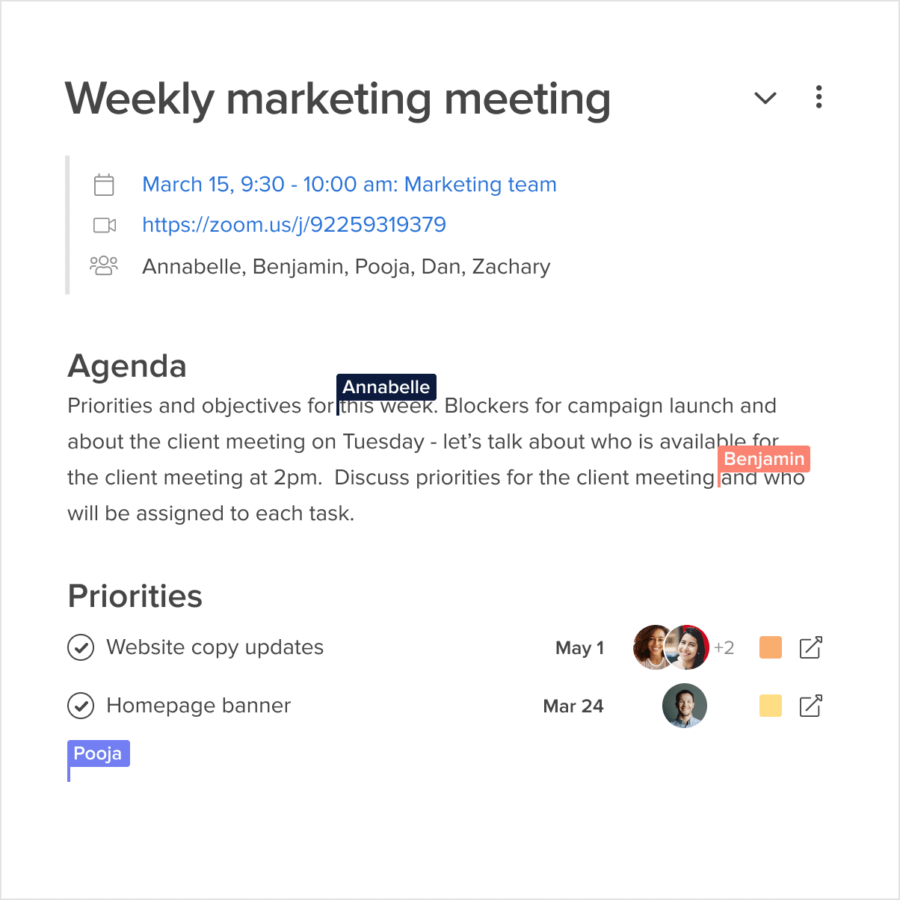 If you're looking for a collaborative, Google-docs style note-taking Evernote alternative that you and your team can use to plan and execute action items more effectively, look no further. Hive Notes is part of the Hive ecosystem, which means you can combine project management and note-taking in one single platform. With Hive Notes, you can sync any note to individual meetings from your Google or Outlook Calendar. This will automatically populate the note with important meeting details and will prompt you to open the note when you join the meeting via Hive.
Once inside a Note, you can collaborate in real-time with anyone else shared on the note and assign next steps directly to attendees. The next steps will then be available in their Hive 'My Actions' list as a next step to ensure that nothing ever falls through the cracks again. And now with Hive Notes app for Zoom, you can do all of these things from right inside your Zoom window – it's a brand new way to take meeting notes without jumping back and forth between screens.
These great note-taking features are why Hive tops our list of recommended Evernote alternatives. However, it's not all about note-taking in Hive. A couple of other things you can do within the platform:
Manage projects with flexible layouts such as Kanban, Gantt, Calendar, Table & more
Task management including due dates, assignments, and subtasks
My Actions view to see your upcoming tasks
Goal-setting and KPI tracking
Time-tracking, timesheets, and resource management
Proofing and approvals
👉 Did you know that Hive just made Capterra's list of top 9 project management platforms in the world? Get started for free today to see why Hive scored 100/100 in popularity among its customers – the highest score of all tools on the market. It's the only project management platform built for users, by users. Join thousands of other teams who are already taking notes – and so much more – in Hive.

2. Notion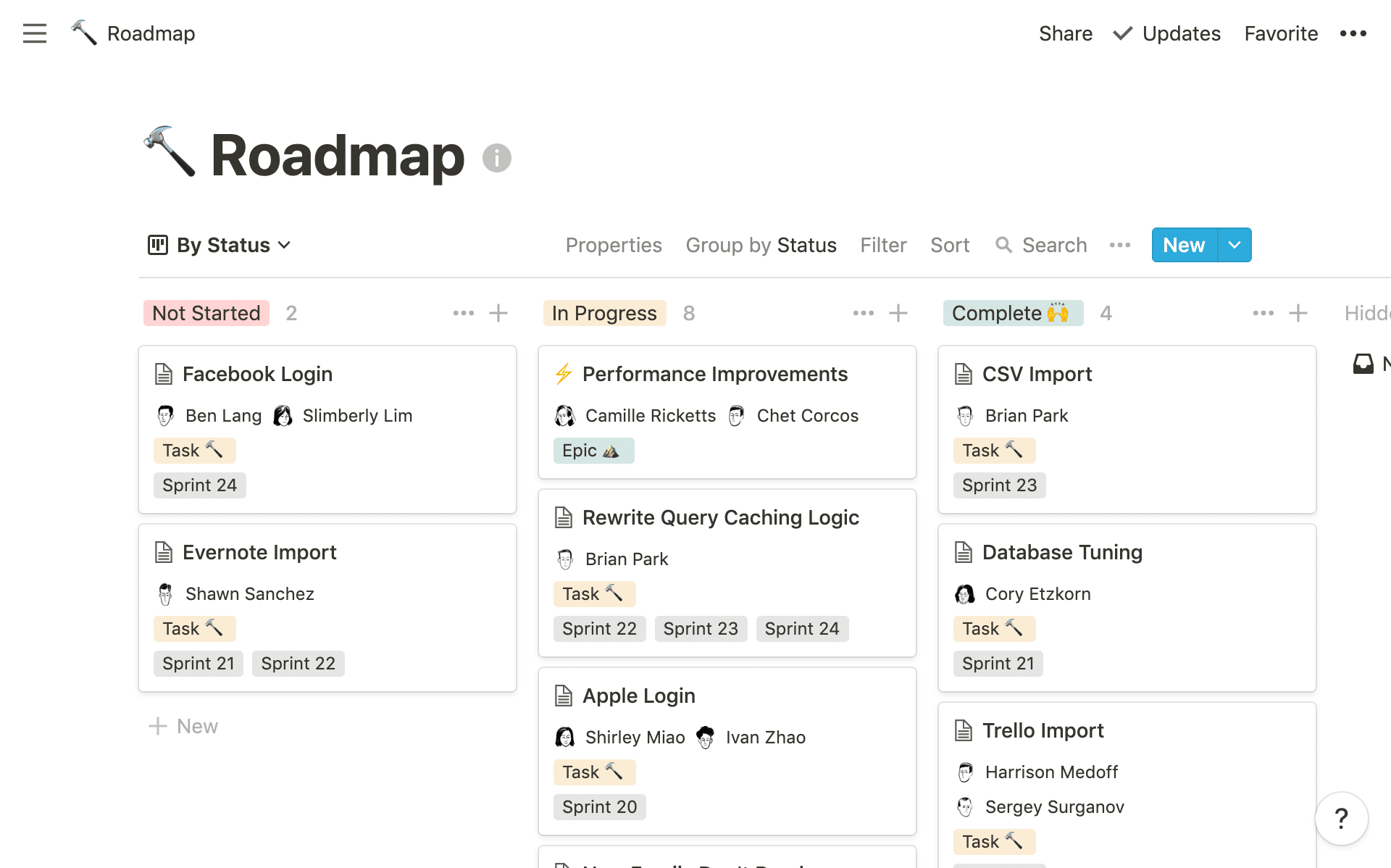 Notion is a tool somewhere between Evernote and Hive, and one of our top Evernote alternatives. With Notion, you can do a few things, including take notes, assign tasks, organize tasks, and post in a team wiki. In the app itself, you can store notes and docs in List view, which helps you see quickly the most important aspects of a note and its contents. Users can then assign tasks directly from notes with a few clicks. This is one of the top note taking apps that has recently become very popular.
Team wikis help you store information like company policies, contact info, and engineering practices. You can even use emojis here, which makes wikis a bit more fun, and that's why this tool is on our list of top Evernote alternatives.
To learn more, you can also check out these top Notion alternatives on the market.
3. OneNote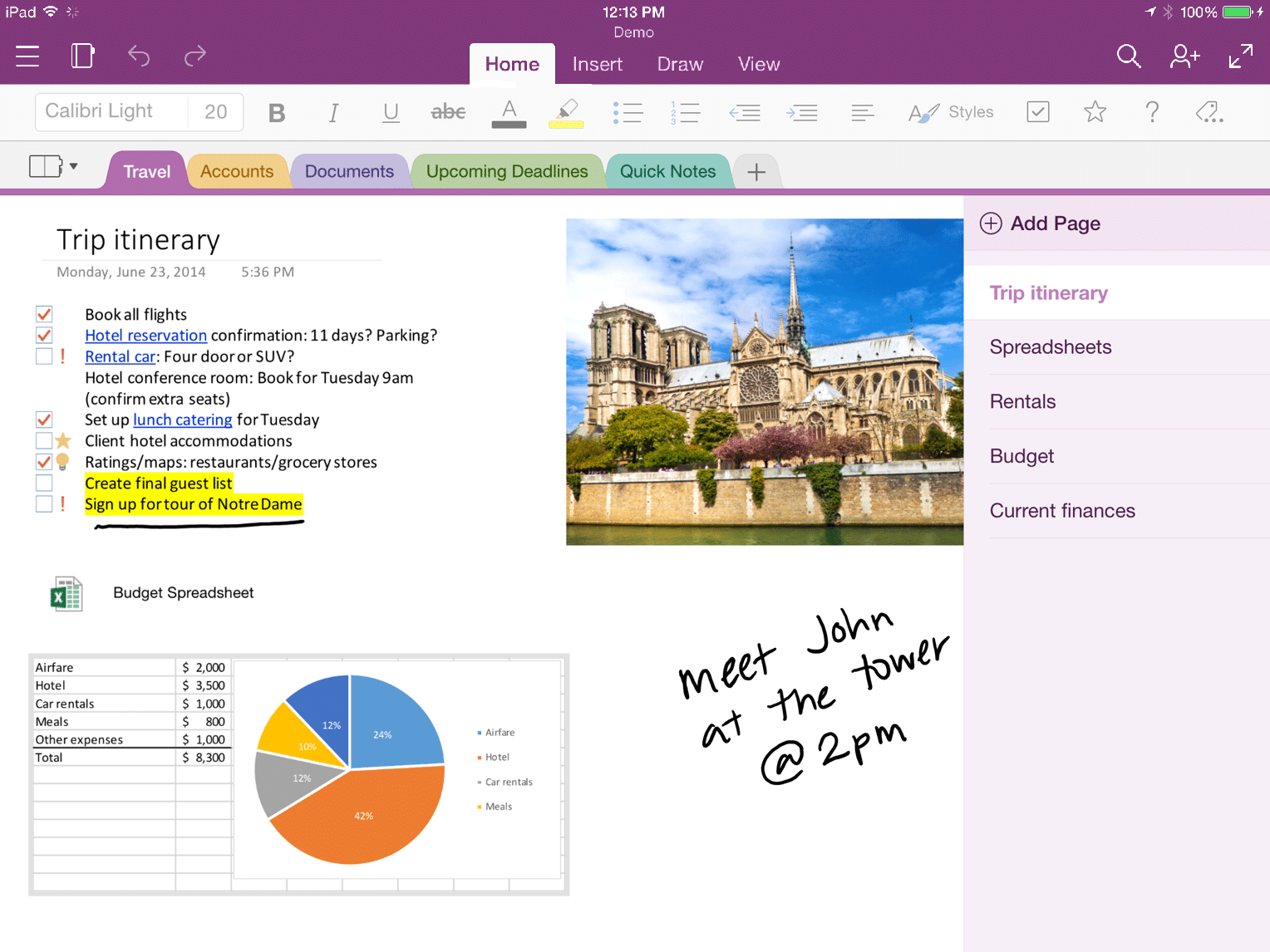 Microsoft's OneNote is a great note-taking tool if you're looking to stay in the Microsoft universe — one of our top Evernote alternatives. With OneNote, you've got a massive note-pad at your fingertips, which you can write in, add images to, and divide into pages and sections. This is a great tool if you use other Microsoft products, as you can plug in other documents into the note itself, like Spreadsheets or Word docs. It's not as easy to use as Evernote, but it's definitely worth checking out if you're already immersed in the Microsoft suite of products.
Create lists with a few clicks and revise notes with type, highlight and ink annotations, which are fun to add if you're using a touch-screen device. You can also share ideas and collaborate with other users in OneNote. If you're not tied to using Microsoft products, you can also check out these top OneNote alternatives that are compatible with many other platforms.
4. Google Keep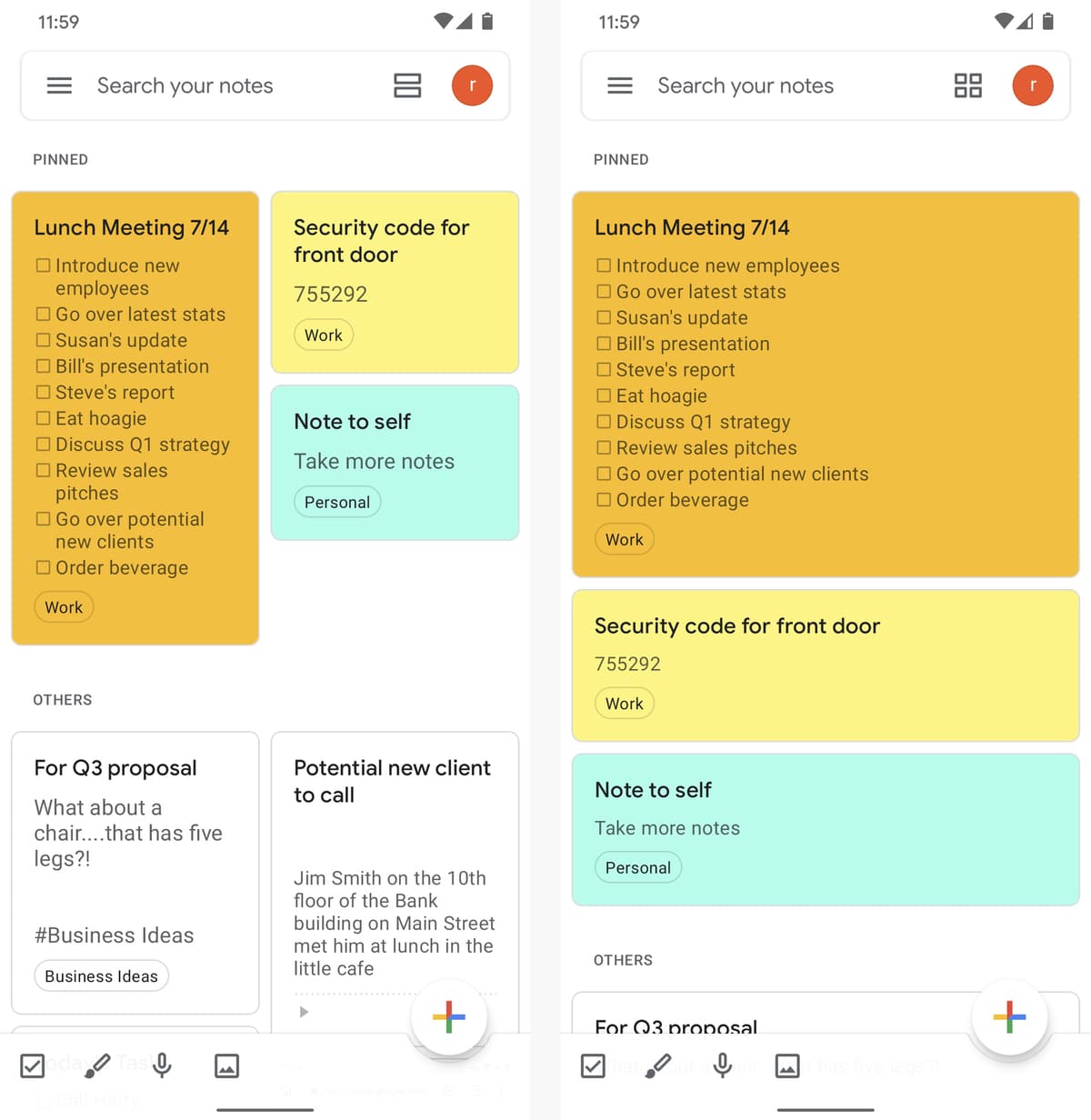 Google Keep is on our list of Evernote alternatives and is best for those looking to pair up a tool with Google's other products. With Google Keep, you can capture, edit, share, and collaborate on notes from anywhere in the world — even from your phone or iPad. Additionally, you can add notes, lists, photos and audios to Keep, which is similar to Evernote.
You can also sync Google Keep up with reminders on your phone, to be alerted about a note at a specific time or place. Finally, you can record a voice memo and have it auto-transcribed to your note.
5. Zoho Notebook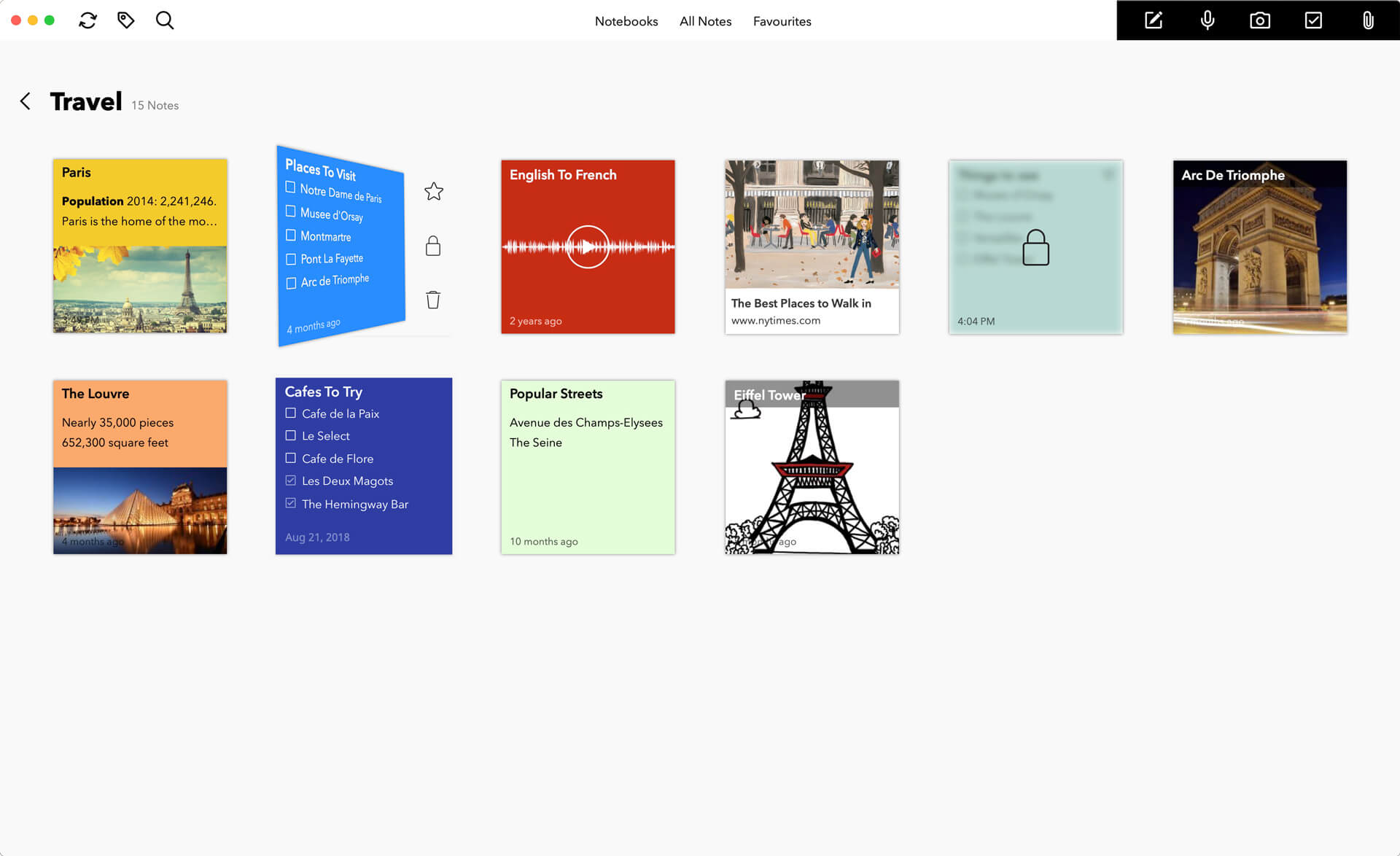 Zoho Notebook is another Evernote alternative that enables you to use and save notes across multiple devices. The differentiator here is that notes are divided up into "note cards," which you can customize the layout of — a few different layouts include text, audio, image, checklist, and doodle.
With Zoho Notebook you can share notes securely with friends, and the app is also free to use! Bonus: if you've got a new Mac that has a Touch Bar, there are some cool contextual shortcuts within the app.
6. Fellow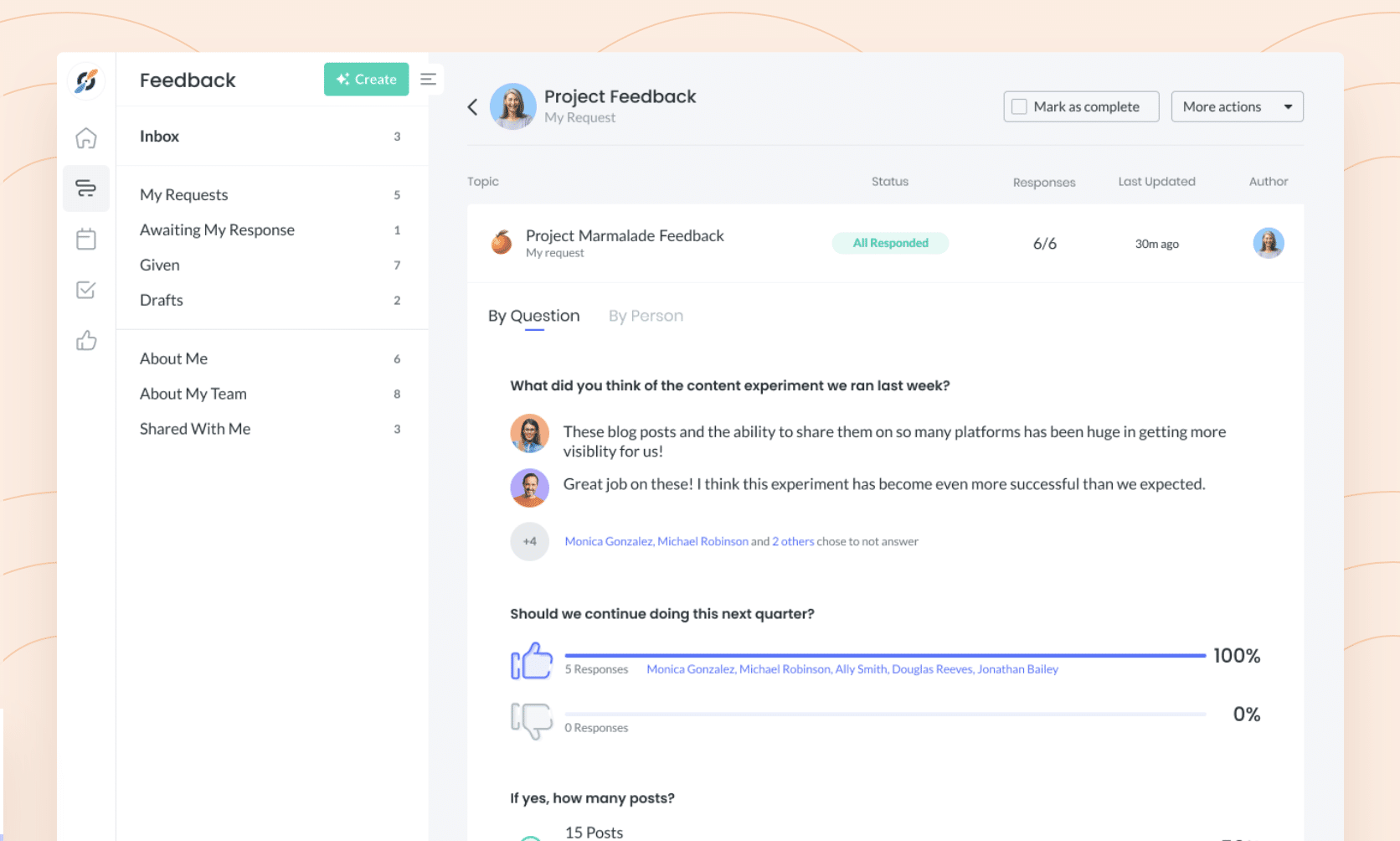 Fellow is a great note-taking app for anyone looking to streamline meeting communication with their team. While it's not as comprehensive as Hive paired with Hive Notes, there are a ton of great functionalities. In Fellow you can bring together collaborative agendas that you can use to take real-time meeting notes across the team. Additionally, you can also apply templates, add next steps, and assign action items to teammates.
7. Hypercontext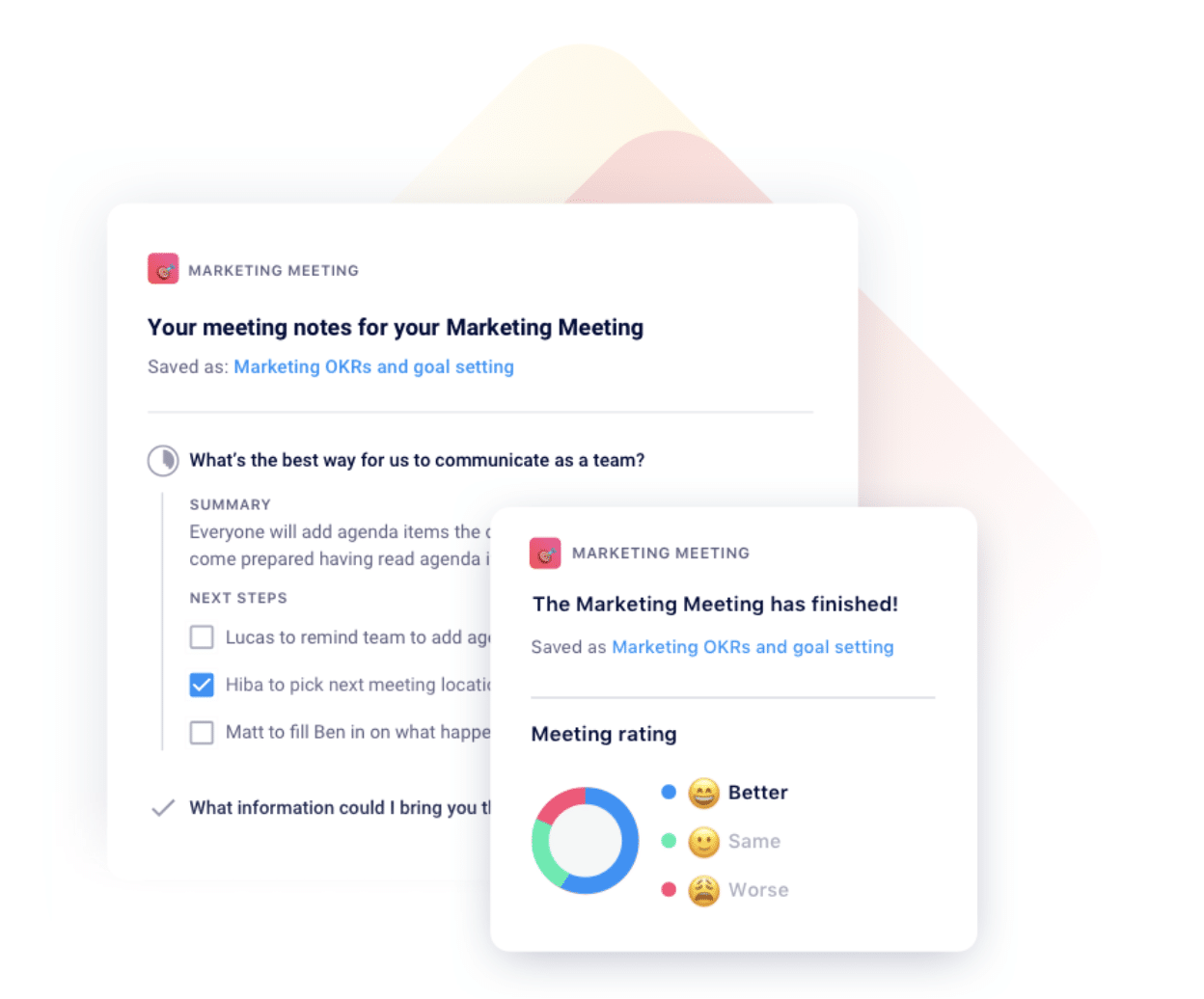 Fort those looking to take better, more effective meeting notes, look no further than Hypercontext. Hypercontext allows you to take notes within your meeting agenda, which will automatically get emailed to meeting participants as soon as the meeting's finished. You can also assign clear next steps and action items to teammates so that nothing gets lost in the shuffle. The platform helps streamline and document everything you need before, during, and after your meeting, in one place.
8. Notejoy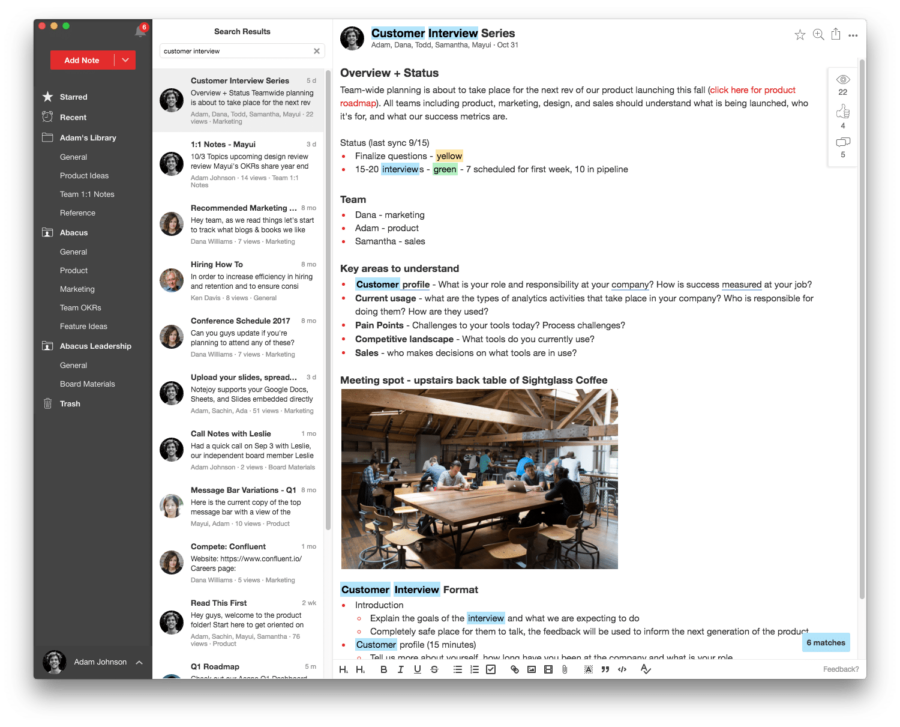 A note-taking solution needs to be fast and easy to locate your notes. Notejoy is an alternative for collaborative note-taking that offers a focus dashboard. You can add images, upload documents, create checklists and see it all in the same note. You can also create libraries around a topic and share with others, allowing collaboration in real-time. Team members can give reactions to notes, participate in discussions and @mention to bring others attention to the conversation.
Notejoy also offers a quick and powerful search bar, making it easy to locate your notes. You can ping important documents to make it always accessible to your team. Notejoy integrates with other collaborative tools, including Google Docs, Zoom and Slack.
9. Clover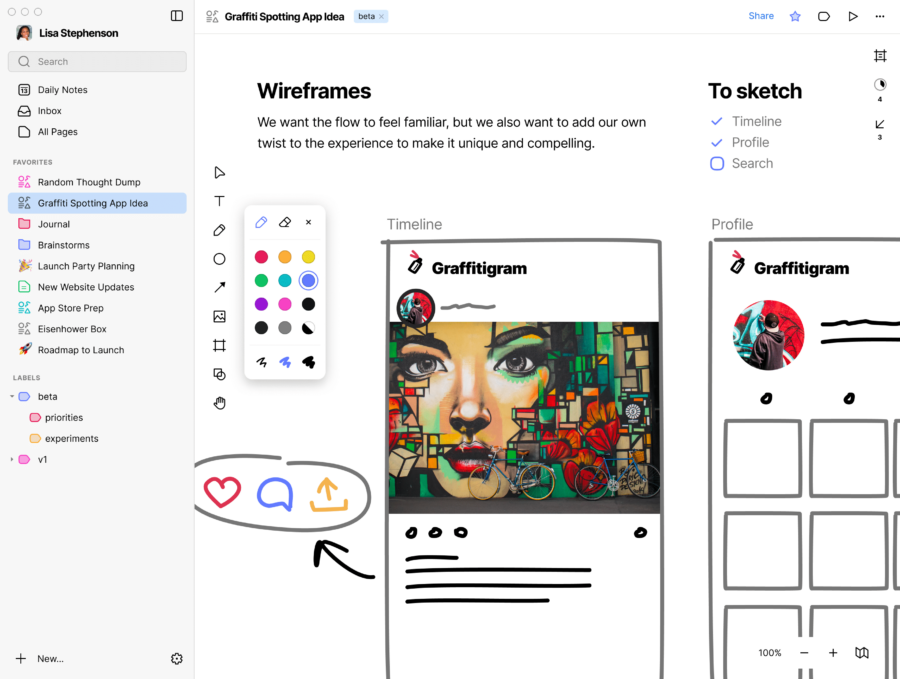 Another alternative to Evernote is Clover, a digital notebook that combines notes, tasks, whiteboards, and a daily planner into one streamlined app. The solution offers powerful features including infinite canvas, presentation options, and the ability to embed rich media to your notes, so your colleagues can interact with content from YouTube, Figma, SoundCloud, and more.
Clover offers a free plan that supports up to three guests and 50MB uploads. Clover Pro plan starts at $6 per month with unlimited guests and 10GB monthly uploads.
10. Dropbox Paper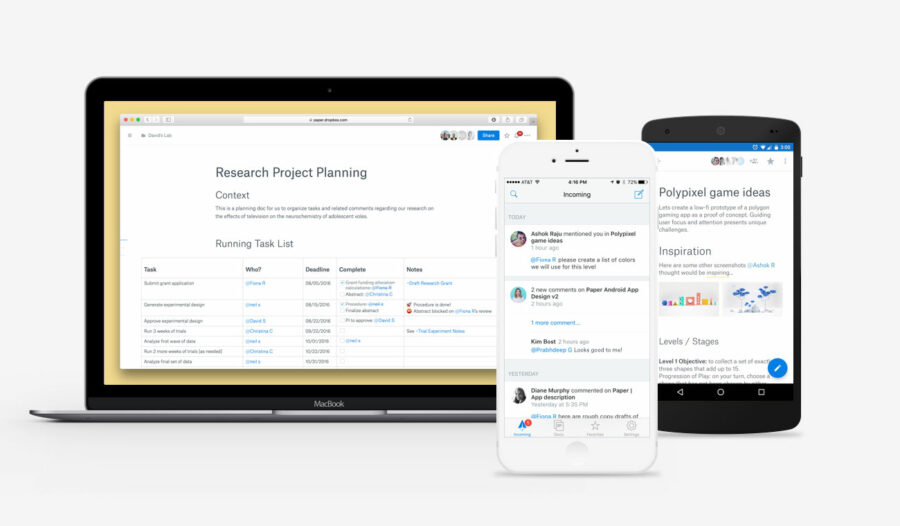 Dropbox Paper is a free note-taking app from the well-known cloud-based file hosting service. From meeting notes to launch plans to brainstorming ideas, product specs, and creative briefs, Paper has solutions for teams of all sizes.
Dropbox Paper allows users to assign tasks, add due dates and mention people all within the note document. Connect with your favorite calendar tool along with smart templates to create quick meeting agendas that can be shared right away with all the attendees. Notes can include embedded YouTube videos, Pinterest boards, Google Map previews, and SoundCloud clips. The app also lets you quickly turn notes into professional-looking presentations at the click of a button.
With a simple interface, the ability to search for text and images within notes, and multi-device platform sync, there are so many ways to transform simple notes into big ideas. You can get your workflow started with Dropbox Paper's many templates and maneuver like a pro using some of the app's helpful shortcuts.
11. Milanote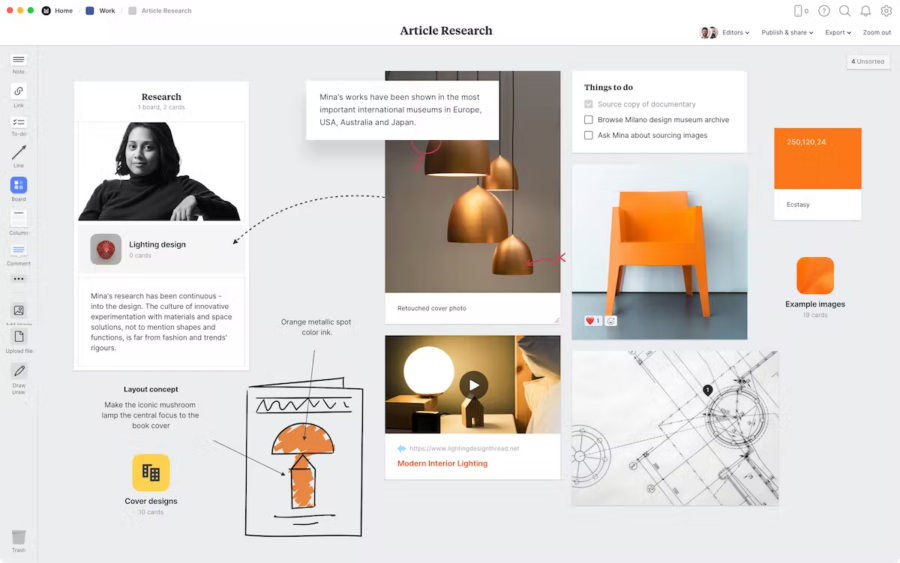 Milanote is an Evernote alternative geared towards designers and creatives as well as those who prefer a more visual approach. Using a Kanban board style, the software aims for its users to organize ideas with images and create several different ways to see tasks through from start to end. The board is very customizable with a flexible drag and drop interface. Insert videos and images onto your boards for easy references and to quickly share assets with collaborators.
Moodboarding, brainstorming, storyboarding and even visual project management are just a few of the things you can get to work with using Milanote. There are several premade templates for you to get started and you can export your board as it appears or as a linear document. The tool is cloud based and can be used on the web, as well as with dedicated desktop and mobile apps. Milanote is free to use and offers a paid plan with discounts for teams of 10 or more.
12. Todoist
Another alternative to Evernote for collaborative note-taking is Todoist. Todoist lets you create to-do lists, along with some useful task management tools. You can share to-do lists with your team, create tasks with subtasks, set priorities, use labels, and add filters for easy searching. Your team will know exactly what needs to be done, by who and when it needs to be completed with the ability to assign delegation and set reminder notifications.
You can also integrate with several other tools you may already be using, including Evernote. Todoist even has mobile apps available to keep your team connected wherever they are, making it simple to collaborate in the remote work landscape, especially if you are the only remote worker on your team. There's a free plan with limited features and paid plans start at $4/month/user.
13. Proofhub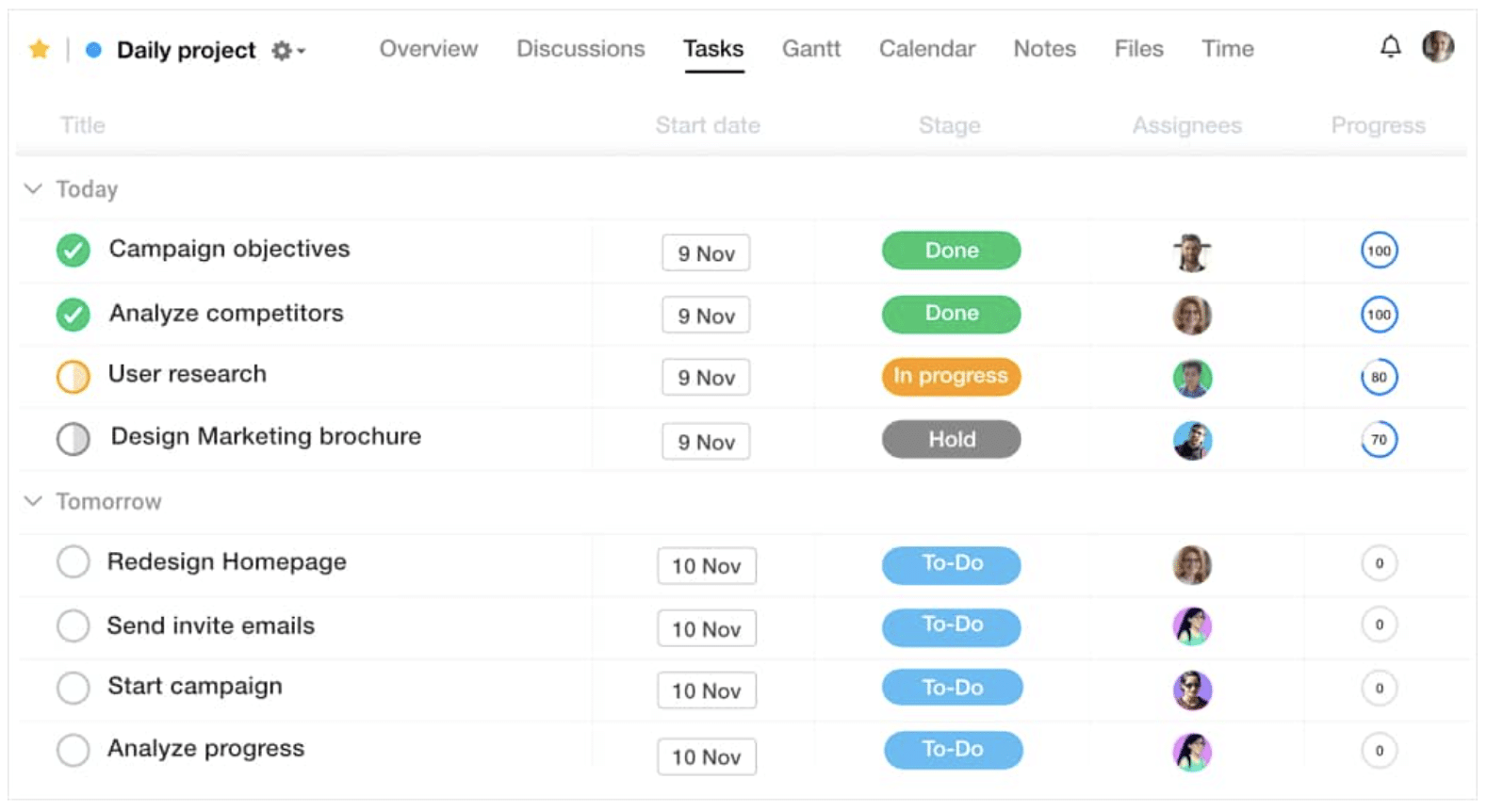 Proofhub is another Evernote alternative that features an efficient managing system to organize your notes. You can use different colors, make notes private, or collaborate on notes by exchanging comments on them with others. Pin important notes to the top of a board to quickly locate them and focus on vital information.
On top of its note-managing tools, Proofhub is also a full project management solution that allows you to plan a project from start to finish. It offers Gantt charts and Kanban board solutions to visualize workflows, and task functions to help managers plan and create timelines for production. They can also assign roles and control who has access to what within the project. The software can generate reports, keep track of timesheets and help manage workloads of employees. To get started, Proofhub offers two simple fixed pricing plans with no per-user fees.
14. Craft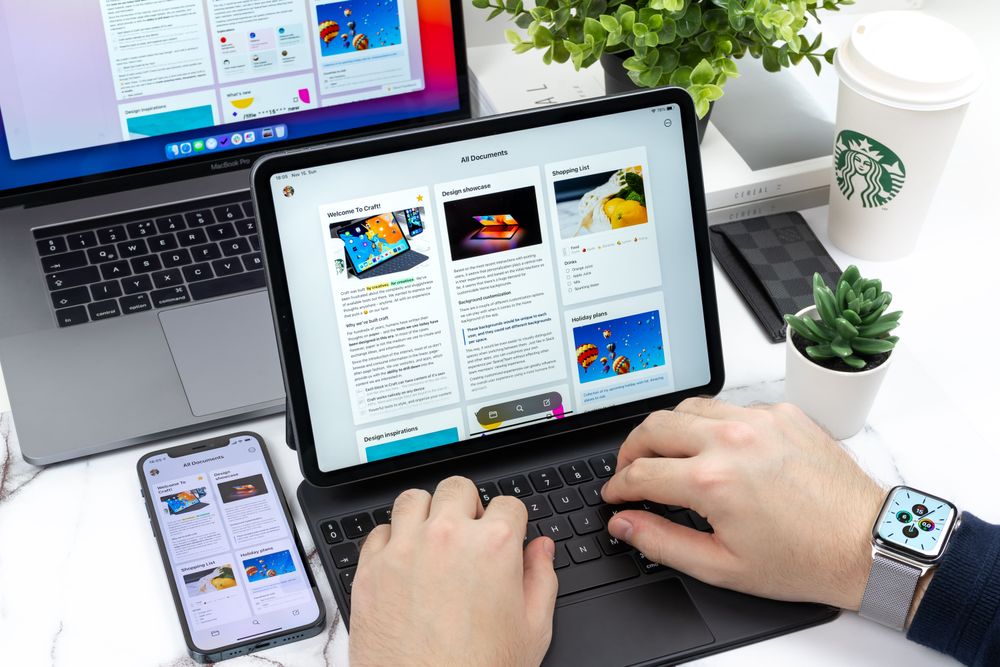 Craft is another great Evernote alternative that takes you into a whole new realm of note taking with its AI assistant. Simply type in a short command and within seconds, the built-in tool will help you to write your notes. Get assistance writing a blog post, checking your grammar and spelling, rewriting an entry in a different tone, translating into a different language and more. You can even get a quick summary of a long body of text, saving you time when it comes to reviewing documents.
The interface is intuitive and user friendly, with templates available to help get you started crafting your notes with ease. Keep your notes organized with features such as blocks, tables and markdown, subpages, and bi-directional linking. Craft is available for all Apple devices, Windows and on the web with a free starter plan. There's an upgraded pro plan available for $5 per month, as well as business and enterprise level subscriptions for teams.
15. xTiles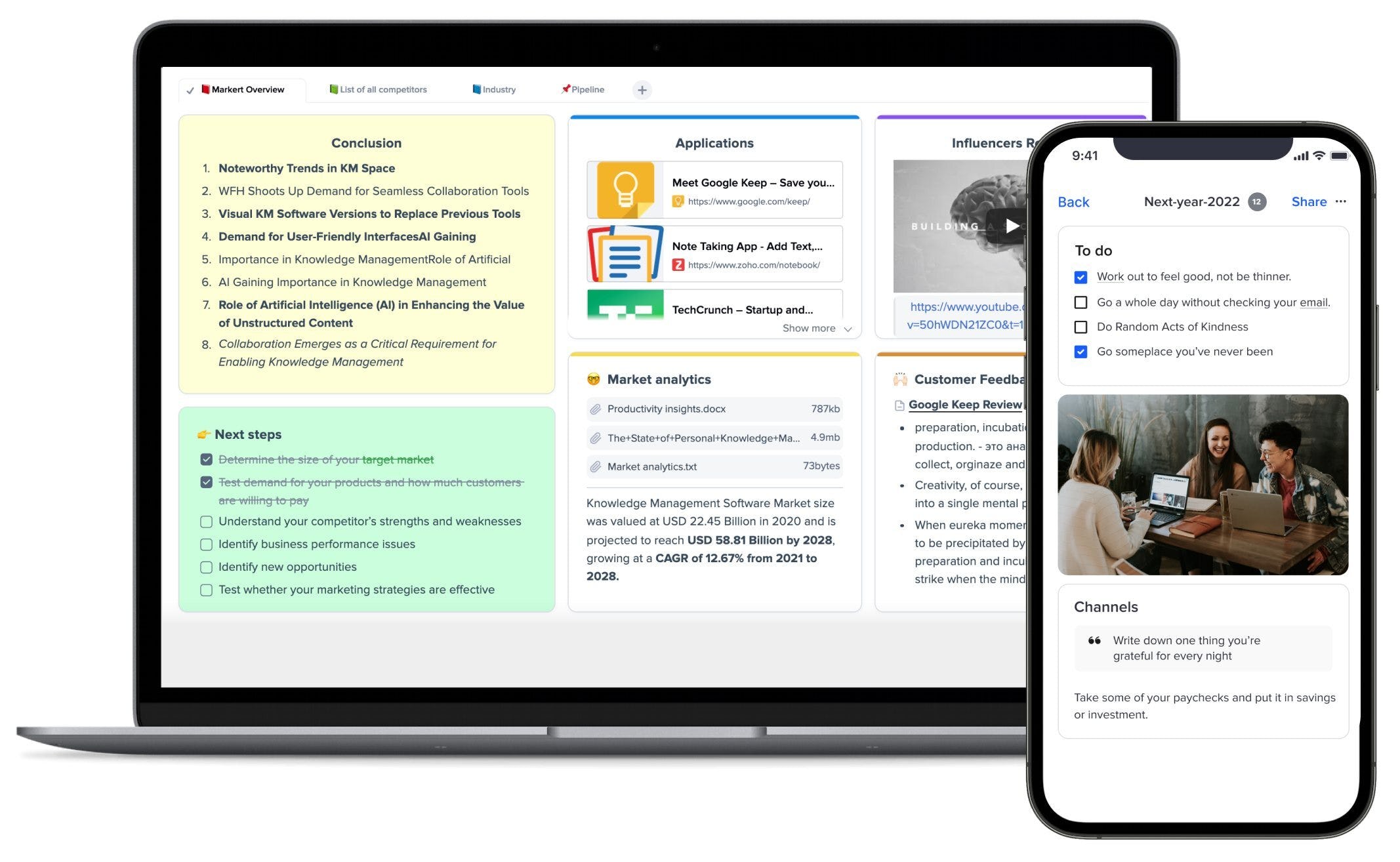 Add some creativity to your note-taking with xTiles. Its intuitive interface and infinite canvas workspace make XTiles a great alternative to Evernote. Lay out ideas, keep it all organized with a drag-and-drop editing feature, and customize your view. The platform lets you add mixing notes, assorted media, links, and files to your dashboard. Its search function lets you look through your notes quickly, optimizing your productivity.
Another advantage of xTitles is its versatility, being available on desktop and mobile, you can jot down notes on your phone and then pick up on it again when you are back at your desk. There's a free plan available with limited file uploads and cards, and you can get unlimited usage for $8/month.
16. nTask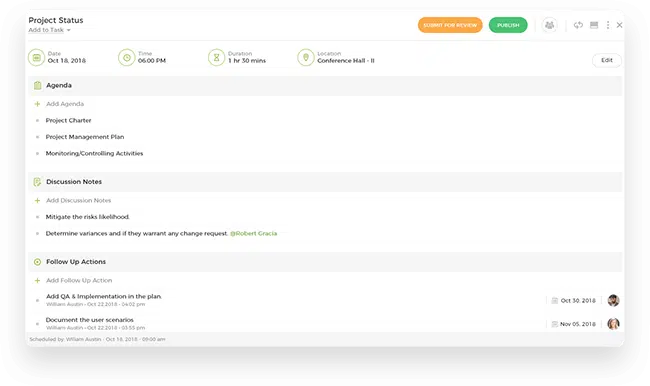 nTask is a great Evernote alternative as the software offers not only note-taking features but also a complete task management and project management solution.
nTask makes it easy to store short and long-form information about a project. Its features include document management, note-taking, time and issue tracking, and even panel-specific comments. These panels include projects, tasks, risks and many others. On top of note-taking, nTask has other collaboration tools to help teams of all sizes, such as a team chat tool, bulk team invites, dedicated workspaces and task comments.
17. ClickUp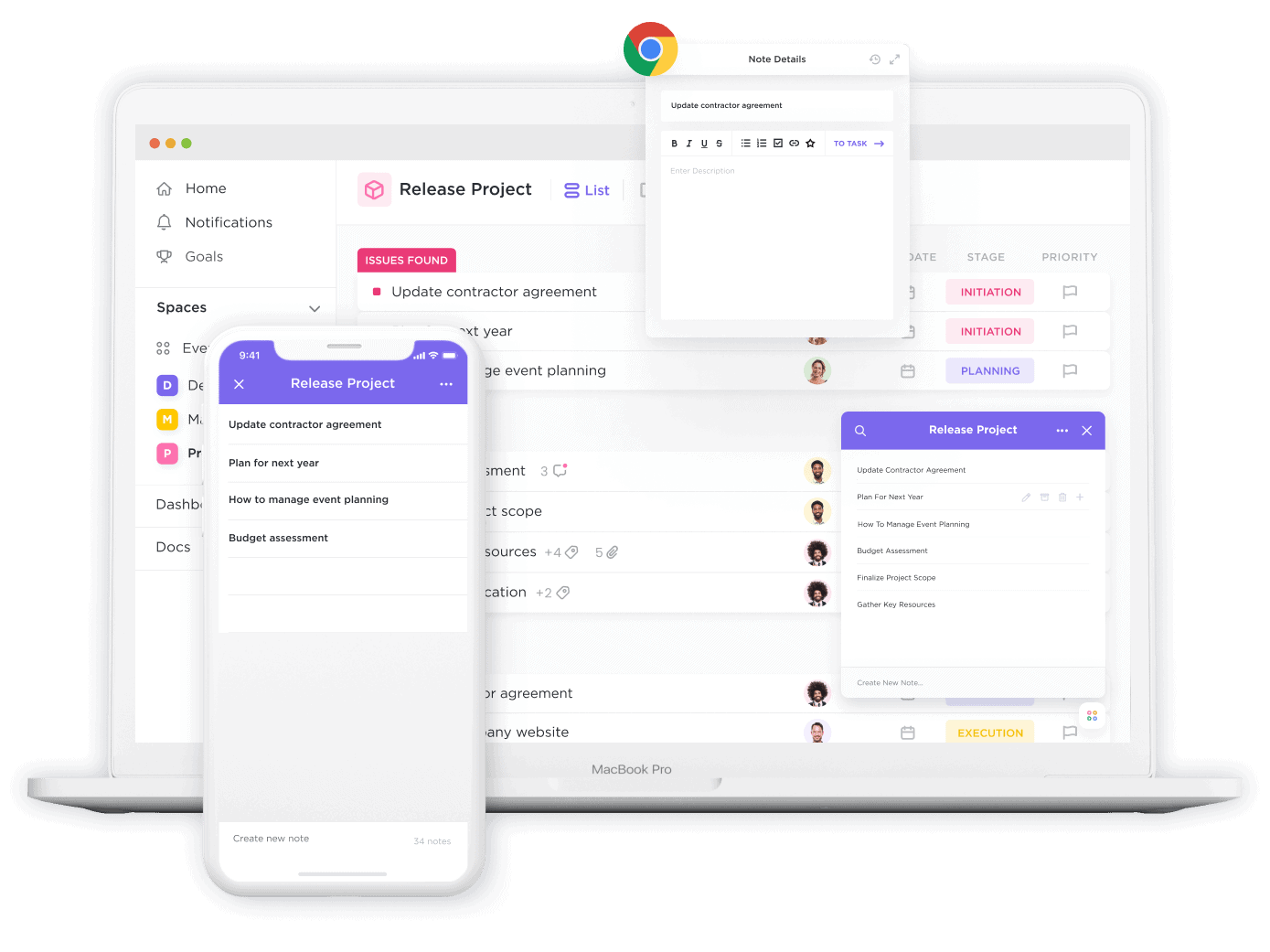 ClickUp is a great alternative to Evernote with its all-in-one platform that offers features for goal tracking, task management, time tracking, project management, and team collaboration. All ClickUp plans include Notepad and everyone, including guests, has unlimited access to this feature, though the notes are private and only you can view them in your workspace.
The software also offers customizable goal tracking and a robust task management system. Additionally, when collaborating with a team, you'll enjoy features such as comments, mentions, and shared views, making it easy to work together on projects. ClickUp is an excellent alternative for individuals and teams looking for a more robust productivity platform with its integrations to apps like Google Drive, Slack, and Trello. 
If you're curious about other similar solutions, check out these top ClickUp alternatives on the market.
18. Joplin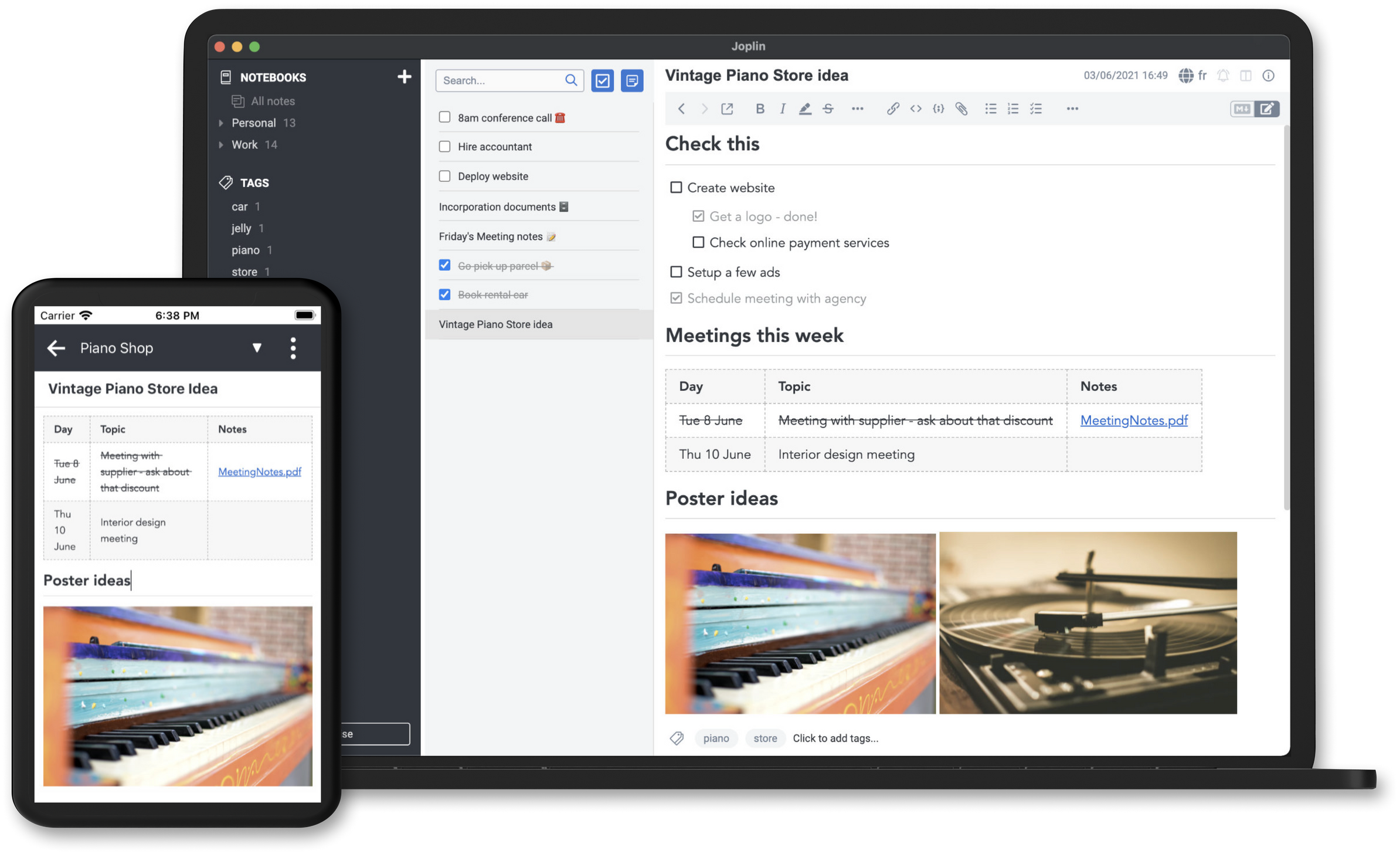 Joplin is an open-source note-taking app alternative to Evernote with an emphasis on Markdown formatting that allows for efficient note creation and editing. It has cross-platform compatibility ensuring seamless access and synchronization across various devices. Joplin also features end-to-end encryption, providing enhanced data privacy and security. Users can enjoy offline access to their notes and have the flexibility to store them locally or choose their preferred cloud storage provider.
Joplin is a cost-effective solution with no subscription requirements, making it an attractive option for budget-conscious users.
19. Slite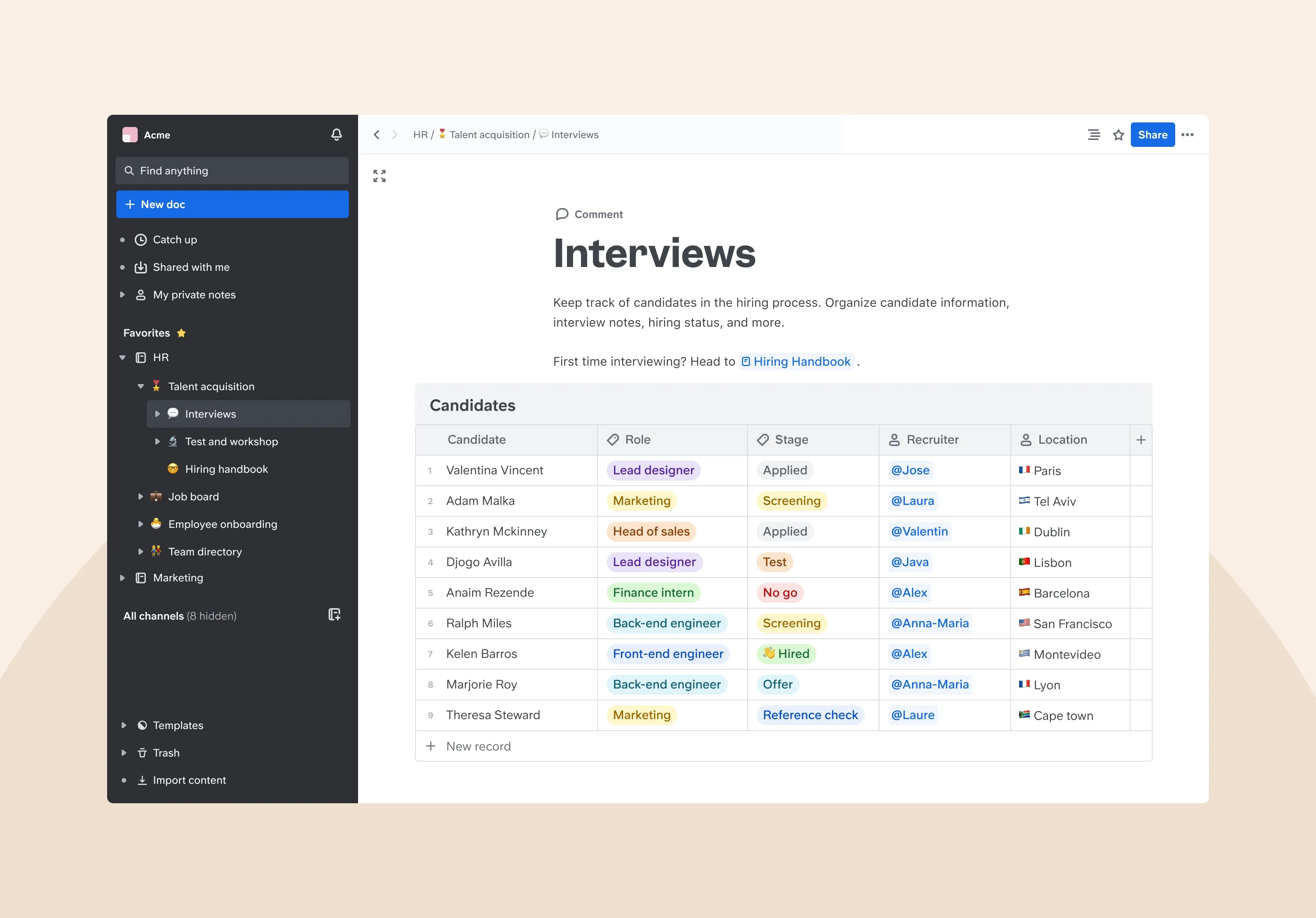 Slite sticks out as a robust alternative to Evernote when it comes to collaborative note-taking. It has a user-friendly interface that makes it easy for everyone on your team to create, share, and collaborate on notes in real-time – perfect for meeting notes, brainstorming sessions, and more. In comparison, Evernote has a more individual-focused design, whereas Slite emphasizes team collaboration with features such as mentions, comments, and shared channels.
These features encourage better communication and real-time collaboration within your team, similar to platforms like Slack but within a note-taking context. Slite offers a free plan with limited features and paid plans start at $8/user/month.
20. Boost Note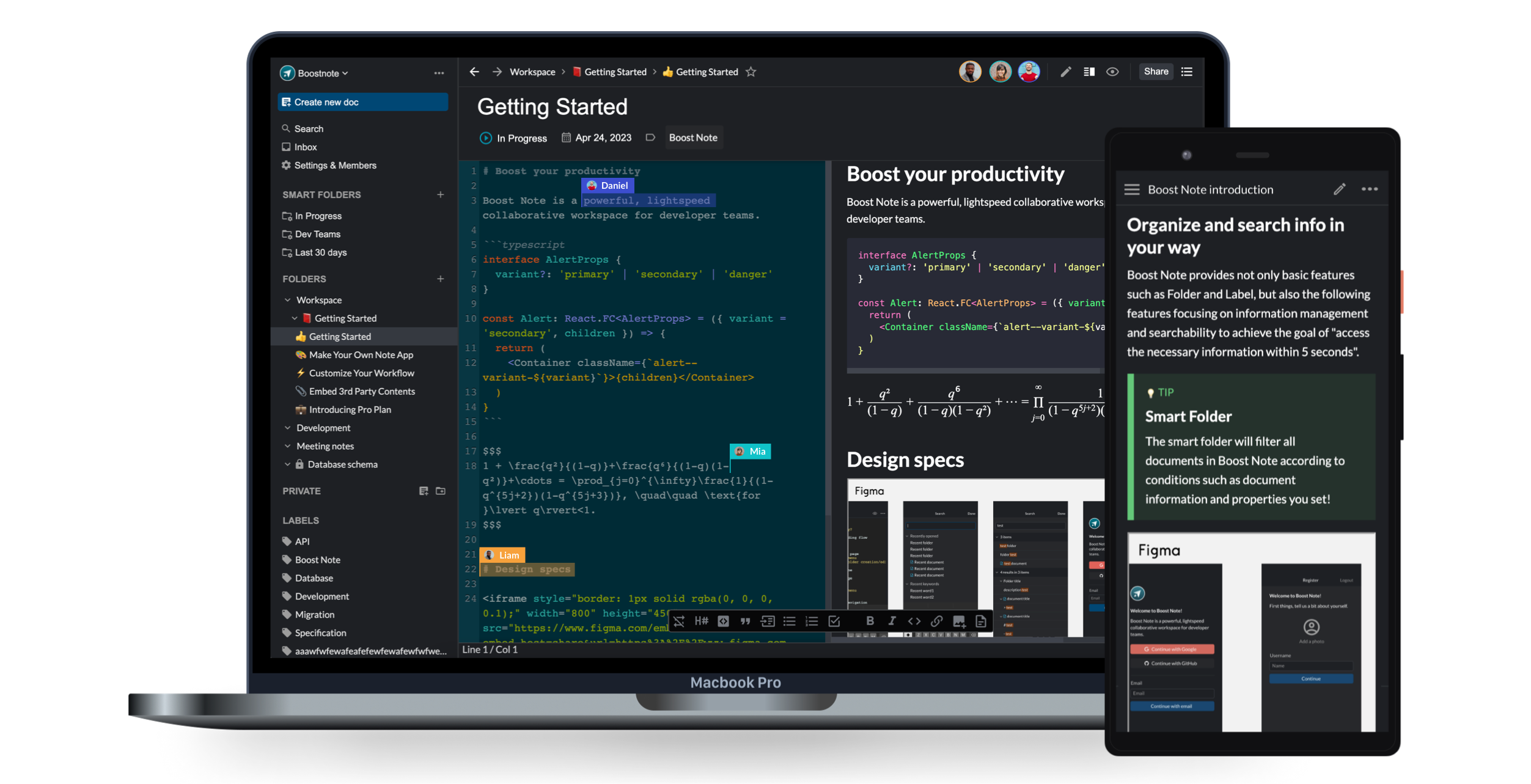 Boost Note is not your average note-taking app, but a solution designed for developer team's to help with workflow documentation. The solution allows real-time collaboration between teammates, while its markdown editor makes it easier to write a tech spec. If you are looking for a note-taking app that is developer-friendly, Boost Note might be what you need.
The solution is not only a note-taking solution, but also offers project and task management with integration to 4,000 different apps. When compared to Evernote, Boost Note stands out for its API, markdown support, offline access for Windows and Android and for taking notes during meetings. However, Evernote is hard to beat when it comes to consolidating information using different sources, for example handwritten notes, typed notes, receipts, and supporting web clippers, images, text and links.
Boost Note offers a free 14-day trial. Its paid plan starts at $5 per user/month.
21. Bear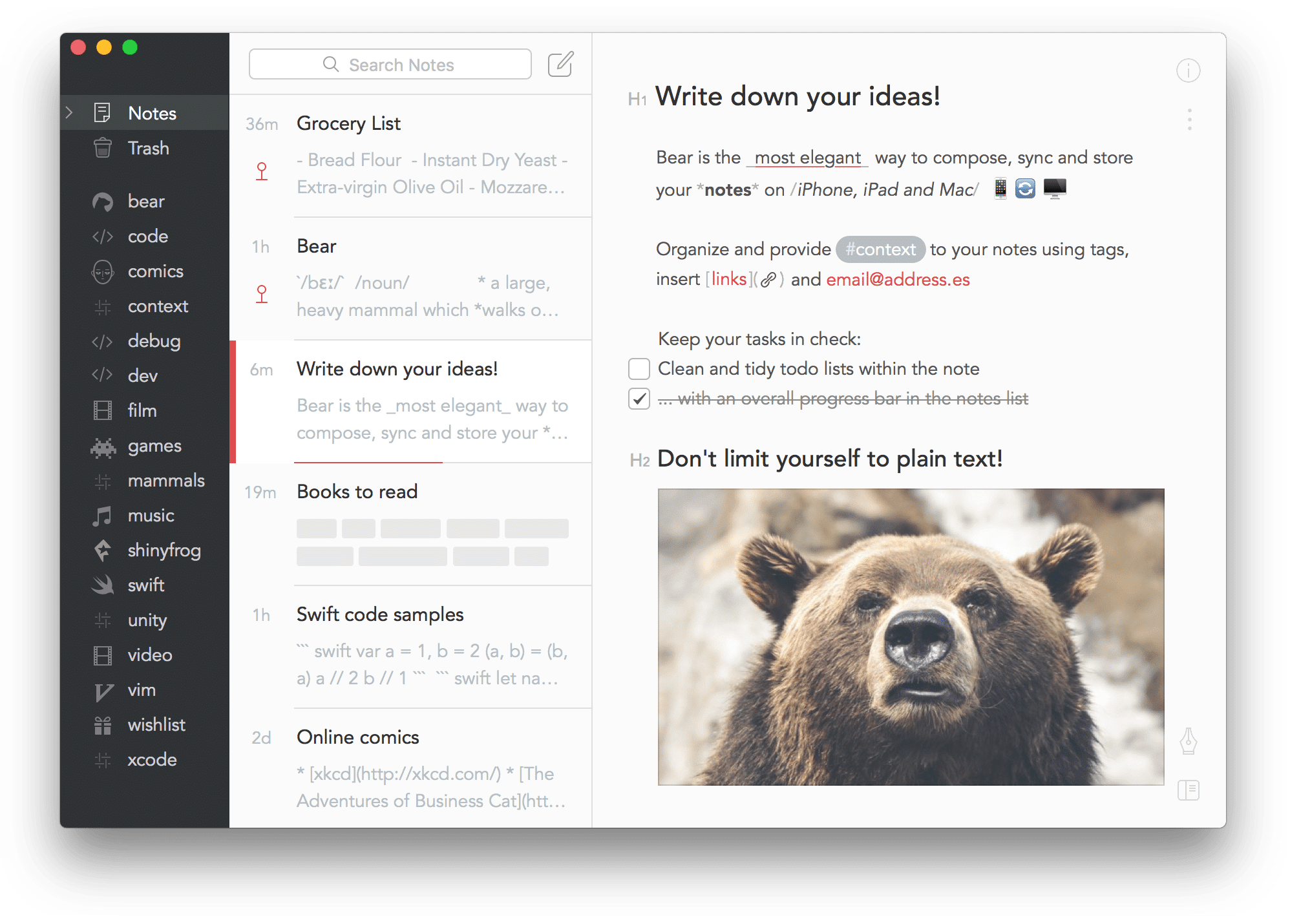 Winner of the coveted Apple Design Award, Bear is a simple yet powerful note-taking platform. Bear lets you capture, write and organize your notes whether you are writing a book, getting your grocery list together or building a wiki for your company. With Bear you can include text, photos, tables, and to-do lists into one single note. Filter and find your notes easily using tags for your annotations. You can also format your notes with simple Markdown.
Before choosing Bear as your note-taking solution, bear in mind that the app is only available as a native app for iOS and macOS. You cannot access your notes from a web browser or if you are offline. Bear has a free plan with limited features. The paid plan starts at $2.99 per month.
---
These are just a few of our favorite Evernote alternatives. Are there any other note-taking apps that you or your team love? Let us know in the comments below.