Virtual brainstorming is a reality — and a necessity — for many businesses at the moment. With more remote workers than ever before, these companies are turning to virtual brainstorming not only because of the pandemic, but also because hiring remote workers is a great way to add specialist skills to their team. The option to work remotely lets companies hire employees they typically wouldn't have access to, and brainstorming can help make the most of this talent. When you bring people together and encourage creativity, great ideas are bound to happen.
The trouble is that many teams find it challenging to brainstorm in virtual meetings as opposed to doing so in person. But did you know that a remote brainstorming session can be even more fun and effective than doing it in person? It is all about your approach. Using virtual brainstorming tools and being organized can make all of the difference, improve video collaboration, and make your brainstorming sessions engaging and interactive. 
So with that in mind, let's take a look at five ways to make your virtual brainstorming sessions as successful as possible. Once you implement these five ideas, you should notice a difference when it comes to the effectiveness of your brainstorming. Because after all, working from home doesn't mean you still can't come up with some amazing ideas!
1. Prepare for your brainstorming session beforehand.
Coming into the brainstorming session prepared makes all of the difference. In order to set the stage for a productive creative process, you should communicate beforehand with all participants. Make sure everyone is aware of the brainstorming outcome, who the other participants are, and what everybody's role is.
When you do not prepare for your brainstorming session, the only outcome is chaos. We've all been in bad meetings, where you show up without any context or instructions. Poorly planned meetings are not only time-wasters, but they also prevent you from getting the best results and outcome out of the participants. When you start a meeting and nobody knows what they are supposed to contribute, or what the ultimate objective is, you're just setting everyone up for failure.
That's why you should get in touch with all of the participants at least a few days before the session to let everyone know what the expectations and goals for the brainstorm are. That way everyone can prepare in advance, do research if needed, and arrive in the best state of mind on brainstorming day. This will also help the person who will be taking meeting minutes, as it gives them an idea of which direction the brainstorm session will be heading.
2. Start with an ice breaker.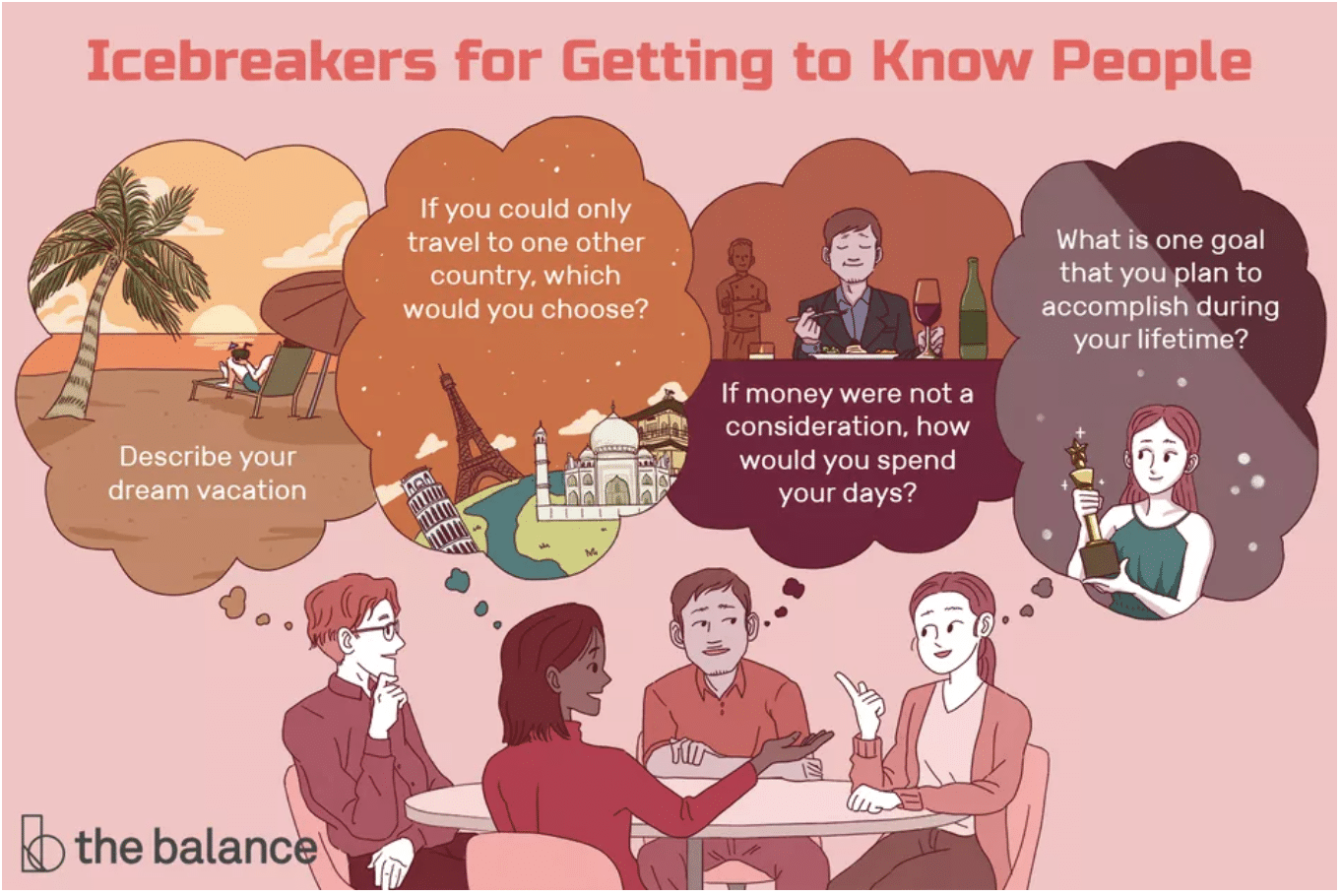 Ice breakers get the creative juices flowing. And contrary to popular belief, they don't have to be boring or embarrassing! For example, if you're a graphic designer, you and your team can set up a couple of design challenges at the beginning of the meeting to have some fun and break the ice. 
It is essential to remember that people have different comfort levels when choosing which ice breaker to go for. Luckily, there is no shortage of virtual ice breaker ideas floating around on the internet. Here are a couple of different ice breakers that you may want to consider for your brainstorming day:
Two truths and a lie:

If you are having a brainstorming session with new hires or team members, this ice breaker can work very well. As the name indicates, you get each person to tell two truths about themselves and one lie. The rest of the group needs to guess what the lie is. 

For example, one person could say that they take ballet classes, are in a mixed doubles tennis pair, and that they go to painting classes. From there, the rest of the group would need to guess which of those statement's is the lie. It is a good way to break the ice and find out more about the group. 
The Hot Seat: This is another ice breaker that you may want to try for your brainstorming session. As the name indicates, one person will go in the hot seat, and then every person has the chance to ask them one question each. This is a fun game, but it's important to set boundaries and make sure the questions aren't too personal or invasive.

 The last thing you want to do is start off your brainstorming session with someone getting offended. 
Would You Rather: There's no better way to get to know your colleagues than by asking them bizarre questions, right?

This is what Would You Rather is all about. Here are some example questions: Would you rather have the ability to teleport or the power to fly? Would you rather stop listening to music or stop watching films?You get the point! To play, pose a question to the group, or take turns going around and asking each other individual questions. You're bound to learn something new with this game. 
3. Take turns sharing ideas.
One of the challenges of virtual meetings is trying to coordinate when people are speaking. Fortunately, If you're using a platform like Zoom for your meetings, there are features to help with this. For example, you can use settings to focus the camera on one person speaking and mute the other microphones, which prevents people from speaking over one and other. But even so, you still need to make sure the overall brainstorming meeting flows smoothly and gives everyone the opportunity to share their ideas. 
So how can you help guide the meeting and keep everyone organized? Use an agenda. Creating an agenda is one good way to keep your brainstorming session organized and encourage everyone to share ideas at the appropriate time. When you create an agenda — or an outline of general topics to cover in the brainstorm — and share it with everyone in the meeting beforehand, it encourages participants to plan out their thoughts and think about which parts of the conversation they want to contribute to.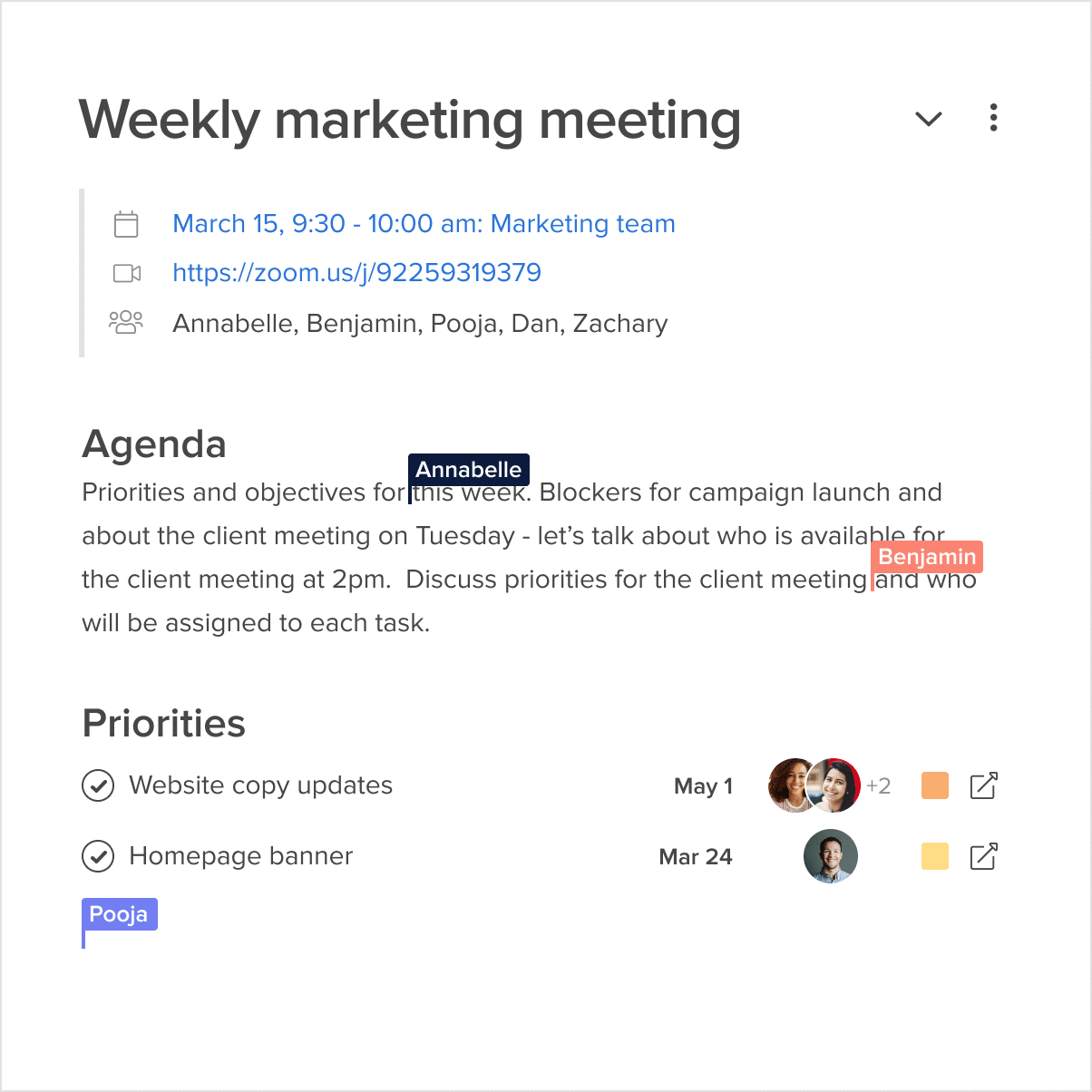 Looking for an easy way to create collaborative agendas? Hive Notes lets you create and share an agenda before the meeting starts, take notes in real-time during the meeting, and even revisit your past notes once the meeting ends. It's the perfect canvas for a collaborative virtual brainstorming session, and you won't even have to worry about people interrupting someone else's thoughts. It's also a great way to democratize your meetings and encourage everyone to contribute ideas — even if you're not comfortable speaking up in a meeting.
4. Choose your virtual brainstorming games and techniques. 
As mentioned in the introduction, there are a number of different ways that you can make brainstorming fun. One of the ways that you can do this is by getting everyone involved in brainstorming games. So what sort of brainstorming games should you consider bringing to your next session?
Reverse Brainstorming
One of the first games that you may want to consider is reverse brainstorming. This is especially beneficial if you are finding it challenging to come up with new ideas and suggestions within your team. Rather than taking the traditional approach to brainstorming, you could think about what would be a disaster for your project. 
For instance, if you are planning to launch a new product, three bad ideas may be making the homepage a challenge to navigate, failing to announce the website launch, or talking negatively about the launch online. You can then reverse this to find the things that you should be doing. 
Alter Egos
This is another fun game that can harvest excellent results when it comes to your brainstorming sessions. The purpose of the alter egos game is to think about how a different person would solve a problem.
So rather than thinking about your approach, you could think about how Steve Jobs would solve a problem. It can be a real or fictional person, and it doesn't have to be obvious. You could choose someone who is the opposite of your assumed audience to try and spark those ideas and suggestions that you would not typically think of.  
Let's look at an example. If you are in the gaming industry and looking for creative ways to approach your newest video game project, putting yourself in the shoes of someone else – in this case, likely the players of the game – can be particularly useful for inspiring new ideas and concepts. Incorporating this alter egos concept into your game development services brainstorming sessions is a great way to help uncover innovative solutions that the end user will also appreciate and relate to.
Word Association
Chances are you probably played this game at some point in your childhood. But don't count it out — Word Association is actually a great way to spark ideas in a brainstorming session too. It starts with someone saying a word, and then the next person follows by saying the first thing that pops into their head. This continues with everyone in the session, which can be really beneficial when you're looking to "put your heads together" and get those ideas flowing. 
So how could this work in a business environment? Let's say you work on a marketing team and trying to come up with ideas for a social media campaign. You could, for example, start off with a word like "Instagram" and see where it leads you. You could also start with the name of a specific influencer in your market, or even choose something totally random. Need help finding a specific influencer in your niche? Make sure to follow this tutorial or use influencer research platforms. You never know where you might end up.
5. Use online tools to enhance the virtual experience.
In today's modern workplace, online collaboration tools are essential for helping with communication, organization, and creativity. Luckily there are many great tools available to help remote teams collaborate with greater ease and efficiency — and this goes for brainstorming too. Here are some of the best collaboration tools to use for your next virtual brainstorming session. 
Hive
Hive is an all-in-one project management tool, with everything you could possibly need to hold a productive and successful meeting. From uploading agenda documents to scheduling meetings with in-built email integration, you will have everything you need to host effective meetings. And as we mentioned before, Hive Notes is the platform's built-in note-taking tool that was made especially with meetings in mind.
With Hive Notes, everyone invited to the meeting can collaborate on a note in real-time, regardless if they are a Hive user or not. From the note, you can also create tasks and assign follow-ups after the meetings. This is one of the most comprehensive and effective meeting tools on the market today. Check out Hive's free 14-day trial to get started now. 
Miro
Next we have Miro, an online collaborative whiteboard that brings teams together to share ideas and suggestions with ease. With Miro, you will be able to brainstorm with your team in real-time or synchronously. You can also host retrospectives, create strategies, roadmap your work, give assignments, and much more. You can sign-up for this tool free of charge, which is always a benefit. 
Slido
Slido is one of the best tools available when it comes to interactive communication. Many meeting attendees find it challenging to make their opinions heard because they worry about judgment from their workplace peers or the fear of corporate backlash. This is where Slido comes in. 
This meeting tool that is specifically designed to foster more open and comfortable communication. During any event, attendees will have the ability to share insights or ask questions from their smartphones or computers, or also participate in engaging polls. Slido gives team members the option to make their engagement anonymous if they wish to do so, which is a great way to encourage open and honest communication.
6. Use breakout rooms.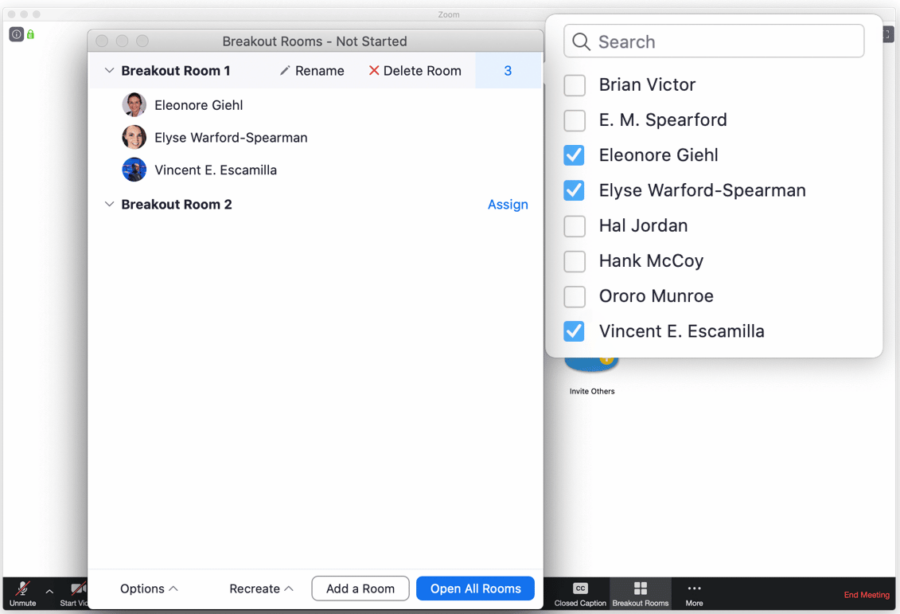 Just as in an in-person meeting, it's important to have in mind the number of attendees in a remote brainstorm session. You want to make sure everyone contributes and most importantly that everyone feels integrated into the exercise. A great alternative is to invite teams to join breakout rooms on Zoom. You can start the meeting with a larger group, go about the agenda and logistics of the meeting, then divide everyone into smaller rooms. People tend to feel more comfortable in a more intimate set-up. In other words, smaller groups create the perfect environment for ideas to flow easier! Remember to set a timer for 5 or 10 minutes for the teams to work together, then reintegrate all the groups. Ask someone to be a representative of their team and to share their ideas with everyone. You can use Hive Notes to jot down all the insights that came out from the breakout rooms brainstorm session.
Pro-tip: If you use Hive as your project management tool, make sure to integrate your Zoom account to make the process smoother.
Conclusion
So how can you have the best virtual brainstorming session possible? Using online brainstorming tools, setting aside time to plan out the session beforehand, and utilizing fun games are just a few of the ways you can make sure your brainstorming sessions are as fun and effective as possible! 
And if you have suggestions of your own, be sure to share them in the comments below. Let's get brainstorming!
This guest post was written by Darya Jandossova Troncoso. Darya is a photographer, artist, and writer working on her first novel and managing a digital marketing blog, MarketSplash. In her spare time, she enjoys spending time with her family, cooking, creating art, and learning everything there is to know about digital marketing.