When it comes to data management and analysis, Excel is one of the most popular (and essential) software programs used by businesses. However, since Excel is mostly used on individual computers, it can be challenging for multiple users to access their documents or collaborate with their teams in real-time. If you're looking for a software that offers more collaborative features, here are some of the top Excel alternatives you should consider.
What is Excel?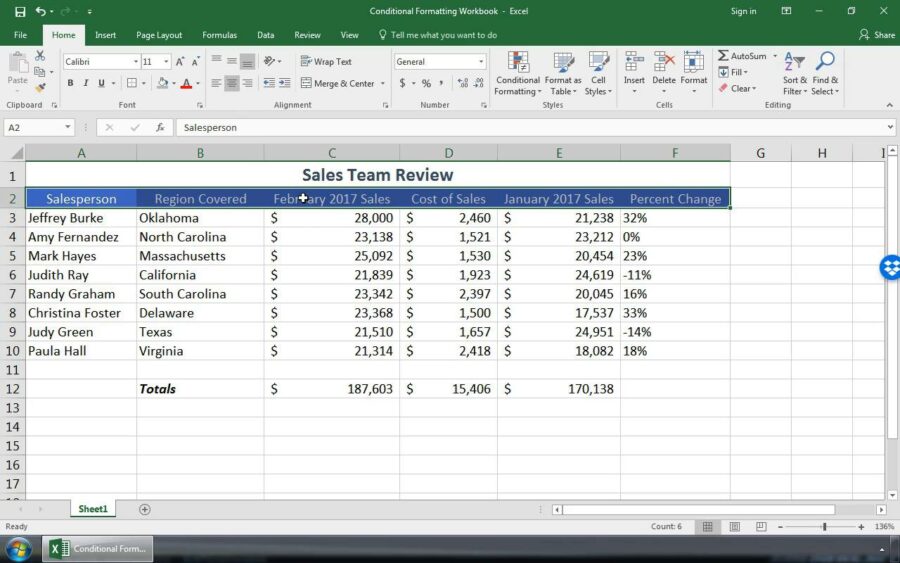 Excel is a software program that is part of the Microsoft Office suite. The suite was introduced in the late 80s and since then Excel has been the main powerhouse of the platform. Once offered as a stand-alone download platform that lived on individual computers, Excel is now available as both a desktop version for Mac and Windows, and it is offered as a cloud-based web app subscription called Office365.
Since the time of its inception, Excel has been used to store, organize, and analyze data. It is a powerful tool that can be used for everything from simple data entry to complex statistical analysis. Excel can be used to track sales, customers, inventory, finances, and more. It is versatile enough to be used for creating charts and graphs, performing calculations, and making predictions, but can also be used for simple everyday computations.
As technology has changed, so too has the Excel look and feel. With a customizable toolbar and robust formulas and computations, Microsoft has worked hard to upgrade the features that people love and know in Excel, and move it into the new marketplace. However, there are still drawbacks to this software and many of those have to do with Excel lacking the robust features that many alternative platforms offer.
Why You Should Consider an Excel Alternative
While Excel has been the standby spreadsheet program for companies to turn to for many years, the program has significant shortcomings. Some of the drawbacks of using Excel include:
Difficult to collaborate with others in real-time
Not accessible from anywhere
Can be challenging to use for complex projects
Lacks data security
Does not come with project management features
Cost prohibitive
While Excel might the choice for many large companies, if you are a small business on a budget or a solopreneur, you may want to rethink your Excel use. Microsoft Office365 subscriptions start at $6.99/month, or if you do not want to work within this updated platform, you can purchase a single Excel license, but it will cost $159.99 and it lacks collaboration capabilities.
For those of us who don't have that kind of money, or don't need the features that Excel has to offer, there are plenty of viable alternatives to Microsoft Excel. Most of these alternatives have a lower price tag and don't come with the cons that are associated with the use of Microsoft Excel.
So what are some of the best Excel alternatives out there? We've included the top eleven alternatives, below.
Hive
Google Sheets
Zoho Sheet
Smartsheet
Quip
Workzone
Scoro
Click Up
Cell by Hancom Office
Tableau
Airtable
1. Hive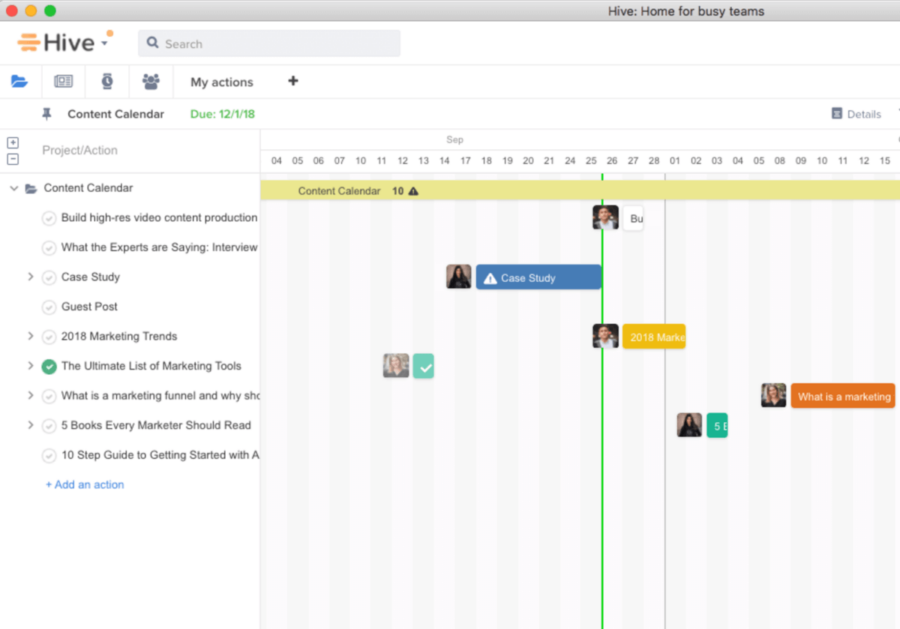 Hive is one of the top Excel alternatives for those who are looking for an all-in-one platform that offers a more collaborative experience. With Hive, you can work on projects with others in real-time and see who is working on what at any given time.
You can also access your files from anywhere, which makes it easy to keep track of your work even when you're away from your desk.
Hive also offers a variety of features that are not available in Excel, including project management tools, data security, and file sharing. Hive has the ability to break tasks down with specific actions. This platform provides its users with a highly visual display, with moveable cards and varying project layout options.
Also, Hive just made Capterra's list of top 9 project management platforms globally and scored 100 out of 100 in popularity among its customers. This score is one of the highest scores of all tools on the market! It's the only project management platform built for users, by users, so get started for free today and see how you rank Hive as an Excel alternative.
Standout Features:
1,000 or more integrations
Combines both spreadsheet capability with project management features
Time tracking and customizable workflows
Note-tracking feature allows task assignments and tracking of next steps directly in the platform
Pricing:
Free plans are perfect for solopreneurs or small teams, but for paid plans, pricing begins at $12/month and all the way up to custom prices for larger enterprises.
2. Google Sheets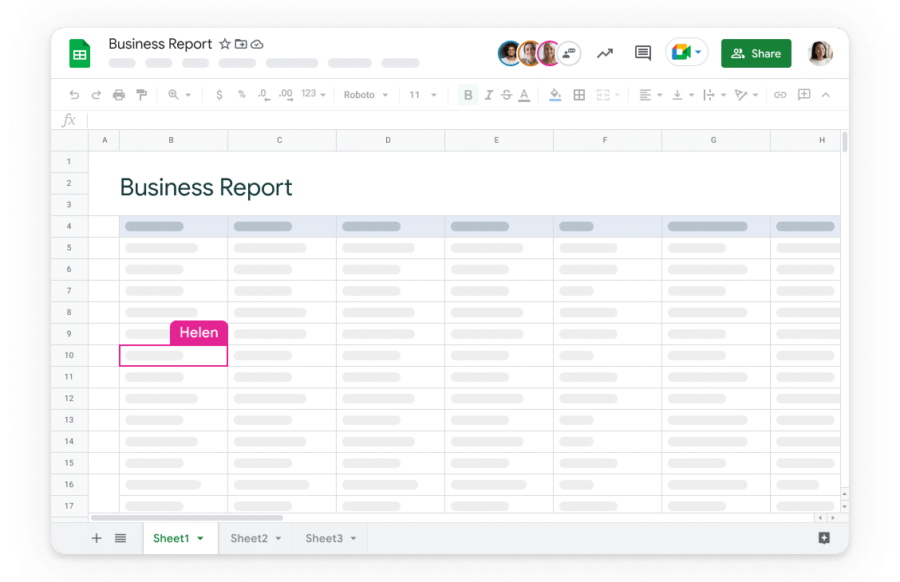 One of the most popular options in comparison to Excel is Google Sheets. Google Sheets is a cloud-based spreadsheet application that offers all of the features of Microsoft Excel, but with added collaboration capabilities.
Multiple users can edit and comment on the same Google Sheet document simultaneously, and changes are automatically saved as they're made. Everyone is always working on the most up-to-date version, and since it's a cloud-based program, you can easily access your files from anywhere. Google Sheets is very equal in regards to its capabilities as Excel is, but it has one bonus that Excel does not: it's free!
Standout Features:
Pre-designed templates to make spreadsheet set-up a snap
Can create, save and convert files to and from Excel to Google Sheets and vice versa
It automatically saves and syncs changes
Pricing:
Free with a Google account
3. Zoho Sheet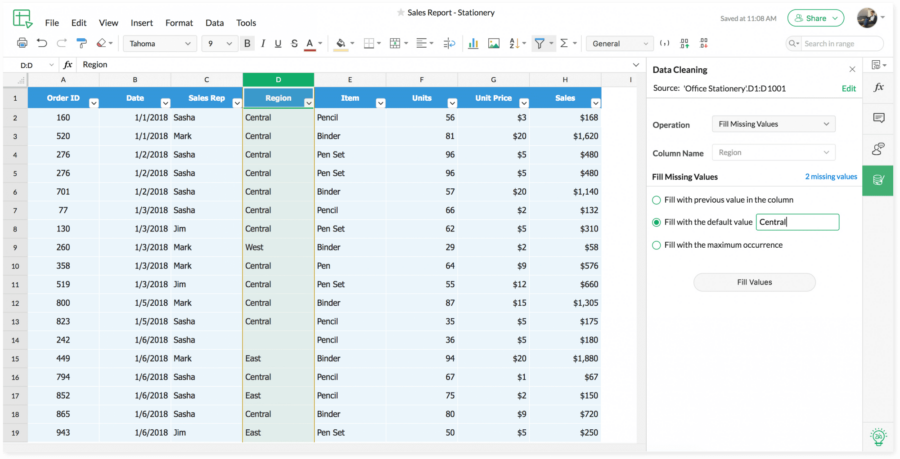 Zoho Sheet is another great Excel alternative that offers real-time collaboration capabilities. With Zoho Sheet, you can chat with other users who are viewing or editing the same document as you. You can also leave comments on specific cells or sheets, and see a history of all the changes that have been made to the document.
Zoho sheets are cloud-based, so you can backup and access your work from any and all devices. In comparison with Excel, it delivers some of the same technical offerings such as pivot tables, conditional formatting, validation, tables, charts, graphs, and computations.
Standout Features:
Can create and share your spreadsheets online, from anywhere
More than 350 functions to choose from
Great team collaboration with live editing and comments
Pricing:
Zoho Sheet is a free platform for up to 25 users, but larger enterprise business subscriptions are available.
4. Smartsheet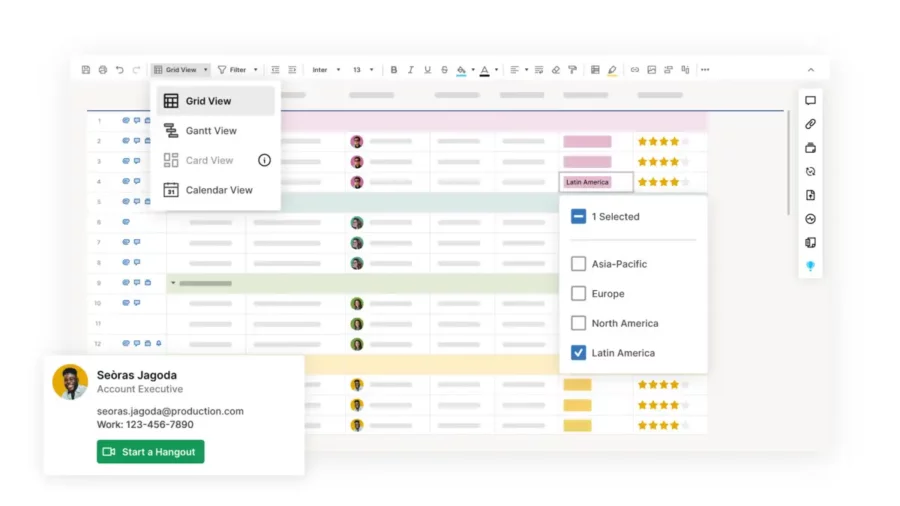 If you're looking for an Excel alternative with even more features and an insane amount of real-time collaboration, then Smartsheet might be the right option for you. Alongside its real-time collaboration and commenting, Smartsheet also offers task management capabilities that make it both a powerful spreadsheet program and a project management program.
With Smartsheet, you can assign tasks to specific users, set due dates, and track the progress of each task. Plus, Smartsheet integrates with a variety of other software programs so you can easily pull data from other sources into your spreadsheet.
Standout Features:
Helps to simplify your planning and budget goals with built-in templates
Offers powerful analytics and reporting
Supports multiple views and incorporates automation into daily tasks
Pricing:
Smartsheet offers a free trial period to test out the product. If the product fits your needs, you can purchase a team subscription starting at $25/month for each member of your team.
5. Quip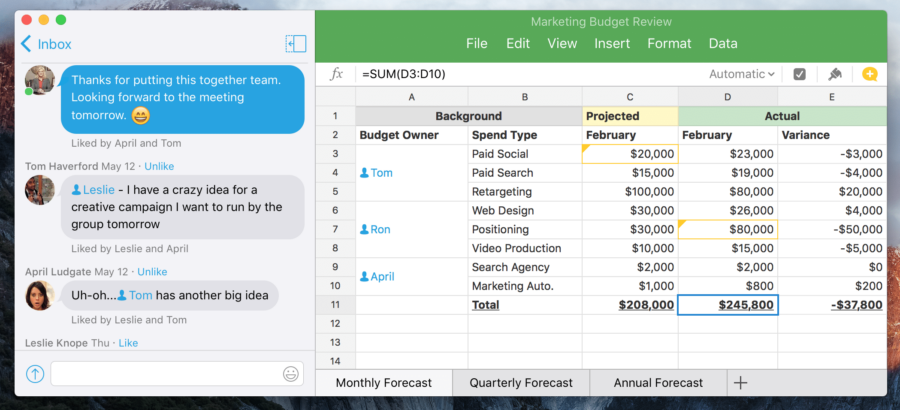 Quip is another spreadsheet application that offers robust collaboration capabilities. With Quip, you can @mention specific users to get their attention, leave comments on specific cells, and see a history of all the changes that have been made to the document.
Quip also offers task management features so you can easily keep track of your team's progress. And, like Hive, Quip integrates with a variety of other software programs giving it additional project management features.
Standout Features:
Internal chat & Collaboration

Cross-device access

Spreadsheet integration
Pricing:
Quip offers a free trial, and if you love it, you can upgrade for $25/month for each member of your team.
6. Workzone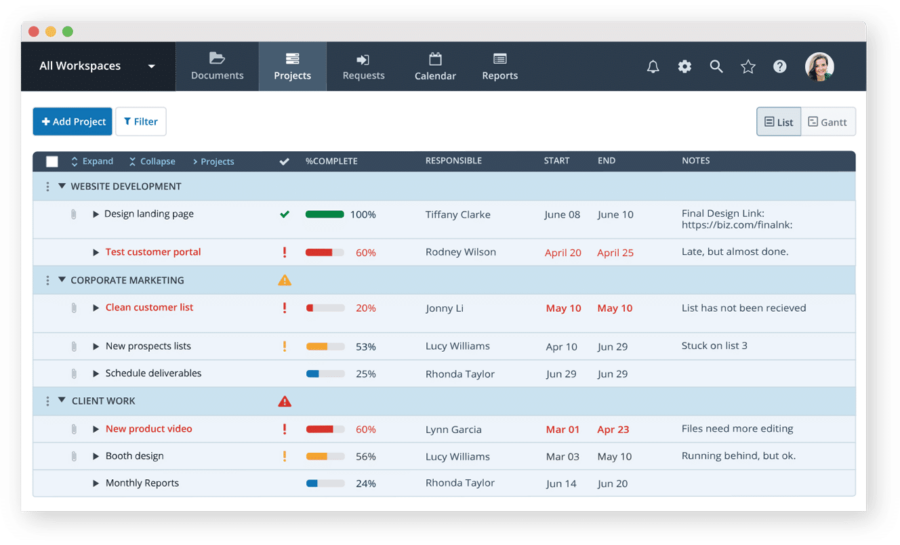 Workzone is a spreadsheet-based project management tool that works well as an Excel alternative. The software is built with project management tools such as resource, task, and time tracking. With customized reporting and automation, Workzone can do as much – or as little- as you need. If you still love that spreadsheet look, Workzone offers that feel, but also has optional views, including Gantt and calendar views. 
Standout Features:
Time tracking with reporting functionality

Resource allocation charts

Unlimited training & support 
Pricing:
Pricing begins at $24/month for teams of 5 or more and goes up to enterprise pricing at $42/month.
7. Scoro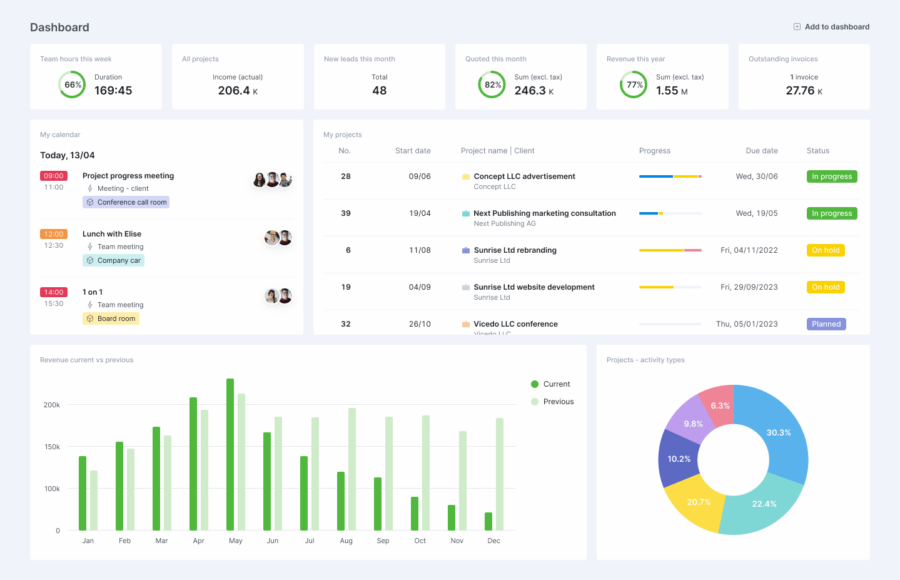 If your team needs an alternative to Excel to visualize and understand data differently, Scoro might be a great solution for your team. The KPI dashboard software offers a broader overview of each aspect of your business, giving you the ability to keep track of your projects, workflow, and financial KPIs in real-time. 
Standout Features:
Integration with third-party applications and softwares
Innovative and responsive dashboards
Real-time Gantt charts
Automate routine tasks
Pricing:
Pricing begins at $26 per user/month for a minimum of 5 users. The Essential plan includes projects, calendars, task list & task board, contacts & customers, quotes, invoices & receipts, bills, dashboards and summary of financial reports.
8. ClickUp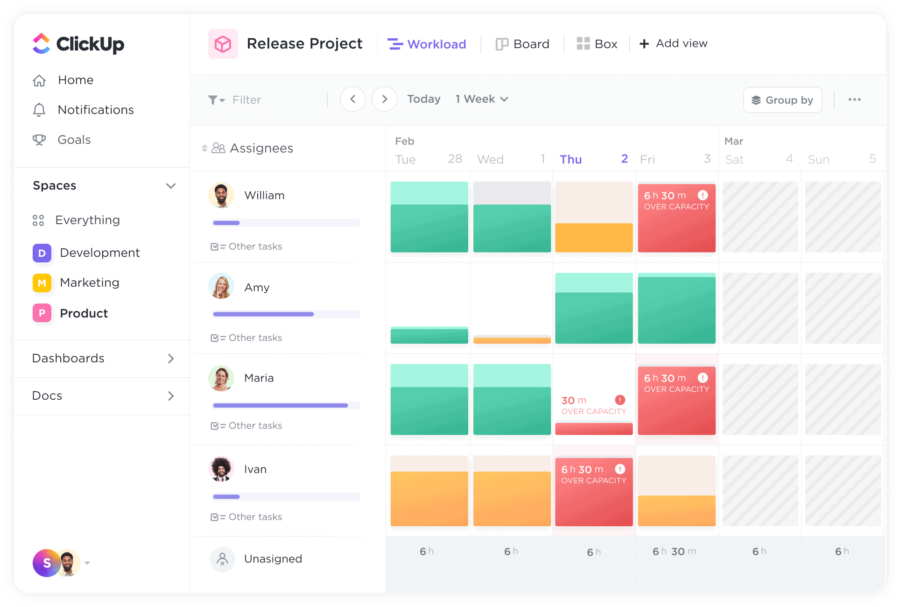 ClickUp is an alternative to Excel with a highly efficient dashboard view and collaboration features. For example, the platform allows you to track and organize your work with the Table view, which is a great solution when determining the progress of a project or specific tasks. ClickUp also allows you to copy and paste a table into another spreadsheet software like Excel and Google Sheet. Data management can also be done by ClickUp by using the formula or numeric custom fields. You can perform column calculations finding the sum, average or range for an entire column. If you are into charts, diagrams, graphs and metrics, ClickUp offers custom widgets that will allow you to create all that. One of the downside of ClickUp over Excel, is the lack of Table view in the mobile app. The platform free version offers features like assigned comments, to-do list and checklists, simple/custom statuses, sprints, and goals. The project management software also offers native email, several templates and free integrations. To see how ClickUp stacks up against another tools on the market, check out our full guide to ClickUp alternatives.
Standout Features:
Flexible views: table view, board view, calendar view, box view, Gantt chart view, and list view
Data management with formula fields and columns calculations
Create charts, diagrams, graphs, and metrics report with custom widgets
Task automation
Third-party apps integrations, such as Zoom, Salesforce, Google Calendar
Pricing: 
ClickUp has a free plan with unlimited projects and users. Its paid plans start as low as $5/user per month.
9. Cell by Hancom Office 2020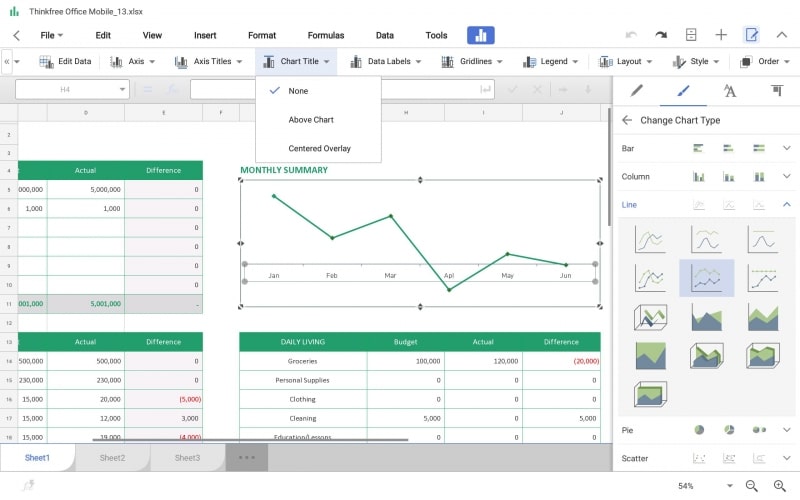 Similar to Google Sheets, Cell by Hancom Office 2020 offers spreadsheets and word processing for desktop, mobile devices and browser-based tools. The system makes documentation and collaboration easier — all documents can be accessed via any browser connected to the internet. Cells' abilities to create a graphic presentation, spreadsheet modeling and calculations are some of the reasons why the software is a powerful alternative to Excel.
Standout features:
Function and formulas
Pivot Table
Smart Tags
Translate to Multiple Languages
Chart Types
Real-time Collaboration
Integrations with Microsoft Office, G Suite and Dropbox
Pricing:
Hancom Office 2020 offers a free trial and its Enterprise license starts at $119.99.
10. Tableau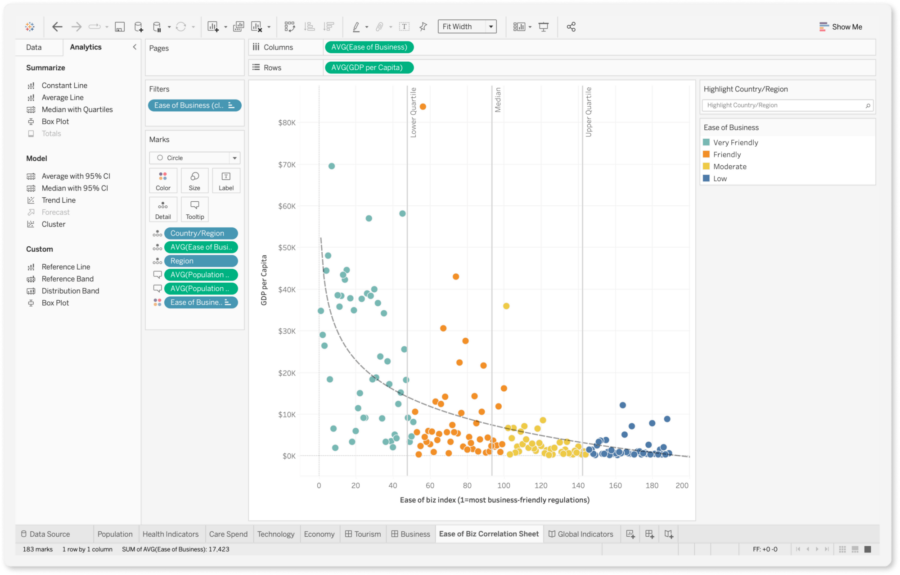 Tableau is software that allows you to visualize data in many different ways like graphs, charts, and maps, which can make data analysis a much easier task. With Tableau processes like "extract transform and load" are easily accomplished with its Tableau Prep Builder, allowing the user to clean, shape and transform data with the ability to pivot, remove empty fields, replacing or merging fields from different data sources all in a simple interface. Tableau can run off your company's server or their own cloud-based server, and it also has desktop and mobile apps available for users to work seamlessly from wherever they are. 
Tableau is a great alternative to Excel when it comes to visualizing data analysis and the learning curve is minimal. As you may know, in order to get the full experience of Excel you're gonna need some basic scripting skills, whereas with Tableau there are no coding skills required. 
Standout Features:
Data Guide pane that provides helpful info about a dashboard and the data behind it

Dynamic scaling in a container on set schedules

Table extensions to input advanced analytics and predictions

Dynamic Zone visibility which allows you to show and hide dashboard zones

Activity Logs
Pricing:
You can try Tableau for free with a 14-day trial, and they offer several different plans with pricing based on whether the software is used locally or on the cloud.
11. Airtable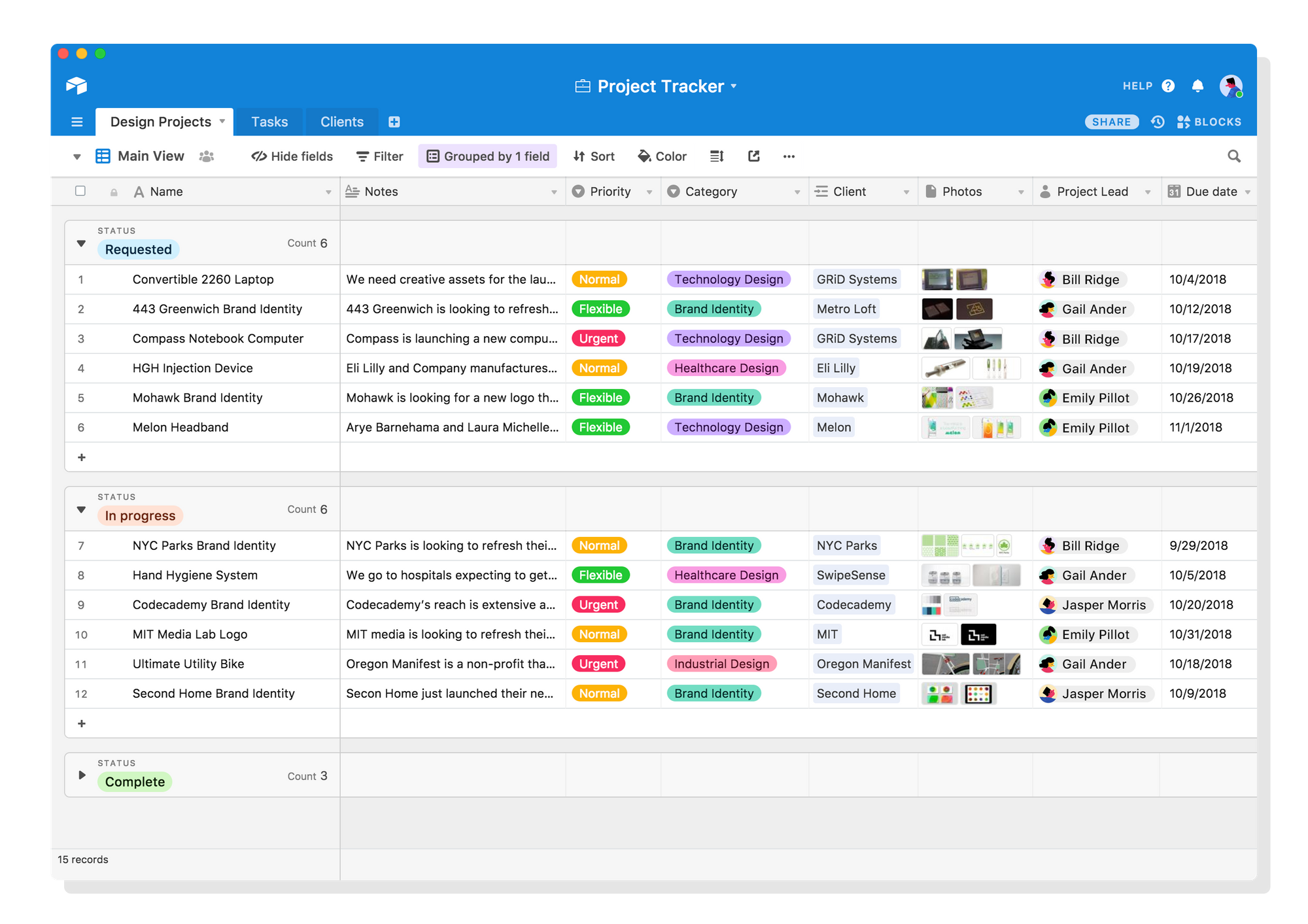 Airtable is a low-code and easy-to-follow alternative platform to Excel. The software features integrations with popular tools, including Google Workspace, Slack, Salesforce and Zendesk. Airtable has an intuitive interface and offers a real-time collaborative experience, with the ability to see projects and tasks in a grid-like view, as well as Kanban boards, Gantt charts, and calendar views. Airtable also features excellent onboarding tools like live online webinars, documentation, and video training.
There's a free plan that includes up to 5 creators or editors and lets you create unlimited bases, have unlimited commenters and read-only users. The free plan also includes up to 1,200 records per base and a total of 2GB of attachments per base. 
Standout Features:
Web, desktop and mobile apps

Design interactive applications with a drag-and-drop editor

Extensions such as charts, page designer and pivot table

Revision and snapshot history 
Pricing: Paid plans start at $10/month/user and have several premium features such as custom branded forms, automatic table syncing, and sync integrations (including Jira Cloud).
Not convinced Airtable is one of the best Excel alternatives for your team? See how Airtable compares to others in the same category.
As you can see, there are plenty of great Excel alternatives available. Did we hit the nail on the head with our recommendations? Let us know in the comments below!