We all have that co-worker who is a self-appointed spreadsheet master. Those people who you tell to "don't make fun of my spreadsheet" or ask to "please check my formulas" because, unlike them, some of us don't dream about conditional formatting and Vlookups.
However, if you are mediocre at using spreadsheets (like the majority of us) and are unimpressed with the software you are using – you don't have to stick with the same old platform. There are more spreadsheet options on the market today that can make your life much easier.
So, if you're in the market for a new platform or maybe want to read up on what's out there so you can sharpen up your data-crunching spreadsheet skills to match (or exceed) your co-worker, we've compiled a list of the best spreadsheet software on the market to help you make an informed decision about which one is right for you. Let's get started.
1. Hive: Where spreadsheets meet project management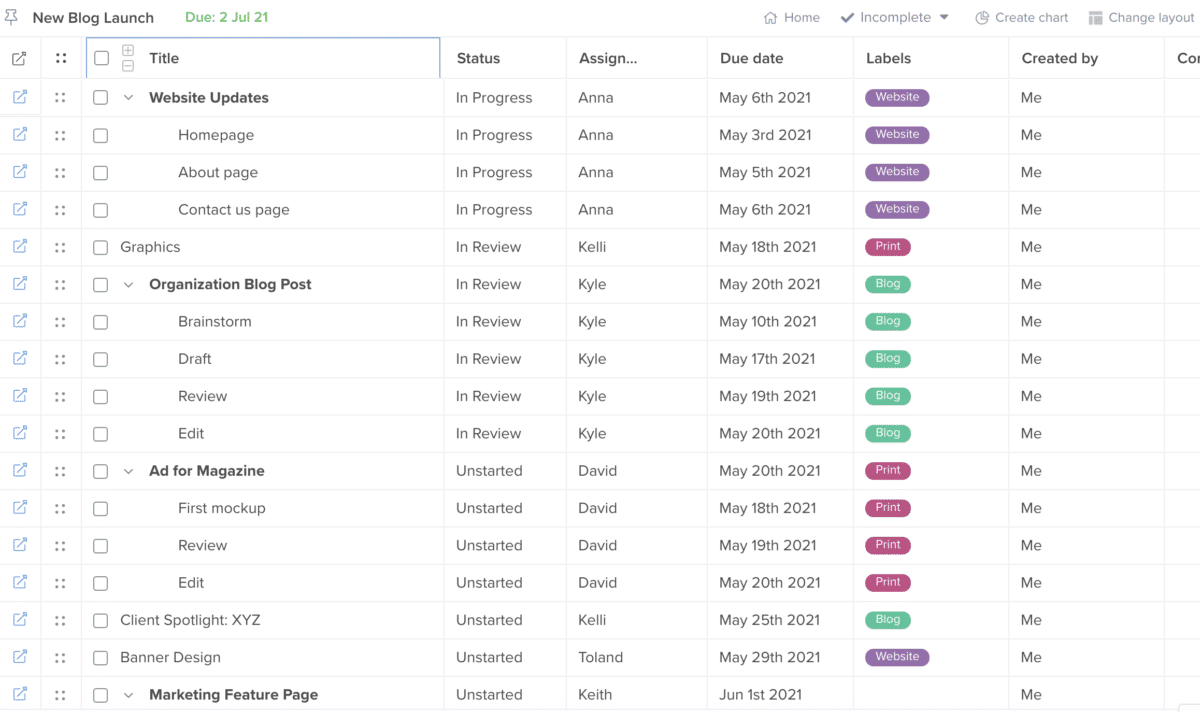 Hive is one of the top spreadsheet-based project management platforms out there. But more than just a simple spreadsheet tool, Hive all-in-one productivity software that offers a more collaborative experience and can up your spreadsheet game. With Hive, you can work on projects with others in real-time and see who is working on what at any given time. Plus, you can also access your files from anywhere, which makes it easy to keep track of your work even when you're away from your desk.
The best part about Hive is that you are not stuck with just spreadsheets. Hive's flexible project layouts allow you to view any project in a 6 different view, including Gantt charts, Kanban boards, Calendar view — and of course, Table view. Hive has the ability to break down any task into sub-actions, set due dates, and assign them to teammates, making it the perfect tool to manage any complex project.

Key Takeaways
Hive offers a variety of features that are not available in other spreadsheet tools like Excel, including:
Robust project management capabilities
File sharing
Collaborative note-taking
Time-tracking and resourcing
Native email tool
Pricing structure:
2. Microsoft Excel: It's still around after all these years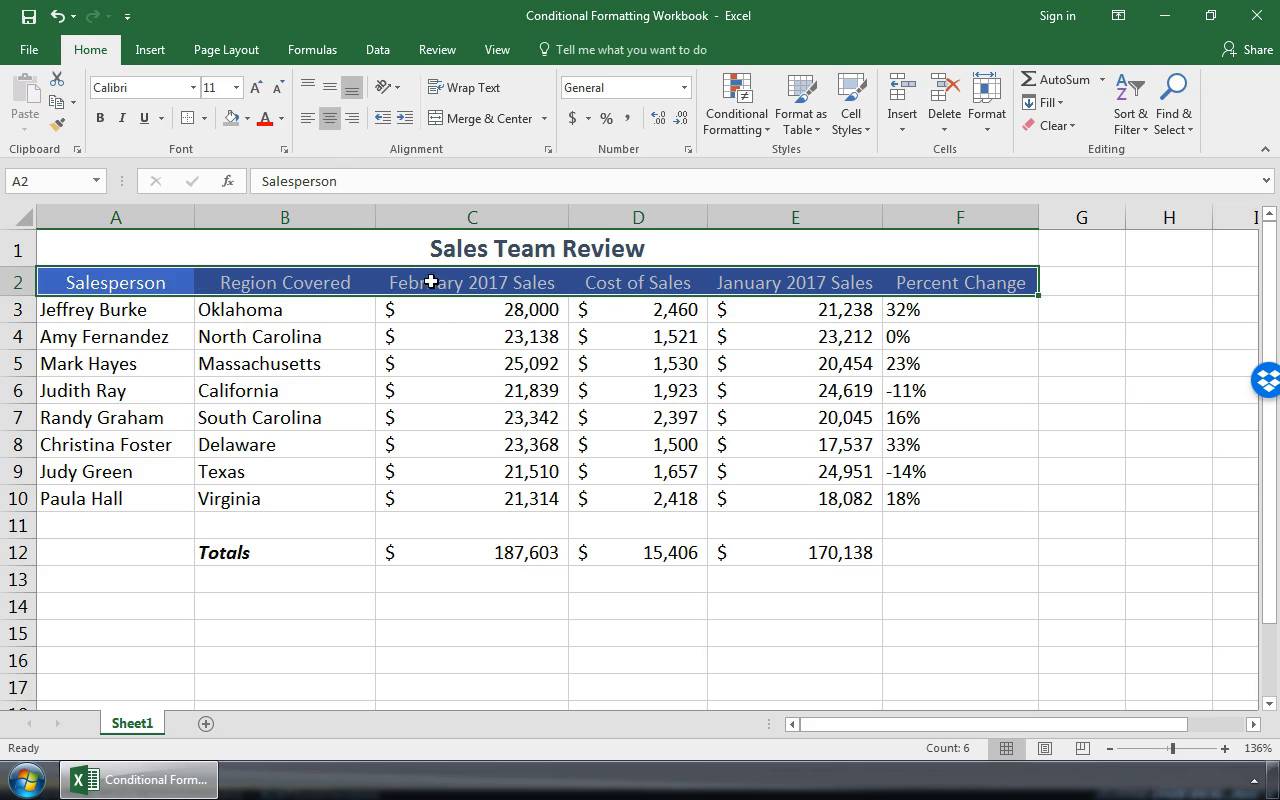 It's likely that Microsoft Excel was likely the first spreadsheet software you ever used. And since it's essentially the grandfather of spreadsheets, almost all spreadsheet software that has followed after Excel uses the same functionality. So, if you know Excel, you can navigate most spreadsheet programs.
Excel is extremely robust and can do some extremely powerful data crunching. In addition, it offers a variety of features, such as automated formulas, cell references, and data visualizations, that make it stand out from the rest. However, it's more complicated (or it can be) than some other options on this list, and there is something of a learning curve for those who have never used the program before.
Key Takeaways:
Great for complex data crunching and analysis.

It offers a variety of features

It has been around for a long time and is widely used, making it easy to find support and resources online.
Pricing Structure:
Microsoft Excel is a paid software available as part of the Microsoft Office suite of programs.

A free online version of Excel with limited functionality that can be used in a web browser.
Comparison: Check out our full guide to the best Excel alternatives on the market.
3. Google Sheets: A collaborative alternative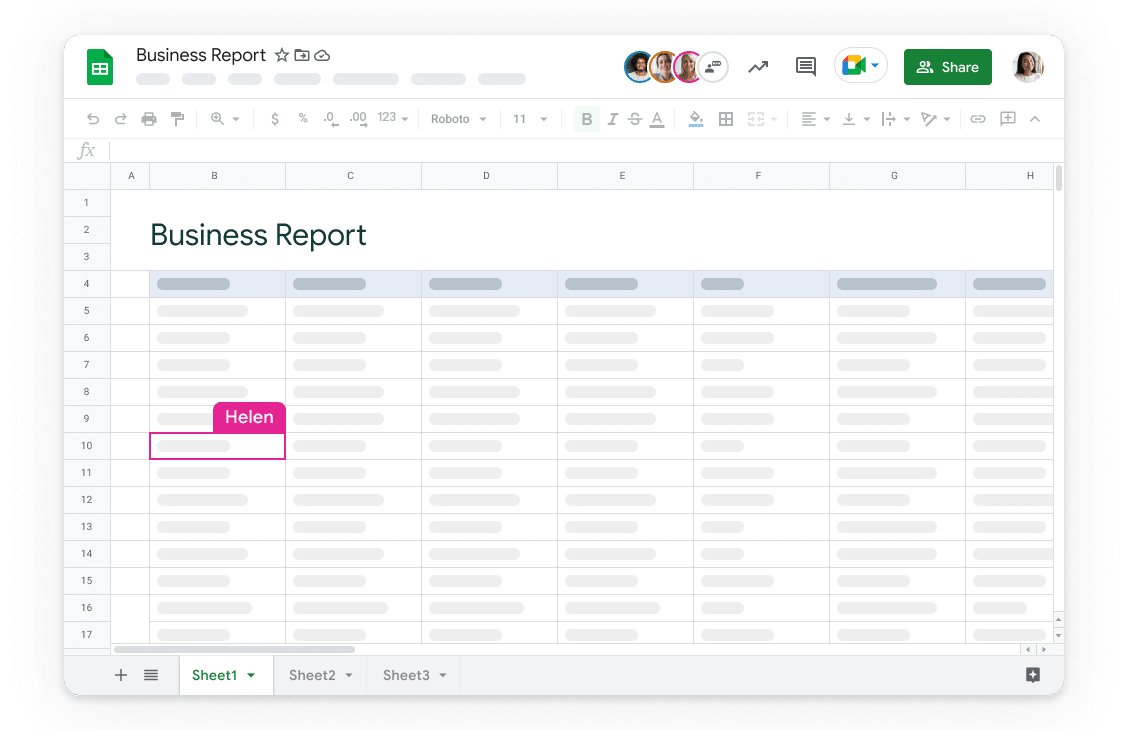 If you are familiar with Excel, then you should know Google Sheets. A close second and serious competitor to Excel, Google is a free spreadsheet software that is one of the best options today.
Not only does it have my favorite price tag, but it is modern, functional, and incredibly easy to use. A cloud-based platform, Google sheets is a standard addition to the Google fleet of tools. It is incredibly flexible and can integrate into various project management platforms, so everyone in your team can access spreadsheets and the data they provide.
Google Sheets allows users to customize their spreadsheets with add-ons and extensions that enhance functionality and productivity and provide data security, backup, and permission settings.
Key Takeaways
A free, cloud-based platform

Integrates into multiple platforms and project management tools

Offers assistive features like Smart Fill and formula suggestions to help you analyze data faster

Offers a variety of add-ons for customization
Pricing Structure:
Google Sheets is completely free and can be accessed from any device with a web browser.
4. Apple Numbers: For those who prefer to use Apple products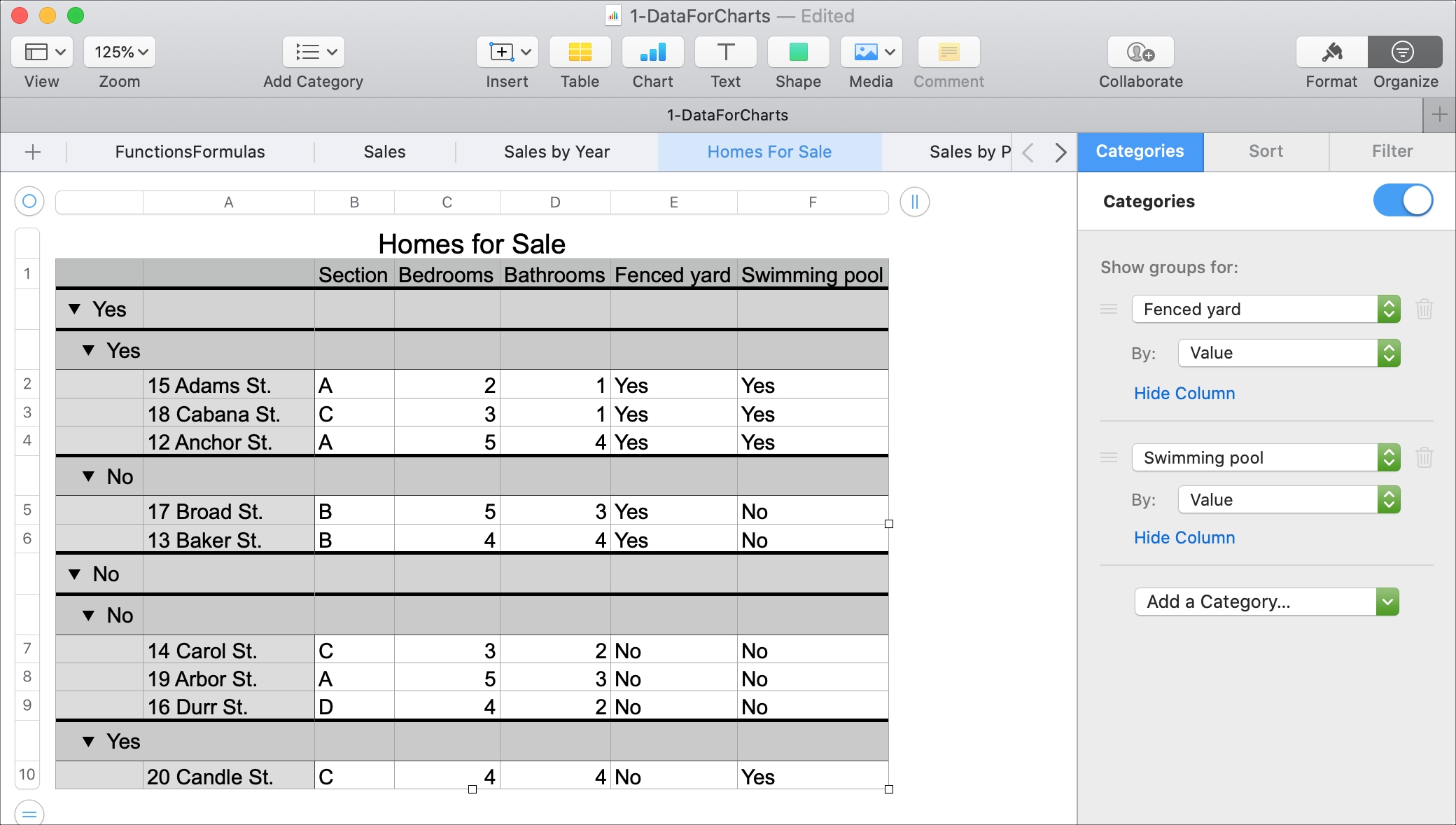 Apple Numbers is an excellent choice for those who prefer the convenience of its interface and the familiarity of Apple products. With seamless integration of its features like tables, charts, and formulas — this spreadsheet software has that "Apple look" and is made user-friendly and fast.
And while Apple Numbers may not have all the extra elements in other competitive spreadsheets, its greatest strength lies in helping you create beautiful designs explicitly tailored to your project needs. If you are a staunch "Apple person," this platform will integrate across all of your apple products and present data beautifully when needed.
Key Takeaways:
It offers seamless integration with other Apple products, making it an excellent choice for Apple users.

Apple Numbers has a user-friendly and fast interface, with features like tables, charts, and formulas that are easy to use.

Many templates help you create beautiful designs/reports that can be tailored specifically to your project needs.
Pricing Structure:
Apple Numbers is a free spreadsheet software available on all Apple devices, including iPhones, iPads, and Mac computers.

While no additional costs are associated with using Apple Numbers, users must have an Apple device to access it.
5. Smartsheet: Perfect for businesses that need to track a lot of data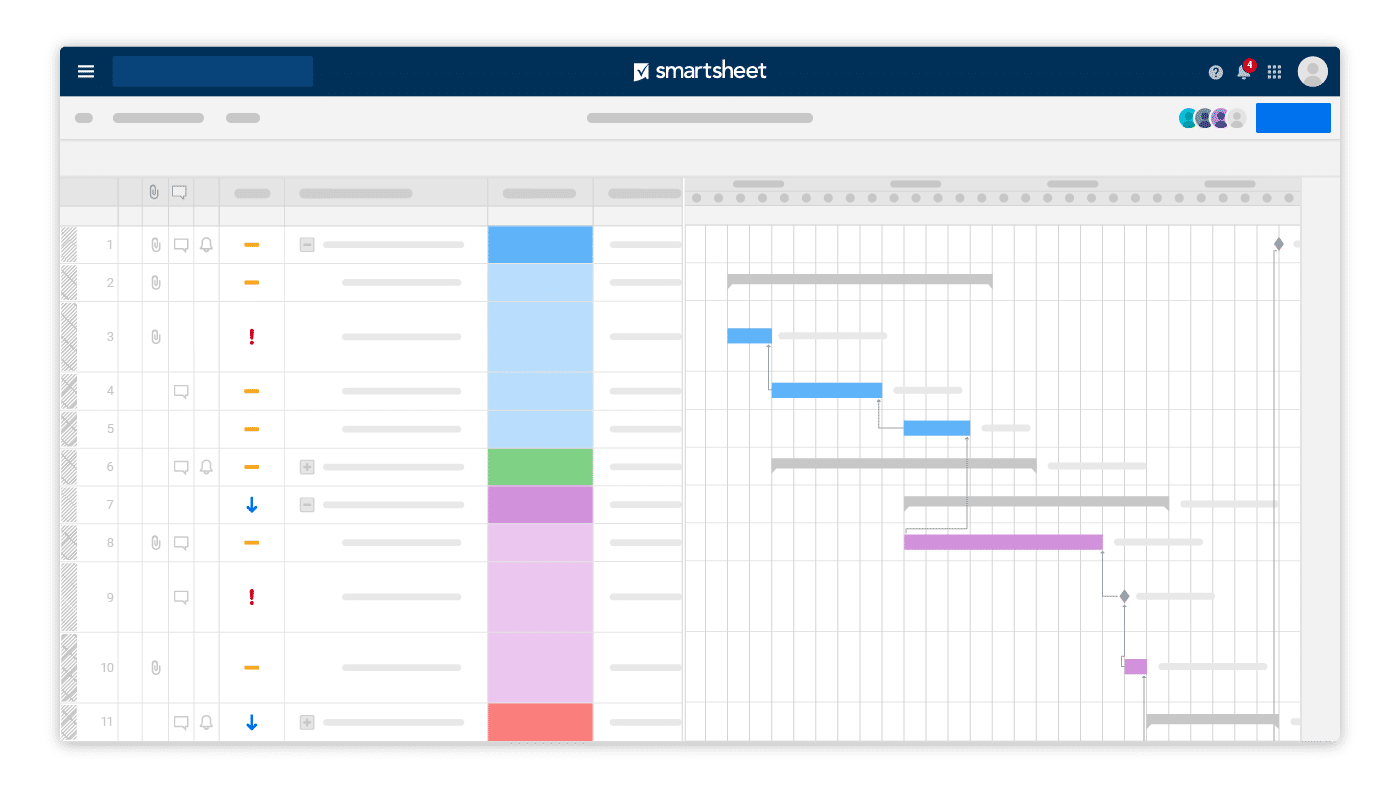 Combining the functionality of a traditional spreadsheet with project management features, Smartsheet makes it easy to keep tabs on literally anything — and in an aesthetically pleasing way too. Smartsheet can help you make graphs, generate reports, and effortlessly collaborate with teammates.
With its customized workflows, templates, and automation tools, you can save time and increase productivity. Also, it is a snap to generate reports and visualize data in a way that is easy to understand. With built-in charts, graphs, and dashboards, you can quickly see how your project progresses and identify areas needing attention.
Key Takeaways:
A powerful spreadsheet and project management tool

User-friendly interface with customizable workflows and templates

Built-in charts, graphs, and dashboards to quickly visualize data

Automation to increase productivity and save time
Pricing Structure:
Smartsheet offers a variety of plans ranging in price from $14.00-$25.00 per user/month, depending on the features you need.

There is also a free plan that allows users to access a limited number of features for personal use.
Comparison: Check out our full guide to the best Smartsheet alternatives on the market.
6. Jotform Tables: For teams that need more than just a basic spreadsheet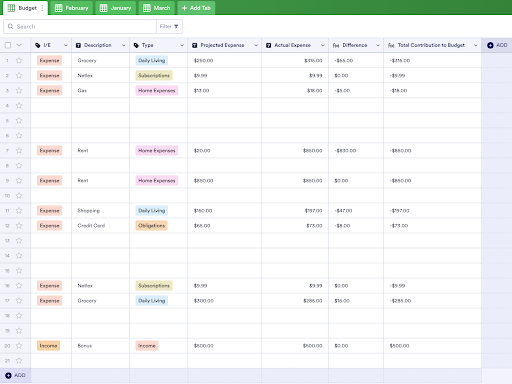 Jotform Tables is a powerful data management tool that goes beyond the limitations of a spreadsheet. With Jotform Tables, you'll have access to a versatile workspace that allows you to easily collect, organize, and manage all your data in one place.
One of my favorite things about Jotform Tables is how easy it is to add new entries. You can simply enter them by hand, or import CSV or Excel files directly into your table. Plus, if you want to streamline the process even further, you can create forms to collect responses and automatically populate your tables with submission data.
When it comes to collaborating with your team, Jotform Tables has got you covered. With customizable access settings, you can easily share your tables with colleagues and assign entries to track progress. And with ready-to-use column types, you can easily organize your data and create reports that suit your needs.
Key Takeaways:
Collaborate with your team by sharing your tables quickly and easily. You can customize access settings, assign entries, and track progress.

Organize data with ready-to-use column types.

Send your data to other parties, or integrations; create PDFs; send emails, and more.

Use one of the ready-made templates to create the tables that fit your needs perfectly.
Pricing structure:
Jotform Tables offers a free plan that includes all the features you need to get started, with paid plans starting at just $34/month when billed annually.
7. Airtable: For data organization and collaboration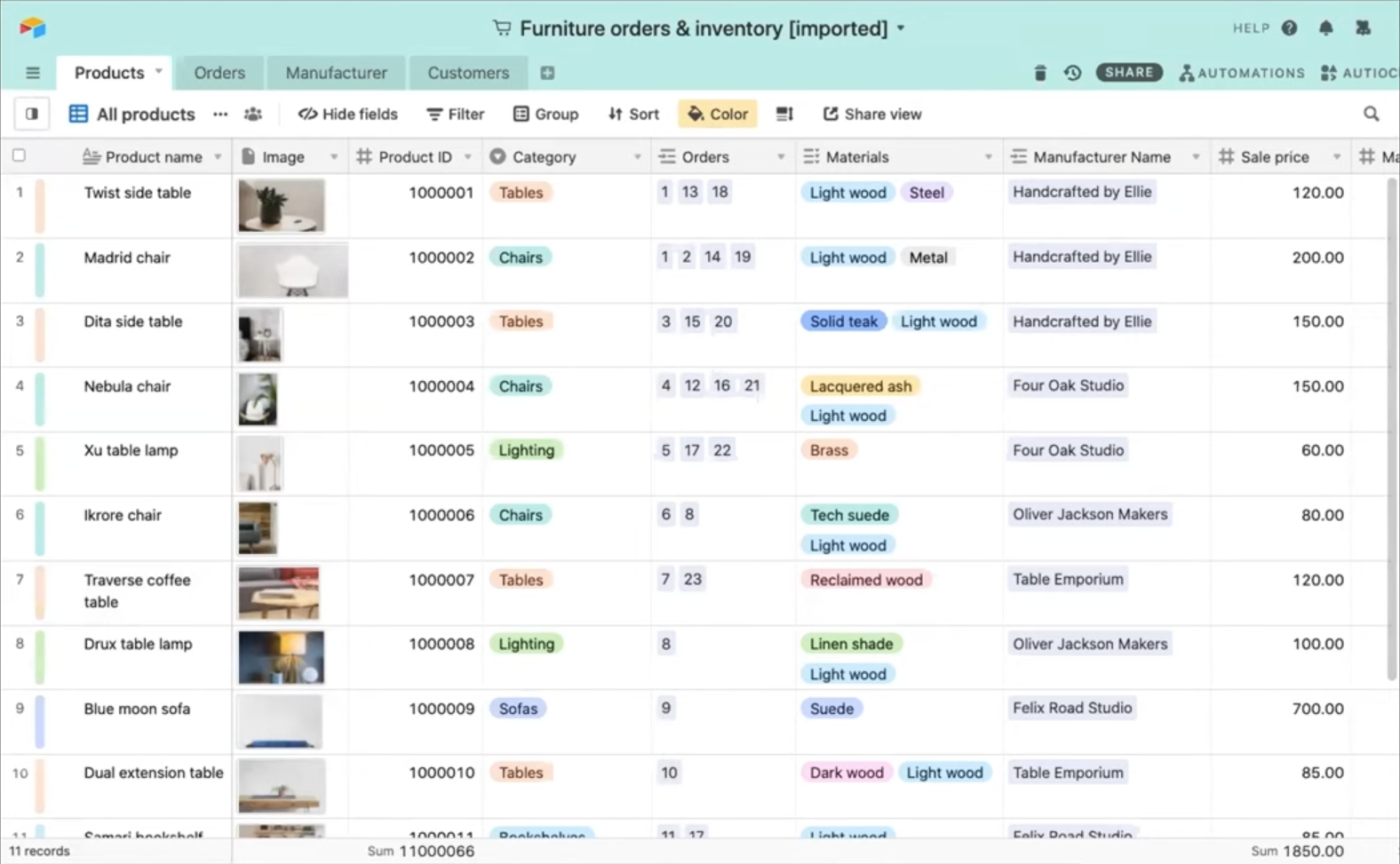 Airtable is a spreadsheet-database hybrid software that goes beyond traditional spreadsheets by offering a highly customizable and collaborative platform for data organization. It combines the familiarity and flexibility of spreadsheets with the functionality of databases, making it a top choice for teams and individuals looking to manage their data effectively.
With Airtable, users can create customized databases, known as "bases," to organize and store their information in a structured manner. Its intuitive interface allows for easy data entry, manipulation, and sorting, helping users to track and analyze data in a user-friendly way. Additionally, Airtable supports a variety of data types, including text, numbers, attachments, and even links to other records, enabling users to create dynamic and interconnected data structures.
Key Takeaways:
Flexible and customizable, users can create personalized databases.

Collaborate using real-time editing, commenting, and sharing.

Extensive integration capabilities with other tools and platforms, like Zapier and Slack.
Pricing Structure:
Airtable offers a free plan with limited features and paid plans start at $10 per user/month, offering advanced features, increased storage and revision history, and additional support options.
Comparison: Learn about other similar tools on the market in this guide to the top Airtable alternatives.
8. Wrike: For flexible, on-the-fly adjustments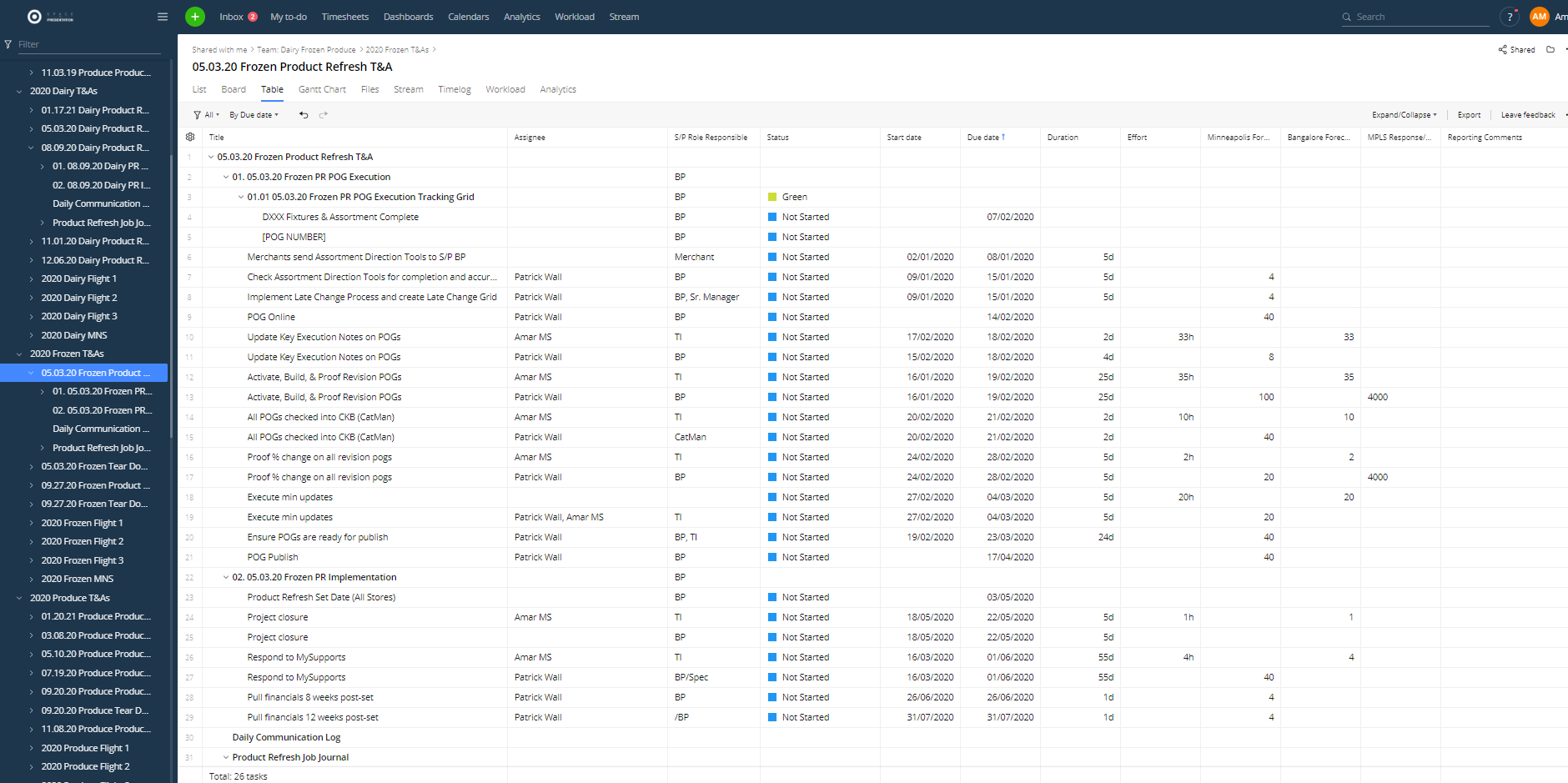 Wrike is a project management tool that has a Gantt chart feature, known as the Timeline view, that gives teams the ability to visualize the entire project timeline and better understand task dependencies and overlapping dates. This view also simplifies the process of scheduling since you can move tasks around directly on the timeline, automatically updating dependent tasks and alerting relevant team members of any changes.
Wrike's Gantt charts also support real-time collaboration, where teams can make adjustments on-the-fly. This shared visibility encourages a sense of accountability among team members, ensuring everyone understands their deadlines and how their role fits within the larger project timeline.
Key Takeaways:
Gantt charts feature real-time updates

Timeline view that provides a visual representation of the project with task dependencies

Flexible, on-the-fly adjustments, keeping the project up-to-date and reflective of any changes
Pricing Structure:
Wrike has a free plan for startups and as your team grows, they have plans starting at $9.80/user/month.
Comparison: Continue researching by checking out these Wrike alternatives on the market.
9. Zoho Sheet: For smart data analysis and real-time collaboration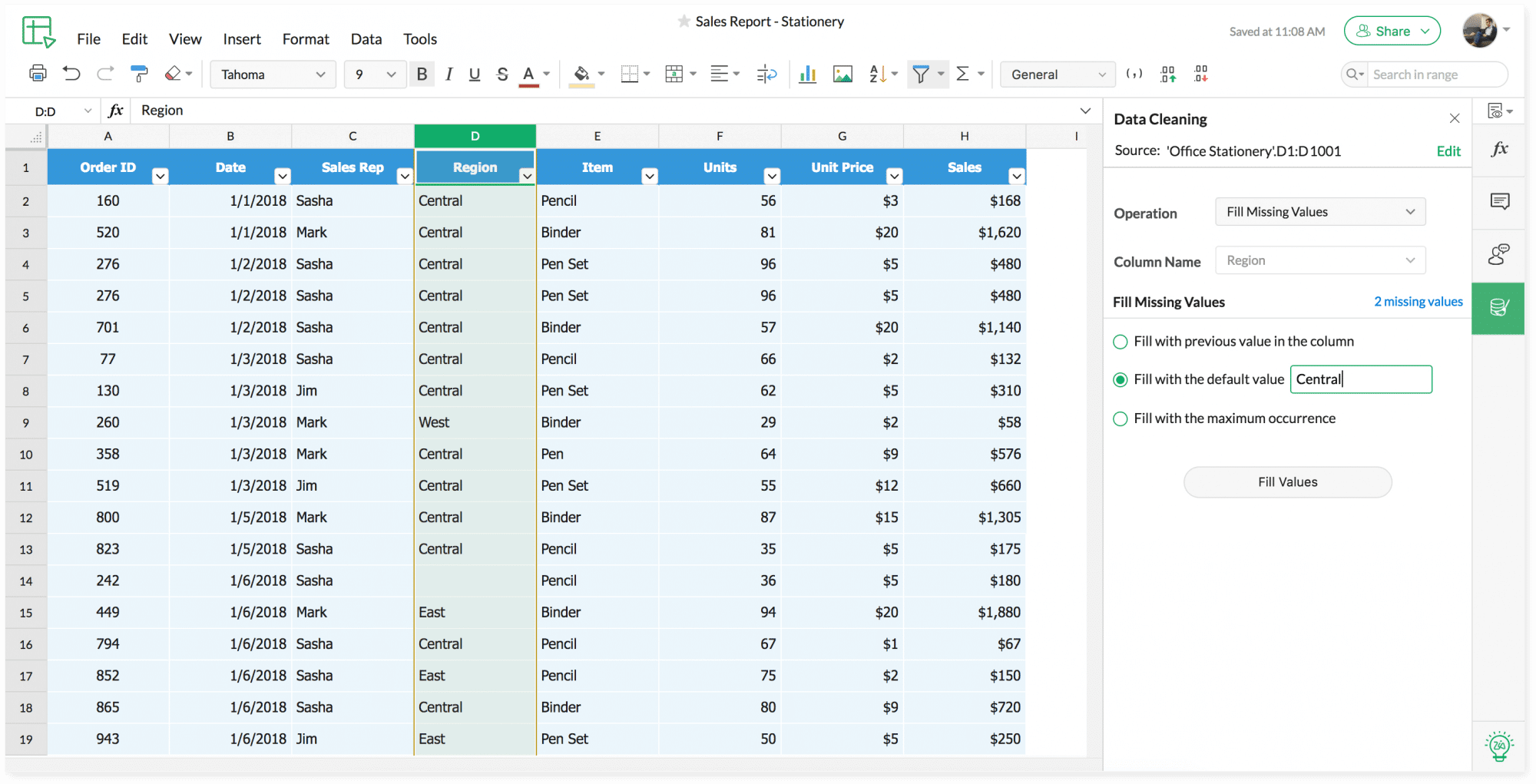 Zoho Sheet is a spreadsheet application that integrates with an AI assistant to help you accomplish tasks easier. The software analyzes data with automated chart and pivot table suggestions. Zoho Sheet cleans up data by using a tool that identifies duplicate rows, spelling and grammar errors, and random missing values. There's also a low-coding feature that allows you to create custom functions and gather data from external sources. When it comes to collaboration, that's Zoho Sheet forte, as the allows multiple users to work on the same spreadsheet simultaneously. It also offers comments, chat, and version history.
Zoho Sheet gives you the ability to create automated workflows with integrations powered by Zapier and Zoho Flow. Access and edit your spreadsheets from a browser, or use iOS and Android apps to create spreadsheets and collaborate wherever you are.
Key Takeaways:
AI powered assistant

Cell-level graphs for analyzing trends alongside data

Nearly 40 different chart types including Histogram, Pareto and Word Cloud

Import Excel spreadsheets with no loss of formatting
Pricing Structure:
Zoho Sheet is free to use if you sign up for a Zoho account. They offer paid plans to unlock more features for small teams and big companies, but you need to contact their team to get a quote.
10. Polaris Office: best for simple data analysis and create presentations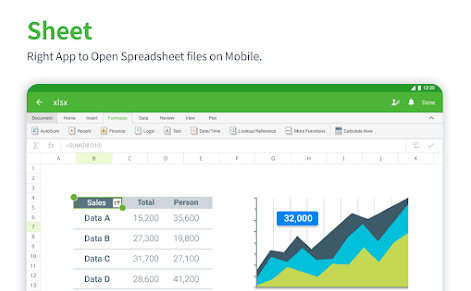 If you are looking for a more affordable, easy-to-use spreadsheet application for simple data analysis Polaris Office might do the trick. With a friendly interface, Polaris Officer is available for Windows, macOS, Linux, Android, and iOS. It supports a variety of file formats, including Word, Sheet, Slide and PDF. It also supports TXT, CSV, ODF, and ZIP formats. Polaris Office also offers the ability to edit PDF files and create presentations. Often described as 'free office app for documents, spreadsheets, presentations and Adobe PDF files', Polaris Office works as an efficient Office Suite for productivity.
Key takeaways:
Simple data analysis
Multiple format capabilities
PDF editing
Presentation creation
Pricing Structure:
The Basic plan is free but with limited features, its Smart plan starts at $3.99/month and the Pro plan starts at $5.99.
11. Stackby: best known for flexibility of spreadsheets and power of databases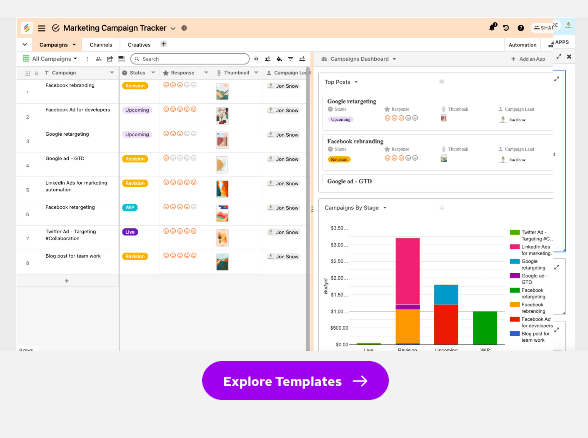 With powerful capability of built-in integrations, Stackby is a great spreadsheet alternative. Its database functionality in addition to effective collaboration features, makes Stackby a good solution for businesses of any size. The platform has the ability to store and manage your data in a relational database facilitating the creation of complex relationships between different tables. Stackby has project management capabilities, can serve as a CRM and product management software.
Key takeaways:
Database functionality
No-code automation
Collaboration
Powerful spreadsheet features
Templates library for easy onboarding
Pricing Structure:
Stackby has a free plan for small teams with limited features. Its most popular paid plan costs $18 per seat per month and offers unlimited members and read-only users, 50 stacks and other sophisticated features.
19. Seatable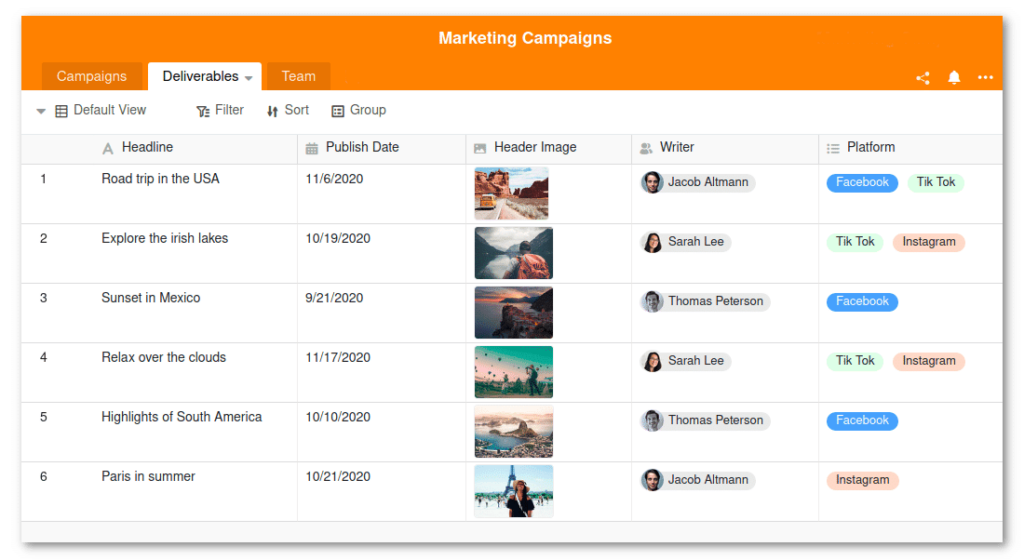 Seatable is a solution that is described as "simple as a spreadsheet, but with the power of a database." Seatable lets you add columns for images, people, check-boxes, documents, emails, drop-down lists, and long-notes. It goes beyond text and numbers, making it easier to organize and structure your data. One of the best things about Seatable is the fact you can edit all information conveniently via web browser.
Key takeaways:
Supports a wide range of formats, including text, numbers, dates, times, check-boxes, drop-down lists, links, images and files.
Formulas and functions for calculations and data analysis.
Conditional formatting for visual data exploration.
Filter, sort, and group data to view and analyze specific information.
Pricing structure:
Seatable has a free plan with limited features. Its paid Plus plan starts at €7 per month, billed annually and its enterprise plan costs €14 per month, billed annually.
---
The world of spreadsheets has come a long way since I learned how to add formulas back in high school… over 20 years ago. With so many options, deciding which one to pick can take time. Whether you are looking for a free and easy-to-use platform, like Google Sheets, or need a more robust tool for your business, like Hive, there is something out there for both teams and individuals.
If you are hesitant to make the switch, remember that learning a new spreadsheet software can increase your productivity and make your life easier in the long run. Of course, it might take you some serious practice to surpass the local guru at your work – but there is still hope!