Managing your brand identity online can be a daunting task, especially in the modern digital climate. While traditionally a marketing role, a strong social media presence feels less like marketing and more like reputation management, as your brands social media footprint makes a huge, ongoing impact on how it is viewed. Because the perception of your brand impacts overall success, it is incredibly important that you have a strong social media presence. Social media is also often the first place someone interacts with your brand, so you want to start the relationship off on the right foot. That's why we've built this template — to help you plan and schedule your brand's ongoing social media calendar so you know what is coming up, where it's being posted and what purpose it's serving.
Because social media spans a number of platforms, whether that's Facebook, LinkedIn, Instagram or Twitter, we knew that the template we put forward needed to be strong enough to support both large and small campaigns, while being flexible enough to address details of any size. The nature of the template is pretty straight forward — plot out your timetable in the calendar view and establish your post timeline. You can further break down content into multiple sub campaigns depending on the social media platform, and establish any other long term metrics, milestones, or dependencies. It's all highly customizable and intuitive to use — just simply keep adding layers of detail until you're satisfied.
From there, you can delve a bit further into each platform and start to talk with your social media team about what kind of ideas they have for upcoming content or major tentpoles. For a big initiative, it's imperative that you start planning early and schedule the posts in advance. Once you have the basics set and you know what kind of activity you can expect to see on your various feeds, you can begin to turn those ideas into tasks and plot them on the timeline also. Again, it's as simple as adding custom layers of information until you are satisfied with how it looks. From there, simply follow along with your calendar and schedule day-to-day, monitor due dates, and add additional detail to each action and post as they come up. 
Because social media is such a customer focused, creative space, it's important that your team is working in synch. Be sure to leverage Hive Chat to keep your entire team communicating and collaborating in real-time. Chat also supports the ability to drag and drop documents, actions and files into the chat itself, which will help stimulate discussion and creativity. Everyone working collaboratively will also help boost morale.
If you do stumble on any new ideas further down the line, simply add them as new tasks, add a description, and assign them to a team member. Talking about the details and assignments with colleagues in Hive Chat is important — it's helpful to know where people are at on certain tasks and where people need assistance.
Maintaining a bustling social media calendar is a cornerstone of digital marketing, and to do it proper justice you'll need to make the best use possible out of this template. Here are a few tips to help you along the way:
The Gantt Chart

will be an amazing help as you plan your calendar out into the future. Here, you'll be able to see a wider view of your project without sacrificing too much individual detail. It's perfect for booking dates ahead of time and keeping an eye on longer term deadlines, dependencies and other time constraints. This is a view you'll want to get familiar with if you plan on running a successful social media calendar well into the future.
The Kanban Board

is ideal for covering your day to day and week to week activity. Whether that's looking at any scheduled posts on the horizon, checking to see what tasks are assigned for the week, or keeping an eye on any looming deadlines, one thing is for certain — the Kanban Board is one of the most versatile views, and is perfect for narrowing in on project scope and scale.
The Table View

is your short term, analytical list view. Here you'll be able to see a snapshot of which tasks are being tackled by whom, when they are expected to be finished, and even how far along people are with them. If you need a lot of information at a glance for any reason, the table view is the first place to look.
Don't forget that on a long term project like a social media calendar, the ongoing performance and productivity of your team is key to the long term success of your project. That's why we encourage you to make good use of Hive Analytics – a set of tools that give you the ability to track individual or team output, reliability and productivity, and interpret that information for the betterment of your project. If you notice things seem to have slowed down, you can check analytics to examine any drops offs and intervene before any real harm is caused. Don't forget that team view enables you to see who is assigned to what at any given time, and with Hive Chat you're only a message away — so be sure to make good use of that problem solving combo! That way you can save time putting out fires and spend more time making sure your product or brand has a strong and engaging social media presence.
Check out some other project templates here:
Paid Marketing Campaign Template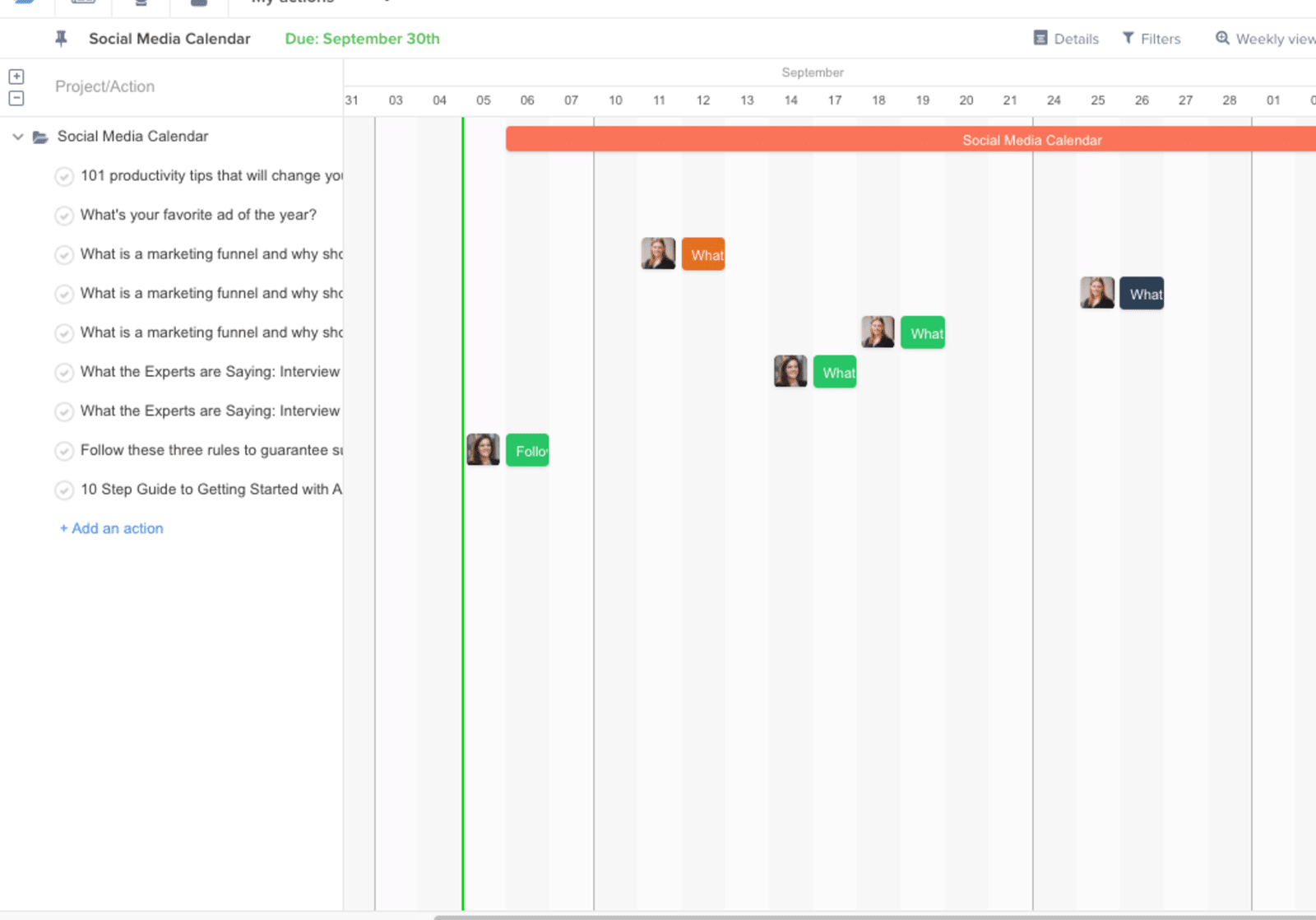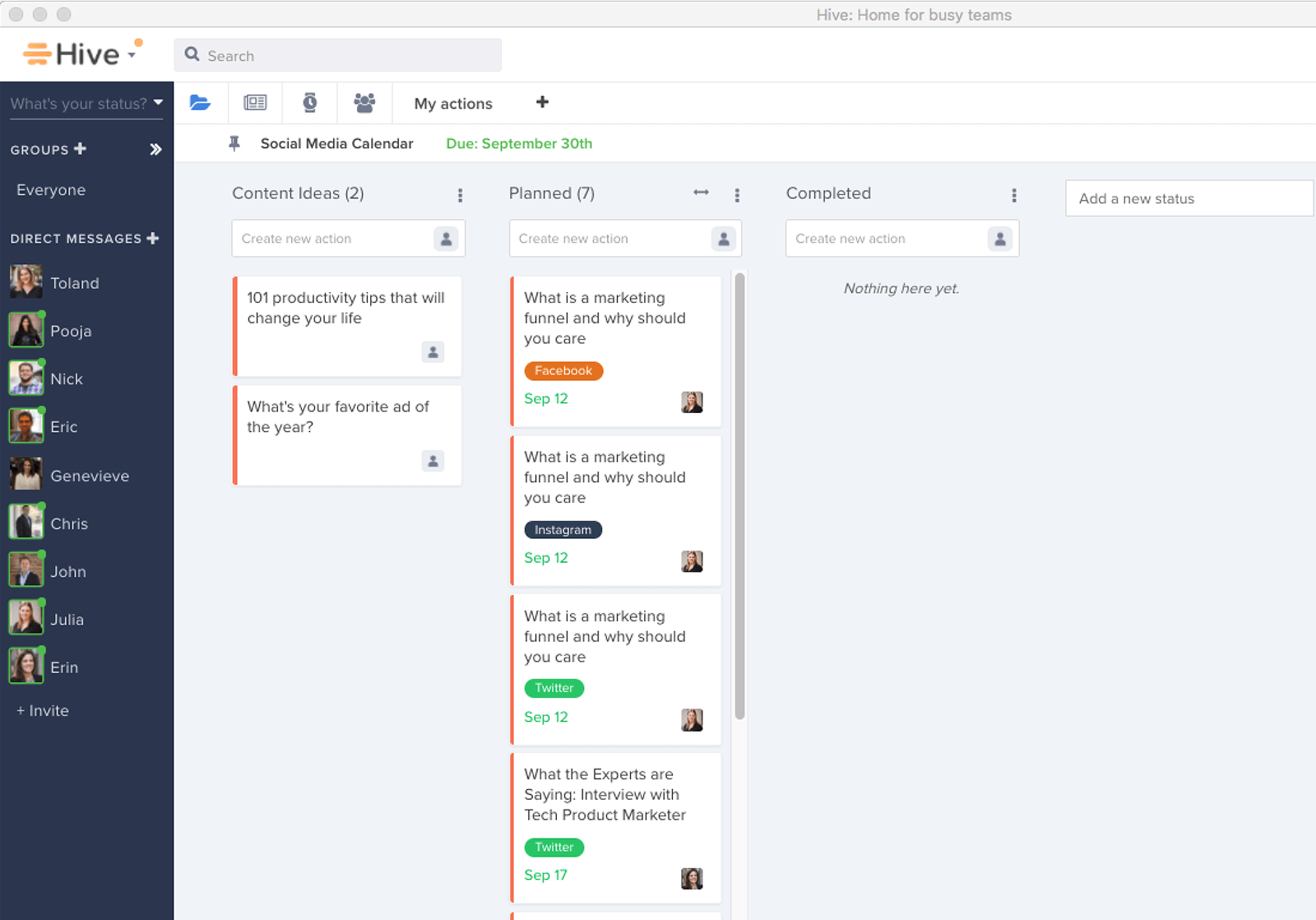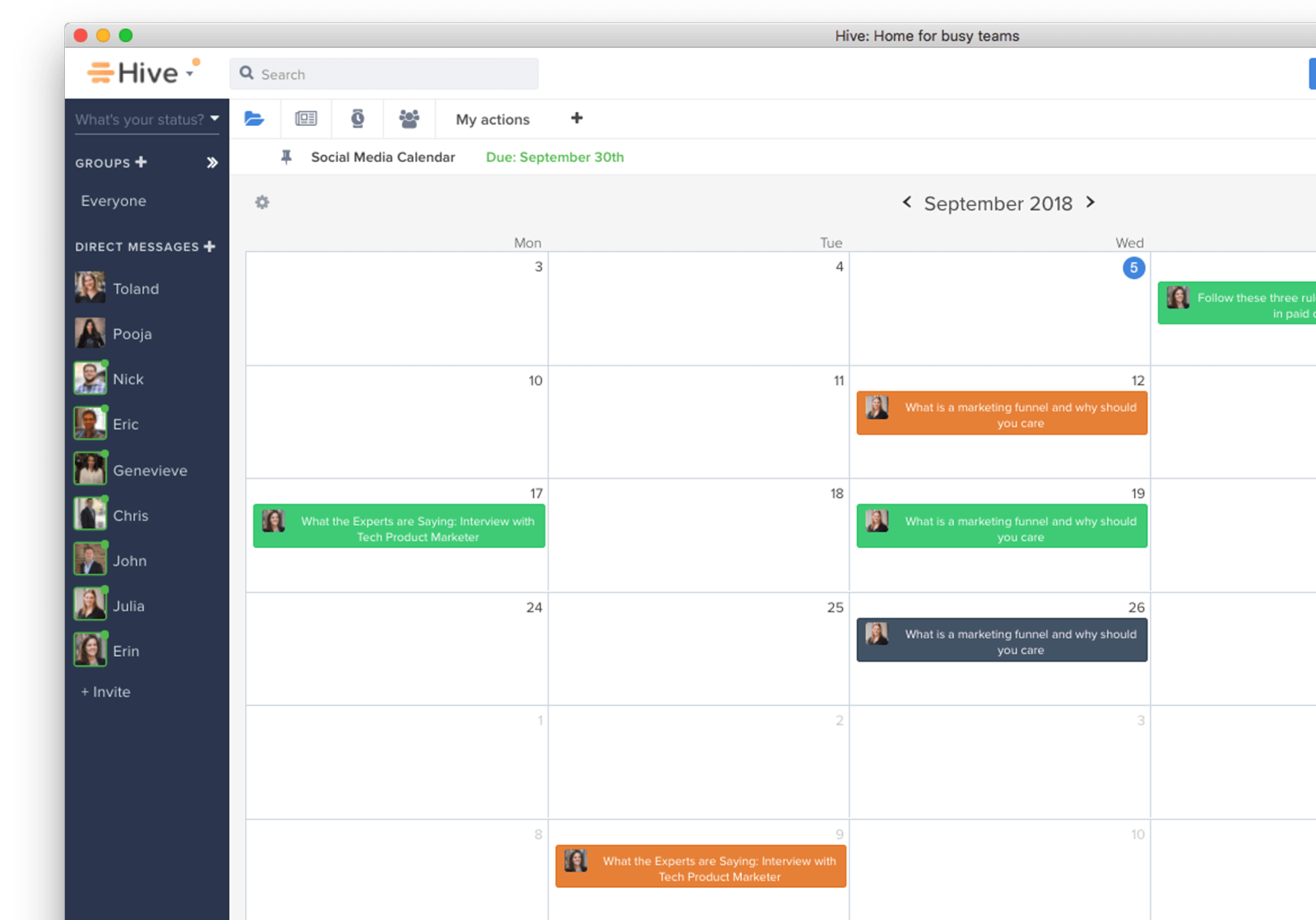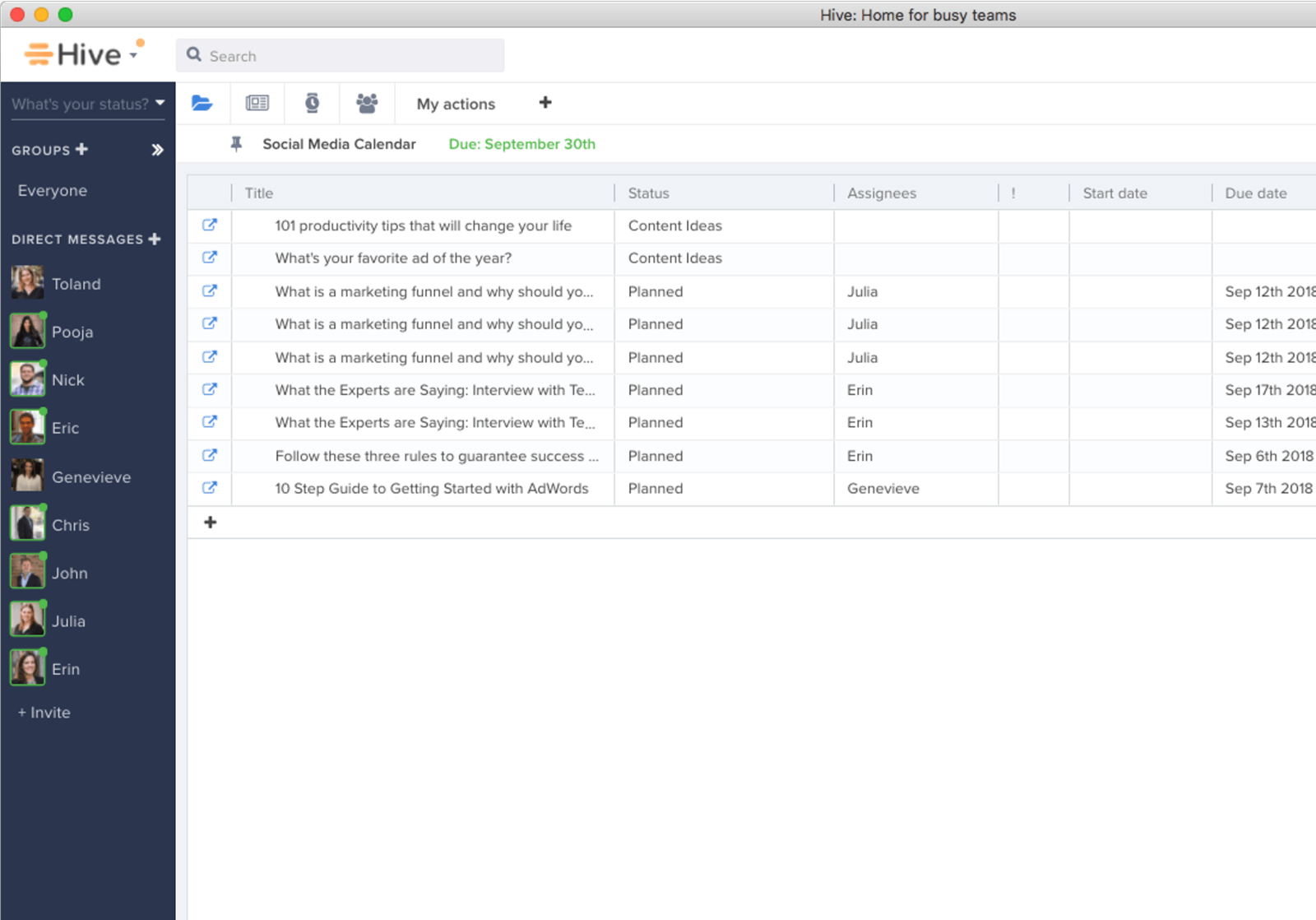 Gantt
Kanban
Calendar
Table