Project management software is an important part of many organizations' workflows, regardless of the type of team you're running. This is especially true for creative teams that are collaborating on project-based work. Creatives need a single place to track feedback, consolidate workflows, facilitate proofing and approvals, and engage with external collaborators. The sheer volume of files and documents sent back and forth between creative teams and the rest of their organization (or clients) can get extremely overwhelming. That's why project management software is such a great investment for creative teams. 
With so many different choices out there, choosing a project management tool can be intimidating. To help narrow down the best project management tools specifically for creative teams, we wanted to first see why creatives benefit from these platforms, and specifically how they use them. At Hive, we have hundreds of agencies and creative teams from around the world on our platform, and they've told us that project management tools are important to them for a few main reasons: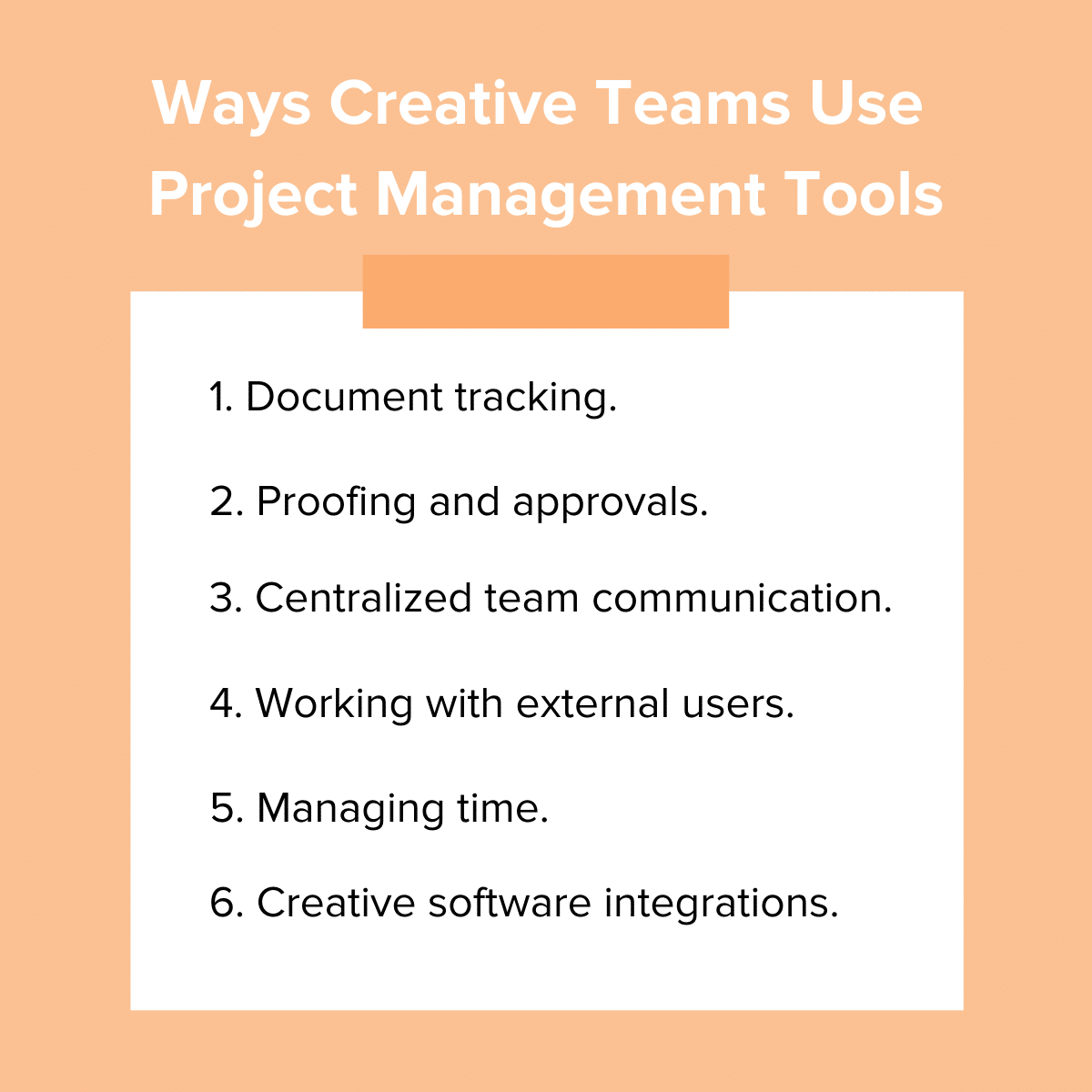 Document tracking — Project management tools for creative teams help them track documents (think ads, website design, etc) throughout its lifecycle, from designer to the VP that issues the final approval.
Proofing and approvals

— Because creative teams are tracking documents, it helps if the project management tool they use has a proofing and approval functionality built in. This allows the team to provide real-time feedback in one central location instead of sharing across Slack, email, Skype, etc.

Centralized team communication

— Since there are a lot of moving parts for agencies and creative teams, it's best to work with a tool that has chat and comments integrated. This allows different teams to communicate on progress and provide comments on tasks directly.

External users

— Oftentimes, creative teams have external clients or parties that they are developing materials for. Because of that, it's helpful if they are using a tool that has external users so their clients can quickly hop into the project management system and check out progress. This also puts an end to much of the back-and-forth between creatives and clients — they don't need to ask about the project status anymore, they can just view it in the project management tool.

Managing time – To properly understand time and resources going into a project, it's helpful for creatives to utilize a tool with time tracking capabilities to help them parse where their time and energy is going by client and project. This is even more critical if you're at an

agency where you bill time by client

.

Creative software integrations – When thinking about project management tools for creative teams, you need to think about creatives having access to integrations with the tools they know and love, i.e. InVision, Photoshop, Illustrator and more. If you're looking for a project management tool with a Photoshop integration, check out Hive.
Top Project Management Tools For Creative Teams
With this insight in mind, we're bringing you project management tools with the features and functionalities that can help any creative team work faster and maximize productivity. So read on to discover our picks for the best project management tools for creative teams.
1. Hive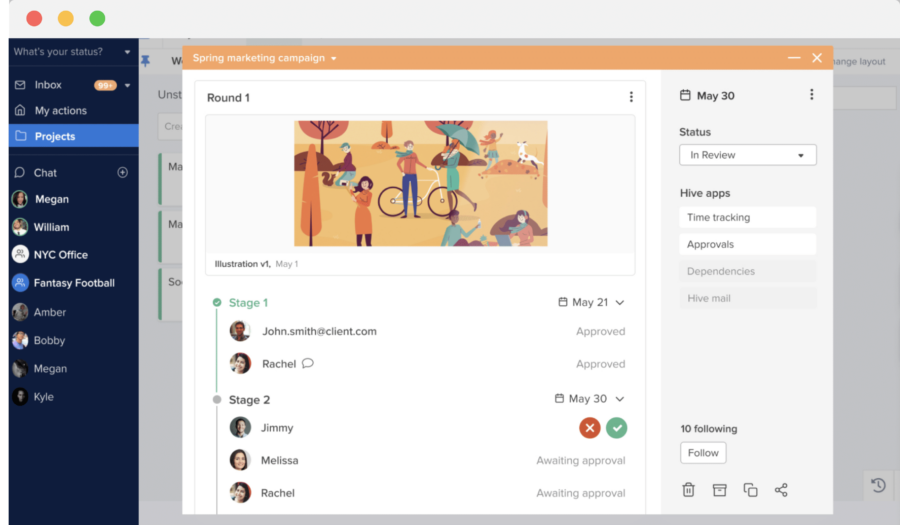 Hive is one of the top project management tools for creative teams because of its extensive, top-of-class proofing and approval functionality, it's document and time management capabilities, and its ability to consolidate and centralize workflows. It's one of the best project management tools for creative teams on the market. Hive also has a range of project views which will allow creative teams to view tasks and projects in the way that works best for them. Bonus: Clients can access important high-level information via external users in Hive, and there's even an Adobe x Hive Photoshop Plugin that was released just last year.
Features of Hive:
Real-time analytics to power team performance
Resourcing and time tracking for teams
Forms and templates to create repeatable team-wide processes
Over 1,000 integrations with tools like Zoom, Gmail and Dropbox
Notifications that provide insight on any project or task-related developments

2. Asana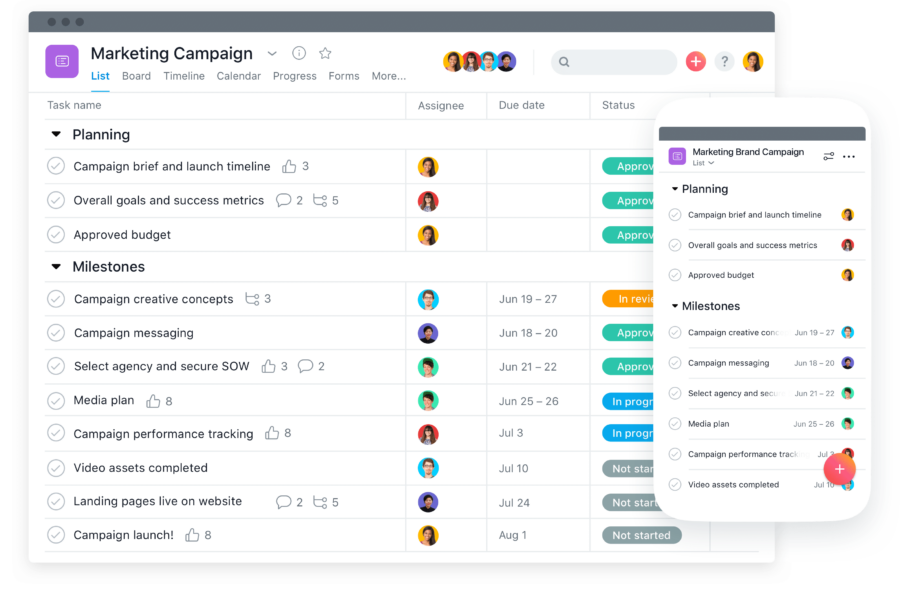 Asana's visually appealing interface is a favorite of designers and creatives around the world. With Asana, creatives can easily find and share files, track and manage work across multiple projects, or use a Kanban board to map out a creative project launch. In terms of project management tools for creative teams, Asana takes the cake for one of the most aesthetically pleasing, which is why it's one of our best project management tools for creative teams.
Features of Asana:
Leverage flexible project views including boards, calendar, and timeline
Automate tasks with a few clicks to streamline your team's work
Utilize forms to streamline all work relates requests
Portfolio view that lets you manage milestones across key stakeholders
Check out our comprehensive list of Asana alternatives to learn about other similar tools on the market.
3. ProofHub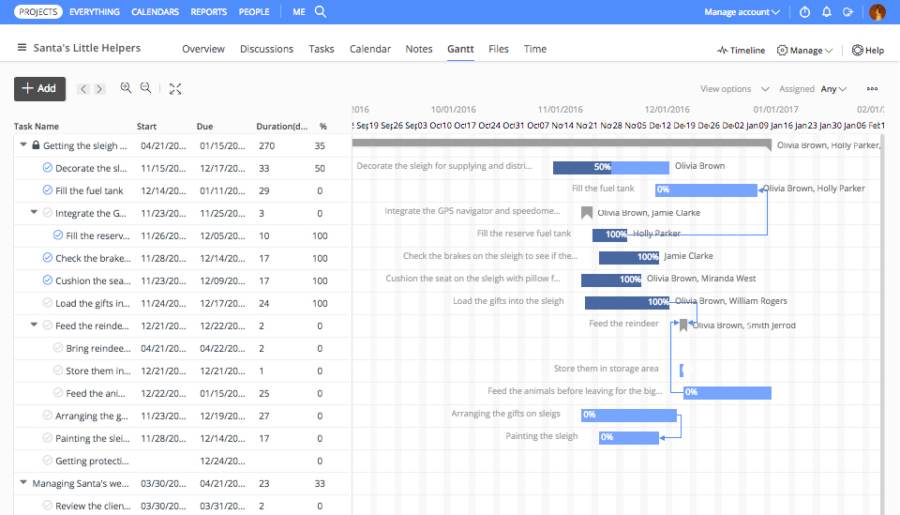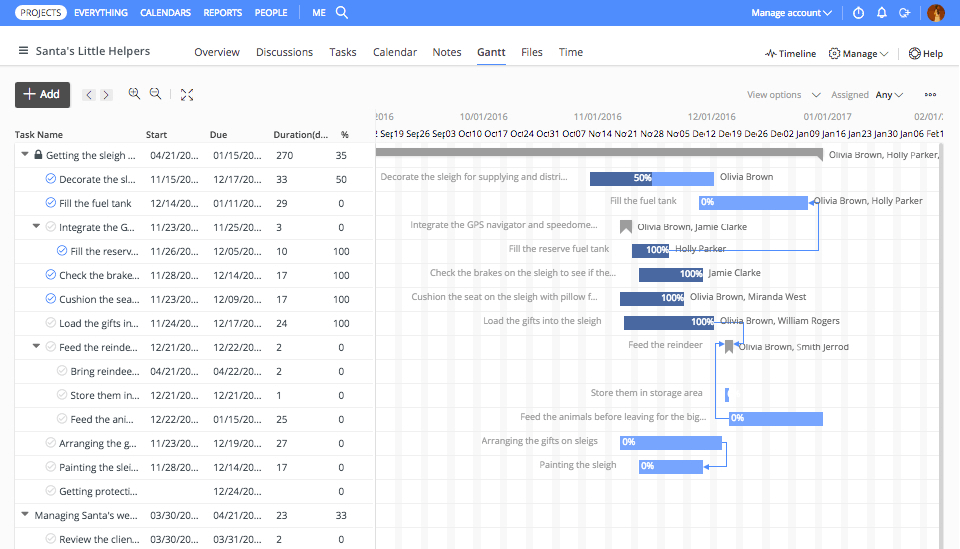 ProofHub is an award-winning project management software that fosters real-time collaboration in creative teams. The easy-to-use proofing tool works like a breeze to simplify and speed up the creative feedback and review process. With ProofHub creative teams can easily plan their tasks, collaborate with each other, and keep their work organized, which makes this software the perfect option for them — that's why it's one of our best project management tools for creative teams.
Features of ProofHub
Visualize the tasks using Custom workflows and kanban boards and stay on top of everything
Multiple views (Timeline, Board, Calendar, Table and List) for an added flexibility in the way creative teams work
A dedicated space to carry out real-time discussions and brainstorming
File sharing and online proofing to foster real-time collaboration
4. Flow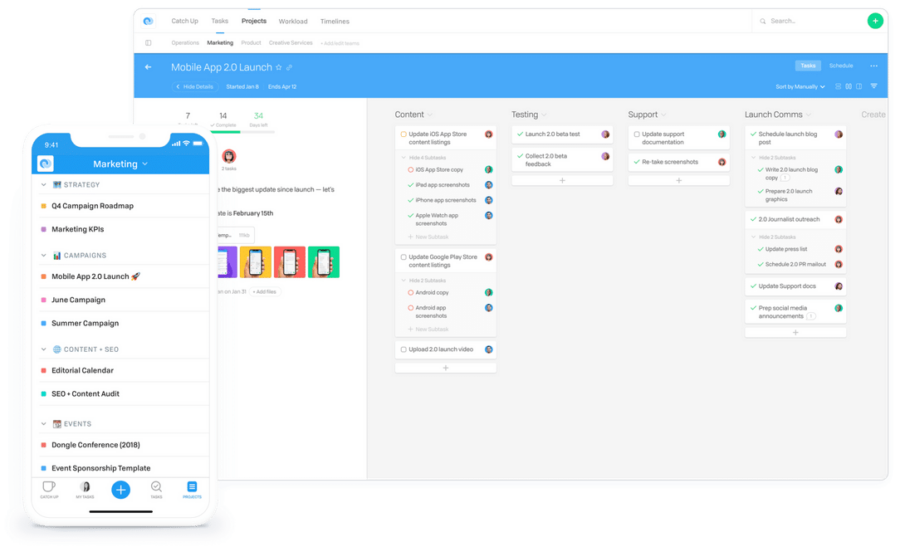 A lesser known project management tool, Flow is one of the top project management tools for creative teams because you can communicate seamlessly, assess project scope and progress from a birds-eye view, and organize team bandwidth via resourcing. With Flow, you can also attach files from Figma and other Figma alternatives like InVision directly to tasks and projects. In terms of project management tools for creative teams, Flow has some killer features that you should consider looking into.
Features of Flow:
Several different project views including list, Kanban, and calendar view
Ability to create visually appealing project timelines to provide at-a-glance status updates
Dashboards that let you see each project belonging to a team
Project scheduling functionality
Real-time notifications on all tasks and projects
5. Paymo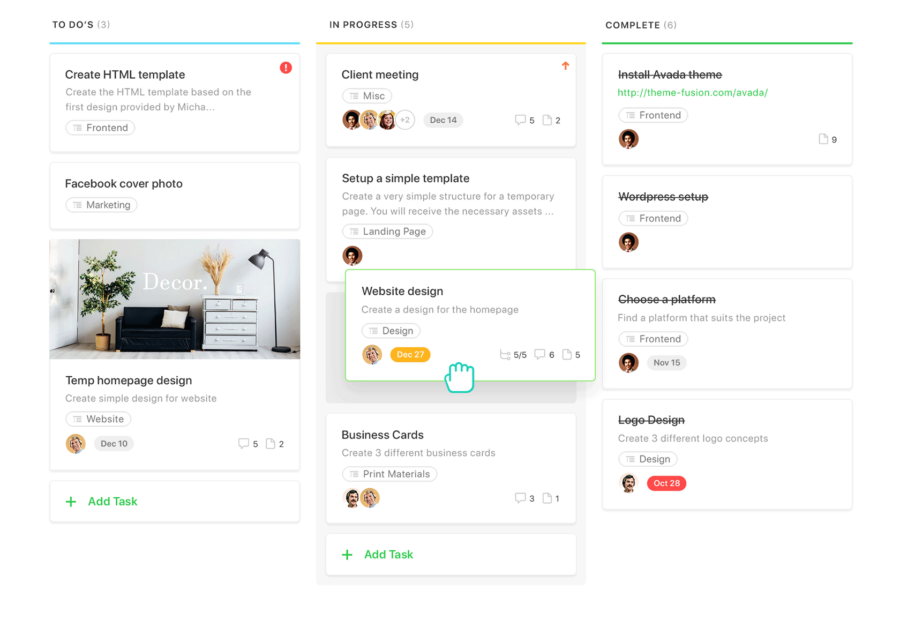 Paymo is especially useful as a project management tool for creative teams because it helps them understand project overviews, track time easily, and collaborate in their discussion module. This is another one of the top project management tools for creative teams. Overall, the features of Paymo make it ideal for project based work, and the discussion module helps keep all project intricacies in one place, which is great for creative teams as they pass work off to different individuals on the team.
Features of Paymo
Plan and schedule tasks with Gantt charts and Portfolio Gantt, which helps you see the big picture
Comprehensive task management including dependencies, multi-user assigning, and task templates
Milestones that help you set up alerts for major events
A central Team Tasks dashboard that shows all projects grouped by task priority/due date/project
Resource management tools for tracking bandwidth and allocation\
6. Smartsheet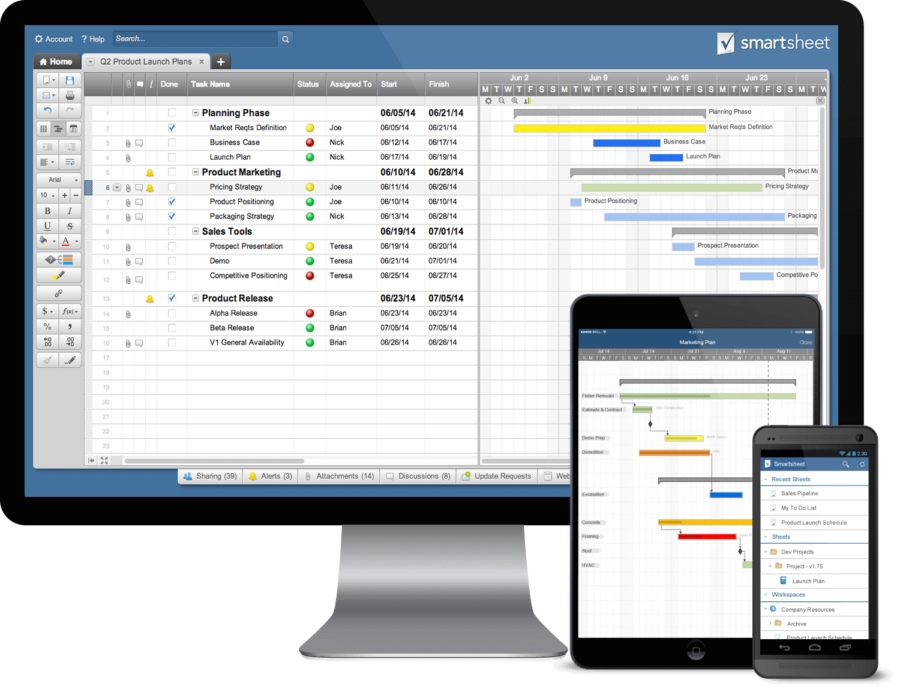 Smartsheet is one of the top project management tools for creative teams because it is straight forward. Smartsheet is based on a table view, which looks similar to an Excel spreadsheet. This tool is cloud-based, and also allows users to switch between a few other data visualization views.
Features of Smartsheet:
Grid, Gantt and chart view for easily digestible content
Ability to consolidate key information into reports
Dashboards to display key information, charge and images
Pre-built templates that make it easy to plug in new information
Continue your research with this guide to the top Smartsheet alternatives on the market.
7. Robohead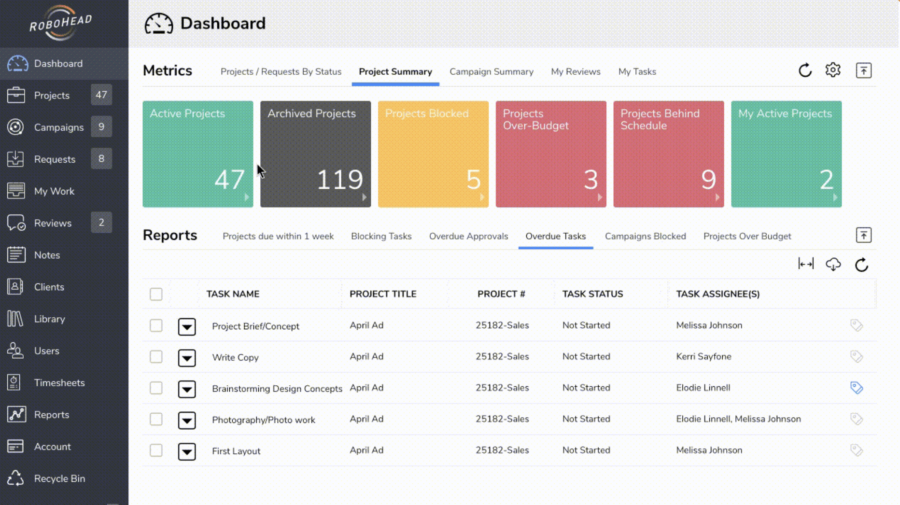 Robohead is a project management software built for creative teams and agencies. This tool allows you to manage creative projects from inception to completion with a variety of features including request forms, conditional logic, approvals, templates, flexible projects views, and more.
Features of Robohead:
Flexible project views including calendar, Gantt and Kanban
Personal "To Do" lists for each user to help sort ongoing and upcoming tasks
Timetracking for agencies billing hourly
Notetaking tool inside Robohead for team meetings
8. nTask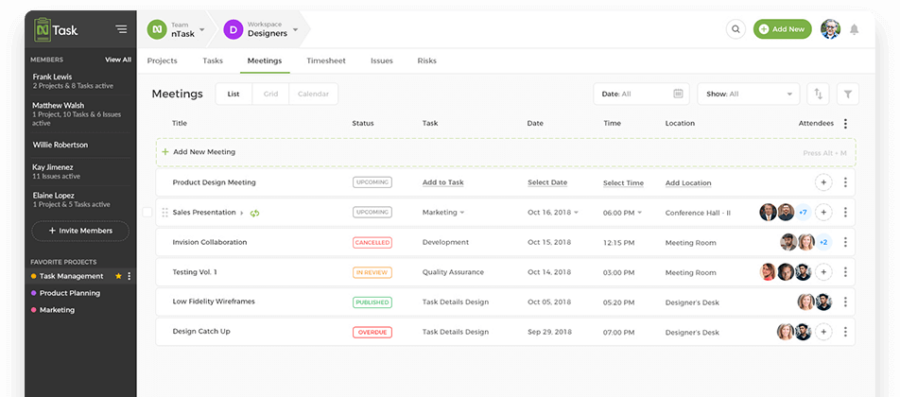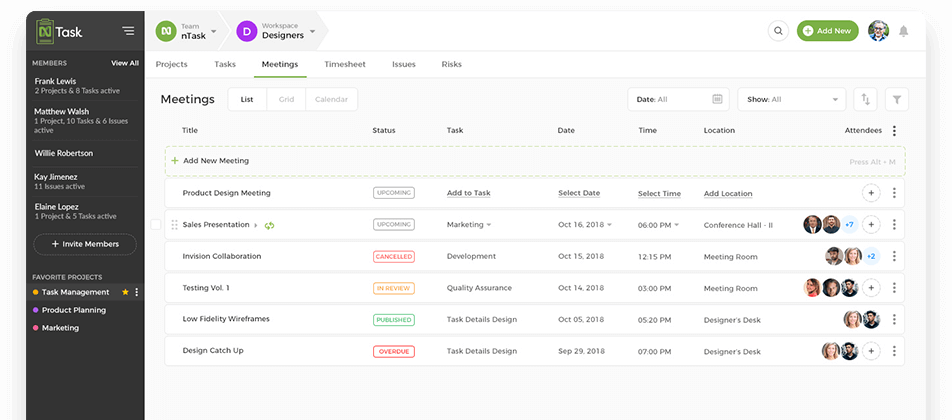 nTask is a free project management tool ideal for creative teams, as it allows seamless collaboration between groups that need to assign tasks, track time, and create projects together. With nTask, you can easily schedule, create, and assign tasks to creative team members from anywhere in the world.
Features of nTask:
Task prioritization
To-do lists with dependency tracking
Ability to attach files
Collaborate in real-time with colleagues through comments
9. Notion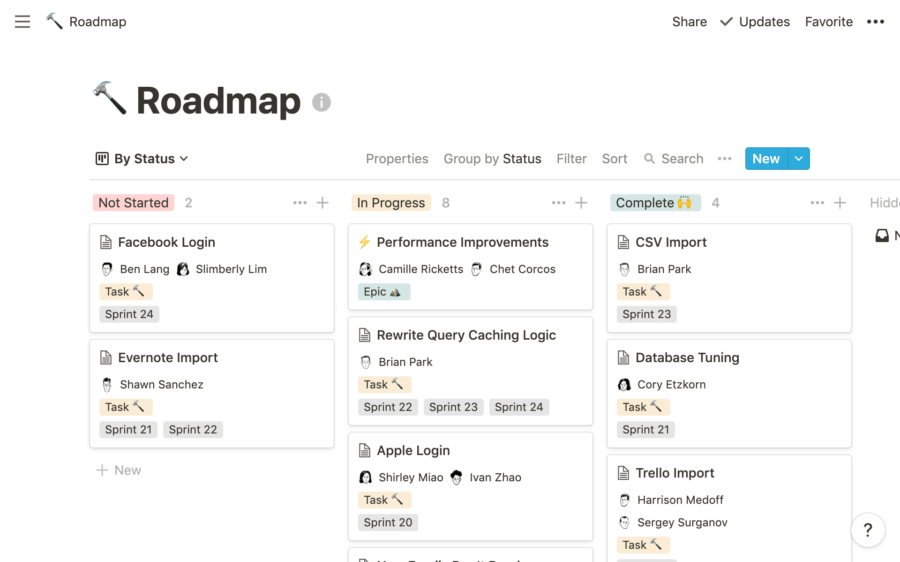 Notion is a great creative project management tool because it brings everything creative teams need into one place — notes and documents (like creative briefs or images), tasks and projects, and a team Wiki. With Notion, a creative team can easily run design processes or brainstorming sessions. This flexible tool is easy-to-use and beginner friendly, which is why it's on our list of best project management tools for creative teams.
Features of Notion:
Team Wiki that is a central knowledge-base for everyone
Flexible Kanban boards and lists for tasks and projects
Shared notes for team-wide collaboration
To learn about other similar tools, check out this list of the top Notion alternatives that can satisfy your project management needs.
10. GanttPRO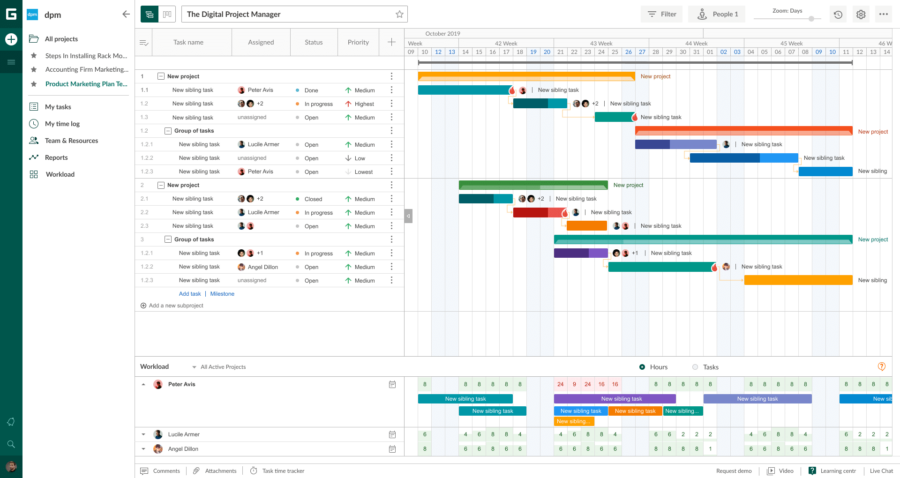 GanttPRO is one of the best Gantt chart-based project management tools for creative teams with the interface they really like. With GanttPRO, creatives can easily track and manage tasks, describe, comment, and attach files to them, track time, manage work across multiple projects and even project portfolios. With the help of the Export and Sharing features, it is a matter of seconds to share projects with third parties.
Features of GanttPRO:
Different project views: a Gantt chart, Board, My task list, and Portfolio

Powerful resource management

Time tracking

A variety of ready-made Gantt chart templates

Real-time team collaboration with comments, attachments, mentions, and notifications
Overall, if you're running a creative team without a project management tool, you're losing out on enhanced collaboration, streamlined workflows, and seamless communication. These are just a few of the project management tools for creative teams that we think you should consider.
11. Visme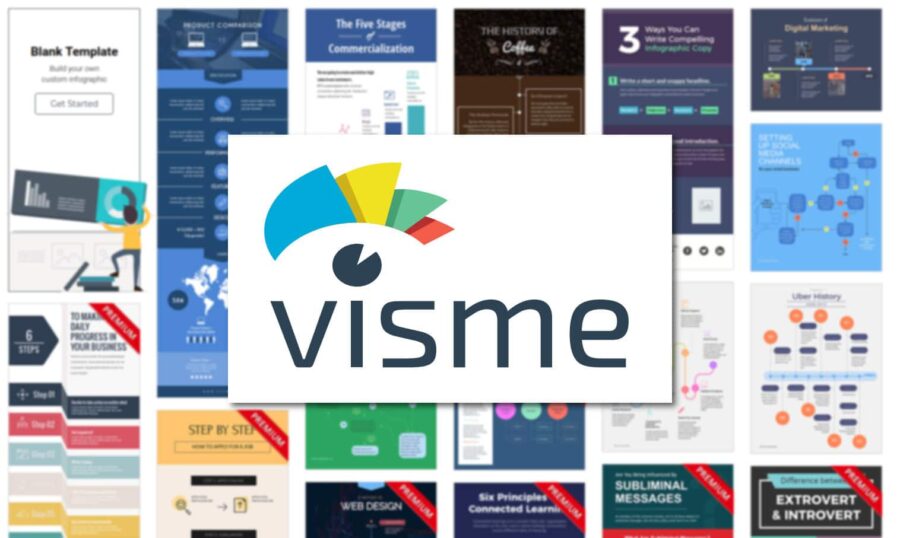 Visme is a content creation platform that is great tool for agencies, marketers, and any other creative team seeking to create impactful visuals without a high level of expertise. Visme is well known for its online presentation software, which is incredibly helpful for creative teams who need to present their ideas and pitch to clients. In addition, Visme offers tools for making infographics, social media assets, videos, and more content creation needs.
While Visme isn't an all-encompassing project management tool, it does let teams collaborate through comments and markup editing, which is why it's on our list of best project management tools for creative teams. It also has a variety of online sharing and download options to scale your content as needed.
Features of Visme: 
1000+ different layouts and themes for presentations
Analytics to report and track engagement on specific content
Digital asset manager to store brand assets, logos, and files
Clients and teammates can view and comment on content
Annotations allow for editing on specific pieces of the content
12. Monday
Monday is a simple creative project management tool that helps teams visually organize tasks and projects. Projects are managed via one central board, which serves as the hub for each project and reflects changes made on a task-by-task basis. Boards are also customizable — you can add new columns to see data on hours spent, status, and location.
Creative teams enjoy Monday as a project management option because it's visually appealing and easy to glean quick bits of information at a glance.
Features of Monday:
Workflow centralization
Collaborate with internal and external stakeholders
Drag and drop rows for easy customization
Variety of views including Kanban, Gantt, workload, and calendar view
Want to explore other tools like Monday.com? Check out this comprehensive list of Monday.com alternatives on the market right now.
13. ProProfs Project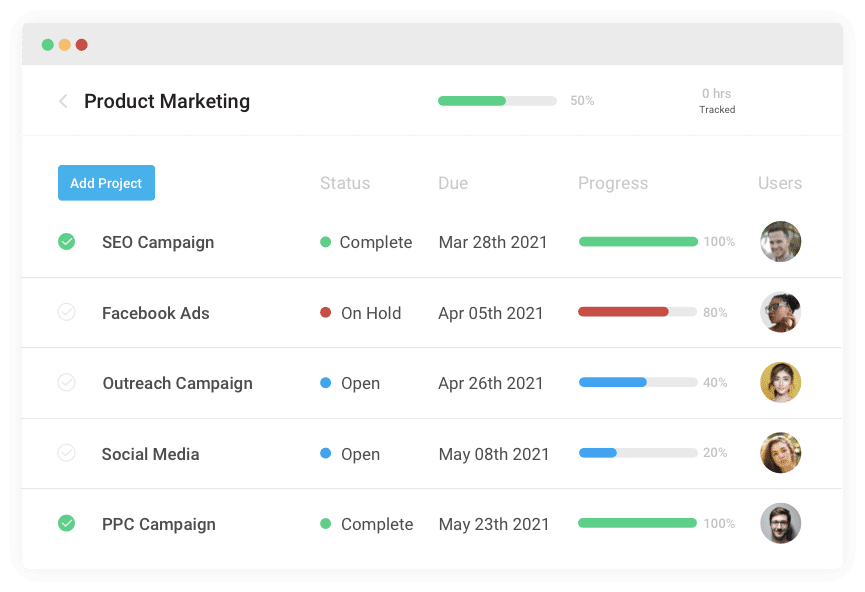 With ProProfs Project, you can save, manage and access portfolios in just a few clicks. Collaborate with cross-functional teams and maximize productivity with a tool that is customizable as per your project goals and team needs. Visualize creative project plans and automate tasks with the all-in-one creative project management software. You can even summarize financial reports with its detailed report generation capability. Bill your clients automatically with accurate invoices.
Features of ProProfs:
Save and access creative portfolios on the go

Strategic project scheduling

Task alerts and notifications

Task timers to meet deadlines faster

Automate client billing
14. Teamwork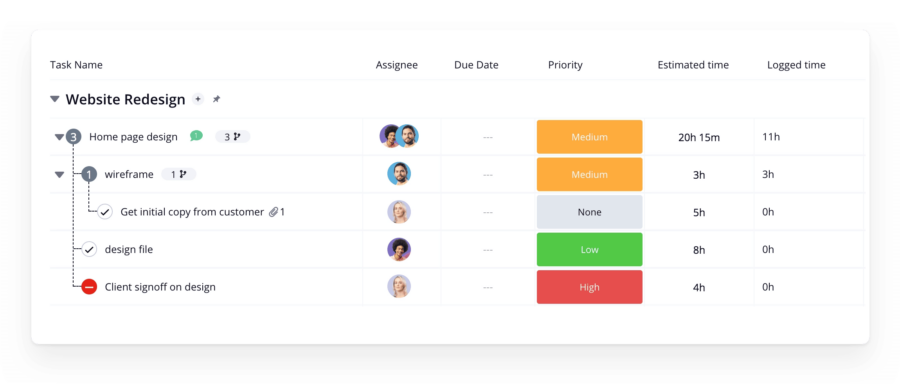 Teamwork is a project management tool that allows you to see everything in one place so you can effortlessly manage your team, projects, clients, and freelancers. It doesn't matter if you're working from home or the office, Teamwork gives you everything you need to stay connected. Unleash your creativity by solving problems faster through instant chat. Unlock all the advanced features you need from time tracking to budgeting to resource allocation.
Features of Teamwork:
Spend less time in email by keeping all project communications in one place

Automate your workflows and cut out repetitive tasks

Track time on every task and properly bill for all the hours your team works 

Integrate all your favorite tools 

Track your to-do's by creating tasks only visible to you
---
Do you work on a creative team that can benefit from one of these project management tools for creative teams? Learn more about how you can get started on Hive for free today.
If there are features you haven't been able to find in any project management software for your creative team' we'd love for you to submit them on our product Forum.