Content marketing is not a one-person effort. The content creation process involves market research, buyer persona creation, content ideation, and of course, the production and editing of the content. And this doesn't even scratch the surface of the content distribution process, which can include everything from optimizing SEO pages, running affiliate marketing campaigns, or managing their blog content strategy on easily created websites. With so many stages of creating content and distributing it across various channels, content teams must be able to collaborate and communicate effectively for content marketing efforts to pay off.
But as content marketing has grown in popularity, so have the number of software applications for creative teams. These content marketing tools can help teams collaborate and produce the most engaging, informative content. But "if you want to improve your content collaboration and production, you shouldn't just pick one content marketing tools," admits Robert Marković, a leading data specialist at "Buy an essay" content marketing service. In fact, you have to pick the one that's right for your team.
So to help you choose a program that works for you, we've put together a list of the top content marketing tools for better team collaboration. Read on to learn about the best content marketing tools on the market, so you can make the most informed decision.
1. Hive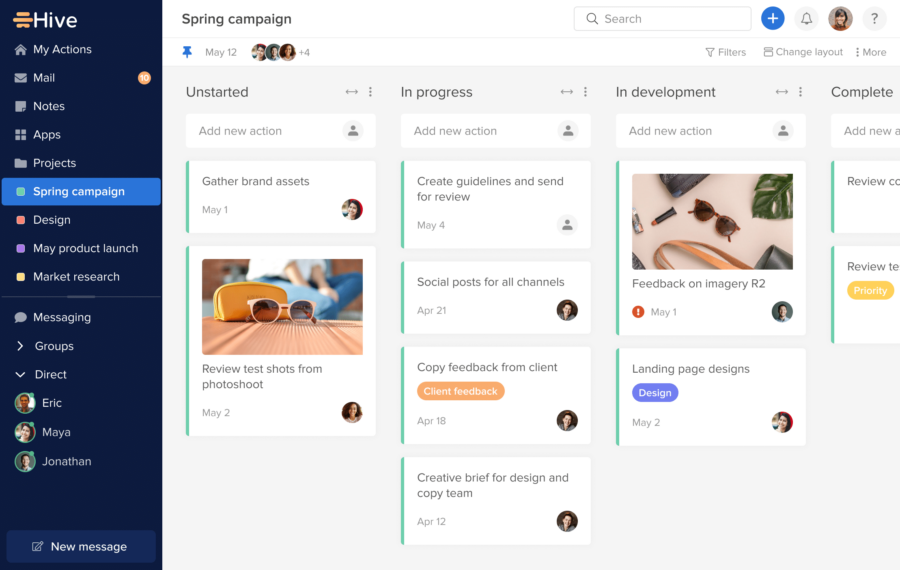 Hive was built not just for content collaboration, but as a comprehensive project management platform. Hive has all sorts of features helpful to content team collaboration, such as:
Proofing and approvals, including annotation mockup tools

Internal communications through Hive Chat

Task management

Workflow automation
Along with those, Hive comes with powerful project management features such as project templates, personal dashboards, multiple project views, and forms for data collection. Combine that all with a simple UI, and you've got yourself a powerful blend of content marketing tools.
Yet that's just what Hive can do on its own. It also supports over 1,000 integrations. If you have another favorite piece of business software, chances are you can link it up with Hive to automate tasks and streamline your workflow.

2. Google Drive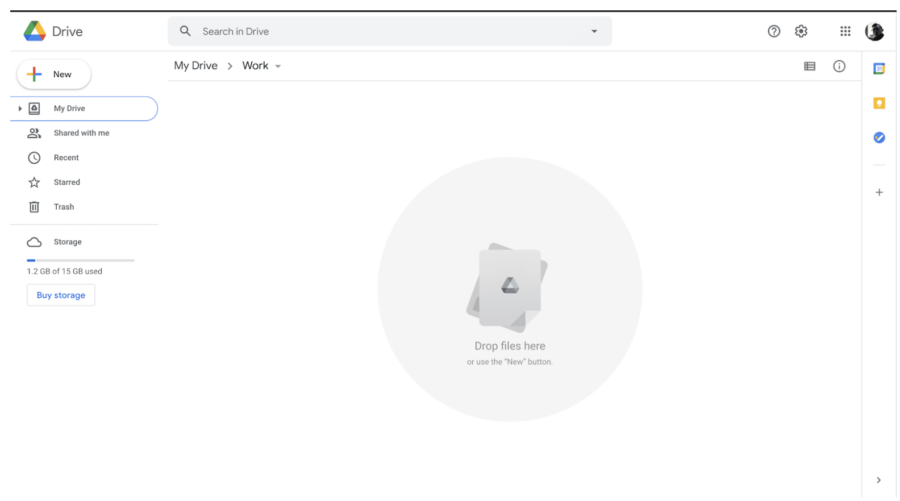 Google Drive is Google's cloud-storage service that offers 15 free GB of storage. It allows you to store nearly any common type of file — documents, spreadsheets, audio and video files, slide presentations, and more. You can arrange files into folders for better organization.
One of Google Drive's notable features is the control options. You can assign viewing, commenting, and editing permissions as you see fit, allowing you to give the right people access to see or change certain things. Of course, you can use Google Drive alongside other parts of the G Suite, such as:
Docs

Sheets

Slides

Forms

Calendar

Gmail
Overall, Drive is a good free option for content teams that need a place to store and share work, especially when working remotely. 
3. Dropbox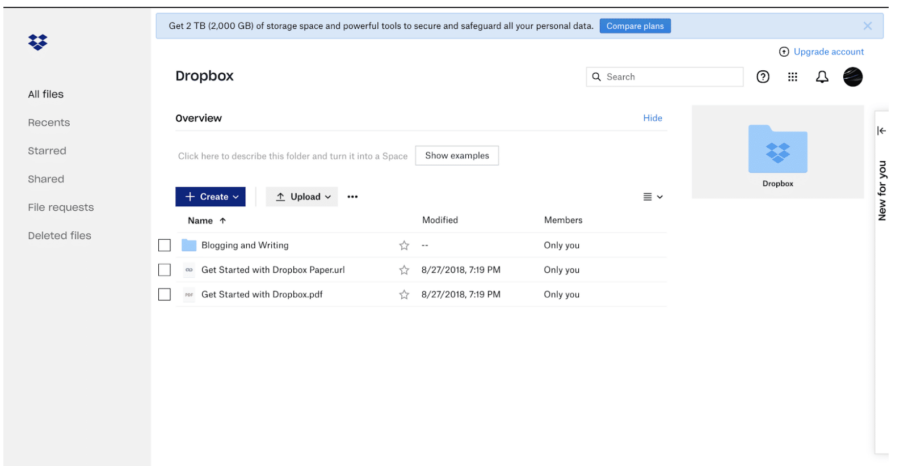 Dropbox is a cloud storage solution designed to cut down on busywork (primarily locating files you need) and make document sharing and collaboration simple. You can store all sorts of files in Dropbox, including Google Docs, Excel spreadsheets, boards from various project management software platforms, plus more. 
To help streamline your workflows, Dropbox integrates with over 100,000 apps. Plus, it offers desktop and mobile versions to keep your files synced across any devices that you use. The free plan caps your storage at only 2 GB. Lower paid plans can give you up to 5 TB, but the highest level plan gives you unlimited storage — making Dropbox suitable for businesses of any size.
4. Envato Elements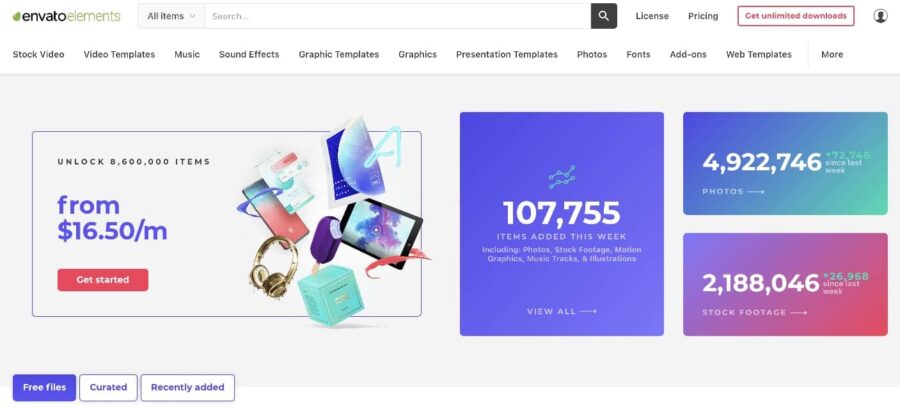 Envato Elements is an all-in-one unlimited creative subscription. With over 50M assets, it has everything designers and marketers need to get projects done faster. Whether you're looking for slideshow templates needed to create comprehensive reports, video templates for an upcoming campaign, or other outlines for designing a content strategy you and your team will use, Envato Elements always comes in handy.
You can choose between a monthly ($33 per/month) or a yearly ($16.50 per/month) plan, but it's also possible to get free monthly files.
5. Writesonic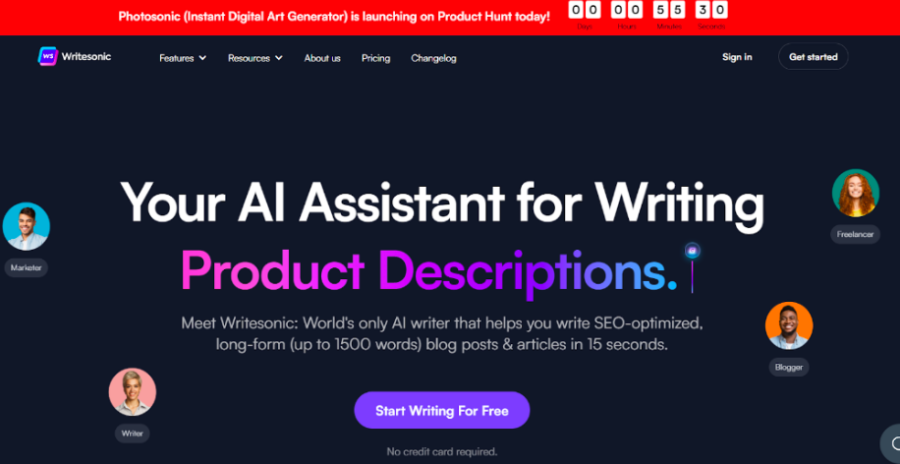 Writesonic is a perfect tool for businesses and individuals looking to step up their content creation game! It is an AI-powered writing tool that helps to generate content in seconds. From blog posts and landing pages to product descriptions and ad copy, it can simplify the process of writing and editing various forms of content.
Some key features of Writesonic are:
AI SEO tools to create optimized and and plagiarism-free content.

Generate unique content with a human touch.

Dedicated tools for different writing requirements.

Easily customizable and provides seamless navigation.
Writesonic offers a free trial of up to 6,250 words. The premium plan starts at $10/month.
6. Hubspot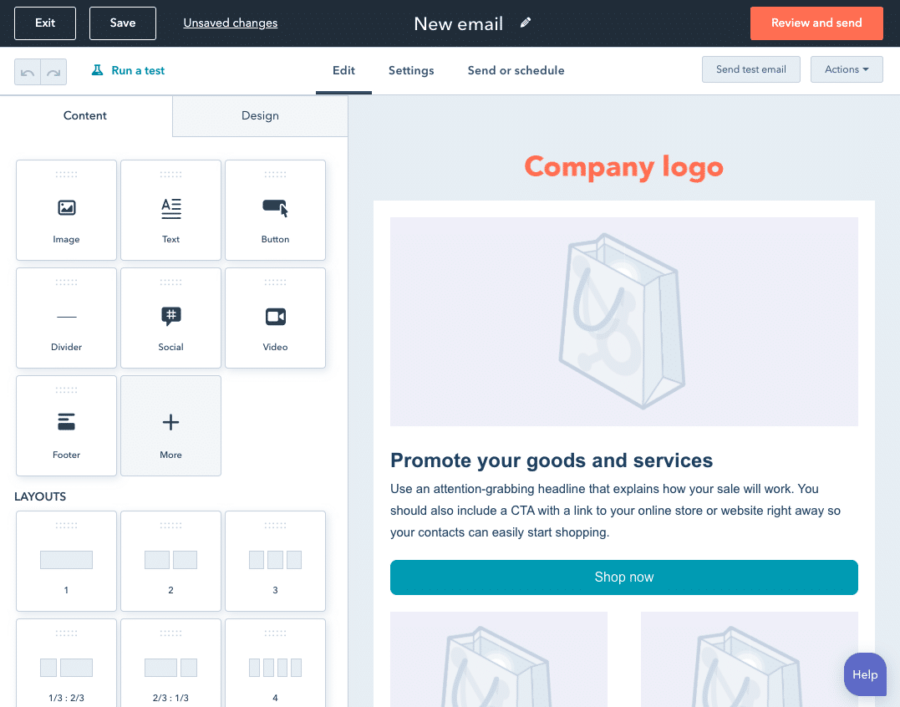 Built on a powerful CRM platform, HubSpot email marketing and hosting tools allow you segment your customers by lifecycle stage using existing CRM data, and customize emails with personalization tokens. You can create personalized emails with a simple drag-and-drop editor or choose from a library to goal-based templates. Hubspot also integrates with many of the other work tools you already use, helping streamline your entire workflow.
With HubSpot's free email hosting software, you can send up to 2,000 emails per month. As you grow, HubSpot grows with you and upgrades are available to be able to send more emails. 
7. Freepik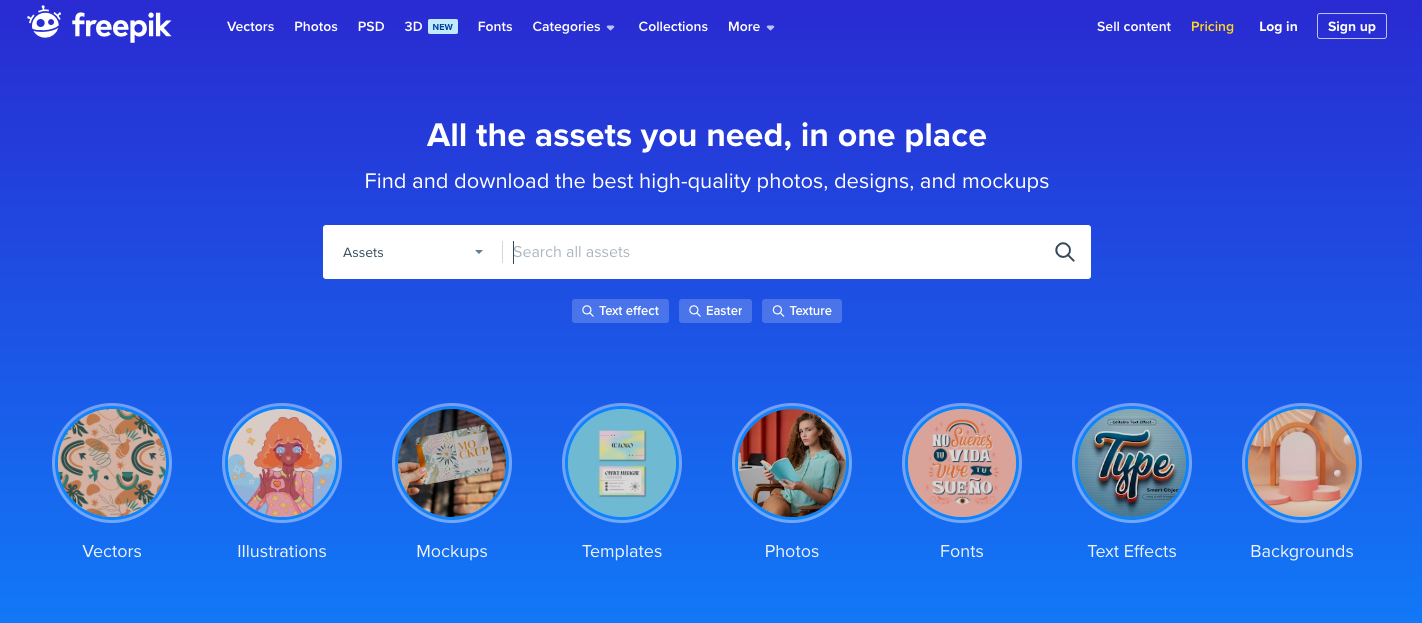 Freepik offers millions of photos, vector images, illustrations, and PSD files ready to use for any project. Freepik also includes thousands of asset collections and a daily-updated library to ensure a steady supply of fresh material. This image bank provides interesting tools like Mockup Baker, allowing you to create mockups by customizing 3D models in Photoshop. 
Freepik is a great tool for marketers looking to create stunning visuals for their campaigns without spending too much time or money. It is a freemium service ($24 per/month or $144 per/year) with additional features such as exclusive content.
8. Trello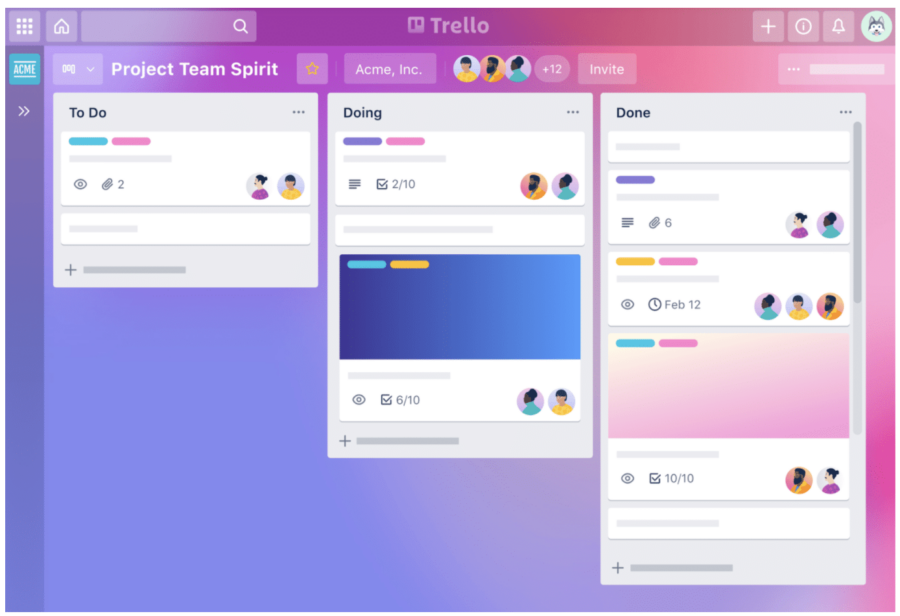 Trello offers a simple Kanban board application for smaller teams in search of a more lightweight collaboration platform. You can create boards for your workflow, then build columns in the board to develop the workflow's phases. From there, you can create cards as individual projects in your workflow. On these cards, you can leave comments, attach files or pictures, and more. 
Moving projects through your workflow's phases is as easy as dragging the card to the next (or previous) column. Once you have a board up and running, just invite your team to that board. Then everyone can interact and collaborate on projects, a great way to keep teams on the same page. 
9. ProofHub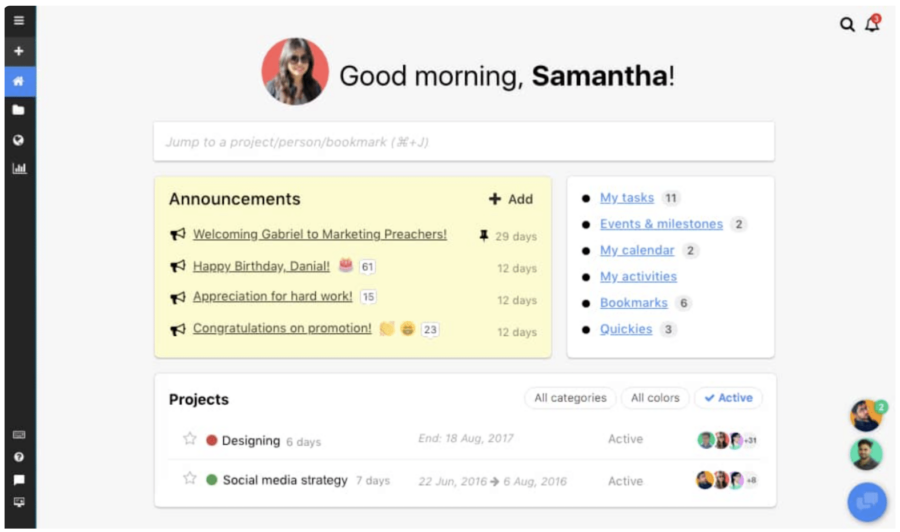 ProofHub is an easy-to-understand project management platform packed with features that creative teams will find useful. For example, as the name implies, ProofHub has an intuitive online proofing tool that cuts out the need to search through long threads of comments for the right feedback. It uses markup and tools to help creatives easily identify feedback and make changes accordingly.
Other helpful collaboration features include a central location for files, internal direct messages and group chats, custom roles, announcements, and discussion thread creation. Along with these, ProofHub adds in a suite of standard project management features, making it a good choice as an all-in-one platform for content teams.
10. Notion
Notion is a simple and effective project management tool suited exceptionally well for content teams. One of Notion's best features is its Team Wiki, which serves as a centralized knowledge base for your entire team. Everything from your company's mission to individual department information can go in the wiki for easy access.
Of course, Notion makes it easy to upload and share notes and documents among your team, as well as assign tasks and track project progress. You can comment anywhere to start discussions with teammates, choose who can view documents, integrate over 500 other apps, and more. In addition to the cloud-based application, Notion offers desktop clients for Mac and Windows, as well as mobile apps for iOS and Android devices.
11. Grammarly Business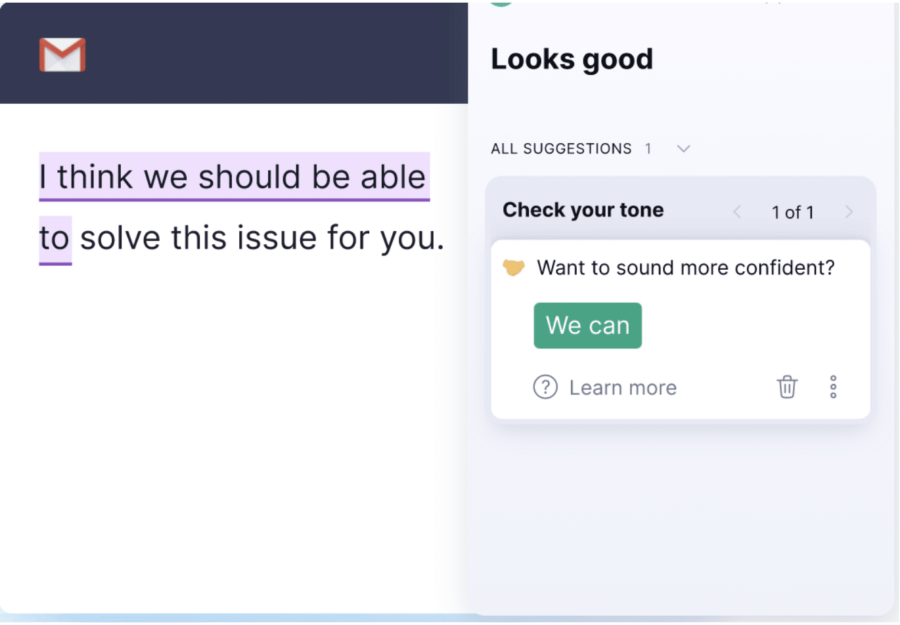 Grammarly is not strictly a collaboration tool. To many people, it's known as one of the most popular free proofreading tools that helps fix errors while composing online content. However, if you're working with a team and want to ensure excellent grammar and consistent brand voice, Grammarly Business can help you take simple proofreading to the next level.
Grammarly lets you edit for the following. 
Correctness (grammar and spelling)

Clarity

Engagement

Tone

Plagiarism
Plus, you can create company style guides to keep everyone's communications on-brand. Grammarly also offers a Google Docs add-on that scans for mistakes and potential improvements inside the Doc. It then lets you confirm or reject these changes right there.
Using Grammarly, you can edit as you go. Additionally, it'll save time jumping back and forth between Grammarly and your Doc. Grammarly integrates with numerous other applications to keep your writing sharp and clean, too. It'll even help you in areas such as online forms.
12. Podcastle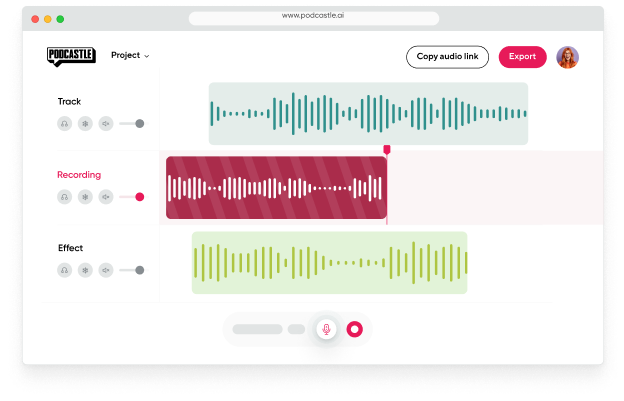 Podcastle is an all-in-one content creation platform that allows you to record and edit publication-ready content with no equipment or technical skills.
The tool makes it simple to record a branded podcast or start one for your company. With Podcastle's remote interviewing feature it's easy to host group calls and record interview episodes.
The software also offers a variety of AI-powered tools: remove unnecessary noise or pauses from your audio with a click, create a digital copy of your voice, or use one of the available voice skins to create instant intros and outros for your show. 
Podcastle helps marketers to optimize their processes and launch successful campaigns across channels. With its user-friendly interface, the tool makes it simple to repurpose video/audio with Podcastle's transcription tool, facilitating the usage of text for brand's blog, website, or social media.
13. Boxmode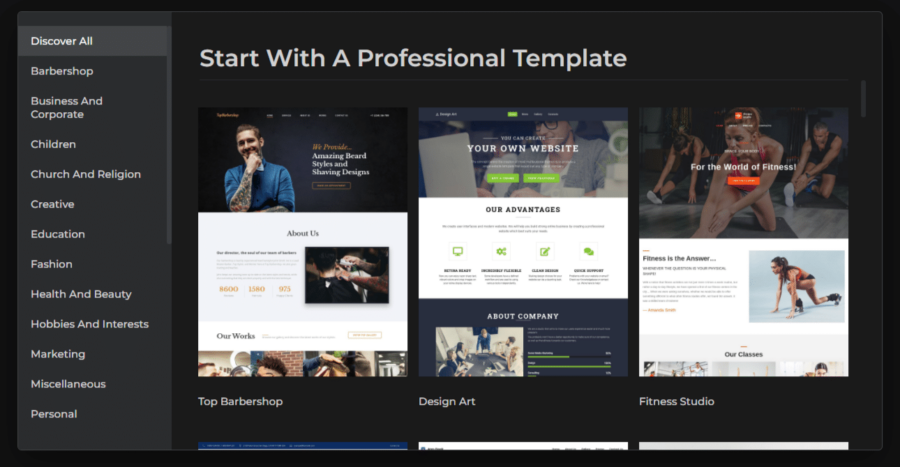 Boxmode is a free website builder for businesses, creatives, and web developers. This online tool makes it easy to create a website in a variety of industries, regardless of your past tech experience. Whether you are a content creator for a business or for your own personal projects, you can use Boxmode to build an e-commerce website or create content for any brand and purpose.
Boxmode includes everything you need to build a great website, including: drag and drop editor, pre-made templates, free domain mapping, and tools for optimizing SEO and tracking marketing analytics. And the best part? You can get it all for free — and we're not just talking about a "free trial" type of situation.
14. Billo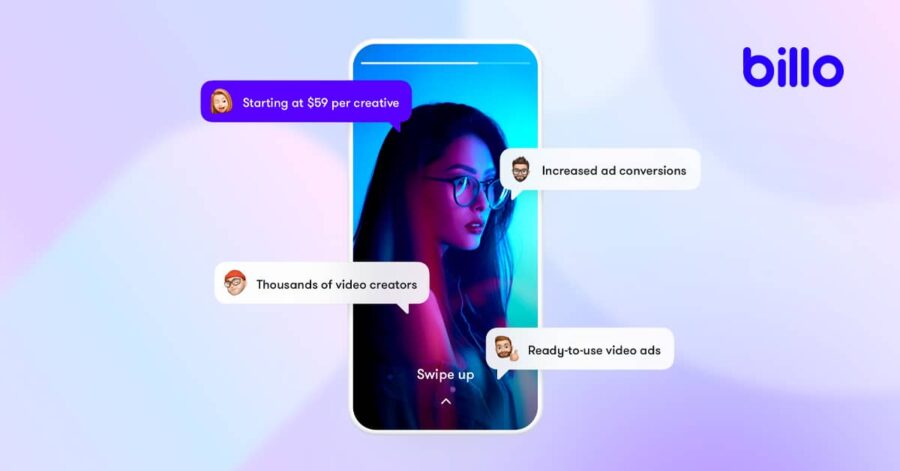 Billo is an all-in-one platform for eCommerce brands to get user-generated video content. As all marketers know, content is king. And rather than creating videos in-house, user-generated content can be a useful source of stories and ideas to power your successful ad campaigns. Billo builds a bridge between brands and creators, letting brands get quality content and for creators to get paid for it. 
If you're selling online, video content gives you the most bang for your buck in terms of engagement, sharing, and brand development. Investing in quality video content doesn't have to break the bank, though. If you want to watch your ROAS skyrocket, Billo is an easy way to go. (P.S. If you are looking to start an online store, consider starting a Shopify trial to test out the popular platform for free.)
The Billo process is easy. Simply fill in the task brief and choose a creator you want to work with from a variety of 3200+ US-based creators. If you have a physical product to promote, you can then choose to ship out your product to the creators you chose to work with. During the drafting process, you have the ability to ask for professional edits: motion graphics, subtitles, logos, and call-outs!
15. Planable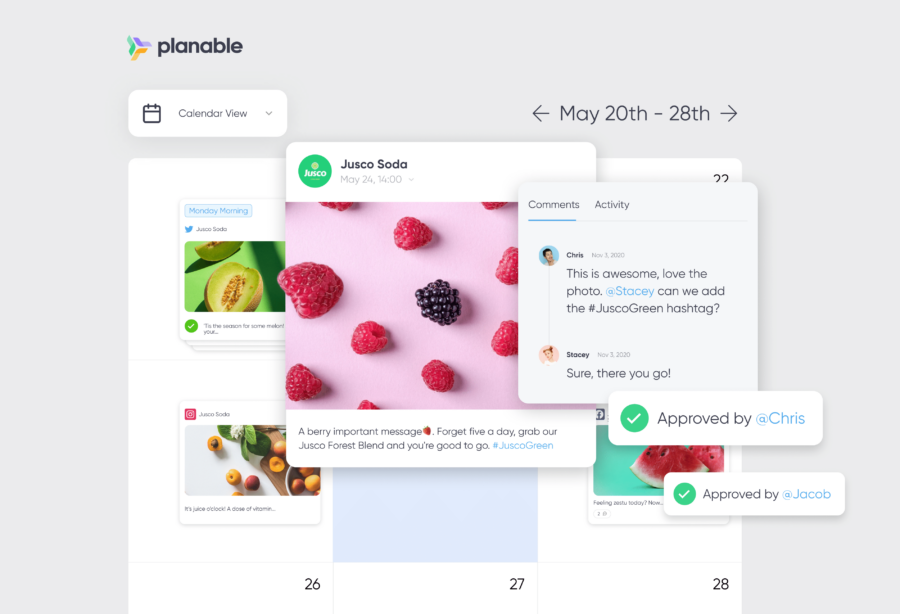 Planable is a social media collaboration tool designed around one simple principle: ridding marketers of tedious tasks and allowing them to have more time for creativity. One of Planable's most powerful features is the multi-level approval process built to ensure seamless collaboration for marketing teams. You and your team can set up your approval workflow in 4 ways to be specific: none, optional, required, and multi-level. Built with teams in mind, Planable is the perfect place to make your social media workflow foolproof.
Leaving feedback is also seamless and very intuitive. Everything happens in context, right next to the posts. You can reply to feedback and resolve it in a matter of seconds. To differentiate between team members and approvers, Planable has an Internal Notes feature that allows you to leave feedback visible to your team only. Try it yourself, the first  50 posts are free.
16. Narrato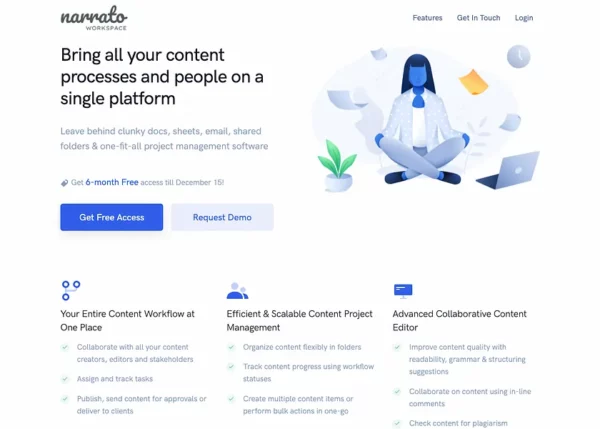 Narrato is a comprehensive content creation and collaboration tool that combines the capabilities of docs, sheets, drive, project management tools, email, messaging apps, and more onto a single platform. The platform boasts of a powerful content editor that offers grammar and readability suggestions, tools for optimizing SEO pages, plagiarism checks and a smart AI writing assistant too. 
Narrato offers custom templates, style guides, and automated briefs for optimizing SEO pages; messaging and in-line comments on content; content calendars and workflow boards; custom user roles and access (including client user roles); publicly shareable links to content and WordPress publishing integration; freelancer payment reports; project and Folders hierarchy to organize all of your market research and content on the platform. The platform also has features like automated SEO content briefs, an AI topic generator, and freelancer payment management.
Price: Narrato has a free plan with limited features. Its pro plan starts at $8 per user/month.
17. FlexClip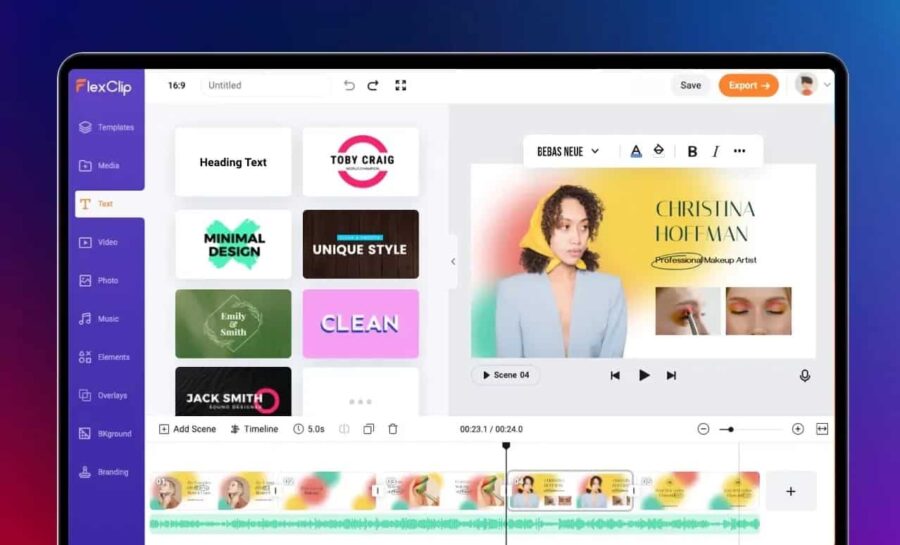 FlexClip is another video marketing tool suitable for users who want to get started with video editing, as it provides 3000+ custom templates. It also has a collection of media sources and files including audio, images, and videos, all of which you are free to use for your project. In addition, you can add video clips, text, audio, transitions, and effects, and adjust video sizes so they fit the social networks.
Plus, the simple drag-and-drop interface makes it easy to use, even with no editing experience. With thousands of presentation video templates, it is useful for companies of any size to be able to create videos to promote your products or services. It should be considered one of the best content creation tools.
18. VistaCreate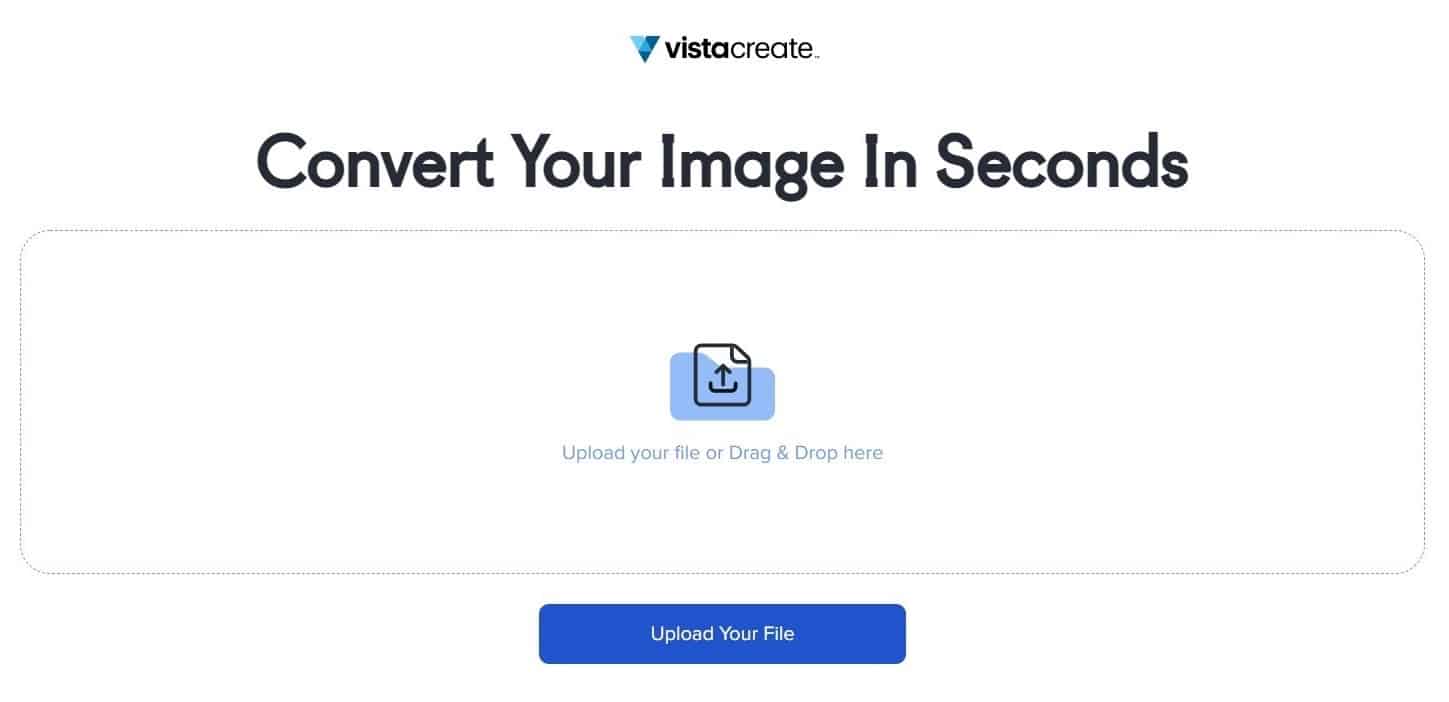 VistaCreate online image converter allows you to convert images in just a few seconds. A PNG file can be converted to a JPG file, and a JPG file can be converted to a PNG, JPEG, or TIFF. Using the image converter, you will just drag and drop your source file into the box, and you will be able to convert your photo online in seconds. You can easily and quickly switch between the most popular image formats with VistaCreate's image format converter.
By simplifying the design process as much as possible, VistaCreate enables users to have a more efficient experience. During the conversion process, you will be able to see the batch of files you have converted in a dashboard. It is possible to download them in bulk whenever you like. The app works just as well on a Mac, Windows, or mobile device as it does on a desktop or phone.
19. Scribe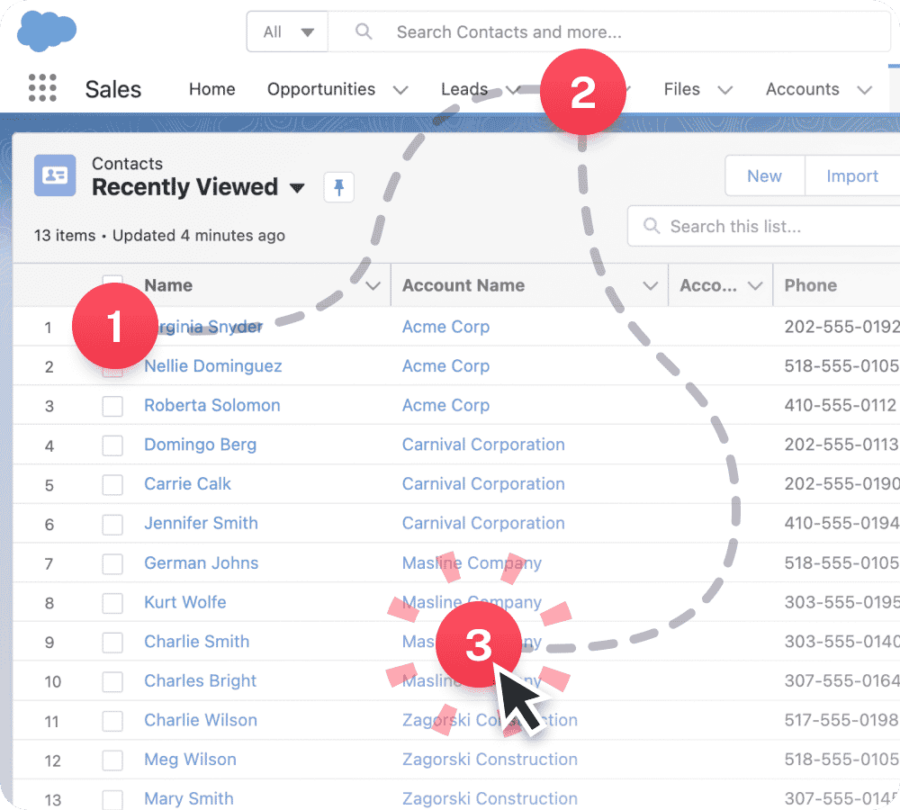 Scribe is an easy-to-use solution for any team or individual that needs to create step-by-step guides and wants to speed up the process. It captures your clicks and keystrokes while you work, then automatically converts them into a guide with screenshots and written instructions. Guides can be shared via links, or embedded into a CMS, wiki, knowledge base, or other tools.
Scribe automates the creation process, and it also allows you to automatically update your guides when a process or documentation changes – reflecting the new guide across all instances. Scribe also automatically suggests your team's guides for the website you're working on, and while you're working in Slack.
20. Namecheap
Stencil by Namecheap  is an excellent graphic design tool for businesses and individuals looking to create professional-looking visuals. With its extensive library of templates and images, interface, and powerful editing tools, Stencil can help you take your branding and marketing to the next level. Whether you need social media graphics, blog images, or e-book covers, Stencil has everything you need to create professional-looking designs.
One of the main features of Stencil is its vast library of pre-made templates, graphics, and images. You can choose from a variety of templates, including those designed for social media, blogs, and marketing materials. Additionally, Stencil offers over 4 million royalty-free images, allowing you to find the perfect visual for your design.
Stencil also provides a variety of fonts, shapes, and icons, making it easy to create a unique design that aligns with your brand. Plus, the tool offers various filters, overlays, and effects that allow you to make your designs stand out.
21. Colorcinch

Do you need stunning visuals for your blog, social media, and marketing projects? Colorcinch is just what you've been looking for! This tool has a user-friendly interface to get your creatives done, even if you're not a designer. It has AI-powered photo enhancers, so you can crop, resize, change background, customize your images, make their colors pop, and elevate them with just a few clicks! Colorcinch has a free plan and its premium plan starts at $4.99/month. 
22. Placeit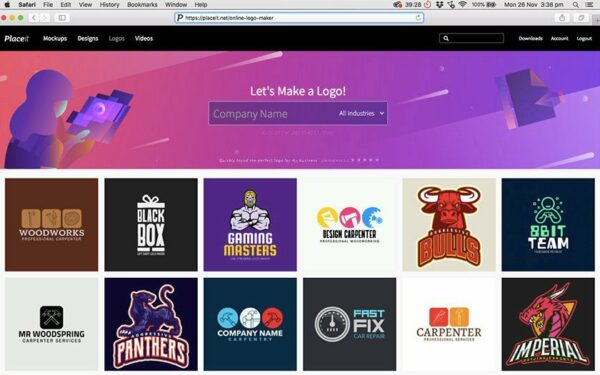 Placeit is a design platform with more than 50K templates and a growing library of designs made by professionals each day. The tool was built for content creators and content marketing managers. Placeit lets you make branded images in minutes, from company logos to graphics for your Youtube Channel videos or your social campaigns. Once you have customized your template, simply click the download button. 
Placeit graphics are created by a professional team, so you can rely on them being eye-catching visual assets. You can customize the playback speed and quality of slides to make a short or long video using fonts and audio selection. The tool is easy-to-use and offers unlimited downloads. 
Price: Placeit has a free version with limited features. Its unlimited version starts at $12.70 per user/month, and $76.23 per user/year.
23. DesignEvo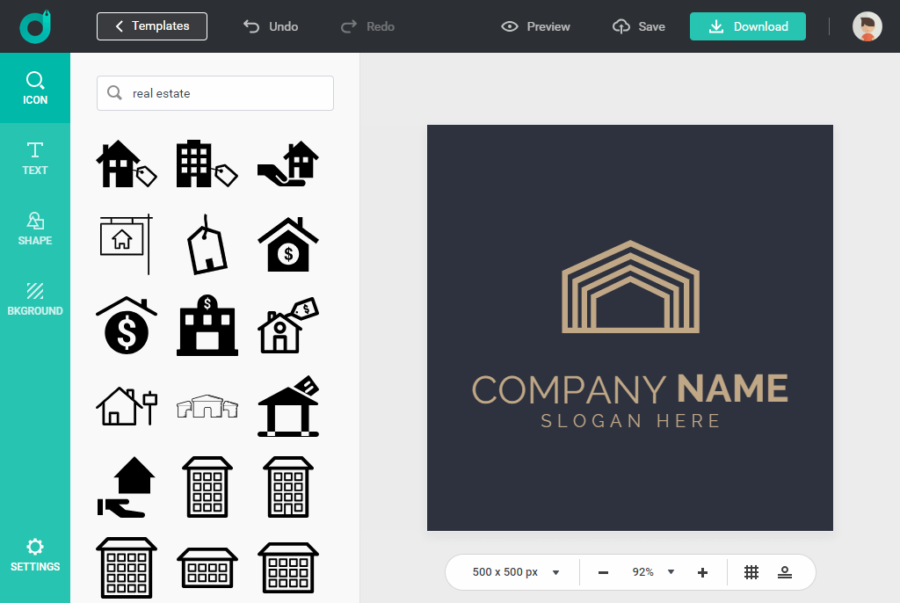 DesignEvo is a simple yet useful marketing tool to create logos online. No design knowledge is required to use it. It has more than 10,000 templates adaptable to any industry and department. 
After you choose the design that best suits your brand and strategy, it's easy to customize the template, adding text and icons, changing fonts, colors, and shapes to create your own unique logo. You can create a free logo and download it for free, but they do charge for a high-resolution version.
24. Content at Scale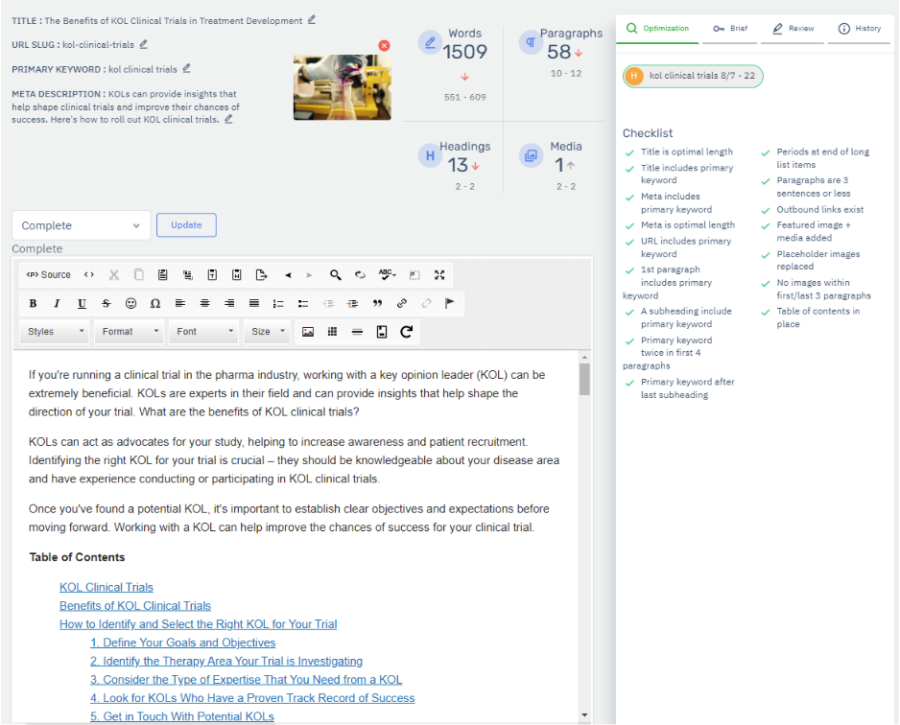 Content at Scale is the first ever fully automated content creation platform. Just add a keyword (up to 100 keywords) and within a few minutes, you'll have entire blog posts written for you. The title, meta description, and body – without any human intervention!

Blogs come formatted with H2's and H3's, a table of contents, and lots more. There's even a WordPress plugin that not only syncs content, but it also automatically adds internal links from other posts you've published whenever relevant keywords are mentioned. This is done using a complex mix of three different AI engines, natural language processing and semantic analysis algorithms to pull it all together. 
It's a massive time saver compared to other AI writing tools that require you to oversee everything throughout the creation process and the pricing is just $0.01/word.
25. Filecamp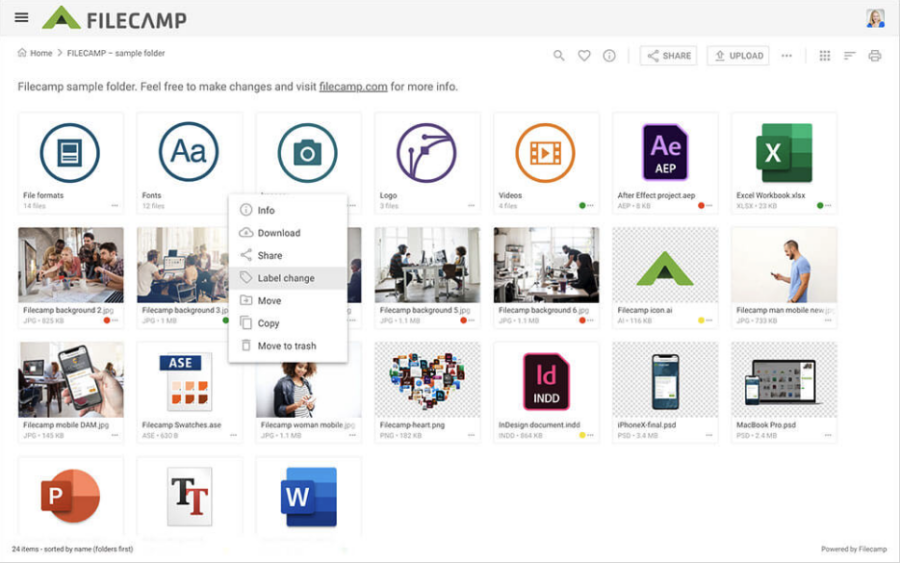 Filecamp is a digital asset management solution that helps marketing & creative teams organize and share their digital media. With custom branding options and multiple themes, the software can be tailored to your needs, from the interface and log-in screen down to specific folders and customers. You can also set up a custom media portal for distributors around the world or create a download link to share files and documents. Keywords, XMP metadata, and auto tags make all your media files searchable and advanced search capabilities let you filter by keyword, author, file type, and expiry date. With built-in online proofing and commenting tools, team leaders can review and approve work with ease.
Filecamp comes with unlimited users and each user is configured with their own set of user, admin, and folder permissions. Pricing starts at $29 per month and you test the tool with their 30-day free trial.
26. Jotform Sign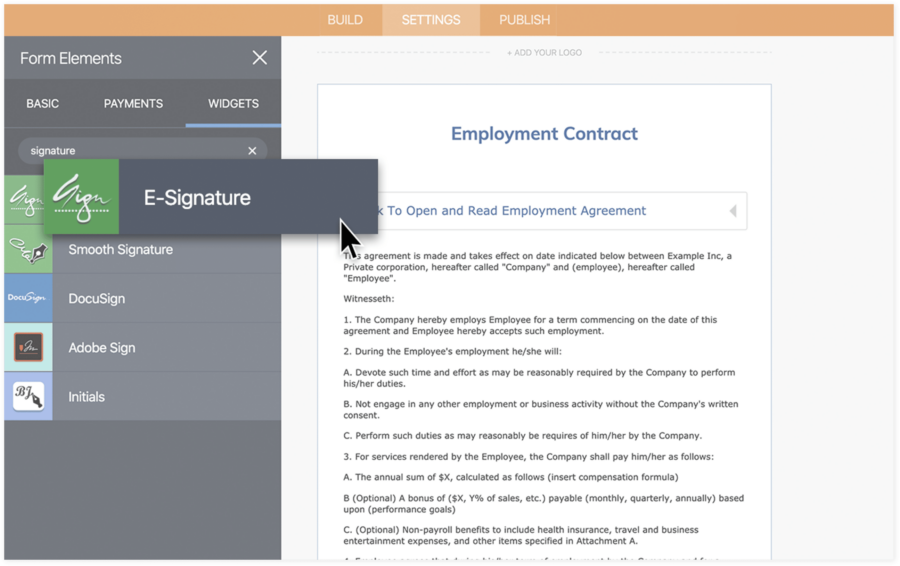 Jotform Sign is a great electronic signature solution to speed up your documenting process. With Jotform Sign, you can create and share important documents utilizing a variety of customizable templates for several use cases. 
Jotform Sign also has Google Drive integration, so that you can store your documents securely and keep all your data in one place. Integrating with Google Drive is as simple as selecting it from the "Integrations" field and adding it to your document. Once the process is complete, a copy of the document will go to your Google Drive.
27. Movavi Video Editor
Movavi is a video editing software easy and flexible to use. No video editing background is necessary to get started and you can even create a project automatically using the software's Slideshow Wizard feature. The multitrack timeline feature lets you rearrange, edit and customize any existing video file, audio tracks, image files, and titles with a click of a button.. Movavi also includes an assortment of special effects, like object animation, chroma key, slow motion, and overlays. 
If you're working on social media promotions, Movavi gets all your video marketing needs covered, so you can create social content with quality results. The software also allows you to export a project compatible with Instagram and also lets you upload to TikTok directly. Check out their online video editor or download the full version for your desktop and try it out for free for 7 days.
28. Visme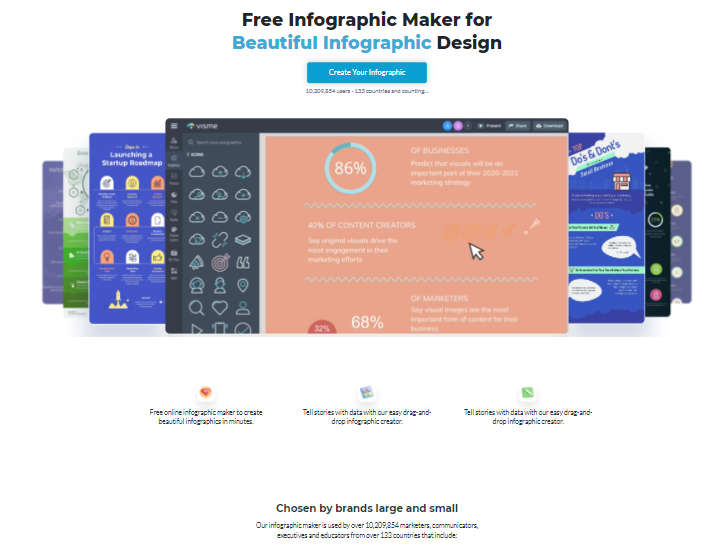 Visme is a robust branding tool for anyone looking to create a variety of high quality branded content. With its intuitive dashboard, you can kickstart your brand strategy with visual content in minutes using its library of hundreds of templates, photos, and animated characters. Visme has a user-friendly drag-and-drop editor where you can create all types of visual content like presentations, banners, videos, and more.
You can also use Visme to collaborate with others while maintaining consistent aesthetics as you implement your brand development strategies across various platforms. The software combines simplicity and flexibility, allowing you to create engaging visual content no matter what your level of design skills is. Try out their free easy-to-use infographic maker featuring a variety of professional-level templates for you to communicate stats with style.
29. FS Poster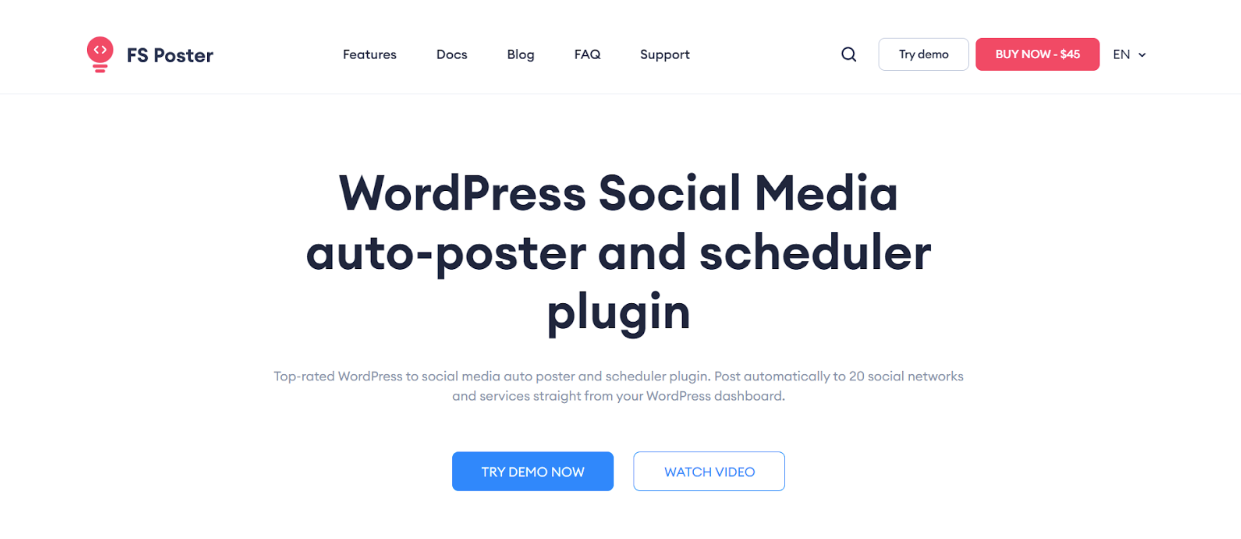 FS Poster is a social media scheduler plugin that automates your WordPress content distribution to 20 social networks. It also lets you auto-post, republish old content, bulk schedule and shorten URLs. FS Poster enables users to post blog images, infographics, or videos to websites that provide visual content. The solution helps you maintain a consistent online presence and accomplish your social media marketing objectives with unlimited post-sharing. It also features real-time metrics so you can evaluate your social media strategy by comparing success across platforms, tracking post interactions, and counting clicks.
The FS Poster plugin is available to use for free with limited features and a premium version can be unlocked for a one-time payment of $45.
30. Brafton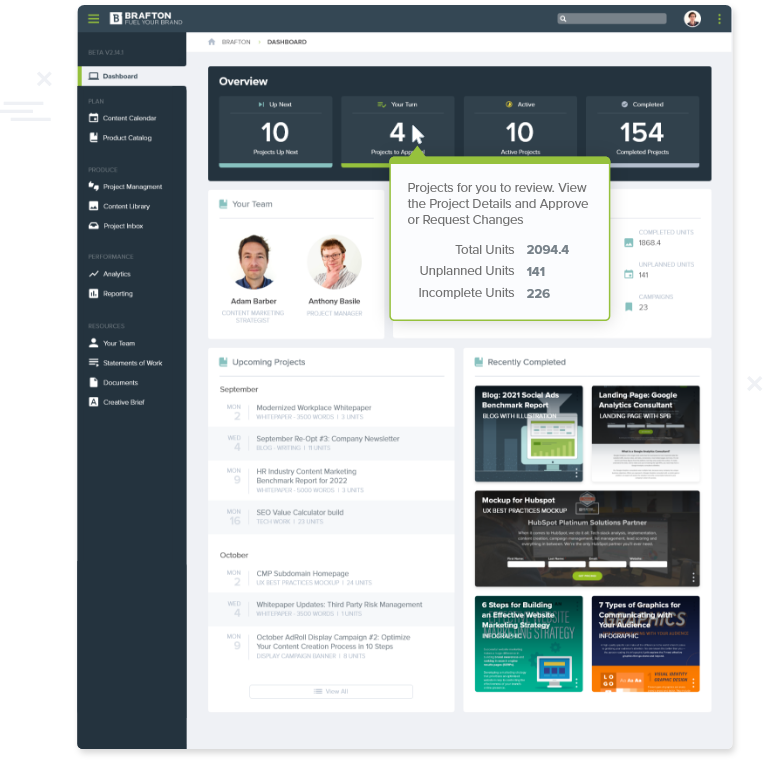 Brafton's platform simplifies project planning and execution of all your content marketing needs. Its workflow-building functionality and drag-and-drop calendar make project planning a breeze. Users have multiple options for visualizing current and upcoming tasks, including Kanban and calendar views. Brafton's centralizes project tracking making it clear who is doing what and when, while its in-app messaging facilitates fast and easy collaboration.  
Brafton's strong suit is in content marketing-specific workflows: it features pre-built marketing-deliverable templates, a filterable content library, the ability to launch campaigns with a click and a performance dashboard with multiple marketing integrations available. In order to try Brafton, you need to request a demo and contact their team to get pricing options.
31. Paraphraser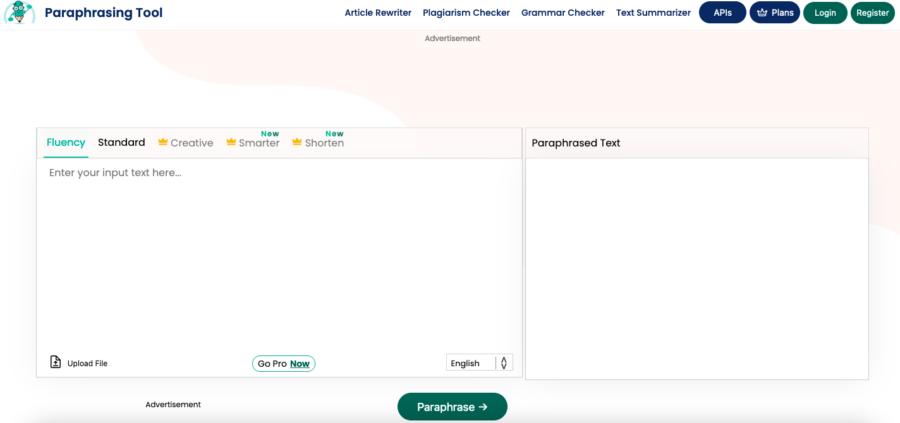 Paraphraser is an excellent freemium tool for companies and freelancers looking to spruce up the quality of their write-ups. From blog posts, advertisement copy to a personal letter, this AI-powered paraphrasing tool can improve all written works. Paraphraser can find the most suitable synonyms and phrases to craft a compelling and captivating message. The software can also modify sentence structure, expand your word choice pool, change your message voice from passive to active and improve the readability of your copy. Paraphraser offers a monthly and yearly plan at different rates, but you can get a special discount if you are a student.
32. Compose.ly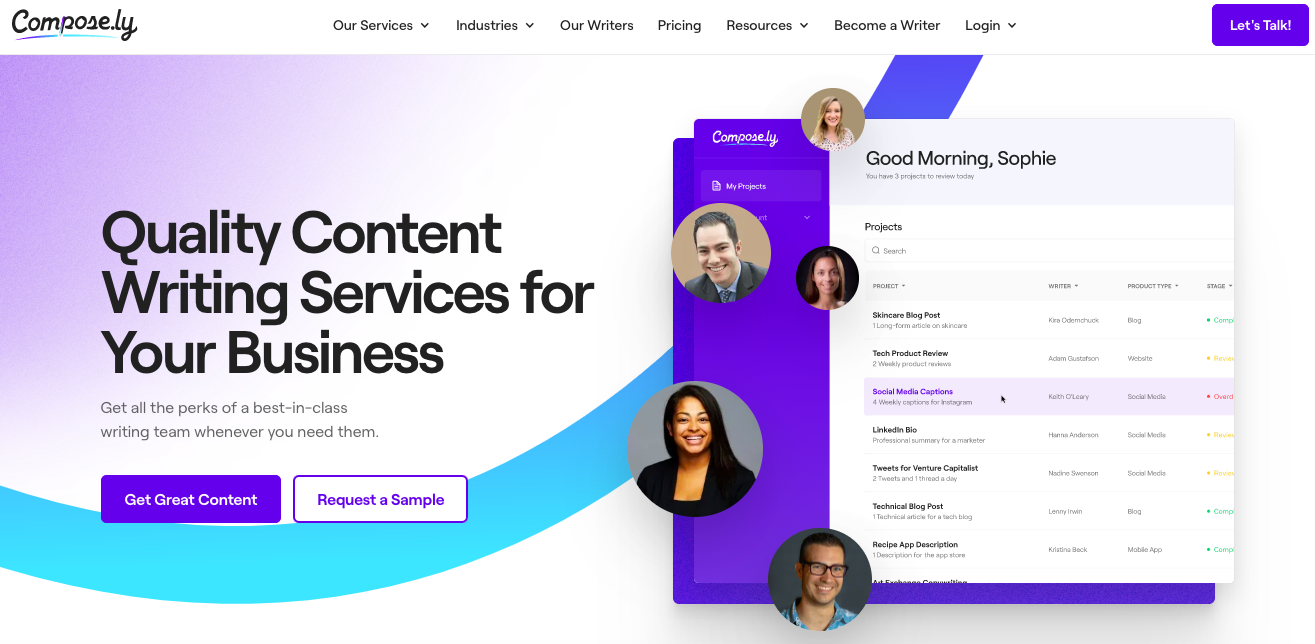 Compose.ly is the best tool for businesses looking for content writing services. Its copywriting solutions help companies to improve their website, increase traffic to their blogs, and improve their rankings. Compose.ly rigorously vets writers and handpicks authors for individual projects, guaranteeing businesses only have content marketing pros working on their copywriting needs.
From blog, e-book, press release and white paper writing, to product descriptions, and SEO tools, Compose-ly has an expert ready to work on your project. Plus, Compose.ly has a powerful software platform that ensures all content is plagiarism-free and SEO-friendly.
33. Storydoc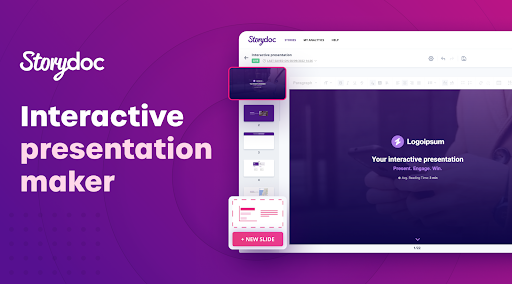 Storydoc is a versatile interactive document and content creator for B2B use cases. Whether you prefer to use one of their many templates or build your document from scratch, Storydoc offers a range of options for creating any type of marketing collateral. Featuring integrations with CRMs and other marketing solutions, a scroll-based design, and interactive visual elements, Storydoc is a comprehensive solution for creating content. Storydoc also has analytics that allow for real-time tracking and measurement, which is helpful for marketing professionals who depend on user feedback to create highly engaging content.
34. FS Poster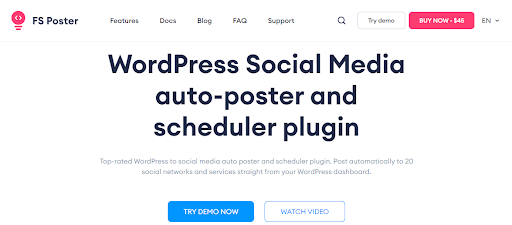 Experience the convenience of auto-posting and scheduling on social media with FS Poster. The plugin enables you to easily schedule and publish your WordPress blog content on up to 20 social networks and services, simultaneously.
FS Poster also supports custom posts and multiple images, and allows you to utilize link shortening and posting intervals for optimal social media management. With real-time analytics, you can accurately assess the performance of your social media strategy, track interactions and clicks, and make informed decisions about your content.
There's a free basic version with limited features or you can upgrade to the premium version for a one-time fee of $45.
---
Enhance Your Collaboration and Improve Your Content Marketing
These are only some of your options for content marketing tools. This list shows some of the most popular tools content teams are currently using, but there are many more out there. 
If you want to improve your content collaboration and production, you don't just have to pick one of these content marketing tools. Many of them are designed for specific purposes and complement others quite well. That said, one of the most complete tools on this list is Hive. Learn how to get started with Hive for free today.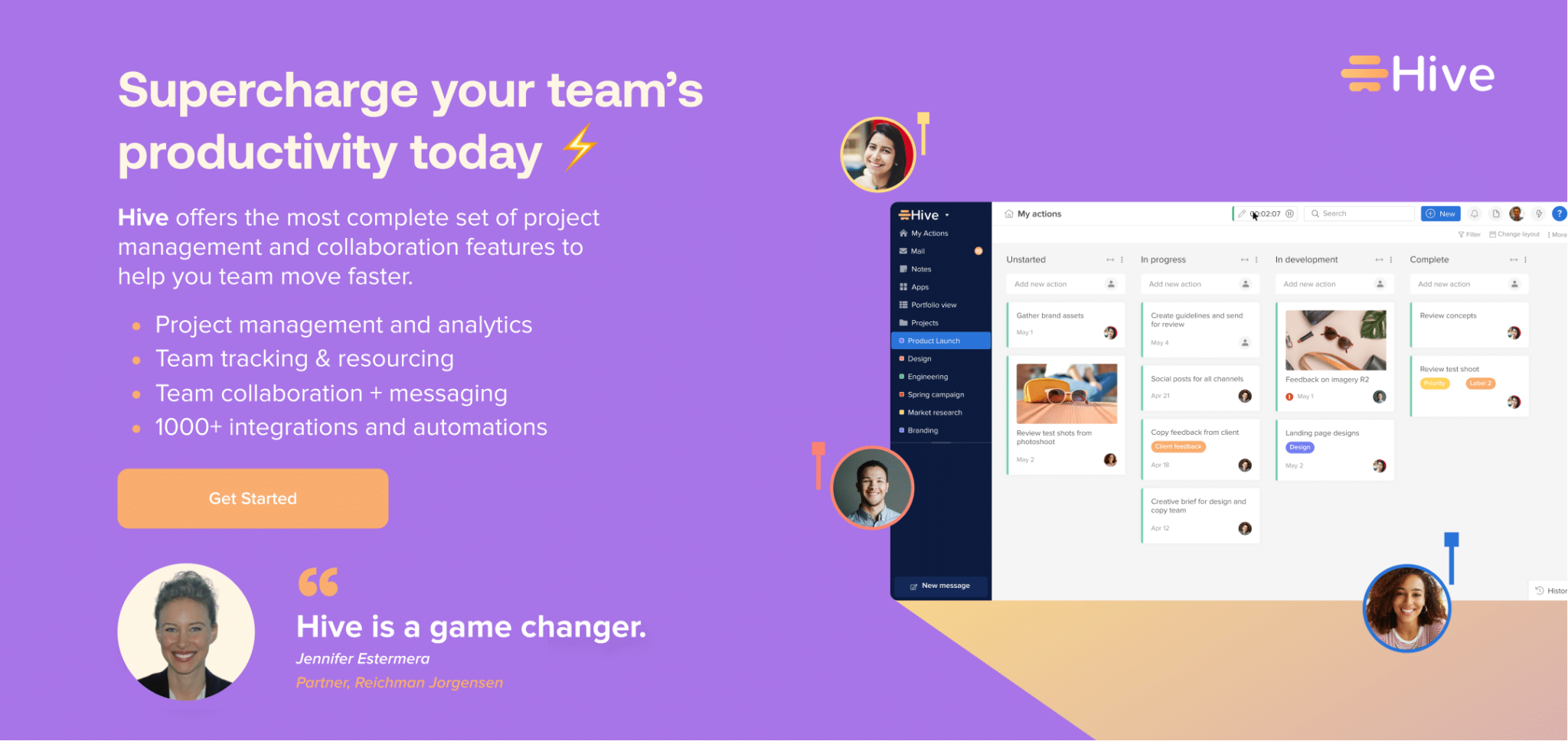 This is a guest post written by Brad Smith. Brad is the CEO at Wordable.io and the Founder of Codeless (a content production agency). His content has been highlighted by The New York Times, Business Insider, The Next Web, and thousands more.